Tulsa TV Memories GroupBlog 266

TTM main | What's new on TTM? | GB Archive




April 30 2008 May 13 2008 at 11:07:33
Name: Webmaster
Topic: Home movie of the Skyline Park train
Comments:

Since this became the train-themed edition of the GroupBlog, I thought a good wind-up would be Lowell Burch's home movie with footage of the Skyline Amusement Park train from the 1st Skyline page.
---

May 12 2008 at 13:41:04
Name: Gary Chew
Topic: More Than 2000 Miles All The Way
Email: Arnoldzburg, CA
Comments: On the local PBS cable channel last night, I watched a 2006 pub tv show titled, "The Mother Road." About good ol' Route Six Six. Not my usual cup of tea, I hung in there anyway as I thought I'd get some newer images of my fave Oklahoma town. But nope. No such luck.

The filmmaker jumped from the groovy, old Coleman Theater in Miami to OKC, leaving out, surely, as every singer has (except for Perry Como), "You'll love the aroma of Tulsa, Oklahoma." "By the time I got to Amarillo" though, it was neat to hear Asleep at the Wheel western-swinging, "Route 66."

Another misfire was composer, singer, pianist, actor Bobby Troup's voice missing from the soundtrack. And in the credit fly-by, I didn't see his name either. A smidgen of the great Nat Cole doing the great Troup song was used at the top of the program with the skyline of Chicago on the screen.

The Oklahoma City segment was touching. The folks in the travelogue stopped by the Murrah Building and paid their respects---a moving moment for any American, especially us Okies-types.

Kick Gettingly Yurz,

Delmeaux de Gillette du Coffeyville.

---

May 12 2008 at 12:29:28
Name: David Bagsby
Topic: 2" beta xfer
Email: davidunderscorebagsbyathotmaildotcom
Comments: My mother-in-law recently got some 2" beta cassettes transferred by a guy in Tulsa. The company is El-Jay Audio/Video at 836-8273. She forgot his name but said he used to work in the tech end of TV so more than likely he's a friend of someone here.

---

May 11 2008 at 16:15:50
Name: Jason Fincher
Topic: Maintain Masters
Email: chikus at cox dot net
Comments: Greetings everyone. I am son #2 of Edwin, who recently passed away as you are all aware.

While going through his storage unit where he kept various odds and ends, we happened across an ancient, rather decaying trunk with an old Channel 8 logo sticker on it. Inside were dozens of old reel-to-reel tapes.

With a little digging we also found five 2" video tape reels, four of which we are hoping to be masters of his old show "Maintain" and they are labelled as such!

I am currently looking for a professional restoration company to get these gems converted to digital. If and when I get this complete I will be sure and make them available for all to see. Any input or advice would be greatly appreciated.



Jason, that would be the greatest if we could see some of those shows again. Anyone have conversion advice for Jason?
---

May 11 2008 at 13:07:47
Name: Webmaster
Topic: Don Cook
Comments:

The Valley Morning Star (Harlingen, TX) has a more detailed story about Don Cook with photo.
---

May 11 2008 at 09:14:40
Name: David Bagsby
Topic: Chicago
Email: davidunderscorebagsbyathotmaildotcom
Comments: Chicago is the best city in the USA. If you visit, make sure you go to the Billy Goat Tavern. It's what Belushi based the 'Cheeseburger, Cheeseburger' sketch on. Those guys still do that. You never leave that place without a smile on your face.

---

May 10 2008 at 22:25:52
Name: Mike Bruchas
Topic: Chicago tangent
Comments: Was in Chicago for end of National Train Day at Union Station and enjoying the tones of the "World's Greatest Rockers" doing encores in the 1920s old part of the station. These are ex-Lynyrd Skynyrd, Santana and a polyglot of great-headed rockers who played with name bands way back when. Amazing how many bald-pated and gray headed fans were there grooving away. Nice touch, AMTRAK!

Killing time on a nice but windy day...went to Wabash Avenue. In my youth, home of the Palmer House (being remodelled again), "musicians' row" of music shops and studios and Chicago's "camera shop row" all under the Loop El. But something was wrong: from Jackson north under the El hung a giant canvas wall. Talked to the guys at Central Camera (last of the big photo shops and oldest in town). Now the average age of a Central clerk is 50-60. They said a film company was un-doing set modifications under the tarp. Johnny Depp is shooting a new film on Wabash, in Joliet and on the Northside. He must shop at Central because they are all fans!

Chicago has seen the Heath Ledger film, parts of the latest Spiderman pic and the soon to be released new Batman film. The problem about shooting on Wabash now is, blocks of classic old shops South of Jackson down to Congress are now piles of rubble for NEW construction. So the film companies come in and build facades or re-model newer buildings to look "period". So strange.
---

May 10 2008 at 10:39:07
Name: Bill Hyden (via email)
Topic: John Doremus
Email: billhydenatcoxdotnet
Comments: I located on TTM the name and e-mail address of the man in Australia (Simon Owens) who had apprised me of the fact that John Doremus' "The Passing Parade" programs were still being played in Melbourne, Australia (on 3AW Radio, Sunday evening at 10:55 pm).

Simon said:

"My friend at Grace Gibson tells me there are 1300 episodes (there were more but some tapes are unusable).

"...next time I (host), I would very much like to give you a call to have a chat about John Doremus.

"I will hang on to your email address and contact you when the time comes."

---

May 10 2008 at 09:55:39
Name:
Bob Losure (via email)
Topic: Retro rock with Robert W. Walker and Jim Peters
Email: losureatboblosuredotcom, website: BobLosure.com
Comments: Hi Mike:

Bob Losure here. Yes, that guy who anchored at CNN Headline News. (and KOTV News...webmaster)

Just wanted to relay that a couple of ex-Tulsans, Robert Walker and Jim Peters from the KAKC era of the 60s, have, with the help of Jim's son, Ben, and Tim Koch from England, produced some excellent retro rock they're marketing at Spirit-Alley.com.

Walker continues to do voiceovers, and Peters teaches middle school in south central L.A. when they're not recording. I remember well when they produced Cargoe (Rubbery Cargoe) when the band started out in the 60s at Southland (now Promenade) at Skilly Forsman's place (I played the 45s in-between sets...)

I had dinner with Jim and Robert last September in L.A., where both of them live, and got the attached e-mail from Walker over the weekend. Among the people they thanked for their new performances were Brian and Carl Wilson, Ronnie Milsap, Gloria and Emilio Estefan, Roger Daltry, and Nigel Olsson, all of them musical geniuses.

I thought it was interesting in the credits that they named George Basil (Scooter) Segraves IV, Tommy Crook, former Drake-Chenault rock format founder Bill Drake, and the former Tom Gordon (Tom Guerdat --now deceased) as influences on their music.

Hopefully the gurus who make or break new rock music will feel kindly toward them, because their hearts are in the right place.

I'm attaching Walker's original e-mail to me. I know a number of Tulsans will be glad to know Peters and Walker are alive and well and recording great rock in L.A.

Best to your readers,
Bob Losure

(P.s., Walker and his wife, as well as Peters and his wife, the former Holly Owens from Tulsa, can be reached at RobertW@walkersound.com.)

-----



Robert Walker and Jim Peters in L.A., 2005. Photo courtesy of Casey Morgan.


Of considerable interest to everyone here:

We need rock 'n' roll so badly. We've been missing a certain level of Rock for the longest time. A couple of friends from KAKC who have worked together on music for many years in many cities, Rob Walker and Jim Peters, now have a chance to put their own music out to their fans. Tulsa people can be among the first to hear it.

Jim and Rob brought Jim's son Ben into the band where his guitar virtuosity is quite clear - and they picked up a great LA drummer named Tim Koch. They have spent the last two years completing the work at their studios in the Hollywood Hills and it's something to hear. And see.

It's at Spirit-Alley.com and every page is worth examining. Watch their performance of "Aztec" on the "MOVIES" page.

Also at MySpace.com/SpiritAlley, they've posted the full-length version of "As It Turns Out" - the running theme of an LA-based TV series that's in pre-production.

Also at ReverbNation.com/SpiritAlley, they've posted three free songs from their album "Gambetto".

Sounds like 21st Century Classic Rock to me.
---

May 10 2008 at 09:40:04
Name: Webmaster
Topic: OKC's Count Gregore on Cox Cable, Saturday night, May 10
Comments:

OKC's Count Gregore will host "Twilight Zone" on Cox Channel 7 in OKC (and Channel 3 in Tulsa, I hope; TZ is scheduled) on Saturday May 10 from 7-9 pm. He celebrates 50 years of Shock Theatre, and his other OKC late-night horror/sci-fi shows through the years.
---

May 10 2008 at 09:32:19
Name: Webmaster
Topic: Daddy A Go Go in the L.A. Times
Comments:

The 4/30/2008 Los Angeles Times Arts & Culture section features the latest album by Daddy A Go Go (aka John Boydston & sons + family-friends) on the front page. John is a former former KTUL and CNN producer. The cover was painted by Gailard Sartain.
---

May 10 2008 at 09:21:00
Name: Scotty Comstock (via email)
Topic: National Train Day
Email: scottcomstockatsbcglobaldotnet
Comments: If you want a day long adventure, ride the Durango-Silverton train. The day after I rode the train I chased the train and took this photo. It is the best way to see Colorado. The Heartland Flyer ride is scenic near the Oklahoma/Texas border.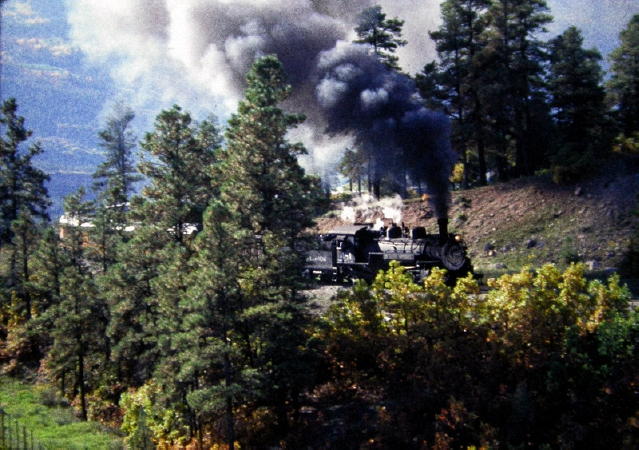 Courtesy of Scott Comstock.
---

May 10 2008 at 08:45:25
Name: Joe H
Topic: Farewell - Cookie
Email: jh at msn.com
Comments: It a sad note that our friend Don Cook has passed on. He'll be missed - with his political rants, jokes, and outlook in general Don was his own person. I had the opportunity to work with Don for a few years in a life after radio - it was a pleasure to know him.

Joe H.

---

May 10 2008 at 02:15:45
Name: Webmaster
Topic: Don Cook
Comments:

We have lost another friend. Stacy Richardson informs us that Don Cook passed away this week. Don was Program Director at KTBA, an underground FM station based in Broken Arrow in the early 1970s. He was also a colleague of mine at Sabre.

Don contributed a great page to this site, Reflections on KTBA.

From the 5/9 Tulsa World:

Cook, Donald Owen, 61, retired from American Airlines, died Wednesday. Services pending. Advantage.

Rest in peace, Don.
---

May 09 2008 at 21:45:26
Name: Dave
Topic: Rhapsody in trains
Comments: I had no idea about the link between "Rhapsody in Blue" and trains. The only transportation connection I ever made with it was United Airlines.
---

May 09 2008 at 20:05:07
Name: Bryan
Topic: Trains
Comments: Alabama's "Ride The Train" is a nice one. I think it was off of their "Feels So Right" album.
---

May 09 2008 at 18:38:49
Name: Gary
Topic: Train songs
Email: garylelia@comcast.net
Comments: There is a great old train album by Johnny Cash called "Ride This Train" that was released in the 60s. Don't know if it is on CD now or not...great train album!
---

May 09 2008 at 14:52:26
Name: Rhonda Ramey
Topic: Donald L. Ramey, Horn Brothers Show
Email: rktaber@yahoo.com
Comments: My father Don Ramey played drums on the Horn Brothers Show in the 60s. I remember he also played the piano. The only person's name I remember is Bobby McBride and I'm not sure if he was associated with the Horn Brothers Show, but they did play in a band together. My father recorded "Chantilly Lace" back then.

My father, Don Ramey, died when I was 7 and I was just looking for someone who might have known my dad.
Sincerely, Rhonda

---

May 09 2008 at 11:58:47
Name: Frank Morrow
Topic: Song
Email: frankmoratiodotcom
Comments: "Choo Choo Ch-Boogie" was originally recorded by Louis Jordan in the 40s during the war.
---

May 09 2008 at 11:12:30
Name: Si Hawk
Topic: Train songs
Email: siborg54@sbcglobal.net
Comments: Trains have always been near and dear to my heart. I still love to hear a train whistle (yes, even in the wee hours of the morning. As far as train music is concerned, I always liked "Choo Choo Ch'Boogie". I believe that was a hit recording by Asleep At The Wheel.
---

May 09 2008 at 09:55:46
Name: Jim Ruddle
Topic: Railroaded
Comments: THE best railroad song, in my antique opinion, is Jimmie Rodgers' original recording of "Waitin' for a Train."

All around the water tank,
Waitin' for a train,
A thousand miles away from home,
Sleepin' in the rain...


"Ramblin' Boy" is a pretty good one, also, but, like Rodgers', the song is about people who ride--legally or otherwise--on trains.

For the ones who drove the old locomotives, "The Wreck of the old 97" is hard to top.
---

May 09 2008 at 08:07:03
Name: David Bagsby
Topic: Burger Joint
Email: davidunderscorebagsbyathotmaildotcom
Comments: I know I saw a photo or hand tinted postcard of that round hamburger joint on 11th someplace. When I get a chance, I'll try to scan through that archive of pics that was listed here awhile back from that law firm.
---

May 08 2008 at 21:57:14
Name: Jim Cripps
Topic: Track 29
Email: jimcrippsatyahoodotcom
Comments: There are only two train songs I like; Chattanooga Choo Choo, and Rhapsody in Blue (I really looooooove that one).

I don't remember that round building near 11th and Sheridan. Anyone have a picture?



In case anyone is wondering, Wikipedia explains the connection between trains and "Rhapsody in Blue".
---

May 07 2008 at 23:28:39
Name: Guy Atchley
Topic: Me
Email: gatchley@kgun9.com
Comments: Hello Everyone...

Guy Atchley here -- former KTUL anchor/reporter, in case you don't remember. I'm writing at the request of my friend, Mike Bruchas. I suppose he wanted me to say where I am and what I'm up to.

KGUN 9 TV Tucson -- anchor for 23 years now.
Yoga teacher for 10 years.

Just located the grave of my great-great-grandmother Nancy Malinda Grisham Atchley near Gotebo in Kiowa County. She died of smallpox while living in a dugout at the time of a land lottery in 1902. My search continues for her husband, the Reverend John Martin Atchley. His last known address: Pocatello, Idaho.

Peace,
Guy
---

May 07 2008 at 22:46:51
Name: Mike Bruchas
Topic: Don Ames/Jerry Marsh/Dr. Larry Bradshaw/Dr. Larry Elwell
Comments: Thanks Dr. Broo, will check out your website.

Questions: is OK state legislator/farmer DON AMES - the same Don Ames who went to TU and had a short career in radio before going to ranching? At TU and KWGS, we called him Don Ah-mes, jokingly. He was an good guy; can't remember if a returning Nam vet, seemed a tad older than us kids.

Had lunch yesterday with Jerry Marsh, who was a Speech major at TU and at one time split a house on 6th (still standing) with Larry Burnett, Mike Rusk (maybe still at the Tulsa County Library) and Mark Dotter. I had a crush on Dotter's sister who also went to TU, but she never knew.

Jerry is a hired gun for managing credit unions and is now based in Wichita after being the Chicago burbs for years.

Jerry asked me to post on TTM a question on 2 ex-TU speech professors of the 1970s: where are they now? Dr. Larry Bradshaw left TU to go to ENMSU in New Mexico. Dr. Larry Elwell managed KWGS after Ed Dumit's tenure then quit to run a cleaning service that serviced a lot of Tulsa theatres.

Anyone know?
---

May 07 2008 at 20:17:42
Name: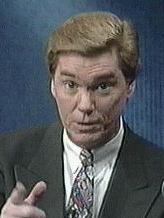 Ken Broo
Topic: Podcasting
Email: ken at kenbroo.com
Comments: To answer Senor Bruchas' question about podcasting, it's fairly easy.

I've done about 200 casts so far, most posted on my web site KenBroo.com. You'll need microphones, obviously. But you can get some decent ones at BSW Audio, bundles for under $100. You'll need a mixer and an editing software program. I use an analog Yamaha 10/2, which cost me about $100. You'll also need an digital interface to convert analog to digital. M-Audio has their FireWire series that works extremely well with an Apple computer. As for the recording software, Apple's Garageband is real user friendly and has a couple of point and clicks to send the finished product to iTunes. It will even convert your recording to an mp3 with one click.

So for less than $500 you can be up and running quickly.

Hope that helps.
---

May 07 2008 at 14:15:20
Name: Scott Linder
Topic: Trains
Comments: For those of you who miss the sound of steam trains, you can always listen to Brad Miller's classic "Steel Rails Under Thundering Skies" recording. It was made in the early 70s and is a composite of many hours of recording. I first owned the vinyl version, and now the CD that was beautifully re-mastered by Mobile Fidelity Labs. It's a joy to hear.
---

May 07 2008 at 13:51:48
Name: roy lee
Topic: Wrecked building
Email: royleeshouse@gmail.com
Comments: Yeah, it looked like it took them 5 seconds to throw that to the ground, too!
---

May 07 2008 at 08:07:12
Name: Steve Bagsby
Topic: Some more train songs
Comments: Roy Acuff had a few:

Freight Train Blues,
Sunshine Special,
Fireball Mail,
Glorybound Train.

Red Foley and later on Doc Watson had "Freight Train Boogie" I prefer Doc's version. By the way, When was the last time you rode the Zoo Train?......well that's too long!

And on a local note, the old round building West of 11th and Sheridan that used to be a hamburger joint has sadly bit the dust. Pleas lower your Onion Rings to half-staff.
---

May 07 2008 at 00:39:41
Name: Gary Chew
Topic: More Train Songs
Comments: I remember those train sounds. I had an uncle who used to work for the Santa Fe Railroad in Emporia, KS. That town is on the mainline from Chicago to L.A. He was a clerk who would call out the appropriate crews to operate the various trains going out of Emporia on the AT&SF. He worked right next door to the roundhouse. I loved going out to look at that stuff.

To quote Leon, "Lemme see here..."

Mystery Train
Orange Blossom Special
Sentimental Journey
Night Train
500 Miles
900 Miles
I'm So Lonesome I Could Cry
Night Train to Memphis
City of New Orleans
John Henry
This Train is Bound for Glory
Whistle Me Some Blues (The 4 Freshman sang it.)
Workin' On The Railroad
Freight Train
---

May 06 2008 at 23:58:15
Name: Frank Morrow
Topic: Trains
Email: frankmoratiodotcom
Comments: Trains have a long history in our culture. On the media, particularly radio, the train had a much more pre-eminent place than the airplane ever has achieved. The songs about or referring to trains are so numerous that only a few can be mentioned:

"Blues in the Night"
"Iron Horse"
"Fast Freight"
"Casey Jones"
"Folsum Prison Blues"
"Chattanooga Choo Choo"
"Atchison, Topeka and the Santa Fe"
"Wabash Cannonball"
"Saddest Man in Texas"

The train whistle was used frequently in radio dramas to set or enhance a mood, indicating danger, loneliness, and mysteriousness.

Remember the Bromo-Selzer commercials? The electronically altered "voice" of the train would say (simulating a steam train whistle), "Fiiiight headaaaches threee waaayys. BROMOselzer-BROMOselzer-BROMOselzer-BROMOselzer." (The latter simulating the sound of a steam train at high speed.) Young people who have heard only diesel trains will have to take my word for it. By the way, people still use the term "choo-choo train," although trains don't "choo-choo" anymore.

The train has permeated our culture in our language:

"Train of thought"
"Look at that caboose!"
Athletes "train" for their sport.
"I got sidetracked."
"Pour on the coal."
"Railroad Crossing. Look out for the cars. Can you spell that without any 'Rs'?
"They're letting off steam."
"Getting all steamed up"
And what I'm frequently accused of having: "a one-track mind."



Two of my favorites: Roger Miller's "Engine Engine #9" and "Train of Life".
---

May 06 2008 at 11:45:11
Name: DolfanBob
Topic: Joe Riddle
Email: MiamiPhin@yahoo.com
Comments: Joe Riddle just confirmed on air with Big Al Jerkins that he is alive and well, and that he was notified that it was reported on a website that he had passed away. And that he also knew that Al was talking about the passing of his Father. Thank you Webmaster for clearing up my mistake and to just let you know that this website works very well and to keep up the great work.
---

May 05 2008 at 22:11:23
Name: Holly Kinkade
Topic: KOTV January 14, 1976
Email: Kittygrrlhk@sbcglobal.net
Comments: This is the program schedule for KOTV from January 14, 1976.

Wednesday, January 14, 1976

6:45 a.m.-Light Of Life
6:50 a.m.-Project
7:00 a.m.-CBS News
8:00 a.m.-Captain Kangaroo
9:00 a.m.-9 A.M.-Clyde Parker
9:30 a.m.-Price Is Right
10:30 a.m.-Love Of Life
10:55 a.m.-Coffee Break
11:00 a.m.-Young And The Restless
11:30 a.m.-Search For Tomorrow
12:00 p.m.-News
12:30 p.m.-As The World Turns
1:30 p.m.-Guiding Light
2:00 p.m.-All In The Family
2:30 p.m.-Match Game
3:00 p.m.-Dinah! (90 minutes)
4:30 p.m.-Family Affair
5:00 p.m.-Andy Griffith
5:30 p.m.-CBS News
6:00 p.m.-News
7:00 p.m.-Tony Orlando And Dawn
8:00 p.m.-Cannon
9:00 p.m.-Blue Knight
10:00 p.m.-News
10:30 p.m.-Movie-"Twilight Of Honor" (2 hours)
---

May 05 2008 at 08:44:46
Name: David Bagsby
Topic: Pod people
Email: davidunderscorebagsbyathotmaildotcom
Comments: I just started at Apple a couple of days ago so hopefully I can answer your podcast question soon.
---

May 04 2008 at 22:34:03
Name: Mike Bruchas
Topic: This whole podcasting thing
Comments: Are any of you doing it? Anyone doing it for any Tulsey church? We did a lot at the Nat Geo but not my group; I could never get the things to download to my iPod.

Got the new B&H Photo wish book yesterday in the mail from Noo Yawk. They are selling podcasting kits from $89-$249. So somebody must be doing it. Also saw several Alessis and Numark mixers which take audio from an iPod OR record back to it. Wonder if I can git a Magna-corder to talk to my iPod? LOL

Maybe we can get Lee and the King to riff some podcasts for us!
---

May 04 2008 at 21:52:00
Name: Mike Bruchas
Topic: Leatherheads - train sidebar
Comments: The movie shot a lot at the Spencer, NC shops/NC Railroad Museum because it has period cars and a locomtive. The movie company paid to restore a second steam loco plus gave generously to the Museum.

Mr. George Clooney also chipped in cash - he likes old trains.

Leatherheads brought maybe $500,000 in cash to help fix up the museum, stations and poured money into the local economy. Not bad for just a small part of the film. Now you know why state film commissions like movie companies - especially Hollywood films with good budgets.
---

May 04 2008 at 21:45:25
Name: Mike Bruchas
Topic: Phyllis Watson
Comments: Guy Atchley (via e-mail):


I'm continuing to go through old photos. Came across a picture of Phyllis Watson. Do you have any idea where she is now?

Thanks, Guy
-----

Anyone know???
---

May 04 2008 at 19:47:31
Name: David Bagsby
Topic: Train of thought
Email: davidunderscorebagsbyathotmaildotcom
Comments: Recently was an extra in a film up here in Kansas based on Joseph Suglia's book, Watch Out. One scene we rode an old passenger train from Baldwin KS to Ottawa. The train runs every weekend starting in June. Baldwin City is about 20 minutes South of Lawrence.

---

May 04 2008 at 14:26:10
Name: Gary Chew
Topic: "The Outsiders" Redux
Comments:
Channel surfing this afternoon, I noticed on A&E that Matt Dillon and Diane Lane were watching another movie at the Admiral Twin Drive-In. Seems like Diane gets younger every time I see that film.

Delmeaux de Gillette du Coffeyville
---

May 03 2008 at 19:24:51
Name: Mike Bruchas
Topic: Train tangent
Comments: National Train Day is NEXT Saturday.

Also Kansans are wanting the Heartland Flyer to run to Newton, KS in the next few years and maybe on to Kansas City! What great news for train riders in Oklahoma!

Matt Bunyan and I have been talking. He said when he first came to TU about '66 or '67 via the Santa Fe, they still had a Pullman car on the train and he was the only passenger in the car! Yes, there were coach riders too. It came to the Santa Fe Freight Depot.

As noted here before, I travelled the Santa Fe and early AMTRAK between Tulsa and Kansas City till the Tulsa branch was cut. The thing that my fellow rider and TU student, Mike Gilmore and I dreaded most were school field trips getting on in Tulsa and getting off at the first stop in Kansas.

The kids drained all of the water tanks for the toilets or plugged them up and it often became a smelly ride. No food service meant that we had to sock up on cans of pop, crackers and snacks for that Northbound haul.
---

May 03 2008 at 16:11:51
Name: Holly Kinkade
Topic: Switzer Pre-empted On The Rocks
Email: Kittygrrlhk@sbcglobal.net
Comments: The show that Barry Switzer pre-empted was On The Rocks. I got my information from an old TV Guide with listings for Tulsa and Oklahoma City. The Switzer show also aired on channel 7 in Lawton (but not in prime time), and on channel 4 in Oklahoma City. I also have Tulsa area TV Guides from 1976 and 1980 with listings I'll post.

---

May 02 2008 at 23:26:52
Name: Jim Cripps
Topic: Dying to Breakout
Email: jimcrippsatyahoodotcom
Comments: I loved "On the Rocks", and remember semi-vividly that there were some familiar faces on the show. But, to assist my memory, I had to go to TV.com's web page about "On the Rocks". What a show! Shame on Barry - I really missed that show after it disappeared.

(IMDb's shortcoming is the lack of full cast listings of TV shows. Huzzah to TV.com!)
---

May 02 2008 at 21:39:24
Name: Dave
Topic: Barry preempts 'em
Comments: Re the KTUL Thursday night schedule from 1975: out of curiosity, what ABC show did Barry Switzer preempt at 7:30 p.m.? In those days, Switzer could likely have commanded almost any prime time slot, but I guess it had to be within reason. Obviously, he wasn't going to take Barney Miller's time slot at 7 p.m. I just wonder how weak the ABC 7:30 show was that KTUL found it dispensable enough for the occasion.



My trusty copy of the Complete Directory to Prime Time Network and Cable TV Shows says that the disrespected show was "On The Rocks" (IMDb).
---

May 02 2008 at 20:57:59
Name: Mike Bruchas
Topic: Holly's 1975 KTUL schedule
Comments: I think the paper did a typo. At that time 8 ran "Ironside", then tape-delayed ABC's Wide World of Entertainment after - a melange of Geraldo, Dick Cavett, Harry O, and Friday night concerts aired at 11:30pm.

KOTV then ran CBS's cheap/cheesy movies or Kojak, Hawaii 5-0 and later Mannix. CBS ran a lot of their off-net "CBS brand" detective shows as SOP.

Holly's schedule was for Thursday night.
---

May 02 2008 at 18:35:22
Name: Webmaster
Topic: Jason Pitcock
Comments:

Via Gary Chew, here is a photo from page C5 of yesterday's New York Times. At the upper right is Jason Pitcock, who is serving as a staff member on the House Financial Services Committee. Jason is Tulsa newsman Bob Gregory's son. Link to the story that goes with the photo: Agency Floats a Proposal to Help With Home Loans
---

May 01 2008 at 22:18:24
Name: Holly Kinkade
Topic: Vintage KTUL Schedule
Email: Kittygrrlhk@sbcglobal.net
Comments: Here is the schedule for KTUL from November 20, 1975.

Thursday, November 20, 1975

6:55 a.m.-Moments Of Meditation
7:00 a.m.-John Chick
8:00 a.m.-Cartoon Circus
8:30 a.m.-A.M. Oklahoma
9:00 a.m.-Movie-"Little Caesar" (90 minutes)
10:30 a.m.-Happy Days
11:00 a.m.-Showoffs
11:30 a.m.-All My Children
12:00 p.m.-Ryan's Hope
12:30 p.m.-Let's Make A Deal
1:00 p.m.-$10,000 Pyramid
1:30 p.m.-Rhyme And Reason
2:00 p.m.-General Hospital
2:30 p.m.-One Life To Live
3:00 p.m.-You Don't Say!
3:30 p.m.-Uncle Zeb
4:00 p.m.-Mickey Mouse Club
4:30 p.m.-Gilligan's Island
5:00 p.m.-ABC News
5:30 p.m.-News
6:30 p.m.-Adam-12
7:00 p.m.-Barney Miller
7:30 p.m.-Barry Switzer: Football
8:00 p.m.-Streets Of San Francisco
9:00 p.m.-Harry O
10:00 p.m.-News
10:30 p.m.-Ironside
11:30 p.m.-Mannix
---

May 01 2008 at 14:47:23
Name: Mike Bruchas
Topic: KTUL and old recordings
Comments: Guy Atchley wrote me that his sisters, "The Atchley Sisters", performed on a Channel 8 show called the Longhorn Wingding.

He asked if any videotapes or kinescopes of the show might remain. I said probably not as KTUL was very cheap on saving then, recycling tape, and kinies were also expensive back in the early days.

To my knowledge, until Bob Gregory ran news at 8, there wasn't much of any library on anything. Some times the engineers would squirrel stuff away, seeing that it might be of value some day...or for gag reels.

The Oertle's Don Woods weather open on the site may have been a kinie, but I am not sure.
---

April 30 2008 at 11:51:51
Name: Webmaster
Topic: Previous GroupBlog summary
Comments:
Archived GroupBlog 265, which was about:

15th

area

lowell burch

busey

called

camera

commercial

creek

dreams

ever

family

edwin fincher

full

hale

hi-los

lived

looking

lot

memorial

minutes

music

night

once

passed

radio

record

school

seems

service

son

song

sound

southland

station

store

tape

thanks

today

tv

watching

wife

years

WNBA great Lisa Leslie, who has co-written a book with Tulsa TV's Larry Burnett, was interviewed on NPR today, and Good Day L.A. yesterday (I see that a co-host of the show is Jillian Barberie, formerly of the amusing TV blind date show, "EX-treme Dating"). More about their book on the Bulletin Board.
---
Back to Tulsa TV Memories main page