Tulsa TV Memories GroupBlog 241

TTM main | What's new on TTM? | GB Archive





May 15 2007 at 08:08:08
Name: Joe
Topic: Dewey(s) The Barber
Email: aa5drvr at yay balk com.
Comments: There were 2 Deweys the barber. One was Dewey Holmes and the other Dewey Hess. Dewey Hess has the shop at 21st and Garnett. Holmes is the uncle of Hess. They both worked in the same shop at 11th and S. 91st Street for some time.

There was also another Hess barber, Val. The Hess brothers were active stock car racers in the old fairgrounds Dick Colvin days.

Dewey Holmes, the uncle, was an avid bowler and competitive pistol shooter. He had shops all over town (including in his home near McClure Park). He had a shop about 5th and Sheridan, and that's where I remember the hand-painted sign from.

Most recently, he was working from a mobile home at 11th and 129th street, but has since retired, I suppose.

Dewey Holmes was old school, but had a good touch.

---

May 15 2007 at 07:58:45
Name: Joe
Topic: Sandy's
Email: aa5drvr at "The Hoo" dot calm
Comments: There was a Sandy's on 11th Street (west of Pittsburgh, further west than McDonald's was), on the south side of 11th. It was actually there before McDonalds.

When we were kids we had a running argument over whether we would go to Sandy's or McDonald's. If mom had to break the tie, then we usually went to Griff's on 21st Street.

We also used to go to a BBQ joint on N. side of 11th between Sheridan and Yale, called 3 Little Pigs. Just west of where Ofixco was. It's a used car lot. The building looks more modern than the normal 11th Street building. Kinda of like a rip-off of Pizza Hut architecture.

---

May 15 2007 at 07:26:55
Name: Mitch Gray
Topic: Chuc Wagun
Email: My casino's bigger than yours.
Comments: Thank you fearless webmaster for the Chuc Wagun pic!

Now, does anyone recall the "Sandy's" hamburger joint? I'm thinking on Admiral between Sheridan and Yale. I believe the sign had a smiling girl with a Scottish Tam-O-Shanter on her head. Am I close?

Ciao Hounds!



Try the trail starting at the photo in GB 226. There is a website devoted to the Sandy's Hamburgers chain with a Tulsa page (TTM contributors are quoted). Your Sandy's was at the NE corner of Pine and Sheridan.
---

May 15 2007 at 02:13:40
Name: roy lee
Topic: 11th and Sheridan and things
Email: beerdrunk@cox.net
Comments: I don't remember that and I've lived near that corner off and on since childhood. Living so close to the Wonder Bread bakery was quite an adventure though. Lots of fun exploring around there.

In recent news, I was driving by the now half-Zingo and we drove in and took a piece of a white beam. No goodies from the Phantasmagoria left, which was my goal. Maybe I'll try again...

---

May 14 2007 at 21:45:49
Name: Fiddler on the Green
Topic: Tulsa's Almost Automat
Comments: Thank you, Joe (4 entries down).

For years, I've asked folk if they recall those former colored concrete slabs on the NE corner of 11th and Sheridan, and how, once-upon-a-time in the late, lamented '60s, they were destined to be an ahead-of-their-time Automat.

Everyone thought I'd had one toke too many, Back in the Day.

Either it's a True Story, or we're sharing a Consensual Hallucination.

(A topic upon which the Webmaster is an expert.)

Many thanks for the backstory.



No doubt the grassy Fiddler refers to this neither-Tulsa-nor-TV-related page I put out a few months ago.
---

May 14 2007 at 21:02:41
Name: Mike Bruchas
Topic: Fido
Comments: Tim Blake Nelson is in a new sci-fi or horror film called "Fido". Evidently shot last year, but not being released til June. Anyone heard any more about it?

---

May 14 2007 at 18:21:08
Name: Mitch Gray
Topic: 11th Street
Email: Out Here Somewhere
Comments: I miss the old "Chuckwagon" burger joint, west of Lewis on 11th by the tracks, I think.
I spent a of of my coins in the chocolate milk vending machine. Any pics out there?



Is this your Chuc Wagun, sir?
---

May 14 2007 at 16:33:39
Name: Craig Adams
Topic: Grandpa John's furniture
Email: craigadams at houston.rr.com
Comments: Hello all,

I discovered this site about 4 months ago. I have spent the last few months catching up with the GB. I grew up in Tulsa, went on to OU and I am now in Houston.

My connection with TTM lies with the Grandpa John's/ Walls Discount furniture TV ads. John Wall was my stepfather. I worked for him throughout my teens as a delivery boy/salesman.

Does anybody remember those fleeting ads?

Thanks for the great site.

Craig

---

May 14 2007 at 14:49:22
Name: Joe
Topic: 11th and Sheridan
Email: aa5drvr at the yahoo
Comments: The Admiral photo reminded of how Tulsa almost stepped into the way-far future back in the 60s.

On the SW corner of 11th and Sheridan is a used car lot. Before that, it was a Consumer's Gas Station.

Before THAT, it was a bare octagonal slab with sections painted in different colors. Existed like that for years before Consumers. A neighborhood grocer planned a development there.

He owned the Cardinal store at 11th and 91st across from Eastwood Baptist Chuch, next door to Dewey's Barber Shop. It was kind of a convenience store before there were such things.

The grocer and another investor obtained that lot and poured the slab to build an Automat (Wikipedia), a fast food restaurant where simple foods and drink are served by coin-operated and bill-operated vending machines.

It never materialized and eventually became a Consumer's Gas Station.

Graphic courtesy of the Beryl Ford Collection/Rotary Club of Tulsa,
Tulsa City-County Library & Tulsa Historical Society

---

May 14 2007 at 14:02:27
Name: Steve Bagsby
Topic: Admiral photo
Comments: Yikes! Seeing that Admiral photo re-affirms my "old-coot" status. I can remember all that stuff when it was still up and operating. I can remember when Admiral and 11th street were still carrying highway traffic. There's still a remnant of the Admiral Twin driveway today. Funny to see service stations as they were back in the day. Anyone remember getting premiums from gas stations? Toys, glassware, etc?

---

May 14 2007 at 09:50:57
Name: DolfanBob
Topic: Linda Soundtrak
Email: MiamiPhin@yahoo.com
Comments: OK, maybe I did not hear the commercial correctly or I was just hearing things. Last night one of those 1-800-2buy-homes ads was on and the woman that was talking with the now familiar Paulette said that she hoped that this was not going to be one of those whiny Linda Soundtrak commercials. So I am wondering if Paulette is actually our Linda Soundtrak reborn. Anyone know?



I've seen those commercials, too. Emmy! Emmy!
---

May 13 2007 at 21:52:55
Name: Rick Brashear
Topic: Beryl Ford photos
Email: Just this side of nervana.
Comments: I work with one of Beryl's sons. He has brought several old items to work for us to look at, from old posters to newspapers.

I contacted the library about a picture in the collection showing 15th & Memorial that is captioned as being in the late 1950s and, I got a reply. I told them the picture was taken during the early 1970s. There is a Chevy II that belonged to the manager, Warren, of the U-Totem on the southwest corner. There was a old, genuine country store where the U-Totem was later located. I lived at 89th & 15th and knew that corner very well. I was almost killed trying to beat a semi while running across a graveled Memorial. The church across the street wasn't built until the late 60s or early 70s. So far, the caption hasn't been corrected.

We used to lag quarters with Warren back against the coolers. He was pretty cool and would sell us beer on the QT. Heck, back then you could buy boxes of .22s that were behind the counter glass, or a lock-blade with a dragon on the handle, or a fake wedding ring set. Things are too damned complicated anymore.

Courtesy of the Beryl Ford Collection/Rotary Club of Tulsa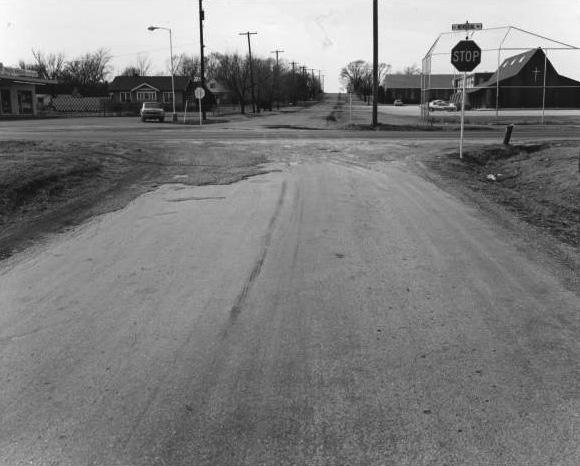 ---

May 13 2007 at 09:39:49
Name: David Bagsby
Topic: Admiral Twin
Email: dcbatsunflower.com
Comments: Man oh Man! That '62 foto of Admiral is awesome. At that time we lived about 1/2 mile from that spot. I'll have to get out the electron microscope and see if the Kon Tiki head is visible.

---

May 12 2007 at 12:22:32
Name: Webmaster
Topic: Beryl Ford photos/S.E. Hinton/Gary Chew
Comments:

I stumbled across these 1941 Beryl Ford Collection photos of the Ward Chemical Co. on Main St., and sent them to Dana LeMoine for WeirdWard.net, a tribute site to our East Central High School chemistry teacher, Pat Ward.

(Later) Courtesy of Gary Chew, here's a review in the New York Sunday Times of S.E. Hinton's new book, Some of Tim's Stories.

Gary will be doing his classical hosting thing again on KXPR in Sacramento, Monday and Tuesday from noon to four, T-Town time. He's also doing the same time slot on Monday, May 28th. Listen online.
---

May 11 2007 at 15:30:20
Name: Natalie Brown
Topic: Ex-Tulsa Resident
Comments: Hi ALL! Just wanted to let my Tulsa-loving ex-neighbors know that i've settled in well in Hawaii. I'm now a Maui wedding photographer here and love the islands. It's not the same as Tulsa, but there are actually a lot of people here that did the same thing as myself. If you're in town and want to see a friendly face, get some vacation portraits done by me! Thanks for the support!

---

May 11 2007 at 14:39:42
Name: Webmaster
Topic: Ice cream
Comments:

Another sign of spring: I just saw my first Mel-O-Dee Ice Cream truck.
---

May 10 2007 at 22:36:28
Name: Eugene Klass
Topic: The Real Bat
Comments: Thanks to the Webmaster for defending the honor of Bat.

And to "Mr. Burke": See you that 5000, and raise you 5000 Earps.

Didn't we meet in Tombstone, once upon a time?

---

May 10 2007 at 01:13:28
Name: Amos Burke
Topic: Impersonation of Gene Barry
Email: Just SW of the Donner Party Family Grill
Comments: Alright, you imposter. I've caught you. Going around acting like you're in Mr. Barry's character as Bat Masterson shows great disrespect on your part, sir. I'm going to call Burke's Law.

But first, I call you, and raise 5000!

AB



Bat's bonifides were presented in GB 236.
---

May 09 2007 at 22:52:44
Name: They Call Him Bat
Topic: D. Lynch Movie Latest
Comments: No disrespect to Gary Chew, but, not only "Jeremy Irons and David Lynch ... what a pair to draw to", don't seem to moi quite enough poker.

Note also Laura Dern and Harry Dean Stanton ... we're talkin' four of a kind!

I'll push all of my chips into the pot on those four any day.

Then add Gary "The Ace" Chew, making a Royal Flush, and I bet the ranch.

Draw, sucker.

---

May 08 2007 at 22:39:02
Name: Gary Chew
Topic: New Lynch Movie
Email: Just SW of the Donner Party Family Grill
Comments: Reading about "Twin Peaks" made me think of the latest David Lynch movie, which came out in Belgium in 2006. I noticed a poster of it at one the my downtown artsy-indie cinemas. It's called, "Inland Empire." And get this cast (one only Lynch could bring together):

Laura Dern
Jeremy Irons
Justin Theroux
Harry Dean Stanton

My goodness, Jeremy Irons and David Lynch! What a pair to draw to.

Your buddy, Kyle.



I recently checked up on the former members of one of my favorite bands, Austin-based but Continentally-flavored 8 1/2 Souvenirs, and found that the singer, Chrysta Bell, co-wrote a tune with Lynch for this movie, and performed it. "Inland Empire" played at the Circle Cinema a month or so ago.
---

May 08 2007 at 20:30:31
Name: Webmaster
Topic: Gailard Sartain's Mayfest art
Comments:
Gailard Sartain is the Tulsa Mayfest poster artist this year (and Mary Jo Sartain is the Mayfest Chairperson). The new art has an echo of his 2001 poster, which was the best-selling in Mayfest history. I learned from former Mayfest director Michael Patton that the artwork will become a giant mural on the south face of the Crowne Plaza Hotel.

I took this snapshot at the unveiling this evening at OSU-Tulsa: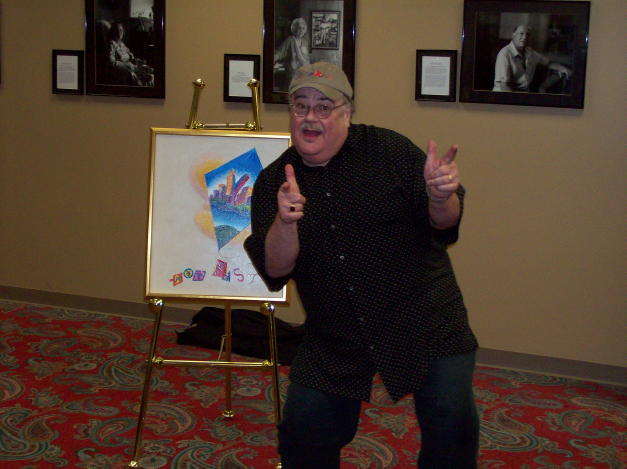 5/9/2007: Tulsa World story: Mayfest poster will be mural: An affair of the art.
---

May 07 2007 at 18:49:36
Name: Webmaster
Topic: Twin Peaks in Tulsa
Comments:

The Twin Peaks Viewing Society of Tulsa plans to meet at the Circle Cinema May 16 to watch the pilot movie. They will view Season One, Season Two and finally "Fire Walk With Me" over the following months. The group will enjoy pie, donuts and coffee while the story of Laura Palmer's mysterious death unfolds.

A word from Agent Cooper on this site.
---

May 07 2007 at 09:30:17
Name: Dana LeMoine
Topic: Gary Shore
Comments: When Gary checked in on April 29th and predicted a severe weather outbreak for this past weekend, I checked our four local stations to see what they were predicting. At that point, they were all forecasting a fairly calm weekend.

Looks like Gary scooped 'em.

Since Chris Lincoln is back on the air here, maybe it's time for Gary to return.

---

May 06 2007 at 22:44:33
Name: RichT
Topic: Dr. Warren C. Hultgren
Email: chardtomp@aol.com
Comments: When I was a child, Dr. Hultgren and I had the same barber. Once when I was about six, he was getting his hair cut and had left his hat on one of the chairs people sit in while they're waiting. I came in with my mother, hopped up on the chair without looking and squashed the good reverend's hat flat as a pancake. As I remember it, he wasn't very amused. I guess he had to forgive me though.

---

May 06 2007 at 00:25:17
Name: Mike Bruchas
Topic: Old timers
Comments: I think Chris Lincoln's return to 8 is great! Why not have fun after you have finished a world-travelling career?

And seeing Warren Hultgren still among the living is also a life affirmation. We loved him at 8; he will always be my ideal as a minister in OK. Wise but never judgmental and someone who anyone could relate and talk to!

---

May 05 2007 at 19:47:47
Name: Webmaster
Topic: Dr. Warren C. Hultgren
Comments:

In today's Tulsa World: The Rev. Warren Hultgren: Longtime pastor honored: 50 years of being there when needed.

Dr. Hultgren was seen for many years on "Moments of Meditation", the first show of the morning on KTUL (see it on the 1961 Tulsa TV schedule). Here's a photo of him in GB 26.
---

May 05 2007 at 16:10:16
Name: Dana LeMoine
Topic: Chris Lincoln/Big Al Jerkins in Feb '81
Comments: WeirdWard.net/BigAlandCasillas.html

---

May 05 2007 at 08:01:11
Name: Webmaster
Topic: Route 66 Gas Station Restoration/Book signing
Comments:

A 1926 Phillips 66 station at 602 S. Elgin is being restored and will become an Avis Rent A Car office. More info and links to pics of other restored cottage-style Phillips 66 stations at Route 66 News.

From a KVOO-TV closed circuit program, 1/16/1959: comedian Jonathan Winters in Phillips 66 uniform (shot 1 and shot 2), plus, models.

Don't forget Carl Bartholomew's book signing today at noon at Barnes and Noble, 5231 E. 41st St., 665-4580.
---

May 04 2007 at 22:36:18
Name: Dave
Topic: He's back
Comments: What? Nobody noticed that Chris Lincoln is coming back to KTUL as sports director on Monday? Read all about it in Friday's World.

Maybe we should all go back to whatever jobs we were doing in 1974. Now that would be interesting.



Pix of Chris in the 70s and today.
---

May 04 2007 at 07:25:14
Name: RichT
Topic: Wally Schirra
Email: chardtomp@aol.com
Comments: I believe Scott Carpenter is still alive. He and John Glenn are the only two of the original seven left. They're both in their eighties.

---

May 04 2007 at 00:21:26
Name: Mike Bruchas
Topic: Wally Schirra
Comments: CBS Radio 1 am East Coast feed this morning, the second story was of Wally Schirra's passing tonight in his late 80s.

One of the original Mercury guys then an Apollo guy. (and a Gemini guy in between)

That leaves John Glenn and ?? ?? as the sole survivors of the Mercury astronauts.

I feel mighty old as when back in grade school I could recite all of their names!

---

May 03 2007 at 22:53:01
Name: Jim Reid
Topic: "The Runner" job
Comments: I was originally hired as the station's runner. During my interview, I disclosed the back problem I still have today. They told me they were sorry, but they couldn't risk having me carry heavy two inch reel cases around. I was crushed, having blown my chance to get into TV. About a month later, Glenn Blake called and offered me the projectionist/film make up job, so it all worked out well.

---

May 03 2007 at 22:48:50
Name: Jim Reid
Topic: Space Ghost
Comments: Never was a big Space Ghost fan, but one of our station "voices" is the voice of Space Ghost on the Cartoon Network.



That's George Lowe, also the voice of "Dad" on "The Brak Show". The original voice of Space Ghost was Gary Owens, who was seen and heard as the announcer on "Rowan and Martin's Laugh-In" in the late 1960s.
---

May 02 2007 at 20:07:08
Name: Mike Bruchas
Topic: Never fear, Underdog is here!
Comments: Great show; I got hooked on Space Ghost a few years back for "a while".

May 5 is my anniversary date or so for my first TV job while in college at KTUL in 1972. I had interviewed for a cameraman job but they gave it to Mahcoe Van Dyke, who had been the station "runner" and it was his time with KTUL as a known and liked employee that cemented that deal.

Bob Hower called me up and asked if I was interested in a projectionist's job and I took it. At $2 an hour or so.

Funny how we fall into our first "adult gigs"!

---

May 02 2007 at 07:47:40
Name: Joe
Topic: Wilhelm, Underdog, Space Ghost and CBS late movies
Comments: Wilhelm's mention of Underdog brought back a memory that I hadn't thought of in 35 years or so. I had the Underdog gameboard in about '68, when I was in the second grade. Probably could find one on eBay.

Just a heads up... the 1966 Space Ghost is being released as a boxset on July 17th.

I find the internet amazing. I can't believe that there is a schedule of the CBS Late Movie, showing exactly when I watched 7 Faces of Dr. Lao, and Fearless Vampire Killers when I was in the 7th and 8th grades in the early 70s. I love this site.



Here is a TTM page about Space Ghost Coast To Coast, SG's 1990s talk show.
---

May 02 2007 at 00:11:06
Name: Wilhelm Murg
Topic: MH2 & Underdog
Email: Wilhelmurg at yahoo dot com
Comments: I just finished the "Mary Hartman, Mary Hartman" box set last night, which is made up of the first five weeks of episodes. It has some sidesplitting moments (especially from Ed Begley Jr. as Cathy's deaf boyfriend,) but overall it still seems more strange, in a David Lynch sense, than funny.

For the record, the box goes through the psycho killer story arc -- the Lombardis are killed in the first episode along with their two goats and five chickens. The killer -- little Davy -- kidnaps Mary's daughter, and then Mary exchanges herself as his captive, and a media circus/police standoff ensues. The box ends with Loretta (Mary Kay Place) and Charlie hitting a station wagon full of nuns on their way to Nashville, which results in Loretta temporarily losing the uses of her legs. No one has drowned in a bowl of chicken soup yet.

All the good shows seem to take forever to get released. I'm still waiting on Season Two of both "Saturday Night Live," and "Weeds," along with "MH2" now. My biggest concern is that we'll change formats again before the complete run is released, then we'll have to start back at zero. With hope, maybe both the Blue-Ray and HD formats will continue to be format turkeys (remember RCA Selectavision video discs? The Dat tape?)

By The Way -- Disney's live action "Underdog" movie is set to open August 3rd. The last thing the world needs is a live action "Underdog" movie, but I just got a great Underdog bobblehead for my desk -- at least we'll get some good toys out of the deal. It's too bad they didn't make these back in the day - it beats the hell out of the old Soaky Fun Bath Bottle. --WM

---

May 01 2007 at 16:22:17
Name: Brian
Topic: It's as easy as 1 2 3
Email: brian74055@hotmail.com
Comments: Does anyone have a recording of Shawnee's commercial, "It's as easy as 1 2 3"? I used to love that commercial.



It hasn't turned up yet, but it would be a welcome addition.
---

May 01 2007 at 12:43:45
Name: DolfanBob
Topic: Carl Bartholomew
Email: MiamiPhin@yahoo.com
Comments: Mr. Bartholomew was just on the News on Six at Noon with Glenda Silvey, talking about his new book and his book signing this Saturday at Noon at Barnes and Noble. Stop by and get a HOWDY and an autograph from a Tulsa legend, Uncle Zeb.



Details about the event and a link to John Wooley's article about the book at the top of the just-archived GB 240.

Watch Carl's interview at KOTV's site. Here's the Stearman biplane Carl mentions, with Bob Hower in the cockpit:
---

May 01 2007 at 11:38:19
Name: David Batterson
Topic: The Name Game
Comments: I also suffered from the name-changing treatment. When a file on me gets lost, I tell them to look under "Patterson" instead. In school, they called me Batman, Batterman, Bat Masterson, or the worst: Bat Bastardson!

Reminds me of the joke about a guy named Joe Outhouse, who went before a judge to have his name changed. The judge was sympathetic, saying he understood. The judge asked: "What name do you want to use now? The guy said: "Sam." ;-)



The kids could have used "Matt Baster(d)son" to provide "deniability" in case of teacher reprimand.
---

May 01 2007 at 11:32:44
Name: Erick
Topic: Last names
Comments: Mine is Church. Imagine the fun I endured at my expense as a child.

Ahhh...good times they were.

---

May 01 2007 at 10:00:06
Name: David Batterson
Topic: Separated at birth?
Email: david dot batterson at charter dot net
Comments: I saw an article in the LA TIMES, and I thought you were in the news!! ;-) But no, it's author Clive Cussler suing Philip Anschutz over the "Sahara" film fiasco.



[As the high-powered lawyers Chew on each other, could this be Cussler's last stand????]
---

May 01 2007 at 09:27:30
Name: DolfanBob
Topic: Last name game
Email: MiamiPhin@yahoo.com
Comments: Mr. Chew,

I too have had a life of last name ridicule. Mine is Rice. Rice patty, Rice Krispies, Rice-a-Roni, Fried rice, etc, etc...

Now my boys get the wonderful experience of the name game at school.

One other thing. My neighbor across the street from me said that she had went out on a date with you years ago in your convertible. Her name is Judy. Small world, huh.

---

May 01 2007 at 01:38:53
Name: Gary Chew
Topic: Making Fun of My Last Name
Email: A Donner Passenger
Comments: The Web Maestro here, like so many throughout my life, is making fun of my name. I was called "Cherry Goo" in grade school. And one of the funniest ones was conceived and first uttered by former Channel Six (KOTV) colleague, Michael Myron Miller. He always enjoyed reminding me, "Don't bite off more than you can, Chew!"

I also DON'T know the naughty joke the Web Maestro refers to with his other vicious taunt regarding my family name. In fact, I hardly know any off-color humor, whatsoever. Just ask Mike.

Delmotor here.



Gary is as pure as the driven snow, whatever that might mean to you. I think of it as snow that has been run over a bunch of times and brownish in color.
---

April 30 2007 at 23:06:41
Name: Guri Chewzinsky
Topic: Slava Rostropovich Again
Comments: I meant to mention in my last post on Slava that none other than Leonard Bernstein wrote a short orchestral piece for the great cellist. Its title is "Slava;" typically joyous and rambunctious Bernstein who, himself, was quite an American accomplishment.

The Bernstein piece is on a Deutsche Grammophon recording, but I can't remember what else is on the disc ("Essential Leonard Bernstein").

Delmomovic Gileyaskaya - Coffyavagrad, Ukraine
(Just up the road from Kiev, birthplace of Sergei Prokofiev)



Indian alias: "Guru Chew"? Chinese alias: "Tu Kan Chu"? (Sorry...the latter is the punchline of a short, naughty joke I heard twenty-some years ago.)
---

April 30 2007 at 21:29:36
Name: John Hillis
Topic: Rostropovich
Comments: My daughter (just out of the Ukraine, strangely enough) took violin lessons from one of the NSO musicians, and on the wall of the basement where I sat for many a lesson was the autographed photo of Maestro Rostropovich. If I remember right, it was inscribed "To Murray, Love and Respect, Slava".

---

April 30 2007 at 17:31:50
Name: Guri Chewzinsky
Topic: Rostropovich
Comments: Slava, as his colleagues called him was the premier cellist of our day. He fought for musicians and composers who suffered under Soviet rule.

The old joke about Slava's last name insofar as pronunication went was whether it was said as "Rahs-troh-POH-vitch" or "Rahs-TRAHP-oh-vitch."

Delmonovic Gilyeltrovsky --- Coffyanagrad, Ukraine

---

April 30 2007 at 15:27:26
Name: Mike Bruchas
Topic: Rostropovich
Comments: I'd swear his name was a test on the KWGS-FM audition 35 years ago.

Russian cellist and conductor Mstislav Rostropovich (Wikipedia) passed away Friday. He was 80.

"Slava" was conductor of the National Symphony Orchestra when I first came to DC in '85. He and family had fled Russia during the Cold War.

Maybe 18-19 years ago, he was back in Russia the week Gorbachev fell, doing a first NSO concert on Russian national TV in cold, windy Moscow - outdoors. One of my friends, a former DC CBS network news shooter, was there with him and the NSO as NSO's videographer. A crazy time.

---

April 30 2007 at 14:28:37
Name: Webmaster
Topic: Previous GroupBlog summary
Comments:

Archived GroupBlog 240, where we just heard about Uncle Zeb's new book and a book signing to take place this coming Saturday.

Weatherman Gary Shore dropped in to give us a forecast for the next 2 weeks. Writer Wilhelm Murg touched on the CBS Late Movie of the 70s and 80s, among other topics.

A 73-year-old Tulsa murder case was revisited. Jim Ruddle remembered some of the facts and speculations, and we found a detailed and fascinating online legal document.

A fund raiser for Tulsa radio veteran Jan Dean was held at the Cain's. Photos to come in this GB.

We watched some vintage Lee & Lionel and Bill Pitcock on Google Video.

Gailard Sartain is the poster artist for Mayfest (May 17 to 20) this year.

Tulsa's Mary Kay Place was again a topic in connection with the DVD release of"Mary Hartman, Mary Hartman".

What tunes were on the juke box at St. Michael's Alley besides "Take Five" and "Scotch and Soda"?

Questions and answers abound in GroupBlog 240 .
---
Back to Tulsa TV Memories main page