Tulsa TV Memories GroupBlog 291

TTM main | What's new on TTM? | GB Archive


May 19 2009 at 18:47:46
Name: Steve Todoroff
Topic: Leon & Old Glory
Email: info@preservemusic.org
Comments: Here's one of the original photos from the Steve Crane collection, straight from the vaults of the Tulsa Area Music Archives (PreserveMusic.org).

It's been so long since I looked through these photos that had forgotten about him performing at the Tulsa Speedway. We're in the process of cataloging our collection so I'll keep an eye out for a more detailed picture with the flag.

Roll Away The Stone...




Scroll on down for more Leon
---

May 19 2009 at 18:05:02
Name: Lazzaro
Topic: Russell B
Comments: Yes, it was the Speedway. My recollection is that Leon was late coming out for the show and there were roadies and/or marketing guys hawking Frisbees and sun-visors from the stage saying "the sooner we sell these the sooner Leon will be out". That didn't set well. At one point I went to relieve myself and while walking the passageway under the bleachers looking for a restroom came face-to-face with Russell and his handlers heading for the stage.

I was a big fan after Mad Dogs at the Brady.

---

May 19 2009 at 17:28:11
Name: Mitch Gray
Topic: Leon Photos
Email: North Of You
Comments: Thanks to Steve Todoroff!!

I knew I wasn't imagining that photo of Leon!

I do believe the concert was at the Tulsa Speedway and not Oiler Park. The Speedway was the sight for most of Tulsa's outdoor rock shows in the 70s including Peter Frampton, Gary Wright, ZZ Top, Johnny Winter, Blue Oyster Cult, and many others my well-pruned brain won't let me recall.

My brother is standing next to the flag waver. I have seen this photo somewhere other than Circus magazine where the faces are mostly recognizable. No rainbow around Leon's head either.

Here is another photo of that same concert. I'm the guy carrying drinks behind the dog.

Thanks again!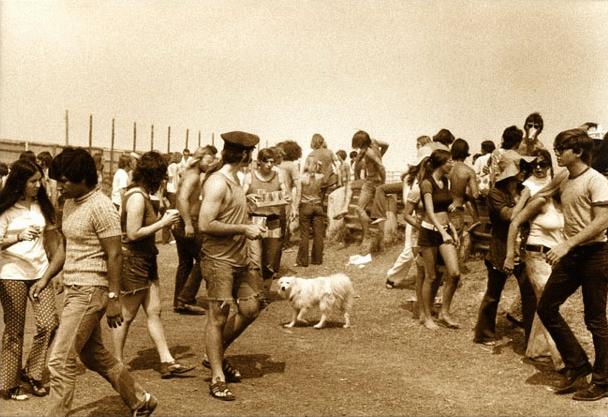 ---

May 19 2009 at 16:12:05
Name: Steve Todoroff
Topic: Rock Music Mags
Email: info@preservemusic.org
Comments: Regarding Mitch Gray's inquiry on which rock mag Leon's photo appeared on, it was the September, 1972 issue of Circus Magazine.

If I recall, Steve Crane, who at that time was with the Tulsa World, took that photo. He was kind enough to furnish me a complete set of those photos many years ago of that concert held at Oiler Park, which also included J.J. Cale on the bill. Here's a picture of that issue of Circus, w/ Leon in all his glory.

Rock On!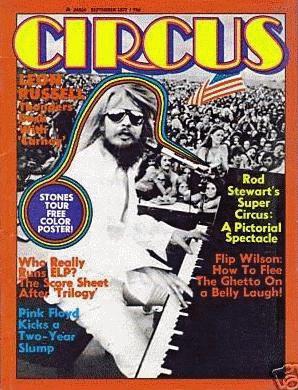 ---

May 19 2009 at 09:31:56
Name: Charlie Tooley
Topic: Wayman Tisdale - Tribute on XM Radio
Email: charlie_tooley@wellsfargois.com
Comments: I too was enthralled with OU Basketball because of Mr. Tubbs and his game and having Wayman as a part of that also made me a fan. Heck, when I was at OU, we didn't even know where they played basketball... I think is some old arena on campus... The winter sport was wrestling!

XL/Sirius Radio did a 3 hour tribute on Saturday night to the music of Wayman Tisdale and I danced in the yard while listening to his great music. What a total inspiration type of guy he was... He will be missed in many ways. - Charlie

---

May 19 2009 at 05:29:04
Name: Rose Bowl Bunker Commander
Topic: This is Your Brain on TTM
Comments: The Webmaster speculates that TTM may act as a beneficial recreational drug. This explains why, everytime I logon, I crave doughnuts.

Hey, kids: it's science!

---

May 18 2009 at 16:14:01
Name: Mike Bruchas
Topic: Quebe Sisters Band
Comments: Bob Wills TUNES Live again! This Texas "girl band" recreates so many classic Bob Wills fiddle tunes with a near all-girl vocal chorus. There are a lotta YouTube clips of them posted too. QuebeSistersBand.com

---

May 18 2009 at 12:43:34
Name: Webmaster
Topic: This is your brain on TTM
Comments:

I found these two related articles interesting from the TTM perspective: "Teen Brains Clear Out Childhood Thoughts" and "Child Brains Organized Differently Than Adult Brains".

According to the article, the teenaged brain pares away rarely used mental connections. I recall that the events of my childhood began to seem distant as a teenager. It is speculated that some forms of schizophrenia may be the result of this process going awry.

The childhood memories that survive this process to remain easily recallable were hooked in enough or refreshed often enough not to be discarded. (I don't directly recall most of the scenes in our home movies; I've seen them often enough over the years to create a backward chain of memories of viewing the movies.)

TTM often deals with things that have not been recalled for many years. Maybe the pleasurable kick you sometimes get is due to the reestablishing of a neural pathway to something that was "stranded" after all that teenage synaptic pruning. Maybe an endorphin is released when that happens, which would make TTM like a recreational, and beneficial, I hope, drug for some readers.

The adult brain continues to prune, albeit at lower intensity, or perhaps with a more set algorithm (hence the shorter sleep requirement of adults?) It becomes more adept at assessing what can be discarded with impunity, e.g., that Lotus 1-2-3 class I took in the 80s. (By the way, I notice that the 1980s and 90s seem more interesting to me now that they are so irrevocably in the past by contrast with the present.)
---

May 16 2009 at 14:25:34
Name: Mike Bruchas
Topic: Mayfest
Comments: I think there needs to be a TTM quiz booth at Mayfest - who knows what visitors might be able to contribute to TTM! It sounds cheaper than yet another FREE beer tent... LOL

---

May 16 2009 at 06:46:21
Name: John B
Topic: More questions than answers
Comments: Can someone enlighten me on the 'Red Dirt' genre? Is it a little less underground than say 'roots'?

Also - I remember seeing a pic of the '70 or '71 Leon outdoor concert in Tulsa - shot from behind the stage facing the audience, next day in the Tulsa World. A really wide angle shot. Iconic in my mind, but might have been hard to spot someone's brother in the crowd.

And regarding the Erotic Shop show on O. Where's 'spicy' Sherman Oaks when you need him?

---

May 16 2009 at 02:25:24
Name: Jeff H
Topic: A Tulsa Son Is Gone
Email: God Bless You Wayman
Comments: Wayman Tisdale ignited my interest in college basketball in the early 80s and have been a fan of OU hoops ever since.

I sorta met Wayman in the early 90s at the IGA, 101st and Sheridan around noon during the summer. I was buying some who-knows-what for lunch and Wayman was sent to the store to buy the big pack of nappies for his baby.

I was standing in the checkout line and looked back to see this huge man with a big grin holding a big pack of diapers saying he was sent on a mission from the wife.

I wish I had said something stupid like "You're Wayman Tisdale and I am a big fan", but it turned out better being a big giggle over a macho NBA star on line sent to buy Huggies, and he got the bigger kick out of the situation. I think Wayman always approached life with his smile and enthusiasm for life.

I will never forget that day and the many memories he gave me as an OU hoops fan.

---

May 16 2009 at 02:19:13
Name: Webmaster
Topic: Insomniac
Comments:

I just lit on the Oxygen channel (Cox 166). It's a 90-minute infomercial for... well, the program title is "Shop Erotic". The hostesses really make sure you understand how the products work. I hadn't realized Cox was servicing our community's needs so assiduously.
---

May 16 2009 at 00:04:09
Name: Paul Lazzaro
Topic: Attention Veteran Newshounds:
Email: cwrench@hotmail.com
Comments: Hello all. I have a question for the news business vets here:

I'm interested in a local news story that received Tulsa television coverage in the early 80s. Do any of the three local network stations that were broadcasting at that time keep archival video of their news stories? If so, how is the best way to request access to that vid?

This is a matter of keen interest to me and any responses are much appreciated.

Thanks



You must be referring to the shooting near Cardo's Cadillac you described five years ago in GB 159. On the internet, I can find only a recent reference to what must be the same story in this entry in the News on 6 Tulsa Forum. You might reply to his entry and see if he can supply more detail.

I strongly doubt that any of the local stations have news archives going back as far as 1982-85, and in that unlikely event, the indexing would be inadequate to locate a particular story without knowing the exact date.

Anyone have access to LexisNexis or other online subscription resources? I think that might be a more fruitful approach. Once there is a date, the Tulsa World and Tribune microfiche at the library would yield the desired information.

(Later note) Found via the Tulsa Library research page: February 12, 1982.

I will now leave interested readers to communicate amongst themselves, as I don't want to move TTM onto the turf of the Tulsa Crime Monthly. I'm turning in my junior G-man badge and Crimestopper's Textbook.
---

May 15 2009 at 18:12:40
Name: Mike Bruchas
Topic: KELi & Guy Atchley
Comments: He got a kick out of Dr. Chew's KELi Top 40 list. Guy said via e-mail:

"In 1967 I won a contest and got to be a disc jockey at KELi. For one hour each night for one week, I sat next to Dan Kelly, the last caricature on the page. After that experience, I set my sights on broadcasting at the University of Tulsa."

And yes, it was in the saucer on the Fairgrounds.

Dr. Chew noted in another e-mail that "Dan KELLY" (really Dan Pierce) now makes Palm Springs, CA his home.

---

May 15 2009 at 13:52:57
Name: Webmaster
Topic: 1965 KELi survey
Comments:

From the super-well-done site, ARSA (Airheads Radio Survey Archive): KELi 4-23-1965 Fabulous Forty Survey. Plug "Tulsa" into their search engine and see what all they have.

Note that "Pete Kelly" is actually Gary Chew (mercilessly caricatured on the survey).

Shirley Ellis was back on the charts in 1965 with "The Clapping Song", following up her big hit, "The Name Game". Here is the TTM Six Sigma tutorial on the rules of the latter, now with final exam conducted by Ms. Ellis.
---

May 15 2009 at 12:28:56
Name: Mike Bruchas
Topic: Wayman Tisdale
Comments: The former Tulsan passed of cancer after a near 2 year battle. Lost a leg to it initially.

I was working at BET in DC when his first videos started to air. I thought, man, he has the same name as that OU basketball star. Duh. Then I found it it WAS him. Talented guy!



I'm very sorry to hear that. Our sincere condolences to Mr. Tisdale's family, friends and fans.

We discussed the L.L. Tisdale Parkway in northwest Tulsa in GB 281.
---

May 14 2009 at 19:34:52
Name: Mitch Gray
Topic: Rock Music Mags
Email: North of You
Comments: Thanks Mike for your input.

Perhaps Rolling Stone was NOT the zine I was thinking of. Maybe Circus or Billboard. I'm certain it was a newspaper type format with large pages, kinda like Urban Tulsa was. My brother was in the photo. I'll keep hunting.



Zoo World was a national music magazine in the pulp format at that time. There was the U.K.'s Melody Maker, sometimes available in Oklahoma. The Tulsa Phonograph Record Magazine ("free from KMOD-FM" around 1975) was really a national mag with a few local ads.
---

May 14 2009 at 14:26:29
Name: Jeff H
Topic: More on Chicken Stuff
Email: "I'll have a bucket of extra crispy, please."
Comments: Mr. Linder, the restaurant you might be thinking of that served the chicken livers you loved so much, might have been at aprox. 33rd or 34th and Harvard that sat back on the east side of the street. I can't remember the name but it did become several bars, one was named the "Saloon".

I remember eating at that restaurant several times in the sixties,but no livers for me, thank you! As I remember it was somewhat like a "Parkey's", ala family fare.

As far as "Harden's KFC", I think his first location was on 21st. street just west of Hale H.S. next to the Fina station. I do remember Mr. Harden working the counter. He was full of energy and enthusiasm and ran a very tight ship which I am sure contributed to his great success.



Could it have been Pierre's at 33rd and Harvard?
---

May 13 2009 at 20:17:41
Name: Over in Ranch Acres
Topic: Checkin livers
Comments: My late father-in-law decided I was alright after sharing livers and gizzards at the East Side Cafe...

---

May 13 2009 at 15:10:08
Name: Mike Bruchas
Topic: Johnny Harden's chicken livers
Comments: The best in Tulsa was Johnny Harden's; his livers and gizzards were liver-dominant. The man who had the first Tulsa KFC franchise and had it bought back because he did so well.

Good food, good prices. I hate fried chicken but he did so much more so well.

He's missed...



Harden's Hamburgers/KFC near Wilkerson's on 11th St in the 1960s

Harden's Hamburgers on 15th St. redressed as "Big Edna's" for Weird Al's "UHF".

Two on a wing: Mr. and Mrs. Johnny Harden. Courtesy of Beryl Ford Collection/
Rotary Club of Tulsa, Tulsa City-County Library and the Tulsa Historical Society
---

May 13 2009 at 14:37:07
Name: DolfanBob
Topic: Mazeppa
Email: DolfanBob@lycos.com
Comments: Since the Webmaster brought up G.ailard S.artain, I wanted to share that I finally broke down and got the volume 2 DVD of his Un-Filmy Can-Festival and Camp Meeting.

I got it because I remembered the dancing contest where Teddy Jack wanted to win that trip to Turley, Coach Chuck. And how to learn to cry at will to become an actor.

Great stuff and way before its time. I highly recommend getting these lost Tulsa treasures.

---

May 13 2009 at 14:04:17
Name: Scott Linder
Topic: Livers for Tulsa livers in the 60s
Comments: OK... my memory is failing me, but I often went to a restaurant at about 36th and Harvard for chicken livers sauteed in butter with mushrooms and chives. The entrees were all very tasty, and all the sides were great. For the life of me, I can't recall the name of the place but I still do that chicken liver dish in my little kitchen... delicious.
---

May 13 2009 at 13:47:15
Name: Mitch Gray
Topic: Leon Russell
Email: Angies Donut Shop and Minnow Farm
Comments: I recall attending a Leon Russell concert at the Tulsa Speedway on the fairgrounds in the early to mid 70s.

A photo from that concert,showing the crowd and someone waving Old Glory, made the cover of Rolling Stone magazine.

Does anyone remember what year/issue that was?



Here are all the covers at Rolling Stone, and another way to look at them at CoverBrowser.com. Leon was on the cover of a 12/1970 issue, but I couldn't find the one you refer to. Could it have been another magazine?
---

May 13 2009 at 10:32:53
Name: Webmaster
Topic: Mayfest, May 14-17
Comments:
It's time again for the Tulsa Mayfest (official site). Available on their Souvenirs page are posters and paraphernalia from previous Mayfests.

Some of the artists represented in the 2009 Mayfest Invitational Gallery are past contributors to Tulsa TV Memories. The following links are to their TTM items (links to their personal web sites are there, too):


---

May 12 2009 at 16:30:01
Name: DolfanBob
Topic: Nelson's
Email: DolfanBob@lycos.com
Comments: Oh my Gawd Mike. Did you say Liver & Onions?

I'm on the third wife and still cannot get cooked Liver & Onions. My Mother would fix them for her and myself. The rest of the family would not touch them.

So Nelson's, as far as you know, will have them on the menu and cooked like back in the old days. I have to admit I never ate there, but sure would be willing to try. Other restaurants I tried did not do a very good job, that is if they offered it at all. I will be watching for the re-opening.

---

May 12 2009 at 15:23:10
Name: Mike Bruchas
Topic: The Ranch House on 3rd
Comments: It was OUR TU student home away from home after the CrossTown closed nearly 40 years ago. Too many changes in chefs drove us away from time to time, but not the 24 hour service. We never saw any stars at "Leon's Studios" on a Sunday afternoon NOR in The Ranch House. My faves: turkey + dressing, liver + onions and a mighty decent chicken-fried steak!

SO GLAD that Nelson's will return to Tulsa!



See the Ranch House sign (and Leon's studio), and read more at Lost Tulsa. It will become Nelson's Ranch House.
---

May 12 2009 at 13:56:22
Name: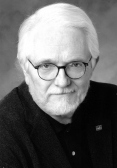 Gary Chew
Topic: Chicken Fried Tulsa--Yum!
Email: Northeast of Eden
Comments: My mouth watered when I read that Nelson's Buffeteria piece posted here from the WORLD. I can understand why Scott is trying to find a low-toll way to get back to T-Town for such a succulent sounding meal: Chicken Fried Steak and Cream Gravy. Lawzee!

I've lived in Kah-lee-FOH-nee-yah for over 20 years now, and fry cooks here in the Golden State wouldn't know what a good chicken-fried steak with cream gravy was if it bit them on their spatula.

Del in Hell w/o a Chicken Fry



Added this satisfying and delicious turn of events to TTM's Nelson's Buffeteria page.
---

May 12 2009 at 13:43:28
Name: Scott Linder
Topic: Nelson's tour package
Comments: Maybe we could craft a deal with Southwest Airlines to do a "Nelson's Tour Package" to allow displaced Tulsans to visit for a couple of days and savor the original Nelson's recipes. "Fly to your Chicken Fry!"

---

May 12 2009 at 11:16:36
Name: Erick
Topic: Nelson's!
Comments: This is fantastic news. I sometimes pass by that location on the way to work and could tell something was being done. Now I will once again be able to savor a REAL chicken fried steak. Can't wait.

---

May 12 2009 at 07:51:40
Name: Dana LeMoine
Topic: Nelson's
Email: d4wdw@valornet.com
Comments: Apparently, you CAN go home again... close anyway!

Tulsa World: "Hello again, Chicken-Fried! Nelson's Buffeteria will be up and cooking"



World reader comment:

Google map can show the location: Third and Trenton. The building across the street was Leon Russell's Church Studio.
---

May 11 2009 at 13:00:12
Name: Mike Bruchas
Topic: KODE-TV Joplin in bad shape
Comments: I am so old; I remember when KODE was the only station in Joplin...this from wire reports:

Winds estimated at 100 mph brought down most of the broadcast tower for Nexstar's KSNF-16-NBC in Joplin, MO (Market #148), on Friday. Tower crews, working on the digital transition, warned the morning news staff to evacuate just minutes before the top 600 feet of the antenna sheared off and crashed through the roof of the station. Big chunks also hit a home across the street, where a woman and her two kids were cowering in a closet. They were unharmed, but their new car in the driveway was destroyed.

"Our station took a direct hit," said VP-General Manager John Hoffmann, who also said news operations would likely shift to the studios of Mission Broadcasting sister station KODE-12-ABC, although both stations were without power through the weekend.

"My boy and I were laughing the other day about the tower falling as we sat out on the patio watching it wiggle in the wind," said Keith Johnston, whose home and car were damaged by the debris. "We were laughing about how it could fall."

---

May 11 2009 at 08:10:40
Name: Amanda from T-Town
Topic: Uncle Tytome's
Email: turtlegrins at yahoo dot com
Comments: Thank you for the response about Uncle Tytome's! (I think I had a typo before, spelling it with an "o"... sorry).

That would be SO nice of you to scan the ad for me if you got a chance!!! How thoughtful of you! Now... is there any way to scan those toasted ravioli? :)

Thanks again!
-Amanda



No problem. The ad shows it as "Uncle Tytomo's".

Scanning the ravioli reminds me of the cheapskate who baited his mousetrap with a picture of cheese. When he checked the trap the next morning, he found a picture of a mouse in it.
---

May 10 2009 at 21:36:44
Name: Beverly
Topic: Facebook Quiz
Comments: I am a True Tulsan according to the Facebook quiz!!

I was so very sorry to hear of Beryl Ford's death. I always wanted to meet him.

---

May 10 2009 at 18:34:45
Name: Dave
Topic: South Tulsa article, The Rubiot
Comments: I'm just now getting around to seeing the April edition of Tulsa People, which has an interesting south Tulsa nostalgia column by John Hamill. The article in reference is on page 18.

One thing I noted is that he said the 52nd and Toledo neighborhood of the late 1950s was in the Tanglewood addition. I assumed the Holliday Hills addition covered that area. Perhaps not. The article also reproduces a Rubiot Club ad as mentioned many other times here on TTM.



My wife, the Realtor says that Tanglewood is just north of Holliday Hills in the same square mile, and part of the Carnegie Elementary school district.

John Hamill was the main author on this site's KGCT Channel 41 page, too.
---

May 10 2009 at 14:16:19
Name: Scott Linder
Topic: The Farm, The Louisiane, and Powers Restaurant
Comments: Jeff, wasn't Ralph Blaine's culinary shop located in The Farm? I seem to recall visiting him there back in the late 60s.

By the way, The Louisiane served some of the best beef in town, which was cut and aged right there in the restaurant. My Mom and Dad almost always ordered a steak, along with a seafood dish or appetizer. Maybe Herb Kallmeyer felt that he didn't want his restaurant to be known as just a "steak house". Who knows...

My favorite steak place was Powers Restaurant. Don Powers and his adept staff knew how to do beef on that large circular grill in the middle of the dining room. I remember his grill chef using buckets of ice to control the heat on the grill. Yum...!!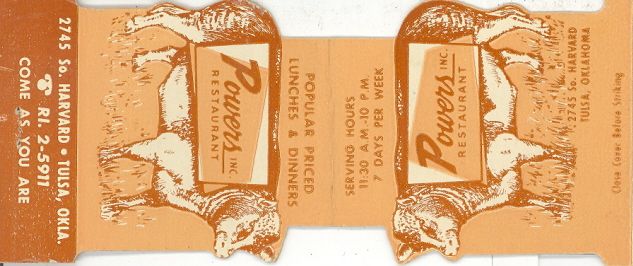 ---

May 10 2009 at 13:50:26
Name: Mike Bruchas
Topic: Are You a True Tulsan?
Comments: For those of you on Facebook, there is now a "Are You a True Tulsan Quiz" on it, though some of the questions are skewed a bit. There is also an Oklahoman quiz but it is biased a bit towards OKC. Time wasters! Happy Mother's Day!

---

May 10 2009 at 12:36:33
Name: Jeff H
Topic: Restaurants and other ramblings
Email: The back booth
Comments: I worked at Hancock Fabric in The Farm in 1973 as an assistant manager. I became well acquainted with "Dr. Redlove's" which gave me a break from 12 hours of dealing with home sewers (not that there's anything wrong with that).

I seem to remenber eating a lot of grilled cheese sandwiches that were one of the cheapest sandwiches on the menu. I can't remember the short-skirted servers now, but I bet I was aware of them back then.

As far as the Louisiane, our family never ate there since my dad was not a fish eater, however, I remember it being considered one of Tulsa's finest restaurants. Our family was more of a "Jamil's", "Steak and Ale" kind of clan.

Someone mentioned the "El Chico" at the Mapco building. This was a favorite of the sales dept. at the "Jaycees", we never left there hungry. Another favorite of ours was "Lot A Burger" across the river on 21st Street.

Last but not least, Beryl Ford was indeed a true treasure of Tulsa. I first became aware of his contribution to Tulsa after receiving the three book set "Tulsa Times" for Christmas several years ago. It seemed every photo was credited to Mr. Ford's collection. Tulsa owes a big thank you to Mr. Ford for preserving Tulsa's history and giving all of us a way to look back at many fond memories.
---

May 09 2009 at 21:25:58
Name: LeMoine Sister
Topic: Passing of a Tulsa Treasure: Beryl Ford
Comments: So sad to hear of the passing of Beryl Ford - maybe the best friend historic Tulsa's ever had. So much that has been kept, noted, remembered is because of this one man.

Hats off to a Tulsa Treasure.



Article in Sunday's Tulsa World: "Rites slated for Tulsa historian". Some of the people and institutions responsible for preserving Beryl's work are mentioned in the article.

It's become a standard practice on this site over the last several years to marry photos from Beryl's collection with the living memories of contributors, as happened yesterday with the Louisiane. He did us all such an incalculable favor.

Beryl, we will remember you, and so much more because of you.
---

May 09 2009 at 18:05:03
Name: A Good Waitress... Really
Topic: Dr. Redlove's Ice Cream Parlor
Comments: I was one of the waitresses in the short skirts at Dr. Redlove's my Sr. year in high school.

I wondered if anyone had any pics of the interior from that time or of the Flaming Panacea.



I wonder if anyone has any pics of the waitresses in the short skirts.
---

May 09 2009 at 17:36:29
Name: Scott Linder
Topic: The webmaster's Louisiane member card
Comments: Mike, that approval stamp on the lower right of your Member Card are the initials of Herb D. Kallmeyer...HDK. It's nice to know that he was still the owner of The Louisiane in the 80s. After all, I was dining there in about 1958!




Club card from my line pipe-buying, mullet-snapping days.
Scroll down for more Louisiane lore and Beryl Ford pics.
---

May 09 2009 at 16:31:47
Name: Amanda from T-Town
Topic: Louisiane / Uncle Tytomo's
Email: turtlegrins at yahoo dot com
Comments: The building that La Louisiane was in is indeed still there. It is now a bar with an unfortunate name (The Pour House), in that fantastic location at 18th & Boston! My Dad used to take me there all the time when I was little, for shrimp--he'd peel 'em, I'd eat 'em. :) Thanks again, Dad :)

I wondered if you all talking about old Tulsa restaurants might be able to help me out. One of my family's VERY favorite spots for the time it was open (in the 80s) was an Italian Restaurant downtown in the "Secure Agent" Building (or 111 W. 5th). It had glass elevators with each level painted a different rainbow color and the restaurant, Uncle Tytomo's was in the basement level and had curved glass wall fountains you could sit under. The colors and fountains are still there, but I can't for the life of me find ANYONE who remembers this restaurant! (My husband is beginning to doubt that it really existed, so I need some confirmation from fellow Tulsans!) :)

They had the very best toasted ravioli appetizer on the planet. Ahh... I can still remember exactly how it tasted!

Can anyone support me on this one? I'd sure appreciate it! :) Thanks!



The back cover of the Nov. 1983 Tulsa Time magazine is a big ad for Uncle Tytomo's at 111 W 5th. They featured Northern Italian cuisine. I have a new computer on order, so when it arrives, I'll try to get a scan out here,

(Added 1/3/2010:)

Back cover of the May 1983 'Tulsa Time' magazine, courtesy Roy Payton
---

May 09 2009 at 15:57:57
Name: Scott Linder
Topic: More Louisiane
Comments: More details come to mind about the Louisiane. Yes, they had many seafood dishes. I remember a large shrimp cocktail and fresh Gulf Pompano... it was one of my favorites.

We sometimes went there with a couple who were good friends of my Mom and Dad, Ed Reed and Nellie Ring. They both worked at Bishop's for more than 20 years. Ed was a chef and Nellie was the waitress who did the dinner shift on the north side of the counter by the big coffee urns. All the regulars ate at the counter.

Mom and Dad had dinner at Bishop's 2 or 3 times a week. We always sat at Nellie's station and it was dinner and a social event. Ann and Kenny Cox, Hugh McCain and Al Sharum were always there and Ed Reed often left the kitchen to say hello. I liked his tall chef's hat. He would often get a scoop of chocolate chip ice cream for me from the dessert station in the center island.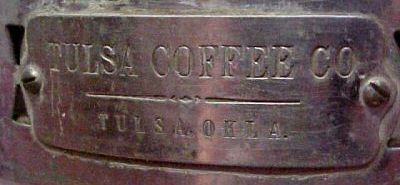 Meanwhile, we all ate our Brown Derbys or Pan Fried Steaks or Spaghetti with Meat Sauce and visited with our friends. The manager "Charlie" always tended to the coffee. I remember him pouring steaming water into the top of those big gas-fired urns.

What a nice time to have lived in Tulsa.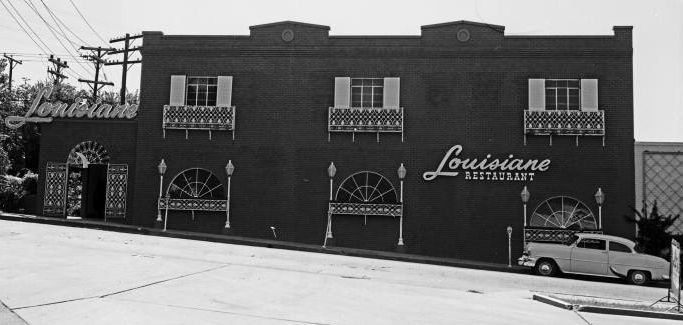 8/31/1960. Courtesy Beryl Ford Collection/Rotary Club of Tulsa, Tulsa City-County Library & Tulsa Historical Society
Click on the photo to see the earlier configuration of the building.
---

May 09 2009 at 15:17:44
Name: Mike Bruchas
Topic: The Louisiane
Comments: It was 2 doors east of the original El Chico. By MAPCO.

I ate there once on a date in the 70s and it was not as expensive as I thought. The food WAS good but I was not a big fish eater then. Now I know that I have allergies to some seafood.

Isn't the Louisiane building gone?

---

May 09 2009 at 15:09:29
Name: Scott Linder
Topic: The Louisiane Restaurant
Comments: Does anyone remember The Louisiane Restaurant? As I recall, it was located where Boston Avenue ended at 18th Street. My Dad was a friend of the owner, Herb Kallmeyer and did a lot of work for him at the restaurant, so we ate there quite a bit when I was a kid. Herb always welcomed us at the door and many of the staff seemed to know my family.

I have vague memories of a large iced bowl of fresh veggies appearing as we scanned the menu. Steaks, lobster, veal and other fine dining staples come to mind and I remember being introduced to many dishes from their large menu.

As a kid, I always looked forward to the silver finger-bowl of warm water and lemon when we finished dinner, along with a fresh starched napkin and a cup of dark and flavorful coffee. Come to think of it, this may have been when I acquired my taste for coffee!! No check ever appeared at our table. Hmmm...



Courtesy of Frank Morrow, here is the cover of the 1951 Downtowner magazine featuring Shirley Barbour (pre-Miss Oklahoma) as part of a Louisiane ad for their "Cover Girl Grill".

Frank from GB 141:


"The 'Downtowner' was a small publication of about 20-25 pages that was distributed free around town. You'd usually find them near the cash registers of places downtown. They had ads and info on things that were happening. A lot of ads for nightclubs, eating places and radio stations sure bring back a lot of memories."


Also from GB 141, Jim Ruddle said:


"I had a paper route when I was eleven and twelve that ran from Eleventh and Baltimore, to 18th Street, then down Boston to 21st. Consequently, I walked by the Louisiane every day.

"In my limited view of that day, I thought it was Tulsa's most elegant dining establishment and I never ceased to be impressed by the mountains of oyster shells piled up in back. The oysters were brought to the restaurant in large, iced barrels, a rarity in Oklahoma in the forties.

"As I recall, Christina's Flowers was just to the west on the opposite corner."


And Eric Cole of K.C. said in GB 141:


"If anyone has fond memories of the Louisiane, please forward those fond memories to me. It's long gone now but my grandfather owned it and I'm making a collection of recollections from people about the Louisiane. I spent many summer days there peeling shrimp and wrapping potatoes in my youth."



I just emailed Eric (at his still-working email address, eric1995 at hotmail dot com), who responded via Blackberry:


"Very cool! Thanks for remembering me! My grandmother who owned the Louisiane passed away this past year, so it was well-timed for a nice remembrance. Thanks!"


Mary Louise Kallmeyer, co-owner of the Louisiane, passed away on 2/14/2008 at the age of 92.


Courtesy of Beryl Ford Collection/Rotary Club of Tulsa, Tulsa City-County Library and the Tulsa Historical Society
Click on the photo to compare with the 1960 incarnation of the building.
---

May 08 2009 at 13:43:12
Name: Webmaster
Topic: Previous GroupBlog link
Comments:

Archived GroupBlog 290.

We watched "Star Trek" yesterday evening at the Cinemark, and loved it.
Read Gary Chew's review on this site.
---
Back to Tulsa TV Memories main page