Tulsa TV Memories Guestbook 184

TTM main | What's new on TTM? | GB Archive




May 27 2005 at 22:49:47
Name: Rex Brown (via email)
Location: Tulsa
Comments: Just wanted to let you know that a show I produce will be airing tonight on Cox channel 71 at 11:00 pm.
It's called the Red Dirt Roundup and features Randy Brumley. Local satire, comedy, music video, short films... like Mazeppa for the new millenium!
Hope you have time to check it out!

---

May 27 2005 at 19:03:36
Name: Si Hawk
Email: sihawk@bokf.com
Location: Tulsa
Comments: It's wonderful to see some of our old friends checking in on this site: Kristi Conrad and Bob DeMers are just a couple to have recently graced the site. We all have such wonderful memories of the '80s et al at TV2. Before cable and Tulsa23 got really rolling out commercial production, I think we probably did most of the Tulsa TV commercials. Kristi had a number of jobs over the years, ending up as a News Producer. Bob was a heck of a Meteorologist and a great guy to know, as were so many others.

---

May 27 2005 at 18:50:32
Name: Bill Groves
Email: danofan59@yahoo.com
Location: Burbank, CA
Comments: Once again, I don't visit the site for awhile, and I come back to find new cool stuff. I was checking out the Tulsa State Fair page. By coincidence, a few days ago I stumbled upon a tape that I thought I had loaned to someone, never to see again. It was a VHS transfer of the Super 8 films I did as a student at Edison. One of them, a visual essay type of thing about the fair called "TSF 76" won a prize at a local film festival. One of the segments featured the different shows available at the fair, including The Star Spangled Washboard Band, who later evolved into the group Blotto and achieved true cult status on MTV with "I Want to Be a Lifeguard."
Another of my films, my unfinished masterpiece "Doggy Bag Afternoon" was shot on location at the Brook Theatre, where I and a couple of my actors worked at the time.
I also noticed the Williams Center Cinema page. As it happens, I was the third manager of that theater, and at the age of 20, the youngest theater manager in the city (while attending TU, no less). I actually pleaded with the chain that ran it to do with the theater pretty much exactly what Brent Kliewer and the other folks eventually did in making it a film society/retro house; as it was obvious to me early on that a first-run house in that location was doomed to failure. Our biggest hit while I was there was "Ice Castles," and man, did I get sick of that film. It was during that time that the geniuses at American Entertainment decided to fire the projectionist union, claiming that the money saved meant we managers could be paid more for assuming those duties (and they said it with a straight face). Still, it was kind of cool learning the job.
Of course, you had to pay attention to what you were doing. I remember running a return engagement of "The Muppet Movie" right on the heels of "Friday the 13th." Somehow in the process of assembling the film and splicing new trailers on, I got a little mixed up. So I'm watching through the window going "That's funny. I didn't remember 'The Muppet Movie' being a Paramount picture." Then we fade into a night shot of "Camp Crystal Lake" and I go "Whoa!!" and hit the stop button. So after a brief unscheduled intermission while my hands fly over the projector re-threading the correct film...
Ah, those were the days. I wonder how long my Spider-Man toothbrush holder (to hold the toothbrushes used to clean the film gate) stayed up on the wall after I left.

---

May 27 2005 at 16:58:49
Name: Mike Bruchas
Location: stormy DC
Comments: Breaking news - 'Green Acres' Star Eddie Albert Dies at 99....what a career! Singer/dancer/actor in comedic and dramatic roles on Broadway, in films and on TV.
Yahoo said 3 days ago he was playing basketball from his wheelchair with a granddaughter. He died of pneumonia today.
You remember after GREEN ACRES - he often played villain roles on Columbo and other shows. He was an actor of quite a range and he always looked YOUNGER than he was. I forgot that he also was quite a conservationist - remember way back when - he did the Arbor Day tv PSA's for years.
---

May 27 2005 at 09:37:45
Name: George Tomek
Email: mranchor@cox.net
Location: Edmond, OK
Comments: Reading all the comments about shows and musical groups --is Sammy Pagna still around? He had a great jazz combo that appeared regularly on the old KOTV Sun Up Show for a while. Sammy played the accordion and his group played the kind of music you'd hear during the period in cocktail lounges. As I recall, he used to have a regular gig at the old Thunderbird Inn on I-44.
Sammy left Tulsa in 1997 to run the Emery Creek Victorian Bed & Breakfast in Branson, MO, where he plays a bit of morning piano for the guests.
---

May 27 2005 at 08:38:02
Name: Dave Harmon
Email: K6XYZ[at]valornet[dot]com
Location: The B. A. Greens
Comments: Does anyone know where in the Tulsa area I might might be able to buy a copy of the Tulsa Central High School yearbook 'TOM TOM' for 1961?
You might try the search "1961 yearbook 'tom tom'" on eBay periodically. Better yet, save the search to "Favorite Searches" on eBay to get an email when a match happens.
---

May 26 2005 at 16:30:07
Name: Mike Bruchas
Comments: Nooooooooooooooo - not Randy Brumley! We worked at Honest John's together in 1977 or 1978. Sister Angie Brumley was married to Honest John Foutz at the time...
Mike was referring to Rex Brown's note about a show he produces, "Red Dirt Roundup", featuring Randy Brumley. It airs Fridays on Cox channel 71 at 11:00 pm. I moved Rex' note up to Friday afternoon as a timely reminder.
---

May 25 2005 at 22:46:51
Name: Will Parish
Email: wparish@juno.com
Location: Bristow, Ok
Comments: Just read Joel Burkhart's comments and saw the picture of Gene and Cleta Eoff on The John Chick Show in Guestbook 179. I had the pleasure of doing the Friday morning show with them a few times plus our band, The Nightriders, Also did a lot of taping for John. John was really a great guy and always made you feel right at home. We miss him still to this day.

---

May 25 2005 at 21:34:10
Name: Terri G.
Location: ISO The "Now, You Be Nice" Discount Carpet Pitchman
Comments: Too bad Mayo Meadow, and the last of my childhood haunts, is having to make way for progress. Must dash by soon and take photos for posterity...much as I wish I would have a few years ago before the neighboring Sears fancied-up. sniff-sniff.

6/25/2005: Here is a farewell photo taken by Fayetteville Dave a
few days ago. Mayo Meadow is scheduled to come down Sept. 1.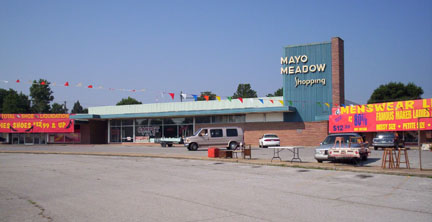 ---

May 24 2005 at 20:08:33
Name: Bob DeMers (via email)
Comments: I'm a few years behind the 8-ball...but I just cruised through Tulsa TV Memories and read about Jim Back's passing a few years ago.
I really enjoyed Jim...a gentle soul, who was so very easy to work with. He is missed, I am sure.
I first moved to T-town in April of '79, and quickly filled my wallet with club cards...Jim and I frequented a number of the same places, but until I saw his collection of cards, I had forgotten about them.
Here's to Jim!

---

May 24 2005 at 15:50:40
Name: Kristi Stewart
Email: ok-kid@rogers.com
Location: Toronto, Ontario, Canada
Comments: Dear webmaster:
Nice to see Anthony Mason again! He's done quite well for himself. I used to work with Anthony at KTEW in the late 70's early 80's. I was the associate producer of the 6 & 10 p.m. newscasts.
One fond memory I have of Anthony was when he attended my ? Birthday party at my parents home in Tulsa. And, in a close race with then reporter ROCHE MADDEN and, I believe "Troubleshooter" Jim Forbes (Jim, I'm not sure on this one) he won the coveted title of "BEST LEGS" during the evening's festivities!
YES girls (and guys) Anthony had great gams!
He was also one of the best investigative reporters around.
Go get 'em Anthony!

---

May 24 2005 at 08:27:28
Name: Webmaster
Comments: Don Woods will be doing the forecast and drawing a Gusty tonight on Channel 8's 10 pm newscast.

---

May 23 2005 at 02:13:22
Name: Bob Oliver
Email: boboliver at pcisys dot net
Location: Denver
Comments: This is a response to Mark Watkins' post from August 9, 2004.
Mark wrote: "I've been racking my brain for a couple of years about Dr. Redlove's Ice Cream Parlor...that was out south on Lewis, wasn't it? Near 61st street? I can't find anyone who remembers."
I was just reading your entry on Tulsa TV Memories from August last year. I got talking with someone here in Denver who also grew up in Tulsa and we were reminiscing about old Tulsa memories and that brought me to the site.
I remember going to Dr. Redlove's when I was in 3rd or 4th grade it must have been around 1973. I have always remembered it being in the Farm on 51st and Sheridan. It later became several other restaurants including an Interurban (I think).
The place you remember on Lewis was Happy Joe's Pizza. (I am quite sure about this one, my family went there often.) It had a similar motif with the red wallpaper and saloon-look. The servers work white shirts with garters on the sleeves. The kids could watch the pizza-makers roll the dough and make the pizzas through a window (much like Shotgun Sam's). It was in the corner of one of the L-shaped strip malls. It also had an old-fashioned candy counter with jaw-breakers and peppermint sticks in big jars.
The thing I remember most about Dr. Redlove's (I don't know why this stuck with me) was they had sugar packets with the signs of the zodiac with very 70's style artwork and every time my family would go there I would snag all 12 and take them with me to school the next day.
These two restaurants (along with Big Mike's and Shotgun Sam's) were my favorites. Funny, there is definitely an Old West theme to all of them.

---

May 21 2005 at 09:36:19
Name: Mike Bruchas
Comments: Tangent again. Anyone here remember the corny religious movies that we used to see in youth fellowship at our churches 30 or 40 years ago? I know fellow Methodists, Catholics, and Baptists went thru this.
I am duplicating 30 hours of stuff that was re-packaged and geared to "teen issues" then - now it is "family viewing". Pretty stiff stuff and shot low low budget - now any "film-making" is done on mini DV and edited on Avids or PC's. It either looks network grade or looks a cut above cable access. BTW - they now stretch material to fit a TV "hour" with breaks inside the shows - usually cross-promoting all the other "family" films in their on-line library. Funny in so many of these films - the same type-cast "earnest" actors appear. Now they hire off-TV folks like Gavin McLeod and Hal Linden to appear with a lot of nobodies - to kind of upgrade the cast.
Speaking of musicians famous elsewhere - livin' in Tulsa - at one time 1 or 2 members of the Irish rock group, "Horselips", lived in Tulsey with their significant others.

---

May 21 2005 at 01:31:30
Name: roy lee
Email: beerdrunk@msn.com
Location: trying to look cool at the Bleu Grotto
Comments: Anyone who is interested in Tulsa's "new wave" scene of the 1980's might want to check out the reunion show of local favorite LOS REACTORS. From what I hear, they will be at The Venue at 18th and Boston on June 4th with Billy Joe Winghead. I heard they are famous in Italy or someplace like that. Anyway, it sounds like a possible reunion of people who frequented places like the Bleu Grotto, Bongo Sylly's and Crystal Pistol and sounds like fun to me.
Here is Los Reactors' home page. One of their CDs includes vintage video footage from local TV news coverage of the group.

Reader Rex Brown was a member of The Insects, later renamed Radio Milan. David Bagsby was in a punk group called Dog Food at the Grotto.
---

May 21 2005 at 00:45:33
Name: Lowell Burch
Location: Mayfest
Comments: I missed hearing bassist Alan Ransom but I had a chance to catch Hanson at Mayfest. They did a great job. It was a large, appreciative crowd. It was a busy night with the other bands, George Carlin at the PAC, prom night, etc. I also stopped by Cain's but Leon's party was already over. I was invited in but things were pretty much over.
I finished the night at a swing club listening to The Zuits. (My son, John, plays trumpet. Yes, they are available for bookings.)

---

May 20 2005 at 19:45:11
Name: Lesi Nelson
Email: chapter97@excite.com
Location: Evansville, IN
Comments: Saw Mike Bruchas was wondering what happened to me.
Well, my husband and I now live in Evansville, Indiana where we own several shopping centers. We have three children--Lucas 17, Maria 15, and Whitney 13.
I am out of television news and am presently studying for a Masters Degree in Pastoral Care...I volunteer at an AIDS clinic and a Hospice Center.
Would be interested in hearing from anyone...

---

May 20 2005 at 13:10:17
Name: John Young
Email: johnk662561atyahoodotcom
Location: Work...aaaaiiiiggggghhh!!
Comments: Hi Dixon!
I graduated from Kellyville and knew your dad very well. He was a nice guy. I graduated with your brother Sam. Welcome to the board! John

---

May 20 2005 at 12:18:42
Name: Webmaster
Comments: Tonight at Mayfest, 3rd and Cincinnati, 8:30 pm: Hanson.
Hanson signed Guestbook 22 back in 1999---at least purportedly.
The signer was working from TU and named "The Auction" as his favorite TV show. 2 am would have been very late viewing for the young, globe-trotting Hansons. However, star and producer of local comedy show "Beef Baloney", Robert Kurtz (then a TU student), named "The Auction" as BB's inspiration in his interview with Wilhelm Murg. Hmmm-bop.
Nevertheless, fans around the world showed up to inspect the sacred Hanson signing.
Just before Hanson, at 5th and Main, 8 pm, my brother Alan is playing bass with Rusti Love. He'll be the tall guy. Jon Glazer is on keyboards.
If that's not enough entertainment for you, Leon Russell's Birthday Bash is at Cain's Ballroom tonight.

---

May 20 2005 at 11:54:43
Name: Dixon Cartwright
Location: Big Sandy, Texas
Comments: Hi, Mike:
You asked about the date of the factory explosion in Jenks, the one that killed my good friend Bobby Avery. It was the Ides of March, March 15, 1971. After the Mack Creager incident, we saw Bobby two more times: at our wedding Dec. 30, 1970, in Texas, and in January 1971 in Little Rock. News of the explosion appeared on the front pages of the Tulsa World and the Sapulpa Herald. I have the clippings.
Thanks for posting my remembrances of the Mack Creager incident.

---

May 19 2005 at 23:58:36
Name: Dixon Cartwright (via email)
Email: Cartwrite at loa dot moc
Location: Big Sandy, Texas
Comments: I enjoyed Gary Chew's account of the Mack Creager finger incident.
I don't think Gary mentioned when the famous interruption of the Mannix episode took place.
I grew up in Kellyville, near Tulsa, but was living in Big Sandy, Texas, at the time, just before I got married. I was 23. My fiancee, Linda Isom, and I were up from East Texas visiting a friend in Tulsa, Bobby Avery, who also grew up in Kellyville. Bobby and I had known each other almost from birth.
Linda and I were newly engaged, we were not married yet, so the Mack Creager incident must have happened around Thanksgiving 1970, I figure.
The three of us were watching Mannix in Bobby's rented house. We couldn't believe our eyes. Was that an embedded subliminal message trying to sell us popcorn or was that Mack Creager flipping us off?
In our stupefied state, while basking in the glory of witnessing such an amazing event, Bobby and I immediately decided to telephone KOTV. We redialed many, many times on Bobby's rotary phone and never did get through.
However, so many calls were trying to make it to the Channel 6 switchboard that somehow some wires got crossed and I found myself talking with a woman who was also trying to call KOTV. "That was just terrible! Terrible!" she exclaimed. We didn't think it was terrible. We felt like we had seen a UFO and lived.
We made sure to watch the Channel 6 news later that night. We agreed Mack looked a little peaked while delivering the sports report.
That was one of our last visits with our good friend Bobby, who died a few weeks later in an explosion at a factory (operated by a company called Connally, not sure of the spelling) in Jenks. We'll always remember one of our last visits with him, the time we had the privilege of witnessing the famous Mack Creager finger incident.
I enjoy your site. Another fond memory I have of Tulsa TV: I was 7 or 8 years old, maybe 1954 or 1955. Along with my Cub Scout den from Kellyville I got to appear on the Little Rascals afternoon show with the real, live Spanky McFarland. He was dressed like he was 8, even though I think he was in his 30s at the time.
I remember seeing Lee Woodward and Lionel and Cy Tuma in person on the way to Spanky's clubhouse.
Thanks for the story, Dixon. I knew the incident had to be either late 1970 or in 1971. I had no luck tracking down the date of that factory explosion. Anyone else know?
---

May 19 2005 at 09:01:27
Name: John Hillis
Location: East of Claremore
Comments: Is it just me or does anyone else find it amusing that the American Idols Concert Tour is sponsored by Pop Tarts?

---

May 18 2005 at 23:33:29
Name: Frank Morrow
Email: frankmor@io.com
Location: Austin
Comments: In the '50s, Tulsa was the only city in the country with two public schools in the top ten. Central was rated #3 and Will Rogers was fifth.

---

May 18 2005 at 08:15:01
Name: Lowell Burch
Email: ten.xoc@3hcrubl
Location: Greenwood - Archer - Pine
Comments: Tulsa Public Schools seems to have put all of their eggs in one basket at BTW but it really seems to be a successful experiment.
Get your Pavarotti tickets on Saturday!

---

May 17 2005 at 21:25:00
Name: edwin
Location: Tulsa Public Schools TV studios
Comments: Mike, I'm surprized BTW was only 58! You'd be amazed how much has been bestowed on them. Why, they even built a brand new school for them! I was ask to be the TV "artist in residence" for them a time ago, but dropped out when I found out what an "artist" makes for the job...AND, it seems, would also (by the way) take care of the theatre as well! Jeez! I'd be living there & make less than 15 a year. That's rite.....I would have to take a 3 grand cut!

---

May 17 2005 at 17:46:53
Name: Mike Bruchas
Comments: Was pleasantly surprised to see Tulsa Public Schools having Booker T. Washington High listed as 58th best in the USA! This was last week's Newsweek cover story. Classen School of Advanced Studies in OKC - came in 81st. No other public nor private OK school made the cut!

---

May 16 2005 at 17:00:37
Name: Mike Bruchas
Comments: Faye-isms:
As she got older - sometimes she dragged her "companion" to work with her at the KOTV front desk. A very large kinda Raggedy Anne -on steroids - doll that someone had made for her or given her. No - she did not talk to it - it just sat there with her.
One time when then-Gov. Boren was due at the last minute to do something for news, I gave her a heads-up. She said, "Huh - big deal. He puts his pants on just like the rest of you men! I ain't impressed."
Yup - that was Faye. Heaven help ya if you went out to get a sandwich for her and they screwed up the order!

---

May 16 2005 at 12:00:53
Name: Steve Todoroff
Email: sgtodoroff@sbcglobal.net
Location: Houston, TX
Comments: Why, it's the Man With The Plastic Head - Mr. Sherman Oaks! Hey, who said 8-track tapes were obsolete?
Steve is the founder of the new, non-profit organization, Tulsa Area Music Archives (TAMA).
---

May 16 2005 at 01:45:58
Name: Quizmaster
Comments: I spotted this eBay "Me" page quite by chance. Anyone care to guess the name of this former Tulsa TV star?

---

May 15 2005 at 12:10:27
Name: Mike Bruchas
Comments: Tulsa "what a small town" sidebar here.
One thing that rattled and angered Beaumont Bruestle at TU was gas stations and especially Texaco - then a big employer in Tulsa in the 70's. Bruestle and Hank Barrows lived near 21st and Lewis and had been against the then supersizing of Texaco station on that corner - kind of a NIMBY thing. I think Monte Cassino School had also opposed it, "but had been bought off by Texaco" per Bruestle.
Evidently Bruestle may have protested the rezoning or something - but we heard that Texaco management in Tulsa had leaned on TU - as a financial contributor - and Bruestle had almost been fired due to Texaco's "clout".

---

May 15 2005 at 11:44:12
Name: Mike Bruchas
Comments: TU "profs" of the 60's and 70's tangent here.
Bob Brown taught a class or two at TU while working at 6. Often I think he rendezvoused with John Bateman on the TU campus to do stories there. Bob's anecdotal and organized style made him a great instructor on the realities of TV news production.
The late Dale Speer was a great writer and I thought a great teacher - so many of us were saddened to learn that he committed suicide shortly after we had graduated.
Bill Hayes was either good or pi--y to students - he inspired many but played favorites a lot - Bill smoked a lot of pot then. But if he saw a film and recommended it - go see it! If you could shoot something - make something of interest - shooting with the crappiest Bolex - you rose in his respect but he had a lot of personal demons in his life and was murdered in a much hushed up sexually-related slaying at his house just off campus - I was told. He had a lot of talent and we got a kick out of him doing his Air Force Reserve time - he was proud to be an AF flack (then in Viet Nam days) and liked TDY in Europe in the Summer. The photogs he championed - all went on to greater things.
I knew Tom Wood's wife from classes and knew he was a good instructor but never had any classes with him. Most of the time he was just too damned serious!
Ed Johnson was a good instructor but hacked and coughed so much then (and kept on smoking) - it was hard to understand him some times. Ed was better in small groups - we knew he had "made his bones" in newspaper work. He was an excellent "placer" of grads and folks needing to work while attending TU. Drew Pearson and some other jocks sat in the back of one of Ed's class with me - Pearson surprised me much after TU with his personality but in Ed's class - nothing extra.
Larry Graham taught voice and diction and "interpret" (I first heard of cleft palettes and a lot of the biological side of speech in his class), ditto Larry Elwell (later GM at KWGS after Ed Dumit and a figure of controversy there but a GOOD teacher) and the great Larry Bradshaw (last heard at ENMSU in NM) - who got some many of MORE interested in politics.
Pinky Jones (I never remember Mary JANE or Mary JUNE Jones) was funny but a hard grader and I had one or two classes with Rod Jones - who we all liked, too but he was head of Arts and Sciences I believe at TU for part of that time. Pinky first told us of Rod and Skitch Henderson as WWII flyers.
Fred Graves did some voice stuff and theatre history was his forte. Fred was a hoot.
Beaumont Bruestle - I had for a theatre course but loved his Humanities and film history classes better - music from his musical about Ben Franklin is still stuck in my head. TU presented it - it was not bad. Because I took several Bruestle classes - I never got to sit in on any Ben Henneke classes. We all knew him and respected him. APRROACHABLE TO ALL is Ben Henneke. As I had said before - he IS the living spirit of TU.
Hank Barrows was Bruestle's "life partner" but an enjoyable lecturer.

Beaumont Bruestle and Harold 'Hank' Barrows as they appeared in American Theatre Company's "The Dresser", 1983.
From the April 1983 issue of "Tulsa Time", courtesy of Roy Payton.

Ed Dumit was long suffering of us kids but his radio and radio production classes were fun and you learned something. He got Channel 2 to donate all their really old b&w gear to us and the KWGS Kendall Hall studio became a very HOT and overlit TV studio at times. Ed has ALWAYS been the conduit to so many of us and TU. I miss NOT being in Tulsa to see him more often. He has a phenomenal memory. Many of us still remember his late Dad - what a character.
Later we had classes at the then-new Chapman Nursing School, which Ed had arranged - the Nursing faculty who "deigned" to let us use their beautiful NEW COLOR studio with 1" technology and a classroom as Kendall Hall was being dismantled, but we were often felt they really did not want us there. I think Bob Brown taught his class at Chapman. Broadcast students were "not really wanted" to work there - a lotta turf trouble at TU then.
Nancy Vunovich was just incoming when I was senior and never got to know her well.
It seems TU is NOT cranking out radio/TV folks any more and that saddens me - I got a good education there!

---

May 15 2005 at 10:52:01
Name: Mike Bruchas
Comments: Oh noooooooooooooooooooooooooo - Faye at KOTV!
Sometimes I used to drive her home. She lived close to Harrington's and the previously mentioned KOME studios in a kinda red tudor-looking apartment complex downtown. I was never sure how old she really was - but she was the night receptionist at KOTV when I was there. You NEVER got Faye mad at you!

---

May 14 2005 at 23:50:04
Name: Webmaster
Comments: If you happened to be at the Lanna Thai restaurant on 72nd and Memorial this evening, you heard a live, impromptu Tulsa TV medley.
Keyboardist/singer Jon Glazer (who told about his visit to the Mr. Zing and Tuffy show at age 4 in Guestbook 71) spotted me in the audience then spontaneously knocked out "It's Mr. Zing and Tuffy Time" and "Tuffy's A Sweet Ol' Tiger" (lyrics on the John Chick & company page).
Jon and high-powered vocalist/songwriter Rebecca Ungerman have a regular duo gig at Lanna Thai. Jon's first album, "The Divine Rebellion" (all original songs), is coming soon; see JonGlazerMusic.com. Rebecca's first, "I Just Want..." (jazz and pop standards plus originals), is available at RebeccaUngerman.com. You can hear their music at the sites.
Gaye and I, Tim Schmitz (Dick's son), KWGS' Casey Morgan and husband Skip (scroll down), and Ken Harwood enjoyed the delicious food and the fun show with these fantastic Tulsa musicians.
5/18: See a video of Jon performing "Why is Henry Here?" from this very performance at Lanna Thai.

---

May 13 2005 at 19:52:40
Name: Kevin Johnson
Email: kevin.johnson123@verizon.net
Location: Palm Springs, Ca.
Comments: I remember meeting Don Woods at the Channel 8 studios. I lived in Coffeyville back then. My brother and I went to Tulsa to shop and decided to see if KTUL had any " 8's the Place" bumper stickers. We went into the lobby and Don Woods came out and talked to us. He asked us where we were from and was the nicest man.
I had always wanted a Gusty cartoon. I went to a second-hand store outside of Bartlesville and there was one for sale. You bet I snatched it up. I still have it and it's getting a long awaited frame. :)
Kevin composed this poem for Uncle Zeb awhile back.
---

May 13 2005 at 08:12:45
Name: Jim Ruddle
Email: jruddle@earthlink.net
Location: Rye, NY
Comments: Faye! Of course.
Thanks to you both; I emended her name in the previous entries.
---

May 12 2005 at 19:01:39
Name:

Lionel
Location: The Castle Rocks
Comments:
Might the KOTV Switch Board Operator referred to as "Fran" more likely have been the one..the only....Faye Parker??
---

May 12 2005 at 07:33:15
Name: Jim Ruddle
Email: jruddle@earthlink.net
Location: Rye, NY
Comments: I didn't hear any naughty words until I was 43.

---

May 12 2005 at 01:01:22
Name: Frank Morrow
Email: frankmor@io.com
Location: Austin
Comments: Actually, come to think of it, the epithet was three words, with "horse" in the middle.

---

May 11 2005 at 20:00:33
Name: Frank Morrow
Email: frankmor@io.com
Location: Austin
Comments: Jim Ruddle: Were you in Tulsa when the famous "Oh, shit!" epithet went out over the Mutual Broadcasting System? And, it was during a public service announcement for the National Council of Churches.
The technician who was working on some stubborn piece of equipment and who didn't know the mike was suddenly live, was fired.

---

May 11 2005 at 15:36:04
Name: Bob Rice
Email: MiamiPhin@yahoo.com
Location: Broken Arrow, Ok
Comments: I am so glad that Mr. Chew cleared up the myth about Mack Creager's incident.
I have a more recent event and I was wondering if someone out there could shed some light on what happened to Beth Rengel the night of her getting upset while she was doing the newscast and her mic keep going in and out and it seemed to work perfectly right at the time she blurted out Well S...t!!! Am I remembering the incident correctly ? And was that the reason she has been gone from Tulsa news now for so long?
Jim Reid gave us the straight scoop on that back in Guestbook 49. According to John Hamill on the KGCT page, "George Stewart honorably resigned as Channel 8 news director over the manner in which Beth Rengel's naughty utterance was handled". She was off the tube for awhile, but returned for a long career on Tulsa TV.

Si Hawk had some nice things to say about her in Guestbook 123.
---

May 11 2005 at 10:42:25
Name: Louise Bland
Email: l.bland@sbcglobal.net
Location: Dallas
Comments:
Who was the switchboard operator at KTUL in the 60's? - She helped talent and crew by giving us warnings. We were audited one year because; cameramen and directors were doing jobs around the station not covered by their job description.
Many people who worked on my show lost their job within a few months after this audit. My director who was everything to our daily show, was one of them…

---

May 11 2005 at 08:00:51
Name: Jim Ruddle
Email: jruddle@earthlink.net
Location: Rye, NY
Comments: Gary Chew's recollection of Mack the Digit also mentions "Faye who handled the switchboard...."
She was a trip. Apparently, she had been a dancer at some point in her checkered career, and always looked as though she were made up for a stage appearance.
Faye was a very nice lady, but she couldn't just be a receptionist/switchboard operator. She had to be in on whatever was going on in the hallways and on the air. For example, when the auditors were at the station one year, she engaged a serious-looking CPA in a conversation that went something like this:
Faye: "What are you guys doing here?"
CPA: "We're auditing the books."
Faye: "You mean, all those numbers?"
CPA: "Well, yes."
Faye: "Doesn't that make you kind of goofy?"
On another occasion, after a Saturday morning program about cardiac problems,which featured a prominent Tulsa surgeon, Faye stopped the good doctor at the reception desk and asked if he was the fellow who had just been on the show.
He said indeed he was, that he was a cardiologist and a surgeon.
Faye: "Could you recommend a good chiropractor, I've got this pain in my shoulder...."

---

May 10 2005 at 08:50:54
Name: Webmaster
Comments: Major piece of Tulsa TV lore revealed in the just-archived Guestbook 183: Gary Chew's story of what happened in the KOTV studio when "Mannix" viewers got an unexpected hand signal from sportscaster Mack Creager in 1971.
Info requested: Scooter Segrave's whereabouts, more about Jack Morris' career, and anything about S&S Radio, formerly in Tulsa and B.A.
Commercial Airport was formerly on the site of the Holliday Hills addition (of professional interest to the webmaster's Realtor wife, Gaye Brown). News choppers, Henry Lile and Harvey Young Airport were a part of this discussion.
Past TU J-school profs and students (several associated with Tulsa TV and radio) were recalled.
We were sad to learn that Ronnie Farrar of the Friday Morning Bluegrass Bunch from the John Chick show passed away.
New organization and site: the Tulsa Area Music Archive. Sarah Sartain is the Mayfest poster artist this year.
Like Cy Tuma, Becky Jackson had polio, and appeared with him in a few benefits. She later became a dancer on KOTV's "Dance Party"!
Read all about it in Guestbook 183.

---
Back to Tulsa TV Memories main page