Tulsa TV Memories GroupBlog 268

TTM main | What's new on TTM? | GB Archive




June 12 2008 at 11:04:22
Name: Frank Morrow
Topic: What kind of shirts?
Email: frankmoratiodot com
Comments: The wildest ad to hit the Tulsa papers in the repressed, Victorian '50s occurred in a full-page ad for Clarke's Clothes that featured in big letters, "Short sleeve sports shirts," except that the 'r' was missing in "shirts."

I wish I would have clipped that page out.



---

June 11 2008 at 21:57:12
Name: Jim Cripps
Topic: Google Maps Street View
Email: jimcrippsatyahoodotcom
Comments: Wow! Thanks for that Street View! I was wondering around a little bit, just a few yards, when I noticed that the guy on the motorcycle never moves. That made me wonder about how Google did it (I'll Google that!). Going down E 37th S, and turning around to see Marc Rains Photography, you can see the reflection of the vehicle snapping the pictures. Amazing depth of view on the shots, but zooming in on the store fronts is unsatisfying.

---

June 11 2008 at 21:54:33
Name: Stuart Odell, via Mike Bruchas
Topic: Small rock
Comments: I'm transferring some 12.5K feet of 8 and Super 8 movie footage from the 60s forward, belonging to a customer who once lived in PA.

At some point, one of his daughters is a contestant in the Miss Teenage America Pageant. Apparently that year it was taped in Tulsa. All of a sudden I'm looking at Lewis Street, headed toward the Mabee Center. Inside, Missy is dancing onstage with dozens of other contestants, as well as Bob Hope (circa 1976). Oral even makes an appearance in a leather jacket....

Small rock.

---

June 11 2008 at 00:45:31
Name: Mike Bruchas
Topic: KUTV story - humor tangent / KTVX and "Psycho"; Tulsa's Bates Motel
Comments: KUTV is in Salt Lake City. I think KTVX, which was KTUL's original call letters, was an active call letter in that market for a long time.

Here's TV news story from KUTV, shot with a low-end digital stills camera about low-end plastic cameras: KUTVFreshAir.com/plastic

BTW, the best news director (and softball coach) at KOCO in my 4 year tenure long managed news at KUTV later.



At the end of Hitchcock's "Psycho", the news truck covering the arrest of Norman Bates carried the call letters "KTVX". These were the call letters of the Muskogee station that became KTUL. Its move to Tulsa and simultaneous call letter change to KTUL occurred on September 12, 1957. The KTVX call letters were reassigned to a station in Salt Lake City in 1975, where they remain today.

I can find no other use of the letters in the interim, so I believe they were unassigned at the time "Psycho" was shot in late 1959/early 1960. I would guess that Hitchcock's production people requested legally usable calls from the FCC, and were given these.

I distinctly remember "Psycho" playing at the Admiral Twin Drive-In. Our family didn't go, but I think my dad saw it at the time of its release.

Tulsa once had its own Bates Motel not far from the current site of East Central High School. Bet it was packing them in after 1960:

"Honey, let's stay at the Bates Tourist Hotel this year. I hear the help is SO friendly!"
---

June 10 2008 at 22:15:02
Name: Webmaster
Topic: Tulsa is now included in Google Maps' Street View
Comments:

Click and drag, and use the up/down/left right buttons to get around town. Fantastic!


View Larger Map
---

June 10 2008 at 18:39:25
Name: Mike Bruchas
Topic: Unions
Comments: I remember Wayne McCombs telling me years later that Jack Moore had been involved in a union drive. I always thought Jack was a great guy with good stories.

If anyone from 8 and the 1981 drive could tell us more, I am interested.

When I was at 5 in OKC in the late 70s/early 80s, there were 2 union drives, one that I tacitly supported and 2 years later, another based only in the newsroom and it was a mess. The people pushing the latter were burnt out and angry, so our off-site meetings were nuts. Gannett sent in union-busting VPs from the newspaper side both times and never looked deeply at the floundering, inebriated station management. A lot of good people and a lot of mad folks left afterward.

KOCO is now #3 or #4 in OKC ratings. When I was there, we had beome #1 and held that position for several years. And it had been tough to wrestle anything away from market-dominant WKY-TV/KTVY/now KFOR.

"Management" never seemed to realize that Ch. 4 was just out there being excellent and 9 was pushing for a better market share. Managers who are too confident, one should worry about!

---

June 10 2008 at 10:12:45
Name: Frank Morrow
Topic: Unions
Email: frankmorat iodot com
Comments: In the early '50s the only radio people in unions were the engineers. They were strong at KVOO. The engineers at KTUL had a union that was broken by management. The big boys called in each man and used muscle and promises to break down the solidarity.

One of the announcers at KAKC (Jack Moore, I think.) made an inquiry to a union (AFRA) located in Kansas City to try to get them to help us organize in Tulsa. He was told that they wouldn't come down unless all the announcers from all the stations requested it. There was no way this would happen.

Consequently, the salaries and wages remained low and announcers could be fired at the snap of a magic management finger. I was making $1.12 an hour at KAKC. When I went to the "big time" at the second highest rated station, KTUL, I was paid $275 a month for a 35-hour work week.

Oh, yes. The $275 came after a $25 a month increase a year after I had worked there. Finally, in 1957, after working in Tulsa radio for five years, I broke the bigtime $100 a week barrier after a year at KRMG.

---

June 10 2008 at 09:54:54
Name: Webmaster
Topic: Strange newspaper clippings/TTM site changes
Comments:

Here's the funniest site I've seen in a while: it's a compendium of the odd newspaper clippings featured on the Tonight Show. Page 9 leads off with a baffling ad for a Tulsa realtor.

I have been duplicating my TTM web feed efforts by writing separate entries for the What's New page, so I decided to simplify. The full TTM web feed is now seen there in expanded form. The most recent feed items are in headline-only form at the top of the GroupBlog and on the Bulletin Board (main page).

The ad boxes at the top of the GroupBlog and on the Bulletin Board link to specific items (often with TTM-unique text) in the TTM Gift Shop. I've copied much of the text from the original-style Gift Shop out there, and added lots of new info and comments (though the original GS still has unique material, and it's put together differently).

Sample new factoid: did you know that the Horta creature, seen on Star Trek's second season episode, "Devil in the Dark", was manned during filming by former Executive Director of SAG/AFTRA for the Texas/Oklahoma area and TTM contributor Bill McCright of Tulsa?
---

June 08 2008 at 23:03:53
Name: Mike Bruchas
Topic: KTUL IATSE Union Drive of 1975
Comments: We failed in that one - you guys later succeeded and Jimmy Leake "got stupid" re the union, but later - his sale of 8 and 7 in Little Rock to Allbritton - made him feel vindicated.

Won't talk more on the '75 drive - a lot of us were very bitter then and several of us were forced out by Leake's lackies.
Several other "loyalists" at 8 received promotions, raises or jobs at ABC or elsewhere.

Long time ago and best forgotten...you learned WHOM your workplace friends really were, folks who had convictions and also found out that a lot of individuals had been approached with scare tactics. Union drives usually fare poorly in the TV biz....

---

June 07 2008 at 21:23:46
Name: D. Wendal Attig
Topic: Correction
Email: dattig atcomcast.net
Comments: My reference in the first paragraph to "Jim" is referring to Jim McKay who passed away this morning. Some of us worked with him while covering events for ESPN or ABC.

---

June 07 2008 at 21:20:52
Name: D. Wendal Attig
Topic: Whatever became of???
Email: dattig at comcast.net
Comments: I've spent the last couple of hours on this site and find it quite a journey down memory lane. It all started when I saw Chris Lincoln this afternoon in a "B-roll" cover during some highlights of Jim (McKay)'s career just prior to the ESPN coverage of the Belmont.

This triggered an interest in learning where life has led many of the people I worked with at KTUL8 between 1980 and 1983. Searching the archives has produced many names--and got a glimpse of how their careers have unfolded, but didn't find any references to Dale Heitzman, Terry Clark, John Heatley, Howard Sanders, Holly Rae, Dan Miles --not much on Kent Doll who actually hired me while Tom Goodgame was GM. Anyone know where they've gone?

From the comments I've read and enjoyed, my time there must have occurred at least partially during the good old days; OSU-Jimmy Johnson show, OU Barry Switzer show, Texas A&M, Roughnecks Soccer, Quarterhorse Racing in Ruidoso, New Mexico, Skydiving for CBS, Pro Team Rodeo for ESPN (using "the GMC shuttle") , plus a boatload of pick-ups for out-of town producers. One example was the PGA Open at Southern Hills. We were cutting between the ABC feed from their truck and Dale Heitzman's microwave signal from a handheld camera following Japanese golfer Aoki around the course. All the while native announcers at the AD's desk behind us in the old Crown Coach remote unit were spewing appropriate commentary (I guess,)in rapid fire!

Best assignment? Covering spring training for the Tulsa Roughnecks (NASL) in Bermuda. Heitzmann and I had a camera and a taxi for the best part of the week to capture the ambiance of the island, the "Heat" covered the practice sessions with Bob Carpenter. Seem to remember that we flew back in time to edit overnight, wrap it up at 5:50 PM and air it all starting at 6:00 PM.

Remember how many people at the station drove a Renault Le Car? Must have been 5 or 6 people including Carl and Kent. --Wish I was driving something with that kind of gas mileage now!

I was there when Bob Hower's co-anchor Beth Rengel was released following a verbal indiscretion caught when a mic stayed open well into a commercial break during the news.

I too remember Jimmy Leake--driving the Queen's ex-Rolls or some other exotic car right from the museum floor to the station from Muskogee, the car auctions every year, the time the kids "took over" while he was hunting in Northern Canada and replaced Doubleday in Little Rock with John Leake--Sadie was the GM in Tulsa by then. There was a flurry of "hell to pay" when the old man returned.

I remember the 8's The Place "community involvement" that included the Strawberry Festival every year--Jimmy would always be sure to buy the prize-winning berries and take them back to the Razor Clam restaurant that he owned with the chef. Dale and I would do a new commercial featuring some dessert made with those--one year we calculated that he paid $9.54 per berry!


KTUL owner James Leake and Gov. George Nigh at the Stilwell Strawberry Festival
circa 1976, courtesy of Darrell Neale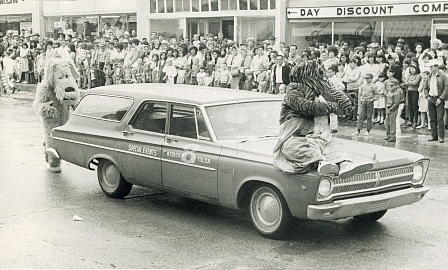 Tuffy and Shaggy at the Stilwell Strawberry Festival, courtesy of Darrell Neale

I was there (actually offsite on a much needed vacation in Vermont) when the union vote came. I remember Howard Sanders pulling me aside when I first arrived directly from vacation, to tell me the outcome of the vote and that Jimmy had reacted with laying off everyone he suspected had voted FOR the union. As a result, the assigned crew of 17 had been pared down to 9! For the next five months, every director in the house had a shift switching breaks. Think most of mine were sign-on with Chuck Blaker or Cy. One morning when Cy was working, we somehow got the ID slide and audio cart out of sync. Don Woods picture came up with the 8's the Place logo, while the audio cart said, "A mind is a terrible thing to waste."--Thankfully, Don wasn't up that early!

My time at KTUL was early in my career, and in hindsight not the best example of exercising great leadership. I was learning--admittedly sometimes at the unintentional expense of people I really admired. So for all of you who supported me anyway while I grew in that dimension, my hat has always been off to each of you. I've been better since, as a result of my KTUL experience.

I'll try not to ramble in the future, but must admit this was fun and I look forward to more of your stories and connections.

---

June 06 2008 at 19:33:05
Name: John Hillis
Topic: Oklahoma Weather East
Comments: We had some Tulsa-type weather here in East West Virginia this week--and with the generator running the TV sat dish, you realize how good people like Woodward, Gary England, Travis Meyer, and others are. At one point, we have about six tornado warnings in the area simultaneously, and the local weatherfolk were pretty darn cavalier about it, as it was not just out here in the far reaches of the DMA, but for some of the most populous counties.

Like they used to say, experience pays, and, while tornado isn't a normal part of our weather, it'd be nice to see the meteos here do a little study and be more informative and less nuts at the same time.

As the ailing Paul Harvey would say, closed circuit to the webmaster, CHWO in Toronto just played Martin Denny's "Quiet Village," which was #4 on the charts on this date in 1959. (#1 was Johnny Horton's "Battle of New Orleans," the charts have changed over the years).

Can't wait for that Wi-Fi radio to drop down out of the three digit range into something affordable. I may not know if the funnel cloud is bearing down on the front yard, but by gum, I'll have more Michael Bublé than you can shake a stick at, and the traffic reports for the QEW.



I've mentioned that my wife gave me her Dell Pocket PC (after moving on to a Smartphone), and that I added a Wi-Fi card and Resco Radio software to it. It now functions as a Wi-Fi radio tuner.

For me, it's better than a standalone Wi-Fi radio. I can take it to any room with a boombox or a stereo system input and plug it in. Or listen in bed with a pillow speaker from C.C. Crane, so as not to disturb my benefactor.
---

June 06 2008 at 13:53:50
Name: Mike Bruchas
Topic: OKC artist Pat Lopez
Comments: I guess she moved back to OKC from Dallas. She does courtroom sketches for CBS and ABC and was soooooo great as the news department artist at KOCO long ago.

Here is her website: PatLopezArtworks.com.

---

June 05 2008 at 15:32:11
Name: Mike Bruchas
Topic: RFK
Comments: 40 years ago today I awoke to WMAQ doing a special report on RFK's shooting in L.A. I couldn't believe it...

---

June 05 2008 at 01:43:45
Name: roy lee
Topic: Bo Diddley
Email: royleeshouse@gmail.com
Comments: Sometime in the early 80s, Bo Diddley played at the fair. It was in that theatre in the building where the flea market was. I got there early and sat up front. He pulled up alone in an old station wagon and got out with his guitar. Right up to the stage where John Henry and a couple of other guys were waiting. They practiced for about ten minutes and went at it. The only autograph I have is his on the back of a skee-ball ticket. I'm not an autograph hound at all, but I sure like that one. I don't think the fair was ever any better.

---

June 04 2008 at 15:48:20
Name: Mike Bruchas
Topic: S.E. Hinton/Chicago
Comments: Was looking at the Chicago Public Radio web site: "Printers Row Book Fair: Chicago Tribune Young Adult Book Prize recipient S.E. Hinton, Sat., June 7, 2008 @ 12:00 noon. The PRBF was founded in 1985 to attract visitors to the Printers Row neighborhood, once the city's bookmaking hub. Today, it is the largest free outdoor literary event in the Midwest, drawing more than 90,000 book lovers to events like this one with Chicago Tribune Young Adult Book Prize recipient S.E. Hinton, author of The Outsiders." S.E. Hinton is, of course, the author of several Tulsa-based books which Francis Ford Coppola made into movies.

The Chicago Blues Fest is on in Millennium Park this weekend. Hope to catch some of it. MOD CHICAGO is having a 60s music event, and frequent TTM contributor, Don Lundy's son, Matt, is flying in from the West Coast to be one of several DJs spinning 60s music this weekend here.

---

June 04 2008 at 11:03:06
Name: DolfanBob
Topic: Andy-O
Email: MiamiPhin@yahoo.com
Comments: Does anybody have any info about Andy-O leaving KVOO Radio after Friday ? Just a rumor that had come my way by a pretty reliable source.

---

June 03 2008 at 13:43:25
Name: Dave
Topic: St. Michael's Alley
Comments: Similar to the Casa Bonita update -- I noticed some work going on inside the old St. Michael's Alley a couple of days ago. I was told by one of the workers that the place would be opening soon as a "Rick's Cafe". Not sure of the exact date, but soon.

---

June 03 2008 at 13:13:25
Name: Greg
Topic: Fox 23 meteorologists
Email: gbittickattulsaccdotcom
Comments: Does anyone know what happened to Fox 23's chief meteorologist Jon Slater and Barack Shapiro, who did their weekend weather? I noticed they both suddenly disappeared recently and a new guy appeared. I never heard anything about Jon and Barack's whearabouts. Plus, their photos and bio info have been removed from the station's website.

I don't watch Fox 23 News all the time, so it's possible something was mentioned about their leaving, but I missed it. Anyway, just curious and thought I'd ask if anyone out there had some details!



The TulsaNow.org forum has a thread, Jon Slater out at Fox23, that may answer part of your question.
---

June 02 2008 at 22:47:19
Name: Mike Bruchas
Topic: Chicago TV scary movies
Comments: We had the PLENTY SCARY MOVIE at KTUL when I was there, but since Chicagoland has had TV service longer than Tulsa or OKC, I stumbled upon a Chicago area paperback on ALL of the early year horror movie shows in Chicagoland. Some that I do NOT remember, several that I do NOW remember, scared the bleep outta me (listening from the kids' bedroom as Dad snored in front of late-night TV).

---

June 02 2008 at 15:38:27
Name: Mike Bruchas
Topic: Bo & the Beav
Comments: I have been lucky to have seen Bo Diddley perform twice; once in Tulsa at the old Lady on Brady in the 70s. He will be missed.

Jerry Mathers, the Beav of "Leave It to Beaver", is 60 today.Whew - where have WE been?

---

June 02 2008 at 13:26:50
Name: Erick
Topic: Casa Bonita
Email: ericktul@yahoo.com
Comments: Not sure if this has been mentioned yet. I passed by the old Casa Bonita/Casa Viva site at 21st and Sheridan and saw a large banner across the building stating "Coming Soon...Casa Bonita".

Everything old is new again, I suppose.

---

June 02 2008 at 12:05:58
Name: Gary Chew
Topic: Bo Diddley
Email: Arnoldzburg, CA
Comments: I remember all of the KELi Little Greenmen booking Mr. Diddley into the Nowata VFW for some smokin' gigs. Dug him up close doing, "Can't Judge A Book By Lookin' At Its Cover."

RIP, Bo.

Delmeaux de Gillette du Coffeyville

---

June 01 2008 at 10:39:22
Name: Hans
Topic: NBC New York 1956
Email: H.N.-@t-online.de
Comments: The grandfather of my wife has been News Manager Directory of NBC in NYC till he died in the age of 60 years in 1956. His Name, Karl Korter, respectively Karl Kohn before. Who remember him can tell something about him and has still a photo in an album H.N.
---

May 31 2008 at 02:24:04
Name: Scott Linder
Topic: Reverbs, etc.
Comments: To Jim Cripps.... Of course, Capitol has many other reverb choices including EMT plates, Lexicons and numerous plug-ins for ProTools, etc. but the chambers are often used and rented via ISDN to other studios. They still contain Altec 604E speakers at the "send" end and Western Electric 639B mics at "receive" end, and sound wonderful. As an example, listen to any Sinatra recording done at Capitol and you'll hear them on Frank's voice.

I believe the NY studio you refer to is the original Columbia Studio on 30th Street. Goddard Lieberson produced dozens of Broadway Cast recordings there for four decades.

---

May 30 2008 at 22:26:34
Name: Jim Cripps
Topic: KELi and Reverb
Email: jimcripps at yahoo
Comments: I loved KELi, especially that little, "This is Keli" announcement...I wanted to meet her so bad!
Anyway, a friend and I actually went up and around the station once when we were on a fieldtrip to the fairgrounds (or something like that), begging for change for drinks - it was a scorcher. We had hit up a DJ, without knowing so, and he walked in to the booth, sat down, went on air, said that kids were bumming for change outside (or something to that affect). KELi was the first station that really opened up my ears and got me away from my parents' music.

To Scott Linder:
Are you saying that there are actual chambers being used for reverb, and not something digital? Wow!! I hope everything is okay. Reminds me of the passing of one of the last great studios on the East Coast (or at least in New York). My only perception of this is from a television special I saw, focusing on the recording studio and the last recording there, the 1992 revival of Guys and Dolls. I can't remember the name of the studio, or any of the other recordings there, but it did have fantastic wood flooring and walls. Sadly, it was either demolished or remodeled for other uses.

---

May 30 2008 at 19:28:43
Name: Mike Bruchas
Topic: From Jim Rankin in OKC via e-mail
Comments: "One slight correction (to my TTM post). I have never worked at 9. 5 twice, OETA and 34.

"When I first watched KOTV, translators were still in the distant future as was cable.

"An antenna with many elements and a mast as high as you could afford to build or buy was required. We were about 85 miles almost due North of Tulsa in Elk City, Kansas, about 12 miles from Independence, KS home of Neewollah.

"At that time KOTV was still broadcasting from the top of the then First National Bank tower. When they moved their transmitter to North of Sand Springs, the reception got much better.

"My sister worked at KOTV in the early 50's and my first visit there was in about 53 or 54. My brother and I were allowed to watch a newscast (from the opposite end of the studio) starring Cy Tuma and Hugh Finnerty. I cannot remember who did WX but I do remember he did it standing behind Plexiglas and writing backwards, a talent I later
learned in the USAF.

"We also met Perry Ward on that trip. Watched Perry do a live Safeway commercial. Video tape was still a few years away.

"Little did I realize in just 13 or 14 years, I would be at the switcher cussing the talent. Over the years they cussed me a few times also..."

---

May 29 2008 at 21:44:57
Name: Stuart Odell via Mike Bruchas
Topic: Susan Bunn
Comments: (Former KOTV/KTUL engineer Stuart Odell asked me to post this )

"Back in the KOTV days, there was a rumor that lovely Susan (Stegman) Bunn was somehow related to someone who whistled the original "Andy Griffith" theme.

"This week in the news is Earl Hagen, who composed/performed said theme. Can you help with the familial connection between the two, if any?"

---

May 28 2008 at 16:59:28
Name: Scott Linder
Topic: Capitol Records concerns
Comments: Just got home from a session at Capitol Recording. Everyone there is very concerned about their classic underground reverb chambers, due to a developer who is building next to the Capitol Records Tower on the former KFWB site.

The chambers have provided reverb for Sinatra, Nat Cole, Ella, Dean, Sammy and many more for over five decades, and are still a source of revenue for Capitol, as they are often sent over ISDN lines to studios world-wide.

It would be a shame to lose them... (sigh)

---

May 28 2008 at 08:17:07
Name: Webmaster
Topic: KELi satellite
Comments:

The KELi satellite building at the fairgrounds shows up on a Brazilian UFO site.
---

May 27 2008 at 12:23:20
Name: Rick M
Topic: Consumers Oil
Comments: Saw the old Consumers Oil advert. What a hoot! It reminded me of my first real paying job. It was the summer of 1975 and I had just turned 16. I worked at the Consumers on 11th Street in front of Looboyle's. There was a connection of sort between those two companies many people may not know about. What better place for a kid to earn gas money for his beloved '70 Chevelle SS? They paid me and I turned around and put it right back in my tank. She would complain if I didn't pump premium, so I gave her what she liked.

---

May 26 2008 at 22:38:53
Name: Mike Bruchas
Topic: Director Sydney Pollack
Comments: The word just passed that he died tonight at 73. He was last seen - acting - in "Michael Clayton" but I believe he had a piece of the production of the HBO movie, "Recount", that first aired last night. What a great talent and a purty good character actor.



A review of "Recount" by Gary Chew is now up.
---

May 26 2008 at 22:30:01
Name: Mike Bruchas
Topic: Jim Rankin
Comments: Jim is a "lurker" from OKC to TTM; he reads TTM weekly. We had a long talk via phone tonight.

He was my boss when Channel 34 was put on the air in OKC and again later at KOCO. He's kind of a mentor to me. Jim worked at 9, OETA, 34 and 5 (the latter several times besides also helping build-out the then-NEW KOCO), but for a long time has been with United Cerebral Palsy of Oklahoma in OKC.

What I forgot to ask him was, I believe that he grew up in a small town in KS and KOTV was the first station he viewed back in the 1950's - growing up! Probably off a translator.

He is also a great source of info on Neewollah activities in KS.

He also was a good friend of the late Orrie Ferguson, who for so many years was the voice of the Fred Jones Ford radio and TV spots in Tulsa and OKC.

---

May 26 2008 at 12:12:52
Name: Webmaster
Topic: Previous GroupBlog summary
Comments:

Archived GroupBlog 267, which was about:
affiliate
art
bachelorette
beryl ford collection
desk
don
drinking
edwin
family
folks
game
gannett
heart
hi
house
indiana
interview
joe pyne
richard lloyd jones
leon
listen
michael parks
month
movie
music
named
nbc
opened
passed
peter
photos
play
radio
record
shop
shows
stations
tampa
today
tv
watch
wifi
world
lloyd wright
years
---
Back to Tulsa TV Memories main page