Tulsa TV Memories GroupBlog 244

TTM main | What's new on TTM? | GB Archive




June 22 2007 at 16:20:24
Name: DolfanBob
Topic: Miss Belvedere
Email: MiamiPhin@yahoo.com
Comments: R.E. Humberton born in 1921 is the winner of the Miss Belvedere car. Channel 8 says that they found a man with the same name and birth year who passed away in 1979. If you have any information about the family or relatives, contact the Tulsa Historical Society so she can find her permanent home.



One of the 1957 guessers of Tulsa's population was Mrs. Frank S. Morrow, Jr. at 1,227,109. See it on the spreadsheet linked from this page at KOTV.
---

June 22 2007 at 13:45:24
Name: Gary Chew
Topic: Jazz Great at Tulsa International
Email: Just SW of the Donner Party Family Grill
Comments:

Hey, it was great to be back in Tulsa for some days as Ol' Rusty emerged from the sidewalk along Denver.

Ambling around Tulsa International Airport awaiting my flight back to Sac, I ran into Dr. Billy Taylor, the great jazz pianist. He told me he'd been to Tulsa to receive an award from the Oklahoma Jazz Hall of Fame.

I told him, "I see you're still up to your old tricks, doctor." He flashed a very big smile. A nice man, who's done some much for jazz in so many ways.

Delmeaux de Gillette du Coffeyville

Lucky you. I've got his "Midnight Piano" record from 1964, arranged by Oliver Nelson. It was originally KWGS' copy.
---

June 21 2007 at 15:46:29
Name: Patrick Bryant
Topic: Ho Ho the Clown's Dog
Comments: Ho Ho's dog was named Jeannie.
She was a little Boston Terrier who spent most of each episode in her D-O-G house (Ho Ho always spelled the word out so Jeannie wouldn't discover she was just a dog).

---

June 21 2007 at 12:31:58
Name: Jim Bryan
Topic: Wayne McCombs
Email: aajsb223at Yahoo dot com
Comments: I used to work with Wayne where he started out in the radio biz, KWPR in Claremore in the late 60s and was also a member of the 1970 class at CHS. Last saw Wayne in C'More at High School reunion circa 2005. I tried Wayne's address and it was rejected. If anyone knows how to contact Wayne, please send him mine.



I found Wayne's site, Baseball's Greatest Hits, with his podcasts, book info and email address. I forwarded your note to him.
---

June 21 2007 at 11:24:53
Name: Erick
Topic: Buried car
Email: ericktul@yahoo.com
Comments: Actually, for the city's 100th birthday in 1998, a Plymouth Prowler prototype was buried in a vaccum-sealed vault in Centennial Park. It is due to be unearthed in 2048. I should be around for that. Hopefully.

---

June 21 2007 at 09:33:40
Name: Pat McRoyne
Topic: Buried Car
Comments: If they decide to do another car-in-a-capsule, may I suggest they put the capsule several feet above ground, in a wall of the BOk arena currently under construction. Some of us might live long enough to see if the capsule survives an implosion before 2057.

---

June 21 2007 at 08:20:12
Name: Erick
Topic: Ho Ho The Clown
Email: ericktul@yahoo.com
Comments: I don't remember Ho Ho having a dog. He had a puppet named Pokey, but I don't know exactly what Pokey was, other than a dressed-up sock.



In GB 110, more about Ho Ho (Ed Birchall) from his daughter-in-law Patricia, and at the top of the same page, from his son, Mike.

In GB 16, Tony Sellars told us that Pokey was played by Bill Howard.
---

June 21 2007 at 00:08:14
Name: Sandi
Topic: Ho Ho the Clown's dog
Email: scampbell5721 at hotmail.com
Comments: Does anyone remember the name of Ho Ho the Clown's dog?



Patrick Bryant told us above that Ho Ho's dog was named Jeannie.
---

June 20 2007 at 20:35:37
Name: John Hillis
Topic: Helicopter Crash
Comments: I always said the definition of bad PR was the TV station helicopter crashing onto Main St. during the big parade. But to clip the dish of your own satellite truck...sounds like a promo shoot gone very, very bad.

Glad that no one was seriously hurt. Helicopters are surprisingly fragile things, being built to be light, and every time I flew in one, I always worried a little (in spite of it being tremendously cool).

I would not like to be the person at 6 who's filing that insurance claim!

---

June 20 2007 at 18:04:49
Name: Chris Starr
Topic: Miss Belvedere
Email: cheaptricked@sbcglobal.net
Comments: To answer my own question below, the Plymouth was moved from downtown Sunday evening and placed in the showroom at East Tulsa Dodge near 47th and Memorial. It will remain there through Saturday.

---

June 20 2007 at 17:06:35
Name: DolfanBob
Topic: Jim Shoulders
Email: MiamiPhin@yahoo.com
Comments: Cowboy and Rodeo legend Jim Shoulders died today at the age of 79.

---

June 20 2007 at 16:03:26
Name: Erick
Topic: Camelot
Email: ericktul@yahoo.com
Comments: QuikTrip Corporation did purchase the land that the Camelot sits on. Of course, there is enough room to build 2 or 3 QuikTrip stores, so I'm sure they will lease the remainder of the land for (probably) retail development.

I did hear that Casey Norton will be leaving KOTV. I also just heard on the radio that KOTV's SkyNews 6 helicopter crashed this afternoon at the Sand Springs airport. The chopper apparently clipped the dish on the station's satellite truck.



I'm sorry to hear that Casey's leaving Tulsa. He and LeAnne Taylor have a chemistry that puts the network morning show personalities in the shade.

Quik-Trip #1 (seen in GB 108) opened on Sept. 25, 1958 at 5204 S. Peoria, catty-corner from the Camelot site.
---

June 20 2007 at 12:34:12
Name: DolfanBob
Topic: Local Stuff
Email: MiamiPhin@yahoo.com
Comments: I was told this morning that after the Camelot Inn comes down, QuikTrip is going to buy and build on that site. Any truth to that?

Also my favorite morning news guy Casey Norton is calling it quits with KOTV. Anyone know what his plans are?

I have watched him for the past four years and have always thought that for a young man he is very knowledgable and well-rounded in many subjects beyond his years.

---

June 20 2007 at 11:47:26
Name: Jim McCollum
Topic: Skyline Fun Spot Park
Comments: I remember one year the park created the worlds first Ski-o-rama. It was most likely at the circular site on the photos. Maybe after the boat ride went away. They were promoting it on the radio and a lot of folks came out to test their skiing ability.

It was kind of like a large horse exerciser. It had about 6 to 8 inches of water in it, the ski's were attached to the device and had small wheels on the bottoms. You held on to a ski rope. When it got going fast enough, the wheels left the bottom and you were skiing in a circle... till someone fell off.

Does this bring back any memories? I only tried it once and it wasn't really a lot of fun.

---

June 19 2007 at 20:02:09
Name: Dave Harmon
Topic: John Greenleaf Whittier
Comments: Well said, Dave. Tulsa was at its best!

---

June 19 2007 at 01:12:48
Name: David Batterson
Topic: John Greenleaf Whittier
Email: davidbatatyahoodotcom
Comments: It was quite a shock, but a pleasant surprise, to read a message transmitted by the spirit of John Greenleaf Whittier to our nostalgic TTM GroupBlog. ;-)

Mr. Whittier's wonderful poem, "The Barefoot Boy," certainly captured what it was like to be a young lad in 1950s Tulsa. Such a simpler time and place it was, walking barefoot through rural Tulsa fields with my faithful dog "Okie" at my side and a pocketknife in my pocket. It was the best of times, probably the best in my lifetime.

The condition of Miss Belvedere is a metaphor. We are a bit rusty 50 years later, and OK, our tires are flatter. But we cherish where we grew up (the unique City of Tulsa), and our memories of that time and space are beautiful and priceless.

---

June 18 2007 at 19:04:49
Name: LB
Topic: Prowler
Email: *see below
Comments: In regard to the time capsule being damaged by the city workers, history repeats itself. The capsule that is holding the Prowler prototype buried in Centinnial Park was filled with argon gas, complete with monitors and lines to refill the capsule in case the gas began to leak out. Without giving notification to anyone, city crews moved the capsule, ripping the gas lines out as they did. There is no telling what other damage was done. There is now an effort to repair the damages, as opposed to the neglected 1957 vault.*lburch3 @ ... etc.

---

June 18 2007 at 16:56:32
Name: Si Hawk
Topic: Plymouth etc
Email: sihawk@bokf.com
Comments: I recall about 20 years ago during renovation on the grounds the enclosure of the Plymouth was damaged. There was some talk about whether it should be opened for repairs but the decision was made by local officials to leave it alone and hope for the best. It appears that wasn't the best choice to make.

On another topic: up until sometime in January or early February of this year my wife and I were able to receive the digital KTUL signals quite well. That ended and we haven't been able to get their signals since. We do continue to get KJRH, KOTV, KOED and KOKI with no trouble at all. We live in mid-town Tulsa.

If my old friend Sonny Hollingshead is still around, could you give me an idea of what I should do to get back digital KTUL (off the air)?



Here is some relevant info at KTUL's site.
---

June 18 2007 at 13:03:46
Name: John Greenleaf Whittier
Topic: The Town Named for Me
Comments: It's hard to communicate from beyond the grave, let alone judge the relative value of public events, but, as a Famous, Now Dead White Male, Poet, having had the town of Whittier, California named for me more than a century ago, and even though it is now often called "The City of Nixon", I think Mr. David Batmasterson's time capsule [webmaster, whatever THAT is, please insert reference] is The Tops.

I'll be there in spirit, or ether, or some such, when it's taken out of the refrigerator and displayed to an adoring public. Where do I get tix?

(I confess to being a tad confused by the concept of a "Twistie Tie". But, that's probably only that whole 19th-century, inevitable March of Progess thing, that doesn't seem to have worked out so well.)

---

June 18 2007 at 11:56:07
Name: Erick
Topic: Lessons learned from Miss Belvedere
Email: ericktul@yahoo.com
Comments: I would say the big lesson learned from the buried car is not how far we've come, but how far we have to go.

When the car was buried in 1957, gasoline was placed in the trunk with the expectation that internal combustion engines would be obsolete by 2007.

The lesson is that we are still as dependant on oil as ever, and that we are hesitant to change that.

The car should be in a museum, in the condition it is now (with maybe the chrome shined up and the loose dirt and rust removed).

I visited the Oklahoma History Center in OKC this weekend. It is amazing. I hope that the Tulsa Historical Society can build a similar museum to house the time capsule contents and (hopefully) the car, among the other items they have collected over the years.

---

June 18 2007 at 10:05:29
Name: Lowell Burch
Topic: '57 Plymouth
Email: LBURCH3atCOXdotNET
Comments: I attended the unearthing and unveiling of the car. My brother, Jerry, was on the committee that organized the event and was the first one in the vault once they pumped out the water. He also organized the car show. I spoke to many exhibitors and they all mentioned that it was the best car show in which they had ever participated.

There were also a lot of other good events surrounding the unearthing, such as the sock hop featuring Fabian, Bobby Vee and The Chiffons (I once saw Vee at the Tulsa Fair one year and The Chiffons when they opened for the Stones at the Civic Center back in '64).

My opinion was that they should just lift the car out of the hole and display it right there on the street next to the vault. That idea received a rather cold (hostile?) reception. Also, it would have been nice if they had some of our 1950s Tulsa media personalities - like Lee and Lionel - to MC the event.

In any case, I would say that everyone was quite excited, and very satisfied, with the whole event.



Here's a story from yesterday's Tulsa World about Lowell's family's relationship with cars over the years: "Car rebuilders make memories".

Page 12 of the "1957 Plymouth dig up" thread on the TulsaNow.org Discussion forum has a lot of good photos from the car show.
---

June 17 2007 at 19:35:46
Name: Chris Starr
Topic: Miss Belvedere
Email: CheapTricked@sbcglobal.net
Comments: For those who are interested, the 1957 Plymouth and the time capsule were transported on two flatbed trucks from downtown following a route along 11th st. With a police escort and sirens blaring, they passed my house at 11th and Louisville just after 6pm Sunday. Anyone have a guess where they are heading?



A couple of thoughts on the breached vault:

The two-day-early revelation of leakage allowed people to absorb the bad news, then be able to rebound for the official opening. Also, had the car come out in pristine condition, it would have been nice and looked good in a museum, but the car's transformation provided a dramatic visualization of how much time has passed. In contrast, the separate capsule did survive completely intact. The city got loads of publicity. I'd say the event was a success.
---

June 16 2007 at 23:15:15
Name: Dana LeMoine
Topic: Film in Time Capsule
Email: d4wdwatvalornet.com
Comments: Anyone curious about what the movie "Destination Earth" from the Capsule is about can view it here:

http://www.archive.org/details/Destinat1956

It's a 14 minute cartoon that reminds me of some of the films I watched at good ol' Walter Reed Elementary back in the 60's.

---

June 16 2007 at 22:34:44
Name: David Batterson
Topic: Whittier Time Capsule
Email: davidbat(at)yahoo(dot)com
Comments: The City of Whittier, CA thinks this time capsule stuff makes for great publicity. But rather than wait 50 years, this time capsule created by Whittier resident David Batterson will be opened in one month! Watch the video showing the truck and many items being added to the plastic vault!

---

June 16 2007 at 15:52:11
Name: Richard Parker
Topic: Fond Memories of KOTV
Email: rlparkerb at AOL.COM
Comments: I just discovered this site yesterday! It is amazing how many names and memories it rekindles. I worked at KOTV from 1960 to '65 as a cameraman. It was a real hoot!

I have been in TV ever since leaving Tulsa. I wish I had known about the (KOTV) reunion. I would have tried to come. (Was that why I wasn't told?) I read of dear friends passing, and I don't know who still survives at this point. If you are still breathing I would love to hear from some of you.


---

June 16 2007 at 13:56:51
Name: W. Von B
Topic: Satellites Are Out Tonight
Comments: The topic thanks to, of course, the immortal Laurie Anderson.

While a child in Tulsa, of course I couldn't see Sputnik (the Soviet, of course, I mean, not the Monroe).

But how about the Echo satellite, which one could observe traversing the night skies?

And, can another Space Cadet confirm: did not the Tulsa newspapers run small items, recording the times one could observe?



Yes, the Tribune did, and probably the World, too. The two Echo satellites (Wikipedia link) were no more than large metallized balloons. I remember seeing one of them pass over.
---

June 16 2007 at 11:25:30
Name: Jeff H
Topic: Miss Belvedere and Time Capsule
Email: At the start of the next fifty years
Comments: What a shame the "57" Plymouth was in such bad shape but the Capsule did its job to perfection. As I watched the KOTV special It was amazing to see the contents come out as if they were put away last week.

I hope we have an opportunity to to see all those items more closely and whoever wins the car gives it back to Tulsa.

Jack Frank was co-hosting the show and I could see the creative juices flowing and another Tulsa Film in the future. I would like to know what those large film reels have on them, so get busy Mr. Frank, Tulsa is waiting.



One of the films was George Pal's "Destination Moon" (Wikipedia link). The inclusion of this movie probably represented Tulsans' hope that a moon landing might have occurred by 2007. It's doubtful that many could have guessed that a space race with the U.S.S.R. would make it happen a scant 12 years later. The first artificial Earth satellite, Sputnik, was launched only a few months after Tulsarama. It scared people enough that national politicians stopped flaunting their ignorance as a vote-getting ploy and started talking up science education (for awhile, anyway).

Sputnik also provided a pro wrestler/Mazeppa guest with his nom de guerre.

(Later note) I made an error: the movies in the time capsule were "Destination Earth" and "Barrel Number One", both by American Petroleum Institute (thanks to Dana LeMoine for this info.) Nevermind...
---

June 16 2007 at 09:08:39
Name: Webmaster
Topic: Harry Wilson, JJ's, and the Rubicon
Comments:




Harry Wilson at the Tulsarama 2007 excavation
At the unearthing of the Belvedere yesterday, I ran into Harry Wilson and his wife, Doris. Harry covered the 1957 burial of the car for KAKC radio. They are doing well.

After the car was moved down the street to the Convention Center for the evening unveiling, I had a tasty Thai Pepper rib-eye burger at J.J.'s Gourmet Cafe at 647 S. Peoria (open only from 11 am - 1 pm, M-F).

When a friend recommended it to me, I told him it must be close to the old Rubicon head shop. Turned out it was the same building. In fact, the proprietor, Jerry J. Conley, was the Rubicon's owner. He's an energetic and funny character. He had an interesting career in TV and the movies, including doing some model work for "2001: A Space Odyssey".

He created "Tulsa Tops" rolling papers, and recently sold the last rolling machine from the Rubicon days on eBay. You can still see a custom "Rubicon" license plate on the wall.

The following article fills in more about J.J.'s career: "Comfortably turning customers away". He doesn't want or need any advertising, but I had to tell you about him.
---

June 15 2007 at 12:12:19
Name: Gary Chew
Topic: Rusty Plymouth
Email: Just NW of the Empty Vault
Comments: FLASH: The 1957 Plymouth Belvedere has just made it onto the top of a flat bed truck immediately in front of the downtown YMCA.

I witnessed it from the 4th floor of the Tulsa City/County Library out of the light rain and humidity.

What a scintillating experience it was.

Sidebar: as the Belvedere came to rest on the flatbed, Geraldo Rivera jumped out of the driver's side of the vehicle with a Fox News film crew.

Delmeaux de Gillette du Coffeyville




Sometimes it pays to be 6' 7". (Photo by the webmaster)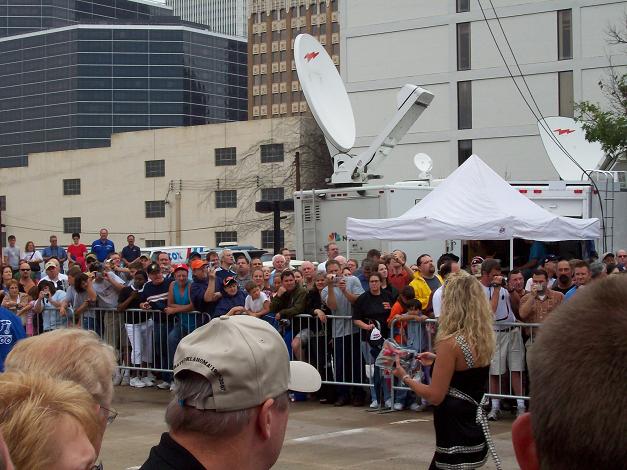 If only Miss Belvedere's chassis had proven to be this sound. (Photo by the webmaster)
---

June 15 2007 at 09:14:23
Name: Kenny Bolen
Topic: Time Capsule
Email: kwerks@comcast.net
Comments: For those who live out of state and didn't get tickets, there will be a live stream on KOTV's site.

There is a blurb on their site as well about the preparation of the event. Just click on the News link.



The banner on the Bulletin Board also links to KOTV's coverage.

More on Jerry Pippin's site:

"Our nostalgic look back (for the time capsule unveiling) is built around an interview we did with Mike Miller, who now lives in Houston, but was at one time the TV news anchor on each of the network affiliates in Tulsa."

Here's more about Mike and his book, How High Can a Guy Stoop?. It covers the late fifties and beyond.
---

June 14 2007 at 17:01:12
Name: Webmaster
Topic: Time capsule unveiling
Comments:

FYI, tickets for the 7 pm time capsule unveiling tomorrow sold out several days ago (I didn't get one myself.) I will probably run down there at noon tomorrow with my trusty camera and see what I can see.

Friday June 15, 8 pm (one night only) at the Circle Cinema:

AN AMERICAN REBEL: STEVE MCQUEEN

New documentary by McQueen's friend Richard Martin, who will also attend this one-night-only show to speak and answer questions. Second showing anywhere in the US before November.

Also: June 16-17 at noon: "Boy On A Dolphin"...FREE ADMISSION!

See the film that was playing at the Circle 50 years ago on the day that the 1957 Plymouth Belvedere was buried. Starring Sophia Loren, Alan Ladd and Clifton Webb.
---

June 14 2007 at 16:15:40
Name: Kenny Bolen
Topic: Bell's
Email: kwerks@comcast.net
Comments: What's truly sadder to me is the demise of Bell's Amusement Park. Tomorrow is the 15th and a Tulsa institution will be gone. For me, my teen years in the 70s, Saturday night was going to the fairgrounds for stock car racing and then trying to make Bell's before closing to get some Zingo time in.

I know the old girl wasn't what coasters are today, but, that track-a-lack sound when being pulled up that first drop hill will always provide a little drama in the pit of your stomach before that making that nice easy turn before the bottom dropped out from under you!

I have lived in Connecticut now for the past 12 years. A couple of the older parks here had the same issue. Luckily, both were able to resolve (one is now a Six Flags) and have been doing well. I would hope that the Bell family can find some real estate and reestablish one of Tulsa's best little places to go soon. Both my wife and I are coaster fanatics and would love to take one more turn on Zingo or the Phantasmagoria...

---

June 14 2007 at 10:23:19
Name: Jeff H
Topic: Another thought
Email: Been down two times
Comments:

I have a great idea for the Mayor. Instead of closing city golf courses, her Honor could use the vault as a new community swimming pool for downtown, just add a diving board and a ladder or two and you got a first class swim'in
hole.

Oh, I forgot, the city can't find any lifeguards for the pools we already have. Back to the drawing board.

P.S. Maybe the Fair Board might want it to create an off the Midway attraction since "Bells" is toast.

---

June 14 2007 at 01:13:26
Name: Jeff H
Topic: 57 Plymouth: what else?
Email: Treading Water in the Deep End of the Vault
Comments: What a shame to see the "57" half under water. But that case of "Schiltz" in the trunk should be alright, kept at cellar temperture for fifty years.

CHEERS TO T U L S A! you've come a long way baby!!!!

P.S. What's the deal with the banner AD, Comrade?



It may surprise you to learn that all of TTM except this GB resides on a server at Irving Productions, 21st & Harvard. The current GB lives in Greece. I pay a nominal yearly amount to not have the banner, but the host is doing some maintenance on servers, whcih results in the banner being served up some of the time. This has happened several times in the past, and I have written them about it. The banner should be permanently gone soon.
---

June 13 2007 at 20:05:48
Name: John Hillis
Topic: Belvedere, m'dear
Comments:
Like Al Capone's vaults, it was better in imagination than reality. How many of us imagined putting the key in that big-finned monster, and firing her up?

My family had a '57 Belvedere and managed to do pretty much the same thing to it by early 1962.

C'est la vie!

---

June 13 2007 at 15:22:26
Name: Erick
Topic: Plymouth
Email: ericktul@yahoo.com
Comments: Well, the folks who put it in the ground did the best they could to preserve the car even in the event of a leak. Let's just hope that the bag the car is wrapped in has held. Unfortunately, '57 Belvederes were horribly prone to rust even in the best of environments.

Friday should be interesting...

---

June 13 2007 at 15:06:47
Name: Kenny Bolen
Topic: Time Capsule
Email: kwerks@comcast.net
Comments: What a disappointment. I have heard this all my life about the buried car. Let's see what the can salvage out of it.

I wonder, by chance, anyone of those involved with the project still living? Maybe it would be nice to see some before and after pictures by the folks that witnessed the event.

---

June 13 2007 at 11:27:27
Name: Dana LeMoine
Topic: Belvedere
Comments: How sad. In an earlier post I wished they had buried a Corvette. Now I'm glad they didn't. But if it had been a Corvette, at least the body wouldn't have rusted.

---

June 13 2007 at 10:59:42
Name: Webmaster
Topic: 1957 vault opened
Comments:

The 1957 vault was opened this morning; here is a slide show at KRMG.com. Looks like there was a leak.
---

June 12 2007 at 20:41:58
Name: Li'l Albert
Comments: Word has come of the death today, at 89, of Mr. Wizard, Don Herbert.

Mr. Wizard reinforced, for many of us, of a certain age, to understand what we secretly hoped, that it was OK to be a science nerd/geek, before those terms were a gleam in an eye.

In hearts all over the world, the Bunsen burners light in honour of Mr. Wizard.

---

June 12 2007 at 19:57:20
Name: Joe
Topic: Toy the Furniture Lady
Email: aa5drvr at HooYadotbomb
Comments: "Hi, I'm Toy......" She really wasn't a toy, not even a miniature, but a full-grown standard size.
I remember that was about the time I was in high school and the smart aleck comments would run amok. Toy Box, etc.

Anyway, she advertised for a furniture store called, "John's." It wasn't Grandpa John's or anything like that, just John's.

---

June 12 2007 at 06:29:49
Name: Ed
Topic: Toy, the furniture lady/Previous GroupBlog summary
Comments: Back in the 70s there was a series of commercials for a furniture store that featured a "plus size" lady whose line always started out "Hi, I'm Toy . .. ." Anyone remember what the store was?



I remember that, too. It wasn't the Betty Claire shop, was it?

By the way, the banner on this page should go away soon.

Archived GroupBlog 243:

Ray J. Johnson just left a comment ("You can call me Ray, you can call me J..."; Ray has probably heard that more times than I have "How's the weather up there?") Actually, Ray was the KRMG sales rep who dealt with eccentric Jim Wheaton, the "U-Need-Um Tires" voice guy. We heard a story about the Tulsa baseball Oilers in the 1930s from Sam.

We saw Zeb's book signing at Borders. KMOD-FM was a big topic. The tornado of 6/8/1974 was recalled. Gary Shore (we think) dropped in with a forecast. The 1957 time capsule is due to be unearthed this Friday!

Doc Rock is alive and serving hot dogs at his new Owasso business, Papa Dogs. We heard a story about Helen Alvarez, the first general manager of KOTV. Beryl Ford Collection photos in the 15th & Harvard area were linked.

John Erling was King (of Tulsa radio) For A Day once more. We heard an aircheck from KELi's last hour in 1985. We saw a Bishop's Driv-Inn postcard. New YouTube clips: Robert Vaughn and George Harrison.

All this and more in GroupBlog 243.
---
Back to Tulsa TV Memories main page