Tulsa TV Memories GroupBlog 216

TTM main | What's new on TTM? | GB Archive




July 08 2006 at 00:50:43
Name: Frank Morrow
Email: frankmor@io.com
Location: Austin
Comments: A good example of Elvis' tendency to sing flat is "Love Me Tender." (excuse the grammar) He particularly would go flat at the ends of phrases.
Having said that, Bing Crosby sang sharp more frequently than Elvis sang flat.
That's one of the the tunes I was thinking of when I commented below about Elvis' vibrato.
---

July 08 2006 at 00:02:11
Name: Delmeaux de Gillette du Coffeyville
Email: kggf DOT AM
Location: Not Too Far From Woolaroc
Comments: Here's a little confection to ponder over the weekend. It's for real, I saw it on the CNN web site. It comes from a guy smarter than all of us....put together: Stephen Hawking.
Hawking's question (at Yahoo Answers): "In a world that is in chaos politically, socially and environmentally, how can the human race sustain another 100 years?"
All I can say, upfront, is: Just Hawking's asking of the question is so worrisome, I'm not sure I can conjure an answer until, at least, tomorrow, if it comes.
---

July 07 2006 at 16:54:26
Name: Si Hawk
Email: siborg54@sbcglobal.net
Location: T-Town
Comments: Elvis (and every one else) sang sharp on KAKC (at least during the time I was there). People got used to our fast turntables that made every tune a little more up tempo. After working there I got used to the fast playback and typically preferred it to the standard speed turntables at other stations.
---

July 06 2006 at 23:51:57
Name: Frank Morrow
Email: frankmor@io.com
Location: Austin
Comments: Elvis Presley sang flat, particularly on slow numbers. I got into trouble with a couple of listeners when I pointed this out on one of my KRMG disk jockey programs. I left my mike open while the music was playing. When Elvis would go flat, I would point this out to him, and ask him to PLEASE stay on key.
People would call in and say, "How DARE you say such a thing about Elvis."
I've never noticed that. Frank, can you think of an example song? I would say the approximate tonal center of his vibrato may be off exact pitch, but to my ear, it seems a deliberate stylistic effect that works. Any musicians out there have an opinion?
---

July 06 2006 at 15:13:35
Name: Webmaster
Comments: The Brady Orchestra (made up of some top Tulsa musicians, including my brother, Alan) will again perform a free "Beatles" concert at 7 pm on July 6 (this evening), at RiverWalk Crossing in Jenks. Read more about their Utica Square appearance a couple of weeks ago at the bottom of this page, and in the previous GroupBlog.
---

July 06 2006 at 14:40:57
Name: David Batterson
Email: davidbat(at)yahoo.com
Location: Circling around Barney's Hub
Comments: David Batterson and Mark Giles did another one. This song is called "Lipstick On That Pig" (MP3) and it's about shopping.
And no, that's NOT Arlo Guthrie singing it! That's the very talented Mr. Giles.
---

July 06 2006 at 09:59:49
Name: Webmaster
Comments: He's ba-a-a-k. Gailard Sartain has done a second political commercial for Bob Sullivan. Again, this is not a political endorsement. The link is direct to a Windows Media file. Right-click and Save Target As to download if you have any trouble streaming it.
---

July 05 2006 at 15:47:16
Name: Delmeaux de Gillette du Coffeyville
Location: Neither in Chicago nor Coffeyville
Comments: Mr. Bruchas' thoughts on the Fourth of July TV special with a Bush impersonator and the emceeing of Dr. Phil...
The Bush impersonator sounds like something entertaining to me. But there can be no surprise about the effort to falsify the "live-ness" of the program, nor can it seem weird to me that an icon such as Dr. Phil be hosting. According to viewers of daytime television, Dr. Phil has long had the cosmos figured out.
I know that since I used to do TV when the moon don't shine.
---

July 05 2006 at 14:24:27
Name: Mike Bruchas
Location: Chicago
Comments: If any of you saw the 4th special at Ford's Theatre last night - it was taped hush-hush much earlier last week, but made to look live. Funny, no cutaway shots of the fireworks 6 blocks away on the Mall. It DID have a Bush impersonator though who made Dubya look a tad wooden. The Pres was at Ft. Bragg and elsewhere. We also thought it weird having Dr. Phil host the Boston Pops fireworks concert show.
---

July 05 2006 at 11:50:28
Name: Bettena Leforce (via email to webmaster)
Comments: This has nothing to do with TV, just Tulsa memories.
I was wondering if you might be able to identify the sauce that was used on Ma Bell's (used to be located on Admiral, between Memorial, & Sheridan) nachos. My girlfriends and I had a reunion the other day, and we were talking how we could not duplicate that wonderful taste.
Do you know of any one who might have worked there, and might have that answer?
---

July 05 2006 at 07:50:07
Name: Lloyd
Location: Bunker Under the Rose Bowl
Comments: Back in the '60s, LaFortune Park featured an obsolete USAF missile. It may have been a Nike Zeus, designed to intercept Soviet strategic bombers.
Does anyone know what became of it? I'd love one for the backyard (a "surprise" for my wife!).
I'm sure your wife would be thrilled. Ideal for staging Slim Pickens/"Dr. Strangelove" photo ops. I've got a shot like that from Los Alamos in 1970 that I'll dig up.
---

July 04 2006 at 16:13:25
Name: Steve Todoroff
Email: sgtodoroff@sbcglobaldotnet
Location: Houston, TX
Comments: It was exactly 30 years ago today that I took my very-pregnant wife to see Elvis perform on America's bicentennial birthday at the ORU Mabee Center. I just knew seeing the King perform would force her into labor that day, but alas it was almost another two weeks before the blessed event occurred and our first child, Jason, was born.
We still have fond memories of that show, and my son is probably one of the few in his generation that can brag about attending an Elvis concert. Ironically, thirteen months to the day after Jason's birth the King was gone. I always thought it odd that of all the venues he could have performed on America's 200th birthday that Tulsa should be the lucky recipient. What a treat it was.
Steve later found this link: Elvis: Images In Concert - TULSA '76.
---

July 02 2006 at 19:31:03
Name: Delmeaux Again
Email: garychew@calm.com
Location: Haven't Budged
Comments:
Just a short, positive thought going out now for the ailing Roger Ebert up in The Windy City.
He usually gets top billing on many critics' web sites for his film reviews, as he should. Hope Rog is back in the screening room very soon and supplying us with his insightful prose on cinema.
---

July 02 2006 at 19:18:19
Name: Delmeaux de Gillette du Coffeyville
Email: garychew@calm.com
Location: Same Distance As Before from the Donner Party Family Grill
Comments: Here's the Google listing for the Sacramento Shakey's Pizza Parlor.
Shakey's Pizza Restaurant - More Info / Map 5641 J St, Sacramento, CA 95819 Category: Pizza
But when you click on More Info, the runaround begins. I think our web maestro should give a prize to the Tulsan who now lives closest to the first Shakey's Pizza Parlor.
A great big, thick, steamin' bowl of Wolf Brand Chili would suffice.
Well...that's too long.
The old building on J Street with the Shakey's sign, pretty much like the one in Tokyo, is about a mile from the KXPR studios of Capital Public Radio, Inc. on the Sac State campus.
The Wikipedia states that Shakey's was founded in Sacramento. It also says the last one there closed due to fire in 1995. Here it is.

According to the 8/7/2003 Sac Bee, that Shakey's sign is now at the Sacramento Archives and Museum Collection Center.

More Shakey's memorabilia in TTM's Tulsa Motels-Restaurants photo album.
---

July 02 2006 at 18:26:10
Name: John Hillis (via email)
Location: West of Edo
Comments: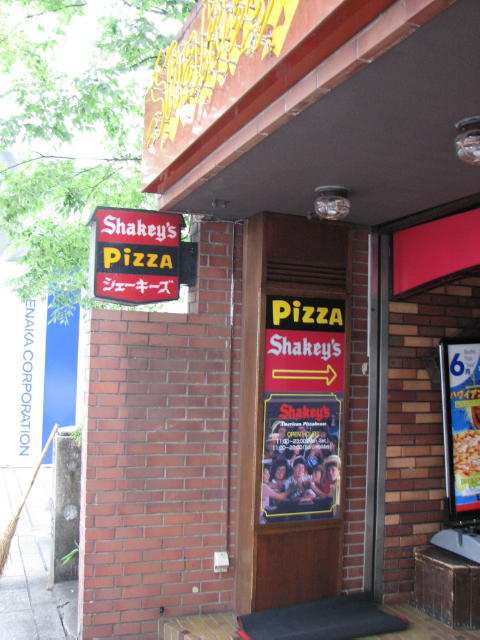 It's a long way from Tulsa to Tokyo, but attached is a photo of Shakey's Pizza I shot in the oh-so-hip Harajuku district last week. Unfortunately (or perhaps fortunately) I was out in the morning before opening hours, and thus missed the opportunity to see if the player piano and movie cassettes were a part of this particular establishment.

When I visited Tokyo in 1990, I stayed near Harajuku, at the Youth Hostel next to Yoyogi Park, a 15-minute walk from Sangubashi station, the 2nd stop from Shinjuku on the Odakyu line. (A Japanese Bobby Troup should work these evocative place names into the equivalent of "Now you go through St. Louie, Joplin, Missouri, Oklahoma City's lookin' mighty pretty"...hey, could this Devo-esque Japanese music video on YouTube fill the bill?)

I made it to a Shakey's in Tokyo (corn and squid were some of the pizza ingredients offered). Here I am seeking it out:

Photo by Kevin Chambers
Later note: Kevin advised from Shanghai that it was the basement Shakey's on the Ginza (now closed).
---

July 02 2006 at 15:12:02
Name: Dave
Location: in the soup
Comments: I checked the Twilight Zone schedule and realized that I while I have seen almost all of them between the original years and portions of the latter years' marathons, I don't recognize them by the episode names. But I do remember the best one by its name -- "To Serve Man." It will be on at 7 pm (Central time) Monday.
The webmaster met the biggest star of "To Serve Man" last weekend: Richard Kiel.
---

July 02 2006 at 13:39:51
Name: David Batterson
Email: davidbat(at)yahoo.com
Location: Shopping at Jitney Jungle!
Comments: David Batterson and Mark Giles, the Flatt & Scruggs of ex-Tulsan songwriters, have done another one. This song is about an Old West doc, Dr.Quick.mp3, who is also quick on the trigger. And he doesn't suffer fools gladly!
---

July 02 2006 at 12:14:27
Name: Dana LeMoine
Email: d4wdw@valornet.com
Location: The Cornfield
Comments: Attention Twilight Zone fans:
The Sci-Fi Channel is having a Twilight Zone marathon going on right now through the 4th.
The complete schedule (Central Time) is available for viewing on their website.
---

July 01 2006 at 14:12:16
Name: Webmaster
Location: Viva La Bonita
Comments: Here's a Tulsa World review of the new Casa Viva, 6/23/2006:
Casa Viva takes up where Casa Bonita left off in food and decor.
Thanks to David Bagsby, here is a great Casa Bonita artifact: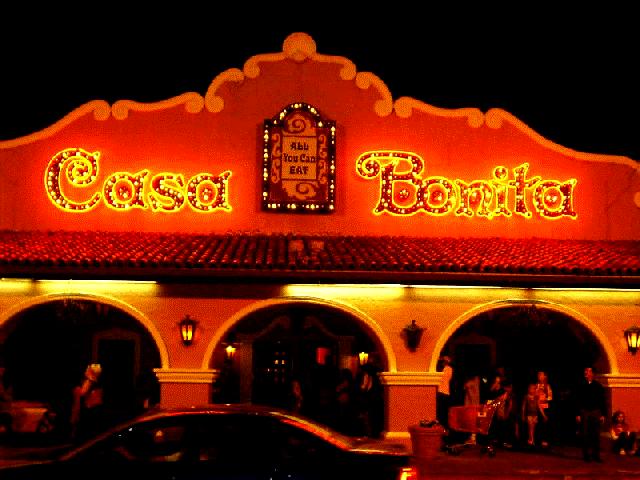 Photo courtesy of Lowell Burch, 9/30/2005
---

July 01 2006 at 11:53:51
Name: Mike Bruchas
Location: working on a Sat.
Comments: Gene Shouse! What are you doing and how are you doing?
When I was in OKC - Gene was an engineer who bought video gear and worked at and for Channel 4 besides free-lancing.
---

June 30 2006 at 18:37:46
Name: Gene Shouse (Moose Productions)
Location: (via email to webmaster)
Comments: Billy Nicks, long time production director at Channel 4 in Oklahoma City, passed away in Mesquite, Texas. His passing was on Thursday June 29th.
---

June 30 2006 at 17:00:19
Name: Landlocked Film (via email)
Email: Landlockedfilm@yahoo.com
Location: PointlessPictures.net
Comments: In town for his 10th year high school reunion at Booker T. Washington, filmmaker Jerry Melichar will be giving his award-winning short film, MY LAST FALL, its long-overdue Tulsa premiere at the Circle Cinema on Sunday, July 2nd, 7:00pm. Screening will raise funds for LANDLOCKED, an upcoming short film to be set and shot in Tulsa.
MY LAST FALL is the story of a disenchanted advertising executive, Ted, who finds out that he has only a short time left to live. Instead of putting his life in order, Ted rebels against his straitlaced existence and loses all inhibitions; a decision he comes to regret when he receives an apologetic call from his confused doctor.
Jerry's artistic sensibilities are the result of the best arts education Tulsa has to offer. He credits Harwelden's Community Arts School Tulsa and Summer Arts programs, Theater Tulsa, Booker T. Washington, and legendary Tulsa theater director Billie Sue Thompson as immeasurable influences.
LANDLOCKED, starring Debra Monk, is the next project from Pointless Pictures to be written and directed by Melichar, tells the story of Martha Hale, a Marine Biology teacher at Will Rogers High School in Tulsa, who is falsely accused of stealing money from the school's fundraiser. On the verge of losing all respectability, Martha must resort to rather drastic measures to get her life --and her classroom-- back on track.
---

June 30 2006 at 16:22:36
Name: Jason Connell
Email: jason@connellcreations.com
Location: Los Angeles
Comments: I'm a native Tulsan who moved to LA a couple of years ago to further my career as a filmmaker. So now after a year and half of hard work, I just completed my first feature length documentary entitled "Strictly Background".
It's a compelling film with heart and humor about the lives of 10 very colorful and unique movie extras. Having just completed it, we are currrently gearing up for the film festival circuit but wanted to say that later this year there will be a premiere at the Circle Cinema.
So if you get a chance, be sure to bookmark the website (StrictlyBackground.com) and keep up with any developments as well as festival dates.
Also I run the Tulsa UNCENSORED Film Festival (TulsaUncensored.com) which is coming up this September 30th, so if you have a short film submission we are still accepting entries, and if you just want to attend, tickets will go on sale soon.
Thanks so much and I look forward to being back in Tulsa for both events!
This is the movie Bryan Storkel of Beef Baloney worked on as Director of Photography and co-editor, and mentioned in the previous GroupBlog. I'm looking forward to it.
---

June 30 2006 at 12:11:56
Name: Dana LeMoine
Email: d4wdw@valornet.com
Location: Pinball Heaven
Comments: If you want realistic versions of tons of actual pinballs to download for free, you have to check out this site.
The page I referenced has David Bagsby's "Triple Action".
The detail put into these games is amazing. Obviously not as good as a real pinball, but it's the next best thing.
---

June 30 2006 at 11:51:58
Name: Chris (DR. RATT)
Email: drratt2003@yahoo.com
Location: Broken Arrow
Comments: Wow!!! Thanks Dana for the pics of the "Superman" pinball machine.. I spent many a weekend wearing out those flippers...LOL...
---

June 30 2006 at 11:09:27
Name: Mike Bruchas
Location: nice DC
Comments: Okie-related story here - TV, too, and all them Donrey billboards.
Smithsonian's National Portrait Gallery has been closed for 6 years to remodel - one of my favorite smaller museums. Now Okie-born Don Reynolds and family have a museum named after them in DC after giving millions and millions more to rehab the museum. Don Reynolds was a lowly paperboy from OKC who built a billboard and later mini-TV station empire. He later settled in Las Vegas.
The new REYNOLDS CENTER opens July 1. Target - a big giver - is helping sponsor the opening here. What I WILL miss is the quiet open air courtyard with old oak trees between the museums - they are gonna glass over it all with an atrium roof next year!
---

June 30 2006 at 09:52:59
Name: David Bagsby
Email: dcbatsunflower.com
Location: Lawrence KS
Comments: My favorite pinball machine was Williams' Triple Action (IPDb). I lived down the street from the Rose Bowl, so many an afternoon was spent feeding quarters to that machine. I finally got one on eBay years ago. This was one of the last waves of the electro-mechanical types where body english would help your game. Williams' Gulf Stream game was a second fave. I tended to be partial to Williams machines as the flippers were longer and stronger than the Bally games...don't tell Pete Townsend.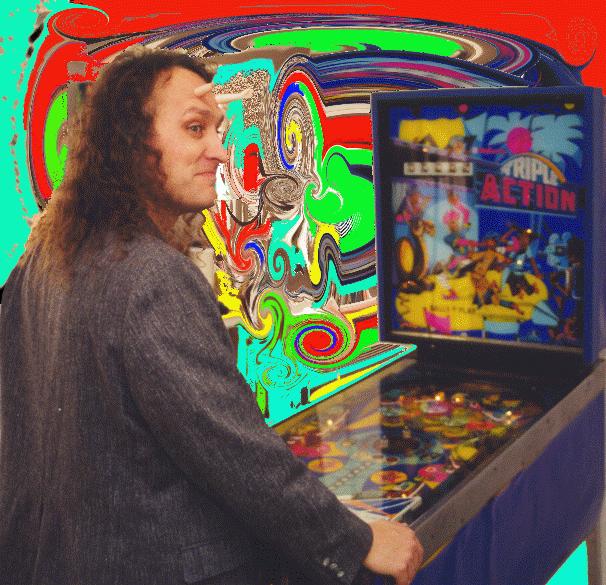 Extended "Triple Action" play induced a mutation in David Bagsby.
For those without space or resources for a full-size machine, here is software at Amazon.com that does an amazing job of simulating the look, sound and feel:

Microsoft Pinball Arcade (XP compatible, includes "Spirit of 76" from the 70s)
Midway Arcade Treasures (with Defender, Robotron 2084)
Atari: The 80 Classic Games in One (includes "Pong")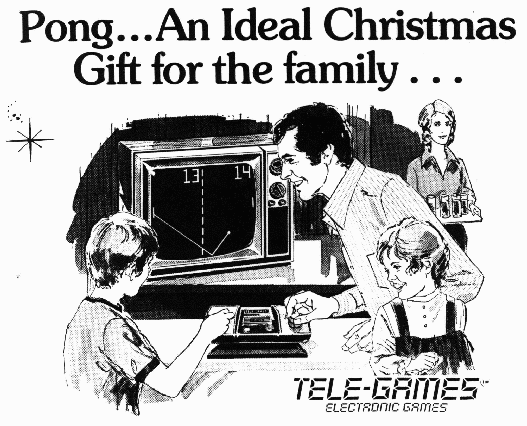 Home version of Pong, courtesy of David Bagsby. Note the sex role differentiation in the mid-70s.
---

June 29 2006 at 21:19:06
Name: Dana LeMoine
Email: d4wdw@valornet.com
Location: Challenging Lloyd W. to a game of pinball at The Rose Bowl
Comments: Chris [DR. RATT],
I remember playing the Superman pinball (pix: wide->medium->close->IPDb) at Funway Freeway. It was [is] a wide-body game by Atari. They didn't make very many pinballs. Superman was their last pinball produced, and in my opinion their best. Great game.
I liked it so much that I bought one in 1983 and still have it to this day [along with 5 other pins, video games, jukes, etc.].
Me and a buddy of mine spent countless hours playing pinball in arcades, bowling alleys, and even Quik Trips. Those were care-free days.
Dana is now the webmaster for a site about our East Central High School chemistry teacher, Weird Ward. James Aydelott, formerly a KOTV weatherman, was a student of his, too. I contributed a few artifacts from my archives.
---

June 29 2006 at 19:20:43
Name: Webmaster
Comments: I happened to catch the trivia question on "Entertainment Tonight just now: What "Lethal Weapon" alumnus used the name "Teddy Jack Eddy" working as a drummer? Of course we all know the answer: today's birthday boy, Gary Busey.
---

June 29 2006 at 16:17:26
Name: Wilhelm Murg
Email: Wilhelmurg@yahoo.com
Location: Staggerin' Down Bob Wills Blvd.
Comments: This Saturday, July 1st, Gayly Oklahoman Publisher, Andrew Hicks, will be performing a free live and unplugged show at Club 209 (209 East Brady, directly east of the Brady Theater) with Special Guest Brian Parton. His material will range from Jimmie Rodgers and Bob Dylan to Madonna and Guns & Roses. The title of the show is "Daddy Louise's One Night Stand."
This will be Andrew's return to the stage after seven years. As many of you know, Andrew started out as a Christian singer, but that all fell apart when he came out of the closet and he turned to journalism. Now he's back and ready to take on the world again, only this time with his true voice. He will be debuting his new S&M country song "Daddy Louise Please Hit Me."
I will be on hand as guitar tech support. We hope to see you there!
---

June 29 2006 at 15:36:24
Name: Charles
Location: Robert Hall Clothes @ the Traffic Circle
Comments: The sites of Safari Joe's and the water slide are one and the same. They took out the water slide to put in the mini golf. My first date was with a girl who worked at that water slide!
---

June 29 2006 at 15:26:35
Name: Webmaster
Location: Staggering coincidence dept.
Comments: I have known for awhile that my wife, Gaye Brown, was once on the Mr. Zing and Tuffy show. Recently, she was discussing that occasion with her mom. To refresh her mom's memory, I emailed a link to Guestbook 206, with a couple of great screen shots dated 1/6/1966.
After a close look, Gaye's mom called to say that she thought Gaye and her sister Melanie were in the photo. Mel would be the blonde with her hand on her head, Gaye beside her, wearing a hairband.
I have since examined slides taken Christmas 1965 and summer 1966, and indeed the two girls look the same as in the screen shot. In fact, little Gaye Dawn had a penchant for wearing hairbands and horizontally-striped blouses around that time. If the two girls pictured are only look-alikes, odds are against them happening to sit side-by-side. And a mother should know.
Her mom also remembered that the visit was not for either girl's birthday, but was just a fun outing, undertaken before the family moved to Houston in the summer of '66.
The only other observation I can add is that I think I recognize Gaye's knees. How 'bout that?

Courtesy of Roger Cornelius
---

June 29 2006 at 15:01:13
Name: DolfanBob
Email: MiamiPhin@yahoo.com
Location: Broken Arrow
Comments: Ya, Chris, I too am from the old Tulsa days of the past.
My brother-in-law worked at the Skaggs store at 31st and Garnett. He was a night stockman, he got me hired on and I worked one night. The manager found out the next day that he and I were related and fired me.
Oh also, night stockmen are a real different breed and that's all I will say about them.
In 1979 I hired on at Tulsa Cable and was making a whopping $2.85/hr. Still living at home with Mom and Dad sure helped. Worked there for twelve years and made it to $12.85/hr 'til TCI came in and ruined my job and a great company to work for.
Ridgeriders, Ziggy's and Ti Amo were the places in that area that I remember going to. Great time to be growing up in Tulsa.
P.S. I got caught by Nathan Hale High School trying to use a fake address so I could transfer there. You guys had the hottest girls of the 70s going there.
---

June 29 2006 at 11:31:52
Name: Chris Romanello aka DR. RATT
Email: drratt2003@yahoo.com
Location: Tulsa
Comments: I was sad to hear that they were closing some of the Albertson's stores, mainly the one on 21st and Memorial.
I worked there from 1976 to 1980. I was 16 and was making minimum wage which was $2.92 an hour. That was good money back then for a kid in high school (Hale Rangers, we back thee..LOL)
It went through a lot of name changes while I was there. It went from Skaggs to Skaggs Super Center to Skaggs Alpha-Beta to Skaggs-Albertson's to Albertson's. I met a lot of really cool people there. LOL, I even met my first wife there.
Back then, we would go to work and after work we would all go and have a lot of fun. A lot of good movies at the time were playing..Animal House, Halloween, Star Wars, The Omen...I could go on and on.
We'd head off to Bell's a lot and Funway Freeway at the UA Annex. They had a great Superman pinball machine there where we were constantly trying to break our old records.
And concerts...wow!!! KISS, Styx, Kansas, REO Speedwagon, Ted Nugent, Journey... I could go on and on there too.
We'd even go after work to a water park that was on the other side of Memorial and Admiral. 244 was right below it. I tell people about that water park all the time.
Hopefully, I'm not the only one who remembers it? Needless to say, I had a blast working at Albertson's. Any "old" Albertson's alum out there, give me a yell. I'm going to be 45 in October. Ahhh, mid-life...LOL...and the Albertson's on 21st and Memorial will always hold a lot of great memories for me.
Was your water park close to Safari Joe's, which was near the McDonald's today at Admiral and Memorial? Here's a photoset from Lost Tulsa.

Dr. Ratt, I may have some of your spots from Urban Almanac on U-Matic tape cartridges and I may be able to get a U-Matic player shortly, so I'll watch for your stuff.

Later, Dr. Ratt replied:

Yes, It was. The water park was either at "Safari Joe's" or between it and "The Showplace".
That one pic that showed I-244 at Safari Joe's clicked. It made me feel like I was body surfing all over again back in 1978. LOL...that would be great. I'd love to see pics of the water park.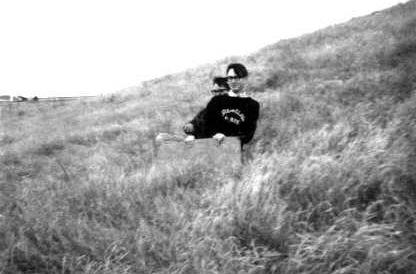 Webmaster & bro dirtsurf at I-169 and I-244 (then under construction), 1967
---

June 29 2006 at 10:24:16
Name: Mike Blog-Bruchas
Location: Very p.c. East Coast
Comments: Blog - smog - just keep on posting stuff here of interest! 10 years ago when Salon.com was new - blog seemed pretentious - now it are acceptable here on the hip East Coast where we all wear black, spend $17 a day on coffee at Starbucks, don't drive pick-em-up trucks with the tuning dial glued to Limbaugh and have sworn off Jello as not being vegan! As the late Hank Barrows told us 35 years ago - "New York City could blow up and the effect would take 25 years to reach Tulsa...". I am thinking blogging is gonna reach Tulsey in 2031...now about this new Hi-Fi thang...
---

June 29 2006 at 08:10:16
Name: L. t. Zoid
Location: Restless Ribbon
Comments: American actor Teddy Jack Eddy was born on this day (29 June) in 1944. Happy birthday GB! Thanks for all the Tulsa TV memories!
---

June 28 2006 at 22:59:11
Name: edwinfincher
Email: @aol.com
Location: ummmm
Comments: Yeah, that's rite....use big words and sentences I can't understand to explain the new fad "blog" and why WE use it. In your thought we could use GB - meaning grouchy ba*turds, maybe green boots, or something even worser! And don't forget CBGB's! My goditself....where can it lead?
---

June 27 2006 at 18:59:55
Name:
Webmaster
Comments: Archived GroupBlog 215, where the following was discussed:
The Brady Orchestra (made up of some top Tulsa musicians, including my brother, Alan) performed a free "Beatles" concert at Utica Square, and it was a remarkable show. They will be playing again at 7 pm on July 6, at RiverWalk Crossing in Jenks. A wild dancing woman was caught doing her thing at the Utica Square event. The webmaster was seen in the clutches of "Jaws" during Trek Expo last weekend.
We were sorry to learn that Tulsa bassist John Rigney passed away.
The Tahlequah Daily Press printed a three-part series about Tulsa TV. Scott Linder and Mike Bruchas recalled the exact projection booth equipment used in Tulsa theaters, such as the Brook, the Continental, and the Boman Twin.
Gailard Sartain did a semi-controversial political commercial, watchable online.
The Mazeppa theme was originally spliced together by Gary Chew from Coon-Sanders Nighthawks' 1929 tune, "Alone in the Rain", and generic "Chase Music" from a record in the music library at KOTV. Bill Groves discovered the "Chase Music" in an episode of the 1954 TV western, "Stories of the Century". A clip is now viewable on this site.
(Added to Gary's review of Al Gore's "An Inconvenient Truth": link to the AP's report on the validity of its science.)
Beef Baloney checked in with a report on their bi-coastal activities. Jim Reid talked about tape formats in the 70s and the city-owned (and long-defunct) cable TV channel in the basement of the downtown library.
If you haven't read Mike Miller's fascinating book about TV and politics, How High Can a Guy Stoop?, you should indulge yourself.
That's GroupBlog 215 in a nutshell.
(P.s., has anyone else noticed that Michael "Cowboy" Ellis, the "Big Brother" alumnus from Durant, Oklahoma, has an accent reminiscent of Sherman Oaks?)
---
Back to Tulsa TV Memories main page