Tulsa TV Memories GroupBlog 270

TTM main | What's new on TTM? | GB Archive




July 20 2008 at 08:24:26
Name: Phil Naifeh
Topic: Italian Inn Restaurant Cheese Dip
Email: pnaify@earthlink.net
Comments: Does anybody know if you can get "Grandpa Adolph's" Cheese Dip anywhere, or have the recipe?

The last time I located the (then) owners of the restaurant, about 15 year ago, they had a small "Italian Inn" on old Route 66, quite a way east of Claremore. I convinced my girlfriend that we should go by there on our way back to Kansas City (home now). They weren't open during the day, but sold me a couple of cartons of the dip. It was just as delicious as ever. We used to eat at Adolph's original Italian Inn on Main when I was a kid. My Dad and I would stop on Sunday, knock on the back door, and Adolph would sell us cheese dip, and his hard breadsticks. Love to have some more!



History of the Italian Inn (and the recipe) is in this Tulsa World article from 11/1/2006: Former Italian Inn owner reveals dip recipe.

We learned where to get the Italian Inn cookbook, Once Upon a Table, in GB 224.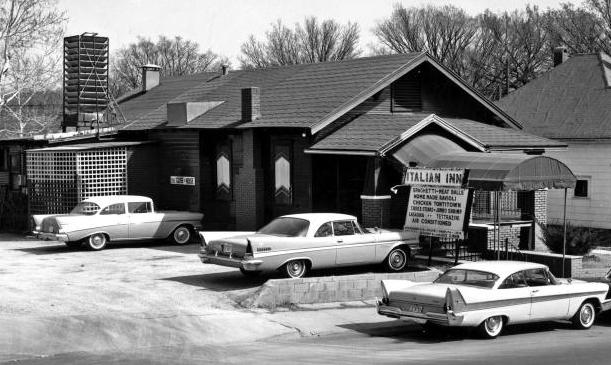 The Italian Inn at 1604 S. Main in 1964, courtesy of the Beryl Ford Collection/Rotary Club of Tulsa
---

July 19 2008 at 23:01:28
Name: Jim Cripps
Topic: Grandy's
Email: jim cripps at yahoo
Comments: Mike - There is a Grandy's in Midwest City (or Del City? It's on Air Depot), and it has an interesting story, but I only know the outer skin.

It was a Grandy's for a long time, then closed and opened as a Boomerang Grille - great burger, and Oklahoma (OU) decor. Then, Boomarangs left the area, and it reopened as a Grandy's again, and practically gutted. I've only been there twice, but it was strange; tables and chairs, a hostess, and the staff took your order at the table. Weird, sit-down fast-food experience.

---

July 19 2008 at 20:42:55
Name: Mike Bruchas
Topic: Matt Bunyan
Comments: Matt asked me to ask about a KTUL "front office party" with Tom Goodgame and staff of the 70's - that may have been held in Tulsey a month or so ago.

He had to work.

As he put it, "one of the Patti's lives near me and left me an invite..". We had several Patti's at 8 - all swell, competent and great workers but which one - he forgot. Does anyone know about this??

--

I had called him tonight, because I had found a new book about restaurants along Rt. 66 - specifically at the Chicago end. In it was "Lou Mitchell's" - where his Dad used to dine (it is across from Union Station) and later teen-aged, Matt, dined when he lived in the Chicago burbs and came downtown on his railroad pass. This WAS Matt's favorite Chicago joint.

Though St. Louis born and raised - Matt spent his high school years in Chicagoland. His late Dad was an exec with the GM & O railroad and had his office IN Union Station's older building. Every time we talked - he'd ask, "..have you found Lou Mitchell's yet?".

I had been looking for the restaurant on the wrong side of the Chicago River. Found it by a fluke and the area that it is in has been gentrified. Still open 7 days a week.

---

July 18 2008 at 21:44:27
Name: Mike Bruchas
Topic: A smaller OSU world
Comments: Tangent again... I am a train and firetruck buff, I go to at least 2 antique car shows a week to look and take pix. When you are unemployed you need distractions that cost little to attend.

Last night in Westmont, IL I revisited 1970s Olds and Pontiac muscle cars. So many from the 70s would have been seen in the KTUL parking lot. At 8 then, we were big Pontiac GTO and Olds Cutlass fans. Ed Morris and Bob Welsh at 8 then had cars identical to what I saw last night. Talk about flashback!

In my hometown tonight, it was to have been military, fire and farm trucks. Unfortunately 80 muscle cars showed to hog the spaces. Wasn't their night but no one had told them.

I like steam-powered farm machinery and there was only 1 area. I miss the steam shows from Pawnee and Osage County that I used to go when I lived in Tulsa.

There were about 4 antique fire trucks, 1 local. Was talking to a guy who owns several FWD pumpers. He is an OSU grad and of course T. Boone Pickens in the news came up. He introduced me to 3 MORE OSU grads and then while talking to a retired Forest Park FD chief with a restored open cab Mack truck. He told me that a lot of Chicago area firefighters had gone to school at OSU or been to Stillwater for continuing education seminars. Smaller world, eh? AND we all talked about T. Boone Pickens in the news!

---

July 18 2008 at 21:14:42
Name: Gonzo Gary
Topic: Jo Stafford
Email: Great Singer with a Great Ear Passes
Comments: Jo Stafford was 90 years old when she died this past Wednesday in Southern California. What a lovely voice the lady had. I've played a 'few' of her records.

---

July 18 2008 at 15:24:35
Name: Webmaster
Topic: Brady-O = Beatles tonight
Comments:

Brady-O rocks tonight at the Sunset Bar & Grill, 58th & Lewis, at 9 pm. First set is Rubber Soul + extras.
---

July 18 2008 at 10:02:57
Name: Bob O'Shea
Topic: Lee Woodward
Email: bob reavis at yahoo dot com
Comments: Lee Woodward's reference to Robert Frost with regard to recent slings and arrows towards a very gifted TV personality is so poignant. I love Lee (and Lionel). Always a class performance and a gentleman. I count myself lucky to have been a part of the same audience that watched him work with such élan vital. A true Tulsa Television Icon.

---

July 17 2008 at 23:42:57
Name: Webmaster
Topic: Chet Baker movie Sunday at the Circle
Comments:

Special movie event Sunday July 20 at the Circle Cinema from 4-6:30 pm: "Let's Get Lost" (1988), with in-person guest musicians Mike Moore, Jack Hannah and MC Rich Fisher.

The long-unavailable documentary focuses on Yale, Oklahoma's Chet Baker, the great jazz trumpeter. It's a fascinating series of interviews with friends, family, associates and lovers, interspersed with film from Baker's earlier life and some latter-day performances and segments. Retro-modern singer/guitarist Chris Isaak is featured.

The movie was originally premiered by projectionist Kristan Chew (Gary's daughter) in Tulsa at the Williams Cinema. Read her comments about the occasion.
---

July 16 2008 at 13:05:09
Name: Mike Bruchas
Topic: Rose Bowl Redux/Kid Clubs
Comments: Roy: Lemme guess: half of those groups are Goth/Christian groups? NC was weird like that in their mix of bookings for clubs with no liquor licenses. NC seemed like a wackier version of OK life. Half of the young Christian Rockers in NC clubs were as wild as the Goth crowd (I had to make video dubs of club musicians there as part of job description when I worked in Charlotte).

Them durned kids... Don't tell me that the Rose Bowl has a liquor license. I'm sure that a few complaints with the efficient Tulsa City/County Health folks might shut the place down. Us "normal folks" in Chicagoland don't seem to have much of the above.

Okay there are some gnarly Goth clubs IN Chicago, but that's THE BIG CITY. And if we want folk or bluegrass in the Winter, we still have church-sponsored "coffee houses" which reflect an older crowd instead of kids. Or the still great Old Town School of Folk Music. Of course, us oldsters remember the ambiance at the old Cain's, the smell of dirt, beer and "biologicals" of beer re-deposited in the ceramic appliances.

---

July 15 2008 at 23:24:20
Name: roy lee
Topic: Rose Bowl
Email: royleeshouse@gmail.com
Comments: Yes, I almost typed "bowel". Someone is putting on punk shows in there these days. I don't know who it is but I think they have that car shop on the corner of 73rd. Working nights, I won't make a lot of these shows but from what I hear, it's BYOL and I'm certainly down with that!

Jul 13 2008, 7:00P Awkward Sex, Somewhere South, and The Magnificents
Jul 19 2008, 7:00P KTP w/ The Dirty Mugs, Awkward Sex, and Wasteful Youth
Jul 31 2008, 7:00P Guttermouth w/ The New Skool Kings and The Bent Gents
Aug 1 2008, 8:00A DAY 1 OF Savy Moms Sale @ The Rose Bowl
Aug 1 2008, 1:00P Rose Bowl @ DEF CON 7
Aug 31 2008, 7:00P GBH, Krum Bums, Whole Wheat Bread w/ Awkward Sex

---

July 15 2008 at 23:05:21
Name: Mike Bruchas
Topic: "Take it Away, Leon!"
Comments: Dumping a lotta BOB WILLS and Asleep At The Wheel CD's to my iPod tonight. Hearin' a lotta songs with TULSA in the lyrics. They are joining my beloved Billy Parker's "Swingin' With Bob" cuts. Lawzeeeeee!

---

July 15 2008 at 20:07:12
Name: Michael D. Trout
Topic: Pink Barn -- and a word for my dad
Email: michaeldtrout at earthlink dot net
Comments: Last night I talked with my mom (age 82) about the Pink Barn. Just like me, she had forgotten all about it. She thinks that since it was such a struggle to get me to go week after week, I didn't attend very long. To my memory, it seemed to last for months and months—but I do recall that as time went on I didn't mind it quite so much.

She did recall very clearly the Pink Barn's strict policy of not letting students leave the building until their parents pulled up in their cars.

I also thanked her for sending me to the Pink Barn. It probably helped, at least a little, with my social skills, which were pretty pathetic for most of my teen years. My wife then reminded my mom that I'm a pretty good ballroom dancer. I've enjoyed lessons as an adult, and I'm sure the Pink Barn helped with that too.

I couldn't thank my dad. He died in Claremore, age 88, on 23 May 2008, just three days before Memorial Day. He was an A-20 pilot with 75 combat missions in World War 2, and worked in engine maintenance at the American Airlines Engineering Center in Tulsa until 1980.

For some reason I can't explain, when I think of my dad the words to an old Guess Who song keep popping up. It's the chorus from 1975's "Dreams," written by Burton Cummings and Domenic Troiano, and it was one of the last songs the Guess Who ever recorded. Here it is:

Seems like they come and go so quickly,
Disappearin' in the air like a breath of wind,
And they may not ever be explained,
And I woke up thinkin' I was dyin',
If you find one hang on with all you got
Way down deep, deep in your soul,
For it may not ever come again,
And I woke up cryin' like a baby
Hey yay yay yay . . .
No they may not ever be explained.
---

July 15 2008 at 14:07:19
Name: Chris Fields
Topic: Looking for East Central C/O '87 classmates

Comments: ECHS C/O 1987 alumni - I have created a website for our class. Please visit ECHS1987.com and locate your name.

Mr. Ransom, hope that this post is not a problem. I know that you are also an ECHS grad. Just trying to locate more members of my class.



No problem at all. Good luck!
---

July 15 2008 at 11:51:40
Name: Gonzo Gary
Topic: Carlin Comment
Comments: It's really great to get a signal sent by you from that big Comedy Club in the Sky, sir. We're already missing you.

---

July 15 2008 at 01:39:53
Name: Mike Bruchas
Topic: WCFL now WMVP / Saving Grace
Comments: Found a great historical page on big rocker WCFL of the 50s-70s. Now sports WMVP carrying ESPN shows after years of being a religious station and a lotta other things. I live about a mile and a half from the transmitter farm.

"Saving Grace with Holly Hunter": I don't have cable; it's on TNT. It is set in OKC but is it filmed there?

---

July 14 2008 at 20:56:02
Name: George Carlin
Topic: Take Me Back To Tesla
Email: gcarlin@gmail.com
Comments: Gonzo Gary: "too hip for the room"

---

July 13 2008 at 17:27:09
Name: Rick Brashear
Topic: Canned food drives
Comments: We never heard of "homeless" anythings. They told us the food was for starving kids in (take your pick) Europe, China, India, Mars. Like lemmings, we grabbed cans out of the cupboards and brought them to school. Who know's where the food went. I doubt there were any starving kids in Europe at the time, at least not in Western Europe where such food would have gone to. China was closed to the non-communist world and they, like India, apparently had enough food to make a billion copies of themselves. What modern technology has taught us though, is that the Martians never received one can.

---

July 13 2008 at 13:26:00
Name: Dana LeMoine
Topic: Bell's
Email: d4wdwatvalornet.com
Comments: From today's Tulsa World....

Meanwhile, Bell said Friday that he is involved in business talks that will bring Bell's Amusement Park back to the Tulsa area.

"We are going to show everyone financial viability pretty quick," Bell said. "When we get up and running again, we are going to knock everyone's socks off."

Bell said he has signed a letter of intent and a confidentiality agreement involving the plan to resurrect the amusement park.

Sure hope it's B-A!

---

July 12 2008 at 21:08:21
Name: Mike Bruchas
Topic: Canned food drives
Comments: Do you remember when the schools had kids bring in canned food for either a local homeless shelter//food kitchen, the Red Cross for aid after a major national disaster, or The Lions Club?

It still happens but now the Letter Carriers (who had a drive back in May) and so does several my hometown churches. Several of my hometown high school sports teams (track and field and cross-country) did it this Spring before Easter.

At one time TU sororities and fraternities had a canned food drive but we used to joke that a lot of the canned food might be cast-off cans of Brown Derby beer!

The Tivoli Theatre here in the Chi burbs. used to do a Saturday morning kids' feature with donations of canned foods in the 50s and 60s. Usually you had to bring a sack of 3 or 4 cans of soups or veggies and there were always idiots who brought cereal and mac 'n' cheese in cardboard boxes.

I am just afraid with such bad economic times, we will start seeing more of this.

The poor and the hungry will all always be with us - except WE may be joining them.

---

July 12 2008 at 18:37:27
Name: Gonzo Gary
Topic: Electricity
Email: kah-lee-FOR-nee-yuh
Comments: Just So You'd Know:

There's no truth to the rumor that the up-and-coming heavy metal band known as, ALTERNATING CURRENT, uses as its theme, the well-known song, TAKE ME BACK TO TESLA.

---

July 11 2008 at 21:20:53
Name: Joe
Topic: Paper Drives
Email: joetul at cock dot nte.
Comments: Our BSA Troop 146 didnt have a "drive" as such. We collected and bundled newspapers on a weekly basis. As I recall (this is 1969 or so), Akins foods purchased ours as packing material.

---

July 11 2008 at 15:44:22
Name: Charles
Topic: Paper Drives
Comments: A conversation yesterday triggered a Tulsa memory for me. When I was a Cub Scout (Pack 74) and a Boy Scout (Troop 274) in the 60's and 70's we used to go on paper drives. We would collect newspapers from the houses in our neighborhoods and then take them all to a big truck that was parked at some local business. I assume that this was a fund raiser for the scouts. Does anyone else remember paper drives. What caused them to go away? (more recycling maybe?)

---

July 11 2008 at 13:14:14
Name: David
Topic: A Tulsa TV magazine?
Email: entguy1@yahoo.com
Comments: I've only visited Tulsa once, in the late '70s. Even as a kid, I was a TV Guide collector, but instead bought a local magazine probably because it was a nickel cheaper. I've looked all through this site to see if there's any mention of it, but can't find one.

Does anyone know any info about the magazine? It was TVG-shaped, but that's about all I can remember. Any memory refreshing would be appreciated.



I can't answer your question, but as a side note, Gemstar-TV Guide has an operation here in Tulsa at 71st and Lewis. It became a part of Macrovision a couple of months ago. Macrovision will keep the TV listings data side of the business, and likely spin off TV Guide magazine and possibly, the TV Guide Network.

And of course, Weird Al's "UHF" (1988) was shot in Kensington Galleria, where TV Guide has its Tulsa offices.

Added 8/9/2008: We have a possible answer: this cover came in email yesterday from Roy Payton, who said:

"Beau Chase is the third one in the picture enclosed. He was part of the morning crew on KMOD along with Jim Millaway and Jeanne Tripplehorn (both pictured). I was the publisher of this old rag (TULSA TIME) that ran from October 1982 to November 1983."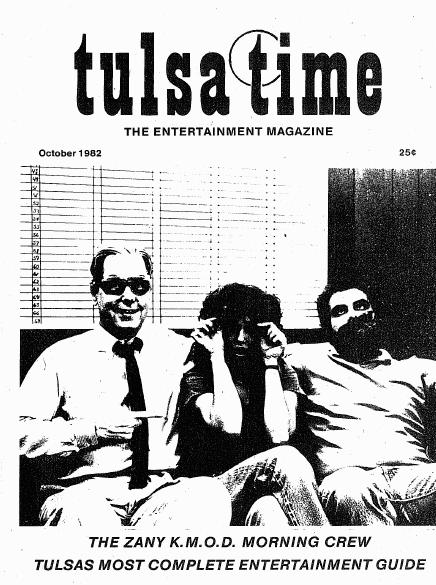 Tulsa Time guide, October 1982, courtesy of Roy Payton
---

July 10 2008 at 12:11:57
Name: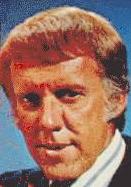 Lee Woodward
Topic: TV Mems
Comments: Haven't dropped in lately, having been engaged in time-consuming activities; the last of these was another Woodward Reunion in Dallas. There were 52 this time; some of the Soldiers having departed for other venues. There used to be five of us Brothers but alas, Dr. Stanley of New Braunfels left us one short this time. Brother Morgan was there and even with a new shoulder and lady friend was, at 83, not in the best of shape, but still game for the game.

In light of recent local publicity of another person in the the media, I offer the following poem by Robert Frost, which I found while in Dallas. To all who have been written about in this forum because they were before the cameras or behind the microphones.

I thought Robert summed it up pretty well.


NO MEMORY OF HAVING STARRED
ATONES FOR LATER DISREGARD
OR KEEPS THE END
FROM BEING HARD
Robert Frost

---

July 09 2008 at 23:58:57
Name: Mike Bruchas
Topic: Don Davis
Comments: Don Davis died in British Columbia yesterday. Sooooo. You knew him as Gen. George Hammond on Stargate SG-1, as a manager in "A League of Their Own", a judge in "Best of Show" and as Scully's father on THE X-FILES. He was a college drama teacher for years and also an actor. Nice guy, great character in whatever he did.



He was also memorable as the seemingly stuffy, but actually thoughtful and philosophical Major Garland Briggs in "Twin Peaks".
---

July 08 2008 at 20:31:24
Name: Mr. Zoid
Topic: St. Michael's Alley Location
Email: Bob'sCountryBunker.com
Comments: Was it on this venerable site I heard the rumor that the venerable Rick's Cafe Americain was moving into the space of the late, lamented, venerable St. Michael's Alley?

I think we may regard this as confirmed. I was at Ranch Acres this eve, and, on the plywood covering the windows of the late, lamented, etc., was stapled the Rick's menu. The door was open, and I peeped inside; it was pretty much gutted.

At least one Tulsa institution is being replaced by another, and not a Starbucks.

O, but to be young again, say 1969, and wining and dining a fair young lady at Mr. Swiss!

---

July 08 2008 at 13:07:07
Name: Pizzabob
Topic: Der Wienerschnitzel
Email: mtm47 at msn dot com
Comments: I live in Western Colorado now and there is a Der Wienerschnitzel located in Grand Junction. When I am in GJ I never miss eating there, it's still great. I love the Polish sandwich but they now have a hot Pastrami that is equally as good.

---

July 08 2008 at 12:13:01
Name: Lurker for Years
Topic: Der Wienerschnitzel and Sonic
Comments: Mr. Bruchas:

We're driving a nice '94 Buick Park Avenue we got at that Wienerschnitzel/Car Lot near your old 'hood.

A Sonic in Aurora!!! yes Yes YES!!!!

---

July 07 2008 at 22:33:03
Name: Mike Bruchas
Topic: Audiophiles?
Comments: Are any of you jazz fans buying JAZZIZ magazine with monthly new CD sampler? For $9.95; sounds high but I try to nab one every so often.

I mentioned earlier about direct LP to computer music transfers from your records. When in Charlottesville, VA, I missed a demo of Sumikoaudio.net's DEBUT III USB turntable with an Ortofon cartridge. Is going for about $450 but software needed to prevent for iPod use is shareware from Audacity. Anyone doing this stuff and have any suggestions or is this still too "Buck Rogers" right now?

(Gee, soon folks WON'T know whom Buck Rogers is/was.)



As it happens, I acquired Jazziz 3 with Lee Ritenour, Bela Fleck, Joey DeFrancesco, and Dianne Reeves, among others sometime in the early 90s. It's a good one.
---

July 07 2008 at 20:59:57
Name: Richard
Topic: George Usdin
Email: canaaratcharterdotnet
Comments: I worked with George at Second Hand Rose Pawn 1978-79. Truly a one off kind of guy. I recall that he had an expansive repertoire of off-color parodies of folk songs with which he would regale any audience (whether they wanted to be regaled or not) accompanied by a dreadnought Epiphone acoustic guitar that he could almost hide behind.

At the time, he was a pretty tightly strung fellow whose lot it was to empty the ashtrays of the remaining 10 or so employees, all of whom followed the lead of the pawn shop manager in smoking mail order cigars from the Thompson Tobacco Co all day long. George may have been the only non-smoking employee at the time and I think it gave the pawn shop owner perverse amusement to task George with a chore that George found to be a burden. To put it mildly, George did not accept the responsibility graciously and made no corresponding effort to conceal the fact.

He left us far to early. Requiescat...



I had forgotten that I too was a Thompson Cigar subscriber for awhile in the late 70s.
---

July 07 2008 at 14:15:47
Name: Tommy Harris
Topic: Correction to Folkland entry under Coffee Houses
Email: TnPHarris@aol.com
Comments: Have been fascinated in reading so many of these great memories, but wanted to make one small correction. Folkland was my baby - not Bob Anderson's. It ran for about a year and was a place that folk musicians around the area could perform.

Each Friday night would feature one or two booked acts, and then open the floor up for guest sets. It was a labor of love for me since I never made any money at it. I took all the money taken in from the door and refreshments and split it among the performers.

It was there at Folkland where I met James Smith, and he and I were teamed up for some 14 years as The Rovin' Singers. Our first show as a duo was at The Dust Bowl, which Bob Anderson and Mike Flynn opened after Folkland closed.

Jim (Little Jimmy Smith, as I called him) and I changed our act from straight folk music to folk based and pop oriented and in addition to the coffee house circuit, went on to become one of the first folk groups to take the music into bars and clubs around the Southwest.

I just recently ran across an old reel-to-reel tape from Folkland and Jim had it converted to a CD. On it are The Goliard Singers (3 young folks from Will Rogers High School, The Folkmen, Sandy Wark, Mike Flynn, John Chick and Sam and Lou (Routh). Fun to go back and hear these folks sing again. Even had some of our own stuff that we recorded converted to CD, shows at The Village Pub, the original Blue Coat Inn (on South Lewis) and a concert at the American Airlines Stewardess College in Texas.

Great music was available all over Tulsa if you just knew where to look.

If you want to drop me a line, feel free - TnPHarris@aol.com.

---

July 07 2008 at 11:49:10
Name: Mike Bruchas
Topic: Der Wienerschnitzel
Comments: The few up here in the Chicago area either became used car lots or they "filled in" the driveway to make a solid A-frame building. Amazingly, Der Weinerschnitzel NEVER served a schnitzel!

Sad to say that the original A&W stands are long gone here and merged with either another Pepsico brand like Long John Silver's or KFC. As mentioned here before, I grew up with Dog N Suds hot dog/root beer stands. That local chain is long gone here.

Are there any Grandy's locations still open in OK?

---

July 07 2008 at 07:01:02
Name: Rick Brashear
Topic: Der Wienerschnitzel
Comments: For those of you who remember and liked the "Schnitzels" around town, maybe we will get them back.

I contacted the company this weekend (toll-free) and the lady, who was very accommodating, told me she would send my comments directly to the corporate office. She asked for my name and email address for contact.

I mentioned the "Kraut Dogs" and polish sandwiches and told her the Der Wienerschnitzels here did a lot of business and I have heard people lament they aren't around here anymore.

I think OKC has one but that doesn't do me any good. Heck, the one at about 18th & Sheridan kept me fed during high school. Of course, I didn't mention the extra-curricular activities of the one on Brookside.

I could use a kraut dog right about now.



See a Der Wienerschnitzel coupon, read previous TTM comments in GB 250. Early pics at the official Wienerschnitzel site.
---

July 06 2008 at 21:19:21
Name: Mike Bruchas
Topic: Sonic
Comments: As Pastor Pack used to say on KTUL - "Maranatha!". The Aurora store will be closer to me!

A silly thing for your viewing... after reading the Chicago Sunday Tribune... Adler Planetarium has been doing experiments on light and using weather balloons to send up time-lapse cameras. But what if they sent up a Peep as a passenger? Evidently Peeps are cult icons in "science". Take a look at this silent voyage at ChicagoTribune.com/peeps.

---

July 05 2008 at 21:18:03
Name: Mike Bruchas
Topic: Braums & Sonic
Comments: Don't have either here in the Chicago burbs. I am jonesing for an extra large Cherry Limeade! The ice cream joints don't do them here!



Dana LeMoine replied: Good news for you, Mike!

Sonic comes to Chicago: http://www.qsrmagazine.com/articles/news/story.phtml?id=6777
---

July 03 2008 at 20:36:23
Name: Gonzo Gary
Topic: George Usdin at KCMA
Email: Kah-lee-FOR-nee-yuh
Comments: Responding to Roy Lee's query about George Usdin.

I worked with George at KCMA. I think he was a board operator. I also remember working with Mike there, as well. George and I also attended the same Tulsa church.

George was one of the most direct and honest guys I've ever known. You could count on him, always. But don't try to alter his values or tastes. I think the Sex Pistols thing is just TOO funny. I didn't hear it, but I think I was doing the afternoon classical show at the time. It was called "Zephyr," and given that title by the owner and manager of KCMA, the late Dr. John Major.

---

July 03 2008 at 13:26:40
Name: roy lee
Topic: KCMA
Email: royleeshouse@gmail.com
Comments: To Mike Bruchas: could you ask your friend who worked at KCMA to email me if he has any particular memories of George Usdin? I've been talking to a young journalist who wants to write a story about George.

My favorite memory of George's KCMA job is when he signed off and came back on to play "Sex Pistols Symphony" from my copy of "The Great Rock and Roll Swindle". No one complained, so I think I was the only person awake and listening!

---

July 02 2008 at 15:27:09
Name: Webmaster
Topic: Brady-O & the Beatles
Comments:

The Brady Orchestra, which has performed full-production Beatles tributes in Tulsa the last two years (2006, 2007) is back this year as the leaner Brady-O.

Tulsa World article: "Fab find" by Jennifer Chancellor, 5/31/2008.

And now, ladies and gentlemen, Brady-O performing "Oh! Darling" at the Sunset Grill:
---

June 30 2008 at 23:21:43
Name: Webmaster
Topic: Rock video/1979 Talking Heads story
Comments:

New video by John Boydston aka Daddy A Go Go.

Added 7/2: John saw the Talking Heads in 1979 in Norman the night after they were at the Cain's here in Tulsa. His story.
---

June 30 2008 at 17:08:00
Name: Mike Bruchas
Topic: Good Humor tangent
Comments: I keep finding classic Good Humor trucks from the 50s-70s here in IL, being restored as classic cars. Now most are used for "corporate events" or Friday summer reward promotions. Man - I wish that I had one!

---

June 30 2008 at 16:28:41
Name: DolfanBob
Topic: Scotty Nguyen
Email: MiamiPhin@yahoo.com
Comments: Tulsa's very own Scotty Nguyen won his Fifth bracelet and almost 2 Million Dollars by beating out 148 other poker players in Las Vegas today. Way to go "baby"

---

June 28 2008 at 18:47:13
Name: John Boydston
Topic: Pink Barn
Comments: Hilarious story on the Pink Barn from Mr. Trout. I hope you thanked your parents for being so forward thinking and giving you the hands on social experience. The story, combined with your name, reminds me of a now defunct record store in Idaho called 'Twist & Trout.' That was you man.

---

June 28 2008 at 14:24:23
Name: Webmaster
Topic: Previous GroupBlog summary
Comments:

Archived GroupBlog 269, where Michael D. Trout, just told a great story about the Pink Barn, a dance academy of the 60s and 70s.
---
Back to Tulsa TV Memories main page