Tulsa TV Memories GroupBlog 217

TTM main | What's new on TTM? | GB Archive




July 19 2006 at 19:22:02
Name: Dave
Location: running from wild horses
Comments: Ah, yes. Keith Richards and the Arkansas reckless driving rap. I remember it well. It happened in the summer of 1975 in the town of Fordyce, south of Little Rock. It all started ...
But don't let me bore you with my telling of it. See Stephen Koch's recounting in a 2004 edition of the Arkansas Times weekly newspaper.
The Stones played Little Rock in 2005 near the 30th anniversary of the traffic stop. Richards asked the crowd if anyone was from Fordyce; "I know the chief of police there."
---

July 19 2006 at 17:38:44
Name: Webmaster
Comments: I told you about this little movie in GB 200 late last year. A fine individual with the colorful handle of "psyclone666" has uploaded it to YouTube.
Now showing: an entertaining 10-minute training film made for convenience store owners about underage alcohol sales, shot at KSU circa 1970, "A Case for Beer".
---

July 19 2006 at 16:24:30
Name: Delmeaux de Gillette du Coffeyville
Location: Peru, KS
Comments: LITTLE ROCK, Arkansas (AP) -- The state of Arkansas is prepared to pardon Keith Richards for being a reckless driver, 31 years later. The state Parole Board on July 3 approved an application for clemency submitted on behalf of Richards, the 62-year-old guitarist for the Rolling Stones, by Gov. Mike Huckabee.
Delmeaux sez: When I read this, I darned near fell out of my tree.
---

July 19 2006 at 07:40:17
Name: Webmaster
Comments: Here is a teaser for some pics to come from Margaret Janeese Brixey Flanagan, then known as Margaret Brixey. She wrote in GB 213 about working with Ernest Tubb, Leon McAuliffe, Cal Smith and many other country stars, and her experiences on the Horn Bros. show.
---

July 18 2006 at 12:28:21
Name: David Batterson
Email: davidbat(at)yahoo.com
Location: "Rounding third and heading home."
Comments: The song "Lipstick On That Pig" by Ex-Tulsans David Batterson and Mark Giles is discussed in ADVERTISING AGE magazine online.
The music video of "HOLLYWEED USA" by Batterson/Giles has debuted on SpellCasters.
Note: This is not a free video site like YouTube, so be prepared to fork over $1.99 if you want to view it.
---

July 18 2006 at 07:02:20
Name: Jim Ruddle
Email: jruddle@earthlink.net
Location: Rye, NY
Comments: Re John Hillis comment that a Mike Hammer pilot in the '50's was deemed too violent for TV then. That should mean it would be about right for Sesame Street, these days.
---

July 17 2006 at 19:53:53
Name: John Hillis
Location: Behind the door with the frosted glass window, the shoulder holster on the coat rack, and the bottle of Rye in the filing cabinet (under "B", of course)
Comments: Darren McGavin also did a turn as Mike Hammer during the late 50's for a couple of seasons. I heard that Brian Keith did the pilot, which was so violent that it couldn't be sold.
This was a decade or so before "The Night Stalker," a considerably better use of McGavin's talents.
As was "The Outsider". This link has more about the other two series as well.
---

July 17 2006 at 19:19:57
Name: Dana LeMoine
Location: Twilight Zone
Comments: I'm sitting here watching "Gimme the Mike [sp]" on KOTV, and whenever they cut to the audience, I flash back to "The Horn Brothers Show". I think it's the camera angle.
There was more talent to be found on Ike's show.
---

July 17 2006 at 17:19:30
Name: Mike Bruchas
Location: Sticky hot DeeCee
Comments: Another cultural icon bites the dust.
CHARLESTON, S.C. - Mickey Spillane, the macho mystery writer who wowed millions of readers with the shoot-'em-up sex and violence of gumshoe Mike Hammer, died Monday. He was 88.
The late Steve Allen or someone like him did a parody of the tough PI called, "Mickey Explain", many years ago. I think Spillane also tried playing his character on TV. Stacy Keach still was the best MIKE HAMMER on any TV adaption by my guess.
---

July 16 2006 at 22:42:01
Name: Webmaster
Comments: Yet another Beef Baloney update, this time from today's Tulsa World:
"'Beef Baloney' crew helms Tom Green's live Internet show"
The story will be directly accessible from this link for about 30 days. After that, you will have to search for it by title or subject in the World archives.
---

July 16 2006 at 21:53:13
Name: Teresa Girdner
Email: girdnerg@sbcglobal.net
Location: Tahlequah, Okla.
Comments: To Wirt Cain, I guess Mike Bruchas answered your question. If U have any others, e-mail me!! Teresa :}
---

July 16 2006 at 19:36:44
Name: John Hillis
Location: Collecting the empties from Case Night
Comments:
Did Coney I-lander ever open a location in "lesser Tulsa?"
---

July 16 2006 at 13:39:36
Name: Webmaster
Comments: TTM is "Link O' The Week" at WRKO: The Big 68 Remembered. This site celebrates the past of WRKO-Boston.
---

July 16 2006 at 03:39:20
Name: Bob
Location: Hubcap Kingdom, Tulsa
Comments:
Not sure if anyone would be interested, but Lifetime will be showing a movie at 5 pm today called "Not Like Everyone Else."
This movie is based on a girl and her experience at Union High School here in Tulsa.
The first and last stories in the Tulsa World Archives about the case (which was filed around Halloween 2000) have these titles: (I can't link to them, but you can search for them through the above link if you wish)

"Parents sue Union over alleged `witch hunt' of daughter"

"School suit appeal dropped"

I'm watching the show right now, and it seems to follow the general outline of the story as reported. However, none of the houses in Union district are as old as the one shown (which was in Shreveport), and Union is not a small-town school.

The Columbine shootings in April 1999 were followed by the apparent copycat Ft. Gibson shootings in early December 1999 ("Four wounded in Fort Gibson school shooting").

Brandi Blackbear was suspended shortly after Columbine, and again the same month as Ft. Gibson.

There is some interesting, but conflicting commentary by several former Union students at the IMDb Message Board.

Further info about the case from the First Amendment Center.
---

July 15 2006 at 09:18:55
Name: Alex Rivers
Email: alexrivers@earthlink.net
Location: Banks of Davis Creek, Odessa, Mo.
Comments: I took my daughter and a friend of hers from Independence, Mo. to the original (new location) Coney Island downtown last summer. We also enjoyed the show from Orpha's. We witnessed a very obvious drug deal go down and several shady types go in.
My mom would take me to the original every Saturday back in the fifties, a coney was 25 cents and a Grapette was a nickel.
Please sign the petition to get Leon in the Hall of Fame. It's truly a disgrace he's not there already.
---

July 14 2006 at 22:10:11
Name: Dave
Location: whither the diner
Comments: A couple of days ago I asked if anyone knew what the story was on the Metro Diner. The World reported that it would have to leave its present location by September. But nothing was said about any plans to move elsewhere that it apparently once had.
The answer appears on the Route 66 News blog. Briefly, it reports that although TU is fairly well compensating the owner of the Diner's land, it is not being as generous with the owner of the Diner business itself. (The Diner is a tenant on its site, not a landowner.)
The blog quotes Jim Rowenhorst, the owner of the Diner business, as saying that he has a site in mind for a new location, but TU's offer so far isn't enough that would enable him to afford to open up elsewhere.
The article continues: "Rowenhorst said that people concerned about the Metro Diner should write Kevan Buck, vice president for business and finance at TU, and politely implore the university to make a more reasonable offer for the restaurant and its relocation costs."
Read all about it on the link. These are dangerous days for the Diner.
---

July 14 2006 at 21:24:56
Name: John Hillis
Location: 12 miles north of Paris (Va.)
Comments:
Celebrating Bastille Day with a fine Chateau Docteur Pepper, vintage Thursday. In 1992, I spoke at a conclave of French media moguls during the mandatory (in France) August vacation, when the bigwigs decamp from Paris to a rustic Grand-Lake-type park/lodge near the seashore of Bordeaux.
My speech would have gone better had the translator shown up. As it was, we were able to avert the near-war casued by my bad Cajun-scarred French and their half-baked Anglais. But oh, the wine! And since everyone was in the cabins at the park, no driving worries. A serious dent into that year's vintage was made by all.
I'm not much of a wine snob, but when they put on a nine-course appetizer feast, each with its own vin, I became a believer.
---

July 14 2006 at 17:53:25
Name: Monsewer Bruchas
Location: Vive la French Fry!
Comments: So if it's "case night" and Bastille Day - would one be buyin' vin ordinaire or Arksyaw wine to celebrate?
---

July 14 2006 at 17:05:36
Name: DolfanBob
Email: MiamiPhin@yahoo.com
Location: Broken Arrow
Comments: Has anyone noticed how much the IBC FreeBee guy looks like John Belushi? or is it just me?
---

July 14 2006 at 14:34:18
Name: Mike Bruchas
Comments: Thank you all for condolences re the passing of my Mom, Doris Bruchas at age 85 on Monday.
Pardon my babbling this week - it's a release for me right now. Mom had been to Tulsa twice - once in '73 for my TU graduation and stayed at the then posh downtown Holiday Inn - I think we ate at the Adams Hotel coffee shop and at the HI. She and Dad were back '76 and stayed out by the famous BlackCat fireworks joint when it was a Comfort Inn or something legit.
My bro met Mike Miller - whom he had seen while at Southwestern College via cable on that trip. My Mom said, "...he seems like quite a nice young man!"...
---

July 14 2006 at 14:18:09
Name: Scott Linder
Location: Hollywood-land
Comments: Isn't it time for a Tulsa bar and restaurant page here on TTVM?
Along that line so far, we have the Club Card pages and a photo album of motels/restaurants.
---

July 14 2006 at 13:49:39
Name: Erick
Email: ericktul@yahoo.com
Location: Tulsa
Comments: I used to work downtown up until about 3 years ago, and walking past Orpha's at 1 o'clock on weekday afternoon was frightening enough, I won't dream of going after the sun goes down.
---

July 14 2006 at 12:23:14
Name: David Bagsby
Email: dcbatsunflower.com
Location: Lawrence KS
Comments: FYI: the Who will play Chicago on Sept. 25.
---

July 14 2006 at 01:46:51
Name: roy lee
Email: beerdrunk@msn.com
Location: Orpha's: waiting on the entertainment
Comments: I've always been a fan of sleazy bars but I draw the line at Orpha's. I used to go in there in the mornings years ago when I worked late nights, and it was not the least bit entertaining. I wouldn't even call it sleazy, just grim. Maybe it livened up in the evening.
OK, here's what I will do. I will go on a research trip to see what's going on there now. I will report my findings in a few days. This should be fun. Anyone brave enough to come along? I will buy the coneys afterward!
---

July 13 2006 at 21:46:28
Name: Dave
Location: whitewashing the marble
Comments: We discussed this a few years ago (Guestbook 139), but there's an update in today's Tulsa World at about the sad state of the Abundant Life building on Boulder Avenue. Front page publicity can't hurt.
Actually, not much news there -- the owner still can't find a buyer, no one has used it for 20 years and some folks would like to see it renovated as a landmark. I wish someone would at least take a few thousand gallons of whitewash to clean up the exterior.
This was also discussed last fall on the Lost Tulsa site.
---

July 13 2006 at 20:57:08
Name: Mike Bruchas
Comments: To Wirt Cain - in the pic -- Dick Larmy from TuffNut Casuals clothes on the left and Teddy Bear Creekmore the fiddler on the right. This must be a 1974-76 shot - guessing by Betty's "do". Welcome back - you are still thought to be a Tulsey demi-pop culture icon!
---

July 13 2006 at 19:42:54
Name:

Wirt Cain
Location: Cincinnati
Comments: To Teresa Girdner: Who are those two goomers with Betty and John Chick?
More about Wirt Cain on the Betty Boyd page.
---

July 13 2006 at 18:46:43
Name: edwin
Email: look up me number
Location: why do you keep asking that?
Comments: Old Lady and I went to that Diner a bit ago......PR died first (hey, we must be good!) Food died as well! Only thing left is the service...
---

July 13 2006 at 16:34:42
Name: Webmaster
Comments: Tulsa Webradio: Subterrania is back.
NewSubterrania.com
---

July 13 2006 at 11:59:40
Name: Dana LeMoine
Location: Collecting pop bottles at two cents apiece
Comments: It's a good thing Cain's Ballroom isn't near T.U.
---

July 12 2006 at 20:21:19
Name: Dave
Location: where's lunch?
Comments: About Metro Diner closing -- will it move to a new location? Several months ago I asked an employee that and he told me that the owner had a place lined up nearby but couldn't tell where or any more about it at that time. What's the scoop?
---

July 12 2006 at 15:42:39
Name: Teresa Girdner
Email: girdnerg@sbcglobal.net
Location: Tahlequah, Okla.
Comments: Well I have had some progress in finding some people & them finding me! I would still like to know if anyone has any John Chick show pics!!!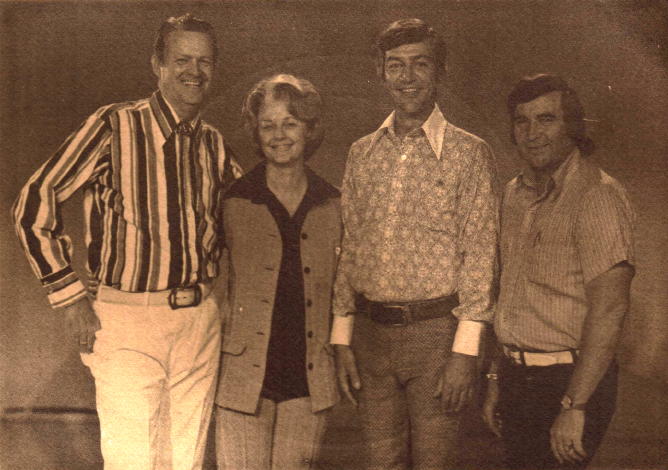 Dick Larmy from Tuf-Nut/Challenger Casuals, Betty Boyd, John Chick and "Teddy Bear" Creekmore
---

July 12 2006 at 13:38:18
Name: Mark Erdwin
Location: Tulsa
Comments: If you're planning to eat at the Metro Diner one more time before it closes, don't wait too long. We heard from the employees last night that their last day of business will be Friday, September 1st.
---

July 12 2006 at 13:24:49
Name: J. C. Beard
Location: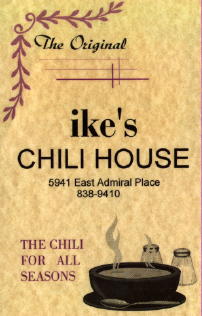 Cafeteria Under the Rose Bowl
Comments: According to the phone book, Tulsa has 6 Coney I-Lander locations and 1 Ike's Chili House (East Admiral Place between Yale and Sheridan).
Jim's Coney Island and Never on Sunday Greek Food and Music is still at 19th and Harvard; Claud's Hamburgers are still the best at 38th and South Peoria. The Friends of The Golden Drumstick gather regularly to mourn, as do Pennington's Partisans.
And don't forget the original Coney Island downtown at the old Darby Lane Motor Hotel building, across from the previous C.I. location adjacent to Orpha's Lounge, which provides good entertainment while chowing down.
---

July 12 2006 at 12:58:35
Name: Scott Linder
Location: Hollywood-land
Comments: I was just chatting with a friend who works with the Food Network. So how many Coney Islander and Ike's Chili locations are there in Tulsa these days?
---

July 12 2006 at 01:28:57
Name: Michael
Email: fallen5of7@hotmail.com
Location: Midwest
Comments: Can anyone direct me to any further information on radio station KELi and that truly unusual saucer shaped building? I would much enjoy discovering whom the architect was or finding the plans to said structure.
Thanks for the fun site and keep the baby boomer memories coming.
---

July 11 2006 at 23:41:40
Name: Tulsa Area Music Archives
Email: info@preservemusicdotorg
Location: downtown Bixby
Comments: Believe it or not, Leon Russell is still not in the Rock and Roll Hall of Fame. We've started an online petition to begin the process of trying to remedy this. Here's the link:
http://www.petitiononline.com/LRRRHOF/petition.html
We would be very grateful if all of you Tulsans and ex-Tulsans would take the time to sign it (tell your friends and family too!).
Rock on, Leon!
Steve Todoroff
Founding Director, TAMA
---

July 11 2006 at 12:31:41
Name: Nala
Comments: David, we may have another gig coming up on July 28th here in T-town, I'll keep you posted. I'm headed to Dallas tomorrow to see the Dan.
---

July 10 2006 at 21:16:06
Name: John Hillis
Location: Last row, bottom shelf, of the record library way in the back of Studio B
Comments:
And even before she was Darlene Edwards, Jo Stafford was the irrepressable "Cindarella G. Stump," vocalist for the irresponsible Red Ingle's Natural Seven. Biggest hit was the 1947 send-up of Perry Como's melodramatic "Temptation" as the off-kilter and wonderful C&W "Timp-tay-shun."
Jo and husband-bandleader-arranger Paul Weston were pals of Capitol Records founder and lyricist Johnny Mercer. Mercer, the Savannah boy who spent his summers on Moon River, knew talent (and a good joke) when he saw it. One of the reasons he formed Capitol in 1943, along with Paramount producer Buddy de Sylva and record store owner Glenn Wallichs, was to provide work for musician pals like Stafford, whose gigs had dwindled with wartime belt-tightening.
Weston was also a fine serious composer, whose Crescent City Suite (1957) made him and Stafford regulars on the Gulf Coast.
Egad, am I old, to know this stuff.
---

July 10 2006 at 16:47:51
Name: Sherry (Fincher) Davis
Email: sdavis@aapg.org
Location: Mannford, OK
Comments: I just saw the picture of Edwin Fincher captioned Summer of Love which would have been 1967. Said picture was NOT 1967 but 1969. (I am his ex-wife and am standing at his side in that very picture.)
I recognize the bell of truth when I hear it ring.
---

July 10 2006 at 15:09:35
Name: David Bagsby
Email: dcbatsunflower.com
Location: Lawrence KS
Comments: Rats! Missed the Alan Ransom band again. If they play the Abbey Road set again, please let me know a week or so in advance if possible. It sounds like a great set. Just got back from Chicago where Steely Dan put on a stellar show with Michael McDonald...not to be confused with Ronald. They play in St. Louis on Sept. 4. Certainly worth the trip.
---

July 09 2006 at 16:51:49
Name: NOSTALGIC
Email: nostalgiceoi@yahoo.com
Location: Tulsa
Comments: What are the chances of starting a memory page for the EOI network? Late night on 92.1FM it was a underground favorite and the first *only?* real alternative music station in Tulsa.
Also many times beating out all other stations in ratings, it really has become a part of Tulsa Memories. Would love to hear from others and see tribute paid to those who dared to buck the corporate media in the 1990s.
I really think they deserve a place in the counter culture of this magnificent site.
Thank you very much!
To start it off, here's a Guestbook 186 item responded to by "Mother Theresa" of EOI, and a link to comments by Stacy Richardson.
---

July 09 2006 at 12:56:46
Name: Lynn Norman
Location: CheeseLand USA
Comments: The sharp wit of Johnny Martin was always on display when he paired and sometimes tripled tunes on his incredible program.
In my days at TU, it was sport to listen to Johnny and "crack the code" on his song messages, e.g., "Don't Get Around Much Anymore" into "Take The 'A' Train" into "Meet Me At No Particular Place", etc.
He was able to consistently create a program that worked on far more than one level. The Johnny Martin Show was engaging, entertaining, intimate. A cool hipster to be sure, he was just plain fun to listen to. How else to explain why those of us attending Edison phoned in our football scores not to KELi or KAKC but to KRMG?
AND Johnny Martin made a big deal out of the finals: "Well, the Eagles won, I can hear the celebration from here". Sure do miss that kind of radio.
---

July 08 2006 at 16:12:37
Name: Scott Linder
Location: Hollywood-land
Comments: Yes, it was fun to include a couple of Jonathan and Darlene Edwards tunes in every medley. Jack Campbell would occasionally play a cut on "Sleepwalker's Serenade"... no special announcement... just another tune between, perhaps, George Shearing and The Anita Kerr Singers. We always waited for a phone call from a listener who got the joke, but none ever came...hmmmm...
By the way, all of the Jonathan and Darlene Edwards recordings are available on CD from CorinthianRecords.com (the site includes an interview with the infamous duo...webmaster).
---

July 08 2006 at 12:46:31
Name: Gary Chew
Comments: Ah, yes. The Jonathan and Darlene Edwards LP! Someone "borrowed" it from my collection many years ago.
I miss it. It was a hoot, at a little gathering, to put that disc about 3 or 4 down on a stack of LPs to be dropped, in turn, on the old turntable over a period of time. When the very talented Jo Stafford (voice) and her lovely husband, Paul Weston (piano) began to perpetrate their musical humor, one could quickly see who, among the invited guests, had the best musical ears.
Another more contemporary singer of the 60s and 70s also had some problems tuning-up, on occasion. That would have been Judy Collins.
When I worked at KRMG, the Program Director was a huge Elvis freak. No one ever "heard" Elvis off-key then.
---

July 08 2006 at 10:08:47
Name: Scott Linder
Location: Hollywood-land
Comments: This vocal pitch discussion triggered a memory from my days with "Holiday on Ice".
As I'm sure you know, ice shows used pre-recorded vocals with click-tracks for sync with the live orchestra. During vocal sessions, we always pitched the singers at A=442. This did not read "sharp" during performance, but the slight elevation in pitch caused the vocal tracks to come forward and sit on top of the mix, especially during thick orchestrations. It worked beautifully.
For those wishing to experience the true pain of off-pitch vocals I suggest that you listen to those "Jonathan and Darlene Edwards" recordings that Jo Stafford and Paul Weston did in the late '50s!!
---

July 08 2006 at 10:07:26
Name: Webmaster
Comments: Archived GroupBlog 216:
Prompted by Steve Todoroff's memory of seeing Elvis here in Tulsa 30 years ago, Frank Morrow made the provocative assertion that Elvis sang flat. We saw a new Gailard Sartain political commercial.
Two unanswered queries: what were the ingredients for Ma Bell's nacho sauce, and what happened to the old missile at LaFortune Park?
We saw Shakey's Pizza---in Tokyo. We saw a Casa Bonita map, menu and pic (it is now open again as Casa Viva under the origianl Bonita management).
Two young Tulsa filmmakers talked about their latest projects. Pinball, video games and dirtsurfing were discussed (and photo-illustrated).
My wife was discovered in a 1966 screen shot from the Mr. Zing and Tuffy show.
---
Back to Tulsa TV Memories main page