Tulsa TV Memories Guestbook 166

TTM main | What's new on TTM? | GB Archive




July 24 2004 at 11:11:10
Name: Booger
Location: Close
Comments: My old pappy took 2 '36 Ford radiators and sealed them to the sides of an old cooler. Then he pumped water from our 40 ft deep well through them. Worked really well even in July/August, but Mom's wallpaper was falling down, and anything metal was corroding, so Dad sprung for a big new AC.
Mom & Dad bought 5 acres from Cyrus Avery back in 1948 and it was a known "watering hole" for two reasons. It also was a bootlegger, and there are still buried tanks that were probably mash pits. In the 30s everything burned to the ground, and several old trees still show the scars of the intense heat.
The well still has cold (52 degree) clear water even in a draught, and I still dream about using it for a cheap source of cooling (maybe in distilling).

---

July 24 2004 at 09:40:46
Name: Lee Woodward
Location: Tulsa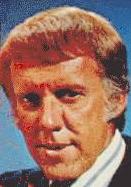 Comments: I have fond memories of evaporative coolers when I was a callow youth in Arlington, Texas. My aunt's husband (Tom Cravens) had the first small window unit that cooled only his back bedroom, and it worked really well.
In my home (which also served as a hospital), open windows and ceiling fans were the early source of cooling. At night, we would sprinkle the bed sheets with water droplets as a cooling aid. We eventually got the evaporative coolers and they worked really well when placed on the sunny side of the house.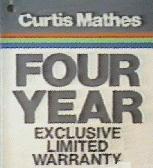 Then the real deal came along when a hometown entrepreneur named Curtis Mathes produced the first Freon-refrigerated window units. For the front of their cabinets, they used beautiful woods. The Mathes family went on to great success and riches, sold out and went into the hi-fi business, producing large entertainment centers etc.
The aftermarket auto industry also produced an evaporative side window mount unit for cars. Usually placed on the passenger side, one would not want to sit beside it unless one wanted a shower.
One of the first true refrigerated car units was one I did radio commercials for in Fort Worth in 1954-55. It was called "Clardy." Its main unit went in the trunk and was the size of a steamer trunk. It had two air outlet tubes that stuck up behind the seat; the compressor (under the hood) was the size of a Norton motorcycle engine, but heavier.
Rear window Venetian blinds became a must. Before long, some people implied that their car was air-conditioned by using masking tape to "create" the blinds and dummy plastic tubes in the back window; blithely driving around with their windows up and sweating like hogs!

---

July 24 2004 at 08:46:29
Name: Lowell Burch
Email: lburch3atcoxdotnet
Location: Checking my rain gauge.
Comments: I remember Git-N-Go being built at 46th and N. Cincinnati back in '58, long before water coolers or a/c. We still used attic fans. Before Git-N-Go we went to the dairy store for bread and milk. GNG was always too expensive for most items but great for buying comix, candy or a Mt. Dew on a hot summer day. That is where we folded the Tulsa World at 4 a.m.
Quik Trip did a good job of shaking the image of the dirty, over-priced convenience store but Git-N-Go could never quite pull it off. The GNG pumps sat empty while QT had people waiting in line.

---

July 24 2004 at 08:31:07
Name: Webmaster
Location: Tulsa
Comments: Git-N-Go has gone-n-went Chapter 11. The stores were sold to the Kum & Go chain.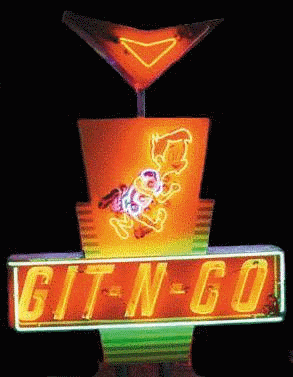 An original neon sign, a vintage gas pump, and other paraphernalia will be sold at a public auction at 8316 E. 73rd St. (the former Git-N-Go corporate offices) Tuesday night.
Git-N-Go opened in Tulsa in 1958, a couple of years before Quik-Trip.
I borrowed the World's courtesy photo of the sign from today's paper and did a lot of work on it, result at right.
You know, I wish there were a "Neon Park", a collection of old Tulsa neon signage of the past...
Actually, such a thing is in the works.
Bill Stokely (of billboard fame) collects signage from gas stations, bars, drug stores...and has about 300 good ones so far. He stores and restores them in his warehouse, and plans to open a barn-style building to display them. He will rent the space out to car clubs, wedding receptions, etc.
Many of his rescued signs and neon clocks are on display in his company warehouse near 169 and the B.A. He particularly likes anything car or beverage-related and is still on the lookout for old Tulsa signs.
I hope he succeeds.
---

July 24 2004 at 00:27:19
Name: David Bagsby
Email: dcbatsunflowerdotcom
Location: Lawrence KS
Comments: We had 3 water coolers. My Dad rigged a smaller one up with an old CocaCola metal ice chest as a reservoir. That way you didn't have to get up in the middle of the night to fill it up. Only problem was if you touched it and you didn't have your shoes on, it would shock the piss out of you. Nothing like Green Acres technology to keep you on your toes.

---

July 23 2004 at 21:58:53
Name: John Hillis
Location: Chillin' in Virginia
Comments: The first house we owned, with about $1,500 down and a mortgage/tax/insurance payment of $294 a month, had two window units and the remains of a long-defunct water cooler in back. I finally got the thing hauled away, but the pad on which it sat remained in the back yard.
Actually, the two window units did okay until we'd had over 100 degrees for about two weeks running. Then we'd all huddle directly in front of the airflow (including Fred the cat, who would take a break from his otherwise feral ways) and breathe air that did not require gills to extract the oxygen from.

---

July 23 2004 at 18:13:11
Name: Chuck
Location: Under A Tree
Comments: I remember the swamp coolers well. They were great from the middle of May until about the 4th of July, depending on the weather....after that it was just a slower way to die or melt, depending on how hot it was.
After about the middle of September, it was great to have one again, but there wasn't much hope except for a rainstorm from the 4th of July until the last dog died in late August.
I started elementary school at a time when schools around here weren't air conditioned, and had forgotten how hot a pair of new jeans could really be until I put on a pair and went outside this week.
---

July 23 2004 at 14:54:06
Name: Webmaster
Location: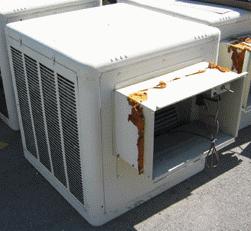 In the air con
Comments: In dog day Tulsa summers of yore, before air conditioning was affordable, the water cooler (now called a swamp cooler or evaporative cooler) was popular. It consisted of a large fan (looking as if it could be internally powered by a large rodent) which pulled the hot outside air through dripping pads kept soaked by a water pump, and blew the cooled air inside.
It was fun to get in front of the blower and adjust the vertical metal louvers to hit you full in the face; there was a distinctive sound and smell (from the wet pads, no doubt). I'm trying to remember the brand we had, maybe Artic or Olympic...
---

July 22 2004 at 22:03:47
Name: Lee Woodward
Location:

Bent on ville
Comments: I took him (Lionel) once on my regular bike and the first steep and fast turn I made caused me to have to stop; where-up-on he "hurled" on my Speedos! He has never asked again, nor have I. He favors cabs.
---

July 22 2004 at 09:02:25
Name: Lowell Burch
Email: lburch3 at cox dot net
Location: NASA (Tulsa Branch)
Comments: Of course the Moon Landing was faked! Just check out this website that proves it (If you have time to waste).
Two questions: #1 Is Johnny Donut still working for Delmo Gillette Entertainment Services? #2 Can Lionel travel with Lee on the new Bent?

---

July 21 2004 at 18:39:27
Name: Erick
Email: ericktul at yahoo dot com
Location: Tulsa
Comments: More about Dino Lalli...
He was a film critic in his days at KFOR, KOCO, and KOKH. He now occasionally co-host the "Hello Oklahoma" morning show on KSBI, broadcast channel 33 in Tulsa.

---

July 21 2004 at 16:07:25
Name: Greg Leslie
Location: 61st & Yale
Comments: Speaking of Dino Lalli, I see in the paper today:
OKLAHOMA CITY -- Dino Lalli has resigned as director of the Oklahoma Film and Music Commission effective Sept. 7.
"There are some opportunities down the road I would like to take advantage of," Lalli said Tuesday.
A native of McAlester and a graduate of the University of Oklahoma, Lalli said he planned to pursue a job in television or in the film industry.
----------------------------
Dino has had this job for 5 years, before that he was at a Los Angeles TV station, before that KOCO and KFOR in Oklahoma City.

---

July 20 2004 at 08:25:06
Name: Mike (space cadet) Bruchas
Location: flashing back to watchin' it on b&w TV in Chicago as a kid....
Comments: Who'd a thunk it - it was 35 years ago tonight that man first landed on the moon! Some folks still think CBS faked it in a Hollywood studio - not me! As Walter Cronkite said - it was one of the few times in his life that he was speechless in awe....where were YOU 35 years ago today?

Don Lundy replied:
Sitting and watching a black and white TV in an efficiency apartment just outside Fort Benjamin Harrison, Indiana with my spouse of less than one year, making very little money as a lowly Air Force recruit.
Who'da thunk I'd be back here 35 years later married to the same woman and in the TV bidness?

---

July 19 2004 at 07:39:12
Name: Delmo Gillette Entertainment Service
Location: (Oklahoma City, OK)
Comments: Movie "Elizabethtown" Filming in Oklahoma
Cameron Crowe's movie "Elizabethtown," scheduled for release sometime in 2005, is currently in the production stages. According to Oklahoma Film Commission spokesman Dino Lalli, the Sooner State is one of several states chosen for filming. The bulk of the movie is a "road trip" and the two main characters in the film will be making several stops, including some in Oklahoma. One of the locations that is reportedly scheduled for filming is the Oklahoma City Memorial, sometime in early August.
Five or six different locations throughout the state were chosen with the help of the Oklahoma Tourism Board over the past three months. Exactly which locations are being filmed in Oklahoma has not been released at this time. The movie includes Orlando Bloom, Kirsten Dunst, Susan Sarandon and Alec Baldwin...and Gailard Sartain, who plays the town (Elizabethville, Ky.) undertaker.

---

July 16 2004 at 15:40:01
Name: Mike (another geezer but I am gettin' to like it....) Bruchas
Location: Thinkin' how many years I have watched Harry V...
Comments: I remember him on WMAQ radio/WNBQ TV as a pre-teen growing up in Chicago then later on at I think it was WGN - I would say Harry Volkman I've seen for about the last 43-45 years on air in Chicago. I vaguely knew his son Ron at TU. I remember Ed Dumit joking about him and Harry riding a Tulsa bus to school way back in THEIR undergrad days. I met him with Fred Norman when he visiting OKC and Fred in my KOCO days. I sat with him and son Ed at the KWGS anniversary "do" a few years back and joked with him about his Marlin car that he had way back when. WMAQ radio personality Henry Cooke used to rib him about it.
Is that 6 degrees of separation from Harry Volkman?? I even can sense some of his old joke or pun punchlines "incoming" when home in Chicago with my aged folks - especially when he has to tease some event video on-air on WFLD...
The Tulsa Police are featured in a story on the CBS national newsfeed to affiliates today - on tasers being sold by Sharper Image.com. TPD is acknowledging that it may not be legal to carry one as a civilian. I did not recognize the KOTV reporter nor was her tag line given.
Dave Harmon replied:

Mike...I understand that the TPD may not think the Taser to be legal but from what I am hearing even from this distance is that the Taser is getting to be required purse paraphernalia.
---

July 15 2004 at 16:18:42
Name: Webmaster
Comments: Harry Volkman, Tulsa's (and Oklahoma's) very first TV weatherman, is being forced off WFLD (Fox) Channel 32 in Chicago:
http://www.suntimes.com/output/feder/cst-fin-feder151.html

---

July 15 2004 at 12:07:02
Name: Brent
Location: Clarksville, AR
Comments: Whatever happen to Tulsa KRMG personality Dianna Proffitt? She left Tulsa and went to St. Louis station KMOX for a few years on the late night shift, but then she just disappeared from the airwaves.
Here is a possible 2003 sighting.

She was one of my favorites on the Tulsa airwaves, too.
---

July 12 2004 at 08:09:03
Name: Chris
Email: hal84ch at cs dot com
Location: Still in Tulsa
Comments: KKUL was a soul station when they started in the early 70's. I was with Radio Shack back then (Remember the store at 16th & Yale?) & we always had our stereo display set-ups tuned to them because they had the lowest bass of all the local stations & it made the FM on the receivers sound better. Sold a lot of systems that way. I think we even outsold "No baloney" (or "Try it, you'll like it") Joe Pierre over at SEVCO.
Chris was the recipient of a crank call made in early 1971 by the webmaster (at age 17), who was impersonating a mutual acquaintance. Chris heard this recording for the first time today...and remembered it!

Speaking of crank calls, it seems clear that the model for Roy D. Mercer was one John Bean, aka Leroy Mercer, who made a series of recordings in the late 70s/early 80s offering an "ass-whuppin'" to hapless callees. I found a CD of this material at Amazon.com (two MP3 tracks are free downloads): The Real Leroy Mercer is John Bean.

I've been told that Gary Busey also recorded some of these Leroy/Roy D. calls.
---

July 11 2004 at 12:59:41
Name: John Young
Email: johnk662561atyahoodotcom
Location: Outta Gas on Memory Lane 3 miles West of Sand Springs
Comments: Speaking of radio jocks, whatever happened to Johnny Rivers, Charlie Derek, and the guys who used to man the turntables at KRAV back in the 70's and early 80's? Did any of our local DJ's go on to National Fame or syndication?

Courtesy of Dennis Yelton, aka Chuck Morgan
---

July 11 2004 at 11:51:44
Name: msbv2
Location: 400 miles East/northeast
Comments: Thanks for all the info, guys! Got a pretty good sampling of current Tulsa radio last week. Looks like KRMG is still the one constant.
There were a few years in the late '70's when Tulsa radio seemed to change almost daily. Some of it kinda blends together after a few (25) years.
I also remember KTFX putting the listeners live on the air. If I'm remembering correctly, they changed from KKUL (K-Kool) to KTFX and went CHR sometime in the late '70's. Anybody recall what KKUL's format was? I'm thinking it was maybe a light AC. When KTFX became the Country Fox they continued to put listeners on the air during the physical format flip. Some of the kids were not too happy...One kid actually called in (at about 11:30pm) and told the jock to stop talking and play some music...This was back when format changes were still done without the general public finding out what was gonna happen, I guess.
More radio questions... When did KWEN (Queen/K95) go CHR? They got a little wild for a while, there. They were also putting listeners on the air right after the format swap.
Seems like KMYO (Cameo)/KSNE-Sunny 93 picked up KWEN's old format...Was KMYO at the old KBEZ frequency or is "EZ" still there?
Further confusing the issue here...wasn't KMYO/KSNE owned byt KELI?
Sorry about the inadvertent essay question... Been a lot of years ago...Thanks!

---

July 11 2004 at 10:11:45
Name: Webmaster
Comments: Reminder: a special two-hour reality show is coming to ABC tonight (Sunday July 11) at 8 pm: "The Great Domestic Showdown". It consists of three women and three men competing to see who is the more domestic diva.
What's so special about that? One of the women is Lee Woodward's daughter, Valerie Naifeh.
The show was filmed in a 20,000 sq. ft. mansion in Pasadena, California and consists of various challenges from cooking, designing, fixing, creating, and being a mini-Martha.

---

July 11 2004 at 05:57:13
Name: Billy G. Spradlin
Email: billygtexas@yahoo.com
Location: Somewhere in East Texas
Comments: Just thought of this - his full name was "Crazy Steve Owens". If I can remember any other KTFX jocks who worked during the Superfox days (I think Charlie Derek worked there at one point) I will let the board know.
BTW has KMUS signed on with Radio Disney from their new Sperry site?

---

July 11 2004 at 05:40:38
Name: BillyG
Email: billygtexas@yahoo.com
Location: East Texas
Comments: "Wasn't KAKC the one with Mike McCarthy and Crazy Steve"
No, Crazy Steve was on KTFX "The Superfox" when they were Top 40 in 1977-9. I heard that they beat KELi in teens/young adults in several books and probably were the reason why KAKC flipped to MOR in 1978.
I have no idea what Crazy Steve's real name is and what he's doing now - Anyone here know? He was probably the wildest DJ any Tulsa radio station had in the late 70's. A real "Teen Jock" that would drive parents up the wall but the kids loved.
I remember him pulling stunts like playing Foreigner's "Hot Blooded" over and over one night for about 2 hours when it was a brand new song. Plus he had the usual "Crazy Line" call in time where he'd put people over the air to say hi to friends - but he had no tape delay or pre-recorded it, it was 100% live, which is unthinkable now. But I don't remember anyone cussing him out. Anyone here remember him?

---

July 10 2004 at 19:38:33
Name: Dave
Location: Road mapping to Beaker Street
Comments: Most of this site's readers who are old enough remember "Beaker Street," the late night progressive rock/underground music show that was on KAAY 1090 AM in Little Rock in the late 60s-early 70s with all the eerie beeping and whistles in the background. Its 50,000 watts boomed all over North America. One story has it that a Little Rock guy once visited Havana in that era and when a Cuban cab driver found out where his passenger was from he said, "Little Rock! KAAY! Beaker Street!"
Clyde Clifford was the host of Beaker Street, which left the KAAY airwaves long ago. But Clifford (who in real life is a fellow named Dale Seidenschwarz) now does the show once each week on Sunday nights on a Little Rock FM station, with all the old albums back in play.
There's a web site commemorating all this at BeakerStreet.com. It includes MP3 files of the past couple of years of shows from the FM station and three or four files from some 1970-71 shows on KAAY. But they're all at least 10 MB, so if you're on a modem be prepared to tie up a phone line for awhile. (I haven't; if you do, let us know how the programs sound!)
Thanks, Dave, I will try them out.
---

July 09 2004 at 09:43:58
Name: Erick
Email: ericktul at yahoo dot com
Location: Tulsa
Comments: Mike Bruchas mentioned Locke Supply Company's low-power stations. It started as one station, KSBI-52 in OKC in 1988. At that time, it broadcast a limited schedule of religious programming and tons of plumbing commercials. It later grew to air more syndicated (yet family friendly) programming. Mr. Locke died some years back, and last year his family opted to sell KSBI and all of its translator stations. It owns low-power stations in Ardmore, Edmond, Stillwater, Ponca City, Wichita Falls, and Sapulpa (air channel 33, which can be seen in Tulsa).
Because of this large coverage area, several major broadcast companies offered tons of money to buy the network, but the Lockes insisted that the station remain independent and air the same type of family friendly programming.
Enter Brady Brus, longtime OKC meteorologist and his sister Brenda Bennett, longtime OKC radio personality. They formed a company and purchased the network. Since then, they have become a very good source of statewide severe weather coverage. I would encourage everyone to strap on the old UHF loop sometime and tune to channel 33 to see what they have to offer.
Thanks, Erick, added your comments to Links page 1.
---

July 08 2004 at 20:12:25
Name: Dave
Location: on the blacktop
Comments: There are frequent references on this site to the legendary KVOO transmitter towers way out there on East 11th Street. When I drove by that way a few weeks ago I noticed that the building still has KVOO on it in big letters. Doesn't KFAQ now use these towers? So why don't they put their call letters on the building? Actually, I'd like to see it stay with the KVOO sign just for the sake of nostalgia (it is Historic Route 66, after all). But I'd think KFAQ would want to maximize their branding, as they say in media biz today.

---

July 08 2004 at 09:49:08
Name: Mark Erdwin
Location: Tulsa
Comments: Craig from Tennessee was asking the whereabouts of Larry White who was the engineer at KAKC for a number of years. Unfortunately, Craig, Larry passed away about a year and a half ago. He was only 62, but had been in poor health for a few years. I didn't get to see him much in his last years, but spoke to him occasionally. Most of the time that was about 5:00 or 6:00 on Sunday mornings when the KFAQ/(KVOO) transmitter went off the air. He lived on the transmitter site and would walk over to turn it back on.

---

July 08 2004 at 01:11:17
Name: Jenny Heaney
Location: Tampa, Florida
Comments: Love your web site.
Cleaning out our garage, we came across several boxes of my mother's old magazines and newspapers. Among those was a magazine called Tulsa dated March 6, 1980. The inside first page said it was the official publication of the Metropolitan Tulsa Chamber. The magazine is filled with interesting Tulsa things including an article by David Stanford titled "Johnny Martin Show".
Mr. Martin was the favorite of both my mother and father. They began and ended our days with KRMG and the article brought back so many memories of that very unique time and Mr. Martin's very special program. A feature box within the article is headed "Remembering the Martinisms" and I thought you and other readers may remember these as I do:
"Martin the Musical Missionary"
"A musical welcome wagon for the big boys and girls"
"This show is not recommended for children"
"And now there's nobody left, just thee and me, and I'll think of something"
"Velvet sounds on the soft side of the beat"
"Now guys, tomorrow take a working girl to lunch"
"You're looking good, I'm glad you could make it"
"What are you doin' New Year's Eve?"
"I have a lease on the pool hall every night from 8:05 till one in the morning"
"I'll be back tomorrow at 8:05; leave a light"
The one line I remember very clearly was "another song momma used to sing and if you don't remember that it's past your bed time" I also remember him saying "pay yourself first" and having my parents explain how important that was to me - good advice it turned out to be.
For all our listening to KAKC, KELi and KRAV (they did our thing!) I am very happy that my parents shared this wonderful person with us. The morning person was a gentleman named Adams, I think, he was very upbeat and had a good sense of humor about everything. (More from Chuck Adams in Guestbook 154...webmaster)
It's a shame we don't have radio like that any longer, at least we do not here in Florida.
I'm planning to expand the radio side of the site in the future, and Chuck Adams' comments will definitely be featured. I added your comments to the Johnny Martin page.
---

July 07 2004 at 10:19:30
Name: Lowell Burch
Location: Standing with my foot in my mouth
Comments: Bruce, I enjoyed your latest entry.
I compared Bruce McFadden with Roy Orbison earlier in the guestbook. In response to my clumsy comments, Mr. McFadden wrote a very funny, and very gracious letter, to me.
I was trying to say that Orbison had a stunning voice but his physical appearance was not over the top. I remembered Bruce's voice as being very impressive on KORU but, as a college student, he still looked very young to me, not "roly-poly" per my early comment (bad choice of descriptor).
Now please excuse me. I've got to go wash out the taste of dirty socks out of my mouth again.

---

July 06 2004 at 19:40:19
Name: Craig "Mike Shannon" Kitch
Location: Hills of Tennessee
Comments: The mention of Bo Chase, now in Austin, brings back some great memories. His dad, Jim Chase, was morning drive at Keli when I was there. He used the air name of Jim O'Bryan. "Bo" was just a kid and hung around the radio station asking questions and learning his craft. I heard that Jim passed away a few years ago. It is nice to know that his son is carrying on the "family tradition" in Texas.

---

July 06 2004 at 16:40:08
Name: Bruce E. McFadden
Email: bem33 at adelphia dot net
Location: Altamonte Springs, FL
Comments: I still have to laugh when reflecting on Lowell Burch's comments on my voice...Mickey Mitchell was my inspiration back then...oh what he might be up to these days with that silky voice of his...
But on to what I'm truly here for...I am curious as to what Jerry Vaughn is up to these days...I fondly remember him on KRMG's afternoon drive...I also have audio tapes of him with Hal O'Halloran doing ORU BB games during the NCAA run in the mid-70's...
Also remember Bob Losure doing traffic in "Traffic-Bird 74"...on the TV end, I fondly remember Don Woods as he attended church at the same place I did...I remember Gary Shore tracking the tornadoes in June of 1974...
Back to KRMG, I remember John Erling coming to Tulsa and starting the "Tulsa Mountains" craze...in fact, I still have a few of those bumper stickers...btw, whatever became of his predecessor, Watson Jelks?...Erling was an occasional visitor to my DQ at 61st and Peoria...

And the Johnny Martin memories here were breathtaking...I will NEVER forget him...

---

July 06 2004 at 10:15:38
Name: Erick
Email: ericktul at yahoo dot com
Location: Tulsa
Comments: The mention of Mike McCarthy reminds me that he is now doing weekends at Star 103.
Speaking of Star 103, with former 14k/92k jocks Wavy Davy Michaels and Mel Myers, I spent the weekend in Austin, and another former 14k/92k jock Bo Chase is on the oldies station there.

---

July 06 2004 at 08:31:54
Name: Mike (my aching back) Bruchas
Location: Wishin' I had an iPod in my car..listening to Billy Parker and the Pure Texas Band's yodelling composer/lead 400 lb. Don Walser on CD
Comments: Drove downstate in VA to work on parades and 2 4th of July small town concerts this last weekend. My annual 4th volunteer work on shooting pix/video, putting up stages, losing weight from manual labor. Saw the Coasters live in scenic but rain-wracked Blacksburg, VA - though not all original members still alive and singin' - a very good show with a three man trio behind them. I'd book them any time!!
My CW McCall story - he or Chip did voice-over on a very neat and ambitious video for the Durango and Silverton RR in Durango, CO. Shot in the early '80's on video with mucho helicopter footage - it was great. Beautiful. I learned of it and got a viewing copy. The railroad sent us a 1" copy to use for air. KOCO aired it 4-5 times as late night movie filler (we think it was done for post-train ride video sales, too). Unfortunately I never saved a copy and folks at KOCO were less enthusiastic about "steamers" than I, so our air copy was "bulked".
Now as for Chip of Mannheim Steamroller - with ties to Oklahoma indirectly - he is very creative but there are other "eccentric" things about him that I know but can't post here. But I love his musical work - just wishin' the CD's were cheaper!

---

July 05 2004 at 21:28:57
Name: msbv2
Location: Back on the other side of Arkansas
Comments: KAKC was the big station when I was a kid. Pretty much AC/CHR format. They used to play a lot of McCartney and Wings and early Heart, Abba, Queen, Kiss, etc. and all the bubblegum stuff in the mid '70s. (Back in the day when everybody who had a TV show made a record...John Travolta, Shaun Cassidy, David Soul, etc.)
Wasn't KAKC the one with Mike McCarthy and Crazy Steve?
I kinda gave up on "Fun Lovin' KAKC" when KRAV put that AM oldies station on the air, (which subsequently went satellite, as oldies stations seem to tend to do.) I'm thinking it was KFMJ (been a long time...;-) ) before they renamed it KRAV AM. (Later KGTO)

---

July 05 2004 at 18:02:32
Name: Craig
Location: Tennessee
Comments: I have enjoyed spending the afternoon at this website. Really brings back memories of my earlier and younger days.
I spent a few years in Tulsa radio at KAKC, KELi, and KXXO (remember the "all disco all the time" format?). My first radio job was at KAKC in the engineering department, working for Larry White (anyone know where he is?). One of my more enjoyable jobs there was running the board for The Un-filmy Can Festival with Jim Millaway, Gary Busey and occasional appearances by Gailard Sartain. Joe Henderson gave me my first real on-air job, at KELi, in 1976. I started out on weekends and was soon "promoted" to midnight to 6 am. My only claim to fame in Tulsa Broadcast History would be the year I set the world's record for the Longest Underwater Broadcast. KELi gained use of the SCUBA divers water tank in the IPE building during the Tulsa State Fair. Since I was the only jock that was a licensed SCUBA diver, I was elected to do the stunt. The total time was 9 hours, 1 minute, 35 seconds (not sure how I remember that).
Other than those 15 minutes of fame, I would probably qualify as one of many nondescript disk jockeys in T-town radio history. I grew up in Tulsa listening to Scooter B. Segraves, Dean Kelley and the like. It was truly exciting to meet and work with them in the industry.
Great job on your website. I will check back from time to time and see what you have added.
PS.. I still have a 1430 KELi Win-dough scraper !!?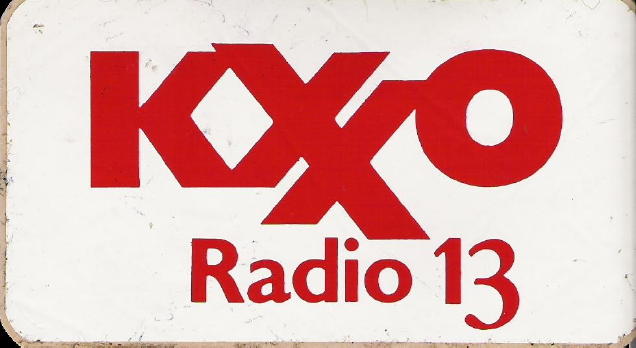 Courtesy of Dennis Yelton, aka Chuck Morgan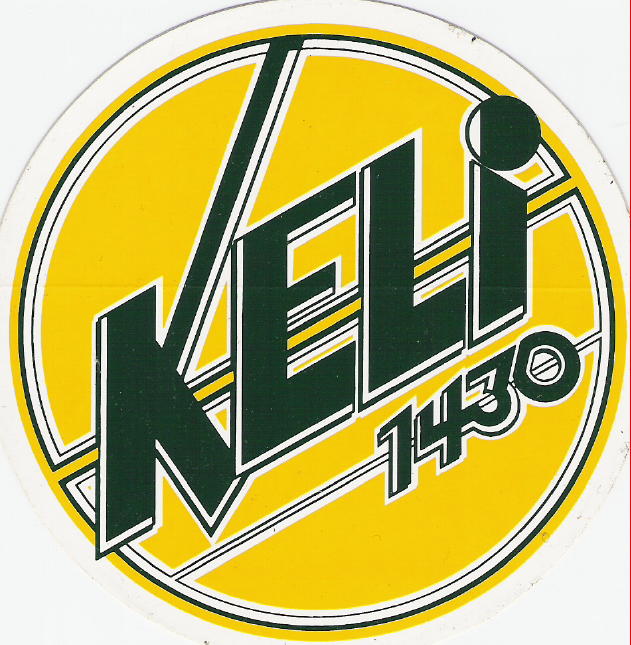 Courtesy of Dennis Yelton, aka Chuck Morgan
---

July 05 2004 at 00:09:52
Name: Greg Leslie
Location: Tulsa Town
Comments: Re C.W. McCall...
I was working MOR radio in Ponca City when "Convoy" came out -- I must've heard it a gazillion times. It wasn't until years later that I found out C.W. McCall was not a real person, and that the man behind all the musical accompaniment was Chip Davis, the man who -is- Mannheim Steamroller.
Here's a link:
http://www.techren.net/mccall/legend.shtml

---

July 04 2004 at 17:23:05
Name: Dave
Location: dodging bottle rockets
Comments: Taking a moment here before the Fourth of July gets really cracking to note that I caught an almost forgotten song on the radio the other day -- C.W.McCall's "Convoy." You remember CBs, don't you -- made long obsolete by cell phones.
But "Convoy" was a great piece of work. And I had forgotten its reference to Tulsa:
"By the time we got into Tulsa town
We had eighty-five trucks in all.
But they's a roadblock up on the cloverleaf
And them bears was wall-to-wall.
Yeah them smokies is thick as bugs on a bumper;
They even had a bear in the air!
I says 'callin' all trucks. This here's the duck.
'We about to go a-huntin' bear.'"
And then there was the line about how they "rolled up Interstate 44 like a rocket sled on rails." Wait -- you're having trouble recalling all this? Just go to the site with the lyrics at:
http://www.techren.net/mccall/works/blackbearroad/convoy.shtml
Breaker, 10-4 and all that.

---

July 03 2004 at 13:17:36
Name: Jim Reid
Email: jimreid56 at aol dot com
Location: Dallas
Comments: I can tell you how our V.O. guy works. He has a studio in his home in New Mexico, and we have two 10 minute sessions with him each day, one at noon and one at 4:40pm. We email the copy and speak to him via a two-way ISDN line. He reads the copy and we record it in our Avid editor.
He is in the process of converting to FTP for delivery of the audio, since that will save on the ISDN charges.

---

July 03 2004 at 09:56:13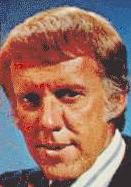 Name: Lee Woodward
Location: Tulsa
Comments: The "passing" parade seems to be with us this week as Marlon Brando joins the list of notables departing this vale.
One of the others (Danny Dark) prompts the following queries:
I never met or knew Danny or remembered his real name. I was familiar with his voice which was one of the premier ones in broadcasting. I once heard that he did everything for "Kraft" products that Ed Herlihy didn't do as well as a ton of other voiceovers.
The other thing I heard was, that early in his career in L.A., he was assaulted and as a result he lost and eye and his face was disfigured. This event then, took him out of a potential TV career and left him to make a tremendous success in voiceover work. Perhaps someone can enlighten us all on the career of this gentleman.
Would I also be correct in saying that Denny Delk is now the premier V.O. man from early Tulsa broadcasting?
Part #3 now. Having heard the same voice that does KOTV's voiceovers---all over the United States and realizing in some cases that he can be working almost in "real-time," who is he and when does he have time for a life?
Hit it!

---

July 03 2004 at 00:25:19
Name: Webmaster
Comments: The closing of Nelson's Buffeteria last week touched off some wailing and gnashing of teeth in the just-archived Guestbook 165.
The Golden Drumstick's previous incarnation as the Casa-Del club was illustrated by a couple of mementos. Two mentions of the original owner of the Drumstick, Bill Latting, were found in a remarkable personal journal (available online), covering Tulsa from pre-statehood to the 1980s. Mitch Latting wrote in about his Uncle Bill and his father, Bob, who hosted a KOTV kiddie show in the 50s while also running the Drumstick.
That recalled The Flying Chicken, a fried chicken delivery service in the mid-50s. Other eateries were named, and Elmo's Grill was remembered in detail by Gary Chew, who also wrote an early review of the controversial film, "Fahrenheit 9/11", for this site.
We learned that, at the 1958 USGA Open in Tulsa, Dave Harmon was a caddy and Lee Woodward was a dandy.
George Tomek acted a key role in "Tube Poker", a short film shot in London recently. Chris Sloan told us that the scientist's workshop in the movie "UHF" was his real-life office at the time.
We were sorry to hear of the passing of Ken Rank and Danny Dark.
The creator of "Tootlevision" in Tulsa, Harry Tootle, threw his headgear into the presidential ring.
Well in advance of the 4th of July, Jim Ruddle got the ball rolling with a dynamite tale from his Tulsa childhood.
There is much more...please check it out in Guestbook 165.

---
Back to Tulsa TV Memories main page