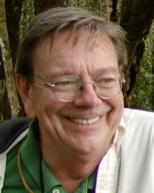 Time: August 13 2003 at 20:29:56
Name: Jim Hartz
Location: Alexandria, VA
Comments: Reading the tornado warning stories, especially Mike Miller's harrowing experience, reminded me of my first reporting on Oklahoma weather. It wasn't nearly as scary but nevertheless amusing years later.

I had just gone to work for KRMG and it was in the same time frame, probably 1959, could have been the same storm. I was in the station's mobile unit, a blue Volkswagen bus, out in Red Fork, where the story that night in that place was not twisters but flooding. This was long before the Keystone Dam was built, so the Arkansas River often widened out downstream in the springtime.

I was driving around Red Fork in a blinding thunderstorm looking for anyone to talk to. Understandably, most people worth interviewing were not out on the streets but hunkered down somewhere. With absolutely nothing to say, except it was raining like Hell and I was driving through a foot or two of water, I was switched on the air for a live report.

I couldn't begin to recreate the first part of the report over 40 years later, but I will never forget the last part. I spotted a figure 50 feet or so ahead, and as I drew nearer I recognized the man as a Tulsa policeman whom I knew. All this time I was carrying on live, very seriously about the conditions in Red Fork. But I was rapidly running out of stuff to say: there is lightning and thunder, it's raining hard, the wind is blowing and the water is rising. I didn't have anything about, or a word from, a human being. The cop was going to be my salvation.

I drove up to him, rolled down the window and shouted through the thunderous din and into the microphone, "What's going on out here!"

He had his hand up to his ear, and when he lowered it I could see a tiny transistor radio. Looking a little puzzled he said, "Hell, Jim, how would I know, I'm listening to you."