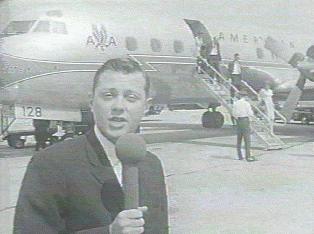 Time: September 05 2003 at 14:37:10
Name: Mike Miller
Location: Still in Vienna, VA, soon Fort Smith
Comments:

Hope I haven't mentioned these before. The better break up efforts I recall occurred during my first job, at KTUL Radio. To refresh my memory, I had written down some episodes for a never-to-be published book. In 1959, when the station was temporarily located in Turley, bloopers were aided and abetted by a building not particularly suited for radio. It was too small and no rooms were soundproofed. Open a mic and Bob Gregory's booming voice, recording commercials in the adjacent studio, was often heard in your headset going out over-the-air.

A couple of years later, when the station was sold, pending FCC approval that took several months, the staff developed a collective "we don't give a sh*t" attitude. Laughter helped break the tension, much like the warden cracking a joke while escorting an inmate to the electric chair. It would be my first exposure to some rather creative efforts to make newscasters "break up" on-the-air.

An effective method was the use of the intercom. The two-way system was normally reserved for off-air talk between newscaster and control room jock, usually during commercials. The main culprits included Gregory, Gary Chew and Les Parsons. Suddenly, in the middle of a newscast, a control room voice would observe: "You're doing a great job, man." Sometimes it was: "wrap it up, you're running long." The intercom chatter worked like a charm, especially on Gregory who would cut his microphone for ten or fifteen seconds while unsuccessfully attempting, to stifle his booming laughter.

Once, while I was reading a newscast, someone opened the back door leading to the cow pasture and carried in a lawn sprinkler placing it on the desk beside my news copy. After the troublemaker departed, the sprinkler started up, drenching me for two or three minutes while I tried to read the news with Cronkite-like authority. Unfortunately, that's the way it was...in Turley.

Truly devilish pranks never failed to accomplish their goal. The control room contained several large, heavy turntables. Sitting on top, only a culprit's head was visible through the glass window into the newsroom. While reading the news, the sight of someone's head revolving slowing (Exorcist-style,) is unnerving, to say the least.

There were a couple more memorable breakups I may submit later.