Tulsa TV Memories GroupBlog 250

TTM main | What's new on TTM? | GB Archive




September 08 2007 at 16:28:04
Name: Webmaster
Topic: Wanda Jackson at the Circle Cinema
Comments:

Met up with Wilhelm Murg at the Circle Cinema last night to see the Wanda Jackson documentary, "The Sweet Lady With The Nasty Voice" (link to poster and Wilhelm's comments below).

Wilhelm is writing her biography. One of the true pioneers and originals of rockabilly, Wanda is finally getting the recognition due her.

She is tiny! I thought I was seeing a Wanda Jackson action figure when I (at 6'7") ran into her in the lobby.

The movie is showing again today and tomorrow at the Circle Cinema.

I had the pleasure of hearing Wanda sing "Cryin' Time" with Elvis Costello at the Cain's in 2005 (article by Matt Gleason on Elvis' site).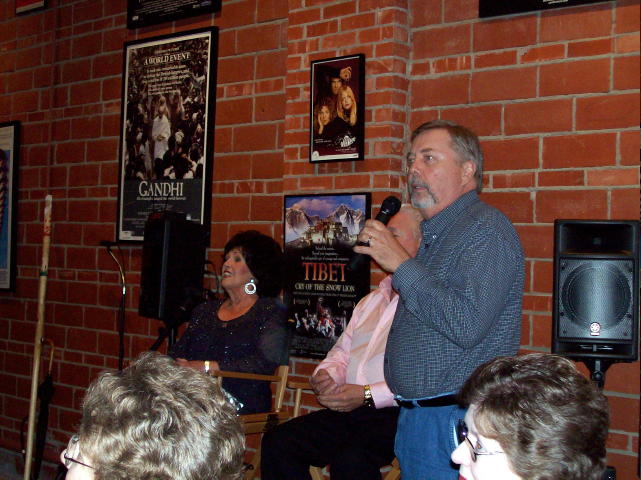 Wanda Jackson, her husband and manager Wendell Goodman, and John Wooley at the Circle Cinema, 9/7/2007
---

September 08 2007 at 15:44:26
Name: Kenny Bolen
Topic: Bells
Email: kwerks@comcast.net
Comments: Just catching up on the site and some news from back home...
I can only say the demise and removal of Bell's, as I have commented before, is a sad note. Not because we wax nostalgia, but a nice feature of Tulsa for many generations. I am not surprised of the noise behind the curtain and find that someone would think a paved, blacktop, and lifeless parking lot could be a monetary alternative than the sound of the click-clack of Zingo and the come one, come all lively atmosphere of an amusement park.

---

September 08 2007 at 12:25:50
Name: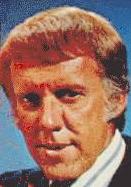 Woody
Topic: Tenors, et al.
Email: leeateasenoncom
Comments: People the world over mourn the passing of Luciano. No, you don't need a last name. He was, a "singularity." Not handsome in every way like Correlli, Not a great actor. He just had the "It Factor." "It," was a voice of singular beauty, perfect diction and an incomparable line from bottom to top. His incomparable technique gave him a viable instrument right into his final days. The other intangible "It" was a personality that absorbed the people he sang to; the obvious love of his craft as he performed and the craftiness to include other musical genres into his performances. In short, he endeared himself to the public and they responded.

One can go to YouTube.Com and find voices of uncanny beauty, some in attractive packages. Some of these could be the next Luciano but they don't' have his economies of talent. There is a tenor named Jose Cura who had it all when he first came on the scene in about 1999; he's about sung himself out. Another extraordinary talent, Rolando Villazon could be the heir, but he, too, goes full out, even with piano rehearsals. Not a recipe for longevity. Other new contenders; Juan Diego Florez; Joseph Calleja. And on it goes, in this..the true "Golden Age" of voices. And not to forget the true "Iron Man" in every aspect of the vocal arts. Placido Domingo.

On that site (YouTube) you can go back and listen to all the Immortals, in every vocal range and the only one who comes close to sharing the admiration and affection from critics and public is, the great Swedish tenor, Jussi Boerling. A great talent laid low at age 47, with the help of alcohol. Not uncommon among all the arts.

It used to be said that Caruso was the "benchmark." It has been proven that the bar is raised every decade or so and there is no doubt that Pavarotti held the mantle for the last two or three.

I still have his first vinyl release LP from 1968. True to vinyl sound and live performance, some the arias still raise the hair on my neck. My ultimate barometer of a contender.

---

September 07 2007 at 17:00:12
Name: Gary Chew
Topic: Talking With Scott Linder
Comments: Hey, Scott. Yes, that's Jack Campbell music for sure. I didn't know Ms. Kerr lives in Switzerland. Loved her sound. I'd buy her re-released stuff. Tell her to tell RCA to get on the stick.

Two other vocal groups come to mind in the context of Jack Campbell: The 4 Freshmen and The Hi-Los. Once, just after moving to Sacramento, I was listening on cable FM here to KJAZ in Alameda, CA, just across the bay from SF. A jazz jock was doing a remote from a bookstore in the North Bay, and in walks Gene Puerling, founder, main arranger and one voice of The Hi-Los. I listened to Puerling talk on the radio for quite a while. I thought I died and gone to heaven. I'm guessing it was in about 1989 or 90 that I heard him on KJAZ---no longer broadcasting, unfortunately.
---

September 07 2007 at 14:52:58
Name: Scott Linder
Topic: Jack Campbell
Comments: To Gary Chew... Yes, I agree that Jack Campbell is gentleman of Tulsa Radio. In addition to Singers Unlimited, I'm sure you share Jack's love of the Anita Kerr Singers. The "Mellow Moods of Love" and "We Dig Mancini" recordings, arranged by Marty Paich were some of Jack's favorites.

I have chatted with Anita via e-mail for several years from her home in Switzerland. She has never been sucessful in persuading RCA to re-release these wonderful recordings. Jack sent me a cassette (remember those?) from his vinyl versions. I restored them and sent him a CD. His discs were in very good shape, except for some noise at the start of cuts due to years of back-cueing!!

By the way, Anita Kerr is 80 this year...
---

September 07 2007 at 13:34:39
Name: Gary Chew
Topic: Pavarotti & Campbell
Comments: No, it's not an old vaudeville act, but two vignettes about two guys who did their thing so well.

First, Luciano. I was listening late last night to Robert Green on Air America's "Clout" off XM Satellite Radio. Green, although a political radio talk show host, was going on about Pavarotti and had this touching story:

Green sat one person away from the great tenor at the funeral of Princess Diana in Westminster Abbey. According to Green, Luciano wept throughout the service. Green then played the entire eulogy given by Princess Di's brother given at the service. Yesterday was the 10th anniversary of her funeral.

Jack Campbell was a guy I used to listen to on my AM car radio dragging main as a teenager in Blackwell, OK. Little did I know that I would later in my life meet Jack and become his friend. As all Tulsans know, KVOO gets into Blackwell pretty good. I even listened to KVOO in Utah once---on my way to where I am now.

Glad to hear Jack and his wife are well. Jack is THE gentleman of Tulsa Broadcasting to my way of thinking.

Jack and I are great fans of the singing group, Singers Unlimited. Cool stuff, just like you'd hear on Sleepwalker's Serenade or my old show on KCMA FM: Midnight Oil.
---

September 07 2007 at 12:38:26
Name: Scott Linder
Topic: Jack Campbell
Comments: To Old Man River, I'm sure you must have been listening to "The Old Sleepwalker" Jack Campbell on KVOO as you did your homework. His theme music at that time was actually a Mancini track...I believe it was "Smoke Rings". In about 1966 this was replaced with a custom theme from PAMS.
Funny, I just spoke with Jack this morning. He and his wife Bobby are still in Tulsa and are doing fine. By the way, Jack turns 80 next year...
Here is the Jack Campbell "Sleepwalkers Serenade" theme of 1966.
---

September 07 2007 at 10:46:55
Name: Old Man River
Topic: KVOO in the day
Comments: Back in the Sixties, when KVOO broadcast the Metropolitan Opera from NYC on Saturday afternoons, and I was in Jr. and Sr. High at East Central ... what a welcome isolated island of culture ... and who was he who played the cool music in the evening, while I did my homework, and he checked in, around about 8 p.m. [?], with "Play Misty For Me"?

---

September 07 2007 at 00:51:39
Name: edwin
Topic: Wanda Jackson
Comments: Wanda laying on top of a heavily pillowed 5 ft. cube. Early 70s. She is singing a song to me... I mean the camera, in a very nasty way. Yep, fine!

---

September 06 2007 at 20:33:03
Name: John Hillis
Topic: Rockabilly Cats and Kittens
Comments: How cool is it that Wanda Jackson is still around hittin' licks?

IIRC, one of the first clients of Tulsa's Jim Halsey, and one of the first country acts to play Vegas regularly.
It's scary (to an old guy) how many great talents of that era have passed recently...and the fact that they lasted this long is a tribute to how gol'dang tough they were/are.

Whenever one of these folks plays a gig or makes an appearance, you owe it to yourself to go see 'em. You may not get another chance in this life.

---

September 06 2007 at 19:10:27
Name: David Batterson
Topic: Names of shows
Email: davidbat(at)yahoo(dot)com
Comments: Mike Bruchas wrote: "In OK they still have 1950s names for talking head shows like Green Country Perspectives? Why not just The Sam Jones Show?"

Well, why wasn't it called the Johnny Carson Show? [It was "The Tonight Show, Starring Johnny Carson"] Why? Because NBC owns the "Tonight Show" name. They don't call it The Jay Leno Show, either. ;-) It was never "The Matt Lauer and Katie Couric Show"; it's "Today" always.

I think the use of the host's name is way overdone. Oprah even calls her magazine "O" and puts her face on the covers. She calls it branding; I call it egomaniacal behavior that she probably learned from Trump.

---

September 06 2007 at 17:59:38
Name: Mike Bruchas
Topic: This Guy Atchley guy
Comments: ...became a grandfather for the first time on Aug. 22. Has a grandson named Paden Jay Good. You say, what kinda name is Paden? It don't sound "Okie"! Per Grandpa Atchley, it was the name of Kevin Kline's character in the movie, "Silverado". Guy's daughter and hubby liked that movie, a lot.
---

September 06 2007 at 14:51:51
Name: Wilhelm Murg
Topic: THE SWEET LADY WITH THE NASTY VOICE
Email: Wilhelmurg at yahoo dot com
Comments: Tomorrow night Wanda Jackson will speak between the 7 & 9 PM showings of her new documentary about her life, THE SWEET LADY WITH THE NASTY VOICE at The Circle Cinema. This is part of The Circle's Centennial series. As her biographer, I'll be there and I hope everyone comes out to meet Oklahoma's Queen of Rockabilly.

I've seen clips of the film and it is truly stunning to see the likes of Bruce Springsteen, Elvis Costello, and Lemmy Kilmister give their testimony to the greatness of Wanda. As I understand it, Lemmy was just standing in a waiting room when the filmmakers saw him and asked him to a short interview right then and there, and he spoke eloquently on what an influence she was one him.

How far back into rock'n'roll does Wanda go? She dated Elvis while he was still signed to Sun Records! And The Cramps appear on one of her latest releases.

There will be additional showings on Saturday at 4:30 and 8:30 PM, and on Sunday at 7:00 PM.

For more information on the film visit circlecinema.com and for more information on Wanda, visit WandaJackson.com.
---

September 06 2007 at 12:47:45
Name: Mike Bruchas
Topic: Pavarotti is dead
Comments: He died of cancer in Modena, Italy, his home town. I thought he looked bad but sounded great at the last Winter Olympics opening ceremonies.

He, Carreras and Domingo were all faves of my late Dad. It's funny how so many folks who grew up in the pre-TV era got so much culture from radio. My Dad, a middle-class photoengraver who had never attended college, was a fan of opera. Whenever PBS was fund-raising with opera on WTTW in Chicago, he would send a small check in. VHS and DVDs of Pavarotti were a favorite Xmas gift to him.

Pavarotti has a tie to OKC; don't know about if he ever made it to Tulsa. He performed in OKC in the early 80's to fund raise for the Oklahoma Heart Institute at Baptist Hospital. Somehow the late Dr. Christian Bernard was also part of this. Mary Ruth Carleton, who was anchoring at KOCO, was Pavarotti's escort for some of the OKC social activities.

I am sure Ed Dumit and Gary Chew might have some more commentary on this star.

---

September 06 2007 at 11:33:44
Name: buck
Topic: OKC pic
Comments: I liked the pic of Amy McRee and friends from OKC Does anyone have any similar pics of some of the lovely Tulsa news ladies?

---

September 06 2007 at 08:49:11
Name: Bryan Crain
Topic: Sam Jones
Comments: To answer Mike's question...
Perspectives, now Green Country Perspectives, was already in existence before Sam was hired to host this season. (and for the record I didn't name the show....I was just passing along the information).

---

September 05 2007 at 18:58:03
Name: Mike Bruchas
Topic: Why is it?
Comments: In OK they still have 1950s names for talking head shows like Green Country Perspectives? Why not just The Sam Jones Show?

---

September 05 2007 at 12:07:12
Name:
Bryan Crain
Topic: Sam Jones is back
Comments: Join RSU Public Television for a new season of "Green Country Perspectives with Sam Jones" (second season, but first with Sam) every Friday night from 8:30 – 9:00 with repeats on Sunday at 6:30 PM and again on Wednesday at 1:00 PM.

RSU Public Television can be seen on UHF Channel 35, COX Cable 19 and Satellite Channel 35.






---

September 04 2007 at 16:30:10
Name: Mike Bruchas
Topic: MDAA Telethon
Comments: A person who contributes to this site and like me, worked many an MDAA telethon at different stations in our broadcast lives, said:

"One of these days, Jerry will just die on the air and the viewing public will send in so much money - Muscular Dystrophy will be cured".

Except he said that about 10 years ago and Jerry is still doin' it!

Going back to KTUL daze and at KOCO, I worked MDAA, Easter Seals, UCP and the old Kanchi Arts Council telethons when in OK. Even did Low Rawls UNCF telethons. Once live with local cut-ins and twice with Lou and entertainment on tape but live studio phone banks.

---

September 04 2007 at 07:37:21
Name: Ken Harwood
Topic: Jerry Lewis Stumbles
Comments: Mike, we did our part and tuned in from time to time throughout the day.

One time proved to be quite enlightening, however. As Jerry was kibitzing with the audience, showing great energy clowning around, he let the "f-word" slip. No, not THAT "f-word." It was the one for a homosexual.

Unbelieving of my own ears, we hit the rewind on TiVo and, yep, that's what he said. It was only a matter of time before it was up on the Web, and here is a story and video link.

This is what you get when a tired octogenarian who often has "worked blue" is set free for too long.

---

September 03 2007 at 11:07:13
Name: Mike Bruchas
Topic: MDAA
Email: funsky1atyahoodotcom
Comments: Have you done your share and watched some of this Labor Day event?

I haven't but local firefighters at intersections have gotten about $6 in change from me. This week they give you a peel-off sticker to put on the non-mirrored side of your left car mirror - it says you have given.

---

September 02 2007 at 13:22:44
Name: David Batterson
Topic: Great Moments
Email: davidbat(at)yahoo(dot)com
Comments: Don't forget "Tulsa" (1949) starring Susan Hayward and Robert Preston. With the ongoing battle for oil money in Iraq, it would be fun to see a remake of this movie with its clash between ranchers and oil drillers.

---

September 01 2007 at 19:49:06
Name: Old Movie Buff
Topic: Great Moments in Television
Comments: According to the current TULSA WORLD's "TV World" supplement, one might enjoy, as we speak: "Red River" (1948 Western) John Wayne. A cattle baron and his foster son argue on the Chisholm Trail.

(I kid you not. As Casey Stengel said, "You could look it up".)

Followed by: "Red River 2" (1949 Western) Ronald Reagan. A cattle baron and his foster son litigate in Chisholm Trial Small Claims Court.

And, to complete your viewing pleasure: "Red River 3: Texas Delta Force" (2007 Western) Chuck Norris. A newly reconciled cattle baron and his foster son unite to kick-box Iran into oblivion.

VIEWER DISCRETION ADVISED!
---

August 31 2007 at 17:42:02
Name: DolfanBob
Topic: Bell's
Email: MiamiPhin@yahoo.com
Comments: I had not thought about the Murphy Brothers connection until I saw Terry Hood's report. I went to school with Jerry Murphy's son and that was back in the 70s and let me just say that even back then, that family business was a cash cow and and it has to be fed. He had the best of everything a High School kid could want. So I am pretty sure that if the parking lot and the loss of Bell's was going to help the family bottom line, then well Dad'll do it!

I did not know that Big Splash was owned by the Murphy family, That alone makes me glad that after all these years I have never been there.

Just like the Tulsa City council has a few crooked members, I can see the same in the Tulsa County Fair board.

Crush memories, count your cash and sleep well at night. Your wonderful Tulsa citizens.

---

August 31 2007 at 12:44:25
Name: Terri
Topic: Bell's
Comments: Ahh...memories of the kiddie rides of yore - the trikes with clown faces w/ light up noses, the airplanes atop Bell's concession stand, the Alley Oop. That does it! No fair tickets this year, nosiree!

---

August 31 2007 at 12:39:58
Name: Erick
Topic: Main Mall
Email: ericktul@yahoo.com
Comments: The Main Mall is gone, but that was a ghost town for the past 10 years. Very few businesses open, and almost all of them were restuarants that catered to the lunch crowds and closed at 3pm. The city didn't really have much choice but to reopen those streets to auto traffic.

---

August 31 2007 at 10:38:19
Name: John P. Lock
Topic: Der Wienerschnizel
Email: jplock29@swbell.net
Comments: I remember when the Wienerschnizel open new east of the promenade on 41st st. The manager apparently was trying to make an impression on some one. He was screaming orders at his help, they acted as if they had already had all they wanted from him and was about ready to walk out.

---

August 31 2007 at 10:06:40
Name: David Bagsby
Topic: Bell's
Email: deeceebeeatsunflowerdotcom
Comments: Thanks for posting that link to Channel 6 Bell's investigation. I add my lament to the passing of this great landmark and part of so many folks' life. I hope a money community like Jenks, Broken Arrow or another will pick them up just like the Aquarium. Isn't the Main Mall gone now also? What's happening in Tulsa? I hope the water supply hasn't been tampered with.

---

August 31 2007 at 08:17:12
Name: Dana LeMoine
Topic: Bell's/Unfair Board
Email: d4wdwatvalornet.com
Comments: Here is the link to the video of KOTV's Bell's investigation report.

http://www.kotv.com/e-clips/?id=8162



Best comprehensive report I've seen. Terry Hood really laid it out.
---

August 31 2007 at 08:03:11
Name: Rick Clark
Topic: Bell's/KOTV
Email: clarkrick@yahoo.com
Comments: I`d like to give a tip of my Stetson to Channel 6 for their investigation into the Tulsa County (un)Fairboard's behavior to the Bell family and apparent sweetheart deal with Murphy Attractions.

---

August 30 2007 at 12:50:44
Name: David Batterson
Topic: U.N.C.L.E. movie
Email: davidbat(at)yahoo(dot)com
Comments: I looked up "The Spy With My Face" in IMDb.com, as I never saw the movie. It was directed by the prolific TV director John Newland, who directed episodes of such shows as "Police Woman," "Fantasy Island," "The Next Step Beyond," "Harry O," "Hawaii Five-O," "Daniel Boone," "Thriller" (TTM) and many many others.



John Newland was also the director and on-screen host of "One Step Beyond" (IMDb), 1959-61.
---

August 29 2007 at 17:36:34
Name: Dave Jones (of KRAV/KTEW/KTBO/KTUL fame)
Topic: Lew Brown
Comments: R.L. Bullock sent me the news about Lew. We all certainly owe a lot to Lew. I pretty much owe him my whole TV engineering career. He was willing to move me out of operations into engineering as a very green kid in TV and I learned a lot from him.

---

August 28 2007 at 13:55:15
Name: Webmaster
Topic: U.N.C.L.E. movie
Comments:

Probably my favorite episode of "The Man From U.N.C.L.E." is "The Double Affair" (TTM). It was made into a theatrically-released movie with extra, slightly less G-rated footage: "The Spy With My Face".
---

August 28 2007 at 01:46:21
Name: Rick Brashear
Topic: Der Wienerwhatever
Email: lids@schnitzel.dog
Comments: Seems to me I posted on here about Der Wienerschnitzel and the 'dogs' they offered for sale, and the big bust later on. But, I'm not sure that I did. If the Webmeister can find the post, let me know. Schnitzel was one fun happening place. I met the president of the Hell's Angels there, Sonny Barger. There are tales to tell that would make you crawl back into the womb.



Rick, you mentioned Der Wienerschnitzel in GB 225, GB 232, and GB 237, and worthwhile mentions they were.
---

August 25 2007 at 17:43:33
Name:
Webmaster
Topic: "Tomorrow" with Tom Snyder
Comments:

I found this by way of FamilyFirst.com: TechRepublic.com is featuring a 1976 "Tomorrow" show with Tom Snyder interviewing original "Star Trek" cast members and writer Harlan Ellison. As usual, Ellison is abrasive and insulting (and entertaining), but he makes some valid points about SF on TV, as do the other guests.

Here is part 1. The other 4 parts are linked from the TechRepublic site.
---

August 24 2007 at 18:15:49
Name: edwin
Topic: Der Wienerwhatever
Email: sure
Comments: The weeny stand on Peoria sold dope when the rite people were there.....cool....at that time about the same size as a "dog".

---

August 24 2007 at 12:07:53
Name: Joe
Topic: Harmons
Email: joetul Cox
Comments: Harmons was indeed a HoJos. We used to go there on Friday nights when I was a kid for Clam Rolls.

---

August 24 2007 at 11:27:09
Name: Steve Bagsby
Topic: Eateries
Comments: Anybody remember a place on Admiral called Harmans Restaurant? It was West of Sheridan next to Admiral State Bank. Seemed like the building had a "Howard Johnsons" style and I always wondered if it had been one at some point. They used to run spots on Billy Parkers midnight show touting the "He-Man Breakfast". It sounded good, but also sounded like you wouldn't have to eat for several days afterwards.

Also, on the other side of the bank was Red's Hamburgers. I know they moved to Skiatook many years ago, but wondered if they were still open or not.

---

August 23 2007 at 16:05:25
Name: Joyce
Topic: Rainy Rock Cove
Comments: When I was a pre-teen, I went with a group of friends to explore a large cave outside Tulsa. I think it might have been near Sand Springs.

Painted across the back of the cave were the words "Rainy Rock Cove" and a date of 1940 something (I'm not clear on the date exactly.)

I only remember the date was there because one of the guys in our group claimed to have named the cave and spray-painted the words on the wall, but we could clearly see the date was way before he was ever born.

---

August 22 2007 at 15:19:34
Name: John P. Lock
Topic: Fraidy Hole
Email: jplock29atswbell.net
Comments: Fraidy Hole goes back further than Don Woods. I am 78 years old and I can remember the older people call as such when I was a little boy.

---

August 22 2007 at 08:48:27
Name: Steve Smith
Topic: Bell's and Tastee-Freez
Email: esskayess@hotmail.com
Comments: Greetings from the Seattle area. Been years since I was in here; glad this site has been in such good hands. I wish I could say the same for Bell's, which I had hoped to visit during my first trip to Tulsa in 4 years. I was given the sad news when I arrived 3 weeks ago and a visit to the site confirmed the ugly truth. That park was such a wonderful part of my Tulsa years (the rides, the mini-golf, the arcade). I hope it re-opens elsewhere, but it won't be the same.

Also sad to hear about the last Tulsa Tastee-Freez's demise. The T-F franchise was actually purchased by the corporation that owns Wienerschnitzel in 2003 (Remember those triangular hot dog stands? A couple of the Tulsa locations became "Biscuits Plus" for a while in the eighties and one was near Bell's at 21st and Harvard.). They have opened new restaurants in several states that sell both Wienerschnitzel and Tastee-Freez products, including one about 15 miles from my home. Here are the Wikipedia and T-F links:

http://en.wikipedia.org/wiki/Tastee-Freez

http://www.tastee-freez.com

Despite my sadness over Bell's, it was great to see Tulsa again and feast on local food from Coney I-Lander, Ike's Chili, Rib Crib and Weber's Root Beer. I don't know if I'll make it back again, but if I don't, this website will be the next best thing. Many thanks to all those who do so much to keep it going. Take care!



Welcome back, Steve! We just learned that KOTV's morning co-anchor, Casey Norton, is moving up to KOMO in Seattle as the weekend news anchor next month. We enjoyed his years here in Tulsa; I think you'll like him, too.
---

August 22 2007 at 08:32:32
Name: John P. Lock
Topic: jplock29at swbell.net
Comments: Back in the early days of TV we took our son and friends to a kid's show at Channel 8. Sitting in the lobby waiting to go into show, Don Woods came walking thru. One of his little friends was amazed. He said, how did he get out of that television set?

---

August 21 2007 at 16:35:35
Name: DolfanBob
Topic: Casey Norton
Email: MiamiPhin@yahoo.com
Comments: Oops, sorry, guys. A few GroupBlogs back, I reported that I had heard that Casey Norton was going to Dallas. I got my information from a sales rep at KOTV who I guess should stick to sales and not breaking news.



The Tulsa World reported that Casey is moving to Seattle.
---

August 21 2007 at 14:15:29
Name: Erick
Topic: Six In the Morning
Email: ericktul@yahoo.com
Comments: I just read on the Tulsa World's website that Rich Lenz will become the new co-anchor of KOTV's Six In the Morning on September 10th. He replaces Casey Norton, who is joining the ABC affiliate in Seattle.

Rich Lenz comes to Tulsa from a long stint doing news and sports in New Orleans. His home was flooded during Hurricane Katrina. But, Rich also anchored sports for a few years at KWTV in OKC, so it's a homecoming of sorts, especially when you consider that KOTV and KWTV are both owned by Griffin Communications.

Rich actually interviewed me once after a high school football game in which I caught 3 touchdown passes. Not sure if that interview ever made air...

---

August 21 2007 at 14:02:47
Name: Erick
Topic: Gary England
Email: ericktul@yahoo.com
Comments: Mike, you might be referring to Amy McRee (blonde gal-middle) and Kelly Ogle (one of 3 sons of Jack Ogle anchoring newscasts in OKC) as the anchors appearing with Gary England.



Several "Ogles" in your entry.
---

August 20 2007 at 22:08:28
Name: Mike Bruchas
Topic: 6 degrees of separation
Comments: I am digitizing more video tonight from a Nat Geo tornado show, tentatively titled, OPERATION TORNADO. It's of Gary England in HD from maybe 3 years ago at 9 in the studio during and behind the scenes of a weather seg on the news. To those in the biz, it is always interesting to see what is happening behind the camera during a live newscast. The choreography in a crowded studio.

I didn't know the anchors with him, some big guy who looks the late Bill Pitcock but with football jock hairstyle and some blonde gal.

---

August 20 2007 at 19:10:45
Name: Mike Bruchas
Topic: Darryl Barton, aka Bart
Comments: Long time OKC Channel 4 (in the Gaylord days) and CBS/NBC free-lance shooter Darryl Barton is profiled in the National Press Photographer Magazine this month.

Though claiming to be retired in Guthrie and operating a farm vegetable business with his wife, he is still one of Oklahoma's gifts to TV News. He shot film and video and won 2 national NPPA Photographer of the Year awards at Ch.4. Maybe only 6 or 7 other men and women in the country have done that. He was a photog who was also a great producer.

I interviewed with him in maybe 1977 for a photog job at KTVY-TV. He just wanted to know - "could I tell a story with pictures?". I said yes. But about 12 other better shooters than I also applied. They had better reels - I had hardly anything to show.

I have found over the years that I will always be a better editor than shooter.

But Darryl Barton and the retired but equally great Carlos Hernandez will always be some of the best "shooters" to have come out of OK!

---

August 19 2007 at 15:48:13
Name: Webmaster
Topic: Roundup of TTM-related articles in the Tulsa World today
Comments:

In today's Tulsa World: Zany Zaller: Beef Baloney alum still earning yucks on National Lampoon's 'Zaz'. Here is TTM's Beef Baloney page.

Booknotes: Zeb's latest children's book puts young readers into the cockpit.

The way we were: The colorful history of Tulsa, in historic black-and-white.

Tulsa Oiler baseball--when life was simple.
---

August 18 2007 at 11:03:26
Name: Webmaster
Topic: Previous GroupBlog summary
Comments:

Archived GroupBlog 249...
---
Back to Tulsa TV Memories main page