Tulsa TV Memories GroupBlog 252

TTM main | What's new on TTM? | GB Archive




September 24 2007 at 19:46:30
Name: John Hillis
Topic: Game Show Angst
Comments: Anything to keep from writing on my book, which I swear will be done, one way or another, by year end.

10 years ago come January, my daughter was a contestant on Jeopardy, high school tournament. After tryouts in New York, she was flown to LA and boarded at Merv Griffin's Beverly Hilton, and just being in the audience was the most nerve-wracking experience I can recall. For me.

She was cool as a cucumber, and won the first game. Some of the other contestants got the yips, including one poor kid who just fell apart off-camera.

Doing something like that in the studio setting, as opposed to sitting in the living room and popping off the answers, is the difference between landing the 747 in Flight Simulator and doing it for real...if you crash the real thing, everybody's going to hear about it.

She wound up with some cash, a collection of obscure promotional gifts (no Rice-a-Roni, the San Francisco treat), an autographed photo with Alex Trebek, and the knowledge that, no matter what else she achieves in life, she'll be an ex-Jeopardy contestant.

So, Webmaster, you can anticipate your obituary headline: Mike Ransom, was "Phone a Friend" on "Millionaire."



John, congratulations on your daughter doing so well on the show.

I do great on Jeopardy at home, but the freedom to occasionally blurt out a boneheaded answer lets me unload a lot of good answers, too. If I were playing the game for real, I'm afraid I would censor myself too much. But then again, I blurted out my answer on "Millionaire" before I heard the choices, so maybe not.

I tried out for Jeopardy in L.A. in 1994. (I had a whole slate of activities lined up for that trip.) There were about 60 candidates taking the written test in the studio the day I was there. It was hard. Seems like there were about 40-50 questions, no multiple choice, and no hints implicit in the questions, as is often the case on the air. You either knew it or you didn't. I would estimate that I got maybe half the questions right. Sadly, my best effort wasn't good enough that day. I understand they interviewed the top couple of scorers to make sure they were adequately telegenic. Then they went into the pool of future contestants.

All of us watched a taping of the show while we were there. (I noticed the "Wheel of Fortune" wheel crated up and leaning against the wall outside the studio. Merv's company taped the shows in that same Culver City Sony studio on alternate weeks, I believe.) I can well imagine that with the "missile launch" atmosphere on the Jeopardy set, playing the game up there would be a little different than sitting in front of the tube, eating Chee-tos.

We'll be looking forward to that book of yours. I can't say I'm looking forward to the fine headline you prophesy.
---

September 24 2007 at 10:44:41
Name: J. LeMoine
Topic: Marcel Marceau, Adieu
Email: ok_lemoineatyahoodotcom
Comments: Just wanted to share this, received this morning from my co-worker here at the code mines, re the passing of Bip:

He was a great artist, who unfortunately inspired a bunch of really bad and annoying street artists. Interesting fact, he was Jewish and a member of the French Resistance during WWII.

Still he was a mime so...

If the Germans had caught him during WWII, would they have told him, "Ve heff vays of making you talk?"

And would everyone have appreciated the irony?

Should we have a moment of silence or of loudness for him?

Did he go quietly?

Can we say he's finally perfected the "mime in a box" routine?


---

September 23 2007 at 23:19:09
Name: Jim Reid
Topic: Re: Wienerschnitzel, Der
Comments: Better hurry down. I used to know of about 7 locations here. Now there's only 2 left. Still the same watery chili though.....ymmmmm.

---

September 23 2007 at 18:39:01
Name: David Batterson
Topic: Mrs. Olson
Email: davidbat(at)yahoo(dot)com
Comments: According to imdb.com, Virginia Christine, aka Mrs. Olson, did not appear in "North by Northwest." But she did play a supporting role in "Guess Who's Coming to Dinner." And let's not forget her role as "Eva Oster" in the American classic, "Billy the Kid versus Dracula."



That's right, she didn't appear in "NNW". However, Maudie Prickett did, and in this movie, she looks like Mrs. Olson after a bad pot of Folger's. Her name was no doubt the inspiration for Jonathan Winters' "Maudie Frickert" character, who was the model for Johnny Carson's "Aunt Blabby".
---

September 23 2007 at 17:37:04
Name: Scott Linder
Topic: Dream Job
Comments: I always wanted to be Marcel Marceau's audio engineer. What a dream job...

---

September 23 2007 at 17:03:22
Name: Rick Brashear
Topic: Re: Wienerschnitzel, Der
Email: We've got lumps of it 'round the back.
Comments: I'll be sure and drive to Texas for a lips/ears/snout dog. Actually, I really did like Der Wienerschnitzel. The Kraut Dogs and Polish sandwiches kept me alive during high school while at Hale. I went to the one on Sheridan for lunch and, on weekends, the one on Peoria for dessert, though I don't remember ordering any food there.

As Marcel Marceau once said in a public service announcement, "A mime is a terrible thing to waste."

---

September 23 2007 at 16:18:07
Name: John
Topic: Crown Auto World
Email: jssok99@hotmail.com
Comments: I've asked before, but thought I'd try again. Does anyone have a copy of one of the radio commercials for Crown Auto World with "and Sam's is still next door"?

Just thought I'd ask...

---

September 23 2007 at 14:07:50
Name: Webmaster
Topic: Mrs. Olson revisited
Comments:

In GB 242, Lionel pointed a paw at 1960s Folger's coffee spokeswoman Mrs. Olson as having doubled as a Nazi spy.

I was just watching the Hitchcock thriller, "North by Northwest", with Cary Grant. There is a housekeeper resembling Mrs. Olson who pulls a gun on the hero. Could she be the proper target of Lionel's "J'accuse!"?
---

September 23 2007 at 13:10:44
Name: Ken
Topic: Marcel Marceau
Comments: His last words were reported to be " ".

---

September 23 2007 at 10:42:59
Name: Gary Chew
Topic: Marcel Marceau
Comments: With sadness, I noted this morning the passing of the great French mime, Marcel Marceau. His death brought back to me a bit of trivia. So if you'll please turn to the program schedule page of one of your very early issues of the KWGS Program Guide (after NPR affiliation) observe the overnight title for hours KWGS was off air---back in the days when some broadcast stations actually signed off and then, back on at about 5 am or so.

That segment from about midnight to 6 am on KWGS was then called "The Marcel Marceau Mime Theater of the Air."

Dead air for us, then...but as a friend noted to me this morning, insofar as Marceau is concerned, "He spoke volumes."

---

September 22 2007 at 04:42:47
Name: Stacy Richardson
Topic: Wienerschnitzel, Der
Email: stacyr at usa dot net
Comments: If the photo of 21st and Harvard is looking north on Harvard, then the Der Wienerschnitzel -- which hadn't been built at the time that photograph was taken -- would eventually be located on the north side of 21st, to the east of the DX station, which eventually became Jack-in-the-Box, then Apple's, then Arby's.

An addendum to the Wienerschnitzel web site discussion: you don't have to go to California to get one of their hot dogs. The Dallas-Fort Worth area will do fine, with many locations available, the nearest probably being the ones in Allen or Denton.

---

September 21 2007 at 19:24:39
Name: Mike Bruchas
Topic: Tale of 2 Cal's
Comments: I did something at KOTV with Cal Tinney on a morning show a bazillion years ago; can't remember anything at all. I think Buddy Allison alternately chuckled and groaned on headset. Also worked a few times in DC with Cal Thomas, a "conservative values commentator".

Tangent: are they running CDC PSA radio spots talking about Flu Pandemic Preparation in the home?? After 6pm, they air almost on the hour in DC. Not to get a bit fearful, but... Get thee thy flu shots early, folks.

---

September 21 2007 at 14:35:41
Name: David Bagsby
Topic: Phone
Email: deeceebeeatsunflowerdotcom
Comments: Sounds like our humble webmeister needs to sign up as a phone friend for the show "Cash Cab"...just be sure to get your cut.



That's a fun show.
---

September 21 2007 at 11:10:54
Name: Webmaster
Topic: Linda Soundtrak video!
Email: Linda Soundtrak's: adsthatwork at charter dot net
Comments: I just got this email from Linda (Verin) Soundtrak:

"For those of you that asked - and most of you that didn't. Finally I'm on YouTube. A former ad manager put us on; he plays the doctor."

The manager is Dwayne Helt in KOCO TV Sales, OKC. Check out that 1986 50" projection TV. And the prices.




3 Linda Soundtrak commercials. More TTM video in the Photo/video briefcase.
---

September 21 2007 at 08:56:25
Name: Lowell Burch
Topic: $1,000,000
Comments: I happened to turn on "Who Wants To Be a Millionaire?" and wondered who I would use as my friend for the Lifeline. Prof. Webmaster easily made my short list. Then, the very next day, I read right here on TTM that he will be playing that very part for a real contestant! Pretty cool.

I once went to audition for the show and they cut the line off right before I walked in. I said, "Hey, at least give me a cap!" I am now a proud owner of a "Who Wants To Be a Millionaire?" baseball cap. Almost as good as $1,000,000.

This is the year that both OU and TU could go perfect seasons - except that they play each other! I'm guessing the Sooner's defense will slow down the Hurricane offense just enough to pull out the win - but it won't be easy.

Tulsa teacher Brenda Cox calls the TTM webmaster, Mike Ransom, for the $8,000 question on "Who Wants to Be A Millionaire?". Aired 1/7/2008, taped 8/8/2007.
Webmaster: No cap for me, just the lingering memory of Meredith Vieira's dulcet tones.

At 9:20 am on the designated day, a representative of a third-party outfit got me and the 4 other phone friends on a conference call (I was scheduled off work that weekday). He confirmed that we were who we were supposed to be, that we hadn't participated within the last 6 months, and that we would be at this landline phone number until 6:30 pm.

The third-party guy said that when our contestant was on the hot seat, we would receive a call to alert us. The next call would be from Meredith Vieira.

I got the hot seat call about 3:15 pm. Meredith called 5 or 10 minutes later.

After I gave my answer and the 30 seconds were up, the call ended abruptly. My contestant was sworn to secrecy about the outcome. I don't know anything myself, other than the dollar level she was at when I got the call.

I was amazed at how stressful it was waiting for the phone to ring. I was hardly nervous at all when I was interviewed at OETA for "Tulsa Times" earlier this year. It must be the uncertainty of when the call is to come.

Fun in retrospect, but I don't plan to make a career of phone-friending. I'll mention it when I know the exact date the episode will be aired.
---

September 20 2007 at 16:01:20
Name: Jim Ruddle
Topic: Language
Email: jruddle@earthlink.net
Comments: Re: Native tongues

Down around Haileyville and Hartshorne, English was the first casualty.



Ha, ha!
---

September 20 2007 at 15:38:53
Name: Mike Bruchas
Topic: Native Tongues
Comments: Tangent - per my employer - the National Geographic with new international studies being done - many of the world's indigenous languages are fast disappearing. And OKLAHOMA is the place in the whole U.S. where native tongues are being lost the fastest. Very sad.

---

September 20 2007 at 09:48:31
Name: Webmaster
Topic: Camelot Inn update
Comments:

The latest news about the Camelot on KOTV's web site: Hotel Fire Remains Under Investigation. As stated in the story, the Camelot is being demolished and a QuikTrip, among other developments, will be built there.
---

September 19 2007 at 16:38:58
Name: Kristi Stewart
Topic: Good Ole' Summer Memories
Email: ok-kid@rogers.com
Comments: To continue with the comments that the webmaster made a few days ago about Summer 2007 nearing its end and enjoying the special venues TULSA has to offer...

I'm certainly glad I took time out last summer when back in T-town visiting to take my 12 year old son to BELL's! WOW! What a great time we had! We darn near rode every ride...including the Himalaya (one of my favorites as a teenage girl on a date-- you get Real close to your fella.)

We got drenched on the log ride and of course we couldn't pass up my all time favorite - ZINGO! For some reason.. I felt compelled to ride ZINGO over and over again (5 times to be exact.) I guess I felt deep down inside it might be the last time I would. And, unfortunately, it was. (And, YES, my son and I both had our arms raised high into the air!)

I still remember the smell of cotton candy spilling into the air and the smiles on everyone's faces as they lined up to ride "one more time." My son and I went to Bell's the following night as well. This time, we brought my 80 year old Father and my Mom who was recovering from a stroke. Nice to see the memories flash across their faces and spend ONE more night at Bell's as a family!

Thanks Tulsa and Bell's for some great childhood Summer memories!

---

September 19 2007 at 15:02:03
Name: David Bagsby
Topic: Dial-A-Pile
Email: deeceebeeatsunflowerdotcom
Comments: The only joke I can recall from Cal's 'Dial-A-Smile' was something about a shotgun wedding and the groom asking the angry father-of-the-bride to be careful with his shotgun and the dad replying: "Boy, I ain't aiming to please".

---

September 19 2007 at 13:32:28
Name: Lowell Burch
Topic: Wanda Jackson
Comments: I am sorry I missed the Circle Cinema event with Wanda Jackson. About 25 years ago she started doing country gospel concerts in churches. I heard gossip that she was performing in the churches "just for the money". I soon found out that was not at all true.

Back then, several churches south of OKC put on an event and they asked Wanda to sing. They invited my wife, Susan, and me to do some music, too.

Of course, Wanda did a great job and the capacity crowd loved her. After it was over, Wendell, her husband/manager stopped me and told me he had a "bone to pick" with me. This made me nervous but I stepped into his rig to talk things over. Wanda was there and they handed me the check that had given her for the evening's performance. She had endorsed it and wanted us to have it. Wendell asked me not to mention it to anyone and I never have, until now.

However, over the years I have made it a point to tell people that she is not only a talented performer but a very genuine individual. Her gift to us was a heart-felt, and much appreciated, act of generosity.

Later, Wendell called and asked us to go to Colorado to do some concerts with them there. We hated that we were already booked but eventually we did get to do two or three more church events with them.



Thanks to Wilhelm, Gaye and I sat down and talked with Wendell, then Wanda for awhile after the movie. (It was like continuing the movie in real life.) Wendell is a super-sharp character (he was once an IBM programmer/supervisor), and funny, too. Wanda is just as she appears on-screen, a genuine person, as Lowell said.
---

September 19 2007 at 10:09:08
Name: edwin
Topic: Cal Tinney
Comments: Did several "Will Rogers" programs with Cal back in '74. He wanted to take it on tour with me as THE roady, but, as I always did, declined. Roadies are a strange bunch and while some may think me strange, I'm nowhere near roady strange!

---

September 19 2007 at 07:42:49
Name: Beverly
Topic: Camelot Hotel
Comments: I think the Camelot Hotel was built in the 60s. I just remember that it was always there and I thought it was the most beautiful, unusual place. My very best memory was meeting Donny Osmond there in 1972 and having my picture taken with him. That was this 13 year-old's dream come true...in 1972 anyway.

---

September 19 2007 at 04:50:15
Name: Phil Cook
Topic: Gailard Sartain
Comments: In the Nathan Hale High School locker room, 1974-75.

One day a new machine was discovered in the locker room, it was a ZIMI machine, ZIMIs were frozen, flavored slush drinks dispensed in paper cups that dropped down. It wasn't a bad product. The neat thing about it was after your ZIMI was made you could hear a voice inside the machine. Keep in mind this was the 70s. Recreational self-medication was popular, so a talking beverage dispenser raised an eyebrow for several reasons.

It was a recording of the one and only G Ailard S Artain! With each ZIMI you got a joke or funny story. He also maintained a dial-a-joke phone line for a while. It was kind of OK but, he never finished the joke due to his own laughter.

Also back then was another dial-a-joke guy named Cal Tinney. He was a Will Rogers type, with folksy wisdom. Ahh ZIMIs - Good times...



I checked with Mr. S. on this, and indeed he did a laughtrack for ZIMI:



"...the only thing that I remember doing was recording a two minute, straight laugh track for the ad agency that handled the Zimi Corporation. That's all they wanted - there were no jokes. You put in your money, you got your Zimi and you got me laughing hysterically."


But he doesn't recall doing any flavor of "dial-a-joke":



"It sounds totally foreign to anything I would have done."


Periodically in the 80s, I also called the Cal "Dial-A-Smile" Tinney phone number to hear several of Cal's corny jokes. He always added his own chuckles after each joke, but he did finish the jokes.
---

September 19 2007 at 01:09:17
Name: Jeff
Topic: Camelot Hotel
Comments: Does anyone know the history of the Camelot Hotel: when was it built, what were the heyday years, why did it decline and when?



The Tulsa World printed a history of the Camelot last week: "Day of wrecking".
---

September 18 2007 at 18:55:35
Name: John Hillis
Topic: Now You've Done It
Comments: OK, now I've got a Japanese Astrud Gilberto eating a cellophane-wrapped vending machine hot dog with a Swedish duo named after the ex-Surgeon General.

Sounds like the storyboard for one of those sleep pill commercials about how your weird dreams miss you.

Catchy tune, but I still don't feel like I'm wearing PF Flyers...I feel like a cranky, arthritic, 50-something, who is about 1,900 miles from the nearest Coney I-lander.

---

September 18 2007 at 18:48:25
Name: Mike Bruchas
Topic: EDISON'S in '69 - the early 70s
Comments: In 1969, upper class-folks in John Mabee Hall with cars would take us kids there to buy stuff to outfit our dorm rooms with. Edison's was then a "member shopper" joint and I think TU students paid nothing or $5 to get a membership card. Guys from India or Iran thought it the best place to buy EVERYTHING American except clothes. I do admit their Casio and Seikos watches were good buys then. The Indian/Iranian students (all male then) from JMH bought the best Seikos and it was not unusual to see a poorly dressed student sporting a $250 Seiko like the older ex-military guys coming back from Nam and one last PX shopping spree had.

GE micro stereos with turntables (no cassette decks) or with turntable and 8-track and small cube speakers where big sellers. If turned up too high, speaker life was about 6 mos. Couldn't replace them, they were hard-wired to the stereo.

Desk lamps and clock radios also were big. Think "my first Sony". Many guys would buy a Rival or other brand popcorn popper (which most never later changed the oil in) which needed cooking oil to help pop the corn. We were told if kept clean, you could cook soup in them on Sunday nights when TU's cafeterias were closed. Supposedly toasters and toaster ovens were barred from the dorms due to fire hazards. Several times in JMH in the winter, somebody late night or on a Sunday would go screaming down the halls with a popcorn "cooker" ablaze or smoking like burnt tires. Normally pitched out the nearest window or spritzed with an extinguisher.

The air poppers (Sunbeam!) came later in the 70s. And dorms were safer!

Rival, made in KC-MO(!), had a lotta small coffee makers, too, which a lot of us bought just in case of an all-nighter. Mine lasted about 8 years till I lost the cord and gave up coffee. We drank instant or Maxwell House then. Folger's tasted yucky. In winter we took milk from the cafeteria and cooled in outside window wells if we did not have a fridge.

In regard to fridges, at first we couldn't have the then-expensive little office fridges in our dorm rooms,but there was an alternative. Unofficially there were folks at TU who ran a sideline business in used antique fridges for like $20. All worked, but some stank. Most no longer made ice and most seemed to have been made in the early 1950s.

GE and old Frigidaire models which always needed de-frosting. Somehow you connected to these folks and they brought you a fridge; delivery was like $10 extra from the back of a pick-up or an "off-duty" TU stake truck. If going to the second or third floor in JMH or the new Twin Towers, usually a gaggle of "sherpas" could be found to carry it upstairs. I had both white and black painted ones as a shared owner. At the end of the spring term, you were supposed to vacate your dorm room and have the fridge gone. Most were left behind for TU maintenance to deal with; maybe that is how the fridge biz stayed in business!

---

September 18 2007 at 15:47:25
Name: Webmaster
Topic: Last days of summer in Tulsa
Comments:

Our summer days in Tulsa this year are numbered. I hope you made it out to Driller Park and the Admiral Twin this season. As with Bell's, you can never be sure they will still be there come spring.

This tune, "Summer Sun", by Koop (a Swedish duo), came up on my MP3 player just as I started a training run awhile back. I felt like I was wearing PF Flyers tennis shoes with the Flying Wedge...that's how airy this uptempo jazzy pop song is.

The singer sounds a bit like Astrud Gilberto. When I got around to watching this video, I was amazed to learn that the guest vocalist on this tune is an 18-year-old Japanese half-Japanese, half-Swedish girl, Yukimi Nagano. But Astrud was also young when she sang "The Girl From Ipanema" in 1963...
---

September 18 2007 at 15:16:48
Name: Mike Bruchas
Topic: Sunbeam hot dog cookers
Comments: I grew up in Chicago where Sunbeam was based and often tested new products like about 4 generations of popcorn poppers, blenders and stuff. But they were the first with individual hot dog cookers!

As a kid, we had one with prongs and you speared both of the ends of the hotdog into it and it kinda electrocuted it. Sometimes the dog smelled funny but it cooled quick. The cooker could kinda burn ya if you didn't wait. An early Sunbeam effort.

When at TU, from EDISON'S, I bought the then-new and American-made Sunbeam steamer and loved it. Only did 1 dog at a time but one put the split bun on top and it was "steamed" to softness.

Often gorged on 3 dogs in my dorm room but ya needed a fridge to store dawgs in. But ya needed a sink to dump the used water into afterward. Had it till I moved to DC from OKC and lost the steamer insert. Wah!



In the course of my patent search for John Hillis, I saw specs for those "Ol' Sparky"-type cookers.
---

September 17 2007 at 21:11:09
Name: Jeff H
Topic: New fangled hot dog cooker
Email: No chili and no onions, I 'll be up all night
Comments: This Hot Dog topic has legs.

I thought I remembered a newer version of the "Electric Snack House", and through the wonder of the Internet...BAM!I found the "Hot Diggity Dogger" on Hammacher Schlemmer's web site for a mere $49.98. Why George Foreman has not jumped on the DOG!, I don't know.

It looks very much like a toaster and only does two dogs at a time, cooking the dogs and the buns separately and with a ship date of 3-3-08 don't put it on your Christmas list.

Save yourself fifty bucks and grill, boil, nuke or visit one of Tulsa's fine purveyors for your stadium steak cravings.



In case you have your heart set on an updated Electric Dog House, the Hot Diggity Dogger is in stock at Amazon.com for a lot fewer $$.
---

September 17 2007 at 18:42:25
Name: John Hillis
Topic: Electric Snack House
Comments: Sounds like a product designed and built by Edwin...

Researchers, did it ever get its patent, or did the Electric Snack House Company go ten toes up before the PTO could act? Forget about OJ...Inquiring minds want to know!



I couldn't find anything close to it in online patent searches.
---

September 17 2007 at 15:22:15
Name: Scott
Topic: Der Wienerschnitzel again
Comments: Funny how stuff comes around sometimes! I just happened to be watching an LA Dodgers baseball game yesterday on satellite, and lo and behold on comes a commercial for Wienerschnitzel! Brought back so many memories of my parents stopping at the one down on Peoria (I think) way back when. I remember stopping once at the one near 17th and Sheridan, but it was very run-down and pretty gnarly by this time.

Good times...

---

September 17 2007 at 13:49:11
Name: Beverly
Topic: Der Wienerschnitzel
Email: BeverlyW58@hotmail.com
Comments: Der Wienerschnitzel (TTM link) was on the north side of 21st between Harvard and Indianapolis...closer to Indianapolis. I don't think it was there in the Beryl Ford photograph. I think it was built in the 60s. I think this photo was from the 50s.

I love the picture of the Electric Snack House!

Thanks for the info on Der Wienerschnitzel's website. I'm hungry for coneys now, too!

---

September 17 2007 at 13:35:47
Name: Jeff H
Topic: Hot Dog corner and Hot Dogs
Email: "Chili and onions on mine, please!"
Comments: 21st and Harvard must be the epicenter for hot dogs in T-Town.

I was looking at the photo of the 21st and Harvard intersection and thought there was a "Der Wienerschnitzel" where that DX station is located and a few doors down is Jim's Coney Island, AND.... in the very next post is a photo of the "Electric Snack House" hot dog cooker that looks very much like a "Der Wienerschnitzel".

This is all very eerie and I am starting to crave Coney Island's for dinner, It must be a plot.

F.Y.I: Wienerschnitzel is still around out west, check out their web site at Wienerschnitzel.com.



See the old Gothic sign lettering and an original A-frame dog stand on Der Wienerschnitzel's history page.
---

September 17 2007 at 11:59:59
Name: Webmaster
Topic: Hot dog!
Comments:

While poking around in the Beryl Ford Collection at the Tulsa library, I found this strangely familiar commercial hot dog dispenser. Wouldn't "Electric Snack House" be a good name for a band or a tune?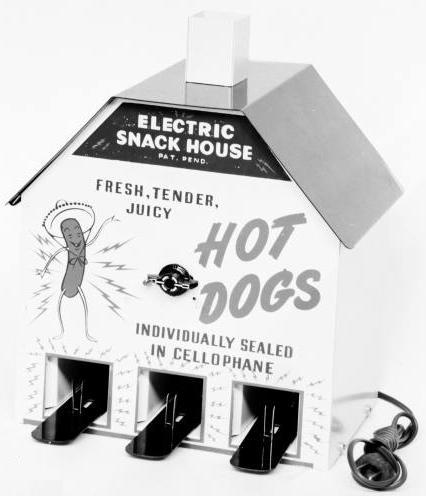 Courtesy of the Beryl Ford Collection/Rotary Club of Tulsa.
---

September 17 2007 at 08:26:04
Name: Beverly
Topic: 21st and Harvard
Email: BeverlyW58@hotmail.com
Comments: Nancy,

I loved reading more of your memories! I remember the Jones Drug Store very well. I don't, however, remember the five and dime store. I wish I did...I love those kinds of stores! TG&Y is what I remember best...at Mayo Meadows and Ranch Acres.

I graduated from Rogers in 1977 to give you an idea of how old I am. I also attended Lanier and Wilson. The house where I grew up is at 16th and Gary Avenue.

My mother used to bribe me to be good while she shopped at Will Rogers by telling me we would go to Brownie's afterward. I still love to go there! I was by 21st and Harvard over the weekend and was saddened to see how the old Warehouse Market grocery store looks.

I miss the old neighborhood and am still in mourning for Bell's and Mayo Meadows.

Did we attend the same schools? I'll bet we did!

I don't know if this will work, but I'm going to try to attach the photo of 22nd and Harvard from the Beryl Ford Collection.




Courtesy of the Beryl Ford Collection/Rotary Club of Tulsa. Click for larger view.
---

September 16 2007 at 18:47:15
Name: Nancy Kenton Setter
Topic: 21st and Harvard
Comments: Beverly,

Oops! Looks like we were "archived" mid-conversation! I'm sure that won't stop us...

Yes, there was a piano store where you remember it - and which I had forgotten! I, too, grew up in that area, and I'm so very old I remember when the Will Rogers dry goods store was a "five and dime"!!! It was a teeny department store, selling just about everything but clothing, and a wondrous place to go with your allowance coins in hand. This was just south of the Warehouse Market grocery store at 21st and Harvard (now a drug store).

At the west end of the grocery parking lot was Jones' Drug Store with a REAL soda fountain, owned by the Joneses, who lived behind us in the neighborhood. That store is now "Empire Optical", owned and operated by classmates of my (much older, koff koff) sister.

Beverly, except that I'm sure that I'm far older than you, we may have been neighbors. Thank you for the return memory-jolt concerning the 21st and Harvard area.

Or, as I think of it, "home".

---

September 16 2007 at 15:04:09
Name: DKing
Topic: Outsiders Movie
Email: celestialtravelers at yahoo.com
Comments: I started recalling lost memories this last year and ran across an amazing trivia fact.

I was living in Tulsa during the filming of "The Outsiders". I worked at the Quik-Trip at the 1400 block of Denver. I had an encounter with a customer which led to misunderstanding. I had no idea who he was until years later. He was a movie actor and I will leave out the name and misunderstanding. One of his other friends and fellow actors came to the store and passed on a message. Sort of friendly advice.

I was living on the West Side and considered myself a struggling artist. I wrote poetry mostly. A few years later I ran into a Seattle musican by the name of Andrew Wood. He liked my poetry and wanted to use some of it as inspiration for songs. He introduced me to several other musicians from Seattle. All relatively unknown in 1986.

One I took a particular interest in. I only spoke to him over the telephone and we spent hours talking about stories, poetry, and lyrics to songs.

I told him about my brush with celebrity and how the movie sort of came to life in my store. It is a long story. When I told the musician the story, he said it sounded like territorial pissings. He said it would make a great title for a song. The lyrics were based on a conversation I had with my friends after the run-in with the Hollywood Boys in from out of town. The musician asked if he could use my story for the inspiration to the song. I told him I would be flattered to find it one day in the future and look back on with a fond rememberance.

The musician's name was Kurt Cobain. I sort of buried the memory of him after his death.

So - truth be told - his song off of the "Nevermind" album titled "Territorial Pissings" is based on the movie "The Outsiders" being filmed in Tulsa. I have read reviews about a line in the song being a take on a Stalin quote. It wasn't. "Just because you're paranoid, don't mean they're not after you." Kurt said it sounded like I got a little paranoid about the "Hollywood Mafia" after my clash with the actors. I told Kurt, "just because I sound a little paranoid, didn't mean they were not out after me."

True story. Believe it or not.

Sincerely,
DKing

---

September 16 2007 at 14:53:23
Name: Webmaster
Topic: Wanda Jackson on OETA's "Tulsa Times"
Comments:
At the top of GroupBlog 250, we saw a photo of rockabilly pioneer Wanda Jackson in person last week at the Circle Cinema. I took that picture, and also while there, spied OETA's Duane Jones behind a video camera. So I figured "Tulsa Times" must be doing a story. (I met him when I was a guest on the show myself, 2/10/2007.)

Sure enough, "Tulsa Times" had a nice segment yesterday about Wanda, including an interview with Clark Wiens, co-founder of the Circle. (Spotted my own mug in the background of one shot.)

If you have Cox Digital service, you can see the show today (Sunday) at 6 pm on OETA OKLA, Channel 112. It will repeat numerous times this week; here's a schedule at OETA's site.
---

September 16 2007 at 14:28:12
Name: Webmaster
Topic: Previous GroupBlog summary
Comments:

Archived GroupBlog 251...
---
Back to Tulsa TV Memories main page