Tulsa TV Memories Guestbook 192

TTM main | What's new on TTM? | GB Archive




October 01 2005 at 13:05:51
Name: Marc Hall
Email: stormchaser27@hotmail.com
Location: Muskogee
Comments: I took off work early and went to Casa Bonita for the final time last night. I got there at 6:30 and the line was out the door, around the building and all the way to the back wall of the parking lot. Here's the real kicker though: it started raining about 9:00 and very few people had an umbrella, but I didn't see anyone leave the line (it was still all the way out to the back wall of the parking lot!). That's loyalty!
At about 9:45 we had a scare. We just placed our order and the serving lane was in sight when the security guard came up from behind us telling everyone that they were "out of food AND workers". Some people left but we decided to stick it out and it payed off. We finally sat down to eat at 10:30.
It's my understanding that the flags were for sale last night. Our waitress told us that the owner collected all of the flags that day and was going to "transplant the flags to Denver" but then decided to sell them at the gift counter for $10 each. I inquired about them at the gift counter and the lady just laughed as if to say 'Yeah , right'. Needless to say, I guess they sold out of flags before I even found out about it, otherwise I would have one flying right now (half mast, of course).
As for my final experience at Casa Bonita, the four-hour wait was well worth it. The crowd, though all strangers, seemed like old friends as we were all there for the same reason, to bid our final farewell to an old friend we all grew up with. I think the food tasted better last night than it ever has. The announcement "Casa Bonita is now closed" came at 11:42pm.
We appreciate that eye-witness report, Marc.

It turned out Casa Bonita is merely transforming into Casa Viva, under the original Bonita management.
---

October 01 2005 at 09:21:13
Name: Mike Bruchas
Comments: Didn't Casa Bonita launch a drive-in Tex-Mex chain? I would swear there were a couple of maybe Taco Buenos in OKC and someone had said Casa Bonita had owned that experiment. There was one close to my OKC apt. on NW 39th and with daily coupons - one could get a good, big fast food meal for $2.99 w/ drink - back in the mid-80's there.
Just also remembering something the late Bill Certain told me about the late Tulsa Auto Hotel - as seen on Abandoned Tulsa - that there was a top floor apartment. Certain had been there and either had known someone who had lived there or thru one of his many Tulsa friends - learned more about it. I am unsure if it had been built for a resident manager or by the original owner as a "hide-away". He had always thought it would be neat to live there. Plenty of parking anyway! Would be interested to know more.
Okay - where is it? Need that traditional posting and possible audio-link to "Here's to the Fair! The Tulsa State Fair!" song.
As I have reported before (along with Edwin in Guestbook 147) - in 1969 at the Fair - some rowdy, rural FFA folks were looking to shear long hair offa them hippy types. That was the buzz to us TU students - "long-hair, beware at the Fair!".
Was looking at THE FAIR website (Flash-based only again this year; sorry, dial-up and MSN TV users...webmaster). Damn - Eddie Money should have made a guest appearance at Starship Records on its closing day on 9-30.
---

October 01 2005 at 08:47:45
Name: Mary
Email: mec1118(AT AOL)
Location: Wilmington, Dela-where
Comments: Enjoying this site and browsing the guestbooks. A few familiar names from Hale High School. Ran across archived discussion of the Lortondale neighborhood and pool. I grew up near 21st and Yale, where my parents still live, and we were members of the pool for a few years.
Sorry to read of Casa Bonita's closing. Haven't eaten there in years but on my trips home it's always been nice to see it's still around.
My dad sent me the recent Tulsa World 100-year anniversary supplement. Enjoyed reading it.
---

October 01 2005 at 08:46:42
Name: Webmaster
Comments: The Tulsa State Fair is in full swing. I just heard on KOTV that a fellow named Brett Matthews is shooting a documentary for Sundance about dunking Bobo, the insulting midway clown.
---

October 01 2005 at 00:17:12
Name: Chris Starr
Email: cheaptricked@peoplepc.com
Location: On the shores of Lake Keystone.....
Comments: Anyone have any info or memories of a race track north of Mannford (which is now the Lake Country area)? I think it was called War Bonnet Raceway and seems to have been a major stop for SCCA type Trans-Am racing. Some of the people to have raced there include Paul Newman, Steve McQueen, James Garner, Jerry Titus, Mark Donahue and Roger Penske. I think it was in existence from about '67-'71. I used to have soccer practice on the infield in the late seventies and had heard that it was a former race track.
I can see McQueen and Newman drinking a beer over chicken fry at the defunct Wanda's Diner.......
---

October 01 2005 at 00:09:31
Name: Chris Starr
Email: cheaptricked@peoplepc.com
Location: On the shores of Lake Keystone.....
Comments: All this talk of Casa Bonita's demise got me thinking about its former neighbor Crystal's Pizza and Spaghetti. Can anyone say "road trip?"
Lost Tulsa has some exterior shots of Casa Bonita, also Starship Records.

Another coming attraction: Skyline Park photos from Bryan Crain.

Here's one taken by Lowell Burch last night: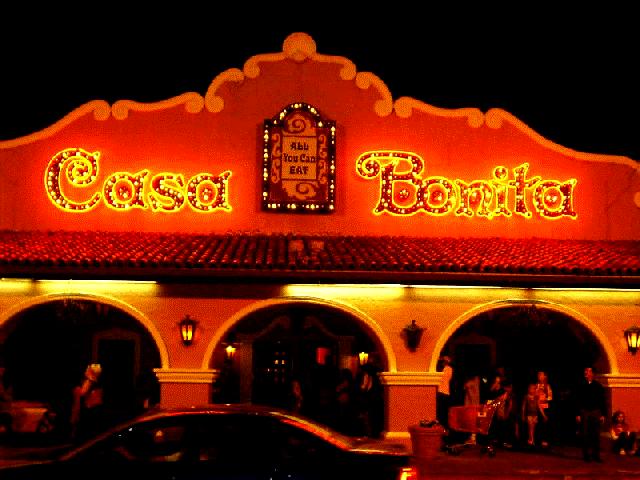 ---

September 30 2005 at 22:56:34
Name: Rich Lohman
Location: 5 minutes to go at Casa Bonita.
Comments: Raise a glass, friends, she's about finished, I reckon.
Adios, farewell, amen.
Memorial haiku:

Casa Bonita
Perpetual night inside
Today eternal
---

September 30 2005 at 22:09:38
Name: J.R. Potts, Esq.
Email: JRDallas75@msn.com
Location: Dallas (I'm a Native Tulsan)
Comments: Okay Tulsa. It's time we got on board and saved Casa Bonita. Okay, so the Tex-Mex was so-so. Seriously, is that why we went there? All of us have way too many fond memories of the place. It's like killing off "8's The Place."
I am a year younger than Casa but I grew up going there. It will forever be tied to my memories of the fabulous "Tulsa State Fair." As we were driving west on 21st to get to the fair, we would always see Casa's twinkling lights. That's how my little brother and I knew we were getting close to the fair.
My best memory of Casa Bo is eating in the room next to the velvet toreador wall-hanging. I loved it!
---

September 30 2005 at 17:06:25
Name: Marc Hall
Email: stormchaser27@hotmail.com
Location: Muskogee
Comments: FYI - Casa Bonita is more than willing to let people in with cameras as I was not alone in my picture taking last night. Although they actually ran out of food and locked the door at 8pm, they still let me in for the pics. I'm taking off work right now so I will hopefully be able to eat there one last time tonight. The security guard said the line was out the door and around the building all day thursday and I would expect the same tonight. I definately think the wait will be worth it. I'll send some pics for posting if interested.
---

September 30 2005 at 15:17:35
Name: Karen
Location: TulsaMercka
Comments: On April Fools Day, 1977 at around 3 or 4 in the afternoon, I was driving around town listening to KRAV. They played the Bee Gees' "Jive Talkin'", which had been popular not long before. When the song ended, they played it again. Oops, I thought -- somebody screwed up. But then they played it a third time. And a fourth. I think I was in my car for about an hour and they just kept playing that song. For nearly 30 years, I've wondered whether it was a KRAV April Fool's joke or some weird accident. Does anyone have an answer?
---

September 30 2005 at 15:07:20
Name: Wanda Baker
Email: wandakbaker@gmail.com
Location: Scottsdale, AZ
Comments: I've spent nearly all my free time for the last week reading through all the old guestbooks, so some of my comments are related to fairly old topics. Please excuse me as I catch up.
Here are a few memories triggered by my reading: I remember the night of the Larry Derryberry shooting (Guestbook 34) at the Mayo. I was a police dispatcher and was on duty when the call came in, although I wasn't the one who handled it.
Technically, he wasn't actually shot. It was a real gun, but it was loaded with fake bullets filled with red paint. It looked gruesome, but Derryberry was unharmed.
I read a humorous 1981 ruling from the OK Court of Criminal Appeals in which they upheld the conviction of the idiot who "shot" Larry Derryberry. The guy had represented himself at trial as well as in the appeal, and the primary basis for his appeal was that, although he freely admitted to committing the "shooting," it was not a criminal act. No, the appeals court didn't buy that one.
The appeals court scolded the prosecutor for being just a little over the top at trial. In his closing, he compared Derryberry to Martin Luther King, John Kennedy, and Robert Kennedy.
I just LOVE Oklahoma politicians and Oklahoma criminals. And sometimes it's hard to tell them apart.
And a final note. I've run across a few mentions of Gil Fallini. Gil was a KOTV engineer back in the 60s and 70s (possibly even later?). In the early 60s, my dad (John Robert Clark) formed a small group (mostly bluegrass, but some C&W and folk as well) with Gil and 3 other KOTV engineers: Harold DeBoer, Don Craig, and Tom (aka Chuck, I think) Thompson (our neighbor). On the page of pictures from the KOTV 50th reunion, the pic titled, "New pic 4" from left to right, is Harold DeBoer, his wife Audrey, Gil Fallini, and Gil's wife Virginia.
I have vivid memories of the small recording studio in Gil's house, mentioned elsewhere in the archives. I was in maybe the sixth grade when we went to the Fallini's one day and I'm sure I overheard Gil telling my dad that Lee Bayley had been there just before us to record something. That was at the height of his KAKC fame, and I was heartbroken to have just missed one of my idols. Lee, if you're reading, were you ever at Gil's studio, or was I the victim of prank?
Dad and the guys recorded a 45 at Gil's (with Virginia Fallini as vocalist) that actually sold a few copies at the Bill's T record store in Suburban Acres and it seems like Mike Flynn was at a radio station in Sand Springs and played it a couple times on the air. They were on Sun Up and some of the other local shows a few times and used to play at Shotgun Sam's and places like that.
My sister Melissa interned at KOTV as a college student and returned in the mid-80s and produced the news for a couple years or so. During that time, Gil's son Bruce came to work as an engineer.
Tulsa was - IS - a unique and magical place, but I didn't realize that until I moved away.
---

September 30 2005 at 12:58:43
Name: Wilhelm Murg
Email: wilhelmurg@ yahoo dot com
Location: In the cave, looking for the bathroom
Comments: If anyone needs it, here is a link to a synopsis of the South Park Episode, #107, "Casa Bonita."
Like many Tulsans, I was amazed to see Casa Bonita, the Denver location, at least, forever remembered in my favorite cartoon (of recent days). Coming from that neighborhood, I really don't remember the first time I went to Casa Bonita. Later, while in school in Pawhuska (which was the only public school offering accredited guitar lessons at the time) our teacher, Ron Gurley, one of the coolest guys I had met at the time, brought us down Casa Bonita to have a flamenco guitar demonstration from the gentleman (I can't remember his name) who serenaded the courtyard and governor's mansion. Of course, I think Gurley really just wanted a day off and good meal (okay; "a meal").
I also think the longest line I was ever in had to be at Casa Bonita during the 1975 Tulsa State Fair (I remember going on and on about Pink Floyd's "Wish You Were Here" - which I had just bought - while in line). The line started outside at the extreme NW corner of the building.
I courted a few young women by taking them that place, but once I got to TU, they all wanted to go somewhere that served liquor-by-the-wink; and I never got back in the Casa Bonita groove.
I can see why they are going out of business; since I moved down here in 2000 I have only been to the beautiful house a couple of times. My partner in crime, McKenna Smith, and I had a relatively good lunch there one day at the waterfall a couple of years ago, but shortly thereafter I went one evening with TTM fan Roy Lee and Andrew Hicks (who was just named Vice-President of TOHR last night, BTW) and ate in the cave, and it was awful. It's too bad they couldn't have partnered with with a good Mexican food establishment, like Rio Verde or Don Francisco; that would have been an amazing experience. My heart will miss the Okie surrealism of Casa Bonita, but my digestive system is happy to see it go. Food always tastes better as a distant memory.
I always liked it, but then again, I'm the guy who liked late-period Jade East's food.
---

September 30 2005 at 12:53:44
Name: Webmaster
Comments: New interview with S.E. Hinton by Suzy Byrne at iVillage Entertainment.
---

September 30 2005 at 10:12:07
Name: Brian
Email: brian74055@hotmail
Location: Tulsa
Comments: I went (well attempted to go) to Casa Bonita last night (Thursday) around 8:00, they had already started turning people away, due to running out of food. The security guard however said they will be open Friday until 11 p.m.
I would not be suprised to see another Mexican food joint move into the building soon.
---

September 30 2005 at 08:23:43
Name: Jim Ruddle
Email: jruddle@earthlink.net
Location: Rye, NY
Comments: I never had the pleasure of dining at Casa Bonita. In the fifties, there were not very many Mexican restaurants in Tulsa. Little Mexico, on 18th Street, was the premier taco and beanery, in town, although there were a few others. One was near TU and was called La Hacienda. It was in a house that had been zoned commercial and was on an east-west street that I can't quite recall.
A couple of guys I knew, Hal Hamilton was one, lived in a garage apartment situated a short distance from the back of the restaurant, and its kitchen exhaust fan blew directly at their digs.
You could always tell when they entered a room because their clothes smelled like tortillas.
---

September 30 2005 at 00:45:23
Name: Lowell Burch
Email: ten.xoc@3hcrubl
Location: Standing in line at Casa Bonita
Comments: I remember reading that salvage material from an old Spanish mission in Mexico was brought up here to give the new eatery some authenticity. I believe the construction cost was $250,000, with the cave and waterfall being added later.
I vaguely remember my first meal at Casa Bonita back in 1971 but I clearly remember my last dinner at CB. It was with Webmaster Mike Ransom, Edwin of Maintain fame, and our lovely ladies. A pleasant evening that I will not soon forget.
I'm glad we had a fun Tulsa TV Memories "event" there before it went away. What a shame.

Here is the Wayback Machine's last copy of the Tulsa Casa Bonita website.
---

September 29 2005 at 21:59:24
Name: John Young
Email: johnk662561@yahoo.com
Location: Getting In Shape...
Comments: ...for one last trip to Casa Bonita. The wife and I plan to go there for lunch tomorrow. In the 70's, CB was THE place to go for the All You Can Eat experience...possibly because it was the only place in town that was doing that at the time? Anyway, lots of good memories from eating there.
The last time my wife and I ate there, we were waited on by an old friend of mine, Robert Sartain, the nephew of G. Ailard S. Artain. He and his sister were several grades behind me in school, but we all went to the same church when we were growing up.
Gonna be sorry to see CB close. The news reports say it was due to a "lease dispute"...wonder if we'll see any of the other businesses pull out of there for the same reason?
---

September 29 2005 at 18:35:00
Name: David Bagsby
Email: dcbatsunflower.com
Location: Lawrence KS
Comments: We should now raise the sopapilla flag to half mast.
Here's the Casa Bonita Wikipedia entry.
---

September 29 2005 at 16:03:44
Name: Rich Lohman
Location: It ain't right, I tells ya!!!
Comments: I am still mourning Crystal's Pizza leaving and now Casa Bonita is hitting the skids? Is there no justice?
---

September 29 2005 at 15:57:43
Name: Mike Bruchas
Location: Missin' Cas Bon-eat-a
Comments: CB was a favorite with so many of us college kid types. It was our faux Mexican joint while El Chico was our hard core chain Mexican restaurant. But I loved CB's sopapillas and and have found few chains to replicate them till Chevy's opened. Someone said one of the other city CB locations had divers descending from a cliff to a pool - we always wondered who might have gotten splashed while dining? Honest John was also addicted to CB and I remember racing to get there many a weeknight before closing. A sad day in Tulsa - I presume that now aged shopping center of the 70's will be blowed up for somethin' new?
---

September 29 2005 at 13:08:31
Name: Marc Hall
Email: stormchaser27@hotmail.com
Location: Muskogee
Comments: Casa Bonita closing is like taking the Phantasmagoria away from Bell's Amusement Park (I hope I didn't just jinx it), it's just hard to imagine without it. I will be going to Casa Bonita tonight with a few friends from my film group after our regular Thursday meeting. I'm taking a digital camera with me as well considering the decor has stayed pretty much the same since it opened in 1971. It's a Tulsa landmark that will be missed.
---

September 29 2005 at 11:40:13
Name: Steve Bagsby
Location: Live from the Cave Room
Comments: Sorry to hear about Casa Bonita going out. I also liked the Cave Room. I thought the Volcano was neat in the main dining room because it closely mimicked what your intestines were doing after raising the table flags several times.
---

September 29 2005 at 02:56:21
Name: roy lee
Email: beerdrunk@msn.com
Location: got smart
Comments: I asked my mother today why I wasn't hip enough to remember Don Adams and Get Smart. She said we didn't like that show, we didn't "get it", I guess. Gee, what was on the other networks at that time?? Must have been opposite Dean Martin or something. I was a Tenessee Tuxedo fan, though...
As for Gassa Bonita, I liked that cave too, and the "all you can eat" concept, serving food where one plate is more than plenty. Now that's some marketing!
There is still a Casa Bonita in Denver. Previous discussion of CB and other eateries is in Guestbook 135. I'm really sorry to see it go. The atmosphere is unique.

More discussion at TulsaNow.
---

September 29 2005 at 01:31:07
Name: Marc Hall
Email: stormchaser27@hotmail.com
Location: Muskogee
Comments: This has nothing to do with Tulsa TV but ........... I just heard on the news that Casa Bonita will be closing their doors for good on Friday. It's really too bad because I have a lot of memories of that place when I was a kid (I sure did like that cave). Oh well, I guess 30 years was a pretty good run. Does anyone know why they're closing?
---

September 28 2005 at 17:40:29
Name: Wanda Baker
Email: wandakbaker@gmail.com
Location: Scottsdale, AZ
Comments: Another bit of small world T-Town trivia:
I read in a posting that Georgia Jones (KOTV) is related to Jenkin Lloyd Jones. I hadn't known that. I learned only a few months ago that the Lloyd Joneses of Tulsa (Richard, Jenkin of the Tulsa Tribune) are cousins to Frank Lloyd Wright, the architect. Mr. Wright designed a house near 36th and Birmingham ("Westhope", at 3704 S. Birmingham Ave.) for his first cousin Richard Lloyd Jones of the Tulsa Tribune. I had dinner recently with Mr. Wright's grandson and a distant cousin from the Lloyd Jones branch of the family. She told me that her family stays in touch with various relatives who still live in Tulsa, but none of the names were ones I recognized.
---

September 28 2005 at 14:17:22
Name: Wilhelm Murg
Email: wilhelmurg@ yahoo dot com
Location: HQ
Comments: There actually was an underground tunnel system that went under Kihekah (one of the main roads in Downtown Pawhuska). I always heard it was built so you could get from the court house to the bank vault without having to cross the street. I've never seen it with my own eyes, and I doubt that anyone has maintained it, if it actually exists (as the Russians want us to believe).
---

September 28 2005 at 10:57:17
Name: Steve Bagsby
Location: in the Helter Skelter Shelter
Comments: I was listening to the shortwave last night and ran across former Tulsa weatherman Scott Stevens (previously mentioned). He was continuing the dicussion of weather manipulation on the Alex Jones show (another "conspiracy theory" guy). There are a lot of these type of programs on shortwave, so I'll keep an ear out and see if he pops up again.
---

September 27 2005 at 16:27:57
Name: P. Casey Morgan
Email: p-casey-morgan
Location: public radio tulsa
Comments: Okay, Mike, excellent work on the Tulsa/U.N.C.L.E. connection. Now, what've you got on the Tulsa/Aaron Sorkin connection? There MUST be one. As far back as "Sports Night," Tulsa was mentioned often - at random and in any list of cities. Tulsa pops up with surprising frequency on "West Wing," though this has fallen off with Sorkin's departure. I've always wondered if Sorkin knew something about Tulsa or if he just thought it sounded funny (I'm guilty of using Keokuk, Iowa, for that reason.)
I'm on it. So far, he seems to be a thoroughly East Coast kind of guy.
---

September 27 2005 at 14:43:34
Name: David Bagsby
Email: dcbatsunflower.com
Location: Lawrence KS
Comments: Was THRUSH HQ located in Pawhuska?...since UNCLE was located in Tulsa.
---

September 27 2005 at 11:26:57
Name: Steve Bagsby
Location: Cleaning the Time Tunnel
Comments: With the passing of Don Adams, I ponder who actually was more powerful...."U.N.C.L.E." or "CONTROL". I've turned the ringer off my Shoe Phone in memory of Max.
Let's have a moment in the "Cone of Silence" for Mr. Adams, a very funny man.

Your brother David once expressed a similar interest in the outcome of a Jimmy Giant/Golden Driller bout.
---

September 27 2005 at 10:09:10
Name: Tim Oliver
Email: CigarGuyTim@aol.com
Location: Clear Island Waters, Queensland Australia
Comments: Hello Tulsa TV Memories,
I came across the site while thinking about some great bits we did in Tulsa so many years ago. I have many wonderful memories of the great people I worked with. I want to say that all of you are great talents and I hope whatever we started back then has been carried on by each of you. I just hope that each of you know that I will always be grateful for your great help, sacrifice, talent, and wonderful sense of creativeness.
To clear up a couple of misconceptions. Urban Almanac preceded Just After Midnight. And the movie UHF was not what KLOT was based upon. (I corrected my comments in Guestbook 81, where you can read much more about KLOT...webmaster)
I can tell you that when I left Tulsa, all of the master tapes were given to my friend David Donnell. Maybe he could dupe them over to DVD at some point in time. The tapes included Urban Almanac, JAM, wrestling, bands, Brady Street Studio productions, KLOT productions and more.
I donated my equipment to a Christian youth group and I hope they have done well with it.
It is my hope that we brought some laughs, smiles and happiness to Tulsa. All of us worked hard to pull the shows together. Whether we shot them at Longbranch Studios, Brady Street Studios, KLOT or out of our Winnebago (which was our production studio for about two years) or even Three Frogs when we did the karaoke program from there, I had one hope and that was to bring something to my home of Tulsa that would reflect its talents.
Over the past six and half years I have lived and worked in both the US and Australia. Sometimes in radio, television or just plain old everyday business type positions. At present my wife Angela and I are back on the Gold Coast of Australia after living and working in Las Vegas for a couple of years.
On my last trip back to the US, I met up with Corbitt Bratton. Another Tulsa radio alumnus.
As it turns to fall in Tulsa, I hope that all of you have a great holiday season. Here in Australia it is the start of spring and summer. Now that is hard to get use to, Santa in a swim suit!
Tulsa will always be home to me and I wish everyone back there the very best. I hope that those I worked along side have fulfilled their dreams and are still living their dreams.
Tim Oliver
Tim, thanks for checking in. I hope to have more about KLOT, Urban Almanac, Just After Midnight and "Dirty Butter Creek Productions" out here in the future.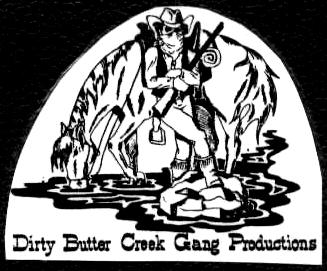 ---

September 26 2005 at 17:19:40
Name: Wilhelm Murg
Email: wilhelmurg@ yahoo dot com
Location: In Paw-HOOSH-ka, Ta-LA-qua, and BART-Letts-ville!
Comments:
My favorite part of the EASY RIDER DVD commentary is when you see Dan Haggerty for a split second in the commune scene and Dennis Hopper says "There's Grizzly Adams." Then there's a pause and Hopper remembers Haggerty's name. The scene isn't quite as wholesome as Haggerty's later work for Sun Classics, but I suppose it was a step up from MUSCLE BEACH PARTY and GIRL HAPPY.
---

September 26 2005 at 15:11:22
Name: Mike Bruchas
Location: dee cee
Comments: Am dubbing hours of former SUN CLASSIC PICTURES and "Great Secrets of the Bible" tv shows for a client here. In a trivia note - all are labelled "Grizzly Adams Productions" as the syndicator. We keep looking for Ben the bear to appear in episodes but no go!
---

September 25 2005 at 21:56:31
Name: Wanda Baker
Email: wandakbaker@gmail.com
Location: Scottsdale, AZ
Comments: I just read the page about when the UHF movie was made in Tulsa in 1988. I hadn't heard of the movie before, because I moved away from Tulsa in 1988.
I was a dispatcher for the Tulsa Police Department, and on a VERY hot afternoon in August 1988, I received a police call from a man who said he was with a crew that was filming a movie in Tulsa. The guy said they'd used over 300 pounds of dead fish to film a scene ALL DAY LONG, they'd finished for the day, the fish were really beginning to smell, and how did I want them to dispose of the fish? It took me several minutes to satisfy myself that I wasn't on the receiving end of a prank call before I started trying to figure out how they could dispose of their fish.
Over the years, when people ask me to tell them about the strangest call I ever took as a dispatcher, I tell them about this one. I'm happy to finally know what movie it was and what the scene was about.
And by the way, I honestly don't remember how the fish were eventually disposed of.
Thanks, Wanda, I added your epilogue to Ricardo's smelly saga at the link.

Relevant advice from Agent Cooper at the bottom of the new Coffee Houses page: "Never drink coffee that has been anywhere near a fish."
---

September 25 2005 at 02:00:15
Name: Chuck Figueroa
Email: chuckfigueroa@hotmail.com
Location: Tulsa
Comments: I was hoping to find a cover shot of a June 1946 cover of the Tulsa Downtowner. My mother was on the cover of that issue standing with a group of women in a singing contest that Patti Page won that night.
My mother's maiden name at that time was Wanda Holten and I remember seeing an old issue many years ago but haven't had any luck locating one.
---

September 24 2005 at 14:21:58
Name: Phil Sumner
Email: phil@brownlabcreative.com
Location: Tulsa
Comments: I was doing a little AM radio DXing last night, and came across Art Bell's old show, "Coast to Coast," which is now hosted by somebody else on 840AM out of Louisville, KY. Anyway, they had a "meteorologist" on and he was discussing his theory that the Japanese mafia created hurricane Katrina to pay the US back for Hiroshima.
The reason I mention it here is because the "meteorologist" was former KJRH channel 2 morning guy Scott Stevens. He was working at a station in Idaho most recently. Anyway, you can read all about his crazy theories at WeatherWars.info.
---

September 24 2005 at 14:03:01
Name: Scott Linder
Email: DSLinder@charter.net
Location: Hollywood-land
Comments: Some ramblings....
First of all, my prayers and best wishes to all those who were touched by the recent Gulf storms. We've been doing all we can from here to help the relief effort. Every major studio in town has collected money, food, clothing and other essentials which have been rushed to the affected areas. In addition, every industry union and guild has collected large donations from their members which have been forwarded to the Red Cross and other relief organizations. God bless you all from all of us here in Hollywood.
On another note...in an attempt to clean out a long-held storage facility I discovered a KOTV "Sun-Up" coffee mug which was given to me when I appeared as a guest on the show in the 60s with regard to an upcoming Tulsa Little Theatre show. As I recall, I was interviewed by Bob Mills and Betty Boyd. The mug is orange in color with "Frankoma C7" on the bottom. One side says "Sun-Up" in the midst of a radial sun pattern. The other side bears my name in gold and says "Scott Linder has been a guest of KOTV 6". Gee, what a cool find!! It now has a proud place on my "trophy" shelf along with other Tulsa memorabilia.
Next week I begin mixing sound for a new ABC sitcom called "Crumbs" with Jane Curtin, William Devane and Fred Savage. It's funny and quirky. Everyone please watch so that this old Tulsa boy can remain employed!!...or at least let me know what you think of it!!
---

September 24 2005 at 07:51:24
Name: Webmaster
Comments: Just archived Guestbook 191. A new page about Honest John's, Starship and Oz by writer Wilhelm Murg was broken out of it.
Hurricanes Katrina and Rita savaged the Gulf Coast during this time. Mike Miller in Houston dodged Rita's full wrath. Jim Ruddle told of meeting legendary musician Gatemouth Brown in Tulsa, circa 1950. Sadly, Mr. Brown passed away after fleeing his home in Slidell, Louisiana, which was nearly wiped off the map by Katrina.
The old Skyline Amusement Park in Jenks was mentioned and will be the subject of a new page shortly. During a moment stolen from hi-def DVR viewing, Lee Woodward checked in. Johnsye Smith (formerly of KOTV) and her daughter Jonsi are researching a biography of movie comedian Stepin Fetchit, who, we learned, got his start in Tulsa in 1926.
The long-defunct Pines Restaurant is seen briefly in "The Outsiders", the new version of which had its world premiere at the AMC 20 in Tulsa on 9/8. John Young told us about his uncle, who owned the Pines and the still-extant Bamboo Lounge.
Sam Jones has a radio show on KRVT 1270 AM, a station whose programming harks back to the KRMG of the 50s, 60s and 70s.
Recollections of hijinks at Washington Irving Cove on Lake Keystone started things off.
All that and more besides in Guestbook 191.
---
Back to Tulsa TV Memories main page