Tulsa TV Memories Guestbook 116

TTM main | What's new on TTM? | GB Archive




October 11 2002 at 19:20:54
Name: Jim Reid
Email: jimreid56@aol.com
Location: Dallas
Comments: I saw McCartney about 10 years ago at Texas Stadium. To get tickets, you had to get numbered plastic bracelets during the week at Sound Warehouse and then show up there at 6am Saturday morning. They called my number first and I ended up sixth row center. The best concert of my life!

---

October 11 2002 at 11:59:07
Name: John Hillis
Email: mail@equinox-media.com
Location: Nervously fillin' up the gas tank in Fairfax, Virginia
Comments: Bob Hower is the real deal. It's a measure of how time flies that there are people among us with half-a-century (give or take) of experience and stories about broadcasting in T-Town.
That pic has three of 'em. And, David Batterson, I happen to know that Granny Lion's a fiend with the Kodak Box Camera!

---

October 11 2002 at 09:10:33
Name: David Bagsby
Email: david_bagsby@hotmail.com
Location: Lawrence KS
Comments: In response to the Deep Fried Twinkie; my wife watched them make it up and she's been a gourmet chef for several years and states that it was indeed, a real Twinkie. I think the Med-X booth next year needs to rent defibrillator paddles for all gastronomical explorers at the fair.

---

October 10 2002 at 23:00:25
Name: Lowell Burch
Email: J9Z1B95@aol.com
Location: High state of anticipation
Comments: I do have my McCartney tickets and can't wait! I talked to some folks who saw the show in NYC and they certainly concurred with David. They said they want to see it again.
I just bought the new Hard Day's Night DVD. Good features, great movie.
I got a real steal on some Paul McCartley tickets. He's playing a double bill with Bob Dilman.
---

October 10 2002 at 17:05:12
Name: David Bagsby
Email: david_bagsby@hotmail.com
Location: Lawrence KS
Comments: Just got back from Paul McCartney in St. Louis. Absolutely amazing! It's my understanding that he's playing in OKC. Well worth the price. Best show since Steely Dan.
David sent this photo of the Un-Puzzle. The flip side of the puzzle lists the healthful ingredients of the Uncola and encourages you to make an Un-Mobile (for those arriving late, 7Up, the Uncola, was a Mazeppa sponsor).
---

October 10 2002 at 10:01:41
Name: Mike Bruchas
Location: Workin' in steamy NC
Comments: Gary Johns! What are ya doin' in Tulsey?
Hi from Mike Bruchas and (this week) Steve Nease from the OETA Alumni Crew.....

---

October 09 2002 at 15:32:35
Name: GARY JOHNS
Location: TULSA
Comments: FOR ALL WHO HAD A FRIED TWINKIE AT THE TULSA STATE FAIR, IT WASN'T THE REAL THING DIPPED IN FUNNEL CAKE BATTER.

---

October 08 2002 at 18:56:52
Name: Bob Hower (via email)
Location: Tulsa
Comments: Hi Mike, you really do a fantastic job with your "TV Memories." I'm glad to have been a part of Tulsa's TV history and especially glad to have been newscasting in happier times.
Today I saw your piece on my book (1921 Tulsa Race Riot: The American Red Cross-Angels of Mercy). It's in Tulsa bookstores, and getting renewed interest, with all this talk of racial problems in the police department. Thanks for including it.
It might help people to read what can happen when the police look the other way and do nothing.
My memory is suspect, so I can't say I remember R.L. Bullock's gag reel story; but, I can say for sure, I was not wearing a Rolex!! I was wearing two hats at that time, Program Director and Anchor, but there was never a Rolex. That I'd remember!
Keep up the good work. It's good to read about dear friends.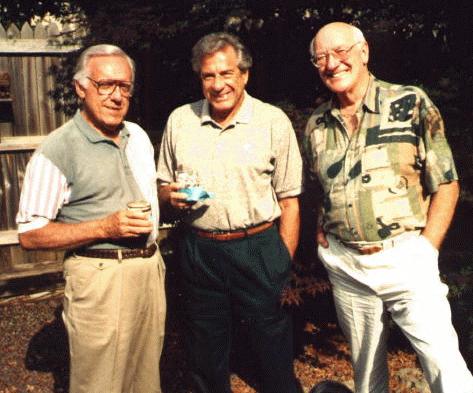 Lee Woodward, Bob Hower and Bob Mills (photo courtesy of Lee).
David Batterson later commented:
Hmmm, did Lee have the camera on autotimer? Or did Lionel take the photo?
---

October 08 2002 at 15:16:20
Name: Steve Todoroff
Email: sgtodoroff@earthlink.net
Location: Houston, the Tulsa of Texas
Comments: The Mazeppa site has been revamped, and some more of Gailard Sartain's artwork has been added, including this year's Tulsa State Fair poster and his 2001 Christmas card.
Please drop by for a visit when you can and be sure and sign the guestbook.
I looked hard for the 2002 Tulsa State Fair poster, but could not find it even at the official souvenir shop. I asked them to call their bosses about it and they did, but again, nothing. They certainly missed a tremendous selling opportunity. It would be great if the poster could be offered at Mazeppa.com.
---

October 06 2002 at 22:14:20
Name: Webmaster
Email: mike@tulsatvmemories.com
Location: Erewhon
Comments: Here is a photo of Tom Dissevelt and Kid Baltan, creators of "Sonik Re-Entry" (aka the Fantastic Theater theme music).

---

October 06 2002 at 18:27:30
Name: Webmaster
Email: mike@tulsaTVmemories.com
Location: Tulsa, the Paris of Oklahoma
Comments: Coming attractions for "Friends":
October 10: Monica is torn between accepting the job offer of a lifetime and standing by her man as Chandler prepares to relocate to Tulsa.
October 17: When Monica surprises Chandler in the hotel in Tulsa, she is led to erroneously believe that Chandler has a fetish for sharks.
Now, you know that has to be some good writing. And from a "Friends" forum:



"I live in Tulsa, and recently camera crews were here getting establishing shots of various locations throughout the city, and producers were getting permission to use such locations on the show. That means that indeed, at some point, the Bings will be moving to Tulsa."

---

October 06 2002 at 18:22:47
Name: Webmaster
Email: mike@tulsaTVmemories.com
Location: Already in Tulsa
Comments: Here is what you may have missed on NBC's "Friends" this week:
SCENE E
INT. CONFERENCE ROOM - (CHANDLER, MS. LUBETSKY, EXTRAS)
CHANDLER IS DEAD ASLEEP, HEAD TILTED BACK, MOUTH WIDE OPEN. LUCKILY, A CO-WORKER IS BLOCKING MS. LUBETSKY'S VIEW OF HIM.
MS. LUBETSKY
Okay, if everyone is on board, it's settled. Chandler?
CHANDLER JOLTS AWAKE, TOTALLY DISORIENTED.
CHANDLER
Huh?
MS. LUBETSKY
Are you on board?
CHANDLER
What can I say other than "yes"!
MS. LUBETSKY
Well then, problem solved. Chandler will head up the Tulsa Operation. We're gonna miss you, Bing.
AS CHANDLER REACTS, WE CUT TO:
INT. MS. LUBETSKY'S OFFICE - LATER (CHANDLER, MS. LUBETSKY)
IT'S AN IMPOSING OFFICE. MS. LUBETSKY SITS BEHIND A LARGE DESK. CHANDLER KNOCKS AND ENTERS.
CHANDLER
Uh, ma'am, do you have a minute?
MS. LUBETSKY
For a team player like you? Any time. I just got off the phone with Tulsa. They're very excited.
CHANDLER
That's actually what I wanted to talk to you about. Ma'am, I can't go to Tulsa.
MS. LUBETSKY
(ICY) But you said you could.
CHANDLER
Yeah, it's a funny story, actually. I... I kinda fell asleep in the meeting this morning, so when I said I'd move to Tulsa, I didn't really know what I was saying.
MS. LUBETSKY
You fell asleep?
CHANDLER
Only because I was up all night worrying about this morning's meeting. Isn't that funny? (OFF HER GLARE) Irony? Not a fan?
Okay. (THEN) So here's the thing...I went home and told my wife about us moving to Tulsa, and she won't do it. She, unlike me, is not a team player. Opposites attract, huh? Anyway, me, I love Tulsa. Tulsa's heaven. Tulsa's Italy. Please don't send me there. (THEN) Here's a thought... Maybe we just close the Tulsa office. (WITH DISDAIN) I mean... Oklahoma? Arkansas craps on Oklahoma. Of course, now I remember, you're from Oklahoma.
MS. LUBETSKY CROSSES HER ARMS AND STARES AT CHANDLER.
CHANDLER (CONT'D)
The point is, if it's all the same to you, I'd rather just stay here. (READING HER LOOK) Or maybe I don't have that option anymore. And it's the Tulsa job or nothing. (SIGHS) Look Carol, -- can I call you Carol? Of course not. Can we just talk like people?
That line about Arkansas is actually pretty timely, what with Tyson and other chicken operations in western Arkansas. The question is, how many national viewers are likely to get the reference?
---

October 06 2002 at 09:43:36
Name: Gary Thompson
Email: Gary@kxoj.com
Location: Tulsa
Comments: .....I was just looking at the Captain Alan Lambert and his robot's pictures. Wow! The farthest back that my knowledge of Lambert goes is his days as news director of KVOO. Very refreshing to see that someone else has made a career of it in the same market for all these years. I ran into Alan at Chili's at 51st and Harvard a few months back. I recognized his voice from a few tables away and went over to inroduce myself. He seemed suprised that someone recognized him solely from KBEZ. It was great to meet yet another tusa broadcasting veteran. They're everywhere.....bring your binoculars and keep your eyes open. =)
Here's an interview with Gary at KXOJ. And here's KXOJ's site.
---

October 04 2002 at 21:16:46
Name: Mike Bruchas
Location: Sweaty steamy southern NC
Comments: Anyone have any Bob Hower/Betty Boyd/Don Woods sightings at the Fair this year? Bob did the hearing aid thing I think one Fall there and Woodsy often "visited" a couple of Fair boothes for various Tulsey vendors like siding folks. Or are our TV heroes of the 70's - just visiting on their own - at the Fair like us'uns?

---

October 04 2002 at 20:21:27
Name: David Bagsby
Email: david_bagsby@hotmail.com
Location: Lawrence KS
Comments: Fried Twinkies are a reality. Split one 4 ways at the Fair yesterday. Of all the Fair Food, this one wins hands down over Funnel Cakes and Bavarian Fat Balls.
Only real near-incident occurred when a woman running an anti-abortion booth in the "Free Ruler" building thought I was videotaping her plastic models of developmental fetal stages. She came running after me and I had to explain I was taping the 2-headed mannequin in the booth next to hers.
Be sure to check out the butter sculptures in the IPE building. Also, those outside support cables of the IPE are a very cool visual effect.

---
Date: October 03 2002 at 16:28:02
Name: Chuck Fullhart
Location: Midway at the Fair under the KELi Buidling
Comments:

I saw Mike Bruchas' post on Isadore, and it brought to mind a question that I have never been able to answer.

What is it in the psyche of local newsies, and even Brokaw and Rather, that makes them stand in water up to their waist while the palm trees blow away in the background, as they yell into the mike that the storm is not yet a Category 4 or 5, and the worst of the storm is still offshore (Cat. 4 is 140 mph straight winds.)?

Chasing tornados and counting the teeth on the trailer court survivor as he breathlessly looks into the camera and tells the viewing audience about the "freight train" and the trip through the air to the other side of the court, is of course, standard fare in the South and the Southwest in the springtime and early fall.

The local outlets can fill 5-6 minutes on a slow newsday with footage of the latest funnel, which is our second national pastime down here, but why do the network newsies and the locals in the SE go out and tell us that the worst is yet to come?

Kind of like when there is 3 or 4 inches of ice or snow on the ground, and the ND sends the intern or the weather guy out to show us what it looks like.



---
Date: October 03 2002 at 11:00:53
Name: Mike Bruchas
Location: Land of the wrong kinda of BBQ...sitting on the Fox National feed - watching storm updates from da Gulf Coast...
Comments:

Obviously, Jimmy Reid - you don't follow NASCAR or ARCA racin'.

Baloney burgers are a common entree at smaller tracks in So. VA and racer Elliot Sadler and often commentator Darrel Waltrip wax forever on them. Just like BBQ'd baloney is the entry entree on the OK/TX BBQ "food tree" I am guessin'.

This Isidore storm thang has them race fans frettin' that Talladaga,AL or as we call it Talley-Day-Ger - may be in the path of the severe storm hitting LA today and may cause cancellation of the B I G NASCAR race this weekend.

---
Date: October 03 2002 at 08:00:35
Name: Jim Ruddle
Location: Rye, NY
Comments: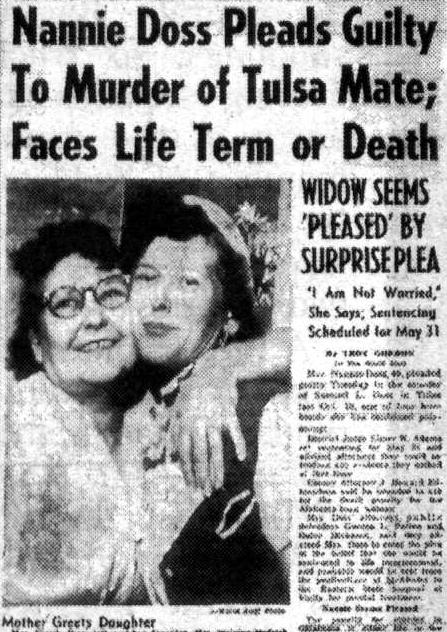 After Nannie Lee Doss copped out on her predilection for overflavoring the coffee of her husbands and others, a lull descended on the Tulsa news biz.
Shortly after she began peering through the bars downstate, however, a package arrived at the Tulsa World cityroom. Upon opening, a chocolate cake stood forth and, newsies being what they are, nobody inquired as to why the cake was there, they simply devoured it.
As they got to the final crumbs at the center, someone ascertained that a small piece of paper rested on the cardboard platter. It read something like this:
"Hope you enjoy the cake." And it was signed, "Nannie Lee Doss"
It didn't take long to discover that one of the reporters or editors, I don't remember who, had sent the thing, but for a few minutes there was a gastrointestinal uproar at the World.

5/18/2005: This image is from the front page of the 5/18/1955 Tulsa Daily World. For a photo-quality reprint of this or any other Tulsa World page from any date, call 918-732-8198. Page reprints are $35.

According to the World, the cheerful Doss confessed that she had added rat poison to a bowl of prunes served to her latest husband. She said he had gotten on her nerves. The previous three husbands met a similar fate via Nannie's cuisine. She died in prison on 6/2/1965, exactly 10 years after she entered.

---
Date: October 02 2002 at 23:22:50
Name: Jim Reid
Location: Dallas
Comments:

All this fair food talk has made me hungry. I'm going to the State Fair of Texas tomorrow night where I understand they have the notorious Fried Twinkie.

I know it's an artery-clogger, but has anyone ever seen barbecued bologna anywhere outside of Oklahoma? There's one stand at the Texas Fair that sells it and the Texans look at me like I'm insane when I tell them I used to eat it all the time when I was a kid.



I just had that conversation with a couple of my new relatives from K.C. and Texas. No, they hadn't heard of BBQ bologna at all.
---
Date: October 02 2002 at 18:12:09
Name: Mike Bruchas
Location: Wishin' I had been to the TSF!
Comments:

Anyone at the Fair see Catfish-on-a-stick or cheese-on-a-stick (not to be confused with the fairs of midwest having CHEDDAR block-on-a-stick)?

Both were Matt Bunyan - gotta-have's when at the TSF! They should be viewed as gourmand barometers of Midway food.....

---
Date: October 02 2002 at 16:59:21
Name: Chuck Fullhart
Location: Walking down 18th looking for the Louisiane
Comments:

To Don Norton and Noel Confer, Gentlemen, if memory serves me right, and nowadays that isn't always the case, Doc's Pool Hall hung on until about the early 80's.

When I started selling space for the dark side of the media (Sorry, old printer's joke), Doc's was more or less the second office for the NPC Advertising staff and the newsrooms; much preferred over the Tulsa Press Club, and a lot closer to the office.

It went south about the same time that they closed The Piccadilly Cafeteria. Globe Clothiers held on a little longer, but I think the oil bust finally got them about '83 or '84.

Noel, FYI, The World has that whole corner now, as well as the front on Main Mall.



---
Date: October 02 2002 at 16:41:17
Name: Chuck Fullhart
Location: Fairgrounds upwind from the cattle and the visitors
Comments:

I saw Don Norton's mention of the Shady Past of Tulsa, Pauline Lambert, and the May Rooms, and it brought to mind "The Merry Widow" that lived in the area of Veterans Park.

The house is gone now, but if I remember right, it was on the south side of 21st where the Shriners had their building, and where Paul Coury is erecting another monument to progress now.

I have to give credit to Ron Trekell, and his history of the Tulsa Police Department for the exact information. The real name of the "Merry Widow" was Nannie Doss. In the early 50's, deaths were not routinely investigated by the police, and The State Medical Examiner's office had not yet been investigated; thus, funeral homes simply prepared the body for burial or cremation without knowing the cause of death.

Seems Nannie liked to lace the coffee of her "guests" with arsenic and serve it to them, along with her family members. When they got done digging up the bodies in the back yard, the score included five husbands, her mother, her father, two children, two sisters, one nephew and one grandson.

According to the reports, Nannie was a "...plump, middle-aged, grandmotherly" woman, but liked the money that came in from the various accounts of these family members, and other boarders who were mentally retarded, who depended on government support, and who Nannie kept in a more or less perpetual stupor.

She confessed in November, 1954, and was convicted on June 2, 1955, and sent to McAlester for life, where she died of leukemia some 10 years later.

According to Ron, "... a tour of the state prison was a part of the curriculum of the Tulsa Police Academy. Lunch was prepared and served in the dining facilities in the women's section of the prison. Coffee was served to the rookies by Nannie Doss, until her death."

If I remember correctly, it was largely due to Tulsa's Merry Widow that arsenic was taken off the market permanently.



---
Date: October 02 2002 at 10:25:01
Name: Sonny Hollingshead
Location: Airline Drive-In
Comments:

To Don Norton, Noel Confer, et. al.:

The address 17-1/2 East 1st Street is now a parking lot and parking garage located across the street from the BOK Tower.

I haven't been down in that area in the past few months, but there should still be a building at 326-1/2 East 1st Street.

---
Date: October 02 2002 at 09:50:08
Name: John Hillis
Location: Fairfax, Virginia
Comments:

Mr. Batterson wins the Tootle's Taco! Sausage-meister Jimmy Dean is indeed behind the accordion. At the time this pic was taken, he was about a year out of the Air Force and fronting the Texas Wildcats on Connie B. Gay's radio and TV shows promoting his mid-Atlantic circuit of firehalls and honky-tonks.

And what's Garner Ted up to these days, anyhow?



A Google search reveals he's been up to quite a lot.
---
Date: October 02 2002 at 08:40:29
Name: Erick
Comments:

I think Lowell Burch has me beat. I went to the fair, and I only had a polish sausage with peppers, onions and kraut, cheese on a stick, pineapple whip, onion blossom, and spiral spud with cheese and sour cream. Along with a beer and 2 cokes. But, I had the infamous fried twinkie! Very tasty. Not as greasy as it would sound.

I think I'm going back tonight to see Grand Funk Railroad.

---
Date: October 02 2002 at 08:22:42
Name: Jim Ruddle
Location: Rye, NY
Comments:

Of course, Nolan Bulloch also appeared in the crime files, being indicted by a grand jury headed by U. S. Attorney Hayden Crawford. The charge involved a conspiracy of bootleggers, cops, elected officials, and Bulloch. Several of those named eventually were convicted, but Bulloch went free. There was testimony that he tried to shake down a county official, but he always claimed that his association with the conspirators was simply in the line of his duties as "Investigator X", for the paper.It introduced enough doubt for the jury to clear him.

---
Date: October 02 2002 at 00:00:37
Name: Don Norton
Location: Tulsa's Shady Past
Comments:

For my "naughty" friend, Noel Confer:

Yes, the downtown pool halls are gone, Blair's formerly in the basement of the "Old Gillette Building" at 17 East Third Street and Doc's, then in the basement at 307 South Boulder. I think I got to Blair's only once, but I played a few games in Doc's, not enough to be good at the game. I did go to Doc's late several times for the scores brought in on the Western Union ticker there. That address was next door to the Tulsa World.

The address of Charlotte Bradford's Pearl Hotel in the 1945 telephone book was 17-1/2 East First, but I didn't go down to see if it's still there; I very much doubt it. There was no address for Pauline Lambert's May Rooms; perhaps Mr. Mike Miller will tell us; I wasn't particularly interested in pursuing the matter.

Pauline Lambert died, I think, about a decade ago and the local newspapers delved into history, but I would have no idea of the date, and this may not be what the public library normally keeps track of. Undoubtedly she appeared in stories by the late Tribune police reporter, Nolen Bulloch. I understand she appeared to be a genteel sort of lady away from the May Rooms. This didn't keep her out of court from time to time, of course.



I spoke today with someone who knows a lot about the May Rooms (326 1/2 E. 1st St).

He said Pauline Lambert wound up owning four contiguous (and communicating) hotels on 1st Street, including Charlotte's and Broadnose Ruby's. Her husband, who worked as a miner 30 miles south of Okmulgee, abandoned her and her kids during the Depression. She started by running a "house of assignation". She eventually raked in 40% of each girl's take. She ran the May Rooms from 1936 until 1979.

I'm hopeful we will hear directly from this gentleman soon.
---
Date: October 01 2002 at 19:42:36
Name: Lowell Burch
Location: Tulsa State Fair Midway
Comments:

I went to the fair and ate: Cajun shrimp, pork chop sandwich, Backyard blackened chicken, Freddie's cheeseburger, footlong kraut dog and six cokes. I'll go back for the fried Twinkie and smoked turkey leg after the Pepto Bismol does its work.

I listened to Third Day and Red Dirt Rangers (two great groups). Then I went to the Expo Square (cool fiber optics) and I really enjoyed the exhibit from the Baseball Hall of Fame. While looking at the jersey of former Driller Sammy Sosa, someone tapped me on the back and it was Steve and Charlene Ripley. They've just finished work on two new Tractors CDs, so be watching for their release.

Finally, I just purchased David Bagsby's Ma-Hu Mansion Halloween CD. It is among the best of its genre and the insert is hilarious. Get it!

---
Date: October 01 2002 at 12:36:17
Name: David Batterson
Location: Pasadena, CA (where Garner Ted Armstorng used to broadcast)
Comments:

The accordian player looks like Jimmy Dean to me!

---
Date: October 01 2002 at 11:38:14
Name: David Bagsby
Location: Lawrence KS
Comments:

Isn't that guy on accordian Norm McDonald?

---
Date: October 01 2002 at 11:20:14
Name: P. Casey Morgan
Location: KWGS/Tulsa
Comments:

I can name that tune! Wasn't that Channel 2 noonday country show called "Swinging Country"? I can even remember some of the annoying and addictive theme song, the opening words of which were something like "Swinging country, swinging country, swinging people singing swinging country tunes...." I'd forgotten that Roy Clark was on it; I only remember that Molly Bee was.

So, Mike, what do I win?



How about a bottle of Tootle's TacoTV™ brand Taco Sauce?

But sadly, according to Alan Lambert:

"Swingin' Country" aired on KRSC-TV at Rogers State. It was a product of the Hank Thompson School of Country Music.

So the mid-60s show must have had another name. No sauce at this time.
---
Date: October 01 2002 at 10:11:39
Name: John Hillis (via email to webmaster)
Location: Fairfax, VA
Comments:
A young Roy Clark who hadn't seen Tulsa at the time is seen in this early 50s postcard for a Washington TV show's beer sponsor. Oh, yeah, extra points for identifying the kid behind the accord-ine...
I first remember seeing Roy Clark on a show at noon weekdays on Channel 2. Does anyone remember the name of the show?
---
Date: October 01 2002 at 01:30:15
Name: Webmaster
Location: Tulsa
Comments: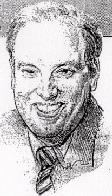 Our own John Hillis has been a bit scarce on TTM lately. This news release excerpt explains why:
John Hillis, President and CEO of NewsChannel 8, the Washington area's 24-hour local cable television news service since its founding in 1991, has formed Equinox Media International LLC, a Fairfax, VA-based media analysis and consultation firm.
Hillis began his career in television news in 1973 as a news film editor at WSB-TV in Atlanta. (He also was news producer at KOTV in the late 70s...webmaster). He was one of the first producers hired for CNN before the pioneering news service signed on in 1980; and he produced and reported for CNN from events around the world. In 1981, he scored a dramatic beat for the then-fledgling network when he broadcast the first bulletin of the shooting of President Reagan at the Washington Hilton Hotel in Northwest D.C.
He then created the first local 24-hour news service, News 12 Long Island, then established NewsChannel 8 in Washington in 1989. He also served as Project Manager for Allbritton Communications Company's development of new ABC-TV affiliated stations in Birmingham, Ala., and Jacksonville, Fla., constructing digital multichannel broadcast facilities in each location.
"Building NewsChannel 8 from the ground up and seeing it through to profitability and success has been a great experience," Hillis said, "and I'm delighted that the association will continue as Allbritton Communications (Joe Allbritton bought KTUL from James Leake in 1983...webmaster) has signed on as one of our first clients."
He added that he also anticipates actively commenting on issues in broadcasting and journalism for consumer and trade press.

---
Date: September 30 2002 at 21:38:41
Name: Harry Tootle (via email to webmaster)
Location: Santa Ana, California
Comments:

Harry Tootle, of Tulsa's "Tootlevision" fame, has now launched TacoTV! Here is a comment about Tootlevision in Guestbook 19 from M. Reynolds:



"Of course the #1 TV crazyness of all time was Harry Tootle's Tootlevision low power station at 26th and Sheridan. I loved his lava light broadcast. It was great watching the lava light for hours."

Harry Tootle:
Millions of Taco Lovers now have a new internet website with which to meet fellow Taco Lovers, visit with each other, exchange recipes and even watch each other on their very own personalized TV commercials...

Webmaster, 6/17/2004: Unfortunately, TacoTV.com has become a porn site, so I removed the link. Nevertheless, the memory burns on in the fiery hearts of true TacoTV fans everywhere.

But wait, here is TacoTV.com the way it was, from the Internet Archive's Wayback Machine!

---
Date: September 30 2002 at 12:51:13
Name: Webmaster
Location: Tulsa
Comments:

Archived Guestbook 115, where we had just read about the May Rooms, an infamous, but popular downtown locale. Check it out, then add your comments in this Guestbook.

---
Back to Tulsa TV Memories main page