Tulsa TV Memories Guestbook 193

TTM main | What's new on TTM? | GB Archive




October 13 2005 at 17:45:57
Name: Jim Reid
Location: Dallas
Comments: Mike Bruchas, I think Switzer owned the Goldies franchise in OKC, but they have all closed, like the two they opened here in Dallas. (sigh)

---

October 13 2005 at 17:35:39
Name: Mary
Email: Mec1118ATAOLDOTCOM
Location: Delaware
Comments: More fun exploring your site and randomly clicking the guestbook archives. (Been raining in Delaware for a solid week; a lot of hours stuck indoors with the kids...)
Little Kings at Boston Avenue Market after work (okay, we were a bit underage...) with Donna Williams and Fat Tuesday playing Stevie Wonder's "I Wish."
Actually saw mention of Bob McRoberts, who my parents used to go hear play piano all the time. He and his wife (I think her name was Linda) came over a couple of times and I remember Bob playing our piano at a birthday party for my mother. Uncle Zeb with the 8's the Place slogan. We borrowed that slogan for the '78 yearbook at Hale and had our yearbook staff photo taken in the news studio. (Do I see one of your regular posters on this page? ) Anyway, thanks for this site.

---

October 13 2005 at 17:33:43
Name: Erick
Email: ericktul@yahoo.com
Location: Tulsa
Comments: Mayo Meadow is being knocked down to make room for Tulsa's newest Wal-Mart Neighborhood Market. I guess that brand name isn't on enough buildings in town, so they had to build just a grocery store for it. How soon before we have the Wal-Mart Neighborhood Drug Store?

---

October 13 2005 at 13:07:26
Name: Mary
Email: Mec1118ATAOLDOTCOM
Location: Dela-where
Comments: These guestbooks are just killing me here. Shopper's Fair and Happy House and Shotgun Sam's after the football game. Bill's T Records -- went there with my dad several times while he was looking for 45s of songs he was using in Gridiron skits. Renberg's and Clarke's Good Clothes and Vandever's...wasn't it Vandever's that had the restaurant overlooking Southroads Mall? And Looboyle...used to eat in their snack bar on my break from work at the Annex theater.
What's going to be done with the Mayo Meadow property after it's torn down? I knew it was slated to go...only a store or two still open last time I was in town. No telling how many hours my mother spent in Jack and Jill's buying clothes for the grandkids. Used to be a small Godfather's Pizza in there back in the 70s. Are there still any Godfathers' left?
Rambling...overdose of memories.

---

October 13 2005 at 13:00:01
Name: Aitchpee
Location: Drug Dept. in Oertle's
Comments: The site of the old Safeway, Homeland, etc. building at 15th and Lewis is now under construction after the original was razed. Does anybody know what store will be there when completed?

---

October 13 2005 at 12:58:01
Name: David Bagsby
Email: dcbatsunflower.com
Location: Lawrence KS-a non-BBQ Bolgna State.
Comments: According to Steely Dan's 'Making of Aja' dvd, that is indeed the Black Cow (an ice cream float). They mention regional variations of the name...kind of like Hoagies/Grinders/Sub Sandwiches.

---

October 13 2005 at 11:45:21
Name: Wilhelm Murg
Email: wilhelmurg@ yahoo dot com
Location: "S" Section at Greer's
Comments: I take it that's not the same drink Steely Dan refers to on the AJA album.

---

October 13 2005 at 10:15:34
Name: Steve Bagsby
Location: Soft Drink Isle at Gulf Mart
Comments: In response to Mike -- Yes! Dad's Rootbeer ran spots on Uncle Zeb (don't know why I remember that). I remember them talking about making yourself a "Black Cow" which if I remember correctly was little more than a scoop of ice cream thrown in your root beer.

---

October 13 2005 at 09:54:19
Name: Bryan Crain
Email: Bcrain@rsu.edu
Comments: I went to the waterslide at Admiral and Memorial quite a bit. I remember the 'color coded' matt system they used so you knew when your 30 minutes was up. Being concrete, it backed up a lot with fellow sliders (some would actually get up and walk past you to get past the clog).

---

October 13 2005 at 07:47:00
Name: Mike Bruchas
Comments: I see G.Ailard S.Artain is in the new movie, "Elizabethtown" - as per seeing Susan Sarandon on GMA today...he was "in a clip".
Are Shasta beverages still being sold in Tulsey? I was humming their 30-year-old jingle in my head for reasons unknown today. Old guys do that.
They were Zeb sponsors and no one but 8 ran their ads. But I can't remember if Dad's Root Beer or was it A&W was another Zeb sponsor - can anyone help?
Are they runnin' the painfully sappy Johnny Carraba & nephew or uncle ads for Carraba's on Tulsey radio like here on the East Coast? I always turn them off. I wonder if it is a family chain or what? In DC on so many street corners, we know that Baja Fresh is really a Wendy's sister outfit (Tim Horton's up North, too) and Chipotle is a McDonald's venture...Pete Abrams said he heard Goldie's in Tulsa is now owned by Barry Switzer! Will the wonders ever cease???

---

October 13 2005 at 01:57:59
Name: Wilhelm Murg
Email: wilhelmurg@ yahoo dot com
Location: Ming's Palace
Comments: Mayo Meadow had a Humpty-Dumpty Supermarket in it when I was a child, back when stores had odd names. I now live close of a Piggly Wiggly, but I noticed the other night that only half of their sign was turned on, so it was just the "Wiggly."
I went to OKC today and while we drove past all the big box stores around the mall, there were moments where I forgot that I was not in Tulsa anymore. I think we'll be remembered for being the first culture to tear down perfectly usable structures to be replaced by other structures. It is becoming an architectural myth of Sisyphus as buildings explode and chase us down the hill, only to be rolled back up again (and again…and again…)
Years from now people will be devoting websites to saving the last Wal-Marts.

---

October 12 2005 at 23:14:26
Name: Dave Harmon
Email: K6XYZ[at]valornet[dot]com
Location: BA
Comments: That abandoned grocery store on Lewis just south of 15th st has finally been torn down. That joint has been an eyesore for many years. Hopefully, something nice will be put in there to help keep the area up.

---

October 12 2005 at 22:05:20
Name: J.R.
Email: JRDallas75[at]msn[dot]com
Location: Waiting outside of Renberg's Utica Square for their fall sale
Comments: I just saw online that Mayo Meadow is set for demolition. I remember going to the Med-X, or was it Al Musick drug? Anyway, it brought to mind the Med-X theme song from the late 70s:
"Med-X Drug Store, the drug store that's close to you.
For shopping convenience and value yoooou trust.
Trust your nearby Med-X, X marks the spot.
Your prescriptions cost less, X marks the spot."
I also saw that the Safeway at 11th and Denver was demolished to build an Office Depot. When I first got out of law school, in 2000, I would go out on my 12th floor balcony of Liberty Towers and take in the view from downtown. I could see the parking lot of Safeway, as well as the QT at 15th.
I moved to Dallas in 2003, but I still have those memories of watching the interesting happenings in the parking lot of the old Safeway, after hours.
By the way, anyone remember Marge McNearney's in Utica Square? My Yenta mother used to drag my little brother and me there to shop for clothes when we were little. While she was picking out clothes for us, we were checking out the Corgi cars in the stairway. It was always our bribe with her. If we tried on clothes, she had to buy us a car. Otherwise, we would threaten to roll around on the ground and get our short-sets dirty...
I hear it later became the "Children's Collection."

---

October 12 2005 at 21:53:42
Name: Aitchpee
Location: By the Fairgrounds
Comments: The old Joseph's Steakhouse was razed several years ago and replaced by a new Carraba's Italian Restaurant. The old furniture store to the north of it was torn down a few months ago and the lot is for sale.

---

October 12 2005 at 21:05:55
Name: Rich Lohman
Location: Walking up the steps of the Water Flume..
Comments: I am so glad someone said something about the Water Flume.
I remember back in the day seeing that monster as we'd go by it on I-44 and thinking how cool it would be to take that sucker on.
The thrills were self-explanatory about the ride but the drawbacks, as I recall were the fact that it seemed like they opened the place and didn't bother cleaning the construction site very well. Rough concrete, rocks and dirt had to be negotiated from the landing pool to the steps going up.
The steps to the top numbered in the thousands and were at an impossible angle. But hey, when you're 11, you can deal. I remember when the old concrete one at Admiral and Memorial opened too.

---

October 12 2005 at 10:56:43
Name: Erick
Email: ericktul@yahoo.com
Location: Tulsa
Comments: The Joseph's Steakhouse building on Yale just north of 51st is now a patch of cement. At least it was last I was down that way.

---

October 11 2005 at 19:28:19
Name: Chris Starr
Email: cheaptricked@peoplepc.com
Location: On the shores of Lake Keystone.....
Comments: Just an FYI. I traveled to Irving, TX over the weekend to see the Cowboys/Eagles game...and made a side trip to the first (and last) Crystal's Pizza and Spaghetti.
I am happy to report that unlike its Tulsa counterpart (since deceased), it has recently had a facelift to return to its former glory...and it was very much a step back in time. I had a very enjoyable lunch in the cartoon theater...Elmer Fudd lives on. Like Casa Bonita, it has gone through several owners, but the current staff seems to be taking good care of the old gal.
Edwin, having worked with you and Sherry back in the early 80s, I fondly recall listening to your Channel 8 stories over a big mug of Pizza Hut beer. I am so glad that there is now a website to preserve it all for posterity.

---

October 11 2005 at 17:22:46
Name: Neal Hallford
Email: nealiios@nealhallford.com
Location: San Diego, California
Comments: In a fit of nostalgia, I've been browsing the web today and came across the entries about KTOW radio in Sand Springs. I thought I'd throw in a bit more about the station as I knew it, way back in the good ol' days.
In the early 1980s, a good friend of mine named Ron Bolinger was working at the station, and talked the programming director there into letting me intern. As it turned out, it was a life-changing experience, and I became a regular DJ shortly after my graduation from high school in 1984.
At the time, KTOW was an AM outfit playing country and western, with a daytime emphasis on the "older stuff" (i.e. Patsy Cline, Bob Wills, Roy Acuff, Ernest Tubb). (Ron and I and a few of the other DJs often secretly called our format "stone age country".) When we weren't playing the classics, we occasionally mixed in contemporary stuff ranging from Alabama and the Oak Ridge Boys to artists who would later be considered pop or rock "crossovers" like Olivia Newton John and the Eagles.
KTOW also carried a great deal of sports. I spent a lot of time punching carts during the commercial breaks for the Kansas City Royals Baseball and Sandite (Charles Page High School) football. We also broadcast Kentucky Derby race results.
The oddest thing about KTOW's format, however, was that for a brief while, we became a satellite repeater for a Chicago pop station. This posed some interesting challenges for those of us working at the engineering board. How does one gracefully segue between "Take Me Back to Tulsa" and "Do You Really Want to Hurt Me" by Boy George? It was a very weird time for the station's format, but it was also part of its uniquely small town charm.
Of course, the peculiarities of the station's format also allowed for us dee-jays to express ourselves in unique ways. Ron Bolinger and I irregularly produced a series of weird tales radio dramas called "Uncharted Regions," and we aired them on and off between 1984 and 1989. The first was "Shadow of the Bulldog Man," a War of the Worlds-inspired broadcast based on a local Sand Springs legend. The show climaxed with a simulated attack on station DJ Mark Maxey, and we shut off the transmitter for fifteen minutes. (We thankfully didn't start any riots, but we did get a phone call or two asking about Mr. Maxey's well-being.)
Even when we weren't doing full-fledged dramas, Ron and I had a flair for weirdness. My early Sunday morning program was called "Chickenbusters" and featured phoned in reports of alien chickens and other audio gags. For the midnight weather report, Ron and I would also occassionally "broadcast" from somewhere exotic, so the local Sand Springs weather would be read from locales like Transylvania (complete with howling wolfs and bats) and politically questionable locales like Belfast (accompanied with machine gun fire and explosions). Mark Maxey, who had helped with the original "Bulldog" broadcast was also known for his shenanigans, but his on-air joke about Oral Roberts later got him booted from the station.
Of course, Ron, Mark, and I weren't the only interesting characters working at KTOW. Our program director was a very good DJ named Mike Graham who also happened to be completely blind. Every knob, button, and record in the station was labelled in Braille, a factor which always surprised visitors to the station. Another DJ owned a record store in Crystal City, and frequently sported a full Elvis pompadour.
In 1987 I officially moved off to finish my journalism degree at the University of Oklahoma, but maintained my connections with the station as Ron and I continued to produce "Uncharted Regions" on our own. On Halloween of 1989 we aired our last episode, "October Harvest", on a very different KTOW. In the years while I was away, KTOW had changed ownership and direction. It went from an AM only C&W station to an AM/FM outfit playing alternative/indie rock. It was still gloriously consistently inconsistent, which was one of the things I had loved about the station when I first ran across it.
Ironically, it was the scripts I'd written for our strange little radio dramas that later opened the door to a career in computer game design. As a result, I still feel like KTOW is with me, and sometimes wish I could go back and sit behind the mike just one more time. It's a great Tulsa memory.

---

October 11 2005 at 12:01:09
Name: Joyce Richardson
Comments: I have a question on the Skyline amusement park.
Didn't a tornado take out the coaster in or around maybe mid-1970s? I remember driving to a park outside Tulsa and seeing the tracks go up and the rest was blown away.
If it wasn't Skyline, can anyone tell me what it was? I've wondered for awhile if it was Skyline or I've been mixed up.

---

October 11 2005 at 09:55:37
Name: Bryan Crain
Email: bcrain@rsu.edu
Comments: The waterslide at 48th (or so) and Yale was called the "Water Flume", just a block or so down the road from the Joseph's Steakhouse building (don't know what it is now).
OK, it's coming back to me now.
---

October 11 2005 at 08:38:08
Name: Steve Bagsby
Location: Front Seat of the Red Rat
Comments: Yes, There was a water slide Northwest of 51st. and Yale where Celebration Station is now. Tulsa went through a water slide phase in the late 70s and early 80s. There was also one just East of Admiral and Memorial. Before that, there were the giant metal slides you rode down with a burlap sack, then we went through a miniature golf phase, then a go-cart phase, etc. In recent years it's been Paintball and Laser games. I wonder what the next big trend will be. Celebrity Foosball?
Here's an action shot from Guestbook 129 of the giant metal slide near the old Oertle's, now Clear Channel's building.

And here's Putt-Putt. We usually went to the one just south of the SW corner of 11th and Memorial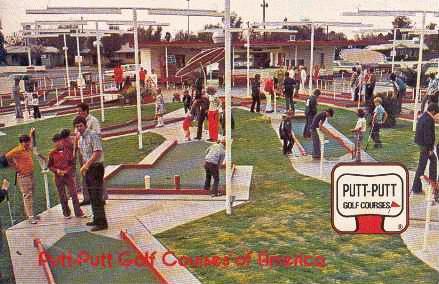 ---

October 10 2005 at 20:11:17
Name: dylan
Location: Seattle
Comments: Nice to see the photos of Skyline Park, even though it closed around the time I was born. Speaking of, there was a water slide around 51st and Yale in the late 70s or early 80s. I was told that it shut down because a kid died on it. Was that true? (I can't even remember the name of the place.)
And Casa Bonita... I lucked out, I guess, because I never ate there. Many elementary school birthday parties were held there in the early 80s, though. We mostly ended up at Ken's and Mazzio's.
The new Skyline pages were featured on Boing Boing this afternoon; hits are so high, the server has bogged down and may be a bit slow again tomorrow. This Guestbook is on a different server, so it should be fine.

Dylan, I can't remember a water slide at 51st & Yale at the moment (which proves nothing), but the Celebration Station (a mini-amusement park) is still there and apparently going strong.
---

October 10 2005 at 14:35:45
Name: Erick
Email: ericktul@yahoo.com
Location: Tulsa
Comments: Griffin Communications (former owner of KTUL, current owner of KOTV and KWTV in OKC) has entered into an agreement to acquire KWBT, Tulsa's WB affiliate.
Maybe this means we won't be seeing M*A*S*H 10 times a day anymore.
Since the WB aims at a younger demographic, that's probably a good idea. I've been M*A*S*Hed-out for quite awhile myself.
---

October 09 2005 at 09:44:37
Name: Steve Bagsby
Location: Chair no. 2 at Floyd's
Comments: Years ago, many of the older musicians I worked with frequented a barber shop on North Sheridan. The barber was also one of the old pickers, and always gave really good haircuts. So one day, I decide to give him a try. UNFORTUNATELY...the barber in question was gone and his backup was a little old man who was probably a champion sheep shearer...80 years ago...when his eyes...and hands...still worked.
When I came home, my wife took one look at me and shouted "MY GOD, YOU LOOK LIKE SLINGBLADE!!!!" I quit wearing cowboy hats on the bandstand during that time because they didn't quite sit on my head too well.

---

October 09 2005 at 01:05:07
Name: roy lee
Email: beerdrunk@msn.com
Location: looking out the window at the weekend
Comments: Thanks for the support, fellas. I feel a lot better, but I think I will stay inside for a few days...

---

October 08 2005 at 23:57:04
Name: edwin
Email: edwinfincherataoldotcom
Location: not on location today-in studio
Comments: Hope every person here understands there would be no MAINTAIN without the support of Starship in 1973.....Matt helped me, as my wife and I, at the time, Sherry, had helped him run his early version of the now well known shop. Sherry worked for no pay while Matthew was an audio guy at 8...later she got a .50 raise...etc....Fine Female that, and I know Matthew thinks the same. Without either there would have been no "video art" TV program at that time.

---

October 08 2005 at 20:12:06
Name: John Young
Email: johnk662561atyahoodotcom
Location: In Oertles Hair Care Aisle Looking For Butch Wax
Comments: Speaking of bad haircuts...I got one of those early in the summer. It was horrible. The wife tried to fix it and only made things worse. To make a long story short, I wound up (literally) shaving my head. I looked like a door knob with eyes! I also realized that with no hair I looked like Mr. Clean and one of those female Klingons from STNG had had a Love Child...verry scary and sad. Dips, bumps and ridges worse than the "Old Hwy 33" Dan P. Holmes used to rant about!
Never again. What's that old saw? "Never trust a cock-eyed barber"? 'Tis true, 'tis true, much to my chagrin...

---

October 08 2005 at 19:40:50
Name: David Bagsby
Email: dcbatsunflower.com
Location: Lawrence KS
Comments: Lee's Barber Shop was our neighborhood hair cut joint. It was right on 11th across from the Rose Bowl. Back in the early 70's, a new kid to the neighborhood who had long hair went in for a shag. He came out with a Sergeant Carter. Felt bad for him. We used to call him "Lee the Butcher".

---

October 08 2005 at 13:35:03
Name: roy lee
Email: beerdrunk@msn.com
Location: under my hat!
Comments: Speaking of Tulsa businesses that have closed and re-opened, here's a message to all customers of the old Tye's Barber shop on Admiral. BEWARE! Tye died awhile back and the cool western swing guy who took over has retired. The new owner has put up a big sign over the door that reads "hey dudes". Well dudes, unless you want an accidental Mohawk, don't walk in that door!!! Problem with a bad haircut is of course, you can't take it back! Mike, I know this is a bit off-topic, but I feel so helpless I had to tell someone!
Roy, you might want to "head" over to Dewey the Barber at 21st and Garnett. He used to (and may still) have a hand-painted wooden sandwich board sign out front, "Short Hair Specialist", adorned with a sketch kind of like this, but not quite as artistic. He could probably even that up for you.
---

October 08 2005 at 11:40:45
Name: Gary Thompson
Email: gary@kxoj.com
Location: S.W. BLVD. Pulling into Ollie's
Comments: Anyone know who started Ollies (Train theme Cafe) on SW Blvd. near 33rd W. Ave?
And when was it started? Is it still there?
It's really entertaining to sit there eating your chicken fried steak with the train chugging around the room over your head.

---

October 08 2005 at 10:26:43
Name: Mike Bruchas
Comments: Tangent here - Jack Hobson and I saw "Good Night, and Good Luck" here in DC last night. It's the movie about Edward R. Murrow vs. Sen. Joe McCarthy. Clooney said his dad Nick was inspired by Murrow and so later was himself. David Strathairn plays Murrow - the voice is higher than Murrow's was but the "reads" are pure Murrow in intent. This is a movie with a lotta smokin' in it.
Steven Soderbergh was exec producer but Clooney wrote and directed this period piece. Great movie and a fattened George Clooney is something to see as the late Fred Friendly. Frank Langella is good as the late former CBS founder/owner Bill Paley. A very good cast and Sen. McCarthy is himself on film and "kinies" - so no actor was needed.

---

October 08 2005 at 10:01:22
Name: Jim Ruddle
Email: jruddle@earthlink.net
Location: Rye, NY
Comments: TU won't be the only one: The University of New Mexico, on Central Avenue, in Albuquerque, old Route 66, is another. There may be others.
Regarding highway 66, the Travel Channel last night had a bit about the road, including a lengthy piece on Cain's. It was probably a rerun and everyone but me had seen it years ago; however, it was new to me as was the information that the ghost of Bob Wills is supposed to haunt the joint.
If someone encounters the shade of Johnny Lee, let us know.

---

October 07 2005 at 16:12:31
Name: greg
Email: gagray@rogersandbell
Location: 8th floor, NBT Bldg. Tulsa, 3, Okla.
Comments: I recent purchased by the mystery of E-bay two "Uncle Hiram KVOO-TV Safety Club" lapel buttons. Does anyone remember Uncle Hiram? My memories begin pre-OOM-A-GOG, but Uncle Hiram draws a blank. Readers?
We've heard directly from Elmer the Clown (aka Noel Confer) of the Uncle Hiram show.
---

October 07 2005 at 15:13:04
Name: Wilhelm Murg
Email: wilhelmurg@ yahoo dot com
Location: Banging on Starship's Door
Comments:
It will be interesting to see how many of the people who have mourned the passing of Casa Bonita will actually show up when the mock 2 version opens (the same goes for Starship). I like the way some posters see it as a conspiracy to set off their saliva glands at the ringing of the bell (kind of like when New Coke was announced in the 1980s and old Coke was supposed to disappear forever). The only mistake the Casa Bonita Corporation made was that they should have stayed open through the fair; that would have been nostalgic. Tulsans are the only people conditioned to relax after walking around the fair all day by standing in line for an hour to eat sub-standard faux "Mexican" food.
I haven't heard anything about the Metro closing, but from what I've read, I understood it to mean that The University will be taking over that whole section of 11th street. I always found it odd that the Grande entrance to TU was from 6th and Delaware which, of course, no one ever sees unless they are leaving Starship and heading north, or they are on their way to student housing (or both).
Will TU be the only higher education organization directly on Route 66?
---

October 06 2005 at 19:32:53
Name: George Tomek
Email: MrAnchor@cox.net
Location:

Edmond, OK 73034
Comments: As promised in Guestbook 165, here's an update on the short film I was cast for about a year ago by Therapy Films in London, U.K.
It's done and in fact, you can plug in "Tube Poker" on Google or other search engines and find it and news stories about it popping up all over the place.
You can see a nifty little, fast-moving trailer about the movie either through my website GeorgeTomek.com which takes you to the "Tube Poker" website or you can go to the movie website directly which is TubePoker.com. As Woody Allen might say the movie's website tells you "everything you ever wanted to know about Tube Poker, but were afraid to ask." The only thing that is available currently for viewing is the trailer but, believe me, the rest of it is very interesting and packs a helluva wallop in the 15:00 it runs. Hope you enjoy it.

---

13 October 05 2005 at 08:34:11
Name: Webmaster
Comments: Donna Leming (who drove the MG seen in "The Outsiders") passed along this link to an iVillage story about what the main cast members have been up to since the movie was shot here in 1983.

---

October 04 2005 at 15:33:52
Name: Steve Bagsby
Location: Outside of Spot Bargain
Comments: Well, the Rose Bowl was on fire yesterday evening. We had a ringside seat to it from our front porch. At one point, we had the News 8 chopper hovering over our house getting shots. Looked like they might have started jousting with the News on 6 chopper for position.

---

October 04 2005 at 11:19:47
Name: Erick
Email: ericktul@yahoo.com
Location: Tulsa
Comments: I'm glad Casa Bonita is coming back as Casa Viva. However, in all honesty, their food has left a lot to be desired in recent years. Some co-workers have referred to it as "Alpo on a plate". I won't go that far, but I certainly hope the promise of better food won't be forgotten.

---

October 03 2005 at 15:40:08
Name: Alison
Email: zarrowmail-booknotice@yahoo.com
Location: Tulsa
Comments: Abandoned Tulsa (preview at AbandonedTulsa.com) is getting ready to be published by a new small press interested in the photography and history of urban spaces.
If you'd like to be notified when Abandoned Tulsa is available and how to obtain a copy, send an email.

---

October 03 2005 at 15:13:40
Name: John Young
Email: johnk662561atyahoodotcom
Location: Casa Bonita Parking Lot Feeling...
Comments: ...like a total CHUMP! Folks, I think we've been "had". This is just MY opinion, FWIW. I have to admit, the management and owners of CB pulled one of the most successful Publicity Stunts in Tulsa History. By playing on the feelings and memories of Tulsans old and young, the good folks at CB made a killin' Thursday and Friday night.
"Casa Bonita will close its doors forever on 9/30/05. What we aren't going to tell you until 10/2/05 is that it's going to reopen under a new name with the same food, staff, management and ambiance!"
Sorry, Mike. I'm not trying to start trouble by saying this. I just feel like we all got "taken advantage of" in a way and it makes me feel bad. I mean, I'm glad everything but the name is going to be the same. I just kinda feel like we all got lied to, if you get my drift.
Anyway...rant over...pass the sopapillas and the honey please. This old curmudgeon needs some sweetening up...!

---

October 03 2005 at 12:42:48
Name: Alan Lambert
Email: alambert@rsu.edu
Location: Public Radio 89.5
Comments: Radio fans of "Big Band Saturday Night"!! Some GOOD NEWS!
After nearly eleven years...I am moving BBSN to a new Tulsa radio home! Beginning Saturday night, October 8th at 8 p.m., we will be on the air at Public Radio 89.5 FM, KWGS at the University of Tulsa (NPR).
Not only will BBSN be live to the area but since Public Radio 89.5 streams their air signal, we will take the show to a world audience! Check us out every Saturday evening, Central time, 8 to 10 p.m. Sometimes we will be live, sometimes the show will be recorded, but always with an email link of: BigBand@kwgs.org. What a thrill to join my long-time friend, John Wooley, on the radio. (John hosts "Swing on This!" at 7 p.m. each Saturday evening.)
I worked at KWGS between my years at KVOO AM & FM and going to RSU Broadcasting in 1993. So, it just feels right!
Thanks to some wonderful listeners who have supported BBSN all these years. Thanks to my bride, Diana, for being so patient with my Saturday night schedule and certainly to all the gang at Public Radio 89.5: Rich, Frank, Casey, Michelle, Brad and certainly the golden-voiced Ed Dumit.
I want to thank everyone at Rogers State University for allowing me to move BBSN to 89.5. I am the station manager for RSU-Radio and since late March I have been serving as the interim general manager for KRSC-TV 35 (Cox Cable 19. We've been streaming 91.3 FM, now called: Real College Radio, since 1997. So, I KNOW what the global stream of a radio show can mean.
So, let me tell you...I look forward to Saturday night and hitting our theme song, "Theme from Route 66" by Nelson Riddle!!
See you Saturday night October 8th, at 8 (Central time) on Public Radio 89.5! Big Band Saturday Night...continues on Tulsa radio!!
As we always say...Let's boogie!
Alan Lambert
Having these two shows back-to-back is great news for Tulsa radio fans.

Here is Alan as "Captain Alan" with Oom-A-Gog.
---

October 03 2005 at 12:40:58
Name: Deric Davis
Email: davisderic@hotmail.com
Location: Broken Arrow
Comments: The gentleman making the movie at the Tulsa State Fair is named Rhett Matthews. He is making a documentary about Bobo the Clown. Mr. Matthews is also the owner of "Rhett & Company", the upscale salon on Brookside. He has a grand vision about his film and has been talking about it for the better part of a year. His salon is the nicest and best in Tulsa.
He has quite a bit of passion for his film project. When he first told me about it last year, I did not know who Bobo was, but his enthusiasm for this film and its intriguing premise, made me a fan. I am glad to see such things happening.
Thanks for the extra info, Deric.
---

October 03 2005 at 10:21:26
Name: George Tomek
Email: mranchor@cox.net
Location: Edmond
Comments: There was a Casa Bonita on 39th near Portland in OKC. Like so many other former restaurant sites it seems, it is now a Chinese buffet. I took my family to what was purported to be the original Casa Bonita in Colorado a few years ago. It had an atrium-like interior included a multi-level waterfall. If we were going to over-indulge in a place like that, we always preferred Pancho's Mexican Buffet. There are a ton of them (or used to be) in Dallas. The first in Oklahoma City was in Casady Square in the Village. Again, it is now a Chinese buffet, but you can still see some of the Mexican decor painted of the rafters. Is Coman's Restaurant near what used to be the Delman Theatre in Tulsa still there?
Coman's has been mentioned here several times, but it no longer exists.
---

October 03 2005 at 08:29:32
Name: Brian
Email: brian74055@hotmail
Location: Casa Bonita
Comments: In the back of my mind I knew it was a way for the current owners of Casa Bonita to make many bucks playing with the minds of Tulsans. The 'new' owner of the place is actually the original owner, so look for the place to become the hot stop that it once was.

---

October 03 2005 at 04:50:33
Name: John Young
Email: johnk662561atyahoodotcom
Location: Insomniac City
Comments: I was glad to read about Casa Bonita simply changing names and (possibly) improving the food. A poster in the earlier guestbook had it right. In the last few years, CB's food quality had dropped to that of an El Charrito TV Dinner...the really cheap one. The last time my wife and I went, it was OK. But the time before THAT...brrrr! The sopapillas made up for what was a really BAD dinner that night.
Rumor doth have it that the brains behind the reopening of CB in Tulsa under the new name (Casa Viva?) is same guy that owns the Burger Street franchises here in T-Town. I guess us hungry folks and the Food Critics will have to wait with baited breath until the new place opens. Although, honestly, IMO as long as the honey and the sopapillas are still there, they could be serving SOS and I'd STILL go.
Another rumor...one that has me and the Mrs. concerned... Is it true that The Metro Diner is going to shut down and/or move?? Say it ain't so, Joe...say it ain't so!! First CB...then Starship...and now Metro?? NOOOOO!!!

---

October 01 2005 at 20:31:28
Name: John Hillis
Location: Outside Casa Bonita Range
Comments:
Now, what will I do with all these little bitty black armbands I got for the bees that made the honey for the sopapillas?

---

October 01 2005 at 15:23:57
Name: Webmaster
Comments: Archived Guestbook 192.
After all our wailing and teeth-gnashing in that Guestbook, it turns out Casa Bonita is not disappearing, but transforming into Casa Viva, under the original Bonita management. The unique decor will remain intact, and the food is to improve, so there will be a different and better reason for teeth-gnashing.
Tim Oliver, owner of low-powered KLOT-TV in Tulsa in the later 90s, checked in from down under.
Does the creator of "The West Wing", Aaron Sorkin, mention Tulsa in his scripts for a reason? Does anyone remember KRAV-FM running "Jive Talkin'" into the ground on April Fool's Day, 1977? Does anyone have a June 1946 Tulsa Downtowner magazine? All these questions were posed, none have been answered yet.
The Tulsa State Fair is here. New page(s) coming on Skyline Park in Jenks. Wanda Baker, former dispatcher for the TPD, is reading her way through the Guestbook Archive and sharing the recollections stirred up in the process.
Stay tuned.

---
Back to Tulsa TV Memories main page