Tulsa TV Memories Guestbook 171

TTM main | What's new on TTM? | GB Archive




November 04 2004 at 17:16:04
Name: Lowell Burch
Location: Standing in the lottery ticket line
Comments: I used to date a girl way back in the 70's who worked at the 11th Street T-F. When I stopped for a burger and shake a short while back, I asked the guys working there if they remembered her. They did. I remember she often had blisters on her hands from tossing fries into the hot grease. (There is a loose tie into Channel 2 from this point but too long to tell here.)
Linda-Mar has been over at 51st and Union at least 35 years. Great burgers, too.
And, finally, Carl B. did a fantastic job on those old Channel 8 promos. They are absolutely perfect in every way. They were always more fun to watch than regular TV. Thanks for putting them on the TTM site.

---

November 04 2004 at 15:19:53
Name: Steve Bagsby
Email: sbagsby@tulsacc.edu
Location: Bushaun's Dairy Boy
Comments: Yup, the TasteeFreez on 11th is still there and still good. There's also a place out Southwest called the Linda-Mar that's worth a try. BURP!!

---

November 04 2004 at 13:54:17
Name: Roy Lee
Email: beerdrunk@msn.com
Location: wow
Comments: Wow, all it took was a talk on old burger joints to bring out some good people from my youth! PAULA! Did you ever realize that telemarketing job we had for that summer was a complete scam?! That sort of popped into my head about 10 years ago when I drove by...
David Burdick! I remember you.. you were pretty good too as I recall. The Tastee Freeze guys painted over the sign, sort of. so I guess they are the place with no name. Still pretty good and they sell obscure right wing newspapers there too...

---

November 04 2004 at 09:52:20
Name: Robert Kurtz of Beef Baloney (via email)
Location: L.A.
Comments: Beef Baloney is BACK! This new show, they're calling Weird TV, is part of MSN video on MSN.com and Robert is licensing all the old Beef Baloney spices and surprises for the entire world to experience.
AND - to further the weird, Nathan Gray of Beef Baloney came to L.A. to join in the fun and now its just like old times, but with more money and bigger audiences.
Here's the link:
http://video.msn.com/video/p.htm
Once the page loads, click on the "Entertainmant" tab, then on the "Weird TV" tab and scroll down to see Nathan in the old Blood Balloons segment from the Beef Baloney Halloween episode.
Robert and Nathan are working together on their own productions for the show, so we'll keep you informed about those. I hope everything is still great in T-town and I thank all of our fans and helpers once again for making it possible. Beef Baloney was the best thing I ever did... so far at least.
Nathan and I are doing fine and having fun with a whole new carton of taboos to break in a whole new city freak-doe-mites and krunk-a-zoids.
Don't stop trying to make things better,
Love,
Robert
PS: the more clicks we get, the more money we make. So tell all your friends and don't be afraid to watch Robert and Nathan's stuff more than once.

---

November 04 2004 at 06:46:32
Name: Mark Erdwin
Location: Tulsa
Comments: I'm proud to say that I gave Mr. Van Maren a few of those gray hairs. Congratulations, Tim!

---

November 02 2004 at 23:44:12
Name: (Emails forwarded by Charlene Lewis)
Location: 92.9
Comments: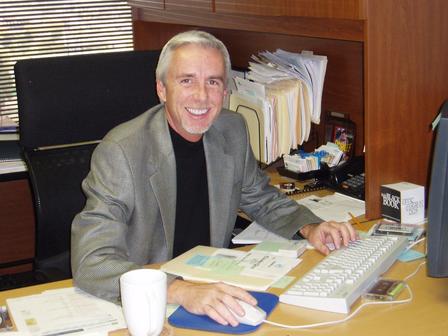 To all of Renda Broadcasting:
Today is a special day at KBEZ. Today marks the day that Tim Van Maren first walked into KBEZ as an employee THIRTY years ago!. Now, in an age when radio keeps printers in business making business cards for new employees, Tim's record is unique.
While still in high school, Tim worked in the office and one day intercepted a request from the BIG radio station, the AM Rocker KAKC, for a student to work as a go-fur. Instead of posting the job, Tim answered the request himself, got the job, and the rest, as they say, is history. During his 30 years with KBEZ, Tim has worked as continuity director, traffic director, promotions director, program director and now serves as Operations Manager for our station.
When I first joined KBEZ 14 years ago, I found that any person or system under Tim's control ran like clockwork. He plans, executes and follows up on assignments. He is in touch with Tulsa. The announcers who work with him salute his EQ (that's managerial jargon for being able to manage and motivate people).
Tim has exemplified loyalty and the ability to stick out the hard times with a persistence and dedication that would rival General Patton's.
It has truly been a privilege to have had Tim on my team during my tenure here. I hope that you will all join with me in saluting "Mr. KBEZ" (as he's known in the community), Tim Van Maren.
Pat Bryson, KBEZ General Manager
------
It was a chilly day in mid December 1976 when I first walked into my new job as the overnight guy on KAKC 970 AM in Tulsa, in the Trades Winds West hotel. I was 25 at the time, and that was when I met a young man, still in high school or college I believe, who used to come in in the evening to run the computer print-outs on those old giant printers with the green lined wide paper. He served both KAKC AM and KAKC FM. From overnights, I moved to middays, until I left for Jacksonville Florida in 1978. That young man I met was of course Tim Van Maren!
It is part of what makes this Company special for me...a connection to what seems a very long time ago.
Incidentally, it was during my tenure there that KAKC-FM took the call letters KBEZ.
Congratulations Tim, from this Renda colleague in Jacksonville!
Arthur Crofton

---

November 02 2004 at 23:19:42
Name: Joy Cooper
Location: Keeping my head above the rising water (so much rain)
Comments: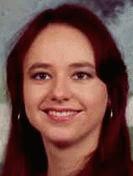 Voted today!
I remember the red poppies in school and the little "care packages" we school kids created to send to needy youngsters who had no toothpaste, toothbrushes, soap, etc. Can't for the life of me remember where those boxes were going.
I thought the best burger in Tulsa during my time there was Pete's Hamburgers on 15th close to Sheridan and Cotton's chicken fried steak sandwiches were great, too. I'll bet both of those places are history now.
Mike, did you go to the E.C. reunion this summer? Hope all is well in T-town!
I didn't hear about any East Central reunion this year. Maybe in 2006.

Cotton's is still there on Admiral between Memorial and Mingo, in the heart of weekend flea market action.

Good to hear from you. (Notice I used the more up-to-date photo.)
---

November 01 2004 at 16:13:05
Name: Erick
Email: ericktul@yahoo.com
Location: At my polling place...
Comments: Just a reminder for all registered...vote Tuesday!
We've all seen the polls in the presidental race, and it's very close. Every vote will count.
Locally, we have huge Senate race to replace Don Nickles, and many important state questions to decide.
Make your voice heard!
My name is Erick Church, and I approved this message...
Thanks for that non-partisan exhortation. I won't be sorry to see the last of these political commercials for another two years.
---

November 01 2004 at 00:53:55
Name: Mike (no-sleep tonight) Bruchas
Location: Balmy DC
Comments: Tangent here - remember as a kid - buying a poppy from a veterans group in school? I am working overnight news shifts this election week and tonight all of our UK/Aussie news talent is wearing pin-on poppies tonight.

---

October 31 2004 at 15:54:05
Name: Erick
Email: ericktul@yahoo.com
Location: Tulsa
Comments: Del Rancho...I can't for the life of me remember exactly where it is. I know it's on 11th in an old KFC, if that helps.
Channel 4 LP, which used to be licensed out of Tulsa is now licensed out of Tahlequah as an ETV for NSU.

---

October 30 2004 at 23:19:36
Name: Rich Lohman
Location: Tulsa
Comments: I remember Hemi's Pizza quite well. It was withing bike riding distance from my home at 41st and Garnett. Strangely enough I live about a half mile south of there now.
Anyone have the address of Del Rancho in Tulsa, by the way?

---

October 30 2004 at 20:51:37
Name: edwin
Location: I can only hope
Comments: Is channel 4 LP still open? I am pushing the school system to go LP & just kick the cable stuff on to it. (educational) Should be an easy grant. Some people can't afford cable & TPS could supply education over the public airwaves. Have you noticed that TPS lost chan. 24? It seems the original contract is no good anymore. (when I built the studio at Tulsa Cable in '74) Ever the mess, some people are happy about it since they get the same pay for one less channel to operate.....if I were an employee I would probably agree!

---

October 30 2004 at 16:48:38
Name: Erick
Email: ericktul@yahoo.com
Location: Tulsa
Comments: Indeed, KLOT-LP will soon make the switch to Univision. There is also a constuction permit on file with the FCC in KLOT's name at channel 45. This may mean a switch to channel 45 to make room for future improvement in signal without interfering with KOKH-25 in OKC.
Makes you wonder why it took so long for Tulsa to get Univision. Tulsa's Hispanic population has grown alot in recent years, and that community needs to be represented in the media.
I've enjoyed KLOT for a number of years. Don't forget, Sam Jones' last Tulsa TV gig was a short-lived version of his call-in show on KLOT in '97. If I remember correctly, Gary Shore even appeared on the show a couple of times to give the forecast before his short stint on ORU's KGEB.

---

October 29 2004 at 21:03:11
Name: Steve Mindykowski
Email: rugrats1@tampabay.rr.com
Location: Tampa Bay, FL
Comments: I've been an occasional visitor on your site, and I find it interesting. While I've never been to Tulsa, I can relate to some of the things on your site.
Now, for the real reason why I'm signing your guestbook -- Tulsa will be getting its first over-the-air Spanish TV station soon. According to the Fort Myers (FL) News-Press, Equity Broadcasting will be opening several new, low-powered Univision stations in various cities in the coming weeks, with Tulsa being one of them.
No mention of channels or calls, but a prime candidate is KLOT-LP Ch. 25, which currently offers MTV2. The reason why I think it'll appear on that channel is that Equity has bought MTV2 affiliates in Minneapolis and Detroit from Viacom for Univision service, so chances are that Univision will appear in Tulsa on Ch. 25.
(Source: http://p081.ezboard.com/fmichiganradioandtvmetrodetroitsemichigan.showMessage?topicID=2574.topic)
Thanks again, and keep up the good work.
KLOT has an interesting history. Nick Beals just passed along to me a few tapes (alas, in 3/4" tape format) of "Just After Midnight" and "Urban Almanac", local shows created in the early 90s by Tim Oliver, who started KLOT in 1997. Nick mentioned the tapes back in Guestbook 115. A good bit more about KLOT is in Guestbook 81.

"Dr. Ratt", who did the local and national rock and roll news on JAM, visited in Guestbook 117. He is Tulsa musician Tony Romanello's uncle. (Tony and his band deserve more international exposure.)
---

October 29 2004 at 11:59:08
Name: Gary Hoff
Email: 72277.3044@compuserve.com
Location: Des Moines, Iowa
Comments: What a fun site you have.
I grew up in Tulsa and knew a number of people in the technical side of broadcasting because my father, A.L. Hoff, was one of the men who taught electronics at the old Tulsa Technical College at 7th and Detroit downtown.
When I was 8 I was a featured contestant on the Saturday morning "Kids Karnival," because of my father's acquaintance with the man (whose name I've forgotten) who played Kat the Klown on that show. There was another clown on the show called "Mouse" who did all kinds of skits with Kat, btw.
And I also know about Ma-Hu Farm because I lived a block from there in 1960-61 and used to sneak onto the grounds to gawk at the longhorn cattle and peacocks that the owners kept. We lived so close you could hear the screams (unnerving to a 13-year-old when heard at midnight!) of the peacocks.
Last, I had the chance to meet Spanky McFarland once, during the time he had a kids show of the Little Rascals on local TV. We had stopped along the road at about 31st and Sheridan right after a B-47 bomber exploded on takeoff from the airport and Spanky himself came over to our car and greeted me and my brothers and sisters with a jaunty, "Hi, rascals!" He had stopped, too, to look at wreckage.
Anyway, thanks for a fun site. I'll be back...
Gary, thanks for all the good information.

Here is a timely piece from Frank Morrow: Halloween in Tulsa, 1940.
---

October 28 2004 at 19:33:31
Name: David A. Burdick
Email: sinstailor@onlinetx.com
Location: born in Tulsa...lost in Texas
Comments: My fave meal back when was a drip beef hoagie from "Big Al's"...that or a pizza from "Hemi's".
Someone may remember me from various rock bands way back when...

---

October 28 2004 at 16:30:35
Name: A. Nelson
Location: Tulsa
Comments: Do you have any info on your website about Modell Phipps? I'm trying to find out some of the names of his characters he used in his commercials. I have a friend who is obsessed with finding out some of the names of the characters he used.
Do you know where I could find out those names?
I remember Modell Phipps, Lurlene, and "Old Ned"...who else?

Here is Lee Gideon's picture and obituary on this site.
---

October 28 2004 at 13:27:50
Name: Paula
Email: PaulaJScheider@aol.com
Location: St Paul-freakin'-Minnesota
Comments: After months of lurking, I had to comment on the burger thread. Steve's mention of Ma Bell's made me feel incredibly old...but the mere mention of Weber's almost brought tears to my eyes! I think it may have even been you, Roy, who introduced me to Weber's during that summer we worked together at that telemarketing job...

---

October 27 2004 at 22:13:07
Name: Erick
Email: ericktul@yahoo.com
Location: Tulsa
Comments: I believe the Tastee Freez on 11th is still running, but it's hard to catch it open. Last time I was by, I think a sign indicated they were under new management.
Talking about great burgers reminds me of The Onion Barrel in OKC. I grew up just a few block from there. Great stuff.

---

October 27 2004 at 17:02:02
Name: David Bagsby
Email: dcbatsunflower.com
Location: Lawrence KS
Comments: Favorite Tulsa burger for me is the Tastee Freeze at 11th & Yale. Is it still running?

---

October 27 2004 at 16:25:29
Name: Roy Lee
Email: beerdrunk@msn.com
Location: Burger time!
Comments: Well I haven't had Del Rancho yet but if the Bagsby boys like it, it's gotta be the real deal! Just got back from Harden's at 4th and Sheridan. (site of my first date, was a Dairy Queen back then.) Guess I need to get out of the neighborhood more often!

---

October 27 2004 at 00:36:18
Name: Webmaster
Email: mike@tulsaTVmemories.com
Location: Tulsa
Comments: Urgent: Does anyone have a picture or sketch of Igor and Hornstaff, hosts of KOTV's late-night horror movie show of the 50s, Shock Theater? If so, please let me know.

---

October 26 2004 at 16:41:57
Name: Erick
Email: ericktul@yahoo.com
Location: Tulsa
Comments: Not more than an hour after seeing the Del Rancho commercial that prompted my first post about the restaurant, I found out that the owners of Del Rancho appeared on Good Day Tulsa this morning. While promoting the restaurant, they gave a on-air demonstration of the double-battering technique for the Steak Sandwich Supreme.
For my money, Goldie's has one of the best burgers in town (medium well, please). Hank's on Admiral is also very very good. So is Weber's. Well, let's just say it's been awhile since I consumed a bad burger.
I tried a Del Rancho this evening. The sweet relish that comes with the #2 special wasn't to my taste, but otherwise, the double-meat burger was good, and the fries were hot 'n' tasty.

But before the burger, I went to an Indian (as in Calcutta) concert at TU. The incredible tabla player, Sandip Burman, has worked with Bela Fleck and former Weather Report bassist Victor Bailey. He was featured in Danny Elfman's score to "Mars Attacks!" Rajeev Taranath is a master sarod player. Todd Kelly, a jazz trumpeter from Peoria, Illinois played with mute, making some of the music sound like Miles Davis meets Ravi Shankar. These musicians communicated with each other in a near-telepathic way to create an unforgettable evening.

Spotted two Tulsa TV-related people there: Jack Hobson, who was a KOKI cameraman in the early 80s, and Reed Mathis, the bassist in Tulsa-bred, nationally-recognized Jacob Fred Jazz Odyssey. Aside from his rising career in that free-form jazz outfit, Reed appeared in the hilarious interview segment with Gen. Wesley Clark on"Beef Baloney", and is the son-in-law of KWGS' Casey Morgan, organizer of the Tulsa Radio Icons event this year.

East met West at Del Rancho. While ordering and chomping on my burger (actions es-chewed by Reed and probably the Indian musicians), I listened to the Indian classical music CD bought at the free show. Ah, life is good.
---

October 26 2004 at 15:32:39
Name: Dave Harmon
Location: Where the 405 & 110 Collide...until next month!!
Comments: I went to Claude's last month and was disappointed. I still think Freddie's is the best burger I have ever had...well, since Van's at 15th and Lewis anyways...

---

October 26 2004 at 09:36:45
Name: Mike ("very sweet cherry lime-ade and a chili footlong") Bruchas
Location: DC - awaiting long hours on election day
Comments: I spent many a lowly dollar at a Del Rancho in OKC, too. This weekend - will be in far downstate VA but not more than a 5 minute ride from a Sonic in the Christiansburg, VA area!
If you drive thru Lynchburg, VA - domain of Jerry Falwell - on both ends of US Rte 29 - you will have passed not 1 but 2 Sonics. I have thoroughly brainwashed Virginian friends into MUST-STOPPING at a Sonic weekly.

---

October 26 2004 at 09:28:59
Name: Steve Bagsby
Location: In the Drive-thru line
Comments: HAIL DEL RANCHO!! Very good food! And if you liked "Ma Bell's", you can order from your table via telephone (why back in our day, we had to use semiphore flags!)

---

October 26 2004 at 09:22:37
Name: Erick
Email: ericktul@yahoo.com
Location: Tulsa
Comments: Food tangent...
Del Rancho is open in Tulsa! The name is deceiving, but it is not a Mexican restaurant. Quite the opposite, it's more a burgers and fries place, but everything is made to order including the very delicious and totally un-nutritious Steak Sandwich Supreme.
It's Tulsa's first Del Rancho, but there are several locations in OKC, and I grew up on the stuff. I haven't had a chance to stop by the Tulsa location on 11th, but I will ASAP!

---

October 24 2004 at 14:14:45
Name: Lowell "Boris" Burch
Location: Tulsavania
Comments: The producers of the Frankenstein prank had to pick the right reporter, a nervous fellow who was willing to do the job. And, remember the setup was that "every 100 years the monster appears". Every 100 years? That would place the original story at least as early as 1752, right? A more cynical reporter would have picked up on the prank early on.
I listen to the new classical station (KWTU, 88.7) much of the time and recommend it to my students. I really enjoy their selections.
Maybe Lowell "Sherlock" Burch would be more appropriate. Frankenstein: Or, the Modern Prometheus, published by Mary Shelley in 1818, is widely considered to be the first true science fiction novel.


October 24 2004 at 00:11:30
Name: Melody Deocampo
Email: stormkeeper@optonline.net
Location: Yonkers, NY
Comments: With Halloween coming on, I remember in the not-so-distant past someone on Tulsa radio doing a Halloween broadcast of an old recording of something like "Frankenstein's Crypt"??? Or something to that effect. It was a reporter in a darkened crypt with spooky sound effects and he was to report on the opening of the crypt? At the end the reporter ended up fainting. Does anyone remember this and is it still being broadcast or where can I get a recording of it? I've scoured the net for it with no luck.
I believe KRMG's John Erling still plays it on his show every Halloween, and has since the late 70s. I taped it around 1980 and just converted it to RealPlayer for you. A bit of Erling commentary can be heard at the end.

Carl Nelson was a Armed Forces Network announcer who visited the Frankenstein castle near Darmstadt, Germany on Halloween night in 1952.

He was already apprehensive as he probed into the crypt under the dark castle, reporting all the while. He knocked something over, and the resulting crash sent his heart into his mouth. He was calming himself when he spotted a grotesque statue in the fading beam of his penlight. He thought he saw it move slightly. Fearful but still reporting, he forced himself to go up and touch it. He discovered that it wasn't made of solid material as he had supposed...and it moved again.

Nelson lost it. Pleading for help and pounding on the locked door, he fainted.

It was an elaborate prank that almost backfired; he could easily have had a heart attack. It is scary to hear this man freaking out for real while valiantly trying to do his job.

Here is another telling of the story (near the bottom of the linked page) by the son of one of the pranksters, more about the Frankenstein castle, and pictures of it today (in the daylight).

The Real Frankenstein-An Untold Story is a 1995 documentary by David Frost which includes a visit to the castle.

Hier ist die Burg Frankenstein web site, auf Deutsch. Here it is clumsily, but usably translated into English by Google.


October 22 2004 at 02:12:37
Name: Guy Atchley (via email to Mike Bruchas forwarded to webmaster)
Location: Tucson
Comments: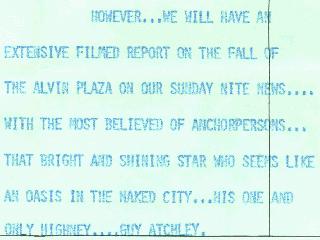 Hello Friends & Neighbors,
My new book is called:
Now for the good news...
It's a compilation of inspirational as well as humorous stories.
It's available via Pay Pal at GuyAtchley.com.
Or just e-mail me and I'll mail you a copy.
Cost: $17.95
w/tax & shipping: $22.31



October 19 2004 at 17:42:40
Name: Webmaster
Comments: Mike Bruchas found a page about Gail Pennybacker at WJLA in D.C. Gail was a reporter and anchor at KOTV and KTUL in the late 70s/early 80s.
Here's a nice illustrated page about Ted Terry, veteran Tulsa broadcaster. He has DJ'd over the last 35 years at KTOW, KMOD, KGTO, KRAV, KKUL and KVOO-AM. Webmaster Derrick tells us that Ted was cameraman in the early seventies at KOTV for Gailard Sartain, Bill Pitcock, Lee Woodward, Gary Chew, and Bob Brown. He produced news at KJRH and hosted local TV programs. He has also worked in radio on both East and West coasts.
Mr. Terry now works with legendary comedian and civil rights activist Dick Gregory.

---

October 17 2004 at 09:50:59
Name: Bryan
Email: thetafffamily@netzero.com
Location: Foyil
Comments: I was recently in conatct via e-mail with former KJRH chief meteorologist Gary Shore who currently works for KCAU in Sioux City, Iowa. He informed me that his "gut hunch" was that he would be back in Tulsa finishing his TV weather career when the timing was right, and I was free to tell everyone that info. Wow, good ol' Gary Shore back in Tulsa!!!

---

October 13 2004 at 18:46:28
Name: Webmaster
Comments: Here is a new group profiled in today's paper: Young Professionals of Tulsa. They are not Yuppies. Their stated mission is to rediscover Tulsa's "brand", starting with reviving Nelson's Buffeteria and the Greenwood Jazz Festival, two worthy and distinctively Tulsa institutions.

---

October 13 2004 at 11:10:51
Name: Mike Bruchas
Location: awaiting the storm in DC
Comments: Dick Schmitz is great! You should hear one of his demo tapes!
I met him once many moons ago with the late Bob Lauer at Irving Productions.
Later when I worked at NAB - he did voice-over and narration work for us and one year was the (taped) announcer for NAB events at the Las Vegas convention. He and his wife were visiting in DC several years ago and came by NAB to visit. Everyone who met him - liked him.
He's an icon and a Tulsa treasure! Ditto Ed Dumit and the other honorees!
I was introduced to Carl C. Smith, President of the Oklahoma Association of Broadcasters, the only person I've met who has a Tulsa park named after him (Carl C. Smith Park at 17120 E. 21st St.)
---

October 13 2004 at 06:15:34
Name: Jim Reid
Email: jimreid56@aol.com
Location: Dallas
Comments: Dick Schmitz was my cub scout leader when I was a kid. His oldest son was a year behind me at St. Marys.

---

October 13 2004 at 00:43:44
Name: Webmaster
Email: mike@tulsaTVmemories.com
Location: Tulsa
Comments: Phil and Brent from KMOD hilariously emceed the Tulsa Radio Icons event Tuesday evening at the Tulsa Press Club. The honorees were Vic Bastien, Ed Brocksmith, Edward Dumit, John Erling, Billy Parker and Dick Schmitz, with John Henry inducted posthumously. It was a fun evening. Anyone with pix, please feel free to email them and I will get them out here. Comments are welcome, too.
English announcer Garry Kemp was right behind me in line, and I thanked him for his sparkling daily readings on KWGS of Pride and Prejudice, which as a result became one of my all-time favorite books. He said that must have been awhile back, and indeed it was: almost 30 years ago!
Billy Parker is looking hale and hearty. John Wooley paid tribute to John Henry. I met John Erling and gave him a "business" card. Dick Schmitz, I know as the father of Tim Schmitz, on whose server this site resides. I also remember Dick from his days as KAKC jock in the early 60s. Had a nice extended chat with Ed Dumit, whose pear-shaped tones can still be heard regularly on the station IDs of KWGS (and soon, KWTU).
I didn't get to meet Ed Brocksmith or Vic Bastien. Ed reported for KRMG News for many years, and I've seen Vic announce the Starlight Jazz Concerts at Skelly Stadium over the years. I still have programs dating back to the mid-70s. I did met George Kravis (who put the K-R-A-V in KRAV) and Randy Kindy.
I plan to develop the radio side of this site more in the future. I certainly have enough material now to start KVOO and KRMG pages, and maybe others.
Congratulations to Casey Morgan and the Tulsa Press Club for putting on a very successful event, and to all the new Tulsa Radio Icons.

---

October 12 2004 at 17:19:34
Name: Frank Gutch Jr.
Email: i.t.zorr@gmail.com
Location: Oregon
Comments: Anyone have a line on Annie Bell, who sang for Rubbery Cargoe? Still working on the band's Tulsa years and think it is necessary to get her take. Any help would be muchly appreciated. Thanks!

---

October 11 2004 at 17:56:00
Name: Erick
Email: ericktul@yahoo.com
Location: Tulsa
Comments: I'm currently listening to the new KWTU 88.7 FM. Funny how I never really appreciated classical music until I was old enough to sit down and actually listen to it. It will likely have a welcome home to many local listeners.
A small correction in the previous guestbook...Oklahoman Michael "Cowboy" Ellis appeared on CBS' Big Brother 5, not Survivor. I fancy myself a Big Brother fan. Nothing wrong with watching a bunch of people do absolutely nothing for months in order to win half a mil.
However, I do believe an Oklahoman appears on this season's edition of Survivor.
Corrected that, thanks. I seem to mix up the names of those two shows, maybe because they are the two "reality" shows I watch.

They're educational. Frequently, someone (like Adria from BB5) gets a little taste of power, then not only gets a swelled head, but decides that the Deity must be pulling for them. I hope He has TiVo if He's watching this much TV.
---

October 11 2004 at 12:29:48
Name: Webmaster
Comments: Archived Guestbook 170, where we just heard from Jonathan Apple, formerly of KAKC and KELi...

---
Back to Tulsa TV Memories main page