Tulsa TV Memories GroupBlog 255

TTM main | What's new on TTM? | GB Archive




November 11 2007 at 02:41:55
Name: Webmaster
Topic: Tulsa Central grad Ben Aronov
Comments:

I found a video of Tulsa's own Ben Aronov playing jazz piano in the Phil Woods Quartet with Strings in 2005. Ben played the Club Orchid (link to old ad) near the site of the future Rose Bowl in the 1950s!

Ben can be seen closeup about 2/3 into the clip.
---

November 10 2007 at 20:26:30
Name: Gary Chew
Topic: May Rooms Reminiscence
Comments:
In response to our Maestro Web Guy:

Hey day, huh? I thought you might be too young to have partaken of the delights for purchase at that hallowed establishment. Hmmmmm.

I know that no one at KOTV or any other television station in Tulsa ever darkened a door of the May Rooms.

Delmeaux de Gillette du Coffeyville

---

November 10 2007 at 17:10:57
Name: Russell Wright
Topic: Looking for KTUL video of me receiving "Gusty"
Email: russdwright at gmail dot com
Comments: Long-time NE OK resident here! It is great to go through the different aspects of the site and remember the "good ol' days" of Tulsa TV.

Back when Don Woods was the meteorologist @ KTUL, I wrote a letter telling him how much weather fascinated me. Back then, I thought I was going to become a meteorologist when I grew up. As a result, he selected my letter and drew a Gusty for me. It just so happened to be just before the Memorial Day floods of 1985.

Since then, I have kept the drawing in its original tube in hopes that someday I could "archive" it as one of my great keepsakes. The time has come, as I asked my mom to get the drawing framed along with the postmark and the major Tulsa World headline from that period in time for my big Christmas present this year. I would like to also have included an image from the newscast showing him about to draw Gusty and my name displayed on the screen. Anyone have any idea if KTUL would be able to get this for me, or is there something else I should try so I can get this done?

Thanks!
Russell Wright



Russell, I'm sorry to say, local TV stations in that era did not keep archives of every broadcast. If they taped them, the tapes normally were reused. The odds are slim that such video can be turned up.
---

November 10 2007 at 14:22:05
Name: Webmaster
Topic: May Rooms virtual tour
Comments:

Artist Michelle Firment Reid has a great slide show of her downtown studio, original site of the infamous May Rooms, on her MySpace site.

(Later) I was in that area for the McNellie's Pub Run, a 3.5 mile footrace. One novel element: those taking the "Guinness Challenge" (like me) had to polish off 3 Guinnesses in the course of the race. Managed to make it across the finish line.

Anyway, McNellie's is at 1st and Elgin, across the street from the May Rooms Gallery. I peeked in, and the walkup doesn't look like it has changed much since its glory days.
---

November 09 2007 at 21:04:50
Name: John Hillis
Topic: "Mark of a Heel"
Comments: I'd forgot that it was Hank Thompson who sung the legendary country line--"every man must leave his footprints in the shifting sands of time, but I just leave the mark of a heel."

Classic!

Right now, in that big fightin' an' drinkin' honky-tonk in the sky, no doubt he's providing the legendary last call--"Hey, Mr. Bartender/ Please don't be so slow/ I got time for one more round/ and a six-pack to go."

Another old, bold pilot gets a new set of wings.

---

November 09 2007 at 18:30:21
Name: David Batterson
Topic: "ET/Insider" moving
Email: davidbat(at)yahooie(dot)comma
Comments: That's not so surprising, as Ch. 2 and Ch. 9 here in L.A. already moved to new high-def studios on the CBS Radford lot. The old Ch. 2 facility on Sunset Blvd. was sold for big bucks, and will become part of the ongoing high-dollar Hollywood redevelopment projects.
Will CBS Television City at Beverly/Fairfax be next for the auction block? Wouldn't surprise me at all.

---

November 08 2007 at 14:00:23
Name: Scott Linder
Topic: A legend is gone
Comments: I'm sure that not many of you give a damn about this, but the Todd-AO/Republic scoring stage on the CBS Radford lot is being gutted to provide space for "ET Insider" and a floor of executive offices.

This stage was legendary for its wonderful acoustics. All session players, composers and engineers loved its sound. I would venture to say that 50% of the most memorable movie scores ever recorded were done on this lovely stage. But, of course, we MUST provide office space for the ever-increasing army of "producers" and other above-the-liners who now consume the largest share of network dollars.

No one cares about that pesky music stuff. After all, we now have plenty of those pimple-faced, rap-crap, buy-out composers who can churn-out just what the viewing public craves on their $200.00 keyboards

I'll be on the lot next week and hope to shoot some photos before the skip-loaders take their toll.

---

November 07 2007 at 17:41:59
Name: edwin
Topic: Hank Thompson
Email: edwinfincherataoldotcom
Comments: I only saw Mr. Thompson mad once...and that was at ME!

About 2 o'clock (after sign-off), set up to shoot with both KTUL cams outside overlooking Tulsa. Had a hard time lighting for the one song... what with having no proper location lites and matching the color balance to the city and all.

Finally we stick him out there in front of the city and see if we might do it in one take. The track begins..he sings..all's cool until the line comes up...(as I remember it) "some leave footprints in the sand, but I just leave the footprints..(music goes "ding")..of a heel."

Well, I fell over laughing like a wild boy with a huge camera flailing about...he was HACKED!

---

November 07 2007 at 15:10:03
Name: Bob O'Shea
Topic: Hank Thompson
Comments: I too mourn the passing of who Hunter S. Thompson would have called, 'one of God's own prototypes'. He only made one Hank Thompson. Hank 'The Hired Hand' Thompson, a Princeton graduate with a degree in electrical engineering, in his very polite, unique way, stomped on the terra! What a magnificent example of talent and originality. Like Garth Brooks, a white buffalo who only comes along once or twice in a lifetime. Who can he be compared to? The answer really is nobody. God just didn't make anymore Hank Thompsons.

I worked for Hank when I came home to Tulsa in 1974. My first radio job in the market was in Sand Springs at KTOW. Hank owned a piece of the operation. He was a nice man with a love for music as only a musician like Hank could have. He loved performing, he loved the fans and he loved his friends. He and Billy Parker had a wonderful relationship. Billy always spoke very highly of Hank. I'm proud to have been not only able to play many of his songs throughout my radio career but to have introduced him on stage and to have personally known him.

Hank Thompson didn't like funerals. In fact, he requested there not be a funeral for him. Rather, Hank Thompson wanted family, fans and friends to meet at Billy Bob's in Ft. Worth for a celebration of life. Not what one would typically expect from a Princeton graduate. Hank Thompson was one of us to the very end of this life. Mr. Postman, please forward all future fan mail to: Mr. Hank Thompson, Brazos Valley, Heaven.

Bob O'Shea

---

November 07 2007 at 10:28:15
Name: Rick Clark
Topic: Another legend gone
Email: clarkrick@yahoo.com
Comments: Another music legend and all around great guy has passed away. Hank Thompson has exited the stage. I will cherish the many times we shared a meal of Mexican food and margaritas---he was a master story and joke teller.

I`m not a musician so I can`t relate to one thing he said to me in Coffeyville once "the darkest night of my life was when I had to play a Stratocaster". It just struck me as funny.

He also told a funny Okie joke--"An Okie moved to NYC and got a job in a 'Hoity Toity' hotel as an elevator operator. His boss said only VIPs could use this particular lift. The next day a guy tried to step on but our man stopped him. The guy held up his violin case and said "I`m____, one of the greatest violinists in the world!" Our man replied "I don`t give a damn if you`re Bob Wills. you ain`t getting on this elevator!" Hank Thompson.com has a message board and info.



Here is a photo of Hank Thompson with Janeese Flanagan at the Cimarron Ballroom.
---

November 06 2007 at 17:06:21
Name: DallasAtty
Topic: ORU
Email: JRDallas75@msn.com
Comments: With all the talk in the media surrounding the perpetual controversy that is ORU, does anyone have any old clips, photos, or stories about working for or with the powers that be. Growing up, ORU and the Roberts family were huge parts of my life experience in Tulsa. Would love to see some vintage photos, interviews, ads, etc. of the University in its heyday, as well as any coverage of the construction of the City of Faith. It is such a unique place and I would love to see some old clips of construction/changes to the campus.

---

November 06 2007 at 00:27:22
Name: edwin
Topic: Hank Thompson
Comments: Mr. Thompson is an easy goin' guy. Worked with him in the 70's and was over at his house a few years ago at Candlestick Beach just below the Keystone darn messin' around. I think he has a way to go.

---

November 05 2007 at 12:51:30
Name: Scott Linder
Topic: The WGA strike
Comments: Well, the WGA strike is "on" here in Hollywood. Many of us are now out of work, and will soon be without money and health benefits. Let's hope that both sides will continue to seek a solution. All of us in allied crafts understand and support the writer's issues, but we all hoped that a strike could be avoided.

Please send your good thoughts and prayers to all concerned.

---

November 05 2007 at 10:36:35
Name: DolfanBob
Topic: Betty Boyd
Email: MiamiPhin@yahoo.com
Comments: I just saw Betty Boyd on Good Day Tulsa with DC Roberts. Ms. Boyd is still as sharp as ever and I will never forget her unmistakable voice. I used to work with her son Barry at Tulsa Cable (Cox) and I think that he is still one of the big wigs there.



Yes, she was looking good on a recent political ad.
---

November 05 2007 at 09:18:42
Name: Lowell Burch
Topic: Skiatook DeLorean
Email: lburch3@cox you know the rest
Comments: Speaking of time travel, there is a DeLorean (ala Back to the Future) sitting in an antique store on main street in Skiatook. It is in the back corner of the store, in case you haven't seen one, there you go.



---

November 05 2007 at 09:04:18
Name: Bob O'Shea
Topic: Hank Thompson
Comments: Brother Rick, let's not bury the Brazos Valley Boy just yet. Ol' Hank has come back from numerous close calls.

If I should fall ill and you get wind of it, hold off on my eulogy until you hear from me. In January of 2000, my death was greatly exaggerated.

Your Old Buddy,
Bob O'Shea

---

November 05 2007 at 08:23:57
Name: Lowell Burch
Topic: blush
Comments: Make that "Warp FACTOR Three, Sulu!"

Sorry. I'll need to punish myself for that deletion with three of Jim's Coneys with Fritos and a Pepsi.

---

November 05 2007 at 08:14:00
Name: Lowell Burch
Topic: Am I warped or what?
Comments: So Prof. Ransom failed to mention the only possible solution for retrieving the old Tulsa radio ads that were broadcast back in 1945 - WARP THREE, SULU!

Now, let's go retrieve another one of those delicious Mediterranean pizzas from Mazzio's.



According to the Star Trek: The Next Generation Technical Manual, Warp 1 = 1 X speed of light and Warp 2 = 10 x speed of light. So Geordi would barely need to tickle the warp core.

Just order an Alcubierre drive from Amazon, strap it on your vehicle, and go!

Bring me back some My Pi pizza, too, if you go out, since faster-than-light travel also involves time travel.
---

November 05 2007 at 07:51:56
Name: Rick Clark
Topic: Hank Thompson
Email: clarkrick at yahoo dot com
Comments: Supposedly it`s a curse--deaths in 3. Last week we lost Porter. Now music legend Hank Thompson is gravely ill.

Seldom does a man meet his idols and even rarer for them to exceed your idolatry and for you to become good friends. I had the honor to bring Hank on stage many times (the last being his last Tulsa show in 2006) and even booked him for a dance in Vera (of all places) in 2000. His wife Ann and him were the most approachable couple in show business I`ve ever met.

Hank's accomplishments and innovations in the music biz are countless and surprising. His autobiography is to be released this month.

---

November 04 2007 at 10:09:25
Name: David Bagsby
Topic: Planet of the Grapes
Email: davidunderscorebagsbyathotmaildotcom
Comments: Just like Durant Okla. got its name when Jimmy Durante's car broke down there (according to the final Tulsa broadcast of the National Lampoon Radio Hour), Porter Wagoner may have suffered a similar fate.

The discussion below reminds me of Zeno's Paradox (Wikipedia link) where when you drop a wrench to the ground, it never hits because the distance keeps halving.

If you finally did catch up to the radio waves and record the commercials for "Cathey's...8th to 9th on Main", would you return to a planet where apes evolved from men?...(well not in Kansas anyway) and would you ride your horse up to the Golden Driller half-buried in the sand of the Arkansas River? I think you would have to scream at the heavens, "You maniacs! You blew it up!"...referring not to civilization, but to the demise of Knotty Pines BBQ bologna.

Dr. Zaius, bring me a sub from Little Lanny's.

---

November 04 2007 at 08:11:53
Name: Boyd Stone
Topic: Porter Wagoner
Comments: Just catching up here; on the passing of Porter Wagoner, does anyone know the name of this old guitar player? The guy could rock - I remember seeing him sport a black Les Paul, and used to watch the show just to see him tear it up.

Also, did PW get his name from the two near-Tulsa towns of Porter & Wagoner? Sorry if this got covered, couldn't find if so.

---

November 03 2007 at 21:19:38
Name: Charlie
Topic: Help!
Comments: Help me out here, science brains.

How many millions of miles would we need to send a spaceship, to recover the radio waves of the Tulsa classics of ... to be arbitrary, 1945 to 1975?

Give me that number, and I think I can compute what we would need in terms of cash to accomplish this objective.

P.S. please if you get a chanse put some flowers on Algernons grave in the bak yard.



The wavefront of 1945 terrestrial radio would now be 62 light-years distant. If you traveled at double the speed of light (ignoring the Einsteinian limit), it would take 31 years to get to where the wavefront is "now". But then the wavefront would have moved 31 light-years farther. You could catch up with that position in 15.5 years at twice light speed. But then the front has moved ahead 15.5 light-years...

Since that series can be extended infinitely, would you ever catch up? Would you need a bottomless sack of cash to get there? And what year would it be on Earth if you did catch up, then you returned to Earth at the same superluminal speed? (Wikipedia link)

(P.s., one light-year is equal to 5.88 trillion miles.)
---

November 02 2007 at 19:32:21
Name: John Hillis
Topic: 3rd & Frankfort
Comments: I had heard about the relo of KOTV a while back. The Frankfort St. Studios had indeed been the IH showroom before TV, and its location on the fringes of downtown gave it an advantage in news coverage response time back in the day.

The joint must have been something when Helen Alvarez moved in--it was still fairly good when I was there after years of Corinthian cheaphood.

Not to mention the alleyway between 3rd and 4th from which Clayton, Woodward, and company telecast when the lights went out....

---

November 02 2007 at 18:48:28
Name: Bob O'Shea (via email)
Topic: Gary Chew
Comments: This is an email Bob sent to Gary Chew. He OK'd putting it out here...webmaster

Dear Gary:

I'm sincerely honored to receive an e-mail from a true Tulsa Radio Icon. I couldn't agree with you more about the state of radio as it is today and having established that I will not bemoan the issue any further. (or is it 'any farther'?)

I remember the Tulsa Morning News on KXXO. You were magnificent! Your time at 740 KRMG was truly the heyday of that venerable and august great American radio station. What a powerhouse of personality and quality radio, the likes of which haven't been seen nor heard by the City of Tulsa since the late 70s.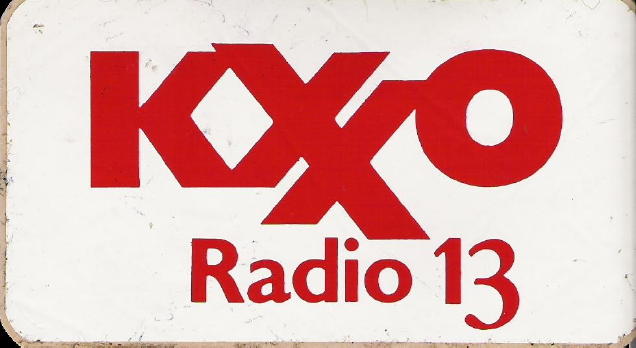 Courtesy of Dennis Yelton, aka Chuck Morgan


Gary, I will never forget going to see Mac Davis at the ORU Mabee Center on his first pass through Tulsa. Olivia Newton-John opened for him and, as I recall, a very funny stand up comic opened for her. The place was packed. People still dressed nicely for concerts. The red velvet curtains were closed. All of a sudden the house lights were lowered and the spot light came on. Then, as if by magic, standing at the podium a very nattily attired young media star said "Good Evening Ladies and Gentlemen, I'm Gary Chew" to thunderous applause.

These were my early days in radio. I'd only had a couple of years under my belt by '75. You were absolutely the consummate professional. I have never forgotten the confidence you exuded on stage and your command of the audience. They instantly liked you because a.) they were listeners and b.) you assumed they were your friends. And so it was. You were a polished performance from beginning to end. You may find it interesting to know that I modeled my on stage deportment after you Mr. Chew. I've lost count of the stars I've introduced over the years and the knocking knees that went along with the job, but when I hit that stage I was relaxed, confident and polished, all because of that golden memory of you that summer night in 1975.

I would like to stay in touch with you. If you don't mind, I would like to drop you and e-mail from time to time, if for no other reason than to stay in touch with one of Tulsa broadcasting's living treasures.

Have a wonderful holiday Gary.

Your Friend,
Bob O'Shea

---

November 02 2007 at 09:57:32
Name: Bob O'Shea
Topic: Billy Parker
Email: bob reavis at yahoo dot com
Comments: I ran into John Wooley at Jim's Never On Sunday Coney Island (Indie Tulsa blog) this Thursday (November 1st). It's always nice to see John. He was there to meet and hobnob with other media fellows. Of course it was like a mini-reunion with John and friends, all of whom I have been at least acquainted with for years. I was just there to have a coney...well, actually four coneys with chili, cheese, mustard, onions and jalapenos, a large bag of Cheetos and two glasses of tea...but I digress.

My old high school chum Bob Bryant and I were catching up with each other when he pointed out that John was in the building. John and I shook hands and in our brief conversation he told me about the cancellation of the Red Dirt Ranger Hour and Billy's show on KVOO-FM.

Gee, where do I begin? First of all, where it comes to honesty and integrity, Billy Parker is bigger than all of Journal Broadcasting put together. As far as this one man's lifetime achievements are concerned, Journal Broadcasting pales in comparison to Billy Parker the man. He doesn't need them. They are beneath him.

Billy realizes, as I do, that our era has come and gone. The Harold Stuarts, Jack Cresses, Billy Parkers, Jack Foxes, Alan Lamberts, Jay Joneses, Dan O'Sheas, Jack Campbells, Tom Moffitts, Charlie Dereks and, oh yeah by the way, me too, the Bob O'Sheas etc. have come and gone. I am proud to have worked with these talent giants. I got to work shoulder to shoulder together with these guys in the old Big Country AM 1170 KVOO studios on Peoria in Brookside during the golden heyday of that radio station.

Billy Parker and Jack Cresse hired me in the hallway after I auditioned. This was back in the days when you had to have at least five years on air experience to even apply for an on air position. We were the Big 89 WLS of Country Music. We were the 800 pound Broadcast Gorillas, 24 hours a day, seven days a week, "border to border, coast to coast and points beyond, Big Country AM 1170 KVOO"! KVOO-FM? Who the hell were they anyway in the 70s? NOBODY! They weren't even a thought.

I guess the point I'm trying to make is this: Radio, I mean 'personality radio' as we knew it, has been dead for twenty years at least! The spirit is gone but the cadaver is still breathing. The closest thing to true personality radio you'll find anywhere on the dial is in the morning with either with Andy, Gene and Sunny on KVOO-FM 98.5 or with Phil & Brent on 97.5 KMOD. The rest is just a death rattle.

As far as the backhanded way Mr. Parker has been treated by a bi-polar upper management, and trust me on this, I retired from Journal after 34 years on the air, Billy Parker will just turn the other cheek.

That has always been the difference between me and Billy. Billy Parker has always taken the high moral road. His days of wrapping a guitar around a mean drunk's head in a smoke-filled honky tonk, went the way of polio and the evening newsapaper eons ago. He's a deacon in his church. Me, I'm not immoral, but I would have mopped the parking lot with someone's ass!

Bob O'Shea
Big Country AM 1170 KVOO



Some of the radio I like these days can be found on the Tulsa Radio: Yesterday and today page.
---

November 02 2007 at 07:47:28
Name: Jim Ruddle
Topic: KOTV move
Email: jruddle at earthlink dot net
Comments: Haven't seen anything from Don Norton for awhile so I thought it was time to wake him up.

Don, I remember that the KOTV studios on Frankfort replaced some farm or heavy equipment business. My addled brain suggests that it was International Harvester, but it could have been any one of dozen others. Do you recall?

The selection of the building, no matter who the previous occupant, was fortuitous because the former tenant needed thick concrete floors to support the tractors etc. that had been on display. Nothing could have been better for the solid support needed for cameras, although when waxed the floors of the studio were dangerous. I still have an occasional back problem from slipping and smacking my tailbone on that unforgiving surface.

The 3rd and Frankfort location was not considered very glitzy at the time, but had anyone suggested that a spot near Brady would be better he'd have been hustled into 24-hour care.

---

November 01 2007 at 17:20:26
Name: Scott Linder
Topic: More "Sleepwalker's"
Comments: Jim, thank you so much for the additional info about the "Sleepwalker's" theme. I had no idea that the KVOO version was a re-sing. Thanks, too, for the link to your site. I know a couple of KFWB employees. I'll see if they have any more info about the session, etc. Kind regards...

---

November 01 2007 at 12:20:38
Name: Webmaster
Topic: KVOO
Comments:

John Wooley expressed his feelings today about the recent removal of the Billy Parker show and The Red Dirt Radio Hour from KVOO-FM, and the forced demise of KVOO-AM in 2002 (also commented on by Bob O'Shea in GroupBlog 254):




Letter to the editor, Tulsa World: "It stinks".
---

November 01 2007 at 08:24:04
Name: Dick Loftin
Topic: KVOO-AM
Email: dloftin1 at cox dot net
Comments: The picture of Jack Campbell on the air is priceless. Just look at it... a turntable and a stack of CARTS! Ah, the good old days.

I started working for KVOO-AM in the mid-80s when Jack was still in the newsroom. A super guy. I used to give him my Wall Street Journal when I was done with it and he used to give me a hard time about clipping articles out of it. The pages would have holes in them! What a great guy. I really miss KVOO-AM... it was a truly great station.

One more thing... When I started working for KVOO-AM they had already moved to the First Stuart building off the BA. One regret I always had was that I never got the chance to work in the KVOO studio in the Channel 2 building. I did see the studios once... the doors to the control room had to be nearly a foot thick!

Now, THAT'S a radio studio!

---

October 31 2007 at 22:28:38
Name: Jim Ellwanger
Topic: Sleepwalkers Serenade music
Email: trainmanatellwangerdottv
Comments: This is correct -- it was written and produced by PAMS. It was originally produced for KFWB radio in Los Angeles in 1965, and then the vocals were redone for KVOO later. If KFWB's union contract required them to use union-member musicians, then the music would have been performed by session musicians in L.A.; otherwise, it would have been the work of non-union session musicians in Dallas.

Unfortunately, I don't have a copy of the KVOO version, but I'm happy to make the original KFWB version available for download: http://www.ellwanger.tv/collect/jingles/audio/kfwb.mp3.



I wrote Jim about this question earlier today. Between Jim and Scott, we have the answer to just about every question, except the name of the saxist and the arranger. Check out Jim's web site: Ellwanger.tv
---

October 31 2007 at 20:54:34
Name: Scott Linder
Topic: More notes about the KVOO PAMS package
Comments: The KVOO PAMS package mentioned previously consisted of 28 mono cuts. They ran the gamut from show IDs to generic weather, sports and seasonal bumpers and intros. The only personalized cuts were the Jack Campbell "Sleepwalkers" theme and a intro for the "Coffee with Jay" morning show with Jay Jones. All other cuts were re-sings of standard PAMS arrangements. The PAMS package was purchased as part of the new "Solid Gold" identity for KVOO in the late sixties.

PAMS sold jingle packages to many markets. They recorded music beds in many styles without voices and then over-dubbed vocals to customize a package for a particular station.

PAMS masters were done 16-track 2". Several bars of clicks were recorded ahead and behind all sessions to allow for a wide range of latitude for custom arrangements and over-dubs. PAMS utilized the vocal talents of six singers with a unique style that became a signature for the company and identified their work for two decades, as Gary Chew mentioned.

As far as I know, the "Sleepwalkers" theme was not a stock track, and was done as a "custom" for KVOO and Jack Campbell. The PAMS master tapes in the KVOO library consisted of two 10.5 inch reels of 1/4" tape recorded at 15ips, full track mono.

---

October 31 2007 at 16:50:47
Name: Scott Linder
Topic: The "Sleepwalkers" theme
Comments:

To Karen and Gary... Jack Campbell's "Sleepwalker's Serenade" theme was indeed part of a PAMS jingle package recorded for KVOO circa 1966. The theme was recorded in Dallas at the PAMS studios. Yes, the theme is very Mancini-ish with rather dark and dense chords scored in lower brass and french horn, with straight-muted trumpets, reed and xylophone accents. The rhythm parts are very much in the background, consistent with recording practice at that time... drums recorded with a single overhead mic, etc. The session was mono.

KVOO engineer Mo Billington did a loop-edit omitting the vocal intro. Jack often used this as an underscore before a toss to news, etc. I often started Jack's theme just as he was pulling-up in the parking lot on the south side of what was then "Broadcast Center" on Peoria. He would stop by the record library, grab a couple of LP's, say "hello", enter the booth and open his mic during the last eight bars of the sax solo.

By the way, I have quite a nice recording of the entire KVOO PAMS package.



Thanks for that information, Scott. (I emailed Scott about this question earlier today.)

In the RealAudio clip above (here's RealPlayer info if needed), you will hear an echoey "K-V-O-O" station ID, then the jazzy blues noir opening for Sleepwalkers Serenade with Jack Campbell, 1966 (courtesy of Joe Riddle and Wayne McCombs).

Scott Comstock took this shot of Jack Campbell at work on Sleepwalkers Serenade the night of the moon landing, July 20, 1969.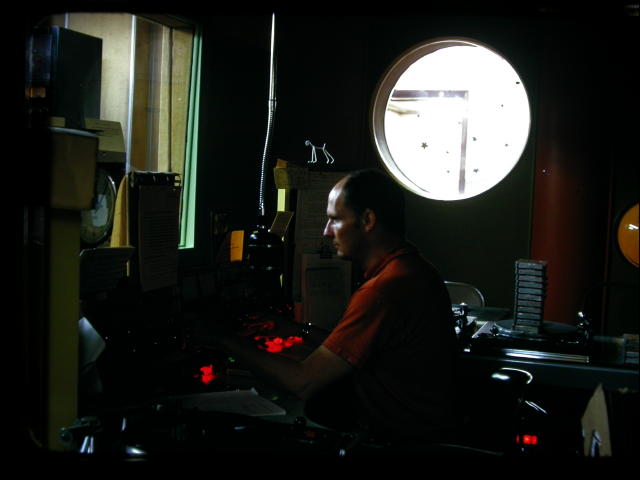 ---

October 31 2007 at 14:42:32
Name: Gary Chew (via email)
Topic: Sleepwalker's Serenade music
Comments: It may well have been recorded down in Dallas. Sounds sort of like some of the stuff out of there. Yes, the alto is definitely is Birdish. The voices are what make me think it might have been PAMS (Wikipedia link) out of Dallas.

---

October 30 2007 at 15:22:21
Name: Bill Jaynes
Topic: Putting out feelers
Email: wjaynes@hotmail.com
Comments: I'm a cosmetologist (hairstylist-makeup artist-manicurist) with many years experience, and I'm returning to the Tulsa area very soon. Wouldn't mind putting that to work on local Tulsa TV. Do they need makeup artists and stylists, and if so, how does one get in on a gig like that?

---

October 30 2007 at 14:57:31
Name: Webmaster
Topic: TTM Halloween links (bumped up from previous GB)
Comments:
The Tulsa World published this Gene Curtis article a couple of days ago: "Only in Oklahoma: 'Hex House' never lives up to spooky name".

I hadn't heard of the Hex House myself until David Bagsby mentioned it in this 9/1/1999 Tulsa World article by Jeff Billington, "The Sound of Tulsa", about David's "The Tulsa Project" CD.

David later created another "Tulsa Project" CD ideally suited for the Halloween season: The Ma-Hu Vishnu Orchestra: Scream in the Dark.

The Ma-Hu mansion was across the street from the Oertle's/Clear Channel location at 27th and Memorial until 1978. It was the site of KELi's "Scream in the Dark" annual event earlier in the 70s.

Another Tulsa Halloween perennial is John Erling's recording of a prank pulled on an Armed Forces Network radio newsman at the Burg Frankenstein castle in 1951.

Finally, Frank Morrow remembered a simpler Halloween in Tulsa, 1940.
---

October 30 2007 at 14:42:03
Name: Karen Brakefield
Topic: "Sleepwalkers Serenade" music
Email: karenattheoutsidersbookandmoviedotcom
Comments: I was reading about KVOO on your website recently, and I was interested in the "Sleepwalkers Serenade" music that was featured on the radio show. Can you tell me what that music was called, and can it be obtained? I am a jazz fan, and would love to add the classy piece of music to my library.



I believe the music was specifically recorded for the promo, probably by L.A. session musicians. It really is good. The arrangement is reminiscent of Mancini in his "Peter Gunn" days, and the alto sax player is definitely Charlie Parker-ish. He slyly alludes to the Parker tune "Ornithology" in his solo. Anyone know more about it?
---

October 30 2007 at 14:07:16
Name: Webmaster
Topic: Previous GroupBlog summary
Comments:

Archived GroupBlog 254.

Porter Wagoner passed away, and we remembered his TV show and music. Frank Morrow told a story of the day the color barrier was broken at Texas League Park (aka Oiler Park).

The spooky old Ma-Hu mansion was a season-appropriate topic. Jack Frank's "Fantastic Tulsa Vol. 2" is coming to KOTV Dec. 3, and then to DVD.

A tale of two Wooleys was told, prompted by a YouTube of the "Wilhelm Scream", a long-running movie in-joke. Two good internet radio stations were linked.

Bob O'Shea, then others, voiced strong opinions about the end of KVOO-AM. Bob was the last man on the air back in May 2002.
---
Back to Tulsa TV Memories main page