Frank Morrow - 11/24/99 06:24:42
My Email:fmorrow21@netzero.net
Location: Austin, TX


Comments:
When I was hired by KAKC, I took Raymond King's evening shift. He broke me in before he started an earlier shift which overlapped a little with mine. He was very nice and helpful to me, a raw neophyte right out of high school with only a few weeks' expe ience---a month as weekend man at KTUL and three weeks at KTUL's sister station in Ft. Smith, KFPW.

Raymond also broadcast some wrestling matches from ringside. One night after one such evening, he came into the control room muttering that he was quitting doing the matches. His suit was splattered with blood.

In one of the announcers' almost continuous bitch sessions, King said that he was fed up with being a starving radio announcer. He declared that he was going to escape being an announcer and get rich by marrying the daughter of Sam Avey, the owner of KAKC . When we asked him if he knew her, he replied that he didn't, but that he was going to remedy that. In a few months Raymond had achieved both goals.

---

Frank Morrow - 11/24/99 05:58:53
My Email:fmorrow21@netzero.net
Location: Austin, TX


Comments:
I co-narrated the Easter Pageant at Memorial Park Cemetery for two years. The first year it was with KAKC's writer Charles Ellis; the next year it was with a KRMG announcer whose name I can't remember. Directed by legendary Central High School speech teacher, Isabel Ronan, the pageant was the third largest in the world. An estimated 60,000 people would crowd into the open area of the cemetery where a raised, dirt platform a city block long holding various sets was used by pantomiming young people to tell the Jesus story. The event started at 2am, and ended about 6am with the sun rising behind the ascension scene. Although there was a PA system set up, the narration and music were also carried over KRMG. This was particularly useful for the people who were fogging up the car windows or who were just trying to keep warm. (It was always bitterly cold.)

Bob "Dusty" West had narrated the event for a few years. He had a beautiful voice with a great, sensitive, powerful delivery. KRMG received letters from people from Australia and New Zealand who had picked up the broadcast. I still have reel-to-reel tapes of the event.

---

Jim Ruddle - 11/23/99 23:31:24
My Email:gardel@erols.com
Location: Rye, NY


Comments:
And just to add to the list of radio performers: At KOME, Ken Klein (later worked in Detroit,) KAKC, Ken Reed, (good career later in Boston,) and, to fill out the "Ken" class, Ken Miller, the longtime newsreader on KVOO. During World War Two, when manpowe rwas in short supply and womenpower was employed at Douglas, Ben Henneke had a short stint as an announcer at KVOO. One of the best staffers on the air at the Voice of Oklahoma was Johnny Ryan. Additionally at KOME, Wally Iams, who was also a singer and had sung with a couple of name bands and even cut a record or two.

Dick Campbell, who became Program Director at KOTV, originally worked for KGGF, in Coffeyville, Kansas, in the forties. His classic sign-off there was "So long, and 73," 73 being the old telegrapher's bye-bye.

A final note for this effort, Doc Hull's first name was "Hollis," and Simms and Teas disliked him thoroughly.

---

Frank Morrow - 11/23/99 22:38:52
My Email:fmorrow21@netzero.net
Location: Austin, TX


Comments:
Here are some names which might bring back some memories. Although I have mentioned some of them before, here is a longer listing:

Announcers----------

KOME: Harlan Judkins and Greg Chancellor, who did the morning news show "The Crown Edition" along with Dick Campbell (also KTUL). Dave Hindman, Bob Croskery, Charles Connor, whom Campbell told to stand across the room and shout his commercials, supposedly to give excitement and "punch." It sounded horrible, and poor Charles got an undeservedly poor professional reputation.

KVOO: Frank Simms, Walter Teas, Cy Tuma, Doc Hull (also KRMG), ( ? ) Brokaw, Jack Campbell (took over "Sleepwalkers" from Doc), Roy McKee (also KRMG), Virgil Dominic

KTUL: Karl Janssen, Ed Neibling, Al Clauser, Vic Lundberg, Jack Morris, Jack Alexander, Joe Cummins, Roy Pickett, Dave Banks, Harry Wilson

KAKC: Jack Moore, Ramon King, Jim Ruddle, Bill Walker, Jerry Johnson (Alias Bob Keith, to keep his daytime boss from finding out), Bob Griffin (also KOME)

KRMG: Keith Bretz, Glenn Condon, Joe Knight ("the knight of the spinning round table"), John Doremus (also KOME), Dave Croninger (who had to change his name to Davis), Bill Minshall, Larry Strain, Johnny Chick, Bob Parkhurst, Marvin McCullough, John Steele, Bill Hyden

KFMJ: Jay Jones, Hillis Bell ("Willy the Hillbilly") I doubt if anyone knows that sixteen of these men were also students at Tulsa University when they were working at these stations.

Sportscasters----------- Jack Charvat (KTUL), John Henry (KVOO), Tony George (KOME), Mack Creager (KAKC, KOME, KRMG), Hugh Finnerty (KOME, KAKC)

---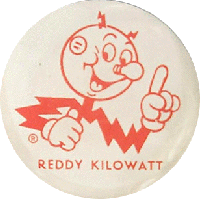 Ellen - 11/23/99 22:29:09
My Email:mmmore@ix.netcom.com
Location: Conn
Favorite Tulsa TV show: Uncanny Film Festival
Favorite Tulsa TV personality: Hoss Chopwright, Mr. Mystery
Stupidest local commercial: LINDA SOUNDTRACK
How did you find TTM?: friend


Comments:
Anyone else out there remember the Willie Wiredhand Serenaders? My sister and I used to have to watch them whenever we visited our grandparents and considered it torture--wasn't that a local show?

---

Frank Morrow - 11/23/99 21:33:01
My Email:fmorrow21@netzero.net
Location: Austin, TX


Comments:
Doc Hull did "Sleepwalkers' Serenade" for a long time starting at midnight on KVOO. It featured music, sneak voices, and Doc's dry voice, with wit to match. He was extremely popular, both on and off mike. During the program Doc would often refer to his day job, which was working in a funeral home which he called the "Body Shop." Doc did dialogs with a character called "Terry the Termite," which was Doc's voice speeded up and recorded earlier. The show was sponsored by Tulsa Camera-Record. He would have some munchies with him each night which he always claimed to have been purchased at "Aunt Bertha's Sweet Tooth, Cheerful Kitchen." Doc later moved over to KRMG to do the evening shift. Few people probably realized it, but Doc was also a Justice of the Peace. He showed his office/court room to me one night.

Before Doc did the late night show on KVOO, Walter Teas was host, and the program was called "The Worry Bird Club," featuring the raucous call of Woody Woodpecker. I'm not sure of the years or how long it ran until Teas got a daytime shift.

---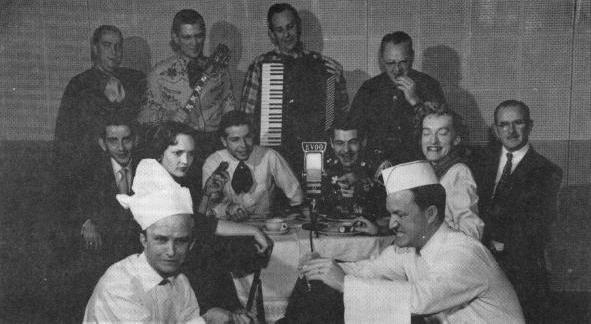 Frank Morrow - 11/23/99 21:04:09
My Email:fmorrow21@netzero.net
Location: Austin, TX


Comments:
KVOO's "Eggs at Eight" featured, not only Frank Simms and Walter Teas, but also the "Entertaining Eight," the "Tune
Toasters," and Edie Washburn singing. Frank and Walter would always tease her, introducing her as Edie "Washbucket" or Edie "Sideburn." She always took the bait and complained. Tubby Young played bass and did the weather. Lorraine Bynum played the harp. Joe O'Neill directed. Cy Tuma played clarinet for the "Tune Toasters," and Simms sang with the "Entertaining Eight." It was quite a production, five days a week for 45 minutes each day. TU student Jody Henderson became vocalist in about 1955. I had a date with her previously at a formal dance. A few months ago I asked a woman who was a good friend and fellow Okmulgee High School graduate what happened to Jody. She replied, "Her husband shot her in about 1957."













---

Frank Morrow - 11/23/99 20:58:22
My Email:fmorrow21@netzero.net


Comments:
Jack Charvat was a real character and very likable. He showed up drunk a couple of times for his 10:15pm sportscast on KTUL. On one such night his wife was with him. She continually slapped him in the face, claiming that this might help him to sober up. It didn't, but she seemed to be enjoying her righteous indignation. Karl Janssen, program director, questioned me about it, but I denied any errant behavior on the part of Jack. He read his script ok, but without his usual verve.

Charvat's sportscast was sponsored by Bell's Clothiers. After the introduction, the announcer would hold a large, heavy bell in his hand, and strike it with a metal object. It was difficult because there was only a tiny knob at the top, requiring the announcer to hold the large bell by his finger tips. The bell was shaped like those at ringside. The first night when I did the introduction, I hit my finger with the metal striker. "Thud!" I adjusted my grip, but my hand was on the bell because, by now, it was getting heavy. "Thud!" The final time I got it right, but Charvat was laughing too hard to continue. The next night I dropped the damned bell. I was very happy when a new sponsor was found.

---

Erick - 11/23/99 20:38:22
My Email:ericktul@webtv.net
Location: Tulsa


Comments:
I've just discovered that Gary Busey will be appearing tonight on the UPN sitcom "Shasta McNasty", which airs locally at 7pm on UPN 41.

I'd also like to amend an earlier comment I made regarding KTUL's new Doppler 8000 radar system. I said that we'll see how well it works come storm season. After last night, I'm convinced it works pretty damn well. ;)



---

MITCH - 11/23/99 00:20:57
Location: LA
Favorite Tulsa TV show: TEDDY JA-KEDDY'S SCHOOL FOR CRYING
Favorite Tulsa TV personality: BENNIE THE CRUSHER


Comments:
Regarding the term "SWOOTY" pronounced SWOO-tee. For a time, it was a favorite exclamation used by Mazeppa as a reaction to anything that "schtank", (and it didn't always have to do with foul odors.) Hopefully, one fine day, G. Ailard will regale us with the sordid details as to the terms origin. Oh,

---

Mike Ransom (webmaster) - 11/21/99 23:39:03
Location: The Caribbean, up until today.


Comments:
Hi, folks! You haven't seen any updates for a week, since I was on vacation. But I see that the Guestbook hasn't been idle in my absence.

---

John Boydston - 11/18/99 23:13:20
My URL:http://www.daddyagogo.com
My Email:John@daddyagogo.com
Location: Atlanta,Ga
Favorite Tulsa TV show: Teen Town Topics
Favorite Tulsa TV personality: Charles Ely
Stupidest local commercial: Greer's Records & Tapes
How did you find TTM?: Big Mike sent me


Comments:
Regarding Mitch from LA and the use of the word Swooty. I do remember hearing it a lot in Tulsa during my younger days, but never by an on-air personality. My recollection of the word's definition, even if half-correct, surely would have prevented someome using the word on air.

Not a word we would have heard from the likes of Betty Boyd or Don Woods. (Tuffy maybe after a really bad day, or night) Sometimes pronounced "Swoot-ay" depending on the severity of the "swootiness" of the subject under discussion. But if it came from an on-air source I'd like to know the story behind that.

---

Frank Morrow - 11/18/99 05:35:21
My Email:fmorrow21@netzero.net
Location: Austin, TX


Comments:
Does anyone know the history behind the use of the term "Boulder on the Park" by KTUL, aside from the fact that the station building was across from Boulder Park? I worked there for three years and never thought to ask.

---

Jim Ruddle - 11/17/99 21:38:37
My Email:gardel@erols.com
Location: Rye, NY


Comments:
Frank and I both were richly rewarded at KAKC, it appears.

Getting a talent fee there was akin to flying from the Philtower to the Boston Avenue Methodist Church without help. Simms and Teas would have had a hard time making $800 a month at KVOO, because the base there at the time was around $400--a princely sum, I thought--and they were handsomely remunerated for writing, producing, and performing Eggs at Eight, five days a week: They got $25.00 each. There were network cut-in fees, but Walt didn't get very many of those. Frank had several regular cut-in accounts (Camay, the soap of beautiful women, for one) and probably came out a little better.

Base at KOTV was $400, and there were numerous opportunities to fatten that with talent fees. Zeta, for example, provided me with a round $100 per month, and I had other stuff that brought the total to $600--and, because I was going to TU full time in the mornings and working until sign-off, I didn't have a chance to spend it. You could get a monster ham sandwich, coffee, and a piece of pie at Phil's Grill (315 S Elgin) and never go much over a dollar, plus you got enlightened conversation with Phil and assorted Tulsa cops.




Click to see full size. Courtesy of the Beryl Ford Collection/Rotary Club of Tulsa
---

Frank Morrow - 11/17/99 06:28:21
My Email:fmorrow21@netzero.net
Location: Austin, TX


Comments:
Announcers were great gripers in the '50s, mainly because of the wage/salary scale. We loved the work, but had to eat beans and rice, except for the announcers at KVOO apparently. (The rumor was that Frank Simms and Walter Teas, who wrote and performed "Eggs at Eight" each weekday morning for 45 minutes, made $800---a phenomenal salary for Tulsa.) In order to make ends meet, occasionally announcers would work at two stations, sometimes under assumed names.

My first job at KAKC was for 48 hours a week at $1.00 an hour, resulting in a monthly net paycheck of $185. I thought I was fortunate, because I had heard that they usually started people out at 75 cents an hour. I heard that this was the going wage at stations in the smaller towns. My wallet was fattened later with a 12 cent an hour raise. My last two months I took over the departed Mack Creager's sportscast, and received his talent fee, raising my salary to $300, much to the disgust of Program Director John Wheeler.

Moving to KTUL, the second highest rated station in town, my starting salary was $250 a month for 35 hours a week. This was raised to $275 after 18 months. KTUL did have one nice tradition: They gave everyone a Christmas bonus of one month's salary. My short stay at KFMJ provided me with $325 a month for which I worked a split shift, signing on as well as signing off.

When I started at KRMG, I asked for $400 a month, which was sort of a breaking point as to whether you were being remunerated reasonably fairly. Keith Bretz told me that he would start me at $390, with the possibility of a raise to $400 after a couple of months. I had to go into the general manager's office (a man named Lane) and beg for the extra $10 after the required "waiting period." After I started driving the Newsmobile, I would generally have enough overtime to raise my salary to $425. This might not sound like much today, but it was enough then to raise a small family without having an extra income.

The stations could be mean spirited about money for announcers. I knew that talent fees were sent for me to do network commercial cutaways for the Southwest branch of CBS, but management kept the money. The general manager of KFMJ demanded a 15% cut of any extra voice work done by announcers---that is, if he could find out about it. I had to threaten to sue KAKC in order to get my last month's paycheck after I left for KTUL.

How did TV stack up? I interviewed for a job at KVOO-TV just for the heck of it. I was happy at KRMG. I was just curious. They offered me only $375 a month. The word was that the TV stations were paying so little because people would work for less just to be on television.

Because people kept quiet about how much money they made, it was almost impossible to find out how salaries compared. I highly suspect that, being such a young greenhorn, I was paid less than the older announcers, but perhaps not by much. (Parenthetically, I overheard two TU professors talking about salaries. One said that he had an offer from Ohio State, but he was holding out for 4,500 a year.)

---

Steve Todoroff - 11/17/99 02:40:33
My URL:http://www.mazeppa.com
My Email:todoroff@onramp.net
Location: Houston, TX
Favorite Tulsa TV show: Uncanny Film Festival & Camp Meeting
Favorite Tulsa TV personality: Dr. Mazeppa Pompazoidi
Stupidest local commercial: Linda Soundtrack
How did you find TTM?: Mr. Ransom


Comments:
Nice to see a forum to help bring back the many wonderful memories I have from Tulsa television. Lee and Lionel, Big Bill and Oom-a-gog, and my old pa'dner, Mazeppa, made life a little more enjoyable. Kudos to Mr. Ransom for the wonderful job he has done in setting this website up. It appears that the response to your efforts has been positively overwhelming. Thanks also to the many guests who have traversed over to http://www.mazeppa.com. I am still amazed by some of the emails I have receive regarding the vivid memories of the old Mazeppa shows. Everyone has a story to tell regarding the memorable antics of Mazeppa, Sherman Oaks, and Teddy Jack Eddy, and a favorite episode or skit that they shared with family and friends. Watch our website for updates regarding the Lost Tapes of Mazeppa, and perhaps a new Volume 3 in the near future.

---

Erick - 11/16/99 18:07:19
My Email:ericktul@webtv.net
Location: Tulsa


Comments:
You're right, Monte. And their xmitr is smack dab in the middle of Wichita, so that doesn't help the cause either. Perhaps they don't upgrade because of KOCB 34 in OKC? I have family in Braman (right on the KS border), and they get KOCB clear as a bell with a simple bowtie antenna.

---

Tim Bigpond - 11/16/99 05:33:06
My Email:timbigpond@aol.com
Location: Okmulgee County
Favorite Tulsa TV show: Mazeppa
Favorite Tulsa TV personality: Gailard Sartain
How did you find TTM?: looking up Gailard Sartain


Comments:
I can't believe I found this, I've been strolling down memory lane all evening. I can remember being extremely sick at my stomach one saturday night, I was throwing my guts up. My mother wanted to take me to the hospital but I wouldn't go because I was afraid I would miss Mazeppa. By the way can you still order the Mazeppa tapes?

---

Monte Johnson - 11/16/99 00:03:07
My Email:mlj1120@worldnet.att.net
Location: Dallas, TX


Comments:
Erick,

KWCV's signal is not all that powerful where it can reach into Tulsa. Their power is 41.7 kw and their antenna height is 315 ft. With that power you can't reach very far and that's probably enough to cover Wichita. I don't understand why they won't file an application with the FCC to upgrade their power because If they got more power,it shouldn't effect with any other TV stations that are close to 33.

---

Erick - 11/15/99 17:33:40
My Email:ericktul@webtv.net
Location: Tulsa


Comments:
Just tried to tune in KWCV in Wichita. Saw a fuzzy image, and it was showing a WB commercial, so I thought that was it. When the station ID popped up, I realized it was KDAF WB33 in Dallas. KDAF was the Fox affiliate prior to 1995, when Fox purchased KDFW, the then-CBS affiliate. CBS quickly switched over to KTVT, and KDAF took over the then-new WB affiliation. Glad no network affiliate changes have occured in Tulsa. I remember having a hard time adjusting when KOKH in OKC became the Fox affiliate after KAUT was bought by OETA. More recently, KOCB switched from UPN to WB, and OKC was without a UPN affiliate for several months prior to Paramount's acquisition of KAUT.

Confuzzled yet?

---

CP Neal - 11/15/99 16:12:02
My Email:NCPcamera@AOL.com


Comments:
I worked at KOTV and KTEW, KJRH from 1979 to 1982. Working at this very interesting time in Tulsa TV history brings back so many stories which many I still tell to this day. When KTEW changed to KJRH or the return of Clayton to KOTV.

But reading the stories about the King brings back this story. KOTV was the first station I worked at and as a young cameraman I tryed to do everything by the book, but the book didn't talk about working with Lee and the King. After awhile the King was so real that you gave him the time cues or talk to him just like all the other talent.

I miss those great days of TV. Thanks for a site that looks at the good days of local TV when it was fun. I'll be back with more stories of things that happen behind the scenes in the future.

For example, remember the summer of 1980. One weekend KJRH lost the AC in the news studio and as the temp climb near 110 under the lights during the 6 news the talent had to explain way sweat was pouring out all over the set,make-up running down their faces and their clothes were soaked. What you didn't see was the camera crew stripping down to the bare essence so we could keep working. If you were there that day you will never forget it. Glad there were no females on the crew that day.

Stay tuned for more behind the scenes in the future.

---

Mike Bruchas - 11/15/99 14:20:43


Comments:
RE new Wichita WB station - Ms. Turner is supposedly out of Chicago but I don't know much more - I thinks she IS African-American, seems like I read something that this is one of the few stations with a minority owner.

Can anyone see it thru the ozone in West Tulsa or Osage County?

---

Monte Johnson - 11/15/99 06:30:04
My Email:mlj1120@worldnet.att.net
Location: Dallas, TX
How did you find TTM?: Mamma Search Engine


Comments:
This is a great website. I love looking at vintage TV & Radio from the early days, especially from the 70's & 80's. I'm originally from Wichita, Kansas, but I have family in Tulsa and Muskogee so I know quite a bit about Tulsa TV & Radio as well as Wichita TV & Radio. I remember back in the early 80's when KGCT Ch.41 (Now UPN KTFO) used to sign off around 6 or 7 in the evening and air pay-per-view programming. The station would still be on the air, but when they would the pay-per-view programming the picture would be scrambled.I believe KDFI Ch.27 here in Dallas did the same thing back in the 80's.

Speaking of Tulsa Radio, well, the station was actually in Muskogee. Does anybody remember the old R&B Station KMMM (K Triple M 107) FM 106.9 (Mow Top-40 KHTT K-Hits) the MMM stood for Muskogee's Music Machine. It was a 100,000-watt station, but never reached into Tulsa. I think if it had reached into Tulsa they would have a pretty large listening audience.

Somebody also mention the new WB affiliate KWCV Ch.33 in Wichita. I understand that it is a minority-owned station owned by Marcia Turner. Does anybody what race she is? Is she Black?

---

Mike Bruchas - 11/14/99 22:49:10
My Email:jmbruchas@juno.com


Comments:
For a more gossipy East Coast site similar to this - try http://www.dcrtv.com or http://dcrtv.tripod.com.

Mike Miller directed it to me - is DC, NYC, Phillie, Norfolk and Pittsburgh radio and TV stories, trivia, memories, station history and many things of similar ilk to this site. Ken Broo is mentioned on the DC site.

---

MITCH - 11/14/99 18:40:26
Location: LA
Favorite Tulsa TV show: UFF&CM
Favorite Tulsa TV personality: JOHNNY DONUT


Comments:
Triva question: What Tulsa TV personality used the exclamation "SWOOTY!" and what did it mean?

---

DEBORAH MILLS-THOMPSON - 11/13/99 00:52:33
My Email:tulsaok@swbell.net
Location: Tulsa,Ok
Favorite Tulsa TV show: Uncanny Film Festival
Favorite Tulsa TV personality: Gailard Sartain
How did you find TTM?: looking for local news info


Comments:
This is a great site that has brought back wonderful memories. Does anyone remember the T.U. underground, acid rock radio station that only played after midnight on the weekends? Would like to see more on Dance Party.

Lee Bayley has visited the site, and he may have some Dance Party material to contribute. You can see a couple of Dance Party pictures in the article about KOTV's 50th anniversary, linked from the Bulletin Board on the main page.

"Subterrania" has been mentioned here a few times, too. Take a look at the Tulsa Radio pages.

Thanks for stopping in, Deborah.

---

The webmaster - 11/12/99 18:46:15


Comments:
Got the Guestbook working again. None of your comments were lost; they have been archived as Guestbook 26. Frank Morrow just added two new stories...check them out!

---
TTM Main Page