Tulsa TV Memories Guestbook 118

TTM main | What's new on TTM? | GB Archive




November 29 2002 at 15:50:25
Name: Paul Hale
Email: phale@mail.com
Location: Kennewick, WA
Comments: I was born in T-Town in 1955; attended Lombard and Jones Elementaries. Moved to Texas in 1967. Remember well Mazeppa and Romper Room and Mr. Zing and Tuffy (my favorite). Watched lots of KTUL-TV - no cable back then (duh).
While living near 21st and Sheridan, Howard Twilley (TU-fame?) and the Busey Boys were my neighbors. Returned to T-Town to live in 1986-1988; couldn't believe all the changes.
Great site! Keep those cards and letters coming!

---

November 29 2002 at 05:43:35
Name: David Thayer
Email: davidoldfordfan@aol.com
Location: Broken Arrow, Ok
Comments: The day the music died in Tulsa, OKlahoma, Last Wednesday.
Last week was the last show for Billy Parker and John Wooley on 98.5 FM. It was sad for Tulsa when KVOO 1170 went away a short time back but now doubly sad to see Billy Parker off the air. Billy is a radio ICON, should at least be in the Country Music Hall of Fame and has been one of the best known DJ's in the world.
In his younger days, Billy toured with Ernest Tubb and the Texas Troubadors. He tried a singing career of his own but it never really took off. Billy raised a family in Tulsa Ok, was (nationally) DJ of the year several times and was always a friendly voice to truckers or anyone else traveling late through the night.
Billy, we love you and will miss you.

---

November 29 2002 at 04:43:21
Name: Jim Reid
Email: jimreid56@aol.com
Location: Dallas
Comments: Rona, the Chick Show was live and at that time, I don't even think they were recording it at all on a daily basis. They would sometimes pre-tape segments for special holiday shows or to use when a band didn't show up, but those tapes are long gone. I'm sure the Gus Hardin tape was worn out since that was always the first one we grabbed. It's possible that some other ex-employee might have some tapes of the show.

---

November 27 2002 at 14:18:52
Name: Rona Baughman
Email: solbaughman@yahoo.com
Location: Wesley, Arkansas
Comments: If anyone out there has any episodes of the John Chick show from the first week of Nov of 1973 I would love to talk to you. My aunt was on the show and has always wanted to have a copy and I would love to give it to her for Xmas!

---

November 27 2002 at 13:14:23
Name: edwin
Email: goditself@aol.com
Location: downtown (where all the...etc.)
Comments: Old stockyards were on the way to Sand Springs rite next door to that dirty drive-in, can't remember the name of it. Bellaire? Airview? Went to it before the soft porn....yeah, it stunk! Cheap rates tho.

That would be the Capri.

---

November 27 2002 at 07:00:27
Name: Jerry Roberson
Email: JRobersonOK@yahoo.com
Location: Charlotte, NC
Comments: Growing up in Tulsa in the 70's and 80's, I vaguely remember radio commercials for the "New" Tulsa Stockyards. While I know the location of the "New", where exactly was the "Old"? I assume it was somewhere much closer to town. Was there an actual "district" -- like what is found in OKC or Ft. Worth?

---

November 26 2002 at 16:59:14
Name: Erick
Email: ericktul@yahoo.com
Location: Tulsa
Comments: David Bagsby is right, most Albertson's and Barnes & Noble locations have a Starbucks cafe, but Utica Square has Tulsa's first lone Starbucks location. Another one is being built and may already be open at 71st and Garnett.
There's an intersection that seems like it was only trees and grass not too long ago.

---

November 26 2002 at 12:50:45
Name: David Bagsby
Email: david_bagsby@hotmail.com
Location: Lawrence KS-not Coffeeville
Comments: There is also a Starbucks in the Skaggs (Albertsons or whatever they are calling themselves this week) at 15th & Lewis.

---

November 26 2002 at 09:48:38
Name: Erick
Email: ericktul@yahoo.com
Comments: Absolutely Utica Square still does it's Christmas lighting, and I do believe it is done on Thanksgiving evening.
It is still called Utica Square, celebrating it's 50th anniversary, in fact.
They also recently opened Tulsa's first standalone Starbucks, which means I'm a frequent visitor to 21st and Utica.

---

November 25 2002 at 14:10:43
Name: Mitch
Location: Berlin, Germany
Comments: Sitting here in Deutschland, I was listening to the Mazeppa theme on your great website and realized the movie being introduced is 1931's "The Mad Genius." John Barrymore starred and Karloff had a bit in the opening.

---

November 24 2002 at 15:01:42
Name: Mike Bruchas
Location: Sunny NC Panther town (no panthers really left here...)
Comments: Do they still do tree lighting at Utica Square on Thanksgiving afternoon/early evening or has that passed the way of the do-do? In fact - IS Utica Square still called that?
Saw Richard Roberts on TV the other day - he is looking like his Dad - hair-wise.
Always remember seeing him at John A. Brown there at Utica in a check-out line some 30 years ago and not realizing his celebrity-hood. I mean he LOOKED familiar, but did not know WHO he was till the lady cashier gushed to me whom I had just missed....yeah.

---

November 23 2002 at 16:27:50
Name: Jim Reid
Email: JimReid56@aol.com
Location: About 4 blocks from Dealy Plaza
Comments: The anniversary of the JFK assasination yesterday brought back many memories. I was in second grade and I remember the nun who was the principal at St. Mary's School coming in and telling us that we could go home early because the president had died and we should pray for him. They didn't give too many details and I remember walking home and thinking that I hadn't known he was sick.
When I moved to Dallas in '84 and started working at what was then the CBS station, there where a lot of old-timers still there who told some really wild stories of 1963. It's my duty as an "old-timer" now to take new employees to the HR director's office and show them the mark on the closet door made by the seal placed there by the Warren Commission investigators when they locked all the station's footage in that closet.
Speaking of my station's footage, about 10 years ago, there was a massive cleanup of the basement. Old tape machines, cameras, film chains and the like where taken out by the truckload. In the middle of this, I was walking into work through the back door when I walked by a small dumpster. Inside, I saw a big pile of film cans. Being a 16mm film collector, I grabbed a cart and took all the film to my office. When I looked at it later, it turned out to be all the Kennedy assasination film footage. I knew they had all the two inch stuff in the news achive, but must have lost track of the film. I held on to it for a year or so (till the latest management change was finished) and then gave it to the news director. Soon after that they donated it to the Sixth Floor museum.
Sometimes dumpster diving can really pay off.

---

November 23 2002 at 08:22:19
Name: Sonny Hollingshead
Email: sonny@intcon.net
Location: Sand Springs
Comments: Just noticed in the Tulsa World that Bill Swanson, former GM of KTUL Channel 8, passed away Friday at 78.

---

November 23 2002 at 08:06:20
Name: Chuck Fullhart
Location: Oertles' Parking Lot watching the patrons of Whiskers
Comments:
It's hard to believe that it has been 39 years since the Kennedy Assasination.
I don't want to get into the various theories of the grassy knoll people. I think we have all heard most of them, from the Cubans to the Mafia to the CIA and the others, including the time travelers that supposedly dematerialized after the shots were fired; take that for what it is worth.
Just makes you wonder what has been squirreled away in a shoe box somewhere that might shed more light on the incident. The release in the last few days of the new films and the tapes of the conversation with the Kennedy cabinet while they were in the plane over the Pacific are fascinating.

---

November 23 2002 at 07:52:39
Name: Chuck Fullhart
Email: cfullhart@aol.com
Location: At Sears Trying to get Lionel's Autograph and Waiting on Santa Claus' Helicopter
Comments:
The Portofino at 21st & Boston is the project of Coury Enterprises, or Paul Coury. They have been a property managament company for years, and rehabed a number of existing buildings, but I think this is their first or second entry in new construction.
The residents of the Maple Ridge area fought it because they weren't too interested in having a high-rise built in their bckyards, but Paul Coury made some concessions, and won the battle to get the building permit.
This will supposedly be not just be another high-rise condo development, but will actually be along the lines of a hotel/apartment development with a concierge, and other amenities.
It's been interesting to watch the southward march of the high rise developments from the downtown area over the years. The condo development at 21st and Lewis, the development along Cherry Street, and the development at 21st and Utica as St. John's and the Utica Square commercial developments advance, and now 21st & Boston.
Interestingly enough, the Portofino is one the same lot that Nannie Doss, the Merry Widow of Tulsa, lived on the in the early 50's. I can't help but wonder if they are going to dig up something that Nannie had buried in her backyard that she didn't want Tulsa's finest to unearth.

---

November 22 2002 at 12:22:52
Name: Patrick Bryant
Email: patrick@magicchord.com
Location: Burbank, California
Comments: When I first met BELLA SHAW, she was a 19-year-old newsreader for WKY radio. Her hair was long, straight, and brown. She was a cutie, fer shure, and a unique personality.

---

November 21 2002 at 14:36:28
Name: Erick
Email: ericktul@yahoo.com
Location:
Comments: Regarding the proposed Portofino, the site it was being constructed on used to be an office building for the Shriners I think. There used to be a billboard at that location touting the soon to be apartment building. Those signs have since disappeared, as has their website.

---

November 21 2002 at 14:20:28
Name: Charles
Location: Fargo
Comments: I just ran across an interesting site on the net. It lists past, present, and future skcrapers of Tulsa. It mentions that there is a 15 story condo/hotel structure called the Portofino being planned for 21st and Boston. For those still in T-town, what is currently on this site? The link to the website is
http://www.skyscrapers.com/english/worldmap/city/skyscrapers/0.9/101336/index.html

---

November 20 2002 at 22:35:53
Name: Dave
Location: Over Here
Comments: I'm surprised no one has mentioned this yet -- is anyone watching "American Dreams" on Sunday nights on NBC? It's set in Philadelphia in 1963, about to move into '64. The teen-age daughter is thrilled about being a regular dancer on Bandstand. She gets on the bus in downtown Philly after school each day and heads to WFIL to do the show. There's a lot on the show that would remind anyone of life in Tulsa in the '60s, except that we didn't have Dick Clark's pull to get big-time rockers in town every day. Of course, we had about a million fewer people that Philadelphia, but other than that...

---

November 18 2002 at 23:33:27
Name: Lowell Burch
Email: J9Z1B95
Location: River City
Comments: I went to McLain with the surviving Larry White. It is true, people did confuse the two Larry's on occassion. I remember that the Larry I went to school with played Harold Hill in McLain's 1968 version of The Music Man. (I played in the pit band.)
I mention this because the Broadway touring company is in town for the next few days and I am sure it will be a very exciting production.

---

November 17 2002 at 22:18:27
Name: Mike Bruchas
Location: Soggy Charlotte, NC
Comments: Attack of the Bella Shaw informercial clones.
Okay - now she is also doing a Carleton Sheets infomercial that we just saw here.
Maybe this is a new career turn for the former KTVY anchor/reporter after her stint at CNN on the entertainment beat...
With former OKC/Tulsa anchors George Tomek and Bob Hower doing hearing aid spots...what next?
BTW the way - anyone know if Jim Hartz's "Over Easy" is out there - still on air in re-runs? Folks forget Jim also anchored PBS' "Asia Journal" show. I think it is still on air but with more ethnic anchors from the contributing Pacific Rim news organizations on some PBS stations....

---

November 17 2002 at 09:16:44
Name: Gary Thompson
Email: Gthompson25@cox.net
Location: Tulsa
Comments: Anyone know where Mike McCarthy went when he left KTSO 94.1 a few weeks ago?

---

November 16 2002 at 10:17:28
Name: Mike Bruchas
Comments: BELLA SHAW surfaces - looked up and saw her on air doing the studio segs of "Charlton Heston Presents the Bible" infomercials...now with RED hair.
Remember her as blonde when at KTVY and CNN....

---

November 15 2002 at 17:07:07
Name: Noel Confer
Email: nconfer@aol.com
Location: Tulsa
Comments: I've seen posted here mentions of the old KAKC studios in the cellar of the Coliseum. I worked the night show there but didn't last very long. Earlier I was in the Coliseum as an entry in the Tulsa Golden Gloves. I lasted an even shorter time at that.

---

November 15 2002 at 08:52:35
Name: Mike Bruchas
Comments: Like the 2 Larry Miller's in Tulsey area (the one at KTUL and the one at OETA - both ex-Navy) - there were 2 Larry White's. Never knew if they were in any way related though.
Us TU kids of the early 70's - worked with the former radio announcer Larry - not the Larry at KVOO that Sonny has just noted - but there was always confusion.
Last heard from nearly 22 years ago - Larry the announcer was selling insurance and married to the daughter of the founder of Daylight Donuts, I believe.
Sorry to hear of Larry White's passing.

---

November 15 2002 at 01:02:24
Name: Wendy Forester
Email: wynkydynk@aol.com
Location: a Van down by the P.A.C.
Comments: Hey Girls and Boys, This is a great site! I've been lost walking down too many memory lanes after reading this site to post anything, earlier. As a former resident of the Flamingo Trailer Park, and E. 54th St. N., an alumni of Wiley Post Elementary School Kindergarten Class of 1969, it was my greatest pleasure to be one of those bratty kids on the Mr. Zing and Tuffy show.
I was a very young fan of Mazeppa "Pompamazoidy". (Can't believe my parents let me stay up and watch it!) Used to beg them to let me stay up and then would fall asleep when the movie was on. The movie usually scared me a little anyway.
See some of the talk about the Roberts family and the American Theatre Company. Hope any of you that are in Tulsa or visiting for Christmas will come on out and see ATC's annual production of A Christmas Carol (Dec 5 through Dec 22 at the Williams Theatre Tulsa P.A.C.)
My daughter, Rachael Cline, is going to be the Ghost of Christmas Past (she was Belle last year if you went to see it) and my son Chase Forester is going to be one of the school boys. They have a new choreographer this year and a new music director and some new little scenes. So it won't be exactly the same as before. I get to work in the Green Room and help the younger cast members when they aren't on stage. Rachael is going to be singing at the Van Trease Performing Arts Center this Sunday Nov 17th at 2 pm with the Signature Symphony. Come on out for that too.
Love this site! Thank you all for sharing and posting the memories!

---

November 14 2002 at 12:24:14
Name: Sonny Hollingshead
Email: sonny@intcon.net
Location: Sand Springs
Comments: A note on the passing this week of Larry White.
Larry was chief engineer of KAKC and KVOO, among others. He was chief engineer when KVOO moved from the radio/television facility on Peoria to it's present home near Yale and the BA Expressway.
For a long time Larry and wife Velma lived in their home on the KVOO-AM tower property in East Tulsa on 11th Street. Velma preceeded him in death a few years ago.
Larry was a charter member of the Society of Broadcast Engineers Chapter 56 in Tulsa. He had been in ill health for some time.

---

November 13 2002 at 20:52:44
Name: Chris Kelly
Email: chris.kelly@cox.com
Location: Tulsa
Comments: Just in case you are in the Tulsa area come December 2nd: Leon Russell and Joe Cocker will be in concert together at the Ol' Lady on Brady. First time in a great number of years. Go to startickets.com for tickets.

---

November 13 2002 at 17:31:42
Name: Mike Bruchas
Location: Sorry to NOT be in Tulsey....
Comments: It's a smaller world.
Got a care package from Tulsa from Jack Hobson + family - with a copy of the World article on Winnercomm's big party on 10-31. Jack worked at 8 when I did and with Chris Lincoln.
One of my co-workers from Inspiration came by and saw me reading it - turns out she lived in (and still misses) Broken Arrow many moons ago. She used to also watch Chris Lincoln on KTUL - I didn't know.
Then Diane Patterson - Operations Mgr. here at Speed Channel came by (she had worked with former Tulsan/ace CBS cameraman David Finch when she was at CBS as was previously noted here). She said that she had interviewed with Doug Wrenn at Winner several years ago as a Production Mgr. hire candidate. She, too, knew of Winner's success and Chris Lincoln.
I worked at 8 when Winner Pres. Jim Wilburn was the "kid" salesman at 8 - I think not long out of school. He was new, green to TV, and was given the Muskogee territory which often had low dollar sponsors but was James Leake's home turf. He worked and worked to build up more sales. Though from reading the World article - the corporate "story" sounds like it has evolved a little differently from what I knew. I thought former KTUL radio/TV voice and salesman Keith Bretz had been part of the initial group at Winner but he was not mentioned. Maybe Keith is no longer with us - anyone know?
So we DO live a smaller - Tulsa-connected world!

---

November 13 2002 at 11:07:10
Name: Mike Bruchas
Location: Norf Caryliner not Souf Cacylacky
Comments: I remember "KMODern music time" on the time checks on air.
Guy Atchley has yet to write-in here, but has seen the site. He is becoming a fixture in Tucson and likes the mountainous area there. BTW he became a yoga convert and teaches a class or so in stress relief at the community college out there (often with his daughter) when not anchoring Tucson's leading newscast. His son has a small video production firm that he writes or narrates for. He also does humorous motivational speaking and has one of the highest TVQ's or whatever they call them now - in AZ.
Kitty Roberts is still running the American Theatre Company in Tulsa - has had bad bouts of crippling arthritis a few years back but when I saw her 2 years ago - is runnin' and gunnin'....
Brother Tom Roberts - who worked at 8 and KWEN may be retiring from the helm at MCSI in Tulsa in the next year or so - after his and compadre Chris Miller's efforts at building a truly great TV services integrator - now in something like 13 states and managed out of Tulsa. No Tommy won't truly retire - he will consult and do fun things "in the biz" I am sure.
Chris is an ORU alum and former director there - I am sure HE would have fascinating ORU TV stories to tell. He and Tommy have been kindred spirits for 25 years and a smart team. Chris also worked at another Tulsa production house 25 years ago that was trying to rival Stunkard-Phipps - in the pre-Winner Communications days. Sorry I forgot the name - but I remember when the PAC opened - they did the TV taping of all.

---

November 12 2002 at 14:58:22
Name: Dan Morgan
Location: OK City
Comments: The mention of KMOD brought several names to mind. Doug Dodd of Channels 8 and 6 fame did time at KMOD as did Dave Martin, son of legend Johnny Martin. Both were very good as I remember.
Later Harry Volkman worked with Dave when he was General Manager of a Chicago station. Kitty Roberts who has done wonders for Tulsa theater was a KMOD staffer too as I recall. Groovy tunes for groovy grownups wasn't it?
Yes, it was.
---

November 12 2002 at 11:10:49
Name: Steve Bagsby
Location: Tulsey
Comments: I believe David Hall passed away several years ago.

---

November 09 2002 at 22:43:32
Name: Earl W. Williams
Email: Ewilliamsywam@juno.com
Location: Tyler, Texas
Comments: I grew up in Fayetteville, Arkansas in the late fifties and early sixties.There were no local stations in Northwest Arkansas and so all we got was Tulsa TV. My parents swore by Jack Morris and Don Woods, where are they now? I was a big fan of Mazeppa and the camp meeting. Glad to see you have so much about them.
I am a political junkie and I would like to know whatever became of Governor David Hall. The last I heard of him was when he got out of prison in 1978. I heard he was living in San Diego working as an investment banker.
It would be interesting to know where he is now. Thanks for this great site.
| | |
| --- | --- |
| | Jack Morris retired from his 2nd career at Nordam here in 1999. |

Don Woods is still in town. Here are his web pages at Bill Haynes' site...I saw him and Billy Parker selling those Bill Haynes windows on Channel 2 Sunday morning. I know Billy has been doing it for around 20 years!
---

November 09 2002 at 16:33:37
Name: Rick "Montana" Lepper (via email)
Comments: Here are a couple of old KAKC jingles that I ran across that might be of interest to fans or old employees of the station. I was on-air in the 70's and have great memories as a listener-fan AND jock.
---

November 09 2002 at 03:09:25
Name: Bill Spradlin
Email: bgspradlin@(SPAMnoway)hotmail.com
Location: Somewhere In Texas
Comments: About the rumors about KELi coming back to 1430 - There is a FM station called KELI in San Angelo TX thats called "Magic 98" and runs a 70's-80's oldies format. This stations has had those call letters for about 15 years.
The good news is that the FCC have relaxed the rules about stations call letters, and now you can have an FM and AM in two different cities and states with the same call letters. In Kilgore TX, there is KKTX-FM, but KKTX-AM is in Corpus Christi.
If KELi returned to 1430 (even with sports-talk, I doubt it will be a music format) I would be very happy. I'd like to see Clear Channel do something with the KAKC calls since they already own them and they are wasting them on 1300 with the Spanish Format. They would be great for a FM oldies station like what KOMA is doing in OKC!

---

November 08 2002 at 09:01:51
Name: Jim Ruddle
Email: gardel@erols.com
Location: Rye NY
Comments: For old timers: I found a "Walt Teas" listed with a talent agency in the Washington, D.C. area, but have yet to confirm that it's the same Walter Teas of "Eggs at Eight" and "Worrybird Club" fame. I know he worked in the Baltimore/D.C. market, years ago, and hope to be able to report further in the near future.

---

November 06 2002 at 23:30:27
Name: Elizabeth Ann Bennett
Email: jasper5888@aol.com
Location: Oklahoma City
Comments: I was on the Ho Ho the Clown show many times for the last nine years he aired on TV. He was a great clown.
I sang with a little singing group that performed our songs with our teacher playing the piano. We sang every Christmas on his show and several other holidays as well. We sang the common Christmas carols as well as Jeepers Creepers, Ain't She Sweet, Tea for Two, Pennies From Heaven, Tie a Yellow Ribbon, and many others. Am I the only one left in that era who remembers?
Thank God for that show and the exposure I got from being the little leader of that singing group. I am a singer and I want to make it to Nashville someday. Being on this show would go as one of my experienced listings in a resume I would provide for a job at a record station or Nashville's Grand Ole Opry. Sound crazy? Not at all.
I miss Ho Ho the Clown and would love to see some of his old shows on TV again someday. Especially the ones I appeared on...for real...
If anyone has access to some of his tapes please write to me...
Elizabeth Bennett
1125 SW 37th
OKC, OK 73109
I would love to get some of my old tapes when I was on the show. Thanks.

---

November 05 2002 at 23:23:39
Name: Jim Reid
Email: jimreid56@aol.com
Location: Dallas
Comments: Although I've been gone from Tulsa for a long time, I think I've seen John Anderson on ESPN. I noticed that one of the anchors, had an interesting way of calling baseball highlights. When talking about any player that went through the Texas Rangers' farm system, he would say "ex-Driller Sammy Sosa went deep in the 6th inning". I listened to see if he did this with any other farm team, but it was just ex-Drillers.

---

November 05 2002 at 18:21:59
Name: Karrah Youngblood (via email)
Location: TV Guide building
Comments: Hi. I really enjoy your site. I did notice something. John Anderson, the former Sports "Peon" from KOTV now can be seen on SportsCenter on ESPN. He's great on there.
I advised Karrah that her workplace served as a studio for Weird Al's movie "UHF" in 1988.
---

November 05 2002 at 16:50:41
Name: David Bagsby
Email: david_bagsby@hotmail.com
Location: Lawrence KS
Comments: Get out your firecrackers...it's Guy Fawkes Day!

---

November 05 2002 at 16:44:41
Name: Kristi Howard
Email: akcskye@swbell.net
Location: Sapulpa
Comments: THANKS for the photo of Guy, Mike!
I'm going to send it to mom so she can see it. I've not seen this one before.
Kristi

Well, then, here is another one.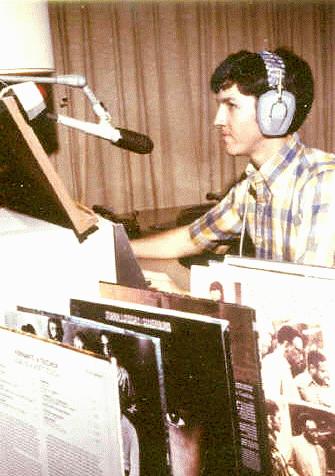 ---

November 05 2002 at 02:43:14
Name: Lauri Park MacKay
Email: lulumack02@aol.com
Location: El Paso, TX
Comments: I stumbled into Tulsa TV Memories by accident while looking for a way to send email to G. Sartain. I have always been so proud of him, Gary Busey, Bob Brown, and many others who were famous in my eyes as a teen in the 60's and 70's in Tulsa. My sister and I never missed the Uncanny Film Festival. I wish she still had the autographed Mazeppa Fair poster!
I don't get to Tulsa these days, but I will keep in touch by visiting this site and I will share it will my family so they can do the same. Thanks!
You're welcome, Lauri.
---

November 05 2002 at 00:38:27
Name: Kristi
Email: akcskye@swbell.net
Location: Sapulpa
Comments: Wow! This page sure brings back loads of memories for me!
Some of these memories, I was a bit young for and seem foggy looking at, but I loved the pics of the old Channel 8, and my cousin, Guy Atchley!
I remember him being on Channel 8 as if it was yesterday!
Kristi
Here is Guy at KMOD before he moved to KTUL-TV.
Photo by Mike Bruchas.

---

November 02 2002 at 06:04:04
Name: Big Carl
Email: davidoldfordfan@aol.com
Location: In BA with Billy Parker and Roy Ferguson
Comments: I am really sad to see Big Country 1170 KVOO gone. In my Mom and Dad's old house, they had an intercom with an AM/FM dial indicator radio in it. After 40+ years of being dialed into KVOO, it would not pick up any other stations. I miss this station very much.
---

November 01 2002 at 20:47:14
Name: Lowell "Boris" Burch
Email: J9Z1B95@aol.com
Location: The Dark Side
Comments: I always try to keep the spirit of Scream in the Dark alive every Halloween usually by building a dark house for a school or church, or by decorating my front yard. The skills I learned from television and theater in lighting and set design come in handy. Of course, my few trips to Six Flags, Universial Studios and Disneyland over the years haven't hurt, either.
This year I did up a pretty good walk-through for the kiddies at church, not too scary and no gore, but strange enough to give them a thrill.

---

November 01 2002 at 13:12:27
Name: Sonny Hollingshead
Email: sonny@intcon.net
Location: North of Swinson Chevrolet
Comments: The Bowl-Ero bowling lanes on Charles Page Blvd. was immediately west of the Capri Drive-In. In the early Seventies many young men descended upon the east side of the Bowl-Ero parking lot, behind the Capri fence, just after dark to watch the silent film festival. Anatomy films, as I recall.

---

October 31 2002 at 22:03:23
Name: Doy Bowers
Location: Tulsa, OK.
Comments: I grew up in the Tulsa Drive-In Theater scene. I could tell you a hundred stories about almost all of them, but I will stick with a funny one that was all part of growing up.
When I was about 10 years old we lived in a house right behind the Capri Drive-In & across the street from the old Stockyards (last house on a dead end street.)
Well, the Capri had just started showing skin flicks & my bedroom was on the side of the house facing the theater. So I went to bed every night on time. My mom got to wondering what was up, so she came into my room one night when I had the curtains pulled back. "BUSTED!" She made me change rooms with my sister and had my dad nail the curtains shut. Took all the fun out of life at the time.
Good one...let's hear more!
---

October 31 2002 at 20:59:39
Name: Emily Webb
Email: tv6lady@yahoo.com
Location: Haunted Tulsa
Comments: Happy Halloween!
I was shocked to hear about the loss for Run DMC. I really liked them when I was in middle school. I've never been a big rap fan, but their sense of humor caught my eye.
I hope all is well in TV land for everyone. I guess I better sleep.
Zzzz. Zzzz.

---

October 31 2002 at 13:54:04
Name: Mike Bruchas
Location: Memory Lane
Comments: This is not Tulsa Memory - but after I first moved to DC 17 years ago - I worked for BET at Atlantic Video.
Run DMC - the early rap group - was a show guest on the same day Lyndon LaRouche was there to tape his annual counterpoint blast to whatever President was in office on the day of the State of The Union address.
My claim to shame was kicking out Run DMC from our green room for LaRouche and his scary security folks. As it turned out Run DMC WAS booked to hold in the area behind my control room and I apologized. I mention this story as Jam Master Jay - one of the 3 founders was murdered last night in his NYC studio. He donated a lot of free studio time to folks on the way up and music biz folks are puzzled - why him?
The group looked tough, acted tough as a group - but were nice guys after all - behind the image they portrayed in their videos....

---

October 30 2002 at 18:14:42
Name: Webmaster
Email: mike@tulsaTVmemories.com
Location: Tulsa
Comments: Archived Guestbook 117. Take a look, then leave your comments here.

---
Back to Tulsa TV Memories main page.