Tulsa TV Memories GroupBlog 318

TTM main | What's new on TTM? | GB Archive




December 08 2010 at 23:20:58
Name: Webmaster
Topic: 70s KTUL sign-off on Woot!
Comments:
I noticed today that the late 70s Channel 8 sign-off with Native American artist Dick West that I put out on YouTube was featured on the blog of the online store Woot! today:

When TV Went To Bed: 13 Classic TV Sign-Offs

More about Dick West, plus other Tulsa sign-offs on the TTM Sign-offs page. The one YouTube not working on that page, the sign-off with Ray Charles singing, can be watched here (from the secondary TTM Channel on DailyMotion). Sorry about the ad.
---

December 08 2010 at 17:28:44
Name: Gary Chew
Topic: Imagining John Lennon, Again
Comments: A line just crossed my mind this morning, on this December 8, 2010:

"If the good didn't die young, John Lennon would still be alive."

---

December 07 2010 at 11:44:23
Name: Jim Ruddle
Topic: Jack Morris
Comments: Jack Morris was the only hard-nosed anchor in town when he started. Some derided him as being too much "Front Page" in his presentation, but he was a pretty solid citizen as far as I was concerned. You have to remember that Channel Six had all the networks when it went on the air and everybody else had to play catch-up. Morris was one of the major instruments for Channel 8's eventual prominence.

Sorry to hear that he's gone.


---

December 07 2010 at 07:26:06
Name: Mike Miller
Topic: Jack Morris
Comments: I'm saddened to learn of the passing of Tulsa TV news veteran Jack Morris. I worked with Jack at Ch-8 as a TU intern in the late 50s. But a few years later he was a competitor when I was at Ch-2 and Ch-6. And he was a fierce competitor.

We had some success in 1968, only after KOTV sent several of us to Vietnam to interview Tulsa area servicemen. I credit Jack for getting me a job at Ch-5 in Washington where he sent an air check. I always considered him a good friend.

Most of all I remember Jack's terrific sense of humor. I'm not talking about his jokes at the close of his newscast. Jack was much funnier than that off the air.

Tulsa viewers should remember Jack Morris as the television journalist who set the standard for local news coverage well before other stations became serious about presenting hard news. RIP, Jack.


---

December 07 2010 at 02:18:49
Name: Mike Bruchas
Topic: Dandy Don Meredith
Comments: Just caught a blurb on his passing on Sunday.

He, Howard Cosell and Frank Gifford set the bar on Monday Night Football for years.

Link at: http://www.wbaltv.com/slideshow/slideshow/26034193/detail.html

---

December 06 2010 at 11:19:01
Name: Grant Gamster
Topic: Jack Morris
Email: ggamster@mac.com
Comments: Just wanted to let everyone who might want to know my grandfather Jack Morris a pioneer in Tulsa radio and television passed away Saturday night he was 88. Funeral arrangements are pending.



Grant, I am sorry for your family's loss. Thank you for letting us know.

Here is a link to more about Jack on Tulsa TV newsmen page 2. Also, photos from the 2003 Tulsa TV Icons event in 2003 in GB 132.

Jack has been mentioned many times on TTM. Here is a Google search that lists all those TTM pages (Google Toolbar has a feature that greatly assists in finding the mentions once you arrive on a particular page. See the TTM Search page for more about that.)

From GB 183, Frank Morrow said: "Does anyone but I remember hearing Jack as PA announcer for the midget car races at the Fairgrounds in the late '40s? Also, how many know that he actually promoted jalopy racing at the Fairgrounds track for a year?"

From the Tulsa World, 12/6 by Tim Stanley: "Longtime Tulsa newscaster Jack Morris died at 88", and from 1999: "Making headlines" about his retirement from Nordam.
Courtesy of Wayne McCombs. Newsman Jack Morris was of the serious school of newscasting, but ended his cast with a brief joke. On this occasion, Jerry Webber and John Hudson decided to provide a little extra support.

---

December 06 2010 at 06:43:40
Name: Rose Bowl Bunker Commander
Topic: Martin's Bar-B-Q
Comments: Still the best I've had anywhere in the country.

Eating there with my family ca. 1964, I tried an odd-looking pepper from the container on the table. My mother asked, "Is it hot?" I said "No" and handed her one, holding back the tears until she ate it. My sister and my father died laughing at the sight of my mother and I laughing along and crying.



Good one. We heard from Todd Martin of the Martin's Bar-B-Q family below.
---

December 05 2010 at 20:40:16
Name: Del Gillette du Coffeyville
Topic: Band on the Run Fun
Comments: I don't usually come by this place very often, but since I'm here now, and hoping that Mazeppa surfs by once in a while, I'd like to tell him and anybody else interested...that the new-fangled Sirius/XM whatever it's called has got a new music channel that has the band known as Wings on it, damned near all the time.

And, also, that XM is gonna carry a live concert from the Apollo Thee-ayter on Dec 13 with the guy who made Band on the Run whut it is today. Yip Zeppie, that's right...it's Paul McCartly.

---

December 05 2010 at 00:35:48
Name: Mike Bruchas
Topic: Life before cel phones
Comments: Love all the old TV shows and movies where pay phones blanket the world and always work!

When was the last time that you saw or used one - not in an airport? They used to be at every gas station, laundromat or convenience store.

In DC in the mid-2000s, we had crazies who went around destroying all of the Verizon pay phones by adding glue to destroy the mouthpieces. Usually where there was no cel phone service in the Metro system.

---

December 01 2010 at 15:45:47
Name: Webmaster
Topic: Responding to Wesley
Comments: Wesley Horton, curator of the American Institute of Drive-in Archeology, which contributed greatly to the Tulsa Drive-In pages on TTM, asked in his note below about what the kids of today will fondly remember in 30 or 40 years.

I think it will be the activities that occupy their attention daily, such as texting, Facebook, gaming, iPod music, watching an entire TV series in about 2 days on Netflix/DVD/Bittorrent.

Almost 10 years ago, I speculated about which local TV ads people would remember in 25 years. Do you think I was on track? See GB 76.

Wes also wanted to know which pages people visit the most here on TTM. The Ice Cream pages and the Outsiders pages seem to consistently be among the most popular. These are probably hits from Google searches.

---

November 30 2010 at 23:44:48
Name: Mike Bruchas
Topic: BBC obit for Leslie Nielsen
Comments: Take a gander:

http://www.bbc.co.uk/news/entertainment-arts-11862150

---

November 30 2010 at 13:41:16
Name: TulsaGal
Topic: Re: Martin's Bar-B-Que
Email: tulsahistory@aol.com
Comments: I remember Martin's!! My dad really enjoyed stopping in for some ribs when we were over in that neck of the woods visiting one of my grandpa's. I remember learning about "finger bowls" there. We were sad when it closed.

Nancy
www.tulsagal.net

---

November 30 2010 at 00:27:58
Name: Todd Martin
Topic: Martin's Bar-B-Q
Email: todd at dsprinting dot com
Comments: I was reminiscing about the days when my family owned Martin's Bar-B-Q and wondered if anyone had any good memories of those days?

My grandfather, Fred Martin, started the original Martin's Bar-B-Q back in 1949 and my dad, Jerry Martin took over after my grandpa retired. Me and my brother, Kirk, sisters Tammy & Teri all worked there.

In 1989 mom and dad retired and we sold them all. Do you remember the donkey on the sign and all the antiques? I'd love to hear from those who remember Martin's Bar-B-Q!!



Wasn't the donkey's slogan, "Everyone eats here except me, and U can see what I am"? (and the "U" looked like a horseshoe?) That was some great BBQ.
---

November 29 2010 at 13:50:06
Name: Sonny DeGraw
Topic: Skating Rink
Email: sdegraw01@gmail.com
Comments: This is a little late but some earlier comments on Skating Rinks made me want to comment.

The rink by Mohawk Park was still there a couple years ago. Non-functional of course.

The one on 11th street off Peoria going towards town was the Continental as some thought. We used to skate there in the mid 60's for $.50 on Saturdays. It was a great hangout for picking up girls as a teenager too. Yes Joey Dee did play there. I talked with Joey a few years back when he played the Tulsa Fair and he asked me about the rink. He used my info to impress the crowd during his second show that night.

Not to change the subject but did anyone see J.Frank Wilson and the Caviliers and Ronnie and the Daytonas open up for the Animals in Tulsa in the 60's? Best $4.00 I spent for a long time.

One last thing, our band in Tulsa was called James Bond and the Agents. Anyone know where James Bond (lead guitar went) or Hank Lacroix (the Bear) went?

---

November 28 2010 at 22:15:14
Name: Mike Bruchas
Topic: Lost another one
Comments: Leslie Nielsen expired today of pneumonia in Florida. He was 84.

Straight actor to a comedic foil.

We'll miss him.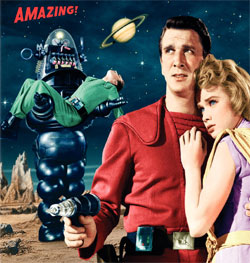 Leslie Nielsen in "Forbidden Planet"
Leslie Nielsen was the leading man in "Forbidden Planet", a staple on Fantastic Theater and the Uncanny Film Festival and Camp Meeting. Perhaps the best SF movie of the 1950s.

The great 1982 "Police Squad!" series, a summer replacement that ran only 6 episodes, was the basis for the "Naked Gun" movies. Nielsen's deadpan Lt. Drebin was extremely funny. I'll miss him.
---

November 28 2010 at 09:13:43
Name: Lazzaro
Topic: Reverse 'S' Tulsa Bricks
Comments: This has nothing to do with television (unless you feel as I do about most of what's on TV) but does anyone here know about the history of or story behind the reverse 's' Tulsa brick?

It's a standard red brick with the word 'Tulsa' imprinted on the face. Minor problem being that whomever created the mold reversed the 's' in Tulsa and quite some number were produced before the mistake was noticed.

I have one I picked up in the 70s from Butcher's Demo and have a friend who had reverse and non-reverse versions of the brick. I vaguely remember a story being associated with the run of the reverse 's' bricks but can't remember the details. Anyone?

---

November 26 2010 at 22:12:52
Name: Gary Chew
Topic: On The Road Some More
Comments: I don't want to rain on anybody's T-Giving Weekend Parade, but I just read online that our beloved Willie Nelson was busted for possessing some kind of green leafed substance on his tour bus near El Paso this morning.

I'm shocked and incensed by this turn of events.

Delmeaux de Gillete du Coffeville

---

November 24 2010 at 20:14:06
Name: Warren Vincent
Topic: Ben Affleck Movie
Email: rftp55@sbcglobal.net
Comments: Info on the Ben Affleck movie is here:

http://www.imdb.com/title/tt1595656

---

November 24 2010 at 19:52:04
Name: Mike Bruchas
Topic: Lensing in Tulsa
Comments: What is the name of the BEN AFFLECK movie currently shooting near St. John's Hospital and north of Utica Square?

---

November 24 2010 at 14:30:18
Name: Warren Vincent
Topic: Tulsa Racing Death Subject On This Site Dated Nov. 2008
Email: rftp55@sbcglobal.net
Comments: Family member comes forward at the Racing From The Past site http://www.hoseheadforums.com/forum.cfm?ThreadID=23965 with his and other viewers' side of the story.

Some of the original thread from back then.


Webmaster: I started the above thread at Racing From The Past's forum in late November 2008 in an attempt to find out more about the alleged murder. It now runs to 4 pages of comments by Warren's readers.

At the bottom of page 2, I mentioned the name of James Vanbeber. Halfway down page 3, a consensus builds that he was the driver referred to by the original TTM poster. A nephew of James Vanbeber ("jimmyvan1977") joins the discussion at the bottom of page 3 and continues to comment on page 4.

(The original TTM posts below can be found in GroupBlog 276, in situ.)

-----

November 23 2008 at 06:44:13
Name: (original writer)
Topic: Tulsa Speedway
Comments: In the late 1960s or early 1970s, I don't remember what year, I and others, even if they didn't realize it, witnessed a murder at The Tulsa Speedway at the fairgrounds.

There was a new guy driving a previously-owned sprint car that had belonged to A. J. Foyt. It had been carbureted from the original fuel-injected system in order to get it into the Super Modified category and was a speed demon and the driver was sharp.

After a few heats that the new guy had won, he was ganged up on by some locals. They tried blocking him but they couldn't get around him. He was just too fast and a better driver.

During the last heat of the night, because of the death, coming into turn #3 one local driver deliberately clipped his left-rear tire, which launched him up over the wall and killed him when he came smashing down on the other side. The local drivers involved were happy and nothing more was said about it other than, "It was a real tragedy," or some such BS.

I was around some of the drivers involved after that and caught their drift. There was no mistaking the hit on the guy because it was exactly at the right place at the right moment. The guy sitting next to me also knew what they had done. I can remember how it played out, but I can't remember who was involved because everything was going so fast and we soon forgot who was driving what when it happened. No charges were filed.


November 23 2008 at 12:50:10
Name: K. Bolen
Topic: Tulsa Speedway - Early Years
Email: bojoker@att.net
Comments: During the period of racing between '61 and '66, Tulsa Speedway experienced three deaths. Bill Dillard, whose family is still involved and races IMCA modifieds and street stocks around the Arkansas and Oklahoma area, was fatally injured in '61. Leroy Ellis died in '65, and Ron Lux, who was from the East Coast died in '66. He was the Oswego (NY) 1965 Supermodified Champion (which their version is totally different than Tulsa's and race on asphalt).

The track changed to the 5/8 mile after '72. Jeff Sykes lost his life during the start of race in '75. If I'm not mistaken, Jeff had flipped his car earlier and suffered a broken leg and concussion in which he flipped again (almost in the same manner and circumstance) a few races later and suffered his fatal injuries. I also seem to think one or both were captured on film as well during those years.


November 23 2008 at 14:26:02
Name: Lee Woodward
Topic: Fairgrounds Racing
Comments: K. Bolen's recalling the unfortunate deaths associated with racing at the fairgrounds exceeds my memories of the years I was the track announcer for Dick Colvin Racing. That would be: 1964 maybe, '65 and '66 for sure.

I remember the name Leroy Ellis but not his demise. The only one I remember vividly was when the sprint cars came for the first time to Colvin Racing.

I remember that Mario Andretti was there and some other Indy types whose names I can't remember. Assisting me (happily) in the announce tower was fellow Texan, Johnny Rutherford. That happy circumstance was because he had broken his arm and couldn't drive.

I can't remember which heat race it was, but a driver named Ron Lux came out of turn four, got out of control on the short straight and headed for the steel rails that ran around the sides of the track down towards turn one. His car's front right wheel dug in and threw his car in the air. It then barrel-rolled down the top of the rails very rapidly, just about, if not right in the cockpit area.

Johnny indicated to me to turn off the mike, then said to me: "He bought it." Then he said not to mention that possibility and that we would would just fill with race info, etc. and wait for official information as the driver would be taken to the hospital for evaluation.

This, by the way, was before there were cages and wings on Sprint cars. But, I don't think it would have made any difference. It was a sad evening for all of us and especially for the family of Ron Lux.

The modified cars that ran at that time could get pretty exciting, but sprint cars were really intense.

I am happy to say, that was the only tragedy I was witness to. There were others that came after non-fatal injuries to change the lives forever for other drivers.


November 23 2008 at 14:52:10
Name: Kenny Bolen
Topic: Tulsa Speedway - Early Years
Email: bojoker@att.net
Comments: Thanks Mr. Woodward for your insight. I was much too young at the time to remember a lot about the earlier days. I was lucky enough to be present later in life with the Cagles (father and son), the Crawfords, Lemmons, Hahns and countless others on their memories.

Also included with the Rutherfords where Lloyd Ruby (another Texan), the Unsers now and then, a Bettenhausen now and then, and the forementioned Andretti.


November 25 2008 at 21:59:59
Name: Tom Horn
Topic: Tulsa Speedway correction
Email: gethenet at aol dot com
Comments: I can't let the story that (original writer) wrote go on without contesting it. I'm not sure I ever did or ever will know any driver that would have put a hit on anyone at the Tulsa Speedway. The story is so full of holes that this writer couldn't make up his mind whether the driver was leading or following the pack.

I am ashamed that I cannot remember the street stock driver that died in my years there but there were only 4 other deaths on the track in my years. I knew each of them more than I should and miss them all. Len Perlich, Junior Taft, Jeff Sykes, and Gene Daniels. These were the only deaths between 1971 and 1983 when I was there driving the ambulance. Each one had extreme injuries and none were taken out by any hit.

The thought of accusing any one driver(s) of a hit makes me sick and to have someone say it is very offensive. If you have more to say please don't blog it. God rest all of them.


November 25 2008 at 23:28:56
Name: (original writer)
Topic: Tulsa Speedway
Comments: To Tom Horn:

I was there and saw it. He was deliberately hit and went up over the wall and it was reported he died. I was sitting with Bob Bachtell, of the Tulsa racing LeRoy Bachtell family, and he saw and heard the same things. I said I didn't remember if it was in the late 1960s or the early 1970s. I would have mostly been at the races in the late 1960s. The guy got hit. And I did say that the guy was 'leading the pack': "They tried blocking him but they couldn't get around him. He was just too fast and a better driver." I was mistaken about the turn number. It was turn number 4, after I thought about it. Do you not remember the knock down, drag out fights in the pits? That was a separate entertainment. Clipping someone was nothing new on the track. It's just that that time, someone died and it very much looked of malice. Go ahead and be sick, but don't mis-quote me or call me a liar, because apparently you weren't there at the time.



TTM Webmaster: Ron Lux' crash was on turn 4, according to Lee Woodward. Are you saying it was his crash that you saw?

Here is a list of fatalities at the Tulsa Fairgrounds from Motorsport Memorial. Lux (1966) and Ellis (1965) appear to be the only ones close to the specified time frame.



November 26 2008 at 09:36:59
Name: Frank Morrow
Topic: Racing deaths
Email: frank.morrowatcoxdotnet
Comments: You can go back even farther in time to find more driver deaths in the midgets at the fairgrounds race track. In the late '40s, George Koch was killed when his car flipped end-over-end down the front straight. Lucky Purnell died when his car did a slow rollover coming out of turn four in a feature race. There was no damage to the car except a small indentation in the driver's side where Purnell's racer rolled over his head. During these years there were no roll cages or bars on the cars and the drivers didn't use full safety belt restraints.

As to rough driving, there was only one driver who was considered "dirty." George Binnie, a track champion, had developed the art of "nerfing" cars out of the way. He would tap the left rear of the opponent's car and spin him out, but not enough to cause a wreck. Binnie could always get by safely. George was roundly hated by other drivers and the fans in the grandstand.

For the most part the drivers had to be circumspect in their driving because of the lack of safety features that we now have. That restraint has changed today in the era of roll cages, full safety belt restraints, and fuel cell bladders. At the Chili Bowl it is not unusual to have fourteen cars flip in one evening, accidents that would have killed most drivers back in the '40s and '50s.


November 27 2008 at 13:29:05
Name: Tom Horn
Topic: Racing Deaths
Email: gethenetataoldotcom
Comments: (To original writer): If in fact there was a death of the sort you are accusing, then certainly you would know the name of the deceased. If you could provide that, then it might lend credence to your story. However, until that is provided, your story will always be in question. If not, then there could still be charges filed if your story is found to have any substance.

The names of the deaths provided are also inconclusive as they have left off Van Beber and the street stock driver I mentioned earlier.

Side note to Lee, Johnny Rutherford had both arms broken when you and he did the track announcing. I have a picture in one my Open Wheel magazines that shows his arms flailing in the air as he is about 15 feet in the air.

Some of the information provided here is from Mark Champion who wrote for the Speedway news.



TTM Webmaster: I must agree with Tom. With no name and no corroboration, this dire interpretation of a 40-years-distant event has to be regarded skeptically.



November 29 2008 at 07:08:42
Name: K. Bolen
Topic: Tulsa Speedway
Email: bojoker@att.net
Comments: Hi Tom. I'm not real sure, but I believe the street stock driver who was fatally injured had the name CW Whorton or Horton. I can't be sure but I can tell you that I still have the original program in my mom's attic back in Broken Arrow, OK along with a huge collection of Open Wheel! Speaking of, I have the first copy (in a frame and intact) hanging on my wall as I type this! *LOL*

This accident was one to prompt stricter material and welding requirements for the full bodied cars. As I remember, the vehicle was struck on the door and the roll cage failed. At that time, the steet stocks raced earlier on Saturday. We had just gotten to the track when the accident happened.

Also, I can't recall the accident in question here or remember a story from any of the drivers or track personal about it (and I knew quite a few). Especially if it was a sprint race in which many of the locals didn't own sprint cars but had supermodifieds.

---

November 23 2010 at 20:31:13
Name: Webmaster
Topic: Back from a cruise
Comments:
Here's part of what I've been up to for the past 11 days:

The webmaster ziplining in the Costa Rican rainforest (Photo by Gaye Brown, who immediately followed.)
---

November 23 2010 at 13:16:54
Name: Mike Miller
Topic: Dumb Questions?
Comments: Jim Ruddle's entry reminded me of an allegedly true story I heard when I first arrived on Capitol Hill to work for Rep. Ed Bethune of Arkansas. A novice reporter walked up to Rep. Wilbur Mills, Chairman of the House Ways and Means Committee, (I think it was), and thrust a microphone in his face saying, "Congressman, ask yourself an intelligent question, then answer it." Mills told the reporter, "Son, go and come back when you've thought of a good question."

Mills stopped by Bethune's office after Ed was sworn-in and I asked him if he had any advice to give a fledgling press secretary. Wilbur said, "Hell, I never had a damn press secretary." I said don't tell Bethune that. Mills probably could have used a spin master after he cavorted in the Tidal Basin with a foxy stripper named Fanne Foxe.

---

November 22 2010 at 15:00:12
Name: Jim Ruddle
Topic: Chicago TV Legends
Comments: The best Chicago "missed it" story was when the Hancock Building was nearing completion and construction material blew off the ninety-something floor one morning and landed on Michigan Avenue, forcing a closing.

A reporter for WMAQ-TV arrived at the scene after the fuss was over and attempted to question witnesses. He stopped a man hurrying to work.

"What did you see here?" he asked.
"I didn't see anything. I wasn't here."
"What would you have seen if you'd been here?"

This true and on tape.

---

November 21 2010 at 13:56:12
Name: David Batterson
Topic: Blues Brothers
Email: send it to the clouds! ;-)
Comments: I worked as an extra one day in "Blue Brothers." We were served some "goulash" on metal plates in the scene, and we got angry and threw our plates all over. I think I made $40 for the day.
P.S. Was also an extra in "Mass Appeal" (good film!) and "Billy Jack Goes To Washington."

---

November 21 2010 at 01:06:05
Name: Mike Bruchas
Topic: Chicago TV legends...tangent here...
Comments: Spots started running here for a Saturday with "Chicago TV Legends" in 2 weeks.
Sponsored by the Museum of Broadcasting here.

Tulsa "boy" Harry Volkman is one.
Rich Koz or as a younger generation knows him, Svenguli, is the other.
Joel Daly - who often appeared opposite Jim Ruddle as on-air competition - is another.
John Drummond - one of the last hard-bitten street reporters at CBS in Chicago is the fourth.

Here's a web-link:

http://www.museum.tv/exhibitionssection.php?page=593

---

November 19 2010 at 21:51:28
Name: Billie
Topic: Skelly station
Comments: Does any one remember a Skelly service station downtown? I think it was also a Yellow Cab stand in the 60s. If so, what was its location?

---

November 19 2010 at 14:49:44
Name: Erick
Topic: Bridge implosion
Comments: And to tie Mike Bruchas' last comments into Tulsa TV and complete the circle...

The male anchor in that clip is Larry Potash, former KOTV anchor/reporter during the 1990's.

---

November 19 2010 at 14:33:57
Name: Wesley
Topic: What will people remember fondly in 30 years?
Comments: Hello all,

Interesting random thought... Methinks that we all know what we enjoyed as kids, now miss, and wish there had been VCR's back in the 50s and 60s.

What are everyone's thoughts regarding what the kids of today will fondly remember in 30 or 40 years (When they are "Our age". . . as opposed to what, I know not!!)

Love to hear from everyone. . .

BTW, Mike, do you have any stats on which pages people visit the most here on Tulsa TV Memories? Are some more popular than others?

My personal favorites:
Drive-in theaters (Obviously)
Tulsa Coffee shops of old (Wish I could have visited Rubiat)
Tulsa Tiki
Kids shows
Sign offs (does ANYONE still do that? With music and all?)



I answered Wesley above after getting back from vacation.
---

November 19 2010 at 14:02:52
Name: Mike Bruchas
Topic: LIVE TV is so much "fun"
Comments: WGN-TV here in Chicago was sitting on a live bridge implosion and after long waiting, missed it.

The anchor reactions to it are hilarious but it's so true when you bank on a live event happening on a posted schedule AND it doesn't.

go to:

http://www.wgntv.com/videobeta/?watchId=ce875f1b-9963-420f-bf7b-ec3838bea62f

---

November 18 2010 at 12:47:12
Name: Mike Bruchas
Topic: The Blues Brothers
Comments: The movie may be almost 30 years old, but the fans are still out there.

http://www.bluesbrotherscentral.com

Sax player - 65 year old Lou Marini from the Blues Brothers Movie, now plays in the back-up band for (Wonder Woman) Lynda Carter.

---

November 17 2010 at 14:29:21
Name: Erick
Topic: Lake Bixhoma
Comments: I fish at Lake Bixhoma. It's off of Highway 64 between Bixby and Haskell. I've never heard of any murders there. Lovely.

---

November 17 2010 at 07:08:55
Name: Bryan
Topic: Speaking of Bill Kurtis
Email: cryanbrain@yahoo.com
Comments: Bill narrated our (RSU Public TV) upcoming documentary 'Will Rogers & American Politics'. He was in town about a month ago to shoot stand ups, really nice guy.

---

November 16 2010 at 22:38:41
Name: Gary Chew
Topic: Maestro Maher
Email: Just Northeast of Eden
Comments:
Jealous to hear Bill Maher is coming to the Brady in Tulsa on Friday, December 10th. I'd be there...if I were there.
---

November 16 2010 at 21:44:13
Name: Mike Bruchas
Topic: Closed Case Files - Lake Bixhoma
Comments: WBBM-TV here in Chicago shows Bill Kurtis' long running Closed Case Files at 12:35am after Craig Ferguson - Monday thru Friday. They run an edited-together 1 hour show of 2 episodes.

They ran a story on the Lake Bixhoma child mutilation murder - I had never heard of it. Nor the lake.

I recognized locations on North Rockford in Tulsa and downtown. They also showed monitor shots of then KOTV and KTUL reporters covering the story. Always weird to see Tulsa on crime shows other than America's Most Wanted...

BTW - producer/series voice, Bill Kurtis, anchors the 6pm news (at age 71) on WBBM-TV with long time co-anchor, Walter Jacobson (at age 73 but doesn't look it). They came back this year after being off the station for almost 20 years.

Kurtis is also "the voice" of a lot of funny WBBM-TV promos.


---

November 12 2010 at 02:15:07
Name: Mike Bruchas
Topic: Wonder Woman!
Comments: Lynda Carter, who starred on ABC as Wonder Woman in the 70s and has lived in the DC area for about 20 years, is now appearing as a singer: LyndaCarterSings.com



| | |
| --- | --- |
| | |
| | Lynda Carter |

Mike, you told a story about a visit by Ms. Carter to your workplace in D.C. ten years ago in GB 50. I am confident your story would interest male viewers of the 1970s "Wonder Woman" series.

Around the time I originally posted this eye-popping photo of Wonder Woman with your story, I noticed that someone on a forum was direct-linking to a photo of Tuffy from this site, using it as his avatar (the guy's handle was "Tuffy").

I had a little fun with him by putting this same WW photo at the URL he was linking to. The result was that all of "Tuffy's" posts suddenly seemed to imply that he was representing himself as Wonder Woman. His buddies made a lot of fun of him. I don't think he figured out what had happened, but he soon removed the photo from his profile.
---

12 November 10 2010 at 11:19:32
Name: David Batterson
Topic: Patti Page
Email: Send msg. via Telex (remember that?)
Comments: The phenomenal Patti lives here in San Diego (in the upscale suburb of Solana Beach). Sometime back I was at a tribute concert for the great Frankie Laine (another San Diego resident until his death) in Little Italy. I sat in the front row next to a stylish woman who looked VERY familiar to me. But I didn't know why. It wasn't until later, when I saw a recent photo of Patti, that I realized I had been sitting next to Patti!



Wow!
---

November 09 2010 at 10:18:34
Name: Mike Bruchas
Topic: Ken Kerr
Comments: Ken was in Continuity and Traffic when I was a newbie at KTUL in the early 70s. I believe that he left 8 to join "the new crew" at Tulsa Cable TV when Hurst Swiggart moved there as Production Mgr. This was like 1973, so that dates me.

Sad to hear that he passed last week.

---

November 08 2010 at 12:51:18
Name: Jim Ruddle
Topic: Patti Page
Comments: Whatever happened to the Page Milk Company?

I don't think I ever drank any Page's--not a milk drinker after age six--but Glencliff, Meadow Gold, Pure White, and Hawk's all rattle in my memory. There must have been a couple of others.

Greetings to Clara Lee.

---

November 08 2010 at 09:29:03
Name: Mike Miller
Topic: Patti Page
Comments: During World War II, my father, Lew Miller, Sam Avey and Glenn Condon formed Hey Rube, Inc., designed to provide entertainment for U.S. troops stationed in Oklahoma, Arkansas, Texas and Louisiana. Some of the entertainers earned as much as $5 per week. One of them was a very young, Patti Page.

BTW, the term, Hey Rube, originated in the 19th century when circuses were rowdy affairs and Hey Rube was the rallying cry to call all circus people to help in a fight with townspeople. (Wordsmith.Org.) I'd always heard it was a carnival yell when a fight broke out.



---

November 08 2010 at 06:06:03
Name: Wilhelm Murg
Topic: One from the Vaults
Email: wilhelmurg at yahoo dot com
Comments: Today is the birthday of the great Patti Page, she is 83 years old today.

---

November 07 2010 at 12:14:14
Name: Lazzaro
Topic: Leon Russell Road
Email: @ the Ranch House eating eggs and hash browns
Comments: Fitting street for a tribute to the Master of Space and Time although 5th Place in front of Rogers High School would have worked, too.

"Leon Russell Road makes its appearance" (Tulsa World)

---

November 07 2010 at 10:20:45
Name: Rose Bowl Bunker Commander
Topic: Jill Clayburgh
Comments: A college friend who now has a yoga school in Connecticut numbered Jill Clayburgh among her students. Described her as "smart, witty, spirited", and a great pleasure to have in class. Good to know she was as kind and sweet in person as on film.

---

November 06 2010 at 15:04:52
Name: Gary Chew
Topic: Jill Clayburgh's Passing
Email: Just Northeast of Eden
Comments: It's even tougher when the gentle and very talented die. Jill Clayburgh fit that description. Little did I know when I went to an October screening of a film called, "Love & Other Drugs," (which is to open the day before Thanksgiving) that it would be Ms. Clayburgh's last film role. (My review is already written, awaiting the movie's release.)

I'm so sorry to hear Jill is dead---and at only 66.

Ah yes, I remember her well.
---

November 05 2010 at 12:47:23
Name: Erick
Topic: Liquor By the Drink - Garvin county
Comments: Not surprised to see that LBTD just passed in conservative Garvin county. The county is home to Elmore City, where events in the late 70s inspired the movie "Footloose".

---

November 04 2010 at 16:29:11
Name: David Batterson
Topic: Elton/Leon at No. 6
Email: Use Morse Code!
Comments: The Hollywood Reporter wrote yesterday: "At No. 6, Elton John and Leon Russell's The Union was followed by Glee's Rocky Horror-themed soundtrack."

---

November 04 2010 at 14:52:11
Name: Webmaster
Topic: Another one rights the must
Comments:

From Channel 8: "Liquor by the drink passes in Okla county".

Liquor by the drink was achieved here in Tulsa on April 30, 1985.
---

November 04 2010 at 12:16:31
Name: Webmaster
Topic: Previous GroupBlog link
Comments:
Archived GroupBlog 317.
---
Back to Tulsa TV Memories main page