Tulsa TV Memories GroupBlog 226

TTM main | What's new on TTM? | GB Archive




December 11 2006 at 07:21:14
Name: Sonny Hollingshead
Topic: Ed Breedlove
Comments: Some of you may have worked with TV engineer Ed Breedlove.
Just saw a notice in the Tulsa World that he passed away over the weekend at 64. Young guy.

---

December 11 2006 at 06:37:39
Name: Chris (via email)
Topic: Sandy's Hamburgers
Comments: I scanned this out of a '73 Tulsa McLain yearbook. During that year, there were two Sandy's burger stands in Tulsa.
The first one went up right up in front of McLain High School, the next along 11th Street across from Skelly Stadium.
Funny thing about the one out north is that the place had a Scottish theme complete with the plaid outfit on the girl.
Next was that their burger "Super Scot" was also the name of McLain's alumni, and Dennis Scott was a teacher at that school at the time, whose nickname was "Super Scott". Happy eats along the strip...hahaha
More about this Sandy's and links back to earlier comments in GB 186.
---

December 10 2006 at 09:15:49
Name: Jeff H
Topic: Mexican Timeshare
Email: Choppering (or rocketing) into Sears parking lot with Santa"
Comments: Dear Webmaster,
From your recent post, am I to understand you are not interested in a hotel or condo deal in Mexico?
Could I talk to you about an island in the Arkansas River?
I know it's a lot to think about right after a vacation trip. My people will talk to your people. This will give you time to consult Dazé.
Adios Amigo!

---

December 10 2006 at 02:59:03
Name: Webmaster
Topic: Met a Gary Chew fan in Mexico
Comments: I see that some "smokin'" topics have been covered in my vacation absence.
One port of call for our cruise ship, the Celebrity Constellation, was Cozumel, Mexico. Gaye and I wanted to do some snorkeling.
Just off the ship, we were approached by a fellow named Victor who offered a free 1-day pass to the beach, an open bar and food if we would listen to a 1-hour presentation about the La Ceiba hotel. I had stayed there on a scuba trip in the early 90s and was curious about how it had weathered the hurricane last year. We took the bait.
We were soon told emphatically that it was NOT a timeshare deal. That's when I knew it was a timeshare deal. I once accompanied a friend (the individual quoted in this Tulsa Tiki story) to a hotel in Puerto Vallarta to hear a similar pitch, and knew all the high-pressure techniques that would be employed.
Sure enough, it was the same thing, only the "closer" wasn't rude like the Vallarta closer, Mr. Kurtz (I remember his name by association with Heart of Darkness/"Apocalypse Now"). The lack of rudeness was possibly due to the fact we could walk back down the pier to our ship, rather than depend on a bus or taxi to get us out.
We earned the pass. While we snorkeled out from the beach to see the plane wreck (sunken for the 1977 Mexican movie, "Survive 11"), a nice shipmate named Ursula kept an eye on our stuff.
When we got back to shore, we met her husband Malcolm, who said they currently lived in Sacramento. I asked if he listened to Capital Public Radio, and he did. I asked if he listened to Gary Chew and he did. He said he liked Gary's movie reviews. I told him that Gary's reviews were on my site. Small world.
We talked about Panama, Costa Rica, world affairs, and cigars (did you know that a cigar can keep in a humidor for more than 200 years?)
Gaye and I got two free drinks each and a piece of cake before the open bar and buffet were closed down for us non-buying types. We didn't get the Mexican blanket promised us (not that we needed it), just as Mr. Kurtz hadn't delivered the promised bottle of Cuervo (OK, he did cough up a laughably small bottle, plus passes to a bullfight.)

---

December 10 2006 at 01:33:09
Name: Lee Woodward
Topic: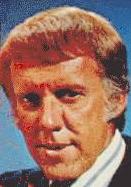 Moose Mems
Comments: Chatting with Cheryl Pitcock (Mrs. Bill Pitcock) today (12/5; Lee sent this via email, and I just got back from vacation...webmaster). She and her daughter Shelly (who's a brand new nurse, now in in Dallas) were delighted to have just recently discovered this site, especially Shelly, to read the nice comments about her father whom she hardly got to know.
If anyone has kind memories not yet revealed here, let the memories flow.
Cheryl did mention that she read in one of the blogs, that Bill had once worked for KVOO Channel 2? I had never heard him mention that nor had she. Can anyone confirm that?
She also mentioned that one of Bob Gregory's sons, Scott Gregory (Bill Pitcock's nephew,) is keeping alive the broadcast tradition of the Pitcocks (Gregory being a nom de plume) by hosting a jazz program on KWGS-FM 89.5, Saturday nights from 10 till 12. If he has the Gregory tonsils, that should be soothing at that hour.
King Lionel tried to emulate Bob's voice early on in his career but it caused a hernia. Curable of course...with Super-Glue, but an octave shift up to a Pitcock level saved the day.
Come on people now...let's have some "Moose Mems."

---

December 08 2006 at 22:44:35
Name: S. William Hancock
Topic: Cowboy Bill Hancock KTUL late 30s
Email: bochfreres@msn.com
Comments: Does anyone out there remember my uncle, Bill Hancock, who had both a morning, and afternoon "singing cowboy" show on KTUL, just before World War II, under the name "Cowboy Bill"?
I'm his last living relative, and have found early fan letters, addressed to him at KTUL, in my late father's estate. Uncle Bill was his younger brother, and perished in World War II, aboard the U.S.S. Indianapolis. Please email me with any memories.....Thank You.

---

December 08 2006 at 18:47:30
Name: Rick Clark
Topic: Alan Lambert
Email: clarkrick@yahoo.com
Comments: I attended Alan Lambert's RSU retirement party today. Dozens of fellow friends, students and assorted characters (Don White and Danny "Hawkeye" Weddle) turned out to show our respect and gratitude to this wonderful walking encyclopedia of music.
We can still listen to him on Big Band Saturday Night at 8 pm on 89.5 FM. Rock on Alan!

---

December 07 2006 at 11:29:04
Name: David Batterson
Topic: "Commie Plot" rock music
Email: davidbat(at)yahoo(dot)com
Comments: RE: Jimmy Swaggart "explaining the satanic influences in rock and country music."
Don't forget that Tulsa's infamous Billy James Hargis raised a few bucks playing that same tune. I wrote an article about it for the November 1972 issue of CREEM magazine.
---

December 07 2006 at 09:29:49
Name: David Bagsby
Topic: Dr. Gene- the non-dancing machine
Email: dcbatsunflower.com
Comments: Probably the LAST funny thing Robin Williams ever said was in regards to Gene Scott when he imitated him and told the audience he was now going to contrast the parallels between Jesus and Spiderman.

---

December 07 2006 at 03:40:13
Name: Wilhelm Murg
Topic: From a Dark Corner of The Stables Lounge
Email: wilhelmurg AT yahoo DOT com
Comments: Dr. Gene read one of my messages. I had been watching Jimmy Swaggart because he was devoting a week of his show to explaining the satanic influences in rock and country music. At one point Swaggart said, "I have several first cousins who were involved in starting this music, rock music. I won't name names, I'll just leave it there."
The next night Dr. Scott was reading messages and said, "Here's a call from Pawhuska, Oklahoma. 'Can the band play some Jerry Lee Lewis just to let Jimmy Swaggart know we're thinking about him?'" His crowd cheered and the next day the band played "Whole Lot of Shakin'" and "Great Balls of Fire" all night.
Shortly after that I was watching Scott read messages and he started..."Dear Dr. Scott, I am an orderly from Tulsa, Oklahoma. I..." and he trailed off and read the letter to himself.
I was glued to the TV. I was a classmate and good friends in the TU Lit. program with an orderly who, I knew, was watching Gene Scott all night while drinking. This is the same guy who had read "The National Enquirer" and came up with the idea of printing "The Miracle Prayer." He took out a full-page ad in "The Inquirer" for over $1000 and ended up selling five of them, and one person requested her money back.
He was the same guy who, when I showed him a recording of "4'33" by John Cage, which is 4 minutes, 33 Seconds of silence, he exclaimed "This man is selling nothing! I've been trying to do that my whole life!"
Scott finished reading the note to himself, then angrily shouted at his crew. "WHO'S RESPONSIBLE FOR GIVING ME THIS! I AIN'T SUPPOSED TO GET THESE!" He then went into a tirade about how the entire medical industry was filled with nothing but murderers because his own mother had died from starvation at a hospital, or something to that effect. He started rallying the troops, then he denounced the orderly from Tulsa to be a whining coward.
The next day I saw my friend, who was drunk, and asked him what he wrote. He told the person who answered the phone that he had been watching the show and he thought that TV evangelism was something he would like to get into, and he wanted to see if Scott would give him some pointers on how to crack into the business.
As he proceeded to drink, he started getting paranoid that Scott would track him down and have thugs beat him up because he was onto what Scott was doing.
And that friend is currently teaching high school English in Tulsa.

---

December 06 2006 at 23:22:58
Name: Gary Chew
Topic: Scallion Scare
Comments:
As an officially designated rock 'n roll disc jockey of the mid 20th century, I must contest the following headline currently online.....
Green Onions Identified as Source of E. Coli Cases
Man...Booker T. and MG's should take somebody to court over this!!!
Delmeaux de Gillette du Coffeyville

---

December 06 2006 at 22:35:41
Name: Lowell Burch
Topic: Gene Scott
Comments: Dr. Scott was probably some of the best late night entertainment ever back in his heyday. I actually recorded his shows so that friends from other cities who were not fortunate to receive his show could see them. I could have started my own franchise.
The fact is, the man was styling himself after Charles Spurgeon, arguably the greatest preacher to live since the Apostle Paul. Spurgeon used to preach at the great Metropolitan Tabernacle in London, often while wearing a hat and smoking a cigar. Scott also adhered to the Baptist theology of Spurgeon and taught the same on his show, but only in tiny spurts somewhere between the berating of his congregation and delivering his high-pressure fundraising spiels.
I remember the dancing ladies at the State Fair. Seems like a very strange place to have such a show. Also, I remember back in the 70s that Judy Blue was making the rounds in Tulsa. Is she any relation to Judy Booger?

---

December 06 2006 at 10:11:21
Name: DolfanBob
Topic: Booger
Email: MiamiPhin@yahoo.com
Comments: Back in the mid 70s, I worked the draglines at the Tulsa State Fair (the round-handle crane that picked up prizes.)
A friend of mine from school was working the erotic dancer tent and let me in. You had to be 18 to get in. The premiere dancer was a lady that everyone knew and just loved and kept yelling Booger! Booger! Booger! She was doing a slow strip-type dance to the song "Lay Lady Lay". Of course there was no real nudity shown but by the reaction of the crowd, it didn't really matter.
I remember thinking what a strange thing to be yelling at a half-naked lady, never knowing that was her name. Someone that night told me that she was from Jenks. I thought it was pretty cool someone from here was the star of a big time State Fair Show. Ahhh, to be young and dumb again.

---

December 06 2006 at 09:12:15
Name: Steve Bagsby
Topic: From the Radio Room
Comments: Dr. Gene Scott can still be heard on shortwave with his wife handling the current segments and Sunday Mass. Dr. Scott almost seems like a voice of reason amongst a sea of 14 karat crackpots on the international band.
"Get on the Phone NOW!!"

---

December 06 2006 at 01:15:01
Name: Chris Starr
Topic: Dr. Gene Scott
Email: cheaptricked@peoplepc.com
Comments: Was flipping channels tonight and came across someone I had not seen in years on Cox Cable 4. Dr. Gene Scott was a television fixture for years, known for sitting on a stage smoking cigars and preaching the word while looking like a refugee from Woodstock or the local Amish farm.
He was the influence for the long-running character Dr. Gene Squat performed by Brent Douglas on KMOD FM 97.5 radio. Unfortunately, I discovered Dr. Gene passed away in 2005, but not before ordaining his very young, hot wife as the one to carry on his message. You can read a bio on Dr. Gene at DrGeneScott.com.

---

December 06 2006 at 01:07:15
Name: Chris Starr
Topic: Judy Booger
Email: cheaptricked@peoplepc.com
Comments: Judy was a stripper that worked out of the old Stables Lounge. I was present at a bachelor party in 1989 at the Camelot Hotel in which she was the evening entertainment. Not to go into the lurid details here, but what struck me is that she showed up alone and proceeded to eliminate any preconceived notions I had of what actually happens at these types of events. Needless to say, it got ugly quick and I deemed it too disgusting for my attendance and hit the door before it got TOO bad. I heard the overnight events the next day from several of the attendees.
A few weeks later, I was on the job at the Whitlock Auto Supply at the Town West shopping center off of I44. I was at the back parts counter when Judy came in for some parts. Needless to say, the light of day was not kind to her. She looked VERY hard, which was a great contrast from the lady I had met at the party dressed in knee-high furry boots.

---

December 06 2006 at 00:44:47
Name: crazy steve
Topic: Uncle Zeb
Comments: Anyone have a clip or anything from the show?

---

December 05 2006 at 22:44:07
Name: roy lee
Topic: judy booger
Email: beerdrunk@msn.com
Comments: I'm 45 and I had heard the name, but never saw her perform. One night, she came in my neighborhood bar and all the older guys were completely awestruck and bought her drinks all night. She was really quite charming if you ask me. From what I heard there was something to do with a ping-pong ball but no paddle...

---

December 05 2006 at 21:40:32
Name: Dana LeMoine
Topic: Blue Melody Ice Cream Truck Jingle
Email: d4wdw at valornet.com
Comments: I just saw a commercial for the season premiere of "King of Queens" and was taken aback to here a familiar sound from my childhood.
The storyline involves Doug buying an ice-cream truck and I'll be darned if the truck jingle isn't the same one that the venerable old "Blue Melody" trucks played to entice us into chasing them down.
It's on CBS tomorrow at 7:00 pm.

Of course, you can hear a Mel-O-Dee on this site's Ice Cream page, too.

---

December 05 2006 at 11:50:31
Name: S. W. C.
Topic: Hot topic
Comments: While conversing in a bar with a group of male friends, the name Judy Booger arose. Lots of us girl had never heard of her, but got the drift. These guys' ages run from 28 to 45ish and they all know of her. What's the fairly clean story of Judy?

---

December 03 2006 at 20:16:58
Name: Joe C
Topic: "Fantastic Tulsa Films".
Email: Joetul @ cocks dot net
Comments: Just finished watching with 87 year old father. Moved to Tulsa in 1921. Graduated Marquette (Christ The King) Jr High and Tulsa Central 1937. From my dad:
"Hockey... LOL... I was in a bowling league in the 60s with Jud McAtee. Before that, he was a highly regarded Canadian junior player, and played for the Tulsa Oilers.
"After hockey, he owned a liquor store at 16th and Main. In those days it was Jud's Package Store. He sponsored our bowling team and there was no way you could advertise a liquor store. So, our team was named the Question Marks, with a big question mark on the back of our bowling shirts. We bowled at Harvard Lanes in the Knights of Columbus league."

---

December 02 2006 at 12:31:19
Name: Jeff H
Topic: T.V. Viewing Alert !
Email: Stuck in the hills of south Tulsa
Comments: I just wanted to remind everyone to set their T V dials to OETA sunday evening from seven to eight P.M., for Jack Frank's latest, "Fantastic Tulsa Films".
I am really looking forward to seeing this program. It's been too long since we've had one, and hope there are more to come.
P.S. KOTV 6 is rebroadcasting the program Monday the 4th at 7:00 P.M., thirty minute program commercial free by Arvest. This must be "Fantastic Tulsa Films" lite.

---

December 01 2006 at 21:19:39
Name: John Hillis
Topic: "Okay, you're a taxi."
Comments:
It's not the outside-billboard taxi thing, but the cabs in Dubai, United Arab Emirates, have been playing videos to the captive audience in the back seat for a few years.
It's a real treat to land after 24+hours in the tender mercies of the world airline system, clear immigration at 2 in the morning local time, get the bags and schlep through customs, and the taxi line, only to have an ad play into your bloodshot eyeballs.
Cabs are clean and drivers honest even with the ads...something I can't necessarily say stateside.
In other news, if you're one of the pathetic few people who enjoy the kind of music I do, you might want to point your browser to www.am740.ca, Toronto's CHWO, music for curmudgeons. Tonight while I was working, Frank Ifield, the Ronettes, and Rick Nelson, along with the requisite Elvis. Other nights, they feature older swing, martini-music, and even specialty shows for British, Scottish, and Irish music. Comes in real good here as we get the early sunsets here, but even niftier on the Internet. No western swing, but nobody's perfect, and that's why Steve Bagsby's got CDs (a great gift and cheap at the price, by the way).

---

December 01 2006 at 21:19:28
Name: Jim
Topic: Dr. Redlove's
Email: jagness@earthlink.net
Comments: I used to work at Dr. Redlove's back in about '73-'74. It was located in the Farm Shopping Center at 51st and Sheridan. The owner had cash flow problems and sometimes our paychecks bounced. He finally got into trouble with the IRS. The business changed hands a couple of times after that. Anybody remember the Flaming Panacea?

More about Dr. Redlove's on this site's Ice Cream page.

---

December 01 2006 at 19:09:01
Name: Mike Bruchas
Topic: when we have too many LCD screens at work
Comments: Clear Channel Taxi Media, a division of the Texas radio and billboard advertising conglomerate, has outfitted about 20 Boston cabs with what it calls "LCD Digital Smart Tops," the next leap forward from black-and-white digital banners. In contrast to a standard, static, placard-like display, the Clear Channel system can offer the equivalent of 5- or 10-second animated cartoons or videos. Clear Channel's listed price for advertisers to use the system is $1,750 a month, or $450 for a one-fifth share of screen time, with the ability to "micro-target" ad displays, based on where the cab is.
They were supposed to do bus-stops in DC and on Metro subways and some busses but it hasn't happened here yet. Though I am told that in many men's rooms in restaurants that formerly posted sports pages (behind glass) will be switching to LCD's with sports and advertisng above - uh certain male-used bathroom devices.

---

December 01 2006 at 17:30:27
Name: David Bagsby
Topic: Bond
Email: dcb@sunflower.com
Comments: I'm probably a bit late on this one but the new James Bond is utterly fantastic! No cornball crud or heavy formula. Emphasis on action and acting rather than gizmo's and glib comments. A must see.
"Casino Royale", reviewed here by the webmaster.
---

December 01 2006 at 11:02:50
Name: Dave
Topic: orleans lives
Comments: Bruchas asked if a fellow from the 1970s band Orleans is now in Congress. Yes, John Hall, who wrote "Still the One" (which became more renowned for its promotional use as a jingle on ABC and KTUL than it did as a Top 40 hit) was elected from New York last month. The Washington Post has a feature about him.
It recalls the 1976 Orleans album cover that shows the band shirtless, something that Hall's election opponent used against him at the last minute, apparently with no success. The Post calls Orleans music "wussy rock."
Best lines from the article:
"Once we forgive Hall for penning such excruciatingly unshakable couplets as 'You're still the one who can scratch my itch / You're still the one and I wouldn't switch,' let us acknowledge his singular place in American history: He is the first professional rock musician elected to Congress. No, we're not counting Sonny Bono, because he didn't play an instrument, at least not onstage."

---

November 30 2006 at 21:59:21
Name: Mike Bruchas
Topic: Jack Klugman + Tulsa's Tony
Comments: One has to wonder if any of this will be on iTunes....A lot of old Bob Wills stuff seems to come out of Germany now on CD's - though not necessarily pristeen.
Isn't the former leader of Orleans - the rock group - now a balding US Congressman from NY state or maybe New Orleans?
Stay safe in Tulsey - my brother drove last night from Chicago to Wichita - dodging freezing sleet to arrive at 2:30am today. Friends in Dallas are prepping for a possible ice storm and in Austin it will be about 15 degrees tonight. Our 64 degrees in DC was downright lovable today!

---

November 30 2006 at 11:42:21
Name: David Batterson
Topic: Tony Randall & "Kiss Me Kate"
Email: davidbat(at)yahoo(dot)com
Comments: In 1973 ex-Tulsan Tony Randall and Jack Klugman recorded an album called "The Odd Couple Sings" on London Records. One of the songs was Brush Up Your Shakespeare from "Kiss Me Kate." Known mostly for "The Odd Couple" TV series, Tony was a major figure in American theatre for decades.

---

November 29 2006 at 07:09:40
Name: Jim Ruddle
Topic: Fuller
Email: jruddle@earthlink.net
Comments: Thanks for the Fuller article reprint. For those old enough to remember the original "Kiss Me Kate," the name Lorenzo Fuller is well-known. Although the stars--the peerless Alfred Drake and the soon to be forgotten Doretta Morrow--were the sorts who made it on the Ed Sullivan Show, the nightly audiences in the theater went wild over the three characters in the troupe of players who sang "Brush Up Your Shakespeare," and "Too Darn Hot." Fuller was one of them.

---

November 27 2006 at 18:29:24
Name: Mike Bruchas
Topic: Kansan TV pioneer profiled in Wichita Eagle-Beacon
Comments: My brother forwarded this to me...
Kansan broke ground on TV
The Wichita Eagle
BY BECCY TANNER
Lorenzo Dow Fuller Jr. is known as the "voice coach to the stars" who worked with renowned composers such as Cole Porter and George Gershwin.
But the Kansan also has the distinction of being NBC's first black TV host, from 1947 to 1952.
"Television was so new then, you couldn't afford to have discrimination," said Fuller, 87, who spoke by phone last week from his home in New York City. A television documentary is in the works about Fuller's life.
Fuller was born in Stockton. His mother came from Nicodemus and his father published an African-American newspaper in Coffeyville during the late 1890s. By the time he was 4, Fuller and his family traveled throughout the Midwest giving classical musical performances as the Fuller Concert Company. Fuller played the harp. By the time he graduated from Stockton High School, he had learned to play the piano and five other instruments.
When he was 15, Fuller was accepted as a sponsored student at the University of Kansas, where he studied opera and classical music. He received his bachelor's and master's degrees from KU and performed monthly on the university's radio station, KFKU. He was the first African-American to sing with the college symphony. Fuller studied voice with Belle Soudant at the Juilliard School of Music in New York City. Upon graduation, he was hired by NBC and hosted a 15-minute musical show. He became a musical director and special effects manager for TV shows such as "Robert Montgomery Presents." He also composed music for the "Arthur Godfrey Talent Scouts." Fuller had a radio show, "Van and the Genie" on WPIX in New York. He was the first black man to star opposite a white woman on a national radio program.
"I didn't encounter discrimination until TV got so big that the Southern stations began to influence it," Fuller said. "But by then, I was on the staff of NBC and a coach for some of the singers." Fuller appeared in Broadway musicals such as "Finian's Rainbow" and "Kiss Me Kate," and choreographed Broadway productions. When George Gershwin took "Porgy and Bess" to Europe, Fuller went along to perform in the production.
Later, he appeared on "Sesame Street." Angela Logan, who is coordinating efforts for the Fuller documentary, met him 20 years ago when she was doing a show on the life of Josephine Baker. "He was this incredible man who spoke French with a French accent and knew so much about the world," Logan said. "I wondered who he was... He has not been recognized historically for the things he has done, especially as a pioneer in broadcasting and television."
Three years ago, Fuller returned to Stockton, where the town paid tribute to him. Jean Lindsey, board member of the Rooks County Historical Society, which oversees the Frank Walker Museum, said the museum in Stockton has devoted an area to Fuller and his accomplishments.
Fuller said he wants Kansans to know he is still working: "I am teaching adults now -- teaching senior citizens to sing Spanish, French and some German," he said.

---

November 27 2006 at 10:19:12
Name: Brian
Topic: OTASCO Timothy Christmas
Email: brian74055@hotmail.com
Comments: My Gosh!!! Thank you for posting the mp3 file of OTASCO's Christmas add featuring Timothy. I remember that comercial playing during Uncle Zeb. If only someone and a video of one of the comericals I would be in seventh heaven.

---

November 26 2006 at 13:58:20
Name: Dave
Topic: It's over
Comments: The Metro Diner is down for the count. See Tulsa World article.

---

November 24 2006 at 17:55:30
Name: Jeff H
Topic: Otasco Xmas Toy Department
Comments: Dear Timothy,
Please tell Santa I want a "Fanner 50" with the "Shootin Shells" and a "Steve Canyon" helmet with the cool visor!
Can you tell Santa P L E A S E!!!!!
Your Friend,
Jeff

---

November 24 2006 at 15:24:07
Name: David Bagsby
Topic: Holiday Time!
Email: dcbatsunflower.com
Comments: Black Friday and time to visit Otasco's wonderful Toyland. Just ask Timothy!
David recently sent an MP3 of his version of the OTASCO Christmas theme.
---

November 24 2006 at 11:10:16
Name: Bobby Ess
Topic: Whiskers
Email: bob.ess@gmail.com
Comments: I just recently found this web site and my, oh my, the memories. One of the dozens of bands I was in back in the 70s played Whiskers many times (along with several other venues throughout the city). Great web site - thanks for putting it all together.

---

November 22 2006 at 18:28:14
Name: Webmaster
Topic: Honoring Jim Giles
Comments:
Jim Giles retires from KOTV today after 25 years. Congratulations, Jim!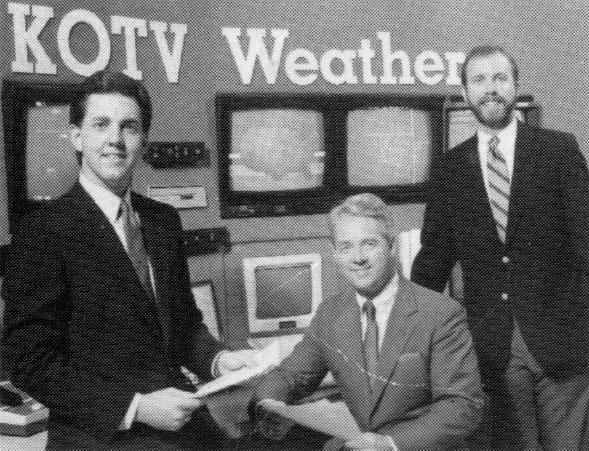 David George, Jim Giles and Mike Anderson at KOTV in the 80s
---

November 22 2006 at 14:45:13
Name: Mike Bruchas
Topic: Happy Turkey Day/Lest we forget
Comments: We did an office chili 'n' cornbread feast - now have 3 cakes and 1 pie for 9 folks to wolf down. Our exec chef is from Texas and she has to git home to roast a turkey. We talked the merits of smoked turkey. The late Buddy Myers of OETA made *THE BEST* smoked turkey that I have ever had.
26 years ago, when at OETA they pooh-poohed staff pot luck, but GM Bob Allen, who was against the custom "disrupting the office", often was the first as "right of the Manor" to go thru the line and taste stuff! The state provided us with free cheap coffee and napkins but we brought in holiday napkins and cider so as to "not abuse" state offerings.
On Nov. 22, 1963, President John F. Kennedy was shot and killed while riding in a motorcade in Dallas, Tex.
Seems like yesterday to us now old folks. Robert McNamara is about the only one of JFK's Cabinet still alive. 2-3 years ago I would see him on the Metro (subway) here in DC some nights when he was going home from wherever his office is now; he was then writing a book. Most people nowadays would have no idea whom he was.

---

November 22 2006 at 09:38:38
Name: Jeff H
Topic: Tulsa Videos and other stuff
Email: Happy House next to Shoppers Fair
Comments: So glad to hear there is another Tulsa Video coming out. I just watched "More Tulsa Memories" again the other night.
Nothing is better on a cold evening than lighting up the fireplace, having your favorite food & beverage and be transported back to wonderful times gone by.
It is especially nice during the holiday season. Thanks Jack!
Hope everyone has a wonderful and safe Thanksgiving and we will see you at "Lights On" in Utica Square.

---

November 22 2006 at 05:35:47
Name: Webmaster
Topic: Jack Frank's new Tulsa TV show
Comments: Jack Frank has a new show, "Fantastic Tulsa Films". It airs statewide on OETA Sunday, December 3 at 7 pm, and on KOTV in Tulsa on Monday, December 4 at 7 pm.
The show will include my short home movie of George Harrison at the Assembly Center in 1974, along with dozens of other rare and archival films clips from Tulsa going back to the 1920s.
It's by far the best collection of rare Tulsa films ever put out on a DVD (or TV show for that matter).
You can see clips and/or buy the DVD on Jack's new site, TulsaFilms.com.

---

November 20 2006 at 18:57:33
Name: Webmaster
Topic: Previous GroupBlog summary
Comments: Archived GroupBlog 225...

---
Back to Tulsa TV Memories main page