Tulsa TV Memories Guestbook 172

TTM main | What's new on TTM? | GB Archive




December 12 2004 at 16:32:39
Name: John Young
Email: johnk662561atyahoo.com
Location: Looking through the record bins at Bill's-T
Comments: Just an FYI for y'all, a Tulsa Institution is back in bidness!
---

December 12 2004 at 11:15:00
Name: Terri G.
Email: ru4osu2@msn.com
Location: Still on the coin-operated horsey in front of Humpty Dumpty
Comments: Hark! What's this I hear about a new Wal-Mart, in the Mayo Meadows shopping center? I mean, progress is good, but I tend to be a bit selfish when progress tramples the life out of my childhood memories. OK, so they completely rearranged Sears at 21st & Yale - the parking lot landing pad of the yearly helicopter arrival of Santa Claus. I have may fond memories of what used to be the southernmost shopping center in Tulsa. Jack & Jill, Huey's Shoes, Froug's, TG&Y. Anyone remember the rest? (sniff, sniff)

---

December 12 2004 at 08:48:32
Name: Bryan Taff
Location: Deja-vu land
Comments: Watching the Tulsa Parade last night, I found myself stuck in the late 70's and early 80's. A Channel 8 float consisting of Don Woods, Bob Hower, Chris Lincoln, and Uncle Zeb was really quite awesome. It was really funny to watch all of the horses in the parade stop and refuse to step on the pavement which was painted green and had Christmas lights courtesy of the sponsor, PSO. Come back Gary Shore!!

---

December 10 2004 at 07:28:20
Name: Mike Bruchas
Location: Foogy DC - freezi8ng next week....
Comments: My brother stumbled across this site for GREEN ACRES.
I have yet to hear the theme song au francaise on the webpage.
The late Bill Certain and I were "practitioners" of Mr. Haney-esque speech all too often on headsets at KTUL way back when...gotta love that Pat Buttram...
One time in a live chat on LuxuriaMusic.com, I posed a question to the composer of the "Green Acres" theme, Vic Mizzy, about the unusual use of fuzz guitar to carry the tune. He said that the guitar player was Tommy Tedesco (who later appeared on "The Gong Show" in a tutu).
---

December 07 2004 at 14:10:02
Name: Wilhelm Murg
Email: wilhelmurg@yahoo.com
Location: Bottom floor of Big Bad John's in Fontana (It reeks of pine in here!)
Comments:
I think record collecting is something of a lost art form, so Rob's is always looking for something collectable, but I think they have plenty of scratchy editions of Herb Alpert's "Whipped Cream and Other Delights" (though I hear the variations in some of the covers are valuable).
I traded in a well-worn Bowie vinyl boot (a release of the "Ziggy Stardust" soundtrack before the film was even completed). While I can understand rock'n'roll on vinyl, I know that Eno's Ambient albums are still sought after on vinyl, but personally, I though CDs were created for Eno types of albums (Remember the old days when people only bought "important" stuff on CD and continued to buy rock on vinyl? You're all probably too young...)
The rarest thing I got in my trade was an out-o'-print VHS copy of Lennon's last full concert, "Live at New York City." The most tempting of the pointless stuff (things you can get on CD, but the vinyl sleeves are so cool!) was a Mexican EP edition of the 1966(?) UK Beatles release "Collection of Oldies" (I think that was the title, it's the UK greatest hits collection that was never released in the US with the psychedelicized 1920's styled cover). The picture sleeve of the "Superfly" single was pretty tempting too (I worship that logo as one of the grweatest designs in pop culture history).
The other highlight I picked up was a Russian CD pressing of the Rolling Stones' UK edition of "Between The Buttons" (the version WITHOUT "Let's Spend The Night Together"). The Stone's 1967-1968 period is pretty impressive, especially the LP tracks that never made it to radio. They also have 8-track tapes!
I've got Eno's "Music for Films" and Music for Airports" on vinyl. Am I sitting on a gold mine?
---

December 07 2004 at 12:59:19
Name: Frank Morrow
Email: frankmorrow12@yahoo.com
Location: Austin
Comments: Jim Ruddle's mentioning that Skitch Henderson was a bomber pilot during the war immediately brought to my mind that there must be a connection with his war experience and a record he made. It was the Air Corps song, but it wasn't played as a march, but as slow, sad dirge that was almost ballad-like. Maybe it was his tribute to his comrades who were lost in the war. It was beautiful.

---

December 07 2004 at 11:59:51
Name: Jim Ruddle
Email: jruddle@earthlink.net
Location: Rye, NY
Comments: Skitch Henderson had another Tulsa connection: During WW Two, Henderson was a bomber pilot, in Europe. His co-pilot was Rodman Jones, who for many years was a speech professor at TU.

---

December 05 2004 at 23:25:48
Name: Danny W. Burdick
Email: burdick@digital.net
Location: Rockledge, Florida near Kennedy Space Center
Comments: Wow been a long time...
My favorite meal back in the late 60's/early 70's in Tulsa was Ike's Chili House downtown, a three-way, and the old Coney Island back when the three old original owners used to actually serve the line every day. And we hung out at Denny's and Yale bowl out on 51st and Yale I think it was. Also Lotto Burger down south of Pine and Lewis...wow
Used to have big outdoor music concerts at Mohawk Park and a wooden floored skating rink out there called "The Wheel"...memories...thought I'd lost em...
---

December 05 2004 at 13:43:32
Name: roy lee
Email: beerdrunk@msn.com
Location: Del Rancho gettin' fat!
Comments: Rob's is near the corner of 15th and Memorial in that little strip mall in the southeast corner. I've done a couple of decent trades there, but if you take vinyl, they are pretty picky from what I see...
12/22/2005: Rob's is now at 2909 S. Sheridan, in the same building the Boman Twin used to be in.
---

December 05 2004 at 11:38:42
Name: David Bagsby
Email: dcbatsunflower.com
Location: Lawrence KS
Comments: Wilhelm, What's the address for Rob's Records? I want to go next time I'm in town. Thank you; here's your change.
---

December 05 2004 at 07:18:35
Name: Wilhelm Murg
Email: wilhelmurg@ yahoo dot com
Location: Bill's T Records on Harvard
Comments: I've been giving my CD collection a make-over. I traded in about 100 titles for some great stuff at Rob's Records on Memorial (12/22/2005: Rob's is now at 2909 S. Sheridan, in the same building the Boman Twin used to be in...webmaster). There is no doubt in my mind that he is the true heir to the late, great used record stores I have written about on this site. He also sold me an old blacklight Hendrix Poster that had been stapled on the wall for a few centuries.
In case anyone is wondering, Rob's is based on the collection that used to be Wizzard's, but a chunk of what used to be Lee's is also in the store. Apparently the people who bought out Lee's (at a nice price) made their money back on Rob, who bought a chunk of that collection. Paul, of the late Discovery Records, has a booth at the Great American Flea Market (he had a cool reel-to-real tape of Martin Denny's "Exotica" last time I was out there). Once I did the math I realized I have been thumbing through the same LPs for nearly 25 years now!
There are less pleasant ways to pass a quarter of a century.
One of the things I traded for was the out of print box CD set of Pink Floyd's "Ummagumma," and I STILL hear more blues on "Several Species of Small Furry Animals Gather Together in a Cave and Grooving with a Pict" than any Jessica Simpson CD...But then I understand where Ornette Coleman is coming from. The last time I had a copy of the album was on 8-track tape. After all the years of Cage, Stockhausen, punk rock, free jazz, industrial noise, and pow wow music, it's like going back to my nursery rhymes.
So did Martin Denny inspire Pink Floyd to use nature sounds in their music? Does Roger Waters kill the same fly on "Ummagumma" that had been buzzing around the studio since Denny's "Hypnotique"? Is it like Lawrence Stern lampooning Cervantes? And how are they going to make a movie out of "The Life and Opinions of Tristam Shandy"? And which characters from the novel were President Bush and Senator Kerry named after in the Skull and Bones rituals?
I must get some sleep.
---

December 03 2004 at 14:43:15
Name: Steve Bagsby
Location: 530 on your AM Dial
Comments: Skitch Henderson also did a stint as Bandleader on some of Bing Crosby's Philco radio shows in the mid or late 1940's.
Ah Christmas. I could sure could stand to see "Timothy" from Otasco telling me what great toys they've got available.
Here is the OTASCO jingle in Guestbook 63.
---

December 03 2004 at 08:02:52
Name: The Maestro
Email: lburch3atcoxdotnet
Location: The Orchestra Pit
Comments: I don't know if the classical purists were all that enthralled with Skitch's work with the Tulsa orchestra. His career here was pretty short-lived. Personally, I enjoyed his showmanship and the energy he generated in the organization. It seems that it was a good move to bring him here because it was one of several steps taken to upgrade the program.

---

December 02 2004 at 23:08:49
Name: David Bagsby
Email: dcbatsunflower.com
Location: Lawrence, KS
Comments: I remember touring the Kitty Clover Potato Chip Factory back in Cub Scouts.
Here is the Kitty Clover logo and more on the Oom-A-Gog page.
---

December 02 2004 at 22:29:12
Name: Mike Bruchas
Comments: The Dec. 2004 Smithsonian Associate magazine has the late Al Hirschfeld's caricature of of former Tulsa Philharmonic Director SKITCH HENDERSON on the cover.
No - Tulsa is NOT mentioned in the press blurb.
The Smithsonian is honoring Skitch in DC on Sat. Jan.29th (his birthday) with a James Smithson Bicentennial Medal and with music by the Tommy Dorsey Orchestra (whom Skitch sat in with many moons ago). Check the Smithsonian website if you want to attend & are in DC - general admission is $25.

---

December 02 2004 at 16:10:15
Name: Mike Bruchas
Comments: But Edwin - what was the potato chip company that was there? I forgot! And what was the name of the original cable franchisee in Tulsey?

---

November 30 2004 at 20:26:43
Name: edwin (itself)
Email: yep
Location: same-o same-o
Comments: During the begining of Tulsa Table Television, Billy James wanted to turn the old "potato(e?)" storage room into a studio for his program/show. I told him & cable that I had no problem turning it into a $tudio for him. Well, I think it was about that time that the guy had a big problem with some "odd" thing he did. Can't say it here, & shouldn't, but it was enough to stop the project......dang it!...Oh yeah, does everybody know that the cable building used to be a potato chip plant?

---

November 30 2004 at 11:29:50
Name: Jim Henry
Email: jhenry@gpss.com
Location: Tulsa
Comments: My name is Jim Henry, son of Rockin John Henry. I'm searching the earth for anyone who taped the Saturday Bandstand Tribute Show on KOOL. The radio station, for reasons unknown, did not tape the show. My family does not have a copy of the show and would love to find one. God Bless!

---

November 30 2004 at 09:26:19
Name: Dave
Location: checking around
Comments: About Hargis' death -- there's a full obit on him available on the Washington Post web site with a lot more detail than the World's obit of the other day. Says he was on 500 radio stations before the Red Lion case, which prompted many stations to think twice about using his controversial broadcast.
I see in today's Tulsa World that Billy James Hargis II has taken over the ministry. He can be seen in the clip from Jack Frank's Oklahoma Memories program about this site. Also, Jack's wife, Becky, is one of BJH's daughters.

The 1969 Red Lion case bolstered the FCC's Fairness Doctrine, which came to an end in 1987, coinciding with the rise of Rush Limbaugh-style broadcasters.
---

November 29 2004 at 18:50:37
Name: Sonny Hollingshead
Location: Oertle's/Burlington Coat Factory
Comments: Got a message that Rev. Billy James Hargis died over the weekend. He had been living in a Tulsa nursing home for awhile.
In addition to being an influence for a Mazeppa character, he started up American Christian College at about 27th and Sheridan, and he built KBJH 98.5-FM, which he ran from the college.
The wire stories say he was best known for his anti-Communist crusading and for the scandal involving some of his students in the mid-70s.

---

November 28 2004 at 18:01:59
Name: Richard Enderwood
Email: enderwood@mindspring.com
Location:
Comments: I was the marketing and promotions manager of KOKI Tulsa 23 from 1980 to 1988. It began broadcasting on my birthday, October 26th, 1980. The general manager, Jim Lavenstein, asked me to pick a date for sign-on. I picked my birthday.
I'd like to thank all of you who appreciate creativity. John Cox, the art director, and myself wrote, designed, directed, and produced all of the logos, advertising, and promos you so fondly remember.
As a matter of fact, we were the first local TV station to use computer and live action graphics. You saw them on the Tulsa 23 "we are your Movie Star".
And yes, we did win a federal trademark infringement lawsuit in Tulsa Federal District Court in October 1983.
Thanks for remembering.
You're welcome...thanks for paying a visit, Dick.
---

November 24 2004 at 22:48:47
Name: Jim Reid
Email: JimReid56 at aol.com
Location: Dallas
Comments: I remember when Channel 2's Squeezoom was the hottest thing going. I was able to impose on a friend who worked there to let me go in and play with it.

---

November 23 2004 at 22:09:50
Name: Mike Bruchas
Comments: To Rich Laudon - let's see - you ran camera, were a booth announcer, got into news and became a decent reporter - I'd say you probably worked your keester off to learn and do more than most folks at KTUL in 2 years there! Good luck at Argosy!

---

November 23 2004 at 17:32:09
Name: Rich Laudon
Email: Richard.Laudon@argosy.com
Location: Alton, IL
Comments: I am very impressed with your website and thoroughly enjoyed reading through all of the contributions made by everyone who participated. I worked at KTUL very briefly (from 72 to 74). It was a great time of my life that I'll always remember. Thank you for the memories!!!

---

November 23 2004 at 16:44:15
Name: Philip Sterling
Location: Biopsy Playhouse
Comments: Just to let you know we are not a Tulsa TV memory just yet...we are on the air Cox Cable Channel 3, Tuesdays midnight, with a major network move in our near future, or streaming video of all episodes at BiopsyPlayhouse.com.
We'll keep an eye out for you, as it were.
---

November 23 2004 at 07:27:44
Name: Webmaster
Comments: Watched a fun Alan Rudolph movie featuring Gailard Sartain last night: "Roadie" (1980), starring Meat Loaf. The lead female character, Lola Bouilliabase, hailed from Tulsa (though that moniker doesn't sound too Tulsa-like.) Mr. Sartain is billed right after Art Carney. The movie also starred Blondie, Asleep at the Wheel, Don Cornelius (good), Roy Orbison, Hank Williams, Jr., Alice Cooper, and Alvin Crow and the Pleasant Valley Boys (frequent visitors to the Cain's in the 80s).

---

November 22 2004 at 18:30:57
Name: Mike Bruchas
Location: Where all the leaves have fallen off the trees....DC
Comments: 41 years ago today....JFK was assassinated...I was a 7th grader in Illinois when it was announced over the school P.A. system. Hard to believe it was on a Friday 41 years ago...

---

November 20 2004 at 10:20:46
Name: Webmaster
Comments: Now for sale on eBay (not by me): this 1952 letter. Notice all the network affiliations KOTV had; it was the only station in town. Read about Channel 6's early days in the KOTV chapter of a 1967 TU master's thesis by Greg Corarito. The fellow who signed the letter (Robert Freeland) was interviewed for the thesis.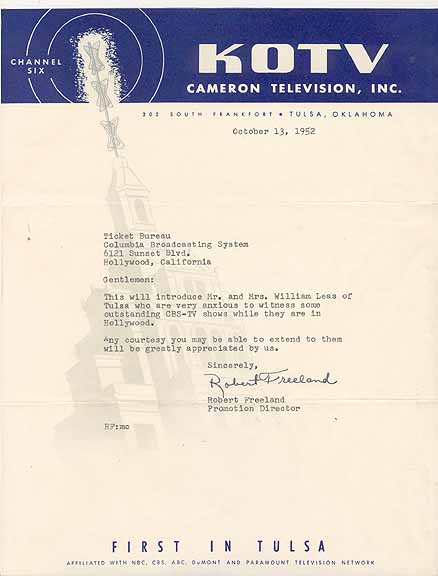 ---

November 19 2004 at 16:24:10
Name: Steve Bagsby
Location: Mail order Bride aisle at Gulf Mart
Comments: I caught the Christina's show one night when they were selling off Australian women. I thought to myself, "Is there anything you can't buy on TV?"

---

November 19 2004 at 16:10:14
Name: Mike (tone-deaf but trying...) Bruchas
Comments: Cy Coleman - Broadway composer and lately club performer has died. I thought he was older than 75 - but man the tunes he wrote! Dark day in modern show music...
Besides writing standards like "The Best Is Yet To Come" and "Witchcraft", he also wrote "Playboy's Theme", which is heard in the RealVideo opening of the "Playboy After Dark" TV show at the link on this TVparty page. It can also be heard on "Ultra-Lounge, Vol. 4: Bachelor Pad Royale" at Amazon.com, a fine gift for the pipe-smoking sophisticate on your Xmas list.

More Xmas shopping ideas in the TTM Gift Shop.
---

November 19 2004 at 13:17:03
Name: roy lee
Email: beerdrunk@msn.com
Location: Christina! Don't introduce me!
Comments: Worked with a guy a few years ago who had used Christina's intro service. He did well, with a good-looking and nice Peruvian woman who is a pediatrician! He is now the house husband and watching as the money rolls in. Their family tried to "hook me up" with the cousins a few times. I had to tell them terrible stories about myself (both true and false) to get them to stop!

---

November 17 2004 at 11:15:47
Name: Webmaster
Comments: Attention, video production people and/or collectors:
I came into a carload of professional U-Matic tape cartridges (with designations like BCS-20, BCA-30), plus a couple of boxes of VHS tapes. They are free to you or your organization for reuse. I have kept any of possible local TV historical interest, but need to clear out the rest. If anyone is interested, let me know ASAP.
One thing I may have is footage from the mid-90s of Christina's International Introductions. This Tulsa-based marriage agency offered video of potential brides from South America on TCI Cable Channel 9 in the wee hours. It appears to have gone out of business by 1998, but via the magic of the Wayback Machine, here is Christina's web site as seen in 1996.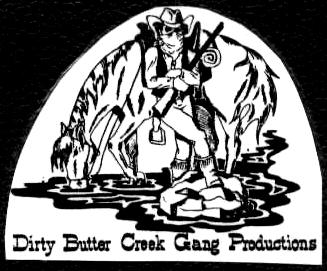 I definitely have a number of episodes of "Urban Almanac" and "Just After Midnight", both Dirty Butter Creek Gang Productions that ran locally late night on TCI Cable Channel 9 in the early 90s. DBCGP was also associated with low-power Channel 25, KLOT. I don't yet have the means to view them, but hope to soon.
Another update: The "telepsychic", Dazé (discussed in Guestbook 6), who appeared on Tempo Television here in the 80s has her own website.

---

November 16 2004 at 16:56:17
Name: Mike (burger boy) Bruchas
Location: In DC - where no Steak & Shakes roam....no good Luby's or Furr's neither!
Comments: Civilization at last! Steak & Shake finally in OK! Open 24/7 and now they take credit cards - ya'all save any newspaper coupons for REAL deals on meals. This restaurant firmly endorsed by me, Jack Hobson and Mr. & Mrs. Don Lundy. Don -- living in Indy -- is never more than a few minutes from a Steak & Shake (or a Skyline Chili)! S&S was my favorite night shift eatery when in Charlotte, NC. YUUUMMMM!

---

November 16 2004 at 14:51:06
Name: Sonny Hollingshead
Location: Chomp Chomp Slurp Slurp
Comments: For fans of Steak 'N' Shake, the Tulsa location at 62nd and Memorial looks to be 75% complete. Don't have an opening date yet.

---

November 15 2004 at 17:23:07
Name: Erick
Email: ericktul@yahoo.com
Location: Tulsa
Comments: Remember the penguin statues all over town a year or so ago? Get ready for Gusty statues.
Don Woods is offering businesses the opportunity to have a six foot tall Gusty statue, painted to their specifications, outside their businesses. The proceeds will benefit the charities chosen by the businesses. The benefit for the business is obvious...who wouldn't notice a life-sized Gusty in front of a building??
Oops, missed this event yesterday from Gusty.us:

Don Woods and the 6' GUSTY® Artform will join Travis Meyer of KTUL channel 8 for live broadcasts at 4:00, 5:00, and 6:00 pm at the Hardesty Library.
---

November 14 2004 at 15:10:20
Name: Lowell Burch
Email: lburch3atcoxdotnet
Location: Tulsa Speedway
Comments: I picked up a copy of Muscle Car Review (Winter 2004). It has a nice article on Vanishing Point - the car, memorabilia, etc. Also, a good article on a 1969 AMX, the same year, make and model I own.
I won tickets to the Tulsa dragstip this spring and it has really been fixed up. In the old days, they had some of the racing greats out there. I used to take the AMX out there to race, too. It looks like they are working at bringing the old glory days back.
Also, I saw OKC is doing some really nice events in association with their new river. Maybe they will inspire us to do something a little more exciting with ours.
"Vanishing Point" protagonist "Kowalski" (Barry Newman) was briefly alluded to on the Origin page. We saw Lowell's AMX in Guestbook 51.
---

November 13 2004 at 18:21:02
Name: Erick
Email: ericktul@yahoo.com
Location: Tulsa
Comments: I just returned from dinner at S&J Oyster Company in Brookside. I was shocked to learn that it will close after tonight.
S&J's owner was shot and injured in a bank robbery earlier this year (a young teller was killed), and he feels there are more important things for him to do. It's hard not to appreciate that way of thinking. Where shall I go for good oysters in Tulsa now??
Regarding the upcoming expansion of Skelly Stadium...I know there will be a new athletic complex built on the north side of the stadium, I haven't heard any plans affecting Metro Diner or Starship. Are they planning on adding more seats? In my opinion, they need to concentrate on filling the seats they have now. I went to a TU game last season and it was like spending an afternoon in the park. The crowd was not into the game (even though the Golden Hurricane won), and I think the paid attendance was less than 10,000.

---

November 13 2004 at 14:30:05
Name: Dave
Location: checkin' 66 again
Comments: Is the Metro Diner in danger of facing the wrecking ball because of the TU/Skelly Stadium expansion project? I saw a mention of that on the KTUL web site a few days ago but I didn't find anything about it in the World's coverage online. I think KTUL also said Starship would be gone too from 11th Street. Anyone have the full story?
Meanwhile, did anyone see the Urban Tulsa article on the four network affilates' anchor women? The most interesting comments were those from Clayton Vaughn about the decline of local TV news in recent years -- not just in Tulsa but everywhere, likely thanks to the consultants, uniform formats, etc. He said local TV news looks pretty much the same in Tulsa or Schenectady. That's the truth. I remember some traditional shoe-leather journalism going on at Tulsa TV stations in the 60s and 70s before the news-you-can-use craze hit. Hail Clayton!
Thanks for putting that link out here. I just read the article yesterday in the print edition.

I think you're right on both counts about the Diner and Starship. The University wants the land.
---

November 13 2004 at 13:01:17
Name: Frank Gutch Jr.
Email: i.t.zorr@gmail.com
Location: Oregon
Comments: I am looking for help regarding the Rubbery Cargoe 45 released around '68 with Annie Bell on vocals. Anyone who knows label, number, song titles etc, or just remembrances, please email. Thanks.

---

November 12 2004 at 09:14:35
Name: Webmaster
Comments: FYI, Daddy A Go Go (aka John Boydston) just won a Parents Choice Award and a 2004 Award for Best Recording for Older Kids by the folks at The Children's Music Web for the "Mojo A Go Go" CD.

---

November 10 2004 at 16:23:08
Name: Mike (poor man in cash, rich in friends) Bruchas
Email: funsky1atyahoodotcom
Location: Dee Cee
Comments: At one time - Starship's Matt Bunyan thought about buying the Dairy Queen on 15th - just east of Lewis. I think from when he used to mow Cy Tuma's lawn (for a while) - he may have stopped there in his younger days. Tuma lived about 2 blocks away. Matt & I talked a lot about the classic ice milk machines there. To run as a Dairy Queen - I am sure it would have been a winner had Matt bought it.
As mentioned previously here - Tuma was still well known in the 70's and could call the manager at Safeway at 15th & Lewis or at Quay's to help load his car with special orders. Cy - like us - was addicted to Bush's Showboat Beans and would buy them by the case when on sale at Safeway. Of course after sitting thru Bush's spots all day at KTUL - "we wuz mind-controlled" into buying them. Other comments on the effects of high bean consumption won't be mentioned here...
Matt Bunyan also one time mused about buying the assets and/or the theatre in Barnsdall - last time I checked - I think it became a church but it had great concession gear and a decent projector!

---

November 10 2004 at 15:39:43
Name: Zach's Mom/EC Cardinal Class of 81
Location: West Of Oklahoma City
Comments: Re: Tastee Freeze
You're correct Frank! It's only open on weekdays. Don't know WHEN that started as it used to be open on Saturdays a few years back.
When I visit the folks there, I try to get by there and "re-live" some memories by enjoying my "feast" in the car. Topped off, of course, with a chocolate dip cone!
Used to drive by there and chow down after a lengthy Frisbee-throwing session at Woodward Park.
Remember when IHOP used to be across from Utica Square? Great breakfast stop on the way to the park also.
Thanks for letting me "reminisce"...now I have to get back to work...
*sigh*

---

November 09 2004 at 18:23:50
Name: Sonny Hollingshead
Location: The Former Oertle's Building...Ground Level
Comments: To Mike Bruches et al...the Ten Commandments posting was at the Haskell County Courthouse in Stigler, OK. The county commissioners didn't confer with the county district attorney before planting them in the ground, so there will probably be more to come.
Were you able to help out Casey on that fine Tulsa Public Schools album?
---

November 09 2004 at 16:14:39
Name: Mike Bruchas
Comments: KOTV moved video to CBS NEWSPATH today on some courthouse with a 10 Commandments tablet outside. Don't know if it is new or has just become an issue. Can anyone tell us where in OK this is at???

---

November 09 2004 at 14:38:54
Name: Frank Morrow
Email: frankmor@io.com
Location: Austin
Comments: Regarding the Tastee-Freeze on 11th and Yale, it not only is still there, but I recall buying milk shakes there in the late '40s and mid-'50s. The shakes are still the best in town.
The only strange thing about the place is that, unless it has changed, it is not open on weekends. I have to plan my trips to Tulsa to arrive during the week.

---

November 09 2004 at 11:08:15
Name: P. Casey Morgan
Email: p-casey-morgan@utulsa.edu
Location: KWGS/KWTU Public Radio Tulsa
Comments: There was an ALBUM of that concert? I'd always heard that but never saw any evidence of it. I'm 98% sure I'm on that album. I remember the concert and can still dismay friends and enemies alike with my renditions of "Santa Lucia" and "O Solo Mio." (Were these in that concert or am I dreaming?) I also dimly remember a lugubrious version of "Go Down, Moses" that lasted roughly as long as the Ice Age, though it was not as lively.
Who do I have to bribe to get a copy of this priceless relic on CD?

---

November 09 2004 at 10:03:41
Name: Sonny Hollingshead
Location: Sand Springs
Comments: While visiting a favorite old vinyl stop I found an LP version of a Tulsa Public Schools' concert from May 14, 1965.
The concert was from select groups of TPS elementary, junior high, and high school students singing classic, religious, and popular numbers. The concert was held in the new Civic Assembly Center, and parents paid fifteen cents apiece to see the show.
The record was produced by Bill Hyden and Mercer Shaw, and engineered by Jack Moore. It was released by Moongate Records, located in what could have been a residential area on East 39th Place.

---

November 07 2004 at 21:30:34
Name: Jerry Giordano
Email: jgiordano@ktul.com
Location: Tulsa
Comments: Interesting site. I'm glad to be in Tulsa and on KTUL.
Jerry was the reporter who interviewed me downtown in 1998 about voter apathy (I was just a passer-by) a few months before this site got started.
---

November 06 2004 at 20:34:09
Name: Randy Kindy
Email: rkindy@mac.com
Location: Tulsa
Comments: Just back from vacation. While in the DC area, I got in touch with old pal Mike Bruchas, who was very overworked in the pre-election hoopla. He did find time for a hurried lunch, which made for a memorable Halloween. Try to make it to Tulsa sometime, Michael!
(Mike is sporting an "Anderson for President" button.)
---

November 04 2004 at 23:20:27
Name: Webmaster
Comments: Archived Guestbook 171...
Back to Tulsa TV Memories main page