Date: 15-Dec-99 05:50 PM
Name: Mike Miller
Email: typo1@erols.com
Geographical location: Vienna, Virginia

In response to Frank Morrow's questions about KTUL Radio:

I went to work at KTUL (Turley) in the fall of 1959. I'm not sure how long the station had been there, but it may have coincided with the start of KTUL TV. Jack Morris was at Lookout Mountain and Bob Gregory who was news director/program director hired me. I was a full-time TU student and was a street news reporter during afternoons and worked the late night deejay shift. (Six day week, of course.)

The building was an old farm house beneath the towers in a pasture outside Turley. The Turley Drive-in was the closest eatery and the smell of pork chops and black eyed peas often filled the building at noon time.

The equipment was quite old. Carts had yet to arrive and we recorded commercials on disks. Others I recall at the time included station manager Jim Schoonover, Karl Janssen who was not on the air, Jay Jones, Les Parsons, and Gary Chew. An engineer named Dave Oliphant napped in front of the transmitter which was built from scratch by Nathan Wilcox Sr., many years before.

By 1962 Griffin Grocery sold the station to Raymond Ruff and it became KELi. Forrest Brokaw was the news director and he, Don Foster and I were the news department. Hal Balch worked part-time. The music format changed from Big Band and briefly sing-along at KTUL to rock. Gary and Jay also stayed on but changed their names to Kelly on the air.

Perhaps someone can fill in the blanks with more details. Hope this helps.
---
Date: 15-Dec-99 04:54 PM
Name: David Reynolds
Email: joelcrowservo@yahoo.com
Geographical location: Gore, OK
Web site: walrus was crow
Favorite Tulsa TV show or personality: Uncle Zeb
How did you find TTM? Geocities banner Xchange

Off the subject a bit... does anyone remember Count Gregor and the Sleepwalkers Matinee in Oklahoma City? I've found not a thing about it.

I wonder if anyone else's 70's cable was like Muskogee's. When a station went off around 12:00, you'd get *another* station that would come on! Stuff like "All Night Movies" and the like.

By the way, anyone remember the name of Channel 2's Saturday night movie show? They had classics like "Twisted Brain" and "Creeping Horror" along with the Linda Soundtrack ads.
I certainly remember Count Gregor from my OU days. A couple of visitors to this site may be hatching a TV site for OKC, so keep watching for a mention of it here.
There was also a "Plenty Scary Movie". Is that the one Linda Soundtrak appeared on?
---
Date: 14-Dec-99 02:50 PM
Name: Frank Morrow
Geographical location: Austin, TX

For Mike Miller--- When did KTUL move its studios to Turley? Why? Did all the old staff go with them? When did it become KELI?
---
Date: 14-Dec-99 09:13 AM
Name: John Hillis
Geographical location: Washington

And, of course, the star of "Winky Dink and You" which featured the draw-on plastic screen, was Jack Barry, later of quiz show scandal infamy as host/producer of "Twenty-One."

Which triggers a memory of a story (which may or may not be true) that I heard at KOTV that supposedly the station was clipping the net feed in daytimes to slip in an extra local spot when one day the phone rang, and the voice at the other end said "This is Mark Goodson. If you don't stop cutting my name off the credits of 'The Price is Right,' I'm going to have your affiliation yanked." Of course, Goodson and his partner Bill Todman could see their names at the end of virtually the entire non-soap daytime schedule on all three nets. By the time I got to KOTV, no net spots were being clipped except the dreaded wine spots, though we did cover the 11:55 Douglas Edwards newsbreak with Donnell Green, which sounds like an even swap to me.
I saw Donnell Green at the KOTV reunion recently, and she is looking good.
---
Date: 14-Dec-99 02:11 AM
Name: Frank Morrow
Geographical location: Austin, TX

As I mentioned previously, the KAKC management didn't seem to care what music the disk jockeys played (except for "those Communists," the Weavers). I played pop and big band, with a sprinkling of novelties thrown in; Jack Moore emphasized his favorite big bands, especially Ralph Flanagan; Bill Walker was a jazz buff; and on the rare occasions that writer Charles Ellis assumed the announcing duties, he played classical music.

Bill Walker told the story about pulling a shift, either at night or on a weekend---times when the management staff was not there---when he got a call from a woman who was very interested in meeting him. He invited her to come to the studios. After he buzzed her in, and she made the long trek back to the control room, Bill was surprised to see how pretty she was. Usually the women calling the announcers were not that attractive.

They chatted for a short time, then found themselves passionately kissing during the time the records were playing. With both of them being in a high state of arousal, they had a predicament: The old 78rpm records only lasted for about three minutes. Bill solved the problem by finding in the record library a big electrical transmission (ET)---a huge platter containing an Air Force promotional series of music called "Serenade in Blue"---which would last for fifteen minutes. Bill slapped the big disk on the turntable, and the couple made a mad dash for the big studio where a couch was. There the twosome became a one-some, while the Air Force band and the Singing Sergeants provided background music.
Larry King recounted a similar event in his first book.
A female with a sexy voice called during his radio show and invited him over. Larry then elected to give his audience a special treat: a Harry Belafonte concert on LP. He hot-footed it to her house, a 15 minute drive. Just as he arrived, and was enveloped in a passionate embrace, he heard Harry Belafonte crooning over her radio, "...Where the night, where the night, where the night, where the night...". So Larry frantically drove back to the station to get the record unstuck. The request line rang. The voice on the other end said: "Vere de night, vere de night, vere de night...". The call was from a elderly Jewish gentleman. He was an invalid who couldn't get to his radio to turn it off. "You make me crazy with 'vere de night'".
---
Date: 13-Dec-99 10:42 PM
Name: Lowell Burch
Geographical location: Tulsa

Sonny is still playing all over town and the area, teaching jazz at Tulsa Central, TU and TCC. He played Greenwood as a main feature this summer and Southern Hills on regular basis. I believe Susan was nominated for the Jazz Hall Fame this year. Anywho, he is still quite busy and in demand. A fellow musician, a good guy and good friend.
You are a musician also, Lowell?
---
Date: 13-Dec-99 10:34 PM
Name: Lowell Burch
Email: J9z1b95@AOL.com
Favorite Tulsa TV show or personality: Jerry Webber

I agree, Winky Dink is the little guy with the plastic screen and grease pencil. Incidently, the poem played at sign-off was written by a real fighter pilot. Let me also add that "wood-shedding" was originally an old jazz term for rehearsing.

Yes, Steve Ripley did the Reunion album, and numerous other albums (Roy Clark and Gatemouth Brown) besides his own Tractors albums. He runs the old Church Studio of Leon Russell fame.
The "woodshed" being the place where you take your punishment.
---
Date: 13-Dec-99 10:32 PM
Name: Erick
Email: ericktul@webtv.net
Geographical location: Near 71st and Lewis in south Tulsa, to be precise

Sonny Gray...of the Sonny Gray Trio, of course. He and his Trio appeared as the in-house band on the KOTV incarnation of Sam Jones' live call-in show during the mid 90s. Haven't heard much of him lately.
We need to get a picture of Sam out here.
---
Date: 13-Dec-99 09:30 PM
Name: Mike Miller
Email: typo1@erols.com
Geographical location: too close to Washington, DC
Favorite Tulsa TV show or personality: Jack Morris "closers"

Frank Morrow's observations about woodshedding brought back some memories when I was starting out in radio. That was back in 1959 when KTUL Radio's studios and transmitter were in Turley "on the cow pasture."

Woodshedding was something not all newsmen did. Not even network newsmen. I remember one Sunday morning after signing on, I cleared the AP wire and noticed the most recent national summary had some garble in the middle of it.

I was listening to Mutual News (off air) to record reports for use on my own newscast and noticed the network newscaster was reading the same AP copy verbatim. He was also reading it cold. When he came to the garble he stumbled around trying to find the correction, several paragraphs later. I learned a good lesson that day. Never attempt to read wire copy without first taking it to the woodshed.

Some of my co-workers did read wire copy cold. They also broadcast some memorable bloopers.
---
Date: 13-Dec-99 07:47 PM
Name: Frank Morrow
Email: fmorrow21@netzero.net
Geographical location: Austin, TX

"Woodshedding" was the term used for rehearsing commercials before going on the air. Karl Janssen, program director at KTUL and my first boss, instructed me to woodshed in a three-step approach: First, read the "spot" over to yourself; next, read it out loud for the first time; lastly, do a final verbal reading. But, I noticed that very few veteran announcers woodshedded. It seemed to be kind of a macho thing---they were too good to rehearse.

The night that Doc Hull started his first program at KRMG, I noticed that he was woodshedding. Without my making a comment he rather sheepishly said that, because this was his first night, he was a bit nervous, and wanted to be sure he did a good job.

For commercials, I always had to read my copy aloud at least once. Once, when I tried to read one "cold," I learned the hard way. I had a 30-second spot for a movie, "Shack Out on 101." ("101" was a highway.) I ran the first and the second words together, instead of emphasizing "shack," making a slight pause, then continuing with "out on 101." This made it sound like "Shack-out on 101." In 1953, the term "shack-out" was used instead of "shack-up." ("Hey, did you shack-out last night?") The KTUL engineer started laughing, and so did I. It was the only time I ever broke up. I went back to woodshedding.

Preparation for newscasts and commentaries was different for me. For newscasts—particularly fifteen minute newscasts---I always went over the copy very closely, marking places where words and thoughts needed to be strung together; where phrases needed to be changed in rhythm or voice pitch; and where pauses should be inserted. I also indicated where I would use different voices when a quote was made in the copy. (I had learned these techniques in Ben Henneke's speech interpretation classes at TU.) Consequently, my newscasts sounded more like dramatic readings. This type of individual approach to presenting newscasts became lost when the boring, lifeless, mechanical style of Walter Cronkite became the norm.

Henneke once asked me why I did my newscasts that way. I answered that I was describing real people in real events. I was just trying to bring these vividly to life. I did not want to squeeze all emotion, drama, irony and humor out of the presentation of what was going on in the world. Karl Janssen told me that my newscasts had high ratings.
---
Date: 13-Dec-99 03:48 PM
Name: Bob Oertle
Email: msr_director@hotmail.com
Geographical location: T-Town
Web site: AMA Pro- Am Arenacross Oklahoma 2000
Favorite Tulsa TV show or personality: Too many to tell
How did you find TTM? Stumbled upon it surfing...

What ever happened to:

That piece of soft plastic sheet that you put on your TV screen glass and traced the picture that was drawn by the guy on TV. It came with a grease pencil it was thick, about a 1/8 of an inch. Kinda green soft plastic sheet that STUCK to the glass via the static electricity created by the TUBE.

Besf of my knowledge it was called S something...like Slinky or Stimy ???

Anyone remember it, was around 1956-1959 or so??? Program came on in the afternoon after school.

Also that poem of the jet pilot that KOTV played when signing off..anyone have a copy of that?
How about Winky Dink?
And the poem, High Flight?
---
Date: 13-Dec-99 09:14 AM
Name: Mike Bruchas
Email: jmbruchas@juno.com
Geographical location: Warshington, DC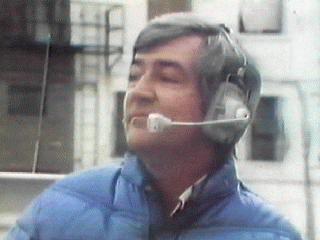 Wasn't Steve Ripley part of the group that did the Bob Wills tribute album 20 years ago - after Bob's death - with Merle Haggard? Isn't he working with the Tractors? Seems like he has been in Tulsa a long time. Someone here also mentioned a Sonny & Susan Gray CD - they have been in Tulsa a looong time.

Help me, oh denizens of this page!

LEST WE FORGET - the JC Penney Xmas Parades in Tulsa for soooo many years.
---
Date: 12-Dec-99 06:38 PM
Name: Lowell Burch
Geographical location: Tulsa
Favorite Tulsa TV show or personality: Lee and Lionel/Mazeppa

When I told Steve Ripley I knew where an old RCA mic was, he insisted that I negotiate for it. I did and Steve got a nice deal, trading new equipment for old. He seemed to like the mic.

Another Oertles memory. I met Johnny Weissmuller at an Oertles promotion. He gave no autographs and did no Tarzan yell, but he was friendly.

I visited with Lee Woodward briefly last week. He said the King didn't make public appearances these days because it was too tough to get Lionel on his hand!
Couldn't we get some WD-40 for the King?
---
Date: 11-Dec-99 05:49 PM
Name: Mike Bruchas
Email: jmbruchas@juno.com
Favorite Tulsa TV show or personality: King Lionel - I MUST OBEY!

Yeah I remember KWGS spending big bucks to get 2-3 RCA ribbon mic's fixed when I worked there. In about 1971. They and the ribbon Altec mics (as seen at KELI back then) were great but the next generation of staff wanted stereo mics - Sennheisers or Electro-voices - for when KWGS would go stereo. The RCA's looked too damned OLD for them - no matter the sound and one did have to take care using a ribbon mic on a remote or with chance air blowing across it.

My senior year I was working full time at KTUL, the KWGS tower and Kendall Hall was pulled down that summer and the radio station moved to the North end of McFarlin Library with an outside door. Ed Dumit had been deposed at KWGS and Larry Elwell came in as GM to feud with the staff though his intentions were good, to mainstream KWGS - not too many places then hiring classical music jocks or "underground" rock jocks.

I went down to KWGS to see Lee Ready or someone - in the outer doorway from stairs and outside the official station perimeter sat the RCA mics - abandoned by the staff on mic stands, exposed to the outside elements. Someone later said they were junked or somebody filched 1 or more. As John Hillis said - gosh, I wish I still had one of those puppies for myself!
---
Date: 11-Dec-99 11:48 AM
Name: Uncle Sherman
Email: unklshrm@got.net
Geographical location:: Freedom, CA
Web site: Radio Guy-Actor Uncle Sherman
Favorite Tulsa TV show or personality: Zeta
How did you find TTM? Webmaster posting on KPIG Squeals

(via email to the webmaster)

Elvin Bishop is also from Tulsa !!

I grew up in Fayetteville, Ark.. Watched Tulsa TV... ZETA on Satellite 6 made me what I am today. Found an email for him on yer site, wrote, and Zowie !! got a return email from my hero.

Thanks for the site and all the info.. Didn't Will Rogers Jr. host an early morning show? (probably late 50's)
---
Date: 10-Dec-99 10:23 AM
Name: John Hillis
Favorite Tulsa TV show or personality: Jay Jones Coffee Club (on radio, but who's counting?)

A couple of non-TV, Northeast Magic Empire Notes/Questions:

Is the Tom Mix museum still in Dewey? It must have been 30 years ago that I visited, but it was surprisingly complete and interesting for a little place at the time. What digital technology could do for a subject like that...

And I'm told that the film "Possums", which was shot on-location in Nowata a couple of years ago, is available on home video (this may not be news to those closer to Nowata, the Gateway to scenic southeast Kansas, but back here away from the frontier, the pony express dispatches are sometimes late). Mac Davis stars as the Voice of the Nowata football Possums in this straight-to-VHS production that actually got a fairly good review in "Variety."
I believe Barry Switzer acts in that movie.
---
Date: 10-Dec-99 10:11 AM
Name: John Hillis
Favorite Tulsa TV show or personality: Billy Parker for Hale Trailers
How did you find TTM? Serendipity (a small town outside Bartlesville)

The Western Union clocks were noisy, particularly when they got the pulse to reset themselves, when they made a low buzzing tone, sort of like a rattlesnake on Ritalin for a second right at the top of the hour as the mike was opened for the newscast. In a small studio with a lot of acoustic tile, though, even the tick-tick-tick could be either unnerving (if you were trying to talk) or sleep-inducing (if you were pulling an all-nighter).

Studio clocks nowadays are often automatically synched to the shortwave signals of WWV, hooked up the the National Bureau of Standards atomic clock up in Colorado. Sometime postwar, I guess, NBS took over "official timekeeping" chores from the Naval Observatory, which was labeled as the source on those Western Union monster studio clocks, which now fetch hefty prices as nostalgia pieces in places like Ebay. As do old RCA ribbon mics...I've seen some bid up in the $2-3 thousand range, for stuff the chief engineer would have let us take for the carting 30 years ago. Sigh.

I've always liked my voice better on an RCA 77-DX than almost any other microphone, possibly except a Sennheiser MD-421. When you have as little to work with as I did, particularly compared to those big old-time announcer voices, you needed every edge you could find.
---
Date: 09-Dec-99 05:49 PM
Name: Mike Bruchas
Email: bruchasm@atlanticvideo.net
Favorite Tulsa TV show or personality: Don Woods - with or without vegetables on the side

Speaking of the old WU clocks - I can remember being in a small booth - either at KWGS or at KTUL and those clocks were unnervingly loud if you were less than about 4 feet away from them. Pre-solid state!
---
Date: 07-Dec-99 06:49 AM
Name: Jim Ruddle
Email: gardel@erols.com

Frank Morrow and Terry Young have remarked on the pressure of the clock on those who worked in broadcasting. David Brinkley once observed that ours was the oddest kind of employment in that we did our jobs at precisely the same moment, each day. We couldn't begin early, and we couldn't stay late. At 6:00 precisely, not 6:00:02, we were on the air. No wonder there are clock-driven nightmares. The demands of time led to some unusual activities, also.

When I was being Zeta (gasp!) I frequently had to follow the show with a live commercial at the other end of the rather long KOTV studio. Because I was garbed in that goofy uniform, I wore a shirt and tie underneath so that I could be ready when I got down to the commercial set near the news desk. I had one of those old three-inch long lavaliere mikes hanging around my neck during the spaceman's stint, and I left this on for the following spot. This meant that as soon as I committed Zeta to oblivion for another day, I had to get out of the helmet, goggles, and caped tunic and race the length of the studio, put on a jacket, and be cool, calm, and not breathless when the camera came on one minute later.

Ordinarily, this worked all right, but one evening, as I galloped across the studio, shedding the costume and wriggling into a sport coat, I stepped on the trailing mike cord. As I stepped on the cord, the lavaliere lanyard popped its snap closure and the damned thing slid down my stomach. "Son of a bitch!" I snarled sweetly. Then, horrified, I noticed that the red camera light had gone on at the same time, meaning my mike was hot. I don't know how I got through the spot--they were all memorized, of course--because I was sure that I was going to be fired as soon as I finished. I concluded the commercial, and walked out of the studio like Killer Mears going to the electric chair.

To my great surprise, no one ran up to me and told me I was through. In fact, no one ran up to me at all. Apparently, the mike switch was thrown a split-second after I had begun my expletive, and only the last fragment came through. The single comment I heard was when somebody asked if I had sneezed just before starting the spot.
---
Date: 05-Dec-99 11:24 PM
Name: Frank Morrow

In 1957, when I was driving the KRMG newsmobile, a B-52 crashed on the outskirts of Skiatook, killing all but, perhaps, two crewmembers. By the time I heard about it, the road to Skiatook was clogged with traffic. Even emergency vehicles could not get through. Keith Bretz at the control room was screaming at me to get to a telephone and tell them what was happening. Not only was I not near a phone by that time, there was no place to park the newsmobile. There wasn't even a shoulder on the narrow two-lane road.

It took me over an hour to reach the site. And what a sight! The bomber had exploded in mid-air, scattering debris over more than a quarter-mile square area. There was an unopened parachute dangling from a tree. What was left of the cockpit was lying in an open field. When I got there, the rescue crew had just extracted what remained of the bodies. Inside the cockpit were pieces of flesh and a lot of blood. The houses in the area had pieces of the airplane in their yards. A few homes had large sections of metal which were resting on their roofs, while others had large chunks of debris leaning against the walls or lying on open porches.

Because I was out of range of the newsmobile's FM signal to our relay installation on the National Bank of Tulsa building, I called Keith and told him that I would stay and get interviews on our tape machine and bring them back to the station later, rather than rush back to the station and give a description of what happened. I got some great interviews with people who had seen the whole tragedy from before the time the plane had exploded until the crash occurred. Some of the people were actually running from the falling debris, while others were in their houses, watching huge chunks of metal descending toward them. I also talked with rescue personnel and police to get their perspectives.

By the time I took these interviews back to the station, it was dark. Doc Hull played them on his evening show, and some were presented again the next morning on our news programs.

It seems strange to me that in all the stories mentioned in the Tulsa World in their excellent special history sections during Tulsa's 100th anniversary year, I could not find a single reference to the crash of the B-52. By the way, I still have the audio tape containing the crash interviews.
---
Date: 05-Dec-99 06:34 PM
Name: Mike Ransom (webmaster)
How did you find TTM? I founded it

Here's a bit of Tulsa-TV trivia I had been unaware of: (from http://www.nick-at-nite.com/tvretro/shows/dobie/kuehl.html)

Tulsa, Oklahoma native, Sheila James (aka: Kuehl) had a tough row to hoe in Hollywood. She acted as a ten-year-old in The Stu Erwin Show as Stu's tomboy daughter, Jackie and later became famous as plain-Jane Zelda on "The Many Loves of Dobie Gillis." When "Dobie Gillis" left the air after four seasons, a spin-off series titled "Zelda" was put into production with Sheila as the star, reprising her famous role. After filming four episodes, rumors began to surface that Sheila was a lesbian, and sadly and shamefully, the show was dropped. After that, Sheila herself was essentially blacklisted (although she did appear in the short-lived 1964 series "Broadside" and later in the reunion movie "Bring Me the Head of Dobie Gillis").

Later, Sheila became an activist for women's rights. After experiencing sexual discrimination in the workplace, Sheila was inspired to go back to school and earned a law degree. After years of supporting Feminist causes, Sheila went on to run for and win a position with the California State Assembly in 1992.
---
Date: 05-Dec-99 06:28 PM
Name: Frank Morrow

Unionization was frequently discussed during the many KAKC gripe sessions about low pay for announcers.

We had heard that the engineers at KTUL and KVOO made much more money than we did because of their membership in the IBEW. We deputized one announcer---I think it was Jack Moore---to contact union headquarters in Kansas City. (It may have been AFRA, not IBEW). The response was disappointing. The union said that they would not try to do anything in Tulsa until all the announcers in town joined in the petition. That was the end of that.

Trying to get all Tulsa announcers to agree on such a thing was futile. Announcers generally saw themselves as white-collar performers, not as blue-collar workers. Furthermore, with the rumored wide disparity in wages and salaries of the announcers in Tulsa--- with KVOO way above KAKC, for instance---the high paid men had little to gain from unionizing.

We did learn a lesson, however: Union leaders were not keen on tackling the strongly anti-union, powerful business community of Tulsa over a few handfuls of lowly radio announcers. Management knew that there was a large pool of people, particularly college students such as myself, who would work cheaply. And, most station managers and sales staffs held announcers and their function in such low esteem that it really didn't matter too much how good they were. At this time, radio was at such a low ebb that outstanding individual talent was not particularly needed at many stations.

Incidentally, in 1954, the management of KTUL eventually broke the union of its engineers after a campaign of intimidation in which the general manager called in each engineer one-by-one and turned on the heat.
---
Date: 05-Dec-99 06:25 PM
Name: Frank Morrow

A night or weekend disk jockey's worst nightmare was to have diarrhea. The bathrooms always seemed to be waaaaayyy down the hall from the control room. How many of us have been sitting in the john when over the monitor we heard the "sskiiiiiiiitt----------sskiiiiiiiiiitt---------sskiiiiiiiiiiiitt" as the record ran out? It was terrible back in the days of the 78rpm records. You only had about three minutes to accomplish your task, run back to the control room, put on another record, run back to the john, ad infinitum. The advent of 33s did wonders for our morale and health.
---