Tulsa TV Memories Guestbook 120

TTM main | What's new on TTM? | GB Archive




December 27 2002 at 11:54:13
Name: Mike Bruchas
Location: Escaping from 25 degree Chicago to 28 degree NC
Comments: Just back from Xmas in Chicago. If you listened to WLS as a young'un In Tulsa or elsewhere - you may remember John "Records" Landecker - he is now morning the "drive time" guy on an FM oldies station there.
And Begorah - Dick Biondi - who was on rival WCFL for years (when I was in grade school and I'm 52 now!), then left the biz to make a comeback - is the afternoon guy on the same station. Biondi must be pushing 70! He was a top rock & roll jock way back when John Doremus was on WMAQ! Probably had better "numbers" too than John!
Any way John "Records" Landecker is mucho toned down from his WLS days of 35 years ago.
Old djs don't die - they just come back on oldies FM!

---

December 27 2002 at 11:46:21
Name: Mike Bruchas
Comments: Don Lundy and I used to joke - if I ever lost my job at KTUL - later KOTV - I would apply for a job as a "cheese shaver" at The Coney Island downtown.
I used to remember some of the old Greek guys names - most seemed to be Chris or Paul and there was (spelling I am unsure of here) Kostas Tslikas who had been written up in The World.
At KOTV - I think we called the news dept. run to the Coney - as "Coney Patrol". $30 bought a humongous amount of food in those days. Boy did the news cruiser used on the said "Coney Patrol" smell better afterward!

---

December 25 2002 at 21:19:49
Name: Emily Webb
Email: tv6lady@yahoo.com
Location: Tulsa!
Comments: Yes, Tulsa does still have a Christmas parade. I was in it as part of the KTUL float this year. People watching from the office windows seemed so happy when I'd notice and wave to them. I guess they were getting overlooked by most of the floats going by.
In other news, I'm still trying to get some copies of some good 80's KTUL stuff from Mr. Gary Elliott. He has a lot of things, but they're on 3/4 tape, and he has to dub them off to send in, and for me.
Anyway, I hope everyone had a Merry Christmas. I guess I should be asleep, I have to work tomorrow!
Merry Christmas, TTM contributors and readers. Without you, this site truly would not be possible.
---

December 25 2002 at 14:29:19
Name: Wilhelm Murg
Email: wilhelmurg@yahoo.com
Location: Snowed in on Brookside
Comments: I got snowed in on Monday and I'm still here (though the roads cleared yesterday). I remember one Tulsa "White Christmas" in the mid-1960s when I was a child (I got my first bicycle, but not able to ride it because of the snow and ice). I remember two others Tulsa Christmas days that included snow. I have yet to figure out whether it is good omen or a sign of the apocalypse. Either way it always sticks out as "odd." We may all be doomed. Merry X-mas to all...

---

December 25 2002 at 12:11:18
Name: Robert Walker
Location: Miami FL
Comments: Holiday greetings and a big THANK YOU to the keeper of the keys to TTVM, a service which clearly means so much to so many.

---

December 25 2002 at 11:36:44
Name: Joy Cooper
Location: In a galaxy far far away
Comments: Merry Christmas to the Webmaster and to all the folks who write in and keep the memories alive for this displaced Okie. Christmas in Tulsa years ago meant seeing the lights in Utica Square..it was a big deal then..I imagine they still keep that tradition. Watching the Christmas parade from my dad's office window was a thrill..does T town still have a parade? One always thinks of home at this time of year and I sure wish I was there!

---

December 24 2002 at 08:13:45
Name: Jim Ruddle
Email: gardel@erols.com
Location: Rye NY
Comments: I just saw the name Marti Coffman and it rang a bell. There was a young lady from Oklahoma with that name who worked at WMAQ-TV, in Chicago, in the seventies. She left to go back to Oklahoma. Would anybody know if this is the same person and, if so, what became of her.

---

December 23 2002 at 13:32:02
Name: Si Hawk
Email: siborg54@msn.com
Location: Tulsa
Comments: While Johnny Martin and I worked at Swanson Broadcasting in the early 70's I took a number of photos of him during his show. I gave copies of most of them to him back then and hadn't made more than a print or two for myself. I was told at the time he had covered a wall at his home with those photos.
I happened to come across one pic recently while going through some old boxes and thought you might like to see it.
Both facilities (KRMG and KWEN) were really great back then. Both were high above Tulsa and located in Liberty Towers at 15th and Boulder. At KRMG News there were such pros as News Director Ed Brocksmith, Jim Back, Don Cummings, Joe Shurtz and Jim Bunn and Watson Jelks, Jerry Vaughn, Don Bishop, Bob Lafitte and Denver Foxx on the program side.
Over at KWEN I did mornings, Randy Anson did middays, Bob Harvey did afternoons and guys like George Hummingbird, Dean Norris and Scott Brauer did nights and weekends.
I'm also including a photo of Billy Parker from KVOO in the mid 70's.
KVOO was a blast with greats like Alan Lambert, Jack Campbell, Marti Coffman, Ramona Huffman, Neal Kennedy, Jack Moore and myself doing news and Jack Fox and Otto Dunn, Dick Buchanan, Billy Parker and Mary Collier on the program side. I'm sure I've left some great people off the list. My apologies, no slight is intended.
Photos by Si Hawk
---

December 23 2002 at 10:54:07
Name: Susan Winston
Email: mudd_chick101@hotmail.com
Location: Milwaukee, WI
Comments: For those who have posted pictures and information on this site about The Outsiders (filmed around 1982, released in 1983), I thank-you very much. But what would do good for me is if I had specifically a picture of a Dairy Queen/Tastee Freeze (I can't remember which restaurant) that was located in Owasso, Oklahoma. I know it's not Tulsa, but it's a close enough town. If you do not have a picture, some info and an address would be great. This restaurant was torn down in the early 1990s, according to an Outsiders site. The restaurant was located near a stand of bleachers. They are still standing, but the restaurant is not. Only a parking lot.
So, all in all, if you have any info, it would be well-appreciated if you could post it up here, or e-mail it to me at mudd_chick101@hotmail.com
Sincerely,
Susan Winston
P.S. Any other film shots from Tulsa that have to do with The Outsiders would also be great!

---

December 23 2002 at 10:51:16
Name: David Bagsby
Email: david_bagsby@hotmail.com
Location: London, UK
Comments: Hello Just finished my solo acoustic guitar tour of the UK and will be here thru Boxing Day. Happy Holidays to everyone everywhere!

---

December 23 2002 at 10:30:05
Name: John Hillis
Email: mail@equinox-media.com
Location: Fairfax, Va., Casablanca on the Potomac
Comments: Chili on a cool day, with snow/ice/rain in the Christmas Eve forecast:
One of the easiest ways to start a fight is discussing chili, and to drill down even further, chili dogs. Unquestionably, the best are at Coney Island downtown. While at CNN, I occasionally ventured the four blocks to the Varsity in Atlanta, but their chili dogs were inferior, and, sacrilege, they'd also put cole slaw on 'em.
Here in Washington, a local chain, Hard Times Cafe, tries a chili dog with choice of Texas or Cincinnati chili, but to my taste, neither quite fills the bill. I once tried a bowl of red at another local joint, Austin Grill, but the stuff was so pepper hot, I couldn't eat half the bowl. This would not happen to a younger man.
So, here east of the Sabine River, chili is a do-it-yourself thing, and an extemporaneous event of coarse ground beef, tomatoes, onion and whatever spices are at hand. After last night's leftover pot has set in the icebox for 24-hours, the flavors have blended such that it can be reheated and stuck on hot dogs.
Still not as good as Doug Dodd double-parking on Third Street in a news car and bringing back about four dozen Coney Islands for the newsroom aficionados.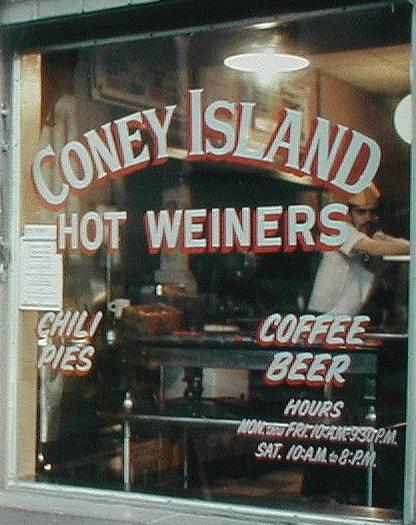 Photos by Mike Bruchas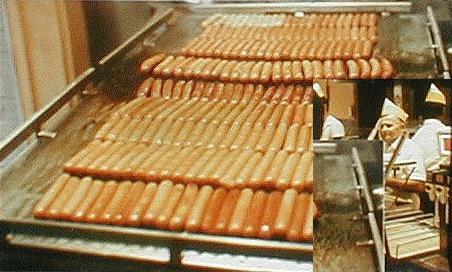 ---

December 22 2002 at 10:33:04
Name: Wilhelm Murg
Email: wilhelmurg@yahoo.com
Location: Two blocks North from Cash America Pawn #3
Comments: Yesterday I went to my favorite place to buy CDs, Cash America on 15th street, and I found an oldies collection, HARD ROCK OF THE 70S (collectors of the unusual should note that the B-side to the single version of "Hocus Pocus" by Focus is on this disc - I never thought I would hear that one again!)
The copyright is 1993 CEMA Special Markets, a division of Capitol Records, but the label is Solaray Corp. 710 S. Adams, Sapulpa, OK 74066. There was a companion disc next to it, HARD ROCK OF THE 80s, but I didn't pick it up (I didn't notice the Sapulpa address on the disc I bought until I got home).
Does anyone know about this company?
Solaray's products for the convenience store include sunglasses, cassettes and cigarette lighters.
---

December 21 2002 at 07:44:04
Name: Mike Bruchas
Comments: Happy Birthday to Bob Hower today!

---

December 21 2002 at 00:04:55
Name: Webmaster
Email: mike@tulsaTVmemories.com
Location: Tulsa
Comments: There is a new article, "Blast From The Past", about TTM in the December Outline Magazine (both on newsstands and online). It's a good one. Outline is free at Borders and other entertainment-oriented businesses.

---

December 20 2002 at 17:17:31
Name: Mike Miller
Email: michaelmmiller@hotmail.com
Location: Vienna, VA
Comments: It should be pointed out, that "Cincinnati" chili is the sweet chili ladled on our beloved Coney Islander dogs. A hot dog with Texas chili is just not the same.
Here in Washington, only a few restaurants serve Cincinnati chili, which contains a pinch of cinnamon. Personally, I also enjoy the Texas style, just not on a hot dog! And BTW, good Cincinnati chili has a kick and can cause one to break a sweat.

---

December 20 2002 at 12:28:55
Name: Jim Ruddle
Email: gardel@erols.com
Location: Rye NY
Comments: With all due respect to Wrede Petersmeyer, and I always thought he was a decent fellow, by the way, he came from a culture that had no more idea about what constituted good chili than it did about water quality in the upper Amazon. In the words of a TU professor friend, speaking about Bela Roza, the Hungarian music faculty member: "He came here too late to understand our folkways." Petersmeyer came too late to understand chili.
You have to remember that there are people in Cincinnati who eat SWEET chili, lord save us, and even here I have seen a recommendation for BELL PEPPERS!
It's too much. I must lie down.

---

December 20 2002 at 11:30:27
Name: Wade Hemmert
Email: whemmert@tampabay.rr.com
Location: Florida.....the electile dysfunction capitol of the world
Comments: Does anyone know if Jack Frank has planned or is planning to produce any more Tulsa History series videos?

---

December 20 2002 at 06:56:55
Name: Lee Woodward
Location: Tulsa USA
Comments: I think I have already mentioned in an earlier guestbook that C. Wrede Petersmeyer thought that Phil's Diner (just up the alley from KOTV) had the best chili in the world. Despite the occasional, odd added ingredient!!
King Lionel's comments in Guestbook 61 cannot be construed as an endorsement for Phil's Diner.
---

December 17 2002 at 16:20:10
Name: Jim Ruddle
Email: gardel@erols.com
Location: Rye, NY
Comments: And then, of course, there was:
"Ellis Chili with beans,
You know what that means,
E-L-L-L-I-S
Ellis Chili with beans"
Followed by something that sounded like
"Eedle-addle-eedle-addle-eedle-addle-eedle-addle
Ellis Chili with beans."
And for something completely grim:
Those bricks of brownish-black material that when heated resembled something sort of like chili.
Didn't Ranch House Chili come in brick form, too?

How about Ike's Chili, or Don's Chili Bowl at 2839 S. Delaware?
---

December 17 2002 at 11:46:02
Name: Mike Bruchas
Location: Burp - eatin' chili....
Comments: "When's the last time you had a big steaming bowl of Wolf Brand Chili?"...so ran the ads on Tulsey TV. I was e-mailed this the other day and share it with you chili afficiandos...
In 1895, Lyman T. Davis of Corsicana, Texas developed the original recipe for Wolf Brand Chili, which he sold for five cents a bowl from the back of a wagon parked on the streets in downtown Corsicana. He later opened a meat market in Corsicana where he sold his chili in brick form, using the brand name of Lyman's Famous Home Made Chili. In 1921, using the simplest machinery, he began canning his chili and marketing it in the immediate area.
It was about that time that he adopted the brand name "Wolf Brand," in honor of his pet wolf, Kaiser Bill. By 1923, with improved equipment, Davis had increased production to 2,000 cans of chili per day.
Because of the discovery of oil on his farm, he had neither the time nor the interest to devote to his chili business and, in 1924, sold his operations to J. C. West and Fred Slauson, two Corsicana businessmen. The new owners modernized production and introduced new marketing techniques. Among the most successful innovations introduced by West and Slauson were Model-T Ford trucks with cabs shaped like cans and painted to resemble the Wolf Brand label. A live wolf was caged in the back of each truck. The vehicles not only provided practical transportation for company salesmen but also were effective traveling advertisements for their products. In 1954, the company expanded into interstate markets, having previously distributed its products only in Texas. The new markets included New Mexico, Louisiana, Arizona, Oklahoma, and Arkansas.
Quaker Oats bought the brand in 1957 but continued to operate the Corsicana plant as a separate division of the company, leaving Davis's original recipe unchanged.
In 1977, Wolf Brand, along with other chili manufacturers, successfully lobbied the Texas legislature to have chili proclaimed the official "state food" of Texas.

---

December 17 2002 at 03:29:05
Name: Jo Foster
Email: MoonWTrash@hotmail.com
Location: Tulsa
Comments: I really enjoyed your section on the movie "UHF". When my brother and I were staying with my dad in Florida, we went to go see it in the theater to catch a glimpse of "home". It is the first movie I have ever "pre-ordered" on DVD! (How sad is that?!?)
The location of the karate studio is actually on the southeast corner of Archer and Cheyenne, a few blocks from Greenwood. On the corner is Deadtown Tavern now. I used to live in the exact same room where Al and his friend lived. When I first discovered this, my friend who I lived with there discovered that it was the same place and that the same refrigerator was still there! And the alley where the Gandhi II stuff is shot is the alley behind the 320 S. Boston building in the heart of downtown.
I enjoy seeing a bit of your great website dedicated to a really great movie. Keep up the great work!
Thanks for that new info. I can see that more video captures are in order for the UHF pages.
---

December 15 2002 at 10:51:47
Name: Mike Bruchas
Location: Between feeds at woik
Comments: Got TU's alumni magazine yesterday and read it - "brother" Frank Morrow and former KTUL producer/anchor Susan Silver are mentioned in the class news section.
Of Frank Morrow: "...produced an award-winning program, "Alternate Views" for more than 19 years. Recently the tapes and written material for the program have been accepted for archival by the American History Center at the University of Texas at Austin."
Need to ask Frank if he has come across Dirck Halstead - who is at UT - Austin now in semi-retirement. He started the website on news craft www.digitaljournalist.org.
Re Susan Silver: "...a nationally known media consultant with 30 years of television experience, has moved back to Tulsa to found the world's only non-profit production company responding to the tragedy of September 11. Susan and 2 independent contractors working for her company have traveled the country investgating and documenting how our country is responding and how the government is reacting to the tragedy.".

---

December 14 2002 at 02:20:16
Name: Rich Lohman
Email: bigfiddy50@aol.com
Location: Tulsa...tornado alley...LOL!!!
Comments: I find it odd that all I seem to write on this site is about our weather...I don't know, back in the day the weather guys reported it, told us what to do, then said good luck. THAT WAS IT.
There were no doppler radars, advanced storm tracking, and the stuff we have today. I remember very vividly Don Cummins saying on KRMG, after a tornado warning for the Tulsa Metro on 08 June 1974, "Tulsa, we're with you" as that storm was bearing down on us. He had to sign off because the funnel was heading toward the station, or something.
My hat is off to this day to Lee Woodward, Don Woods and all the TV and Radio meteorologists who worked then because with all due respect to the 21st century guys we have now, they were more...real, I guess. They didn't have much to work with save a black and white radar and dead reckoning with a little help from the weather service. You knew if you heard it from them, you'd best get under something heavy.
Anyway, thanks Bob for your confirmation of that date, and by the way, I was wrong on the bit about the Roughneck game interrupted by the tornadic storm...it was a year later when that happened.

---

December 14 2002 at 00:11:41
Name: Bob Duff
Location: T-town
Comments: Just catching up on the guestbook entries. Noticed Mr. Lohman's comments. He is quite correct. The Plaza Three theater did indeed become the Plaza Two theater on December 5, 1975. I was working at KELi at the time and was very concerned about the bad weather because it was happening very near the residence of my soon-to-be wife. In fact, it was happening ALL AROUND her because there were actually three separate tornadoes with three distinctly identifiable paths all concentrated in the area of 21st and 129th E Ave.
---

December 13 2002 at 15:47:49
Name: Mike Bruchas
Location: Remembering when OK was "dry"....
Comments: Several of us in the biz have been talking about bonuses and Xmas parties.
The year before I left KOCO - management did a trade-out with the most expensive Urban Cowboy Western wear store in OKC then - NOT Shepler's. We all got $20 gift certs - about all we could buy for $20 at the store was a handkercheif or part of a pair of over-priced Wrangler jeans - selling for half that price - a mile away at Shepler's! You could not cash them in for much needed cash.
It may have been the same year that 5 had bad numbers and the GM and ND blamed the staff - no staff Xmas party. So a lot of us had an unofficial one at a big nearby OKC restaurant - Joe Kelly's - on our own nickel. I think the GM sponsored a Feb. party that year to make up for cancelling a Xmas tradition, but only the serious drinkers went to it..... Previously what had been a family event at 5, was cut down to staff and date event one year, then later in time - no outside guests but clients and staff were invited. Been thru several of these CLIENT and staff deals over the years at various stations and it never really IS fun...

---

December 13 2002 at 15:41:57
Name: Mike Bruchas
Location: Wet NC
Comments: Thanks, all for the rodeo info - I miss 'em. Yes, I DO remember the Tulsa Twisters! As mentioned before here - we have barrel racing events all over but real rodeos are often few and far between.
Fox TV's Jeff Hammond is a big fan and appeared at smaller ones here in the SE - but I forget what he does. He's the same Jeff Hammond who was Darryl Waltrip's crew chief for years. Speaking of DW - had to direct him in our plant to "the necessary room" today. He has shed his off-season beard and looks as normal as usual.
He and brother Mikey were here doing Speed Channel shows...

---

December 12 2002 at 23:32:39
Name: Rich Lohman
Email: bigfiddy50@aol.com
Location: Tulsa
Comments: I don't mean to be a pill but I discovered a little minor error in your KOTV "Stormy Night" page.
At the very bottom, where it recaps the year 1978 it shows a picture of the old Plaza 3 theater and it has the caption: "A tornado destroyed the Plaza 3 theater". A tornado did indeed destroy the theater but it was in December of 1975.
I remember being herded by my Mom into the closet while watching my afternoon cartoons...Briarglen Elementary was having their annual "fun night" that night and NOBODY showed up, except me and my family...I was in 2nd grade at the time.
The only tornado related event I remember in 1978 was one where we got caught at a Roughneck game at Skelly Stadium and the sirens blew.
Rich.
Hmmm, possibly it was already rubble and fit well into the '78 coverage? Maybe Mr. Hillis can add some illumination.
---

December 12 2002 at 22:40:04
Name: Noel Confer
Email: nconfer@aol.com
Comments: To Mike Bruchas:
You correctly named the rodeo associations from the minor league to the professional rodeo association. And now there's the professional bullriders association. When I started (a hundred or so years ago} there was an apprentice program. Until we got a union card, we were called "Turtles." I don't know why.
The AQHA is the American quarter horse association. It's still going strong as the recognized registry for quarter horses.

---

December 12 2002 at 22:39:47
Name: Andre Hinds
Email: ahinds@aol.com
Location: Out Berryhill Way
Comments: Regarding M. Bruchas' question about Tulsa rodeos:
While Johnnie Lee Wills was alive, Tulsa played host to his annual PRCA rodeo each May at the Fairgrounds Pavilion. After Wills died, the rodeo was abruptly discontinued.
From its beginning in the early 1960s through most of the 1980s, Tulsa played host to the annual International Finals Rodeo (IFR) at the Convention Center (formerly the Civic Assembly Center). The IFR was the championship rodeo for the International Professional Rodeo Association, a circuit that competed with the Professional Rodeo Cowboys Association (PRCA). When the PRCA's National Finals Rodeo left Oklahoma City for much more money in Las Vegas in the late 1980s, Oklahoma City stole the IFR from Tulsa.
Tulsa has also been host for the Central States Rodeo Association championship rodeos during the 1980s and most of the 1990s. The CSRA Finals were originally held the first weekend of November, but were moved to coincide with the Tulsa State Fair for several years in the 1990s and called the Will Rogers Rodeo Finals. I believe the CSRA, a minor league rodeo circuit, has since died out.
And don't forget the Tulsa Twisters, Tulsa's entry in the long-gone team rodeo circuit (Major League Rodeo) during the late 1970s and early 1980s. The Twisters had quite a collection of colorful characters, including a bull rider from the Bronx named Bobby DelVecchio, a bareback bronc rider with a double life named Jim Martin and an 11-year-old barrel racer named Metha Brorsen.
(Among other things, I covered rodeo for the Tulsa Tribune from 1978-1981 and served as public relations director of the Central States Rodeo Association from 1981-1983.)

---

December 12 2002 at 13:29:49
Name: Mike Bruchas
Location: Adrift in horsey memory lane amidst the road apples.....
Comments: Okay, rodeo fans - help me!
We were watching the PRCA on ESPN2 and I was trying to remember all of the Rodeo Sponsoring Groups.
When the big groups came to Tulsey - before being wooed away to Lost Wages, NooVada - it was always a high time.
We had IFR, NFR in Tulsey then I guess PRCA came about later. Whom else is out there?
AQHA was Amarillo-based for years and would send video or a "horse expert" at the drop of a hat to appear on shows when I was at KVII-TV. Someone said they may have moved to OKC.

---

December 12 2002 at 13:16:45
Name: Mike Bruchas
Location: Semi-powered NC
Comments: In this here sports biz - we often get paid to "monitor network lines" albeit Fox News Edge, the regional Fox Sports Channels or ESPN 1 & 2 for races that we have agreements on lifting segments for "Speed News".
We had ESPN2 up (my cohort was watching "Bass Masters" earlier = tough duty for an open water fisherman that he is...) while dubbing a gazillion NASCAR "melt" reels of footage from this year's racin' season and next up came the voice of Carl Arky - doing PRCA Rodeo coverage from Las Vegas. Never got a chance to see him on camera though....for you neophytes "melt" reels are often all nat sound of races but more often the backstory video of each race. Some with, some without commentary. They may feed winners circle stuff, too.
It seems on at least 2 of the tapes - one of the sideline photogs was VERY concerned with the bust-lines of several drivers' gal-pals when he should have been covering race action...how much can you use of someone from the neck down in a highlights reel???

---

December 12 2002 at 08:05:18
Name: Webmaster
Email: mike@tulsaTVmemories.com
Location: Tulsa
Comments: Archived Guestbook 119. We are back to this Guestbook host again; you can always find the current Guestbook from the links on the main page or What's New.

---
Back to Tulsa TV Memories main page