How High Can a Guy Stoop?
a new book by Mike Miller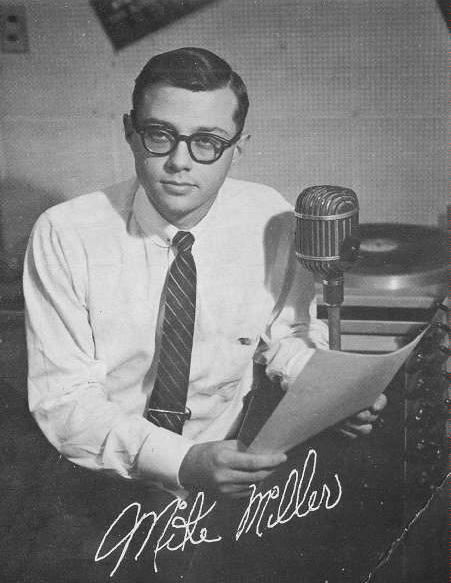 The author at Tulsa's KTUL Radio in 1959. KTUL became KELi in the early 60s.
(3/19/2008) Read Mike Miller's extremely frank comments about U.S. Sen. James M. Inhofe in "The Making of a Mountain" by Grant Slater, from the Oklahoma Gazette.


(from GroupBlog 214) The webmaster said:

Today's Las Vegas Review-Journal newspaper (6/11/2006) features a five-page excerpt from Mike Miller's new book, How High Can a Guy Stoop? on the front page of their Sunday Opinion Section (free online).

Mike was press secretary to Nevada U.S. senator Chic Hecht during Hecht's 1982 campaign and after his historic upset victory. Sen. Hecht passed away May 15.
Few non-fiction books give an accurate behind-the-scenes portrayal of the exciting world of politics and the news media. How High Can a Guy Stoop? is a cleverly written, enormously amusing examination of what really goes on when the camera lights are turned off.
Mike Miller, in a devastatingly candid look back over a twenty-five year career in radio, television, and politics, tells it as it is! Miller deals with such issues as sex, alcohol, and drug use in newsrooms and on Capitol Hill. He also explains how he overcame crippling polio and a lifetime of severe depression and alcohol abuse.
His story begins at a radio station in Tulsa and continues through his first experience in television, and one assignment that even took him to Vietnam. Competitors landed him a job in Washington, D.C. and soon Miller found himself working with young journalists on their way up, including Bob Schieffer, Connie Chung, and Maury Povich.
When he got into politics and nearly went to work for Bill Clinton, things really got crazy! How High is required reading for everyone interested in politics and the news media. Although it may shock you, it will make you laugh!


Biography of author:
Tulsa native Mike Miller spent twenty years covering news for television stations in Tulsa, Dallas, Little Rock, and Washington, DC. His reporting took him to the White House, Congress, and even Vietnam. Miller also worked with a number of today's TV celebrities.
He is a former congressional press secretary and GOP party spokesman.



PRESS RELEASE
Drug, alcohol use prevalent at '70s Tulsa TV stations
New book reveals how former Tulsan tracked spy
For Immediate Release Contact: Mike Miller
Email: michaelmmiller@hotmail.com
281-251-4753
832-607-5493 (cell)
Tulsa, Oklahoma
3/7/2006
A former Tulsa television news director contends in a new book, that during the 1970s, local television station personnel frequently drank alcohol and used illegal drugs while on duty. Former Tulsa television newsman Mike Miller also reveals that some employees boldly grew a two-foot marijuana plant in a flowerbed next to a side entrance of one local station.
In How High Can a Guy Stoop?, Miller recounts mostly humorous experiences in early Tulsa television, and contends most drinking and drug use occurred at nights and especially on weekends, during working hours, sometimes inside the station. Miller worked at Channels 2, 6, and 8 during the '60s and '70s when the drug culture and political turmoil were peaking. In addition to anchoring and reporting at all three channels, he ran the news departments of Tulsa's KTUL-TV, and KATV and KTHV in Little Rock.
How High Can a Guy Stoop? also contends that some local television employees used station equipment to produce pornographic films for their own amusement. One X-rated movie nearly became an embarrassing scandal after it came to the attention of the Tulsa Police Department's vice squad.
Miller writes about growing up in a show business family and making a miraculous recovery from polio when he was ten years old. His father, Lew Miller, was a theatrical booking agent and ran a popular dancing school on East 15th Street. During World War II, Lew Miller, Glenn Condon and Sam Avey formed Hey Rube, Inc., an organization that entertained troops. Singer Patti Page was among the performers.
How High Can a Guy Stoop? traces Miller's unusual career from college station KWGS-FM and KTUL Radio in 1959, to an assignment in Vietnam for KOTV and later to Washington, DC where he covered the White House and Congress. At WTTG-TV, Channel 5, Miller worked with Bob Schieffer, Connie Chung, Maury Povich and others who later became TV celebrities.
The book also includes Miller's later career in politics, which began in 1978 when he considered joining the staff of Arkansas Gov. Bill Clinton. Instead, he served as press secretary for three Members of Congress and was a spokesman for the National Republican Senatorial Committee.
While working for the Senatorial Committee, Miller met a military attaché with the Soviet Embassy in Washington who was a member of the GRU, Military Intelligence Agency. He later helped the FBI track the spy and tried to convince the Soviet agent to defect.
Miller regards working for then Congressman James Inhofe in 1991 as the low point in his career, describing Inhofe as interested only in flying. According to the book, "Inhofe was so right wing, he must have flown in circles." How High Can a Guy Stoop? also deals with Miller's successful struggle with alcohol and depression. The book, published by AuthorHouse, is available in paperback through Borders, Barnes and Noble, and Amazon.com.

Author Mike Miller today


Random excerpts from How High Can a Guy Stoop?

[First full-time job at KTUL Radio]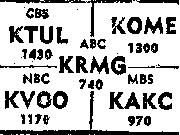 Somebody imaginatively transformed an old brick farmhouse into a broadcast station, and then tucked it beneath two transmitting towers in the middle of a cow pasture. A tiny control room, newsroom, and recording studio separated the aging transmitter from several somewhat austere executive offices. Station manager Jim Schoonover enjoyed the only office with carpeting. After hours and on weekends, male staffers frequently used it for bedding down lonely female listeners who called in, making a "special" request.
Oklahoma wore two belts. The Bible Belt prayed diligently, perhaps because it was smack dab in the tornado belt. During tornado season, we frequently visited KTUL's basement. Off-duty deejay Jay Jones once called to warn, "Put on an LP, (long playing record), and run to the cellar. A tornado is headed for Turley!"
After thanking Jay for his concern, I hurriedly ran outside to the basement steps, pausing only to glance at the nearby radio towers. They seemed to flutter in the wind, like magical wands trying to make the farmhouse disappear. Luckily, the twister missed the station by a half mile.
The transmitter generated 5,000 powerful watts, but looked like a Marconi exhibit at the Smithsonian. Nathan Wilcox Sr., my best friend's father, built the transmitter decades earlier and according to local legend, used no plans whatsoever. Sunday mornings I was alone, terrified of the complex procedures required to bring a station back to life.
You had to flip 30-plus transmitter switches in a particular order. Although the switches were sequentially numbered, it was critical to pause for several minutes during the procedure, to allow certain tubes to heat up. Prayer was optional. Sign on was a dreaded and inevitable nerve-racking task greeting a hung-over college kid when he showed up for work.
Soon, a recurring nightmare became reality. I went through the "how to turn on the transmitter by number" routine, stood and played the Star-Spangled Banner, signed on, delivered a flawless five-minute newscast and began a taped religious program. Whew! Fifteen minutes into the program, a caller asked, "Are you on the air?" "Of course," I replied, emphasizing I had thrown all the switches personally. Suddenly I got a sinking feeling. Walking into the transmitter room, I rechecked the switches. Indeed, the carrier switch remained in the "off" position. It had been an excellent newscast. Still, if I hadn't been wearing a headset, the ratings would have been zero!

[First TV job at KVOO-TV]
Mike Miller reporting a different story at the Tulsa airport


News Director Austin Schneider was a very big man with an even bigger temper, which he demonstrated almost immediately. Austin dispatched me to the scene of a plane crash at Tulsa International Airport. It was an exciting, first shooting assignment. The commercial airliner belly-landed on an airport runway. My film was beautifully exposed. But Schneider took one look and tossed it into the trash bin. He then brutally kicked a nearby desk drawer, smashing it to smithereens. I sensed my new boss overreacted, simply because the dramatic footage was upside down. My training had failed to identify the camera's top from bottom. The negative film critique was just a preview. Schneider also grumbled my film contained too much panning. Between barrages of profanity, he explained the difference between moving pictures and camera movement. I soon nicknamed my Bell and Howell, the "Hell and Bowel." At least the camera was small, light, and rugged. If Schneider threw it at me, it could take a licking and keep on clicking!
After learning which end was up, shooting film was relatively easy. The real terror began when I had to operate the imposing film processor. I was in the dark, literally and figuratively. Film would occasionally break, before passing through the dry box. We'd use a portable light to help remove moisture in time for the next newscast. Other measures were more extreme. Visitors would stare in disbelief, as I'd sprint down the hall, with long streams of wet film trailing behind.

[At KOTV it was bloopers and practical jokes]
Clayton Vaughn shows dismay; Doug Dodd remains neutral

In addition to the rapidly expanded blooper reel, we took pride in the execution of some elaborate practical jokes. One gem was played on the air. During an interview with comedienne Phyllis Diller, I asked, "Although you've only been in Tulsa a few hours, what do you think of Clayton Vaughn?" As planned, Phyllis responded dramatically in her loud voice: "Clayton Vaughn. Clayton Vaughn. You must be joking." Then she started her patented billowing laughter. Vaughn, who was anchoring, had no idea what was happening and was speechless when the clip ended, with Diller falling off the couch in hysterics. Although I was sore from laughing at Phyllis, Vaughn appeared just plain sore!
Thank God, not all flubs occur on the air. But one was a remarkably painful episode, especially for the man interviewed. The incredible story involved a construction worker in downtown Tulsa who fell more than a dozen floors down an elevator shaft and lived to tell about it! The man, working in a bank building under construction, landed on some empty boxes in the bottom of the shaft, breaking his fall and about a dozen bones. I interviewed the worker the next day in the hospital where his broken legs were in casts, suspended by pulleys and weights. After the interview, when my cameraman picked up his tripod, he placed it on his shoulders and turned around to leave. It was like a scene from a Three Stooges comedy, with the tripod striking the weights at the end of the bed. The injured worker screamed in agony as his leg casts and weights bounced around like a wind chime. "Sorry about that," was about all I could muster, as we quickly left the room.

[Landing my first news director's job with KTUL-TV]
Chris Lincoln perfecting his Bob Gregory imitation


As the bitter strike dragged on, the big league TV job began to look "bush league" and lost its luster. Bob Gregory had left CBS News a few months earlier, returning to Tulsa to become Vice President of News of Leake TV at Channel 8. He called and offered me a job as news director. Had it not been for the unhappiness caused by the strike, moving back to Tulsa would have been out of the question. I never set management as a career goal, but obviously, a news director's job would be a major advancement. I had some definite ideas on how to run a newsroom. I was already planning to implement policies that worked at other stations and eliminate some that might hurt morale or creativity. I wanted to be a "restrained" version of Mike Buchanan, if possible.
The prospect of running my own news operation in Tulsa grew more exciting. There was only one hurdle. Gregory wanted me to meet with Channel 8 station manager Bob Muth. It was July 1970. The interview was to take place at Muth's fashionable home in South Tulsa; the session was informal, over drinks. It was a long afternoon, with many scotches and waters. Eventually, I drank more scotch than water, passed out, and began to snore. Some people may stumble or appear nervous during a job interview. Making a favorable impression is difficult when after a few questions the applicant goes down for the count! Gregory blamed my humiliating comatose state on fatigue and jet lag, and when I awoke, had a new job. As interviews go, at least you could say I was relaxed. The job itself would prove a little more stressful.

[Out of work in Dallas]
I floated my audition tape in a sea of job seekers, but there were few nibbles. Months of rejection letters reminded me of the old joke about the guy who thought he had an inferiority complex. The psychiatrist told him, "You don't have a complex. You're really inferior!" Ironically, one opening came from Channel 2 in Tulsa, where, more than a decade earlier, I'd landed my first television job. The station flew me in for an interview, of sorts. When I arrived promptly for a 10 a.m. appointment, I was stunned when the general manager greeted me in sandals and alcoholic breath. The man was holding a cocktail in one hand and shook my hand with the other. Moving behind his impressive desk, the station manager and a man, identified as the sales manager, freshened their drinks. They didn't offer me one. It was a little early, even for me. Two hours before noon, both men were drunk as skunks!
I decided to get down to business by handing the manager my resume. Without a glance, he wadded it up. "These things are meaningless," he slurred, tossing my job history over his shoulder. It missed a wastebasket by three feet. The executives, who were not at Channel 2 when I had worked there, obviously refused to tolerate a hangover. I quietly left the interview after the two station execs began arguing. They didn't notice.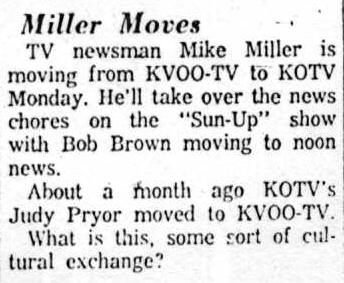 (From GB 215) Webmaster: Here's an item I ran across in my archives from "Showcase" by David Jones, Tulsa World, July 17, 1965. I emailed it to Mike Miller, who said:
"Amazing, how you find these things. Now I understand why I never worked with Judy Pryor."