---
(from Guestbook 94) Mike Bruchas said:
I think as a homage - say it Frenchie style....that we need both pictures of Nelson's Buffeteria's sign on a special worshipful place on TTM AND a picture of a big steaming chicken-fried steak on a platter from Nelson's for all of us deprived of this sinful pleasure - who don't live in Tulsey no mo'!

Webmaster, 6/26/2004: Nelson's Buffeteria has closed after 75 years in downtown Tulsa.

Nelson Rogers promises that the restaurant will return, but it probably won't be downtown.

Business suffered as the downtown work force shrank (and the low-carb craze grew) over the last several years.


Webmaster, 5/12/2009: It looks like there may be a happy ending to this story after all:

Tulsa World: "Hello again, Chicken-Fried! Nelson's Buffeteria will be up and cooking"
---
(Images from the "Let's Go Downtown" video by Jack Frank)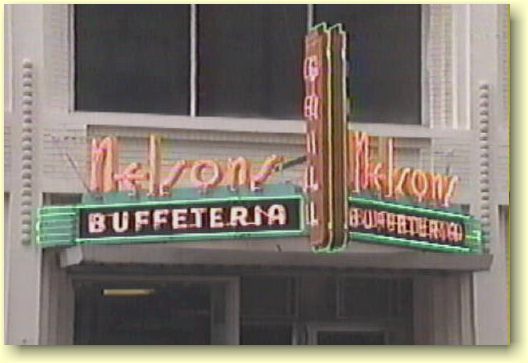 | | | |
| --- | --- | --- |
| | | |
| Batter up... | Kersploosh! | Browning up nicely. |


Dining out: A classic revisited
World's own Service
10/22/1999
(reprinted by permission of Mike Kimbrell, Editor, 10/12/2001)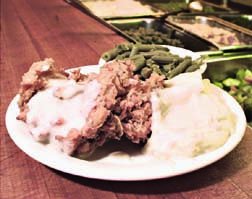 Nelson's chicken-fried steak: voted Tulsa's best.
MICHAEL WYKE/Tulsa World

People who live and work in the suburbs and avoid downtown miss the allure of Tulsa's past and present. I love walking through the handsome old buildings that oil tycoons extravagantly graced with marble, brass and crystal chandeliers.
And I savor meals at Tulsa landmarks, the few downtown restaurants that have survived the Great Depression, World War II and the ups and downs of the petroleum business. One of them, Nelson's Buffeteria, opened in 1929 by owner Nelson Rogers' father, is nostalgia at its peak. The buffeteria is crowded and bustling with activity at noon. But at breakfast, after the early rush, the dining room is quiet and peaceful and waitresses have time to coddle customers. All Nelson's waitresses are experienced, efficient and cheerful, it appears. Rogers takes pride in the faithfulness of his patrons and his employees. Charles Freeman, a cook, sets the pace with 44 years service.
I sat at the counter and that gave me a different perspective. Strangers visit when they sit side by side. But to be truthful, I came in for a cinnamon roll not atmosphere. I once saw Suzanne Rogers, her husband's partner, pull a huge sheet of rolls out of the oven. The big, soft rolls ($1.30) are generously layered with cinnamon and sugar and the aroma was memorable.
The blue plate special, $2.50, is more substantial -- a country breakfast of scrambled eggs, crisp hash browns, biscuits and gravy. Biscuits are big and light and the cream gravy has real flavor. Chicken-fried steak, often voted Tulsa's best in restaurant polls, is served at breakfast, too.
Copyright © 2001, World Publishing Co. All rights reserved
---
(from Guestbook 40) John Hillis said:
The Tulsa World article on long-lived restaurants toplined my favorite place on earth for lunch, Nelson's. On days when Chicken Fried Steak was the special, a delegation would leave 302 S. Frankfort at noontime, Nelson's bound. Doug Dodd, skinny guy that he was, was one of the ringleaders. An hour or so later, we rolled back down Third to the rigors of an afternoon putting together the newscast with no nap.(I never considered until now that Nelson Rogers, Jr. may have been Jimmy Leake's secret weapon in the ratings battles between KOTV and KTUL.)
The steak was simply the finest chicken-fry I've ever tasted, with sides of vegetables cooked to within an inch of their lives. You didn't need a New England Journal of Medicine study to know that anything that good had to be terrible for you, and maybe that's why Nelson only put it on special once or twice a week.
---
(from Guestbook 90) Erick Church said:
I was just at Nelson's Buffeteria downtown (I would probably injure someone just to get their chicken fried steak), and noticed something I never saw there before.
On a column in front of the register is a article from the Washington Times about our own John Hillis, who proclaimed Nelson's as his favorite restaurant.
---
(from Guestbook 90) John Hillis said:
Hot Dang, Hoo Boy, and Shazam!
I've been fortunate enough to receive a few honors in my life, including an Emmy, but I can't think of one that made me smile more than hearing I'm on display at Nelson's.
My thanks to the people who did such a nice thing. My chicken-fry affection/addiction, is more than old enough to vote now, and having traveled the world for CNN, and gone all over the country as a broadcaster, I still can't think of anywhere I'd rather be for lunch on Wednesday than under the big neon sign, feasting in that historic Tulsa eatery.
---