Courtesy of Ed Colton


(from Guestbook 1 and a Dec 22, 1998 note on ok.tulsa.general) Tim S. said:
Does anybody remember those commercials for "Sefco" that came on late night TV, usually on some locally hosted movie show? The guy had an accent of some kind. Heck, I don't even remember what "Sefco" was but I do remember that guy saying it!
Not sure what his accent was...sounded like eastern European to me.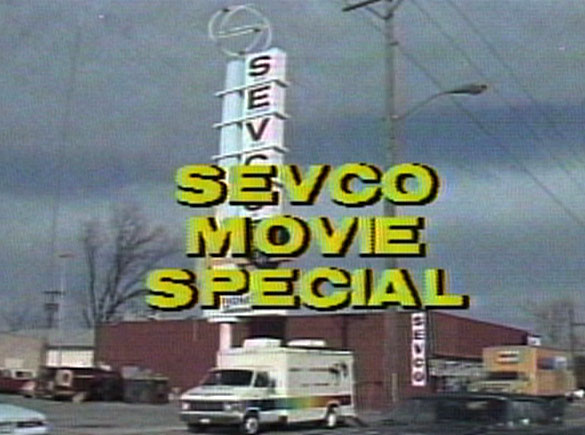 Courtesy of Ed Colton

(from Guestbook 1) Don Lundy said:
Didn't Peter Hardt, the director at KVOO-TV, do the voice over for SEVCO? He had a German accent. SEVCO was just down the street from Channel 2.

(from Guestbook 3) Mike Gleason said:
The guy that owned SEVCO was Joe Pierre and had a French accent. A daughter of his was a friend of mine.

(from Guestbook 160) The webmaster said:
I found a view of a 70s teenager's bedroom full of electronic gear . Mine never reached this density, but I still use the pictured Kenwood amp and Pioneer turntable (purchased from "try it, you'll like it...SEVCO"), and I used to have the TEAC tape deck and Realistic amp.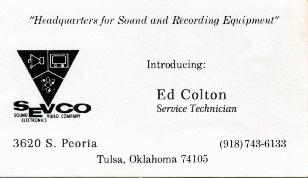 (via email 4/19/2006) Ed Colton said:
I didn't find anything about SEVCO or Joe Pierre (who just passed on a year or two ago). He used to do live commercials from the 3620 S. Peoria Brookside store, sponsoring the Channel 2 Saturday movie. I'll bet a lot of people remember "Crazy Joe" from SEVCO. I worked for him for several years, starting at age 15. I have several commercials... Any interest in putting something on TTM?
(from Guestbook 211) The webmaster said:

Thanks to Ed Colton, here is a vintage SEVCO commercial starring the accented owner, Joe Pierre, circa late 1970s (based on Mr. Pierre's attire). He's a Tulsa TV icon in my (figurative) book.

Click at right (or on YouTube below) to watch the commercial. Can you ID Joe's accent?
(from GroupBlog 310) The webmaster said:

Blog entry from RetroThing.com about Tulsa electronics store of the 70s and 80s:

"There Are "Ironclad" Warranties, And Then There's...", including this video.

Commenter 'Nash Rambler': "Joe Pierre gets points for rocking the sweet hairdo, but I must subtract points for that suit."




(from Guestbook 211) Ed Colton said:
Actually, this SEVCO spot was shot in the fall of 1982, if I remember correctly. Joe's fashion sense remained pretty much the same for decades - sort of lounge-lizard chic. I don't remember ever seeing him in a pair of jeans.

Joe Pierre, courtesy of Ed Colton

He was quite a character; a resistance fighter in France in WWII, concentration camp survivor, and a successful businessman in Tulsa for over 40 years. It was his skill in electronics that kept him alive in the concentration camp, and allowed him to start his business career. He was very proud of his motto "We always service what we sell". He used to do the service himself in the early days, then later he provided the opportunity for some of us "boys" to work their way up from retrieving boxes from the attic and sweeping the store to learning a skill like electronics repair. Way more fun to shop at SEVCO than at someplace like Best Buy.
The very PL-112D Pioneer turntable upon which I am now playing Robin Trower Live! was purchased from SEVCO, downstairs at Southroads Mall, on 6-17-77.

(from Guestbook 211) Lyndon Massa said:
Read several posts about the man who used to own SEVCO down on Peoria and have to mention this also. Dad took me in there one Saturday morning and Joe Pierre was waiting on us, showing us stereo receivers, when all of a sudden Mr. Pierre leaned over and spit on one of the receivers and started wiping it off, telling us that spit was one of the best cleaners ever invented. Imagine doing that these days in front of a prospective customer looking at a thousand-dollar stereo unit!

Courtesy of Ed Colton

(from Guestbook 211) Jeff H said:
Location: Third Stone From The Sun
My aunt and uncle worked for Joe at SEVCO for many years. My uncle Ed was the first to work at SEVCO doing repair work. He was really good with electronics, I think he started in the mid 60s and my aunt Lynn went to work at the store a few years later working in the office.
From what I remember Joe was a real firecracker to work for and had a volatile temper. He would get mad about something and would either fire them or they would quit, this happened at least a couple times and then he would call ask them to come back to work since they were such valuable employees.
I only met Joe on a couple of occasions when my dad and I would go by the store to see my aunt and uncle or look at the electronics.
I remember hearing SEVCO stories at our family Holiday gatherings, it was quite entertaining.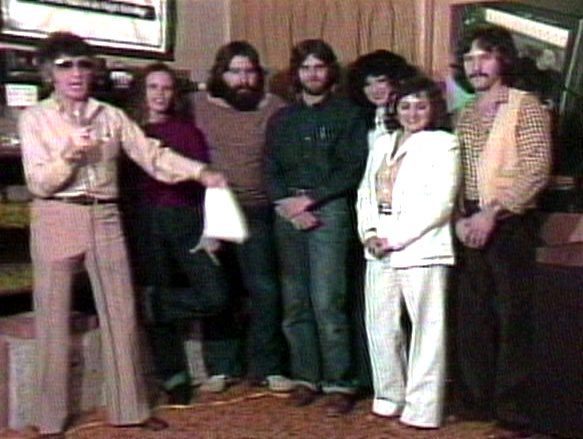 SEVCO staff, courtesy of Ed Colton
(via email 4/28 and 5/9/2006) Anonymous female reader said:
Joe Pierre used to hang out at the Penthouse Club in the early 70s when I was a regular there and his standard line was "Let's get something straight between us," accompanied by an entirely unnecessary pelvic thrust.
Every time I saw the "wild and crazy guys" on SNL, talking about "big American breasts," I thought of Joe Pierre.
I'm sure I wasn't the only one he said this to; he was like a broken record.

(via email 4/29/2006) Ed Colton said:
Joe owned the Penthouse Club for awhile.
I remember hauling some huge JBL L-200 studio monitors and a great big Marantz 500 power amp up there and installing them. I think he liked the idea of being the host of a party every night. He spent more and more time at "the club" for awhile there - I think he eventually had to let it go when finances began to stretch too thin. I still have a book of Penthouse Club matches around here somewhere among my SEVCO memorabilia.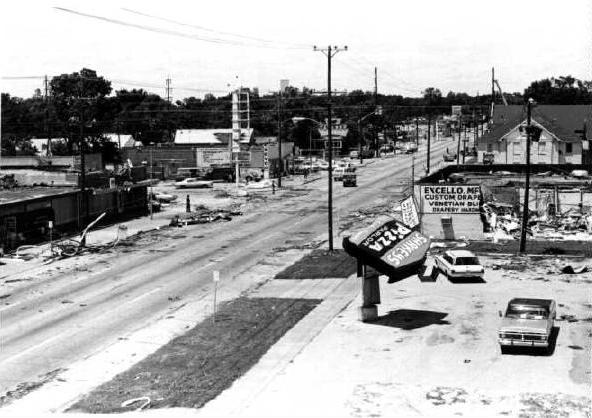 This shot was taken from the Channel Two studios on Brookside looking to the north just after the June 7, 1974 tornado. Shakey's is now Ace Hardware. Check out the "Tallboy Burger" joint. Was it "Don's"?
I believe SEVCO was in the building on the other side of Peoria with painted verbiage facing south (just upper left of the center of this photo.)
Stacy Richardson worked for KAKC then. Here is his personal report on the tornado.
SEVCO invoice, courtesy of Ed Colton

(from GB 218) Michael Pierre said:
Joe Pierre Sr. was my grandfather. His oldest son, Joe Jr., is my father. I was browsing around and found this site. I just wanted to let you know I have all of the original SEVCO commercials on a DVD. And tons of SEVCO stuff.
I saw the thread about his accent and I wanted to let people know that he disguised his accent because he was a Holocaust survivor. Joe was a young boy in Poland when the Russians invaded and put him and his mother in the camps. But it was his voice on all of the commercials.

(from GB 218) Joe Pierre, Jr. said:
Mike, I just wanted you guys to know what a great website you have, and the page devoted to my dad's business, SEVCO. He would have really enjoyed it! I grew up working there, and have to say that to be a part of Tulsa television was quite an honor.
As the oldest son and main inheritor of most all the SEVCO memorabilia, that for others to enjoy commercials from the eighties is a kick! I have a copy of every SEVCO commercial from 1974 on (including radio jingles from the 1960s) and would be glad to share them. I'll share copies of the SEVCO commercials for the Ed Greer Tape Center commercials that Gailard Sartain used to do; they were pretty funny, too! (Remember 1417 E. 11-teenth?)
Many pictures of Joe Pierre and the SEVCO family can be found at http://photos.yahoo.com/josephpierre@sbcglobal.net.
Thanks for the memories, guys, and hi to Ed Colton!