Is this the Airview? The screen looks totally different, but there is a Story Book Lane as promised in the above opening night ad.
Courtesy of the Beryl Ford Collection/Rotary Club of Tulsa
(via email, 5/1/2008) Stacy Richardson said:
I can confirm that the photos are indeed of the Airview. The third photo on the page, with the widened screen, also shows the Jorgensen Steel plant behind it, on the north side of Pine Street. That building is still in place.
You are correct in assuming that the "Storybook Lane" we see in the photos is the same as the "Storybook Lane" advertised above the Airview marquee.
Having visited Storybook Lane in my childhood, the photos bring back wonderful memories.
I believe the first movie I ever saw was at the Airview, and it was one of the all-time greats, of course: "Have Rocket Will Travel," featuring the Three Stooges.
I lived about a block away from the Airview, at a poor viewing angle. From my back yard you could see the screen and could see light and color when a movie was being shown, but the view was only a sliver.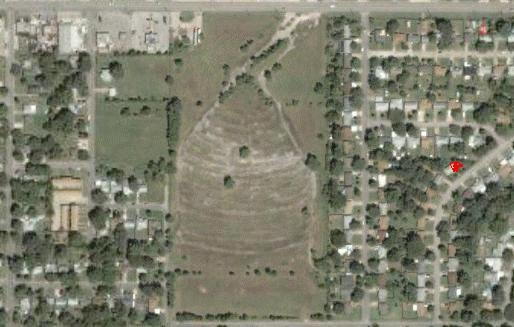 Red spot at right marks Stacy's house near the Airview. Land undeveloped as of 11/2005.
(from GB 284, 2/25/09) Stacy: it will become a DHS facility for foster children awaiting placement.