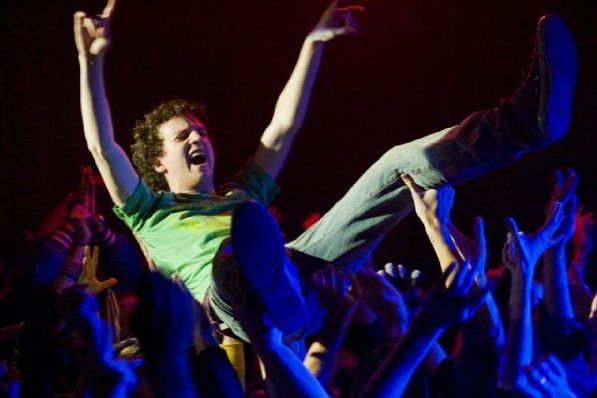 "Band Slam"; a film review by Gary Chew


GARY CHEW/Sacramento
8/10/2009
I always thought there was only one Lodi in the USA: in California. But after seeing "Band Slam," I now know there's a Lodi, New Jersey. That's where Will Burton (Gaelan Connell, "Chocolat") and his single mom, Karen (Lisa Kudrow, "Friends," "The Comeback"), move after she gets a job in Lodi East.
| | |
| --- | --- |
| | |
| | Gaelan Connell |
At Lodi High School, Will is immersed in a typical milieu of peers. But instead of football ruling the student body, it's the school's annual Band Slam. Whatever school rock band is best in the highly touted competition wins. That does have a familiar ring to it, yes?
Will is a music nut and has it playing in his head much of the time. He knows a bunch about rock musicians, too, and David Bowie is his fave. Will emails Mr. Bowie lots but can't seem to get a reply. This helps when the picture needs voice-over narration.
Will meets a couple of female classmates who begin to liven up his social life in Lodi, New Jersey. There's the tall blonde, Charlotte (Alyson Michalka) and the short brunette, Sa5m (Vanessa Hudgens). I think I'm supposed to tell you that the "5" is silent.
Both young ladies are an eyeful. Sa5m is reticent and bookish. Charlotte, a former upwardly mobile cheerleader, is outgoing and has a garage band for which she's lead singer and one of the guitarists. Will has had experience managing bands at his ripe age of, I'd say, about 17, so he's in as Charlotte's band manager.
| | |
| --- | --- |
| | |
| Vanessa Hudgens | Alyson Michalka |

About the same time, Sa5m and Will are drifting toward date-hood, even though Sa5m keeps her face in a book a lot when the couple hangs out. Will would probably help himself a lot doing a little reading of his own on how to approach and be cool with complicated teenage girls. He doesn't even know it yet that all teenage girls are complicated.
| | |
| --- | --- |
| | |
| | Scott Porter |
Of course, Charlotte has an arrogant ex-boyfriend. His name is Ben and played by Scott Porter. Not only that, but Ben has a garage band all his own that's sure to get locked in competition with Charlotte's group come Band Slam time. Now, that really has a familiar ring to it too.
Will suggests Charlotte's group lose the phony drum machine they use for a beat and get a real drummer to drive the group to greater things and first prize at the next Band Slam with her current sidemen, Bug (Charlie Saxton) on bass and Omar (Tim Jo), guitar. The new drummer, who makes lots of noise in more than one way, is appropriately called, Basher and played by Ryan Donowho.
The script for "Band Slam" is by Josh Cagan and Todd Graff. Graff also directed. The only thing I could advise Mr. Graff and Mr. Cagan about their screenplay is they should have made firmer early-on emphasis Charlotte is a backsliding social gal, what with her now being an ex-cheerleader and disassociating with certain friends. It comes out that she is, indeed, less inclined, now, to be a yuppie in the hallways, but, as I say, a bit more of the Charlotte baggage would have better framed later stuff to come near the end of the picture.
Lisa Kudrow's part is written as what I call a typical "Peanuts" parent character: all "trombone." Although she's in several scenes, there's not much for her in "Slamming in Lodi." I remember her excellent job doing HBO's "The Comeback." I was hoping that series of hers would get more traction.
It struck me watching "Band Slam" that this is an ideal movie for 10 to 12 year olds. That makes the film about people who are approximately 5 years older. And we all know, when we were kids, how cool boys and girls are when they're just a few years older. Adults are so boring and little kids are even more of a drag, right?
The real age of Mr. Connell and his two leading ladies is about 20 or 21. For me, the two gals don't look like they're 16 or 17. They appear to be 20, 21 or maybe even 26. On the other hand, Connell looks as if he might be 17 or 18. I had trouble believing the gals are taken by the Will character. He's just moved from another city, and exudes the dreaded loser quality.
Despite the heavy dose of jumping rock 'n' roll, contemporary, elderly teenagers will find "Band Slam" a bit of a drag, much like those little kids I didn't like to play with who were 5 or 6 when I was already a mature male at age 11 or 12.
Heck, though. Neat…a movie about garage bands. How cool. I remember when I was a youngster, the only thing we did in our garage was park the Chevy.

"Band Slam" official site.
Opens at the Tulsa Cinemark and the
Hollywood Promenade Palace Friday Aug. 14.
Check Yahoo Movies-Tulsa for theaters and times.
Gary Chew can be reached at garychew@comcast.net,
Facebook.com/justin.playfair and Twitter.com/orwellingly.

Copyright © 2009, Gary Chew. All rights reserved.