"The Comeback"
(new HBO series)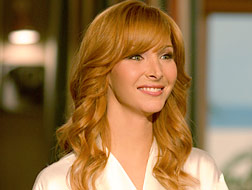 Lisa Kudrow

GARY CHEW/Sacramento
6/16/2005
It's smart, multi-layered and fires well-placed and deserving salvos at good old, mainstream television. You could call it the world's first "reality"- sitcom. Quotation marks are wrapped around the word "reality" because it really isn't a reality show; but in reality, a sitcom. In fact, this latest cutting-edge HBO original is even more than that. It's a show-within-a-show-within-a-show.
Obviously, that requires explanation: We have a fading, almost-40, former sitcom queen named Valerie Cherish. She's desperate to revive her career. So much so, she's contracted with a reality show camera crew to chronicle her real, day-to-day life as she tries for "The Comeback." So, the title…for the fake reality show…and the real HBO sitcom you get to see if your cable bill is paid-up.
The series that brought Valerie fame was called "It's Me." And the series-to-be, in which she's trying to regain her dignity and popularity, will be called "Room and Bored." When watching the show, what's going on is very clear to everyone, except for Valerie.
She's suffering from terminal denial as the cruel writers of "Room and Bored" keep pushing her behind the four other younger, sexier cast members who are playing to their own demographic while Valerie is cast as the slightly older, disapproving, but emotionally needy aunt.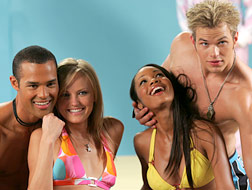 "Room and Bored" cast

What seems to be making this series jell, so far, after having seen only two episodes is the masterful way in which Lisa Kudrow, as Valerie, brings off her character. "Friends" devotees are sure to appreciate what Kudrow is bringing to this HBO show…as well as what she's adding, anew, to "The Comeback," which employs much of the same tempo, tone and, color as "Friends," but with more depth.
An added ingredient to the mix comes in the form of Michael Patrick King (co-creator and co-writer with Kudrow), who directs "The Comeback." King is legend these days what with the extreme success of "Sex and the City," which, like "Friends," has its own brand of tempo, tone and color, but also comes up somewhat shallow when it gets down to depth.

Kudrow and King

I'm glad that "The Comeback" looks like it's on a solid track for HBO. That's my bias showing for a cable network that goes an extra mile much of the time to sharpen the edge of what sometimes can be rather dull.
"Deadwood," "Carnivàle," "Entourage," and, unfortunately, "Empire Falls" all have fallen a bit short of the mark for the cable network that's given us such memorable programs as "The Sopranos," "Six Feet Under" and "Angels in America." (links to previous reviews by Gary on this site.)
I leave "Curb Your Enthusiasm" to the final paragraph since it's another iconic HBO series--- the caliber of "The Larry Sanders Show"--- that most closely resembles "The Comeback." Both lead characters (Larry David and Valerie Cherish ) are really victims of their own self-absorbed personalities, despite the success they've won. Both shows allow us to reflect on Larry's and Valerie's shortcomings and how they might connect with our lives, comedic or tragic. And all the while, we're laughing our butts off.
Now, that's entertainment!
"The Comeback" official site at HBO.
8/2/2005 CNN story about Kudrow.
Gary Chew can be reached at garychew@comcast.net.
Copyright © 2005, Gary Chew. All rights reserved.