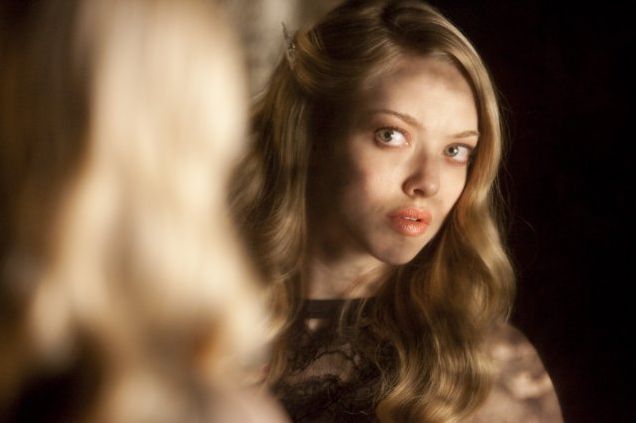 Amanda Seyfried as...

"Chloe"; a film review by Gary Chew


GARY CHEW/Sacramento
3/20/2010

As a single, young man I've would've waited until the 10th or 12th date to take a young lady to see "Chloe," Atom Egoyan's latest film. Nowadays, people the same age (I was when waiting for the right movie moment) are writing and shooting films like "Chloe." And Amanda Seyfried ("Mamma Mia") at age 25, is starring in one of them. Amanda is Chloe.
| | |
| --- | --- |
| | |
| | Julianne Moore |
Julianne Moore ("A Single Man"), who will be 50 on Amanda Seyfried's birthday next December 3rd, is Catherine. Dr. Stewart is a gynecologist. Liam Neeson plays her husband, David Stewart, a university professor. Max Thieriot is Catherine's and David's teenage son, Michael. He's a budding classical pianist with a willing, young girl friend called Anna and played by Nina Dobrev .
The Stewart family is upper-middle class and respectable. But Chloe lives her life on a lower social tier. She's a call girl. Chloe is beautiful and alluring and knows her way around what's swanky in beautiful, downtown Toronto. Chloe doesn't reveal herself until she blurts to Michael one afternoon, "I hate the internet."
Why would a smart and pretty 25-year-old woman of today hate the internet? My guess is that Chloe feels the internet cuts off genuine human contact. Yes, just like cell phones do. It's not cool to quote oneself, but I'm going to because there's an important point Erin Cressida Wilson's script wants to underscore, after all the melodrama and passion shake out of "Chloe."
The quote is the last line from my 2007 "Michael Clayton" review:

"Bunched together, they walk talking in whispers to others not present."

If you'll recall, the scene from the George Clooney film has 6 to 8 people who are together, but ignoring each other while quietly chatting on their cells. How many times a day do you see that?
Chloe is in deep need of authentic human contact, not the kind of "contact" she gets paid big bucks to perform in an expensive hotel suite. There's a deeply masked desperation in this woman.
Troubles for Catherine, though, loom larger. Here Dr. Stewart is: a lovely, successful woman with a successful husband and a bright, promising teenage son. But Catherine has lived nearly all of her fourth decade. She'll soon slip below the horizon, becoming someone who no longer knows how to be the youthful female she's always been. It's sunset for that part of her soul that tells her what role she plays in terms of stirring the husband she's loved so long, so much and so well.
| | |
| --- | --- |
| | |
| | Amanda Seyfried and Liam Neeson |
"Chloe" may have the easiest of storylines to describe: attractive, middle-aged woman (Catherine) suspects her husband (David) of cheating. She engages an attractive younger female (Chloe) to see if the woman's spouse will take the bait for, as Madeline Kahn says in "Young Frankenstein," "A little roll in the hay." Basically, that's it.
Not so basic are the unintended consequences of this little bit of feminine detective work that come to the principle characters in this tastefully, well-done ninety-six minute steamer.
Let me tell you some of them.
Catherine, because she is overwrought about the possibility of David's infidelity and conscientious about women's health, in general, gets too close to Chloe. By that, I mean, too close to remain professional, and too close... uh... well, just too close.
The closeness between them comes as a surprise to Catherine but not Chloe, albeit, both are equally pleasured.
After disheartening news from Chloe, that includes flashbacked descriptions of moments alone with David, Catherine wants to conclude the investigation and gives Chloe a final check for her detective work. Chloe doesn't want their relationship to end and implements her guile to cause Catherine not to take that action. The younger woman, as I said, is desperate. Alone in the Stewart home, the simmering Chloe makes a successful pass at Michael. You'll never guess whose mama catches them.
It's at this point the moviegoer has been shown Chloe in trysts with all three of the Stewarts: dad, mom and son. However, as I said back a couple of paragraphs, Egoyan does his film with taste, so each encounter Chloe takes, comes in sequence, not one fell swoop, so to speak. Clearly, Atom didn't want to direct a bomb---and doesn't in any way with "Chloe." It might be Egoyan really wanted to make a family movie. I guess maybe he did---in a way.
| | |
| --- | --- |
| Three interesting sidebars to be mentioned with this movie are: screenwriter Erin Cressida Wilson also wrote "Secretary," the famously entertaining off-beat film with Maggie Gyllenhaal and James Spader. A picture with some humor added to another story about a young woman with big problems, mainly her badass boss. | |
The burgeoning Amanda Seyfried is also cast in another current rather touchy melodrama. She plays the oldest daughter in the polygamy-gamed HBO series, "Big Love." Amanda's mom in "Big Love" is Tulsa's own Jeanne Tripplehorn.
The final sidebar is quite unfortunate. Liam Neeson was doing the "Chloe" shoot in Canada when his film star wife, Natasha Richardson, was fatally injured in a skiing accident. The film had yet to wrap. Egoyan shot around Neeson's absence from the set before the actor was able to return and finish what was left for him.
The first time I saw the eminently talented and brave Julianne Moore in a movie, I saw all of her. It was "Boogie Nights," a film I've always labeled a good movie about making bad movies. Just about all of the nearly 50-year-old Ms. Moore is seen in "Chloe," too, as is Chloe (or Amanda) herself. She is close to amazing as the lovely, lonely call girl.
The dialogue is only slightly less "R-ish" than the dermatological display, but still, for me (at the risk of being old-fashioned), "Chloe" isn't a first-date kind of thing.


"Chloe" official site.
Opens in limited release Friday, 3/26.
Check Yahoo Movies-Tulsa for theaters and times.
Gary Chew can be reached at garychew@comcast.net,
Facebook.com/justin.playfair and Twitter.com/orwellingly.

Copyright © 2010, Gary Chew. All rights reserved.