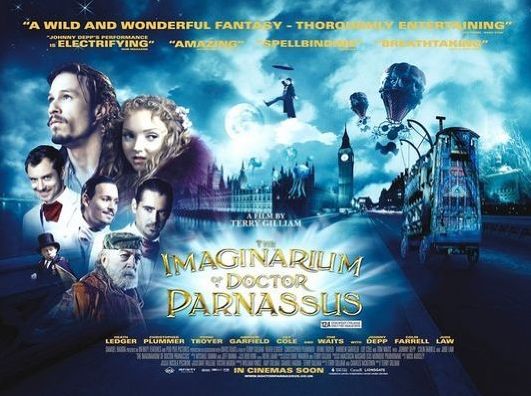 A film review by Gary Chew


GARY CHEW/Sacramento
1/8/2010

Terry Gilliam's latest film presents itself in various layers of reality: each vying to suggest that its particular perspective is what's real. Anyone who's seen earlier Gilliam's films, like "Twelve Monkeys" or "Brazil,"* might say, "Hmmm, I wonder when Terry will do something different?" The only thing predictable about a Gilliam movie is that being different is what it will always be, even if the notions in it aren't.
Doctor Parnassus's lonely hearts club band of thespians navigates contemporary London in a 19th century horse-drawn wagon-like proscenium. Considerably larger than what a medicine show might use as a conveyance, the vehicle serves as a mundane home for the troupe as well as a place for stowing stage paraphernalia and---more interestingly---the secreting of a magical mirror just at the curtain's edge. It is through this shiny portal that the good Doctor transports some attending the imaginarium performance to places in their minds that suggest someone put LSD in the ale. In this altered state and place, the imaginarium-goer is offered a choice of good or evil, sometimes masked in challenge or ease.
| | |
| --- | --- |
| | |
| | Lily Cole |
Parnassus (Christopher Plummer), an ancient shaman of sorts, has (yes, you guessed it!) made a deal with the Devil whose name is Mr. Nick (played by the gaunt and gritty Tom Waits**). Nasty Nick's got his cap set for the Doctor's lovely daughter, Valentina (Lily Cole), who is 15 going on 16 in the script and, at least, 19 going on 20 in the flesh, which, at all times, is judiciously displayed). Rated PG-13.
Two other regulars aboard this movable stage are Anton (Andrew Garfield), so taken with Valentina, and Percy (Verne Troyer), a cranky midget who usually spends his time taking Dr. Parnassus to task for something---like always being drunk. Plummer plays Parnassus in a delightfully dolorous stupor.
Presented in a haunting manner is the significant character called, Tony. The late Heath Ledger has the part and first appears in the film hanging dead from a noose fastened to a bridge. At least, it seems that Tony is dead.
Turns out, Tony (named for a former British Prime Minister) is just barely alive and suffering from amnesia, but, still (other than Mr. Nick), the Elmer Gantry of the piece. Tony later proves this by duping audience rubes out of their hard-earned cash to save the Doctor"s financial ass, along with Valentina's soul from the evil Mr. Nick.
The Imaginarium isn't drawing crowds much since London has become populated, more and more, with imagination-less people. Doctor Parnassus feels he must continue telling his important allegories, but the number wanting to hear them is dwindling---and Tony has a plan. But, thank God, what he conjures up is less like a TV reality show than the defunct HBO series, "Carnivále."
Overriding the movie's script (by Gilliam and Charles McKeown) is what really happened while the project was in production. Most everyone knows about Heath Ledger's untimely, accidental death in late January, 2008 and the strain his passing put on Gilliam and company. Three major scenes of the film had yet to be shot, all being fantastical episodes that focus on the character, Tony.
| | |
| --- | --- |
| | |
| Heath Ledger | |
Long story short: Johnny Depp, Jude Law and Colin Farrell stood in for Mr. Ledger in these scenes: the character smoothly trading Ledger's face for one of the aforementioned trio. Each is done with a shred or two of rationality---considering that quality, in a Terry Gilliam movie, isn't something that comes in spades, albeit these three stretches, with their famous stand-ins, are probably the film's most exciting and phantasmagorical. I think my favorite of the three is the Jude-Law-on-stilts scene. Far out, Terry.
Along with some of the movie's magic, the cast's gravitas and determination required of it to finish the film bring some power to "Parnassus" despite the fuzzy, erratic flow of the narrative.
I wouldn't recommend "The Imaginarium of Doctor Parnassus" for young people even though there is little cursing, and sex play and exposed skin are only slight. However, the tone of this wild tale (suicide, pain, death, despair, darkness, squalid poverty, etc.) eclipses the more positive notions embedded in the script that suggest making right choices and living a principled life.
Heath Ledger's even more intense and challenging performance as the Joker in "The Dark Knight" gave impetus to a possible back story for his death. And so does his portrayal of Tony, here. I would like to think, however, that, in choosing film roles, Ledger was delving the depths of his psyche and talent (as serious actors are wont to do) to find what it is that makes him tick. For his fans, Ledger will always be only 28.
Maybe that's why Terry Gilliam makes movies, just like Federico Fellini made them or even the fictional film director in "Nine," Guido Contini.


*Coincidentally, this 1985 Gilliam film has at its core the misspelling of a terrorist bomber's last name which causes much ado about something when an innocent man is arrested and killed by an Orwellian government of a future Brazil: shades of something akin, but in reverse, to the snafu above Detroit on a Northwest flight Christmas Day, 2009.
**Waits was also in the Tulsa-based Francis Ford Coppola films of the 80s, "The Outsiders" and "Rumble Fish" as well as another Tulsa-connected film and favorite of mine, "One From the Heart."

"The Imaginarium of Doctor Parnassus" official site.
Now playing in Tulsa at the AMC Southroads 20.
Check Yahoo Movies-Tulsa for theaters and times.
Gary Chew can be reached at garychew@comcast.net,
Facebook.com/justin.playfair and Twitter.com/orwellingly.

Copyright © 2010, Gary Chew. All rights reserved.