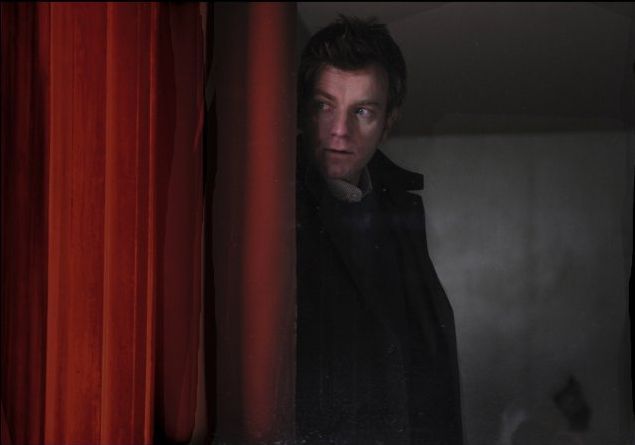 "The Ghost Writer"; a film review by Gary Chew


GARY CHEW/Sacramento
2/16/2010

"White wine---I've never seen the point of it."
That gives you a taste of the dialogue spoken in Roman Polanski's new film, "The Ghost Writer." It's smart, punctuated and acerbic.
But the film isn't as creepy as "Rosemary's Baby" as lugubrious as "Repulsion," as noirish as "Chinatown" or as powerful as "The Pianist." (Later note: Polanski wins the Best Director Award for this film at the Berlin Film Festival, February 20, 2010.)
I would describe "The Ghost Writer" as a damned good political intrigue movie that sustains interest all the way, in spite of the fact there's only occasional action, just one implied sexual tryst and most of the story taking place in a isolated, classy beach house with large windows through which you can see the Atlantic Ocean battering the Massachusetts coast under the most constantly beautiful, angry skies you may ever see in a motion picture.
With those ingredients, you may think "The Ghost Writer" is a little retro and somewhat Gothic. And, if so, you couldn't be more wrong. This bleakly-toned film about the powerful and elite is set in the right now, smack dab in the middle of the war on terrorism and the raging debate over enhanced interrogation.
The script was adapted by Robert Harris from his book titled, "The Ghost." Harris, who shared the writing chores with Polanski, is a former BBC TV reporter, journalist and columnist as well as an acclaimed novelist. Harris was an early Labour Party supporter of former British Prime Minister, Tony Blair.
Roman Polanski is to controversy what Ben and Jerry are to ice cream, so, "The Ghost Writer" has fictitious characters that bear plausible resemblance to real people. Pierce Brosnan plays an ex British Prime Minister called Adam Lang. The former PM and his aide, as well as ghostwriter, are finishing up an autobiographical memoir of the PM about the same time trouble surfaces for Lang in connection with past counterterrorism practices. Overriding the politics of that kettle of fish, the aide/ghostwriter drowns one dark night, falling overboard off a ferry. Is it an accident or suicide? The ominous soundtrack music (by Alexandre Desplat) suggests foul play as the plot and storm clouds thicken over Martha's Vineyard. Lang is somewhat on the lam in the US, away from London, what with the bad counterterrorism accusations going down.
Pierce Brosnan and Ewan McGregor

Now, enters a new ghostwriter played by Ewan McGregor. It's a quarter-of-a-million dollar gig for this never-named character, who Lang occasionally calls "Man." "Man" brings a more aloof posture to the PM's coterie of staff and security people.
How neat, when in fact, author Harris has indicated elsewhere that the phantom in his novel, in real life, might be someone other than this unnamed person employed to finish-off the ex PM's memoir. The allusion suggests that Prime Minister Blair acted as Bush II's ghost in selling a corporate war. For me, the ghost could well be Harris himself, a man who doesn't want to say "out loud" (in the novel) what all the allusions are that he's cautiously crafted in the narrative.
McGregor's character quickly suspects things may be askew in the mysterious drowning of the aide. The new ghost opts for risking getting to the bottom of it, so to speak, while the former PM puts him on a short deadline to wrap the autobiography amidst all the Sturm and Drang of official counterterrorism blowback and the torturous weather.
Female roles are a major part of this story, as well. Kim Cattrall ("Sex and the City") does a superior job acting the role of Lang's girl Friday (and probably more), Amelia Bly. I really enjoyed Ms. Cattrall as somebody completely different here watching Amelia steal scene after scene voicing smug questions, answers and directives to heavyweights and the help, alike.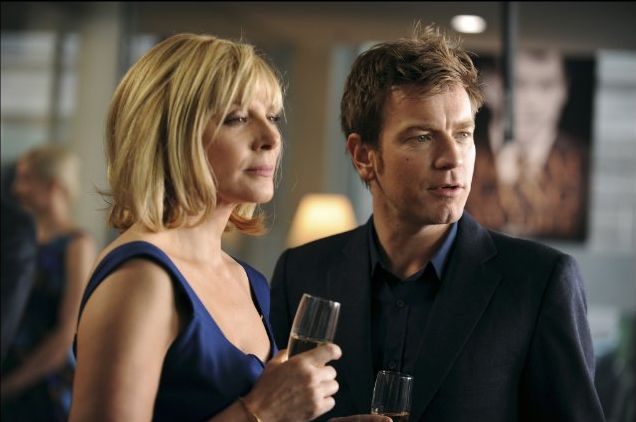 Kim Cattrall and Ewan McGregor

Olivia Williams also stands out solidly as Lang's lovely, brilliant wife, Ruth. Although Mrs. Lang is an Englishwoman, it doesn't take much time seeing her in action to be reminded of an American woman of the political realm with close connections to Arkansas. Ruth is devoted to Adam even though the flame of marriage burns low.
The groovy digs where Adam is holed-up are the property of his billionaire American publisher who also provides Lang with a private jet bearing the corporate logo, Hatherton. The reclusive compound is a great spot at which to repair for editing down and punching up this book on the controversial and recently ousted Brit pol . Sales are likely to go swimmingly. The actual location of the Martha's Vineyard scenes, however, isn't Massachusetts, but on the islands of Sylt in the North Sea and Usedom in the Baltic. It's been many years since Roman Polanski was in the USA.
Advancing the plot of "The Ghost Writer" are two fine film actors. Tom Wilkinson plays Paul Emmett, a well-connected American academic and intellectual with old ties to Adam Lang. McGregor's character discovers Emmett may hold important information that could be useful for casting a brighter light on the character Brosnan plays.
The other is Eli Wallach, at age 95 (born 1915), who is shown in a single scene passing on information to the "Man" about facts relating to Lang's aide's death. For me, it may have been seeing the oldest man ever doing a character in a movie. Wallach has been doing it very well for very long time. Right on, Eli!
Welch actor, Robert Pugh has another small but significant part. He plays a thinly veiled Robin Cook, the deceased British Foreign Secretary who fell out with Tony Blair over the Iraq Invasion. The script has named him Robert Rycart. When McGregor's character has a surreptitious meet-up with Rycart, events become even more exciting for the ghostwriter than when Mrs. Lang enters his suite at the beach house for consolation.
As you watch the ending of Polanski's movie, remember that Roman is neither in the business of making films to cheer you up nor give you a deep-seated feeling of satisfaction. Just let the film's finale cause you to slowly run the whole schmear through your head. There's time enough to do it. But, I'll say no more.
Except that, after enjoying this moody, paranoiac thriller, I have two things on my mind: will the movie be released before or to coincide with the publication of Tony Blair's memoirs and (as to Roman Polanski's current and extended stay at his Swiss chalet) is the real reason for the incarceration due to what happened in Los Angeles back in 1977 or because Polanski chose to direct "The Ghost Writer?"
Only Larry King and Barbara Walters will ever know.

"The Ghost Writer" official site.
In limited release on 2/19/2010, coming soon to Tulsa.
Check Yahoo Movies-Tulsa for theaters and times.
Gary Chew can be reached at garychew@comcast.net,
Facebook.com/justin.playfair and Twitter.com/orwellingly.

Copyright © 2010, Gary Chew. All rights reserved.