Philip Seymour Hoffman


"Jack Goes Boating" | a film review by Gary Chew


GARY CHEW/Sacramento
9/24/2010

Jack goes boating to please Connie, but first he has to learn how to swim---in case he falls overboard. Of course, Clyde and Lucy have to fix Jack up with Connie for the boating excursion to occur, and Jack must learn to cook, as well.
There you have the motor that propels this semi-raw, urban, and slightly offbeat romantic comedy that also carries moments of drama in its hold. It's sure to please Philip Seymour Hoffman freaks, but likely, not much of a bunch more filmgoers.
As I am a card-carrying PSH fan, please count me in. Hoffman ("Capote," "Doubt," "Before the Devil Knows You're Dead," "Charlie Wilson's War," "The Big Lebowski," "The Talented Mr. Ripley") is one of the few genuine-article American thespian/film actors. He puts everything into the characters he so believably portrays. No reason to suspect he doesn't do it in "Jack Goes Boating," with which Mr. Hoffman makes his debut as a director of the feature film.
Originating from the 2007 play by Bob Glaudini, who also wrote the screenplay, "Jack Goes Boating" is about ordinary people who, I thought, might not actually be in New York City, any longer. Jack (Hoffman) and Connie (Amy Ryan, "Syriana," "Gone Baby Gone," "Before the Devil Knows You're Dead," "Capote," "Green Zone") seem to be too vulnerable and naïve for large market dwellers... especially up against the more hip 'n' savvy Clyde (John Ortiz) and Lucy (Daphne Rubin-Vega), the husband and wife.
Jack and Clyde are limousine drivers. Lucy works in the office of Dr. Bob, (Thomas McCarthy). He runs Dr. Bob's Funeral Home... in Brooklyn. Connie is also employed in Lucy's office. That's how Lucy and Clyde are able to fix up Connie and Jack.
Dating isn't a natural thing for them. Jack doesn't have much confidence in himself, particularly with women, but he's a nice, sensitive guy. And he's trying to grow dreadlocks. (Blonde, already). He'd like to be in a relationship with a woman. Connie appears not to be threatening.
On the other hand, Connie is even less confident than Jack. She's quite emotional, too. She's had men in her life, but she's not sure she wants to be intimate with another just now. That becomes more evident as Connie and Jack move along with the relationship.
The couple seems to draw strength from the other person instead of singly continuing their deferentially working class, non-people existences, while the more worldly Clyde and Lucy struggle to keep their marriage from... uh, sinking.
The tenuous Jack does learn to cook as well as swim, as taught at the pool by Clyde, his really dear friend and co-worker. The dinner that's planned at Clyde's and Lucy's flat with Jack as chef and Connie, the special guest, launches on a cheerful note, but after some wine and hits of hashish from a hookah, the evening turns stormy, with Jack's meal burned to a crisp and Clyde and Lucy screaming at one another. Now with the evening scuttled, Jack and Connie beat it. It rebounds only after the single pair finds respite, alone together.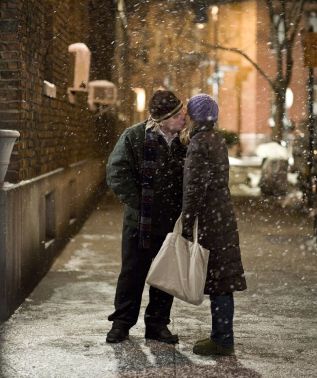 What's most impressive about "Jack Goes Boating" is how great Amy Ryan is as Connie. It's as nuanced and authentic as any performance I've seen in a while, even with Hoffman doing what he does so well opposite her in their many scenes together. There's not one false impulse that shows through in Ryan's body language to hint Connie isn't a bit of a nervous wreck, albeit well-meaning and terribly unsure and lonely. It's always never too much, on her part. To appreciate how she can stretch, compare this Ryan role with the totally different woman (Helene) she plays in "Gone, Baby, Gone."
Ortiz and Rubin-Vega, who also played their characters in the stage production (with Hoffman) hit their marks well in front of the camera as scrappy denizens of the Big Apple.
If you see "Jack Goes Boating," do yourself a favor. Sit quietly in the theater dark and let the closing credits play all the way out before leaving. You'll hear one of my absolutely favorite jazz musicians do one of his most gentle compositions: "Piece Peace," by the late Bill Evans. He's likely one of the most sensitive pianists ever to go on stage or into a recording studio.
I saw Evans perform at least twice in Tulsa: once at Sonny Gray's Rubiot; another at the Performing Arts Center. The second time was when I walked around and came up backstage, happening to see Evans after the concert, still at the piano. That gave me the opportunity to walk over to him and actually say how affecting his compositions and improvisations had been for me over the years. Here's a link to Bill Evans playing "Peace Piece."

"Jack Goes Boating," like "The Savages," is driven by characters, but less affecting than the powerful 2007 film that starred Hoffman and Laura Linney. Externally, there's not a lot happening---in or out of the boat---but it's well directed and acted. It's more about the people in it than what action might surround them. "Jack Goes Boating" ought to get good play with large-market audiences and those who enjoy excellent acting on a stage of any size.
So, put that in your boat and row it---Jack.


"Jack Goes Boating" official site.
Now in release in some cities.
See Yahoo Movies-Tulsa for theaters and times.
Gary Chew can be reached at garychew@comcast.net,
Facebook.com/justin.playfair and Twitter.com/orwellingly.

Copyright © 2010, Gary Chew. All rights reserved.