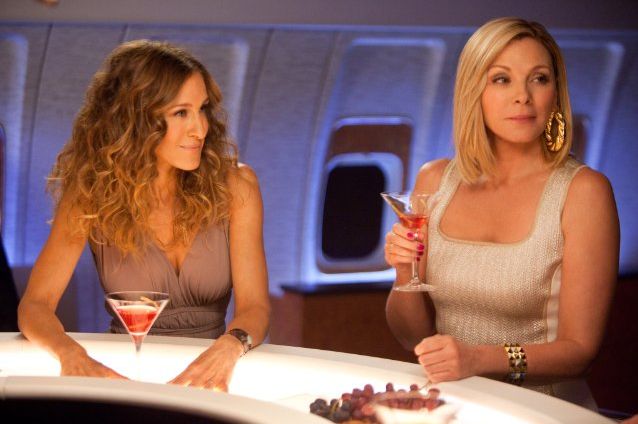 Sarah Jessica Parker and Kim Cattrall consider re-upping in the Mile High Club.

"Sex and the City 2" | a film review by Gary Chew


GARY CHEW/Sacramento
5/24/2010

I always like to tie in Tulsa to anything that might turn up in films. There's one thing that struck me regarding my old stomping grounds along the Arkansas River on seeing "Sex and the City 2," the new movie that brings back Sarah Jessica Parker as Carrie, Kim Cattrall as Samantha, Cynthia Nixon as Miranda and Kristin Davis as Charlotte.
Just into the film, these mahvelous gals of the successful HBO series-gone-feature-length, or as I like to refer to them: that garishly caped quartet of crusaders for glitzy femininity, show up for the wedding of their gay friends, Anthony and Stanford.
Played by more returning regulars Mario Cantone and Willie Garson, the guys have finally decided to tie the knot and put on about as gay a marriage ceremony you could imagine, the George Takei/Brad Altman nuptials notwithstanding. Although, Anthony and Stanford make a mighty effort by having Liza Minnelli, as herself, officiate their exchange of vows and to sing and dance her butt off to bring the wedding to a fine fair-thee-well close.
| | |
| --- | --- |
| | |
| | Liza Minnelli |
To underscore that, one of the songs sung by the very gay male chorus performing at the wedding is "Till There Was You," Anita Bryant's cover of the Sue Raney/Nelson Riddle original.
Ms. Bryant, one of Tulsa's best known singers and beauty queens, reached some success with her version of Meredith Wilson's "Music Man" song, making it to #30 in Billboard Magazine.
Anyone who might be too young to remember, Ms. Bryant was an outspoken critic of homosexuality, so it appears a subtle reference to Ms. Bryant is made in "Sex and the City 2" for people who hold some knowledge about pop music of the late 50s.
I, being one of many who used to play recordings of Ms. Bryant on Tulsa radio stations, was only one of a few laughing at the apparent connection in a packed Sacramento screening made up mostly of younger females having a blast watching Michael Patrick King's newest go at more vicarious adventures to titillate liberated women anywhere.
In this update, the four ladies continue as they were left in the first feature length "Sex and the City." Carrie, still childless, is married to Mr. Big (Chris Noth); Samantha remains randy, lewd and single, although on guard with hormones against her inexorable march toward seniority; Miranda has a cute, red-headed little boy and still cohabits with her thoughtful, diminutive dude, Steve (David Eigenberg); and Charlotte is up to her eyebrows mothering the two little girls she has with her almost Yul Brennerish hubby, Harry (Evan Handler).
Even though the girls have even busier lives these days, that doesn't keep them from maintaining their seemingly non-stop schedule of effervescent celebrations that include having lunch, going to cool parties and…of course, shopping. (Three shopping sprees take place in the new "Sex and the City.")
Other than the relentless creep of time upon them, nothing much has changed. The group's connections are still close and strong with Carrie at the voice-over narration mic, as well as getting the spotlight for her slightly higher, more finely tuned sense of values, particularly and noticeably juxtaposed against the more outrageous perspective on living that Samantha sees through whatever rose-colored, highly fashionable glasses she might be wearing on a given day.
Carrie and Mr. Big continue to define their relationship, especially in regard to having children: to be or not to be. In a world where most married guys are considered dorks, Noth could be the coolest male of the spouses ever, just as he portrays the sometimes good husband of Julianna Marguiles in TVs new series "The Good Wife." Such a challenge: playing the husband of Marguiles one day then Parker the next…well…somebody's gotta do it.
Penelope Cruz has a cameo as the Madrid Bank Lady making eye-holding conversation in a nightclub with Mr. Big. Carrie is, amusingly, not amused by her husband's passing enchantment with such a Spanish beauty who appears to be up for an evening not much different from what Samantha is urging on a younger gentleman in another part of the bistro.
Material things and opulence thereof are much a part of "Sex/City 2," as you might expect. At the outset, the girls are living their A-List lives in hometown, New York City, but get on the good side of a very rich Arab businessman who treats the ladies to a week in Abu Dhabi, away from their male connections in the US. If only Peter O'Toole and Omar Sharif could've been in the Abu Dhabi sequences!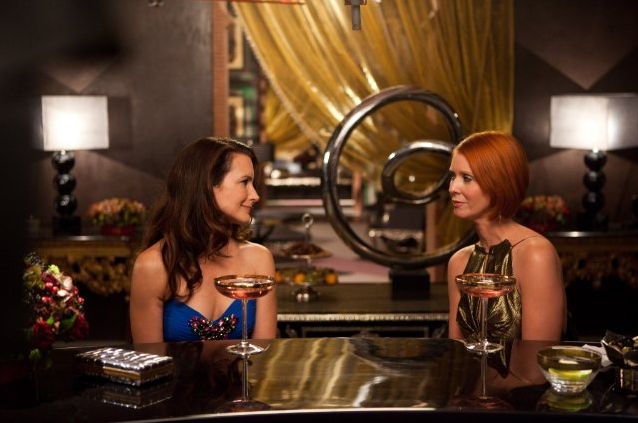 Kristin Davis and Cynthia Nixon add their accents to the posh Abu Dhabi decor.

But the ladies are obsequiously served by four young Arab butlers in their richly-appointed hotel apartment overlooking the city by the Persian Gulf. Their Arab angel has also provided a personal limousine, each---chauffeured of course---for King's fab four from Gotham.
It's all dishy, breezy fun, although there are moments when it's difficult not to wince at the gold-plated wealth so ostentatiously displayed in this relatively small portion of the Middle East...that is...if any comparison is made in the moviegoer's mind about the war and poverty so pervasive through the region for so long. It's social territory, of course, the HBO series often travels....usually, though, in the Big Apple.
One doesn't really have to tell oneself that what this is…is escape entertainment: nothing here designed to generate real-world thinking about this perpetually troubled part of the planet.
"Sex/City 2" does allow, though, for women, particularly, to blow off the steam of daily life and celebrate the fortunate condition that almost all females enjoy: having a much greater sense of openness and sensitivity for and among their gender than that other sex, some of whom are disinclined to see women as rightfully free.


"Sex and the City 2" official site.
Opened wide Thursday, 5/27.
Check Yahoo Movies-Tulsa for theaters and times.
Gary Chew can be reached at garychew@comcast.net,
Facebook.com/justin.playfair and Twitter.com/orwellingly.

Copyright © 2010, Gary Chew. All rights reserved.