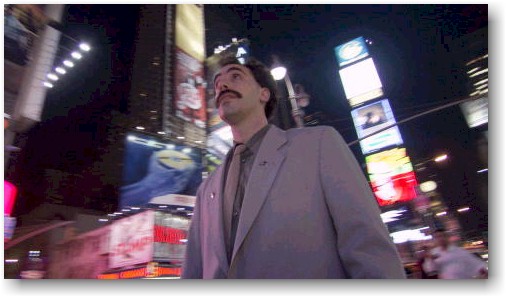 Borat the Outrageous; a review by Gary Chew


GARY CHEW/Sacramento
10/29/2006
Andy
Since we still don't know if Andy Kaufman is really alive or not, it's only predictable that Sacha Baron Cohen is soon to be hailed as our Comedic Provocateur Laureate. To be fair, however, Mr. Kaufman never really thought (thinks) of himself as a comic, but a champion of anti-humor or dada absurdism. But Mr. Cohen, although about as absurd as a fellow can get, has been categorized a British comic provocateur of Hebraic descent.
"Borat: Cultural Learnings of America for Make Benefit Glorious Nation of Kazakhstan," a mockumentary comedy that features Cohen as Borat Sagdiyev, is a total outrage; even more so than Cohen's "Da Ali G Show" that's been running and re-running on HBO longer than it probably should. The fictitious Borat, a Kazakh journalist, is part of the HBO series, as well, but he takes up all of this 20th Century Fox release (only 82 minutes) with a government-sponsored trip to ascertain the customs of America that turns into a trek across the continent to California to find and marry "Baywatch" cutie Pamela Anderson.
Sacha Baron Cohen and Ken Davitian
With his extremely obese producer, Azamat Bagatov (Ken Davitian) and always straight-faced film crew in tow, Borat (driving a used ice cream van) heads westward across our fair land with several stops along the way. He begins in the urban east with real politicians who unwittingly agree to talk with this long, lean, goofy guy, allegedly from a Third World nation. At a rodeo, Borat exposes the bias of a gentlemen whose neck is probably the same color as the state in which the interview was shot. And if I told you what happens to Borat and his producer when they bed-and-breakfast at the home of a gracious old Jewish couple, I'd be giving too much away. (For some, this may be the funniest bit in the film.) However, all will be pleased that the nude wrestling scene between Borat and the flabby Bagatov in their hotel room….uh, well, uh…just know...the low-quality video used to shoot all this offensive romp is blurred at the proper moments in the appropriate places. Then follows the west coast "assault" Borat makes on the real-life Pamela Anderson (as herself) at a book signing she's holding in Orange, CA. Ms. Anderson has to be a real sport to allow Borat to help sell her publication, for sure. It's got to be even more effective than going on Oprah.
"Larry, his khram was this long, I swear."
Cohen's schtick is to expose or victimize, in some way, the person he's interviewing with the subject's own cultural biases; but doing so without making amends for the person or cultural segment in society the interviewee feels as contemptible. The blade of great humor has a double-edge.
What makes Cohen provocative is that he, in appearing to be of the same mind as the person he's interviewing---or perceiving the person he's questioning is of the same mind as the Borat character---makes no effort, whatsoever, to justify or apologize to the audience for his own outrageous attitudes and lack of decorum.
It can be liberating humor; yet in some ways, risky; definitely for the comedian and possibly, the audience. And that makes "Borat," the film, seem, ironically, voyeuristic---but with nary a trace of eroticism. "Borat" allows the "voyeur" to sit laughingly or even quietly, in the darkened cinema, unobserved, and, just maybe, become more aware of what biases lie within. It's not unlike the Oscar-winning Best Picture of last year and one of my favorites: "Crash," which was nothing funny at all, but still may share common intentions with the zany "Borat."


"Borat" official site.
Now playing at the Promenade 12.
See Yahoo Movies for Tulsa theatres & times.
This review cited on CBS' Blogophile, 11/8/2006.
Gary Chew can be reached at garychew@comcast.net.
Copyright © 2006, Gary Chew. All rights reserved.