"Crash"
A review by Gary Chew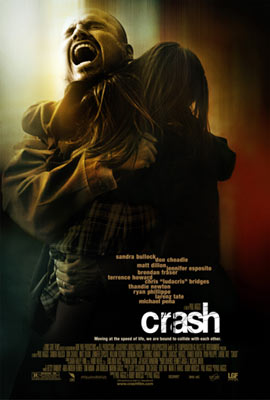 GARY CHEW/Sacramento
5/7/2005
The cinema is not offering much in terms of social healing these days. Gratuitous violence continues to hold sway at the box office. But there is one film near you now that makes an eloquent effort at healing amongst a divided population.
| | |
| --- | --- |
| | |
| Ryan Phillippe | Sandra Bullock |

"Crash" is its unlikely title. And like many box office bonanzas, "Crash" is also full of violence and, especially, racism. Both are unpredictably and randomly brought to bear---sometimes with unrelenting irony---on the careening lives of several diverse modern-day citizens of Los Angeles.
However, what makes this compelling urban drama so unforgettable is the superbly written, accessible script which examines the motives, behaviors and reactions of the characters...from many perspectives.
From left: Jennifer Esposito, Don Cheadle



Thandie Newton and Matt Dillon


"Crash" is constructed, to some extent, like "Pulp Fiction," but eschews decadence and has at its center a real sense of heart while making the moviegoer question his or her own prejudices, whatever they might be.
There's a great ensemble cast: Sandra Bullock (first time I've seen her in a weighty role), Matt Dillon (a stand-out in the film), Brendan Fraser, Jennifer Esposito, Ryan Phillippe, Thandie Newton and, in one of the larger roles, Academy Award nominee, Don Cheadle, who is also one of the producers.
Paul Haggis, who also produces and wrote the screenplay, makes his feature film directorial debut with "Crash." Other items on Haggis' resume include writing the script for Clint Eastwood's very successful "Million Dollar Baby" (reviewed by Chew on this site) as well as Eastwood's next film, "Flags Of Our Fathers," a true story of the six men who raised "Old Glory" on Iwo Jima. Steven Spielberg is producing the WWII story.
"Crash" is not just a motion picture, it's a piece of cinema. You'll know that to be so as you see the first few frames. The visual is as riveting as the story itself. And it's good to hear Mark Isham's sensitive music on the soundtrack.
As you walk out of the theater, you may notice that "Crash" is a film that makes you feel at one with everyone else who's just seen it with you. Good Art in action!
I suggest you see it when the cinema is full.
"Crash" official site.
Now available on DVD at Amazon.com
Gary Chew can be reached at garychew@comcast.net.
Copyright © 2005, Gary Chew. All rights reserved.