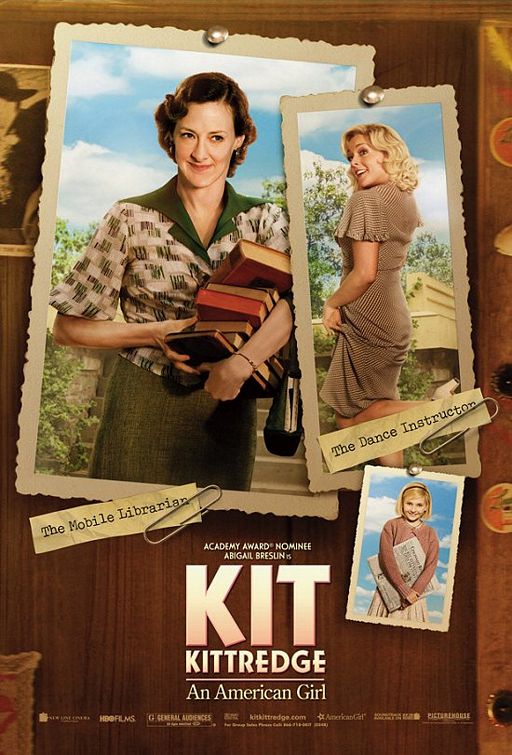 "Kit Kittredge: An American Girl"
A film review by Gary Chew


GARY CHEW/Sacramento
6/23/2008
Abigail Breslin
I emailed my younger daughter and invited her to join me for the screening of "Kit Kittredge: An American Girl." She was sweet to tell me she missed me and hoped we'd be able to get together before long, but that the American Girl franchise of made-for-TV features, DVDs, books, dolls and clothing was something from which she had moved on.
"Duh, Daddy, Kit is only 10!" No, my daughter didn't say that to me, but I can't help wondering if she might've let the phrase flow through her busy and bright 16-year-old brain. I failed to tell her that dad usually has a keen instinct for whether a film is going to be good or not. Something was buzzing in my busy and---it seems---not so bright brain that "Kit Kittredge" would be a pretty darned good film and it certainly looked like a safe one for a father and daughter to take in together. (Rated "G")
My first clue was that Abigail Breslin (nominated for an Oscar as "Little Miss Sunshine") is in the title role. I had already fallen in love with Abigail and her performance in that superb little movie. Then I noticed the time period in which "Kittredge" is set. 1934: The Great Depression. Kit could've been my big, somewhat older sister or, to put it another way, I could've been Kit's little brother not yet hatched. Moreover, it struck me that "Kit Kittredge," although a period film, might have some contemporary relevance.
Home mortgage foreclosures are at an all-time high, home prices have been sinking rapidly for some time and joblessness is rising. If the U.S. is experiencing stagflation, recession or depression is for the experts to argue. But a kid-appeal movie today about rough times in 1930s America might have something to say about values and lessons to be learned for those not around in the first half of the last century.
Director Patricia Rozema
Patricia Rozema didn't let me down. Rozema, a Canadian, has directed a script by Ann Peacock taken from a "Kit Kittredge" story by Valerie Tripp, crafting a film focused mostly on 10 year-old girls. I'm here to say it will be appreciated by any kid between the ages of 8 and 88.
Kit and her parents (Julia Ormond and Chris O'Donnell) are your average middle-class couple who live in a comfortable home in Cincinnati . Kit's father owns an auto sales business and mom---like most in those days---stays at home and runs the household in her own gentle, sweet way. Not surprisingly, Kit is a smart, perky little girl with big ideas already at age ten. She wants to be a newspaper reporter in the worst way. Mom and dad encourage her, so she starts showing up at the local Cincinnati paper and bugs the editor (Wallace Shawn) for some space. These scenes between Breslin and Shawn are just about worth the price of your ticket---even these days. But there's more.
Times are getting harder, and Kit's dad's biz begins to fail. Few can afford to buy a car. He loses the business and leaves home to find a job in a larger market: Chicago. Kit and her mother stay in Cincinnati and start taking in boarders to defray the monthly payments on the house. A motley crew arrives.
Abigail Breslin, Julia Ormond and Chris O'Donnell
Jane Krakowski, a hotsy-totsy dance teacher on the lookout for a husband, signs up for room and board. Stanley Tucci is a very flashy, dashy illusionist who needs a place to put his head and fill his stomach. And one of Kit's classmates, a boy a bit younger (so memorably played by Zack Mills) and his mom (Glenne Headly) move in, too. The father of that family has also left town to find work. On occasion, both wives in the Kittredge home receive mail from their respective husbands. Each family misses the absent dads.
Another set of characters not residing at the Kittredge house includes the marvelous Joan Cusack as the mobile librarian of Cincinnati. She's not the best driver in town. And two young hobos appear. Both are honest and hungry and ask Kit's mom if they can do odd jobs around the place, occasionally, for food in return. They're played by Max Thieriot and Willow Smith.
It's setting up to be a really sentimental, feel good movie, you're thinking, right? No, it's not that simple. Kit has some problems adjusting to the economic realities of the time because one of her best girl friends is the daughter of a leading Cincinnati banker. And on the other hand, Kit strikes-up a really good relationship with the young hobos doing light work around the place. Then there's a rather strained relationship with the little boy and schoolmate who's just moved into the Kittredge house with his rigid mother.
With some comedy, drama, and a dab of melodramatic whodunit, "Kit Kittredge: An American Girl" attempts some much needed healing and understanding among the haves and the have-nots with nothing significant emblazoned on "its sleeve." I found myself reflecting on my young days during WWII, not long after Kit's story takes place.
Everyone I knew in my little boy head was always inclined to be helpful to others as well as family. And boy, the family reunions we used to have then! Much like the fun these boarders have who've been pulled together in the Kittredge house by hard times. Yes, an impressive accomplishment, I'd say, even though the film is so obviously a marketing vehicle for products outside and away from the cineplex. There's nothing like covering all the bases.
I'll pass on my thoughts about Kit and her friends of 1934 to my 16 year-old girl with the hope she'll see it even though Kit is "much younger" than she. And if my daughter gets too busy this summer---which has been known to happen---I'll get the DVD for her when it comes out.
On seeing "Kit Kittredge: An American Girl," you may learn something more about the Great Depression in America way back during the first half of the 20th century, but, I'm hoping, not nearly as much as the grownups of my childhood did.

"Kit Kittredge: An American Girl" preview