"Recount"; an HBO film review by Gary Chew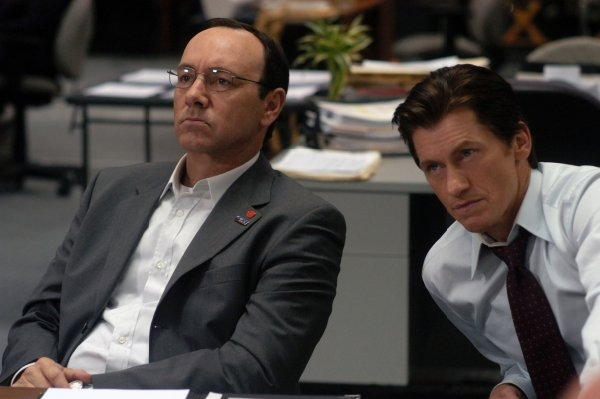 "Every vote from every citizen deserves to be counted." ---Kevin Spacey as Ron Klain. With Denis Leary.



GARY CHEW/Sacramento
5/26/2008
Smack dab in the volatility of the '08 presidential campaign comes "Recount," the latest film for HBO cable customers. Way back there just as the new century was creaking in place to start its track into history, most of us still recall how much nail-biting was going on in the nation (among Democrats and Republicans alike) over who would the forty-third President of the United States of America.
Even though we know how it came out and much of the political and legal maneuvering that occurred, "Recount" acts as a rather well-balanced testament to the action of those events that put some strain on our Constitution.
Laura Dern as Katherine Harris
Danny Strong (Jonathan on "Buffy the Vampire Slayer") has painstakingly pieced together a script of the significant events of Bush v. Gore, giving relatively equal time and emphasis to either side in this political bout of bouts. CNN senior legal analyst, Jeffrey Toobin of The New Yorker and author of "The Nine: Inside the Secret World of the Supreme Court" acted as a consultant. Jay Roach (producer of the zany "Borat") directed "Recount."
Roach has faultlessly woven dramatic scenes with numerous clips of actual TV news reports to make "Recount" look just about as good as a docudrama can get. As they first appear, each character involved in the process is named with screen graphics for clear identification and job title.
The cast really couldn't be better. The principles on Al Gore's team are Kevin Spacey as Ron Klain, Denis Leary as Michael Whouley, John Hurt as Warren Christopher and Ed Begley, Jr. as David Boies. On the Bush bench are Tom Wilkerson as James Baker, Bob Balaban as Ben Ginsberg, Bruce McGill as Mac Stipanovich and Laura Dern stops the show occasionally as Katherine Harris, Florida's venerable Secretary of State. There are several good performances in lesser roles as well.
Makeup people on the "Recount" production do a great job with the characters, especially those well-known. Best on that list would be James Baker, David Boies and Katherine Harris. Even the fleeting glimpses of President Bush and Vice President Gore are convincing, especially Gore being followed from behind as the person playing him walks hurriedly up a hallway.
Tom Wilkerson as James Baker
Many more familiar television faces are seen looking eight years younger than they do now: Dan Rather, Tom Brokaw, and an assortment of cable news reporters, some long since departed; CNN's Bernard Shaw being the one I now realize I miss. Tim Russert and Wolf Blitzer are also seen on set in harness on that historical election night of pregnant and dangling chad as well as all those over and under votes.
The story is played that this ferocious battle for the Oval Office is taken as a principled effort on the part of the Democrats to succeed Bill Clinton while the world watches. The Republicans are very upfront among themselves that to win this big time dust up they must wage it like a street fight. I believe not many would disagree on that count whether liberal or conservative.
Although "Recount" is well-made and reasonably balanced, it approaches the didactic in its mission to deliver viewers specifics of this important history with as much clarity as possible. But I feel that's as it should be even though drama and comedy have been written into the script. It doesn't seem to be an adverse thought that this film should be used in the future to impart historical meaning so that young people make a vital connection to the importance of democracy and each voter's place in it. But, where have all the Civics gone?
This new HBO film tilts some to Democrats as it relates the U.S. Supreme Court's ruling in the case of Bush v. Gore. And that in itself surely brings on disagreement. The facts are presented well regarding the SCOTUS vote which many believe was a decision based more on politics than legality, much like the Florida Supreme Court's was in favoring the Democrats. Whenever an actor playing one of the Justices asks a question of an attorney, the film not only provides a graphic of the Justice's name but also who the president was that nominated him or her. Good to know and remember.
In memory of
Sydney Pollack
Finally, after grandiose but pertinent lines are delivered by each side about Governor Bush's victory, the camera takes us into a warehouse to see box after box of uncounted votes somewhere in the Sunshine State. Then Tom Petty sings, "I Won't Back Down!"
(Postscript: On finishing these remarks, I found online almost immediately that one of the executive producers of "Recount," the Oscar-winning director and actor, Sydney Pollack ("Michael Clayton,""Tootsie") died of cancer at 73 this afternoon in his Pacific Palisades home near Los Angeles. Mr. Pollack had been scheduled to direct "Recount" but withdrew for medical reasons.)

"Recount" preview