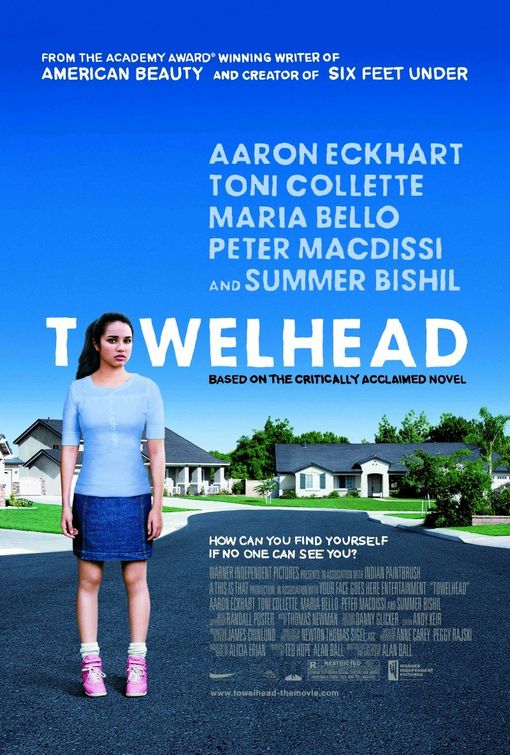 "Towelhead"
a film review by Gary Chew


GARY CHEW/Sacramento
9/19/2008
Award-winning producer, writer and director, Alan Ball always approaches a subject unafraid to give us too much information. He began with a slam dunk by writing the Oscar-winning script for "American Beauty" (1999). It was followed by Ball's creation of the HBO series, "Six Feet Under" (2001-2005). Just recently, HBO launched another Ball cable series called, "True Blood."
Now his second feature film is out. "Towelhead" is the title, and it may be more generous with information than all of his other work put together---even for jaded veterans of the cineplex.
It's probably because "Towelhead" is a coming-of-age film about a 13-year-old girl who is abused by her parents, a male pedophile living next door as well as classmates slinging racial slurs at her in a Texas middle school. Her name is Jasira Maroun. She's Lebanese-American. The part is convincingly played by newcomer, Summer Bishil of Pasadena, USA .
Alicia Erian
Ball takes his "Towelhead" script from Alicia Erian's first novel of the same title. Erian has since written a book of short stories called, "The Brutal Language of Love."
Looking for a category, the ordeal of young Jasira finds itself some where between "American Beauty" and the take-no-prisoners film from Kimberly Peirce that catapulted Hilary Swank to stardom: "Boys Don't Cry."
Jasira's parents (Peter Macdissi and Maria Bello) are divorced. She's sent by mom from their New York state home to live with her dad after the flakey mother finds her live-in boy friend is unsavorily drawn to the early-developing Jasira. Some of the "too-much" information we're given is that mom's boyfriend has been 'helping' Jasira shave her pudendum. Mother is not amused. So it's off to Houston where Jasira's Lebanese-born dad works for NASA.
Peter Macdissi and Summer Bishil
Father is grappling with his traditional values of the Middle East and those now seducing him here in free-wheeling America . He's a man overly sensitive about his racial identity while at the same time holding a racist attitude for the young black boy (Eugene Jones III) Jasira is coming of age with, so to speak. "Thanks but no thanks, I don't want my daughter shamed by being seen with this black classmate of hers," he says, or words to that effect. Dad also locks Jasira in a sexist double-standard to keep her virginity as he blatantly carries on an affair with a well-meaning but clueless female co-worker.
Next door live the Vuosos: Travis, Evelyn and young Zack. Jasira starts babysitting Zack after school. This bring her into close contact with Mr. Vuoso (Aaron Eckart), who's clearly taken with Jasira's physicality as much as Jarisa's mom's Syracuse boy friend with the accommodating razor.
Eckart's turn as the Army Reservist father and, ultimately, pedophile of the neighborhood is a risky role for this fine actor to assume, although in some of the film's production notes, Eckart is reported to have had considerable difficulty doing all the script required in "Towelhead." It might be helpful, also, to know that Ms. Bishil, now 20 years-old, was 18 when the picture was shot and that Ball didn't allow any nudity in the film (Rated R, see advisory below).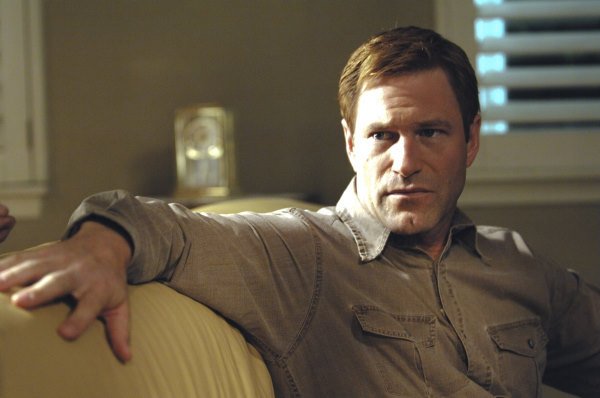 Aaron Eckhart

That said, as a father of two daughters, "Towelhead" did cause this observer to squirm some in his seat. Moreover, when Jasira's father takes her to the drug store to buy her a box of napkins for her menses onset, it becomes nearly tragic as dad shows so cold and disgusted by the necessity of handling a very private but totally normal part of a maturing girl's life.
Getting too much information here is not so much the problem as seeing the antics of a compassionless parent acting more immature than his daughter who innocently stirs him to so much discomfort. I don't feel the tampon scene panders to me, but I can't help wondering that it might be to other categories of moviegoers.
Others in the neighborhood, though, display reasonable sensibilities and finally lend Jasira the genuine familial support she needs. Melina and Gil Hines (Toni Collette, Matt Letscher) are a married couple looking forward to the birth of their first child. The way the couple treats Jasira is in stark contrast to that of her parents, and, needless to say, Travis Vuoso. (It's difficult not to use an expletive in describing the Vuoso character: just what a push-the-buttons movie or novel is designed to do).
Despite a hackneyed finale which I'll spare you, Jasira doesn't succumb so much to the abuse piled on her; at least not yet. She's a strong, moral person, and shows---even at her tender age---not to hold rigid, personality-damaging grudges against her several assailants. We can only hope this young, beautiful person weathers her storm and escapes unscathed into the adulthood she has been so senselessly and abruptly pushed.
--------
Advisory: Content of this film includes bodily functions of genitalia and internal reproductive organs; strong language, sexual and racial; brief scenes implying sexual intercourse and foreplay between an underage female and an underage male; as well as other such brief, implied scenes with an underage female and an adult, non-parental male; and other scenes of parent-to-child verbal and physical abuse, nonsexual in nature. gc

"Towelhead" preview