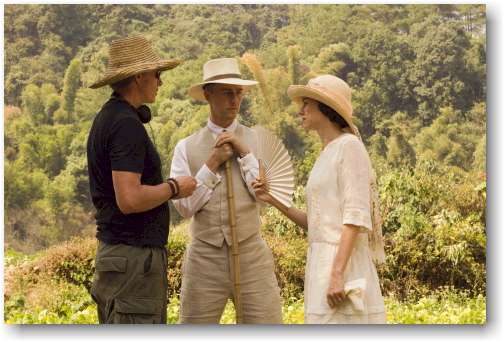 "The Painted Veil"; A Review by Gary Chew


GARY CHEW/Sacramento
1/15/2007

"When love and duty are one...there is grace within."
That is a line spoken by one of my favorite actors of "ancient" television, Diana Rigg, who appears as a Mother Superior in the last third of the film, "The Painted Veil." It takes a long time for this story of 1925 China to get to such profundity, but so it does without one tenuous step along its way from London to Shanghai and beyond.
1934's "The Painted Veil"
"Veil" makes it a trio of films taken from the novel of the same name by W. Somerset Maugham. The first, from 1934, starred none other than Greta Garbo. The second film, with Eleanor Parker, was released in 1957 and titled, "The Seventh Sin."
This 2006 release stars Naomi Watts ("Mulholland Drive") as Kitty Fane and Edward Norton ("American History X") as Walter Fane. He's a microbiologist who studies infectious diseases; and she's his bride: a lovely woman whose very well-off family worries that she's not yet married, even though her younger sister has already taken a husband. The marriage comes quickly for Walter and Kitty. Hardly acquainted, he immediately whisks her off to Shanghai. There, he seeks the causes for the cholera outbreak, unaware of another problem afoot in China: Communism.
Watts is terrific as the self-absorbed, spoiled and privileged Kitty. She doesn't really love the bourgeois Walter. He, however, is smitten with her headstrong beauty and can only believe matrimony will be a bowl of cherries, even in cholera-plagued China. Norton gives an excellent performance as well, with both leads making way, in turn, for the other to put all into the role each plays.
Liev Schreiber is just right as the suave Charlie Townsend, a married British diplomat posted to Shanghai. It's Charlie who Kitty falls for and takes as her lover. When Walter becomes aware of Kitty's infidelity, he coerces her to go with him to a remote Chinese village where the disease is rampant. Both are deeply embittered and caustic about their relationship. It's as though each wishes to hurt themselves as much as the other. So, it's deeper into China with cholera, Communism and a landscape of shimmering beauty.
Naomi Watts
In the village, there's a surprise. Toby Jones awaits the couple. Waddington is his name. After seeing the really fine and undermarketed film, "Infamous," it's difficult to not think of Mr. Jones as Truman Capote, even more so than Philip Seymour Hoffman. Waddington has been posted to the village by the Brits, seemingly, almost, to make his presence in the diplomatic corps more anonymous. Kitty visits Waddington's house one morning in the village and glimpses his lover hiding in the shadows of a room. It's difficult to know the gender of the person, even later on when Walter and Kitty join Waddington and his companion for a bit of alcohol and opium to ease the stress of the disease, death and danger so close at hand.
Peril comes in the form of politics as well for the Fanes. Young Chinese Communists, spotting Kitty on a village street one day, let her know their outrage at seeing her obvious elitist Western appearance.
I've given more of the narrative than I usually allow here, because, as with "Million Dollar Baby," there's so damned much more than this, and only deserves to be seen without an inkling of what it is. Well, maybe just one inkling, if you reread the piece.
"The Painted Veil" is a painful, beautiful and satisfying story with an excellent payoff for the moviegoer. It falls into that less-populated category of: A real movie.
The film is directed by Robert Curran with script by Ron Nyswaner. It was shot in Beijing, Guangxi and Shanghai.


"The Painted Veil" official site.
Now playing at the AMC Southroads 20.
See Yahoo Movies for Tulsa theaters & times.
Gary Chew can be reached at garychew@comcast.net.
Copyright © 2007, Gary Chew. All rights reserved.