More liquor-by-the-wink club cards
Contributed by Jim Back, 4/7/99


The Tulsa media threads on your website have been interesting to me; but when I saw your display of "Liquor By the Wink" cards it brought back long-forgotten memories. Upon seeing them it sent me to the attic to see if I could find any of mine, and sure enough I found several in a box of stuff I had meant to throw away but didn't. Thought you might like to see them.
A couple of notes of clarification:
Interurban -- the same one that had the fire last week
Chianti Club -- that was at the Italian Inn (I had my first dinner date there with the girl who became my wife -- it remained our favorite place to eat until it closed).
Fountains -- still around.
Montana Mining -- gone; was near the movie theater north of 51st & Sheridan (the Park Lane, now also gone)
Tennessee Gin & Cotton Co -- a dance club that was really cool for about 15 minutes
Valhalla -- I don't know how I got this card; I deny ever having been there! (strip club)
See a matchbook cover from another place Jim hasn't been (rated PG-13, thanks to Lewis Meyer)
Jolly Ox Club -- I don't remember what restaurant this club was in; some steak house as I recall
Avalon Supper Club -- legendary; of course it's still around; don't know why the manager signed his/her name across the name of the club.
Enjoy!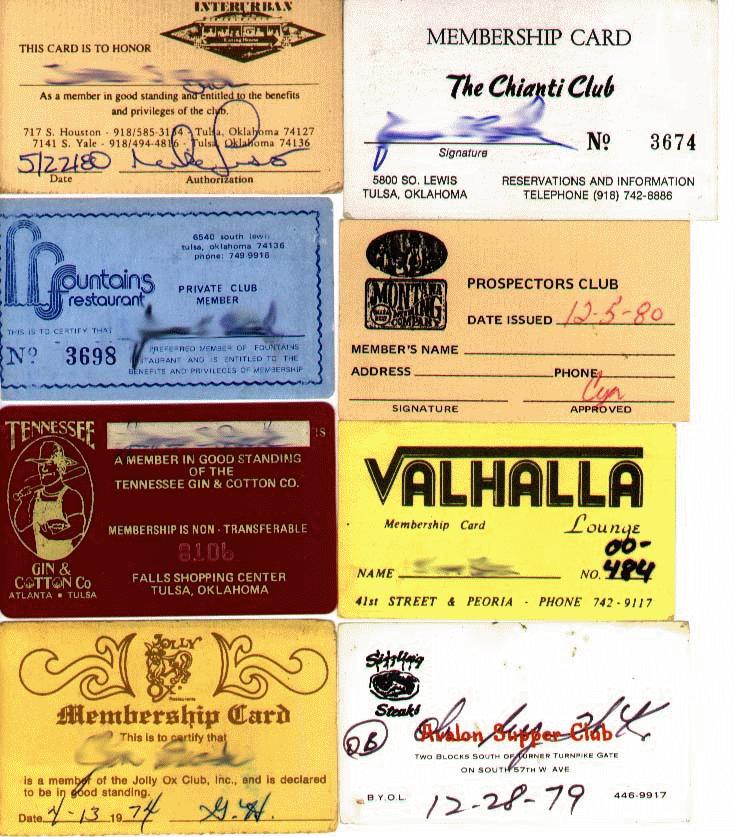 (from Guestbook 113) Here's to our good friend, Jim Back.

Jim Back, 57, of Edmond, passed away Monday, August 26, 2002. He was born March 1, 1945 in Tulsa, OK to Ernest and Neil Back. Jim married his wife, Charlotte, on June 5, 1976. Jim worked at KRMG Radio in Tulsa and at Tulsa Cable before moving to Edmond in 1990. In Edmond he was in the marketing department at Multimedia Cablevision and Cox Communications. The past year he had been pursuing a Master's degree at Oklahoma State University. He is survived by: his wife, Charlotte; sister, Neilia Weatherly of Santa Fe, TX; and many family and friends.

Back to Club cards, page 2 Channel Changer 2 Back to main