Liquor-by-the-wink club cards, page 2
(from Guestbook 168) Frank Morrow said:
The subject of bootleggers brings back a lot of memories for us old guys. (See my previous yarn about making a raid on a bootlegger when I was driving the KRMG Newsmobile.) Although I wasn't a beer drinker, I noticed that the 3.2 didn't prevent people from guzzling the stuff.
It was always amusing to see a guy come to TU from out of state. He would always look down on 3.2 beer, and loudly proclaim that this "watered down stuff" couldn't get anybody drunk. He didn't need to say that again after waking up with a hangover the next day.
The old saying was that the Drys had their law and the Wets had their liquor. All that was needed to buy booze was to have some money and the ability to make a phone call. Shortly, you'd have a knock on your door. Any three-year old could theoretically buy alcohol. I frequently heard that some students helped put themselves through college by bootlegging
There were some places in Oklahoma where you actually could buy whiskey by the drink. In Spavinaw there were bars where you could get almost any kind of mixed drink. But, usually there always was the charade of carrying your booze into a night club, making sure that the brown paper bag or special, booze bottle holder stayed under the table. You would then be served set-ups. Everyone knew what was going on, but everyone played the game. I never heard of anyplace being raided.
I was in the Navy when Oklahoma finally became a wet state. I understand that this occurred when the anti-dry governor decided to change the law by enforcing it. When he dried up the state, the boozers screamed. That did it. After that, Jesus could change water into wine and not be put in jail.

(from Guestbook 12) John Hillis said:
(Johnny Martin's saying) "It's case night, Friday night in the city, and play night," came, I'm told, from the fact that Budweiser sponsored Johnny (3.2 Budweiser, of course, in compliance with the state constitution, which forbade advertising of anything stronger. )
CBS used to send us the list of wine spots running on the net on the TWX, because we had to black 'em out. Pandemonium would break out when one would get by and we'd corrupt Sooner morals by plugging Ernest and Julio, and he was telling everybody to go out and buy a case for Friday nights. Ergo, case night.

(from Guestbook 46) Chuck Fullhart said:
Johnny Martin and Gary Griffith were the night people that were on air on KRMG, and Martin kept us in stitches all night with his off air comment about the management, and his forgetting to cut the net off when the wine commercials ran. Oklahoma was experiencing "liquor by the wink" in those days, and of course, the net spots on wine eventually corrupted the morals of Tulsa.

Constitution of State of Oklahoma. Art. 27, § 5 provides in part:
"It shall be unlawful for any person, firm or corporation to advertise any alcoholic beverages or the sale of same within the State of Oklahoma, except one sign at the retail outlet bearing the words, "Retail Alcoholic Liquor Store," or any combination of such words or any of them and no letter in any such sign shall be more than four (4) inches in height or more than three (3) inches in width, and if more than one (1) line is used the lines shall not be more than one (1) inch apart."
---
The webmaster now continues with memories of his liquor-by-the-wink cards:

The Spudder - It's still there on Sheridan! The decor is early oil field. Bishop's Alley Club was associated with Dale Bishop of Record Alley, I believe.
The Brook - Now a restaurant, formerly a movie theatre, then a venue for the American Theatre Company. You could watch the show with coffee or a Foster's beer, oil can-sized. Home of Joyce Martel (link to group photo and comments from David Bagsby) and Stand-Up Comic Night. The name "Joyce Martel" was taken from a 1958 Perry Mason episode, "The Case of the Deadly Double" (IMDb link).

Joyce Martel (played by Melanie Fry) from the 10/1983 issue of "Tulsa Time", courtesy of Roy Payton.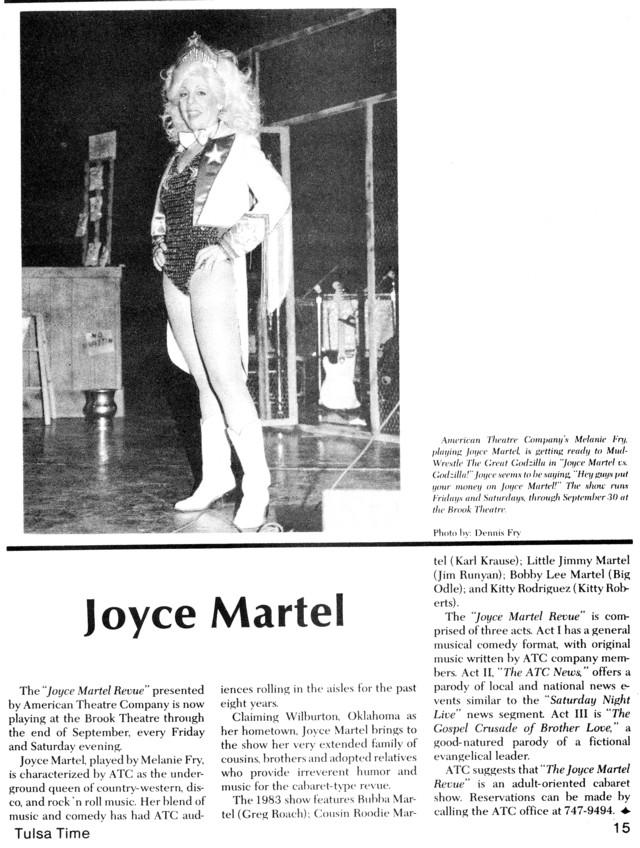 20th Century Electric Company - Out in the industrial district. It had a huge lighted disco floor that pre-dated disco. A DJ played rock and roll records over a good sound system and often a live drummer added his bit from a high platform up front. I remember hearing Eric Clapton's version of "Motherless Children" from the 461 Ocean Boulevard album ...perhaps on June 29, 1974.
Tiki Nook Club - Maybe the readers out there will remember more about this one than I do. A remnant of the Exotica/Tiki culture of the early 60s? (see the Tulsa Tiki page for more).
Duke's Country - At Admiral and 129th, the site of the old Horn Bros. furniture store. Created in the wake of the 1981 movie, "Urban Cowboy". According to an article in the Dec. 1982 issue of "Tulsa Time", when the Appollo-Delman Music Hall went out of business, its sound system moved out to Duke's Country.
KMOD Long Live Rock card (The next four cards are not private club cards) - Issued to help foster solidarity in the anti-disco faction.
Talking Heads at the Cain's - They had just released their third album, "Fear of Music". Great show. The opening act was Randy Ess and the Invisible Band (with my brother Alan on bass).
NBT Weather Teller card - see the Weather page for comments about this.

Garfield's Beer Club - This card is from the mid-80s. It was to be initialed by the manager or waiter each time you downed a different brew. Once you racked up 24, you would be immortalized in a Beer Hall of Fame plaque on the back of a chair at the bar.
At the time, I worked as a line pipe buyer for Whitney Supply, and was frequently taken out to lunch for a "mullet" (free lunch) by the vendors. It surely would have been a feather in my cap for the boss to note that I was an honoree.
Whitney was sold off by Texaco for the value of its assets in August of '87. My bid for greatness (and another free meal) was cut tragically short.
Today, Cowboy Sharkies is at the old 58th & Memorial Garfield's location.

(from GroupBlog 221) Jeff H said:

Vince Orza is chairman of Eateries Inc., a restaurant corporation with three different concepts, including Garfield's, which was the first started in the early 80s. Eateries is based in Edmond, OK.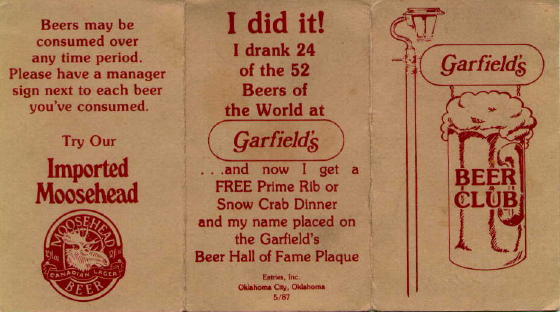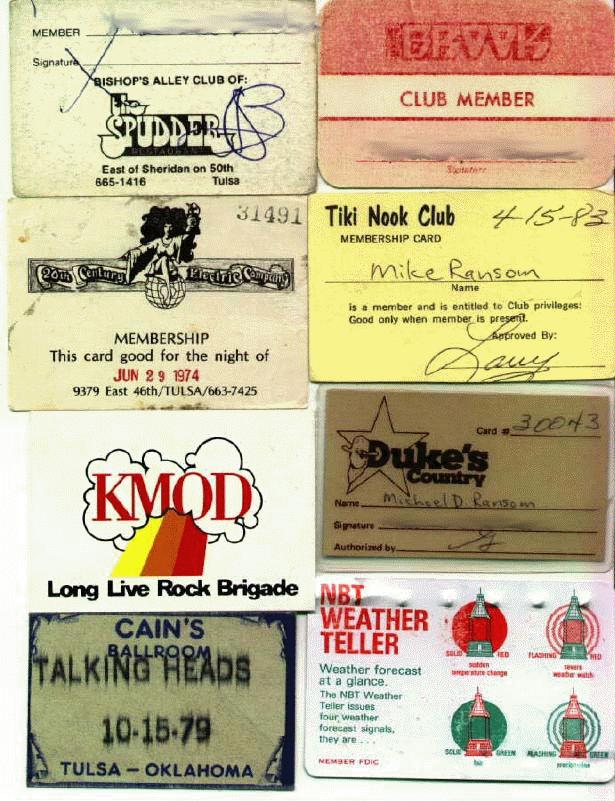 | | |
| --- | --- |
| David Byrne of the Talking Heads at Cain's, 10-15-1979 | Found this photo of a photo of Talking Heads in Tulsa on eBay awhile back. I distorted it into a true perspective. I remember David Byrne wearing the Western-style tie (possibly his conception of how we 'uns dress here in Oklahoma). They had just released their third album, "Fear of Music". |

(via email, 7/2/2008) John Boydston said:
I saw the Talking Heads in Norman at the Boomer Theatre the next night, they were obviously swinging westward, and as an employee of the theatre I was privy to a few backstage goings-on. On this night, the band members, all of them, were absolutely stunned and amazed (and excited) to look out and see a Sold Out house.
Everyone in their seats waiting for the show to start. In the T.Heads' minds, they were making a stop in the middle of nowhere and 'how in the hell could that many people be here to see them in the middle of Oklahoma?'
I was also struck by Byrne's lively no-holds-barred, very animated stage act. He didn't appear to be shy in the slightest, but after the show during a dressing room interview, the guy could barely string two sentences together, he seemed so nervous. The contrast between his persona onstage and off was striking.
I don't remember that many Sold Out Shows at the Boomer during this era, even tho' they brought in a lot of great breaking acts of the day. XTC for example, about a year later, a band that probably hasn't done a live show since that year. The Police sold out 2 shows one night in '79, but cancelled last minute. The Specials were opening - the theatre refunded all tickets and opened the doors for a free performance by The Specials.
What a great venue that was for the time. I heard it's been turned into a book depository or something these days.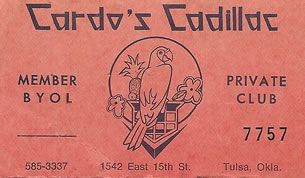 (via email, 8/6/2009) Paul Lazzaro said:
I couldn't help but notice there is no Cardo's card on your liquor-by-the-wink pages. A co-worker of mine sent me the attached card.

(from GroupBlog 221) Wilhelm Murg said:
I was glad to see someone mention Professor Glenn Godsey at TU. I doubt that anyone ever put it together, but Godsey's influence accounts for the abundance of parrot art work that was really big in the 1980s in Tulsa (remember Cardo's Cadillac?) and I'm still seeing a few around town.

(from GroupBlog 191) Steve Bagsby said:
It was rough hearing about Gatemouth Brown passing on. My brother and I wore out a tape of him we got off "Austin City Limits". He had all kinds of neat tricks in his bag (guitar and fiddle licks). Went to Sound Warehouse after that show and bought one of his records. I wore that record out along with a turntable in the process. One night I was driving home from work at Boston Ave. Market, and I pulled into the Git-N-Go next to Cardo's on 15th st. Well, there was Gatemouth getting supplies for the ride home. He was a nice guy and will be missed.

Club cards pg 3 from Jim Back Back to club cards, page 1
Channel Changer 2 Back to main