Tulsa TV Memories GroupBlog 220

TTM main | What's new on TTM? | GB Archive




September 11 2006 at 00:02:40
Name: Mike Bruchas
Topic: Reading Elmore Leonard
Comments: I was in a Borders and picked up Elmore Leonard's 2005 book, The Hot Kid - did not realize that it was set in Tulsey/Okmulgee/KC of the 20s/30s. The Mayo gets a lot of mentions, ditto Nelson's. But Leonard makes a couple of mistakes - like folks using a bullhorn back when flashlight batteries were high tech!

---

September 10 2006 at 00:48:47
Name: Christopher Pletcher
Topic: Airmen of Note (USAF JazzBand)
Email: gadgetman@songtailor.com
Comments: I think I have the link you are looking for. The Airmen of Note are the main jazz band for the Air Force. An incredible group to say the least.
http://www.rewindplay.com/airmenofnote/sounds/sounds.htm
Yes, you can listen to approx. 35 complete recordings spanning over 45 years. You can download CD quality for a donation.

---

September 09 2006 at 23:10:19
Name: Mike Bruchas
Topic: Vic Bastien + Help!
Comments: To me - Tulsa's most recognized radio voices of my formative years there were Vic Bastien, Dick Schmitz, Jay Jones, Joe Henderson. Okay, Billy Parker, Johnny Martin & John Erling as DJ voices, too.
Help - I am told that there is a MP3 site out there for the USAF Jazz Band with a special musical section of like 30 years of recordings or about 150 jazz number performances. This was the band Glenn Miller started. Talking to friends at VA Tech about Stan Kenton - is how I first heard of it. You can listen for free (a cut at a time) or for a $20 donation - download this collection to your PC or iPod. Only VIPs and members of Congress can get CDs. There are a bazillion USAF sites I have found. Anyone know about this?

---

September 09 2006 at 15:02:06
Name: Scott Blaker
Topic: Vic Bastien
Email: blaker@cox.net
Comments: I had the pleasure of working with Vic a number of times over many years. He was a throwback to a more genteel era. He was always prepared, personable, unfailingly polite and considerate. He did his job, and was gracious enough to assume that you'd do yours without his oversight. He had a wonderful voice, great delivery, and an ego about the size of a gnat. He was a consummate professional. And he'll be missed.
Vic was honored as a Tulsa Radio Icon by the Tulsa Press Club in 2004. He was part of a talented group at KRMG in the 60s and 70s. He was also an announcer for the annual free Starlight concerts that have been held since the 1950s. Here's the 1983 program. That year, Steve Wilkerson and his wife Andrea Baker (mentioned earlier in this GB) were headliners. Jack Moore of KVOO-AM (who passed away in 2003) ran the sound. Ken Downing was missed. The late John Rigney was there, too.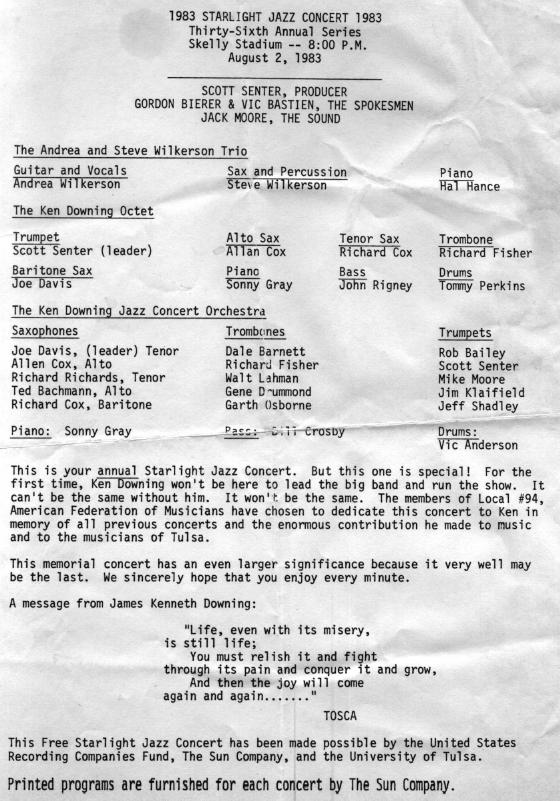 ---

September 09 2006 at 12:35:13
Name: David Batterson
Topic: Auden's words
Email: davidbat(at)yahoo(dot)com
Comments: I found it via Google:
"By mourning tongues
The death of the poet was kept from his poems"

---

September 09 2006 at 06:08:02
Name: Lloyd
Topic: Vic Bastien
Comments: So sad to open the Tulsa newspaper this Saturday morn, and learn of the death yesterday of Vic Bastien.
A veteran of KTUL in the 50s, then KOME and KRMG, then had his own ad agency.
Never had the pleasure of knowing the man, but he had a fine set of pipes.
Can't find my collected Auden at the moment, but Auden's words, more or less, about the death of Yeats, seem apropos: "The news of his death was kept from his poems."
Would that it were, the news of Vic's death could be kept from his voice.>
Vic Bastien, whose rich, instantly identifiable voice was broadcast over Tulsa airwaves for more than 40 years, died Friday. He was 76. No services are planned.

Bastien was born June 12, 1930, in Long Beach, Calif., to Fay and Con Bastien. He graduated from Eagle Rock High School in Eagle Rock, Calif., in 1948, and served in the Army for four years during the 1950s.

Bastien married Lois Davis on Nov. 24, 1963.

In the late 1950s, Bastien became director of a new television news station in Tulsa, KTUL. He later worked for radio station KOME and then moved to radio station KRMG in 1963.

At KRMG, Bastien began as a newsman, became the news director and eventually went into sales.

In 1983, he left the station and started an advertising agency, Bastien Advertising.

Bastien was known for his voice, said his wife, Lois Bastien.

"People recognized it," she said. "We'd be out somewhere, and they'd hear him speak, and they'd say, 'I know that voice!' "

He did voiceovers for local business commercials and since the 1970s was known as "the Voice of Miss Jackson's." He also did work for Saied Music and many other Tulsa businesses.

Bastien also was an announcer for the Starlight Band concert series, and its predecessors, for 50 years.

"Since I wasn't a good enough musician to play -- I'd been a drummer in high school, and I'd loved jazz since I was a kid -- I thought I'd get involved by announcing," Bastien told the Tulsa World in 2003.

Those early concerts eventually evolved into the Starlight Band jazz concerts, and in 1980, Bastien became master of ceremonies for the regular Starlight Band concerts, as well.

Bastien was a member of the Executives of Tulsa and a member and past president of the Tulsa Press Club.

He is survived by his wife, Lois Bastien; a daughter, Andrea Hibbard of Tulsa; a brother, Brian Bastien of Studio City, Calif.; and one granddaughter.
---

September 08 2006 at 12:16:51
Name: Webmaster
Topic: Trek pix/weekend events

Comments: My 1967 and 1992 photos were included in Wired News' Star Trek 40th Anniversary Gallery today.
The 9th Annual Tulsa Overground Film and Music Festival is on this weekend, Sept 8-10. 80 short films, 15 bands, plus free beer for 21+. At the Tulsa Performing Arts Center, Cain's Ballroom and one night at the Admiral Twin!
"Who Killed the Electric Car?" is playing at the Circle Cinema 9/8-14 (extended run).
Both noted on the Bulletin Board.
If you happen to be in Hollywood this weekend, see the World 3D Film Expo at the Egyptian Theater, Sept 8-13. The 1969 X-rated 3D movie "The Stewardesses" (oft-mentioned on this site) is showing. The trailer is work-safe, unless you have the volume high enough to broadcast some brief off-camera huffing and puffing. It's pretty silly.

---

September 08 2006 at 12:05:59
Name: Dana LeMoine
Topic: Addams Family Trivia
Email: d4wdw at valornet.com
Comments: Here's some interesting trivia about a few of the actors from "The Addams Family".
Jackie Coogan [Uncle Fester] was once married to Betty Grable.
Carolyn Jones [Morticia Addams] was once married to Aaron Spelling.
Blossom Rock [Grandmama] was the older sister of Jeanette MacDonald.
I found this information, and more at: FindADeath.com.

---

September 07 2006 at 19:31:02
Name: Gary Chew
Topic: Bob Dylan
Comments: This'ud be a word er two 'bout Mr. Zimmerman.
Has anyone caught his act on XM Satellite Radio yet?
He's on regularly Wednesdays and Thursdays. They re-run his program, "Theme Time Radio Hour," at hit and miss times on other channels, too, I think.
Only Bob Dylan could name his show "Theme Time Radio Hour," and get away with it and be really cool doin' it, eh?
I heard his promo for this week's show. It's an hour of tunes all related to the Bible. Hallelujah! Do I hear an amen, bros?
Delmeaux de Gillette du Coffeyville

---

September 07 2006 at 11:05:16
Name: David Batterson
Topic: Dylan
Email: davidbat(at)yahoo(dot)com
Comments: RE: "Van Ronk was a mentor to Oklahoma's Tom Paxton and some other guy originally named Zimmerman now known as Bob Dylan."
The times they are a-changin'? For those who happened to miss this little item:
LOS ANGELES, California (Reuters) -- Bob Dylan reached the top of the U.S. pop albums chart for the first time in 30 years on Wednesday, becoming the oldest living person to launch a new disc at No. 1.
The 65-year-old rock poet's latest album, "Modern Times," sold 192,000 copies in the week ended September 3, his best sales week since tracking firm Nielsen SoundScan started using its point-of-sales data to collate the charts in 1991.

---

September 06 2006 at 14:50:58
Name: Lloyd
Topic: Dave Van Ronk
Comments: One of the foundation stones of the Great Folk Revival.
Living in New York City back in the 80s, I was lucky enough to be a co-producer of the New York Folk Festival for several years. Such a pleasure to produce Dave in concert: wizard musician, gruff, gracious, gentle, funny. Can't recall the name of the tune, but he did a song composed entirely of names of New Jersey towns: "Pis-ca-taa-way." To die for. And always very kind to young musicians who would ask some of the dumbest questions you ever heard.
How sad to know I'll never run into him again in the streets of Greenwich Village. I raise a glass to you, old friend.

---

September 06 2006 at 10:42:22
Name: Joe
Topic: more Star Trek stuff...
Comments: With this Friday 9/8 being the 40th anniversary of the debut of Star Trek on NBC, TVLAND is playing 4 episodes in the evening to commemorate the event...7:00 p.m. Central.
Beam me up...I'm there.

---

September 04 2006 at 21:21:21
Name: Mike Late Night Bruchas
Topic: Dave Van Ronk
Comments: I always remember crime author Lawrence Block talking about his music in his "Matt Scudder" mystery series, but had never heard Van Ronk till today.
The Smithsonian National Museum of American History in DC is closing to re-model for 2-4 years, and this was one of the many folk CDs on sale. The guy was an interesting guitar player too. Van Ronk was a mentor to Oklahoma's Tom Paxton and some other guy originally named Zimmerman now known as Bob Dylan.
He was also a frequent guest on "A Prairie Home Companion", and very much a part of the coffee house scene in the 60s.
---

September 02 2006 at 23:32:39
Name:

Mike Bruchas
Topic: Ben Aronov CD
Comments: I love this CD - as plugged here on TTM. He recorded all in '97, I think, and it was released earlier this year but man - what a piano stylist. Y'all need to listen to this Tulsa native's stuff!
Thank you, Brother Ruddle, for clueing us in!!
Here's a photo of Ben playing in France last year.
---

September 02 2006 at 18:00:01
Name: Don Lundy
Topic: Downtown Coney Island
Email: don_lundy@rtv6.com
Comments: The Downtown Coney Island to be taken down by a wrecking ball? Say it ain't so. Tell me they're relocating.

---

September 01 2006 at 23:35:08
Name: Webmaster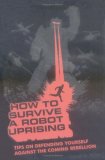 Topic: Star Trek 40th anniversary/Surviving a robot uprising
Comments: I put a couple of my own photos from 1967 and 1992 in the hopper for Wired News' Star Trek 40th anniversary feature, coming up Friday.
Dr. Daniel H. Wilson, a 27-year-old Tulsa native, has written a book, How To Survive a Robot Uprising: Tips on Defending Yourself Against the Coming Rebellion. Paramount optioned it, and Mike "Austin Powers" Myers is to be the star. Here is the Doctor's blog.

---

September 01 2006 at 19:35:26
Name: Mike Bruchas
Topic: Record Stores - "back then"
Comments: Darn - I forgot that way way back when many record stores had little boothes that one would go into - to "audition" a record before buying one.
My hometown record dealer had 2 in Downers Grove, IL and Rose Records the biggest store in downtown Chicago had many. When the late EJ Korvette discount chain opened in the Chicago area in the 60's, a clerk would play a song on a console by the cash register for folks if they requested it.
Later, another hometown dealer of hobby stuff became a Columbia HiFi dealer with carrels of records. He just gave up on boothes for lack of space but slathered all the radio Top 30 lists in his store. Tape cassettes were coming in, too, and no one was sure if cassettes would totally replace vinyl or not. Then 8 track reared it's head!
15-20 years later even at Honest John's/StarShip in Tulsa - if we had an open album on vinyl - we would play it for a customer if available. HJ often got demo copies to "push" in-store or give to Tulsey stations.
Now every big box store and Borders has the CD "audition" stations of selected artists.
Maybe folks were more honest or responsible when "listening" to new 45s before buying them back in the 50s/60s? Albums on 33 weren't shrink-wrapped then either...ah, cultural changes!

---

September 01 2006 at 19:15:05
Name: Mike Bruchas
Topic: colored vinyl 45's
Comments: For a while in the 50s, we had kids' records on red vinyl but someone - I seem to recall - had short classical pieces - on green vinyl. Never knew if a coincidence or just "that run" of certain records.
My late Dad was convinced about 8 years ago to give away all of his 45s, our very old 78s and mono 33 1/3s to a "collector" who had been written up in a Chicago newspaper along with the 1954 vintage WebCor HiFi table top player. I think he paid Dad $35 for all. Dad had paid like $200 for the Webcor when new - but forgot.
I was mad that I hadn't been home to cherry-pick out the 78s - though several were stuff we found behind a wall when remodeling the house in 1963. Like Madame Schumann-Heink, ethnic comedy records, and classical stuff that a previous house owner had hidden behind a wall! All of my Gene Autry, Burl Ives and kids songs 45s went too.
That Webcor had something like a 10-watt amp and could blare! We also had a "Telefunken" HiFi console that he re-gifted later - a neighbor had brought it back from Germany and an Army PX in the early 60s. Her husband came back and later died - his widow had given it to us. It actually had a tape input jack but we never used the record player but the FM was wonderful. Even had the old police band but it never worked. But to Dad - after a while - it was "in his way"...both good 50s/60s HiFi gear that I miss.

---

September 01 2006 at 18:52:53
Name: Wade
Topic: first 45rpm?
Comments: I believe it may have been "Bouquet of Roses" by Eddy Arnold. When RCA Victor first came out with 45s, they were originally issued on colored vinyl. The country/hillbilly/folk outings were on a sort of teal green vinyl, classical was on red, pop was on yellow, r&b was on orange, and religious were on blue.
I've seen (and owned) all of the different vinyls above except for the yellow pop releases.

---

September 01 2006 at 17:17:13
Name: Dave
Topic: where's lunch?
Comments: An article in today's Tulsa World tells us that the Coney Island restaurant may be in line for the wrecking ball because of the Westin Hotel proposal. That's one thing to ponder over your chili dog.
On a related note, what's up with the Metro Diner? Isn't the clock about to run down for them?

---

September 01 2006 at 14:28:00
Name: Mike Bruchas
Topic: Slide Hampton
Comments: Long time Maynard buddy, left-handed trombonist Slide Hampton, is doing a free concert with the USAF Airmen of Note band at GWU here in DC tonight. I won't be able to attend due to work. Hampton also was a Stan Kenton bandsman.

---

September 01 2006 at 11:10:34
Name: Webmaster
Topic: Local TV Horror Host/Daddy A Go Go
Comments: David Bagsby is now a player on "The Basement Sublet of Horror", a local, late-night horror movie show in Lawrence, KS. Read "Corn on the macabre" in the Lawrence Journal-World.
The latest Daddy a Go Go CD (with a Gailard Sartain-painted cover) made Amazon.com's Best Children's Music of 2006...So Far list.

---

September 01 2006 at 02:04:47
Name: Mike Late Night Bruchas


Topic: Ben Aronov
Comments: That darned iTunes music store has a Jan. 2006 release CD for him, I think it is "The Best Thing for Me"...I intend to get a copy.
"The Best Thing for Me" is also on CD at Amazon, apparently a 1998 original release. He backs Tommy Newsom from the Doc Severinson-era Tonight Show band on "The Feeling of Jazz".

To reiterate, Mr. Aronov played the Club Orchid near the site of the future Rose Bowl in the late 50s. He has played with jazz notables Lee Konitz, Warren Vache and Paul Bley, to name a few.
---

September 01 2006 at 00:01:54
Name: Frank Morrow
Topic: Aronov
Email: frankmor@io.com
Comments: Benny Aronov was graduated in the Central class of '50.

---

August 31 2006 at 22:16:28
Name: Scott Linder
Topic: Steve and Andrea
Comments: Saxophonist and Kenton alum Steve Wilkerson has been a Music Professor at Mount San Antonio College located in Walnut, Califonia (near LA) for a good number of years now. He and his wife, vocalist Andrea Baker, are still very active in the Southern California jazz scene. The college has an excellent instumental/vocal jazz program to which Steve has made a great contribution.

---

August 31 2006 at 21:22:08
Name: John Hillis
Topic: Dusty Discs
Comments:
I'm taking a college class by net this fall, and re-learning good study habits has cut down my surfing around here. But I joyously noted Sir Delmeaux's (like the Cajun whose dog was named Fideaux) remarks about 45 RPM EPs.
RCA Victor (which introduced the 7" 45) and Columbia (which embraced the 12" 33 1/3 LP) had an Apple-Microsoft thing going on in the 50's and there were all kinds of permutations, like EPs (extended play discs), even extra-long 16 RPM albums (low-fi).
But the 45 single and the LP prevailed. Interestingly, I remember buying 45's for 99 cents back in 1961--same price as iTunes today.
But what was RCA's first release on a 45? A console stereo phono from John F. Lawhon for the winner.

---

August 31 2006 at 17:08:31
Name: Susie Blackketter
Topic: Water Park Safari by McDonalds
Email: susanwestfall@cox.net
Comments: I lived at 2nd and Memorial. I remember when they put in that water park. We would walk over there with several of us from the old neighborhood. I miss those days. I remember Admiral Blvd. when there were houses on the north side of Admiral, which is now Captain D's and Blockbuster.
When I was young before they put in HWY. 244 my dad had a old VW bug that he made into a dune buggy and he would take us riding around where 244 is now.
My grandmother worked at a really good hamburger joint that was called Bert's. I believe that was located where now a pawn shop is. They had the best burgers around.
Our dad had a VW convertible, too, and we went dirtsurfing in the 244 area (here's a photo in GB 216.)
---

August 31 2006 at 16:56:38
Name: Mike Bruchas
Topic: on-line MTV
Comments: This was posted in our staff Business Info report at the Nat Geo:
"MTV Overdrive," a free video website featuring music videos, news and MTV's hit programming, attracts fewer than four million unique visitors a month, a small fraction of MTV's 82 million monthly U.S. television viewers. MTV's websites are also being beat by rivals such as MySpace, the new home of the MTV generation. MySpace gets nearly 55 million unique visitors in the U.S. a month. YouTube, a fast-growing video website, draws 16 million.
"If you could argue that they had a lock on the youth market, that lock has now been released to YouTube and other sites," says Dan Nova of Highland Capital Partners.
So that means nerdy kids don't watch MTV???
I would love to have launched a Zeb TV site - had we had the technology then.

---

August 31 2006 at 08:26:36
Name: Jim Ruddle
Topic: Ferguson add
Email: Jruddle[at]earthlink[dot]net
Comments: The Maynard Ferguson thread reminded me of a couple of things.
In 1954, in Hawaii, we were listening to a Ferguson number on an LP. Admitted to the group that night was a remarkable fellow from Seattle, a sailor, marine architect, and boatbuilder named Ernie Simmerer. Ernie had built and sailed a wooden boat to Honolulu from Seattle with his wife and two small children, one a nine-month old infant. He was about as uncomplicated a man as I have ever met and, because he was a guest at the party, found a pair of shoes which he wore, probably the first time he had put them on in several years.
At the conclusion of the Ferguson piece, he was asked his reaction.
"Well," he said. "He plays high."
Also, June Christy is mentioned as part of the early Kenton entourage. After she left Kenton, she worked as a single and her piano accompanist was a Tulsa Central product named Benny Aronov.
Benny was a jazz prodigy and went on to play with Benny Goodman's last group, made records with people like Lee Konitz and others, and put out an album "Introducing Ben Aronov" which is still available on Amazon.
Now living in Dobbs Ferry, NY, and having become Ben, not Benny in his later years, he spent more than a decade in the pit orchestra for "Cats," about as regular a gig as a musician could get.
Reviewers frequently listed him as a Russian pianist, and for all I know he may have been born there, but he did attend Central and did play in the DAZE there in the 'forties.
It was previously noted that Mr. Aronov played the Club Orchid near the future Rose Bowl site. Lee Woodward had a story about it from his early days in Tulsa.
---

August 30 2006 at 22:25:54
Name: George Tomek
Email: mranchor@cox.net
Comments: Two other notable Maynard Ferguson albums worth looking for are LP's "Around The Horn With Maynard Ferguson" and "Dimensions." Both are on the "EmArcy" label. That's "Mercury" spelled backwards. "Dimensions" contains a few old standards like "Thou Swell", "The Way You Look Tonight" and "Somewhere Over The Rainbow."
Gary Chew mentioned Stan Kenton who really started this kind of big band jazz at the close of WW2 or so. I was fortunate enough to see Kenton with his then-band in 1961 at Ravinia in Chicago. Condoli, Pepper, Christy, Connor and many others, including Sir Maynard, got their start with Kenton. What a loss. Let's hope the digital gang is busy finding and remastering a lot of this jazz we're talking about.
Some of the "Dimensions" material is on Verve Jazz Masters 52.

I should mention another Tulsa Kenton connection. Steve Wilkerson, a top jazz saxophone player today, was born in Iola, KS, and grew up in Bartlesville. When he was 10 years old, he heard Stan Kenton's band play a concert in Tulsa. He attended TU on a music scholarship. In the 70s, he was lead alto sax and soloist for the Kenton Orchestra. His wife, jazz singer and Oklahoman Andrea Baker, was also a Kenton alum. More about them in GB 90.
---

August 29 2006 at 16:55:37
Name: Gary Chew
Topic: Kenton/Ferguson
Comments: Another reflection on Stan and Maynard.
If you want to hear Maynard in full form, check out the old Capitol release titled, "Kenton Presents." It has six tracks on the old 45 RPM EP discs (yes, I've got copies that old). Each track that has a soloist has as its title the name of that performer. The soloist tracks are: "Maynard Ferguson," June Christy," Art Pepper" and "Shelly Manne." The two non-soloist items are "House of Brass" and House of Strings.
It's all pretty far out stuff; sort in the baliwick of Third Stream, a la Gunther Schuller, but still very jazzy.
The Maynard piece was composed and arranged by flugelman, Shorty Rogers. It's the most engrossing, for me...and Mr. Maynard is ionospheric.
My second favorite track from "Kenton Presents" is "Art Pepper." Wow, what an alto! I got to see Pepper play at the Wichita Jazz Festival that was held two weeks before Art died. He looked really gaunt, but played his butt off.
Delmeaux de Gillette du Coffeyville

---

August 29 2006 at 13:36:48
Name: Wade
Topic: Stan Kenton & Greenwood Jazz Festival
Comments: 1. My parents got to see Stan Kenton and his Orchestra in the ballroom that was located in the Mayo Hotel (was that the Crystal Ballroom?) back in the late 1960s or early 1970s. Can anyone narrow down the date, or dates, they may have played there?
2. One of the Tulsa events I truly miss nowadays is the jazz festival that was held down in the Greenwood district from the mid-1980s to the late 1990s or so. I got to see people I'd only dream of being able to see in my lifetime, like Cab Calloway, Lionel Hampton, Dave Brubeck, Herbie Hancock, etc. I have to say, however, that the last few years of the festival's existance strayed quite a ways away from jazz...Jerry Lee Lewis and Little Richard were two later headliners. But still, overall, it was a fun event to attend, the food served inside the A.M.E. church was well worth the drive itself, and the chance to intermingle with the same people you knew only from attending the festival, year after year, sitting in the same area down in front by the stage, is something I truly miss nowadays.

---

August 28 2006 at 22:41:01
Name: Jim Reid
Topic: Brady Theater
Email: jimreid56 at aol dot com
Comments: When I was a kid, my parents took me to a play at the Municipal Theater. It was "I Do, I Do" with Phil Ford and Mimi Hines. The play was way over my head, but I do remember a great ad-lib.
There's a point where Hines yells at Ford, "What's that?" Just then, a passing train blew its whistle. Ford said, "I think it's the 9 o'clock to Wichita!" He got a very big laugh.

---

August 28 2006 at 21:41:29
Name: Scott Linder
Email: Hollywoodland
Comments: I think my favorite Kenton album may have been "Adventures in Jazz" which is still available on Blue Note. I especially liked a Dee Barton tune called "Waltz of the Prophets". Dee, as I recall was a graduate of the North Texas State College jazz program.
Another North Texas State alum: Lee Woodward.
---

August 28 2006 at 21:15:32
Name: Christopher Pletcher
Topic: Stan Kenton/Maynard Ferguson
Email: gadgetman@songtailor.com
Comments: I grew up listening to my dad's old Stan Kenton 78s and then my brother's Maynard Ferguson albums. It wasn't until I got to college at East Central University that I really had a chance to really appreciate them.
I went with some friends to a MF concert in OKC back in 1984. He was totally awesome. He was the same age as my mom, and the man just screamed. I had the chance to meet him and his band after the show. It was a chance I will never forget.
Two years later, a former Stan Kenton alum/L.A. studio musician ....Jay Daversa was Artist In Residence at ECU. I learned more about jazz improv that year than I ever could expect. Jay was full of stories about the Kenton band and his years in the studios. Truly a music history lesson.
He soloed with the ECU Jazz Band that year when we played at the OMEA Convention. He did a couple of his old Kenton pieces that he had.
I miss that style of music...here in SE Oklahoma we don't have a station that plays Big Band and I really do miss it.
Maynard and his SuperBone will be missed. A True Legend.

---

August 28 2006 at 19:57:45
Name: Mike Bruchas
Topic: Cimarron Ballroom
Comments: What sits on the Cimarron site now?
Re The Old Lady of Brady - I remember when the TSO cut deals with the Midland Valley RR to not honk airhorns all night on performance nights. That only worked a few times when I had season tickets.

---

August 28 2006 at 15:50:23
Name: Gary Chew
Topic: Kenton's Theme Song Origins
Comments: To Progessive Jazz Fans of the mid to late 50's:
The melody line I speak of in the earlier posting about where Stan-The-Man sort of borrowed from for the main part of his "Artistry in Rhythm" comes from Maurice Ravel's "Daphnis et Chloe" Ballet Suite #2.
The only difference in the sequence of notes that are recognizable is that, usually, when Ravel harmonizes them, they're in a major key. If my ear-memory serves me now, it seems that Kenton uses the sequence of notes harmonized in a minor key.
But the melodies are very much alike. Ravel seats the line in an overarching , pastoral cushion, whereas, Stan's is chugging across the chart in an exciting and at, of course, a very jazzy clip with an obbligato of trumpet stabs on top, a la Maynard.
Delmeaux de Gillette du Coffeyville

---

August 27 2006 at 23:38:42
Name: Lowell Burch
Topic: Dinner for a Pack of Hungry Cannibals
Comments: Uncle Zeb, Mr. Zing, Cartoon Carnival, and all of the other early kiddie shows relied heavily on the old classic cartoons. Consequently, I have to mention this strange and interesting site about Raymond Scott: RaymondScott.com.
Even though he never wrote any music for cartoons, his tune "Powerhouse" was played everytime a sequence with machinery or a mechanical assembly line was introduced.
Raymond Scott was a pioneer in electronic music, too. You can hear his work on the new Tic-Tac commercials where the girl juggles the mints on her tongue.
Of course, our own David Bagsby has produced a Raymond Scott tribute: Happy Hour for a Pack of Screaming Monkeys, including "Powerhouse", which you can hear on MP3 at David's site.

Along the same line, Jean-Jacques Perrey will perform live in San Francisco Tuesday evening. He was part of the Kingsley & Perrey duo who did the electronic music used on Mr. Zing and Uncle Zeb back in the 60s.
---

August 27 2006 at 23:33:02
Name: Gary Chew
Topic: Kenton At The Old Lady Of Brady
Location: Just SW of the Donner Party Family Grill
Comments: Hey, Bill!
I was somewhere else in the audience with you and your friends that night in Tulsa. I remember June Christy having a pretty bad cold that evening which affected her singing some. I think one of the 4 Freshmen made some sort of joke about it to bring the audience up to speed on her malaise. But it was a real night to remember, yes?
I think it was about a week later, when that Kenton troupe was at Purdue on the same tour they took the recording that was used for the Capitol double LP release (June Christy still had the cold at Purdue, according to the note near the bottom of this Yahoo shopping site...webmaster). I still have my copies gathering dust in a closet I'm now refusing, these days, to open.
Another bit of Kenton trivia is something that I discovered as I've been playing so much classical music on the air for so many years: his theme "Artistry in Rhythm," which he composed, has a melodic lick throughout it that sounds like something he "borrowed" from Maurice Ravel, the great early 20th century French composer. It seems I've read somewhere that Kenton once met Ravel or was a big fan of his music, but I can't lay my hands on that bit of information today.
Now, I'm having trouble remembering which Ravel piece contains the melodic strain I speak of. It's either from his "Mother Goose Suite" or his "Daphnis et Chloe" ballet. I'll listen tomorrow, and update my memory for sure on this.
I'm familiar with June Christy's great work with Pete Rugolo around that time on "Something Cool".

Rugolo was a Kenton arranger before his prolific TV career, working on such shows as "The Fugitive" and "Run For Your Life".
---

August 27 2006 at 16:14:43
Name: Bill Thrash
Topic: Stan Kenton
Email: bthrash@cox.net
Comments: In 1959, five of us jazzbos from East Central University traveled from Ada to The Brady Theatre in Tulsa, a pretty good trip in those days, to see The Road Show featuring the Stan Kenton Orchestra, June Christy and The Four Freshmen. It was a memorable evening with all of these performers at the top of their game.
Capitol records released a double LP of that tour and you can now find it on a single CD.
Kenton, like Maynard appeared in our state many many times. I am reminded of when Kenton played a dance at the Oklahoma City Golf & Country Club in the '70's it was later that night when he was mugged at a motel and hit on the head. This was a few years before he died, but he never was the same after that injury.

---

August 27 2006 at 10:26:16
Name: Webmaster
Topic: Previous GroupBlog
Comments: Archived GroupBlog 219. In it, you will find:
The beginning of a thread about jazz trumpeter Maynard Ferguson and bandleader Stan Kenton. The former passed away recently. Some of their Tulsa connections were noted. Syndicated TV host Mike Douglas also passed away. He was seen on KOTV in the 60s/70s. His start in OKC was remembered.
This was the "YouTube GroupBlog": we saw Ferguson playing "'Round Midnight" 'round 1960, two classic Popeil/Ronco commercials, and an early Gary Shore promo. The webmaster's second cousin, author Lane Smith, was seen interviewed by Harry Smith (no relation - ha, ha) on CBS' site.
George Tomek told us where to see a short version of the movie, "Tube Poker". He played an anchorman in this edgy 2004 U.K. indie film.
John Chick's granddaughter checked in. The Meadow Gold sign will be back better than ever with a working clock.

---
Back to Tulsa TV Memories main page