Total 8 Tulsa 10 o'clock News
for Friday, June 15, 1978








5/9/2002: Sonny Hollingshead supplied the following commentary and this 3.63 meg MP3 audio file (6/15/2008: Or, as it is called today, a podcast). Yes, it's the entire newscast!

To download the file to your computer, right-click on the link and select Save Target As...

Peter D. Abrams sent the KTUL slides awhile back; they now have the perfect home on this page. High studio shot by Mike Bruchas. Screen captures by Jim Reid.

After you download the file, sit back and read while you listen.



Sonny: In mid-1978 KTUL recorded all newscasts on audio cassette. I grabbed a couple of these as they were being thrown out. The following is an audio recording of Total 8 Tulsa 10 o'clock news for Friday, June 15, 1978.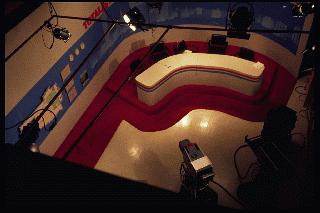 This recording was made directly from the audio console without compression, so it may sound a bit attenuated or accentuated at times. A few years ago my son Robert had the idea to transfer this particular show to compact disk.
Please note the hollow sound you'll hear at times. Such were the acoustics of KTUL's Studio B. The studio with the news set was shaped much like a parabola. There were no baffles or other sound deadening material installed in the studio at that time. Some was installed with the next news set in the '80s.

Notes on what you'll hear: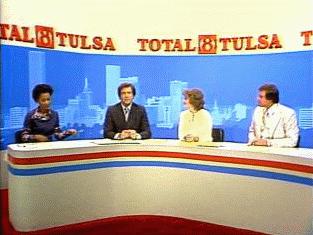 The famous ID "Channel 8...Number One…And You're Part of It!", as only Cy Tuma could read it. Cy recorded these IDs and news commercial billboards and any news commercial "tags" each day for the evening's newscast.
The newscast open followed. It featured the sound of a camera shutter as each anchor's picture was revealed with a picture of Tulsa below the anchor's pictures. It was produced by Carl Bartholemew. Cy Tuma supplied the voice.
The anchors for the evening were Bob Hower, Phyllis Watson (Barbara Allen was off that night), Don Woods and Chris Lincoln. A personal note here…Phyllis and I both started employment at KTUL on January 16, 1977.
The first report was a famous turnpike shuttle (see earlier posts) report from Linda Cavanaugh of Channel 4 in Oklahoma City on 2" tape. This was followed by a pre-recorded audio track tease with teletype background. These were recorded before each newscast and played back on audio cart. Cy Tuma voiced the commercial billboards before the first break.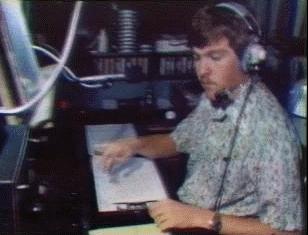 Sonny Hollingshead at the controls

Break 1 included a Gray's Jewelers commercial with a guy pondering a purchase of either jewelry or a CB radio for his wife. Only during the 70s! The second commercial was for Phoenix Federal Savings & Loan. The next one for Premier Pontiac features the voice of John Erling of KRMG. Cy Tuma provided the voice for the final commercial for Brown-Mackie College.
The next news segment includes 2 "packages". The first was from Mike Rosenthal, whose voice was obviously a phone recording. I think Mike was a "stringer" as I do not remember him working at KTUL. The next package was from Stan Hopkins. Stan started in Tulsa as a newscaster for KAKC. He later became Channel 8's News Director. He left KTUL for Boston and another News Director title. Where is he now?
Both of these story packages were on film. The typical package contained "B Roll" of film and natural sound with the reporter's voice over from audio cart. The next piece of film in the story was either a reporter stand-up or a sound byte from someone involved in the story. The wrap-up was more B-Roll with an audio cart tag.
The tease before Break 2 contained the sounds of "Swingtown" by The Steve Miller Band. It was our newscast "bump" music at the time.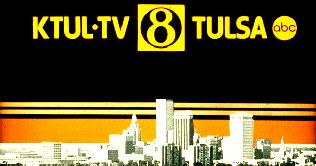 Break 2 began with a J.C. Penney commercial for flare-legged plaid pants, followed by a Swinson Chevrolet commercial. (Anyone remember Swensen's Ice Cream Shops? Sorry, I digress.) It's followed by a Sirloin Stockade commercial for a $2.99 meal deal, then a Cottonelle Bathroom Tissue spot.
The next news segment included reports from Christopher Lewis and Jacqueline Scott. Chris left KTUL after a few years to produce TV travel shows with wife Linda.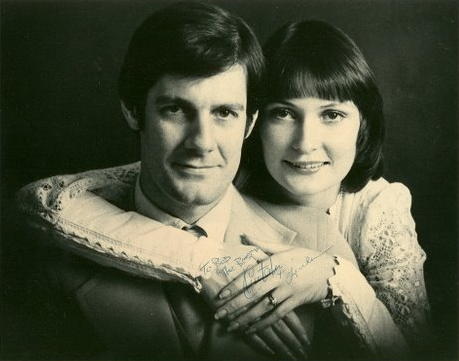 Today, Christopher & Linda Lewis run The Entertainment Group (TEGclassicTV.com)
(Courtesy of Bud Blust)


Jacqueline Scott began her work in Tulsa as a news reporter/anchor for radio station KELi.
(via email to webmaster) Jacqueline Scott said:.

A dear friend just called me & told me today's (6/3/2002) feature was the 10 pm newscast from June 15, 1978, which included one of my stories. O-wow. Did THAT take me back! I have absolutely NO memory of the story, but I DO remember the wonderful KTUL people featured in today's "memory"!

I was a reporter at "Total 8 Tulsa" from Jan. 27, 1978 until April 3, 1979. Actually, my "official" title was "Eastern Oklahoma News Bureau Chief". The "bureau" photographer was a wonderful guy named Michael Jett. We were based in Muskogee.

The "bureau" was actually a room in the warehouse where Jimmy Leake stored several of his antique cars (remember those???). The warehouse was a big metal pre-fab building behind the Leake Industries offices. We had NO sound booth, and NOTHING to even resemble one. When I needed to record the audio for a story, Mike would step outside the room with his camera, start the film rolling, & I would close the door and read my script into a microphone, recording it directly onto the film.

I also remember when video tape was introduced to the newsroom, more or less as an experiment, as I recall. Purists that we were, more than a few of us didn't think it would ever take the place of film because the quality just couldn't match that of film. Little did WE know! :-p

Don Woods weather was next. Don referenced a satellite image, which I believe was printed out and placed in front of a small camera. This was long before the slick map/satellite/radar weather computers made available for weathercasters in the 80s and 90s. When was the last time you heard a weatherman discuss the pilot's forecast? This may have been unique to KTUL. And of course there's Gusty!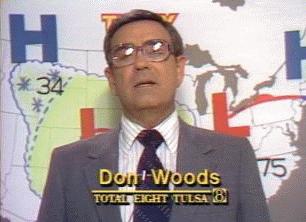 Break 3 included a commercial for Tulsa's Okie Bug store on South Sheridan (it's still there folks!). Dick Van Dera, an avid fisherman himself, supplied the voice. It's followed by a Safeway commercial with Joe Henderson doing the voice. Cy Tuma finished the break with a commercial for Prestige Olds/Pontiac/GMC of Sapulpa.
KTUL had four ways of delivering commercials in those days. The most common was 2" tape, either single-loaded or dub-reel. Film spots (mostly national ads) were next. A "simple" commercial of slides (advanced live) with either live or taped voice was not uncommon. And, John Chick occasionally did live commercials on his morning show for "Tuf-Nut" Jeans and Jackets, among others.
Now back to the news. Sports was next with Chris Lincoln discussing the evening's Roughneck's NASL Soccer win over Rochester. KTUL had produced the soccer match live from Skelly Stadium that evening for a TV station in Rochester. If I remember right, I was audio operator for the match. You may recognize the names of players from both the Roughnecks and the Drillers.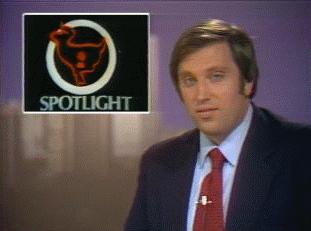 Chris Lincoln

Break 4 began with a commercial for Commercial Bank & Trust Company in Muskogee. Chuck Blaker (Scott's brother) supplied the voice. KTUL did a lot of commercials for companies in Muskogee and in smaller communities in those days. KTUL was extremely popular outside Tulsa, particularly in Northwestern Arkansas! This spot was followed by commercials for Wal-Mart and Kansas City Tourism. The guy voicing the concluding Engler Photo Supply spot was a 23 year-old Sonny Hollingshead.
Christopher Lewis completes the show with a story about placing foster children in homes. Two years later, Bob Hower started the award-winning Waiting Child series, a mainstay on KTUL to this day.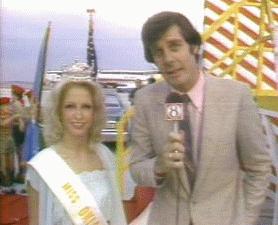 Christopher Lewis with Miss Oklahoma

Carl Bartholomew produced the newscast close, containing three columns of "KTUL-TV News Presentation" (or something like that) which were edited to synchronize with each audio "beep" on the tape. This was done with a 2" RCA TR-70 TEP Editor, as this was before ¾" U-Matic was around.
You'll have to listen closely for the "Portions Pre-Recorded" voiceover. A rule had recently come down from on high that all news shows required such an announcement at the close of the show. This phrase was voiced either live (as it was here) or supplied from audio cart.
Please note that there were no station promos in this show. In those days if local news sold out no positions were left for station promos.

The end break includes a commercial for the former Quik Trip Light Beer, known as "QT Light". Dick Van Dera was the voice for the Phoenix Federal Savings spot.
The production staff for that evening could have consisted of a number of people. The only one I'm sure of is the audio operator, Cecil Norris. Cecil's live voice ID precedes the open of the ABC U.S. Open program that followed the show.
(from Guestbook 108) Jim Reid said:

I was probably doing projection on that night, because there weren't many of us around.

I hope others will be able to share memories from listening to this recording.