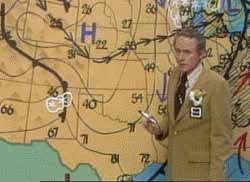 Harry Volkman of Fox WFLD in Chicago got his start at KOTV in 1950! He was interviewed on the KOTV 50th anniversary special in November of 1999.
3/31/2005: Harry retired from WFLD in late 2004.
(from Guestbook 47) Erick Church said:
I noticed that Mike dug up a Harry Volkman pic from the WGN site. I think Harry is a guy that not a lot of Oklahomans know of. Here's some background info, a lot of which comes from OKC meteorologist Gary England's book "Weathering The Storm", and from Harry's bio at the WFLD website.
Harry was Oklahoma television's first weatherman. Some could argue he was TV's first. He attended TU for awhile, and worked at KOTV for a couple of years. When he went to OKC in the early 50's, he became somewhat of a rebel. At that time, there was no weather radar, and tornado warnings did not exist, except for use by the government. It was believed that issuing these warnings would cause public panic. While in OKC, Harry issued the first on-air tornado warning, angering the weather bureau (there was talk of possible charges against him), but the public reacted in a very positive manner. I am of the belief that by knocking down this barrier, Harry is single-handedly responsible for the type of advanced warnings we currently receive. In 1959, he went to Chicago, where he ruled the weather airwaves for over 30 years. Several years ago, he moved to the Fox affiliate, and accepted a lesser role as weekend meteorologist.

Webmaster, 4/26/2005: I just looked into this question of who was the first TV weatherman. Jim Fidler is credited by the Museum of Television and Radio as having done the first TV weather forecast in 1940 for an experimental station in Cincinnati.

Dr. Francis K. Davis, Jr. who took part in the D-Day forecast effort, began a regular weather program on WFIL-TV in Philly in November 1947.

Harold Taft became chief meteorologist in October 1949 at WBAP-TV in Ft. Worth. (Lee Woodward later began his career as an announcer at WBAP-FM radio). KOTV went on the air October 15, 1949.

Wally Kinnan was an early TV weatherman at OKC's WKY-TV in 1953. But Harry Volkman was a three-year veteran TV weatherman by that time, so his "first in Oklahoma" crown appears to be safe.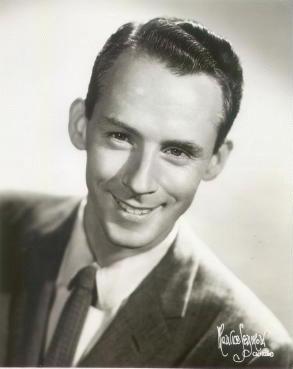 1959 image courtesy of Rick Rann. See NBC press release below.
(via email, 9/13/2006) Harry Volkman said:
I was quite flattered to read the material about my long-ago times at 302 South Frankfort where KOTV brought me on board on January 16, 1950.
I did the weather around 6 PM from then until late March of 1952, working with Bob Hower, Cy Tuma, Jerry Johnson, Don Brewer, Dean Turner, Valerie ("Lookin' at Cookin'"), Leon McAuliffe and many other behind the scenes wonderful people.
I was used as a booth announcer, sportscaster, on-air salesperson, variety show host, model, switchboard operator and sometimes janitor. For the first three months I received no pay whatsoever as management claimed they were losing thousands of dollars a day. Sometime in late March I began receiving $25 a week which improved to $60 by 1952.
In the fall of 1951, I was approached to go over to Oklahoma City to WKY-TV to replace their weatherman who had been called to active duty in the Korean war. They wanted to change my name to Harry McAnn as every annoucer at WKY used a different name than their own on the air. This was common practice in those days. I rejected the offer as my wife did not want to move to Oklahoma City from her native Tulsa and also the money at Oklahoma City was not enough more to make it worthwhile.
In March of 1952 WKY-TV came calling again and this time they offered the job at $100 a week and promised that I could keep the name Volkman. This time I accepted.
The fourth week of March, my first on the air there, two earth-shaking developments occurred. The first was a slight earthquake in central Okahoma and the second was a decision by top management at WKY-TV to steal, or perhaps better said "bootleg", the latest air weather services tornado alerts from nearby Tinker Field to put on the air. The experts there were the well known Col. Fawbush and Maj. Miller who devised the rules for predicting tornado likelihood.
Up to this time the alerts were only to be used for military bases, as the civilian authorities did not believe that enough was known about tornado forecasting to make it trustworthy and feasible. There was much official concern about causing panic among the civilian population.
As I was the new young weatherman on the scene, I was told that it was my duty to go on the air and announce, for the first time, a tornado risk area in central Oklahoma. I quickly informed my boss, P.A. "Buddy" Sugg that this might be illegal and we could be arrested. His immediate response was that they could arrest him, but not me, as I would only be obeying his orders.
The rumors that I did this on my own as a rebellious act are totally untrue and this is the matter that I would like to clarify. I'll readily admit that I have done many strange things on the air in my 55-year career, but this first tornado forecast was definitely not one of them.
(via email, 10/28/2006) Rick Rann of Oak Park, IL said:

Came across your website.

I saw you had a couple postings on Harry Volkman and thought you might like this image for your website.

It shows Volkman when he moved to Chicago in 1959 .

The first image is the photo (placed with Harry's own text above).

The second one I'll send is the press release from NBC which came with it.

(from GB 180, 3/31/2005) Joel Genung said:

Earlier today, I had the pleasure of sharing lunch with Harry here in Tulsa. I have been doing some research on the 1955 Blackwell tornado and after sending him an e-mail earlier this month, he graciously replied to my query and indicated he would be in town in late March and asked if I would be interested in talking with him. You can imagine my utter astonishment!
Harry retired about 6 months ago from Fox Television (I believe, WFLD) in Chicago, ending an over 50-year career as a television weatherman. I watched him in 1955, when he was on WKY-TV in OKC and later, when he moved to KWTV. Of course, most of the older Tulsa TV viewers know he got his start here in Tulsa, as your site has already indicated.
Needless to say, this will go down as one of the most memorable days in my life and I can tell you he is a wonderfully warm, cordial and humorous individual.
Incidentally, he will be 80 next year. I have included a picture taken of Harry and me at the National Weather Services office here in Tulsa, where I took him to meet the staff there following our lunch and at the invitation of Steve Piltz, the Meteorologist-in-Charge.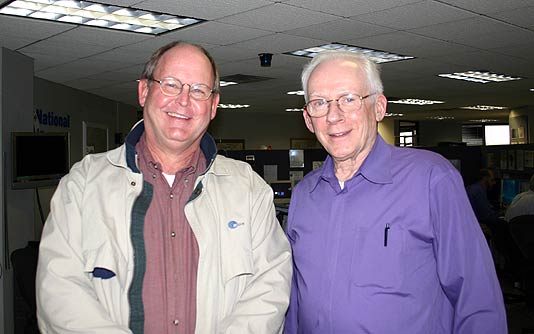 Joel Genung and Harry Volkman in Tulsa, 3/31/2005
(from email, 1/25/2001) Ron Volkman said:

I love your web site (found it with Google) and enjoyed reading the guestbooks. I'm Harry Volkman's oldest son, and find the old stories most interesting. I noticed you had an old WGN picture of Harry and thought I would send a recent photo from October 2000 when he was here in Philadelphia for a visit. He recently signed another(!) 2 year contract as we prepare to celebrate his 75th birthday on April 18th.


I met Harry at the KOTV 50th anniversary reunion, and can testify that he is one sharp and personable gentleman...webmaster

Photo from PBS' "German Americans", 8/2001

(from Guestbook 72) Harry Volkman said:

A great discovery for me - thanks to Don Norton. I might never have made it into the business without his help back there in 1949 at Tulsa University.

At the 50th KOTV anniversary in November of 1999, I don't recall anyone mentioning that we had a signon and signoff theme song over which the announcer read the standard messages that were made in those days. The theme song was a beautiful piano rendition of "Dream of Olwen". We always signed on and off in those days with our national anthem. It's too bad we aren't patriotic enough any more to continue that old tradition.

I've got a lot of catching up to do with reading all your wonderful letters of memory from one of America's greatest cities - Tulsa, Oklahoma.

(from Guestbook 189, 8/3/2005) John Hillis said:
Harry Volkman sighting: I was down at the American Meteorological Society meeting in Washington's Shoreham Hotel today, and Harry was present, looking hale and hearty and getting around well under his own power. Somebody joked that Harry's AMS Television Seal number was in the single digits. Actually, it's number 23.
Collect 'em! Trade 'em! Harry Volkman trading card courtesy of Peter Moran


(from email, 6/15/2000) Lee Woodward said:
The Webmeister has gotten me going on this memories gig and I must say in rummaging around in old photos and memorabilia I haven't seen in literally 30+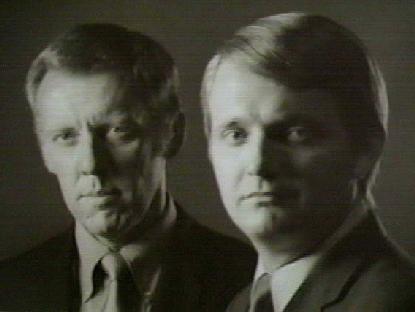 years, it is amazing what and who you forget.
A fellow who I worked with in many capacities at KOTV was my friend Gary Chew. We also shared a barber who coincidentally had been a cameraman at 6! (Gary! Help on the name?) Then we got onto another avant-garde barber who "Styled" hair. His name was Steve and I rediscovered him a few years back. I was interested in "Style" while Gary, I learned, was looking to get his hair straightened. This was the era of the Glen Campbell "helmet" look, and I think a lot of TV anchors were going in that direction. I personally would have given anything for Gary's naturally curly hair, especially if it were like Tom Jones'. Imagine the ease of care.
Gary is still plying the announcing trade in California, as you have been advised. We shared a great love of the Hi-Lo's, The Four Freshmen, the unbeatable Singers Unlimited and finally the group, Take Six. The shared wonder is when they will ever do something? Anything. Anyway, I have dug up some memo-photo's for you.
The one here is of Gary Chew and me circa 1960'-70's.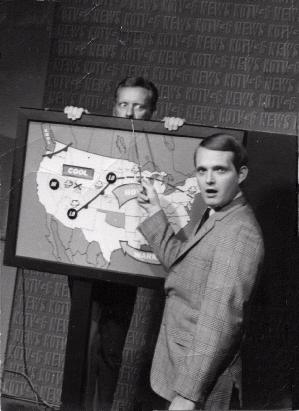 "...and moving in a northerly direction..."


(from Guestbook 68) Les Biffle said:
I was KOTV summer-help in engineering in '68 and '69...I really loved Gary Chew and Lee Woodward. They were gracious, smart, and funny and simply marvelous to watch. I was sad when Chan built them their own production booth in the back of the news room, and they therefore wouldn't be hanging out with us in audio...Gary Chew taught me to RUN if The Moose comes after you.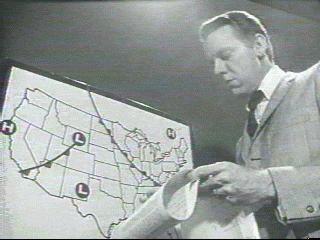 (from Guestbook 7) Hurst Swiggart said:
...I worked for a time as a cameraman on Sun-Up, an early morning show beginning at 6am and hosted by Chuck Bowman... The first host of Sun-Up was Bob Mills and he was revered as the king of morning TV. Bowman did a quite admirable job of filling his shoes. Lee Woodward was a co-host as I remember and was the host on the Monday after the Beatles 1st USA appearance on the Ed Sullivan Show. Lee's comments were a hoot and I wish the tape had survived (the show was live and taped for the archives ). Lee was and is an extremely creative Soul. When he was host of Lee and Lionel, he was a very articulate funny man and still is. He also designed and built the castle for King Lionel. I will never forget the double takes from the King when Lee would make some audacious comment. Lee is a sales executive with Thomas Cadillac as I recall.

Lee is one of the wittiest people ever seen on Tulsa TV. He retired from Thomas Cadillac May 31, 2000. Read much more about Lee on the Lee and Lionel pages!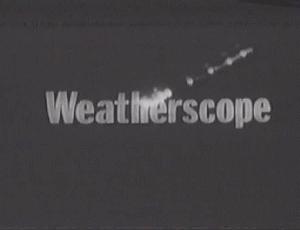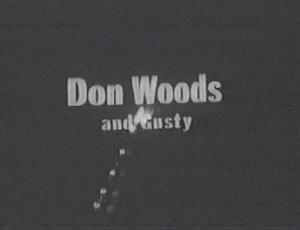 Watch this 1950s KTUL weather intro (sponsored by Oertle's)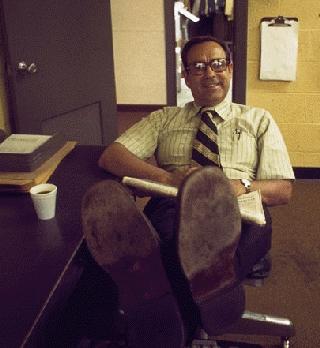 (from Guestbook 1) Bill Hensley of OKC said:

We were a Channel 8 family, and I still have two "Gustys" that Don Woods would draw. One of them I even got to see drawn, and he said my name on the air! For a 10-year-or-so-old, it was very cool!

Hey, getting a Gusty is cool at any age, as the drawing at the top of this page affirms.



(from Guestbook 103) John Young of Sand Springs said:

Just wanted to share my memories of Don Woods. I had the pleasure to become acquainted with Don back in 1990 when he was teaching meteorology at what was then TJC Metro. He would come down to the cafeteria and visit with us and tell some of the BEST stories about his TV days.

Don's a great guy and although I was never a member of his class, I'm sure his students found him to be great too!



(from Guestbook 121) Steve Sherwood said:

Seeing the photo of Don Woods took me back to 1968, when I was a mere lad of 17. I worked at a gas station at 41st & Yale, business was slow, but Don Woods drove in for gas. I didn't recognize him until he got out of the car. What a celebrity and I was seeing him up close and personal!
My mind was racing, wanting to tell him how much I liked his weather report, Gusty cartoons, etc., but all I could get out was a short sentence on the weather. He politely answered with a one-liner. I then said, "you probably don't want to talk about the weather when you're not working, do you?" He looked at me, smiled, and said, "you're the first person that has told me that and I appreciate it."


Webmaster Mike Ransom said:
My dad told me that early in Don Woods' career at KTUL, he regularly did a commercial for iced tea that called for him to show how good the tea was by drinking some and then smiling. On one occasion, a member of the crew put salt instead of sugar into Don's tea. He took a big swig on the air, grimaced and then blurted, "Who put the salt in my tea??!!", which got the crew guffawing.


(from Guestbook 101) Richard Wilson said:
I remember Hal O'Halloran telling me once that he had gotten a memo from Mr. Leake imploring him to stop breaking up Don Woods on the air. As Hal said, "Hell, half the time I'm not even in the studio...Don cracks himself up." And you know, it was true...as I witnessed many times on the six and ten over the years.


(from Guestbook 7) John Boydston of Daddy A Go Go (see TTM Gift Shop) said: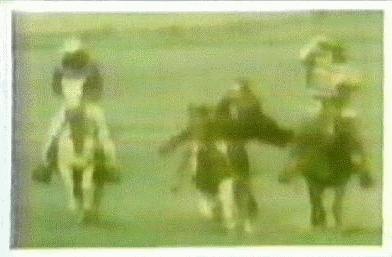 ...I laughed out loud reading that story about Don Woods and the Ice Tea. I worked with him at 8 and that is exactly what he would have done. Don was an amazingly great guy to work with.


(from Guestbook 17) Lowell Burch said:
Does anyone remember the promo where the CH.8 cast are dressed in western clothes and riding toward the camera on horses? Just as they fade out, if I am not mistaken, you can see Don Woods falling off his horse into the dust.

"The News Guys" promo was conceived and narrated by Carl "Uncle Zeb" Bartholomew. In the closing long shot, Woods is seen listing to the right, then careering erratically to the left. The spot tastefully fades out as if to say situation normal, no further comment required.
I think everyone who knows Don from TV enjoys that spontaneity of his which makes him so likable and fun to watch.





Photos by Scott Blaker

Below right is Carl setting Don up for the shoot with Richard Wilson behind the camera. Above right is Carl with cameraman Bob Welch, and above is Bob Welch.

Scott Blaker said via email:

These were taken during Channel 8's "Cowboy" news promo shoot in July, 1974. Carl (Zeb) Bartholomew directed Bob Hower, Don Woods and Steve Zabriskie (and then had to go back and re-shoot some scenes with Chris Lincoln when The Big Z left unexpectedly before the promo even hit the air.) The first unit cameraman was Bob Welch, and the second was Richard Wilson.

Don Woods interviewed for Tulsa Community College presentation

(from GroupBlog 214) Bob DeMers said:
In the midst of packing for a move from Portland, Maine to Charlotte, North Carolina, I found this stashed away. I thought you might enjoy a picture of it!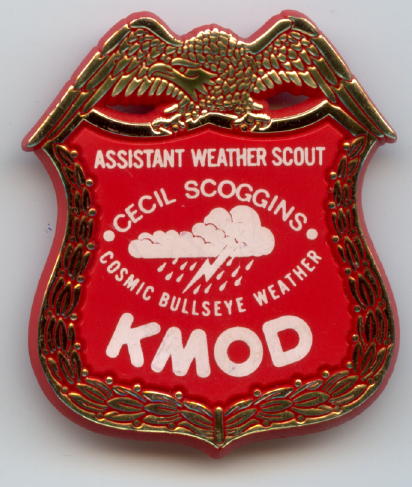 Thanks, Bob. "Cecil Scoggins" was one of Sherman Oaks' monikers.

(from Guestbook 21) Former Mayor Terry Young said:
I started as "weekend weatherman" at KTUL in June, 1970, while also working in news at KAKC radio. Moved into the KTUL news department in August, 1970 as a full time employee. Worked in news and did weather until April, 1975. Elected County Commissioner in 1976 and Mayor in 1984.

(from Guestbook 21) KOTV's James Aydelott said:
We were sitting around the other day talking about funny things that have happened during weathercasts. I remember the day after the devastating Memorial Day weekend floods, more severe weather was moving our way. Dan Satterfield (c'mon Dan, I know you remember this) was doing a weather update when a new warning was issued. As all the stations did at the time, Channel 2 took a live audio feed from the National Weather Service office in Tulsa. About halfway through the bulletin from the weather service, the guy reading the bulletin at the NWS stumbled and couldn't recover, said something to the effect of, "disregard." This was followed by a loud crash and some expletives before the audio feed was killed.
Channel 2 switched right back to Dan in front of the chroma key. Dan, looking rather stunned, said something or other about getting that information straightened out and he'd get back to us.
I distinctly remember my parents and me exchanging laughs just afterward.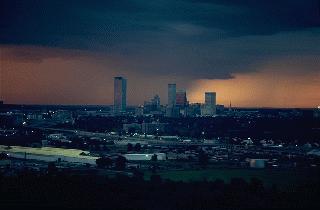 (from Guestbook 6) Ma Barker (see the Links page for her TV web site) said:
For three years from about 1957 to 1960 I was a staff director at KTUL-TV in Tulsa. We rotated shifts but I worked from 4 to midnight most of the time so I directed the News and Weather at 6 and 10. In those days Jack Morris was our "ace-in-the-hole." He brought us great ratings and his secret was his "kicker" on the end of the show. Viewers sent him jokes, and nobody could resist the big grin on his face when he started to read them (whether they were that funny or not). We cut to a close-up for this kicker, and the audience got a good laugh to close the show.
Then it was time for Don Woods and Gusty for the weather. Way back then practically no weatherman on television was a real meteorologist, but Don was. And he could draw the little cartoon character he called "Gusty." Don was a great guy. So were most of the people I worked with in Tulsa. In those days it was very unusual to have a woman in the control room, telling men what to do and exposed to all their "bad" language. From what I have learned I think I was one of the first two or three women in the U.S. to be a television director. It was a lot of fun and hard work.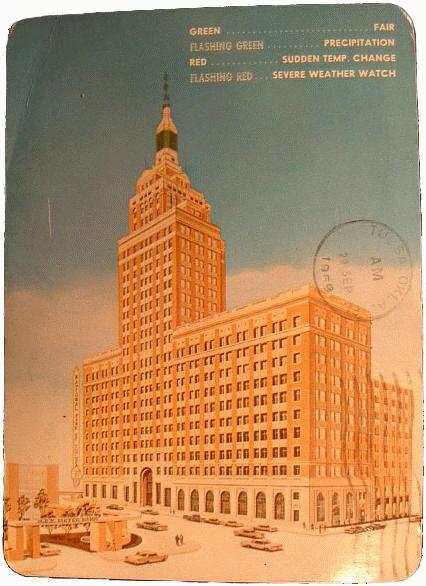 (from Guestbook 11) Mike Bruchas said:
The club card for the NBT Weather Teller reminded me that KTUL's Don Woods controlled this for years by a gizmo in the newsroom.
It had 2 telephone rotary dialers on it. I never knew it existed for years till I saw it prepping for a newscast one night and asked what it was.
Don would set it each night before leaving but a couple of times "staff members" would sneak back in and change the "forecast".
It had 2 colors on the NBT tower and at one time could be seen from all over Tulsa. Solid green meant fair weather. Flashing meant precipitation. Solid red meant sudden temperature change, and flashing meant - severe weather watch.
Amazingly Woodsy never mentioned this on the air. I guess old line Tulsans knew what the signals meant.
I can think of several staff members that - on a hoot - changed it to red flashing on a night of good weather and we were bombarded with calls (which the night crew had to answer) from folks saying they had missed the late news and wondering if a tornado was afoot. They had seen the tower flashing. Once I knew what was going on - I said, "Ooops - Don must have forgotten to reset the gizmo!" and went back downstairs to the newsroom to reset the gizmo.


(from Guestbook 180) Edwin Fincher said:
LOVED to dial brother Don's telephone (connected to the lites on NBT) in the middle of the nite! I could control the world! 3 made it green & 6 made it flash red.....what fun!
Edwin does have a thing for flashing lights...read about his involvement with the 1973 late-night local TV show, MAINTAIN.

The top of the NBT tower was built at 320 S. Boston in 1929 to be a zeppelin mooring, according to the Tulsa Historical Society web site.

From 2/26/1997 Tulsa World story by Bill Underwood, "320 South Boston": "During the 1930s, at least one Navy zeppelin briefly moored there. In fact, the Tulsa Historical Society has a large photograph showing people hanging over the building's uppermost railings to grab ahold of the lines hanging down from the giant airship."

After the Hindenburg crash in 1937 at Lakehurst, New Jersey, passenger travel by dirigible ceased, so the NBT tower never fulfilled its original promise. However, it did become the site of Tulsa's first TV transmission antenna (KOTV).

According to this link from the KVOO-AM page, the first use of the fourth NBC chime as an emergency alert was at the time of the Hindenburg disaster.

At right: the Graf Zeppelin moored at the Empire State Building in 1931.

The recent movie, "Sky Captain and the World of Tomorrow", reviewed on this site by Gary Chew, depicted a zeppelin docking in Gotham City (New York's fictional alter ego).

Another Tulsa-NYC parallel: Tulsa's Williams Tower is a half-scale version of the World Trade Center Towers, by the same architect.

Zeppelin approaches the NBT tower. Courtesy of the Beryl Ford Collection/Rotary Club of Tulsa



(via email, 7/19/2005) Jo Foster said:

My mom used to work there at the bank (that is where my parents met, thanks to mononucleosis). They had a contest to name what the lights were to mean amongst the tellers at the bank and my mom won. I thought she was sh*tting me, but she has the proof. I just think it is kind of funny how things in Tulsa come full circle.





Jo noticed a link to the above NBT story on the "UHF" locations page, where I had just added a highly pertinent comment of hers from a previous Guestbook. That's what she means by "full circle".




(from Guestbook 87) Gary Shore said:

I really miss working as a forecaster in Tulsa, and have been looking for a way to come back there, either in the media or with a private company such as one of the energy businesses, but I don't have anything nailed down yet. I would be delighted if you would post this on your site to let all my fans in Tulsa know that I am thinking of them, and hoping that a door of opportunity would once again open there for me. My two sons were born there, and really I grew to maturity there myself. You know I was only 25 when I started as Chief Meteorologist at the old KTEW back in 1978. I still keep in touch with a lot of good friends there. I feel like my life's best work was under Tulsa's stormy skies, and even at times like this....the dog days of August...I still miss the people and places.

(from Guestbook 108) Erick Church wrote: Gary Shore is now the chief meteorologist at KCAU-TV in Sioux City, Iowa.


2/25/2008: Webmaster: We were shocked and saddened today: former Channel 2 weatherman, Gary Shore, passed away. People are writing in about him in GroupBlog #262.


(from Guestbook 209, 3/2006) Lee Woodward said:

I don't think I saw it mentioned here but the Tulsa World had a small blurb about Channel 2 weatherman...Mike Anderson, going for the gold! That is; he has joined the staff of "Tulsa Gold & Coin" on East 41st Street. Gold is a lot more steady than the weather in this state and likely a lot more remunerative for Mike.





David George, Jim Giles and Mike Anderson at KOTV in the 80s


Webmaster: Jim Giles passed away December 20, 2006. Read what his fans and friends had to say about him in GB 227.



KOTV Safe Spot sticker.




---

Found on eBay: "Speaking of precip, you will be the swankiest cocktail party or martini bash host with this Ronco Glass Froster! Includes an aerosol can for frosting the glasses. Stick the glass in the red canister and spray on the frosting! Hmmm, by today's standards, this technique may not be very safe, but it still makes a cool party trick!"



On to The Sports Page! Back to Newsmen, page 2 Back to main