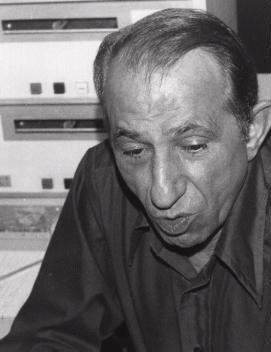 (Photo by Si Hawk)
KRMG's Johnny Martin



Johnny Martin sign-on: 148K .wav file or RealAudio at left.
(from a KRMG 50th anniversary tribute by John Durkee)






(from Guestbook 21) Ray L. Rivera said:
...I also remember my meeting the great Johnny Martin. It was pretty intimidating because he always kept his studio darkened, so I had a hard time adjusting my vision going from harsh neon hallway lights to a completely darkened studio.


(from Guestbook 2) Mike Bruchas said:
Johnny Martin was a late night fixture on KRMG till he died - his son worked at KMOD. What was his name????



(from Guestbook 2) Erick Church said:
Mike, Johnny Martin's son is Dave Martin. An awesome radio voice. He's currently a big cheese with CBS radio in Dallas. There's a DJ at KOMA in OKC named Dave Martin, and the 2 are often confused with each other.


(from Guestbook 46) Chuck Fullhart said:
Johnny Martin and Gary Griffith were the night people that were on air on KRMG, and Martin kept us in stitches all night with his off air comment about the management, and his forgetting to cut the net off when the wine commercials ran. Oklahoma was experiencing "liquor by the wink" in those days, and of course, the net spots on wine eventually corrupted the morals of Tulsa.
Martin would never answer the doorbell when it rang at night. His line about "...going to the lobby and checking the net..." which he used prior to the newsbreak at the top of the hour was no joke.
KRMG and KWEN were on the 23rd floor of the Liberty Towers building at 15th and Boulder. Somehow, these strange ones would occasionally get past the security guard at the door of the parking garage on the first six floors, which wasn't much of a problem, because Barney Fife was usually asleep in the guard shack anyway.
Johnny at the Italian Inn
Martin left it up to Griffith and me, and I think later Don Cummins, to answer the doorbell when it rang. Usually, I would go back through the KWEN studio side and look out the front door to see who was at the KRMG door before deciding to let someone in.
Most of the time, it was someone like Bob Lafitte, the night engineer at the transmitter, who did Lafitte's Inn from 12AM to 6AM, and who could never find his key to the studio. But occasionally, it would be some wide eyed fan who wanted to talk to Martin. Johnny wouldn't even order the food when he and his wife went out to dinner because he was afraid that someone would hear his voice and recognize him.


(from Guestbook 3) Jim Back said:
How about (Johnny Martin's) catch-phrase "It's Friday night, case night in the city." Here's a trivia question: Why did he say that?


(from Guestbook 12) John Hillis said:
Hear Johnny Martin on this 38K .wav file, courtesy of John Hillis "It's case night, Friday night in the city, and play night," came, I'm told, from the fact that Budweiser sponsored Johnny (3.2 Budweiser, of course, in compliance with the state constitution, which forbade advertising of anything stronger.
CBS used to send us the list of wine spots running on the net on the TWX, because we had to black 'em out. Pandemonium would break out when one would get by and we'd corrupt Sooner morals by plugging Ernest and Julio), and he was telling everybody to go out and buy a case for Friday nights. Ergo, case night.


(from Guestbook 75) Larry Thomlinson said:
Johnny Martin! What memories. If you're really interested in some real trivia. I had the rare distinction of being the first person to ever get better ratings than Johnny Martin, and he never let me forget it.
I was on the air at KRAV-FM, same time slot, with what was called middle-of-the-road format, most of you radio guys remember that. The FM phase had just hit, and everyone had either a console or a table model AM/FM in their house. Well, for about 3 rating periods in a row I got the numbers, slim though they were. (He got his numbers back of course, and I knew he would, but according to him, no one had ever beat him in the ratings, not ONCE!)
So, one night on the air I got a call and at first I thought it was crank call until I got an earful of the voice. "Hey, kid," he called me. Up until that time I had never met him. (From that day forward he always called me kid.) Later I went to work at KRMG for a short time doing news for -- you guessed it, Ol' Mister -- "time to turn the page, mark 30, and put this Johnny Martin Show to bed for another night." He and I became friends, though after I left Tulsa I spoke with him only once.
Years later here in L.A. I worked nights for KJOI-FM for nearly 5 years. One night I responded to a card from a listener who asked who was my influence in radio, and I proceeded to tell the story of Johnny Martin --
"time to head to lobby and check the action," "Here's the big band from Balboa," and all the great sayings. I talked about the zippo lighter he loved to flip open and light his Camel with, on air, take a drag or two and introduce his "favorite blond" (who, if any of you have forgotten, was "Miss Peggy Lee.") He handled records like they were pizzas, and loved to pull an LP out its sleeve, plop it on the turntable and cue it up while he was doing a break.
Truly one of the great voices of radio, and as I said that night, he created the greatest mood for lovers of anyone EVER on radio.


(from Guestbook 142) Mike Davis said:
I just found your site while looking for info on Johnny Martin, the late, great evening DJ on KRMG. Does anyone know the title and artist of the song he used to close the show? The lyrics are "So long for now, heart of mine. I'll see you later in my dreams..."
(from Guestbook 142) Howard Logan said:

Got your answer to the Johnny Martin question. Several of the KWGS radio trivia questions concerned the great Johnny Martin including the title and artist and label of his opening and closing theme songs. The answers....

Opening theme - Tenderly. Charlie Spivak and his Orchestra. RCA Victor.

Closing theme - So Long For Now. Eddy Howard and his Orchestra (or this instrumental version). Mercury.



(from Guestbook 142) Kay Gardner said:

I too recall the KWGS radio trivia about the legendary Johnny Martin. Two of the most difficult questions were:

What was Johnny Martin's Friday Night "Case Night" theme song? Answer - Basically Blues (Live) - Buddy Rich - Blue Note Records

Who was named as the official "scribe" of the Midnight King's court? Answer - Chuck Wheat of the Tulsa World

Bonus - What was the name of Wheat's Radio/TV column? Answer - Wheat's Field

If I recall correctly Mr Wheat went on to Time magazine.



"Basically Blues" Buddy Rich




(from Guestbook 166) Jenny Heaney said:
Cleaning out our garage, we came across several boxes of my mother's old magazines and newspapers. Among those was a magazine called Tulsa dated March 6, 1980. The inside first page said it was the official publication of the Metropolitan Tulsa Chamber. The magazine is filled with interesting Tulsa things including an article by David Stanford titled "Johnny Martin Show".
Mr. Martin was the favorite of both my mother and father. They began and ended our days with KRMG and the article brought back so many memories of that very unique time and Mr. Martin's very special program. A feature box within the article is headed "Remembering the Martinisms" and I thought you and other readers may remember these as I do:
"Martin the Musical Missionary"
"A musical welcome wagon for the big boys and girls"
"This show is not recommended for children"
"And now there's nobody left, just thee and me, and I'll think of something"
"Velvet sounds on the soft side of the beat"
"Now guys, tomorrow take a working girl to lunch"
"You're looking good, I'm glad you could make it"
"What are you doin' New Year's Eve?"
"I have a lease on the pool hall every night from 8:05 till one in the morning"
"I'll be back tomorrow at 8:05; leave a light"
The one line I remember very clearly was "another song momma used to sing and if you don't remember that it's past your bed time" I also remember him saying "pay yourself first" and having my parents explain how important that was to me - good advice it turned out to be.
Johnny Martin, morning man?
Johnny Martin, hillbilly band leader?
Johnny Martin, the all-around farm boy?
Sounds improbable, but here is the KRMG postcard to prove it.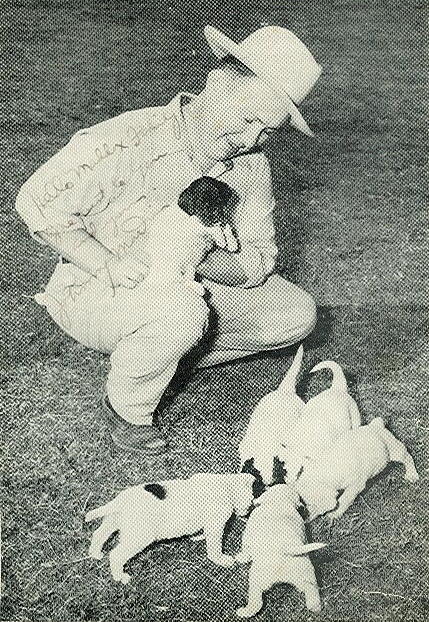 This appears to be from the late 1940s.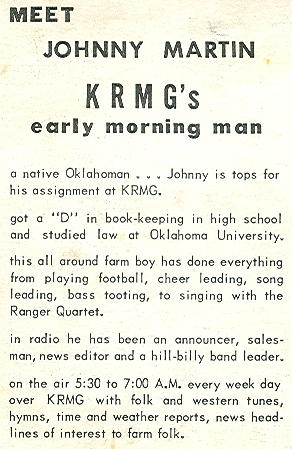 (from Guestbook 104) Dennis Eckert said:
I was the night 'newsman' on the Johnny Martin show for about six months in 1970 before I joined The AP.
When I worked with Johnny, I was struck at the 'intimacy' he had with his audience and wondered how he developed that. He told me that his pre-radio days were as a musician and then a band leader. Some of his musician experiences were in a small ensemble setting like a piano bar. I think he said he was a drummer. And he told of conversations with the audience, and I'm guessing that's how he carried over his remarkable ability to have 'conversations' with his unseen radio audience.
Johnny Martin taught me something about successful music radio. "You gotta know Pace, Tempo and Mood", he said, segueing from Peggy to Frank. What an amazing person! I remember one night in 1970 that a high school senior called (think she said she went to Nathan Hale) and said the senior class had just voted Johnny "The Best Make-Out Disc Jockey In the World."


(from Guestbook 56) Jim Back said:
Just a note to respond to an earlier question about Johnny Martin and when his show ended on KRMG. . .
When Swanson Broadcasting got hold of KRMG in the early 1960s, its ratings were in decline and revenue was skimpy. The only thing making money was Johnny Martin's late night show. He was playing the big band and jazz music that had gone out of favor with most radio stations who were caught up in the "Top 40" rage, and Johnny was one of the few who could still make it work with audiences.
American Airlines, Budweiser ("It's Friday night, case night in the city," remained a catch-phrase for him long after Budweiser dropped its sponsorship), and a local homebuilder were among his steady sponsors at the time. I can't think of the homebuilder, but does Park Plaza sound right? What are the additions around 51st and Harvard, over to Yale? Park Plaza I, II, III, and IV? Something like that.
Anyway, Johnny's show paid the bills while Gerry Swanson and Ken Greenwood were building up the station's ratings in other day parts. By the mid 1970s, they realized that full time news and talk were the best hope for an AM station in an FM world, so Johnny was retired and David Stanford's talk show was extended into the late evening, followed by a satellite-fed talk show.
But in a rare case of broadcast management actually appreciating the impact its talent had on its profit during its salad days, Swanson committed to paying Johnny his salary for several years into the future. They were still paying him when he died a few years later, and I believe they even paid his widow some amount of money.
Me? When my time came, I got three weeks severance and was told I should be grateful because most employees only get two weeks! What does that tell you about the high regard everyone had for Johnny Martin, truly one of the classics of Tulsa radio.
Johnny Martin's last sign-off: 130K .wav or RealAudio at left.
(from a KRMG 50th anniversary tribute by John Durkee)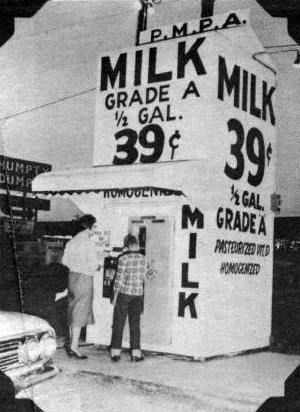 Pure Milk Producers Association


(from Guestbook 119) Sandy Beller said:
The pic of the dairy reminded me of the days we would swing by those nice little Pure Milk stores encouraged, of course, by the very cool King of Tulsa radio Johnny Martin.


(from Guestbook 125) Pete Wurman said:
I will always remember how the great Johnny Martin made you want to buy every single thing he told you about.
From Pure Milk to Bud to American Airlines to Elmer Anderson's homes, Johnny's warm, friendly, conversational style pulled you in and made each client's product one you just couldn't live another day without. Our family always "traded" (as the King called it) with Johnny's clients because it was like a trusted friend of the family had recommended we do so.
The folks involved in creating today's loud hit-you-over-the-head advertising should take a lesson from one of Tulsa's all-time best salespeople - treat the audience with respect, tell your story in a caring intelligent way. I always heard that in his day Johnny was the best salesperson in Tulsa media, his classy one-on-one approach would achieve even greater results today.


(from GroupBlog 217) Lynn Norman said:
The sharp wit of Johnny Martin was always on display when he paired and sometimes tripled tunes on his incredible program.
In my days at TU, it was sport to listen to Johnny and "crack the code" on his song messages, e.g., "Don't Get Around Much Anymore" into "Take The 'A' Train" into "Meet Me At No Particular Place", etc.
He was able to consistently create a program that worked on far more than one level. The Johnny Martin Show was engaging, entertaining, intimate. A cool hipster to be sure, he was just plain fun to listen to. How else to explain why those of us attending Edison phoned in our football scores not to KELi or KAKC but to KRMG?
AND Johnny Martin made a big deal out of the finals: "Well, the Eagles won, I can hear the celebration from here". Sure do miss that kind of radio.


Back to KRMG Back to Channel Changer 2 Back to main