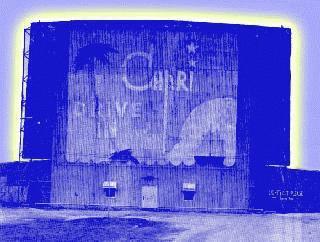 Sand Springs (later, the Capri) grand opening, Thursday, April 27, 1950


Wesley Horton:
"I do not have any information about when it changed to the Capri Drive-In."

Nov. 25, 1971: a John Wayne double-bill of "Big Jake" and "The Undefeated" was playing.

Location (Theatre) N 36.142222, W 96.076389

Address: 7600 Sand Springs Road, Rt. 6

Currently occupied by 1st Choice Auto Parts.

Was open September 1982.

1955 Theatre Catalog lists J. E. Jones as Manager.

1965 IMPA lists Line Amusement as owner.

1965 IMPA lists capacity as 570.

1979 IMPA: Owned by Family Theatres.

1984 IMPA lists Texas National Theatres as owner.

Eddie Jones partner, Sold to gentleman from Texas.


(from Guestbook 54) Sharon said:
I remember the Capri Drive-In, my brother played baseball games at Chandler Park and we used to go out on the edge of the cliffs and watch the Capri across the river in Sand Springs.

(from Guestbook 118) Sonny Hollingshead said:
I saw my first drive-in movie, "Konga", at the Capri Drive-in on Charles Page Boulevard circa 1959. The Capri was then owned by a Mr. Jones, father of a friend of mine. The new Bowl-Ero Lanes were immediately west of the Capri.

(from Guestbook 178) Jim Reid said:
I was looking through the section on Tulsa's drive-in movie theaters and something occurred to me. It's surely a sign of my advancing years that the only movie I remember seeing at the Capri Drive-In was clean. It was "To Sir With Love".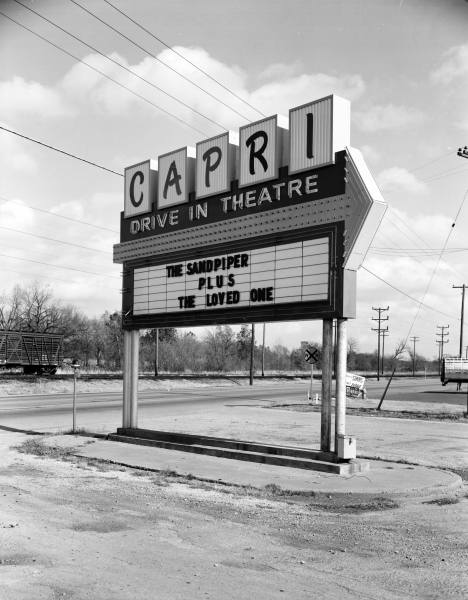 1965 or later, based on the release dates of "The Sandpiper" and "The Loved One".
Courtesy of the Beryl Ford Collection/Rotary Club of Tulsa.
Click on the photo to compare with a 1991 view.



Courtesy of the Beryl Ford Collection/Rotary Club of Tulsa


Some years later...

December 7, 1970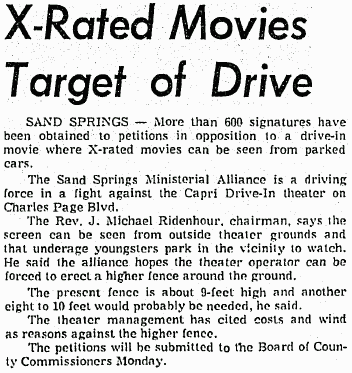 (Copyright 1970, The Oklahoma Publishing Company.)



(from Guestbook 20) The webmaster said:
Did anyone besides me experience the Capri Drive-In in the early 70s?

(from Guestbook 129) Sonny Hollingshead said:
In the early Seventies many young men descended upon the east side of the Bowl-Ero parking lot, behind the Capri fence, just after dark to watch the silent film festival. Anatomy films, as I recall.

(from Guestbook 118) Doy Bowers said:
When I was about 10 years old, we lived in a house right behind the Capri Drive-In & across the street from the old Stockyards (last house on a dead-end street.)
Well, the Capri had just started showing skin flicks and my bedroom was on the side of the house facing the theater. So I went to bed every night on time. My mom got to wondering what was up, so she came into my room one night when I had the curtains pulled back. "BUSTED!" She made me change rooms with my sister and had my dad nail the curtains shut. Took all the fun out of life at the time.
Webmaster: Here is a film I remember seeing at the Capri; I give you..."Ginger" ("the female James Bond")! Me and my buddies gave it an unambivalent thumbs-up!

A hilarious, yet insightful review of Ginger movie (yes, it was a series!) "Girls Are For Loving" at "The Bad Movie Report" Warning: Rated "R", for restricted to an adult audience.

"Ginger" was a mix of just enough plot to keep things moving, and plenty of rude stuff! It's no longer the 70s, folks!
| | |
| --- | --- |
| | And here is another movie I saw in that era: "Tropic of Cancer", starring Rip Torn as Henry Miller from the controversial book. The actual Henry Miller made a tiny cameo appearance at the beginning of the picture. It also boasts future Oscar winner Ellen Burstyn, who appears in the credits as Ellen McRae and I think you know why. This one may have played at the Riverside. Sitting at the drive-in watching this movie with friends and a bottle of homemade wine, I believed that I was living it up...and maybe I was! The book is better than the movie, as usual. |
(from Guestbook 20) Lowell Burch responded:
Your car is riding a
little low in back, sir.

I'll admit, my brother and couple of our friends went to see INGA at the old Capri. We thought we were going to see something really hot and were a little worried that they would stop us at the ticket booth for being under-aged, but they let us in without checking ideas. Little wonder, this grainy foreign film showed no flesh, sex, or any other of those sleazy attractions that we thought we would see. It was the one and only time I tried that place.
Well, me and my pals tried more than once, but you're right, much less was delivered than was hoped for. The director often chose to ignore the fact that you had paid to be in the audience for purely prurient reasons, and used the opportunity to enhance his self-image as an "artist". Art, schmart, that's not why we were there!
The previews were usually better than the feature. Ennui usually set in as the show wore on. But at least it was somewhat illicit, and that felt good!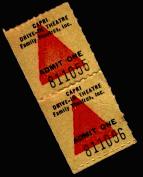 (from Guestbook 52) Emmett Mathis said:
I remember the Capri, did it still have the train going around the playground? I left Oklahoma in 1970 so I missed those movies you were writing about, when I went there they had pretty decent movies. Another thing I remember they had 2 sets of seats under the stars, in front of the concession stand and the other one in front of the playground. I also remember that if the stockyard workers worked at night it really smelled. Question, now is it still standing or has it been torn down too? If it's still there check to see if the train is still under the screen, and let me know.

By the time I got there (1971), there was no train and no playground, since it was by then an adult film venue.


(from Guestbook 208) Anonymous Economos said:
I was the Motion Picture Machine Operator at the Capri for several years in the late 70s. It was, you might say, a starting assignment with the union.
I also ran 'Alien' about a thousand times at the Southroads Cinema. Also filled in at the Admiral Twin.
Good job, by the way. And good pay. One of my duties at the Capri was to edit all 'insertion' from the films and then replace the footage before shipping. I was so fast with that, the chain offered me a position in Dallas, Texas. I declined. A friend asked me if this sort of editing was a comedown from documentary filmmaking. I said: 'What? Quit show business?'
That was yet another career that evolved out from under me.
Ironically, I now live only a short distance from the old site. I'm currently representing satellite internet access.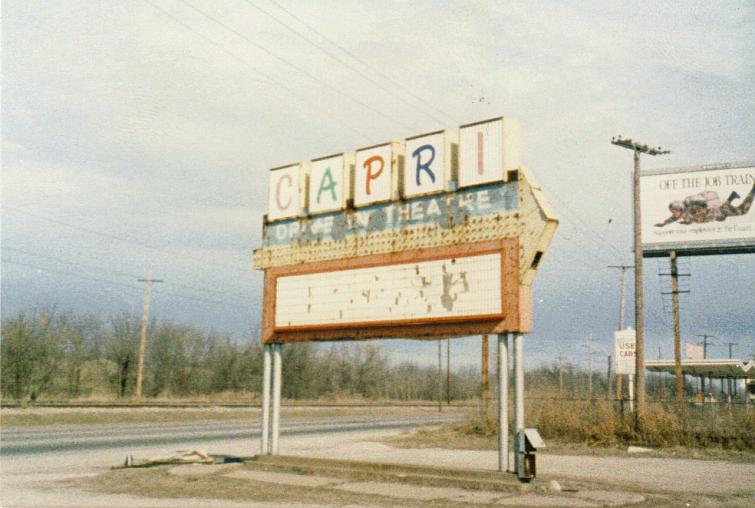 Capri sign circa 1991, courtesy of Bryan Crain. Click on the photo to compare with a 1965 view.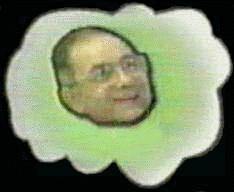 The site of the Capri is now Pull-A-Part Auto Parts Yard.
Slogan: "Cheaper 'Cause U-Pull-It!"
Heh, heh, you gotta pool it, you gotta pool it.
(11/2005: Now First Choice Auto Parts.)